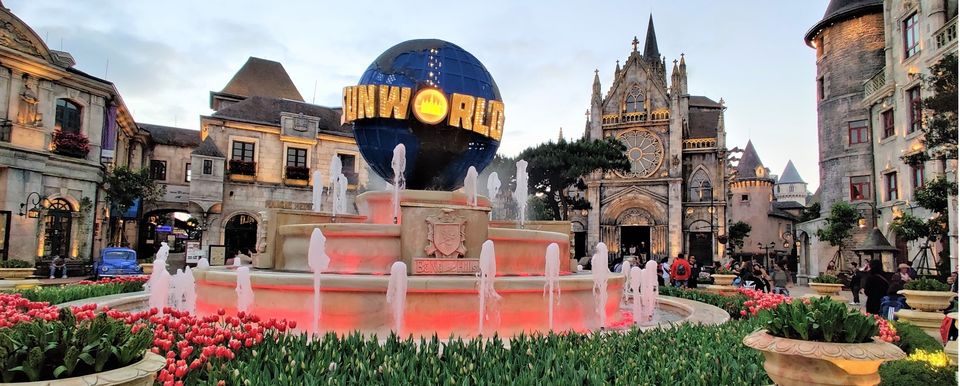 One of the most attractive tourist spots in Da Nang, Ba Na Hills is a ride to a cultural and adventurous experience. Ba Na Hills is like the Disneyland of Da Nang offering Adventure Activities, Panoramic Views, Fantasy Park, Spiritual points and many more.
20 km from Da Nang, Ba Na Hills at the height of approximately 1500 m above the sea level is a heavenly place with spectacular climate all round the year. The only way to reach the top is through the cable car passing through the glimmering clouds, dense jungle and astonishing waterfalls.
My suggestion would be to keep 1 whole day for this place and enjoy each and everything because Ba Na Hills has a lot to offer.
Things to do in Ba Na Hills
1. World's Longest Cable Car
Record braking cable car system of Ba Na Hills is one of the most remarkable cable car in the World. This international award-winning cable cars can accommodate approximately 7,000 people/hour.
The cable car ride to Ba Na Hills is the most scenic journey to the Chua Mountain peak which passes through cloudy peaks, dense jungle and mesmerizing waterfalls.
Well begun is half done! The cable car ride to reach the top of Ba Na Hills is so impressive that it sets the bar high.
2. French Village
Most loved destination in Ba Na Hills, French Village recreates an old fashioned and alluring form of a country France. French Village is lined with iconic landmarks of France like the Square, Old Village, famous Inns, Church etc.
In evening, when lights are ignited and the village is filled with dense fogs, this medieval castle type buildings brings out its alluring charm which is a treat to an eye.
For more experiences, you can stay overnight and enjoy this beautiful resort.
3. Golden Bridge
One of the most attractive spots in Ba Na Hills which came into highlights since the day it was opened. I think almost half of the tourists visiting Vietnam comes to Danang and Ba Na Hills just to see the Golden Bridge and its captivating charisma.
The footbridge is supported by two massive stones carved in the shape of hands which emerges from the dense forest. This makes it look like an ancient ruin which is nothing less than a fairytale.
The length of the bridge is approximately 150 meter giving you enough space to enjoy the scenic views of Da Nang. Make sure to visit this place during the clear sky to get a perfect photograph.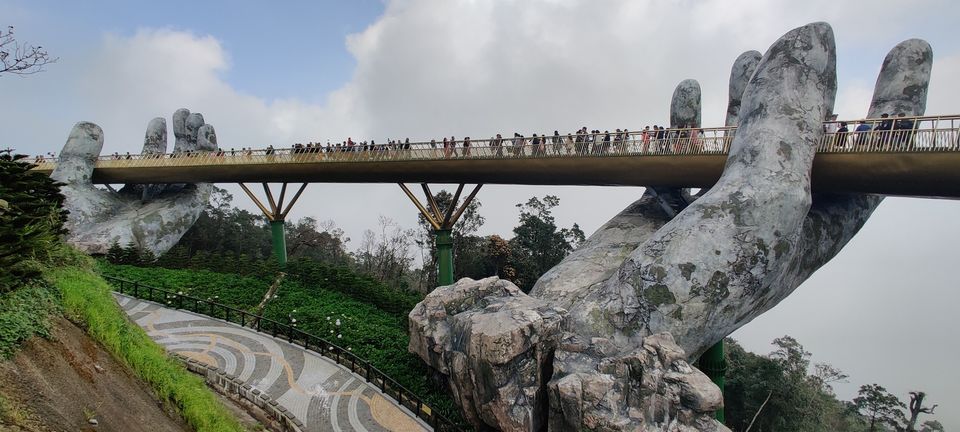 4. Alpine Coaster
Alpine Coaster, in a way, is like roller coaster with a difference that it is a single seater car equipped with hand brakes so that you can control your speed as per your convenience.
The only issue is when you want to fly with high speed but the person in front of you is on slow driving mode.
Pro Tip: The queue can be very long, so keep this as the 1st thing in your itinerary.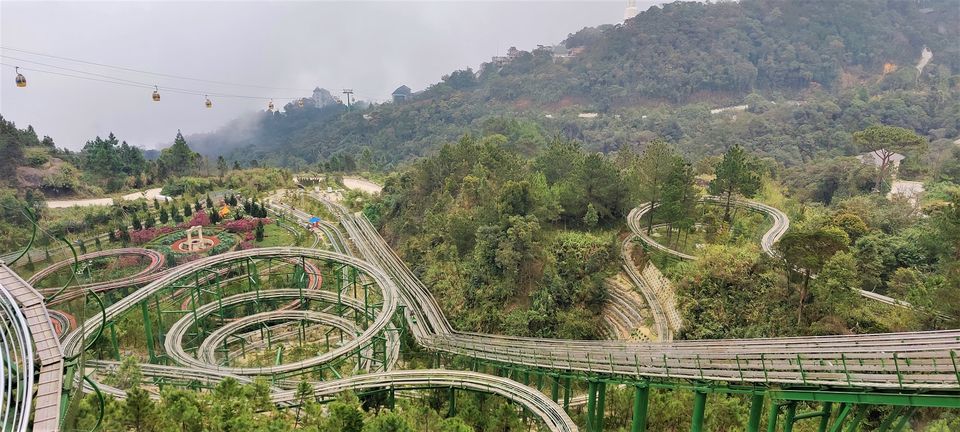 5. Linh Ung Pagoda and the Chua Thuong Ngan Temple
Despite the abundance of adventure activities, French Castle type buildings and amazing food joints, the local culture also has its own charming touch at this place.
It has one of the three Linh Ung pagodas in Da Nang i.e. Linh Ung-Ba Na and is also the highest among the three nestled at the approximate height of 1500 meter.
A big white Shakyamuni status is the highlight of this place.
6. Le Jardin D'Amour
The French word Le Jardin D'Amour means the Garden of Love and this place stands up to its name for sure. This is a home to 9 amazing and alluring flower gardens each illustrating a different hue and different blooming flowers.
Keep your cameras ready to get some mind-blowing pics for your Instagram.
7. Fantasy Park
Ba Na Hills has one of the biggest indoor entertainment zones and is a great place to spend time with your kids and families. Fantasy park has is full of countless games, recreational activities, indoor sports and a wax museum.
Apart from exciting activities and games, Fantasy Park also offers following not-to-be missed activities:
a. Drop Tower
b. Arcade Games
c. 4D Shows
d. 360 degree show in 3D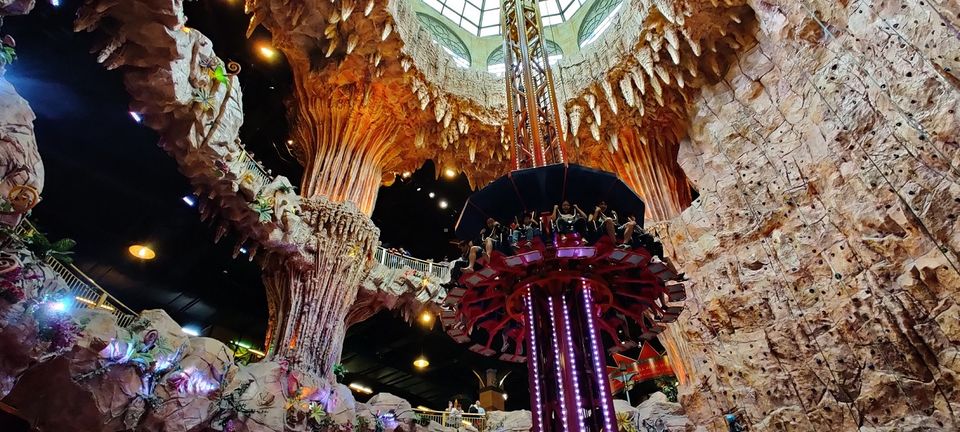 Opening Hours and Entrance Fee
Opening Hours: Monday to Sunday - 7am to 10pm
Entrance fee:
- For Visitors – VND750,000/adult and VND600,000/child
- For Locals – VND450,000/adult and VND350,000/child
- Includes – Entry, 10% VAT, Cable Car, Fantasy Park games, Wine Cellar, Le Jardin D'Amour, Golden Bridge
- Excludes – Wax Museum, Fantasy Park indoor sports
For More Information: https://banahills.sunworld.vn/en
How to Reach
The best way to reach Ba Na Hills is via private cab/taxi and if you are on a budget like me, then hire a scooter on rent which will cost you approximately 1,00,000 VND i.e. Rs. 300.
Once you reach the start point, you will need to take a cable car to reach the hilltop of Ba Na Hills Resort.
Time Required to Explore
You will require a whole day to explore this place. Reach early in the morning so that you get ample of time to explore the place and to enjoy everything Ba Na Hills has to offer.
Tips
- Best time to take photographs around French Village is during sunset.
- Best time to visit Golden Bridge is in noon when the sky is clear without any mist.
- Carry an extra layer of cloth because the weather is cold up there.
- Wear comfortable shoes because trust me, you will have to walk a lot.
- Keep Alpine coaster 1st thing in your itinerary as it will be less crowded in morning.
- Always keep the map with you and know the cable car routes as there are in total 5 cable cars.
- Carry your own food if you don't want to buy expensive food at the hilltop.
- Most importantly, carry your power bank as your phone battery will surely die after taking tons of photos.