When your car tires of the serpentine roads leading up the lesser Himalayas and the mighty Kanchenjunga pops by your window decorating the faraway mountains – you should know that you have arrived in Darjeeling.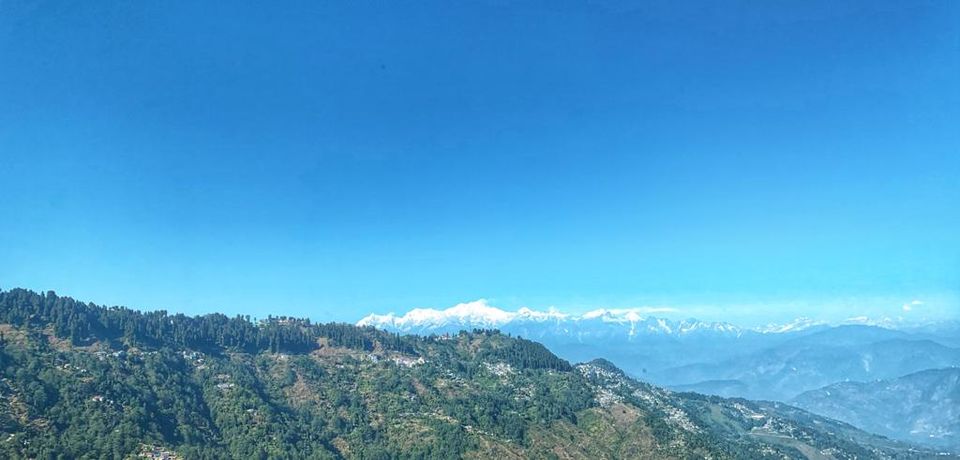 D'ling is a fictional town, like it's popped out of an author's imagination. Each time I walk down its streets, I only wish for the whole world to be as idyllic & innocent. Its sloping bylanes, little shops, picturesque cafes, needlessly angry Bengali tourists & smiling locals make me amply jealous of the Gora Sahibs who spent their summers here.
I like to be quite thorough before I travel. I spend boring meetings & lunch hours googling on food reviews & places to see. As a result, by the time I board the flight – I am usually clutching on to a robust list of sites & cafes that I couldn't possibly miss (usually with tiers of priority). Basis this list and the trip that followed, I thought of curating a list of 5 experiences that you can't miss, when in Darjeeling!
#1 - EXPERIENCE THE RAJ
Leaf back a few pages of Darjeeling's history – and you will realize that the Angrez had a mighty crush on this town! It is stocked with old cafes serving English breakfast, stylish tea-rooms, bakeries and old hotels that retain every bit of the proper British charm. Darjeeling too, wears its British heritage like a badge of honor – and ensures to flaunt it to every visitor. If you leave the city without a taste of the old world charm – you've really missed the entire point.
Google well, and find yourselves an old English hotel/lodge that reeks history – and book yourself a trip to the bygone. The town is littered with heritage properties starting with the Glenburn Tea Estate (if you're very VERY rich), Singtom Tea Estate or Windamere Hotel or similar.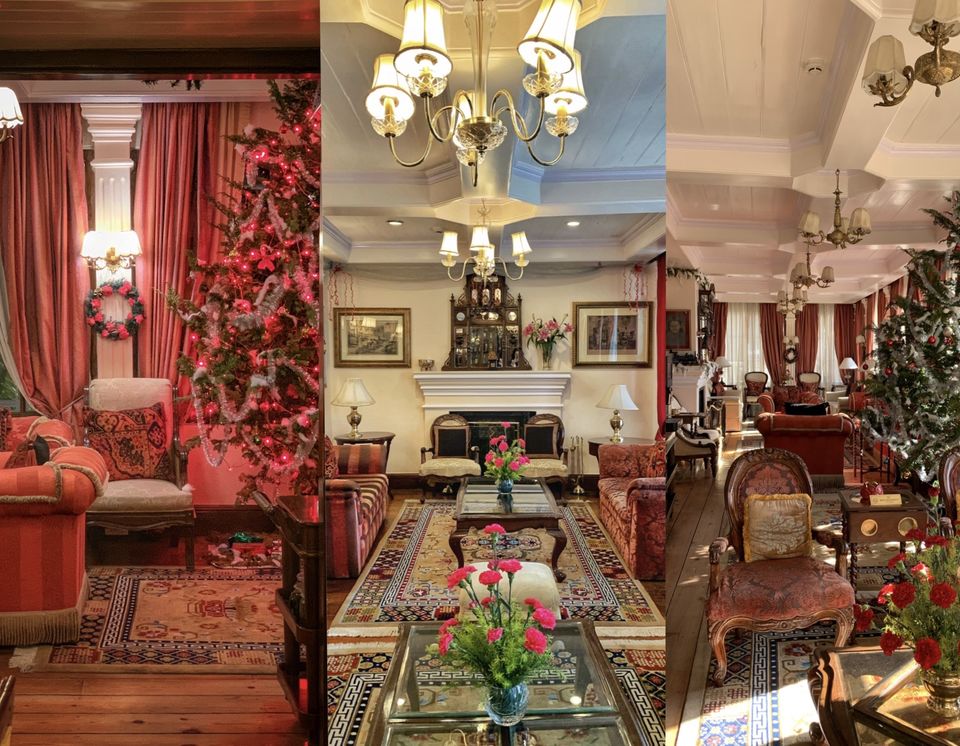 We booked ourselves and the old Elgin Hotel which is almost a 100 years old. No, really. When you enter the lobby, you enter the world of Northanger Abbey, Mansfield Park or Downton Abbey. Old squishy armchairs, ornate fireplace, beautiful carpets, ancient chandeliers and bay-windows overlooking the mighty Himalayas. Given the festive season – the glorious sitting room boasted a humongous Christmas tree (real – none of the artificial nonsense for the Gora Sahibs) and we spent evenings chatting over a delicious glass of mulled wine!
#2 - TIGER HILL
Do not, I repeat, do not miss this. It's a painstaking & arduous journey and the truly worthwhile point comes well at the end – but take my word, and do this. I can promise that you will witness a visual that will stay with you for life.
All you need to do is wake up at 3AM, drive down to the base of a mountain in Ghoom, then climb the hill (without any fences/scaffolding) in pitch darkness and then wait atop that hill for about an hour as your body freezes to the point of numbness. Local ladies will serve you piping hot coffee as you wait amidst a crowd of typical Indian tourists who will insist on constantly blabbering. At about 5.45AM, the distant peak of Kanchenjunga will become a tad bit clear amidst the dark sky – this is when your life will start changing. Over the course of the next 20-30mins, the first rays of the sun coming out in the opposite direction will hit the snow-clad peak. And it will glow amidst a semi-dark sky. As the sun will start ascending into the sky, the peak will gleam brighter and the sky will pick some of the most unbelievable colors.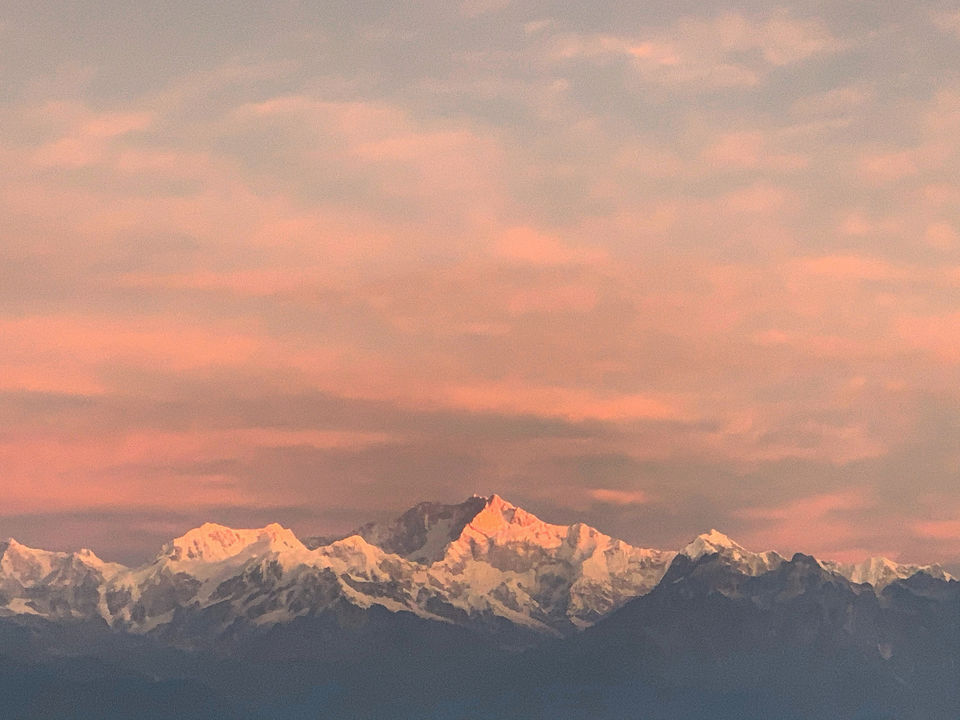 Words will fail as you will walk down the Summit of Ghoom – wondering what other such incredible creations has the Almighty hidden away from us!
#3 – THE CAFES
Open any travel site or blog – and they will all list out at least 6-7 Cafes that one must visit in Darjeeling. And I completely agree! Quaint and pretty cafes are a part of the culture of this fictional town. Sit back in one of them – order a pot of tea, some cake and fill your lungs with the chilly Himalayan air.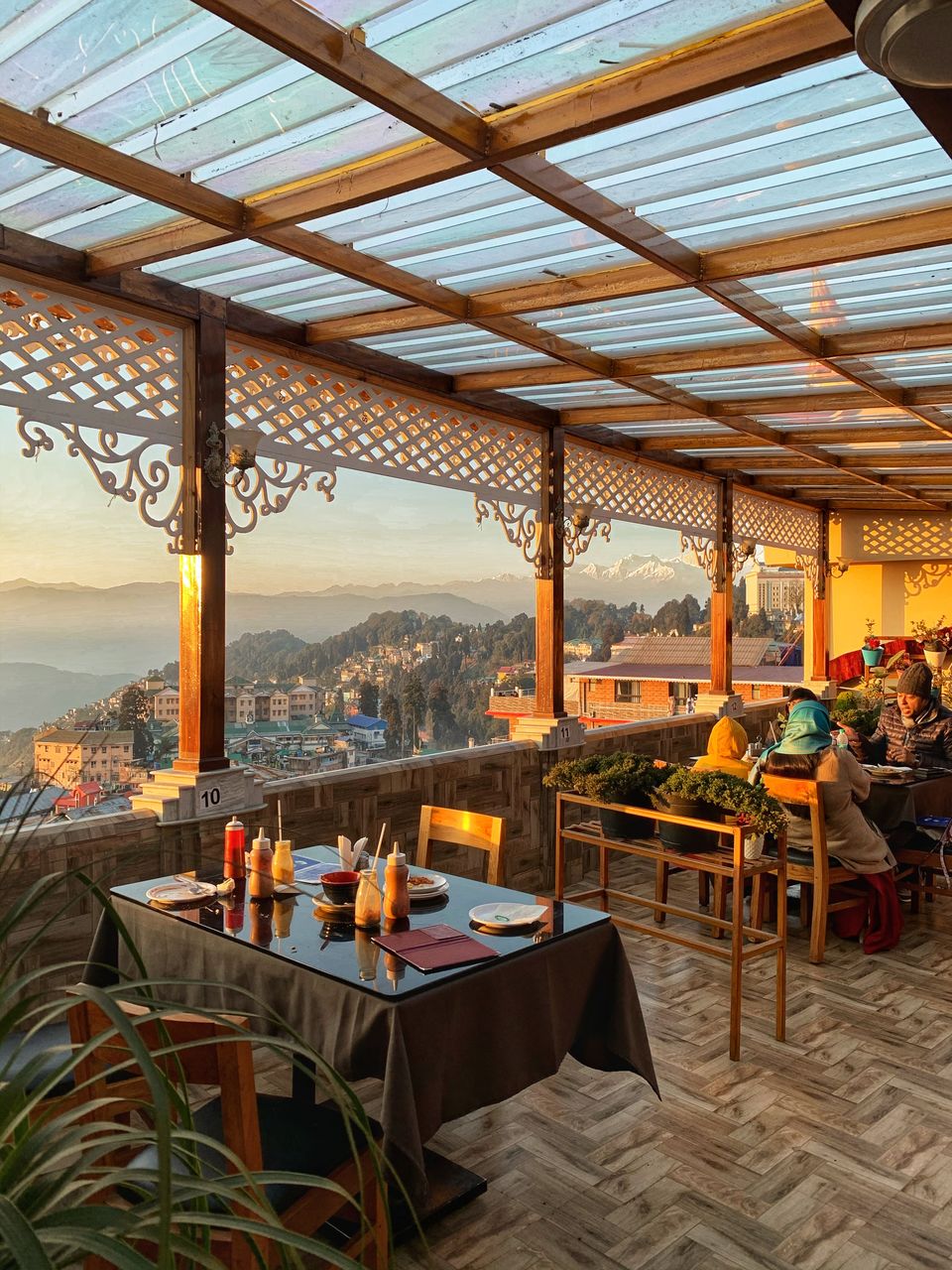 Kaventers came highly recommended for a rooftop, sunlit, olden-styled English breakfast (costs about INR 400 for two). My opinion? Reach early and be a non-vegetarian cause its almost always full and the food is meaty (and honestly, doesn't float the boat).
Glannery (my favorite, and costs ˜INR 1000 for two) is an age old bakery full of old Angrezi charm. It's been extended to include more terraces, a restaurant, a small club under the same roof over the years. To max out your Glannery experience - find yourself a table in the sun, order their favorite house pizza and cold-coffee.
Aside, try out Kunga (for local food), Sonam's (for waffles/pancakes) and Gatty's!
#4 – TEA EXPERIENCES
Let me mention three very distinct but very Darjeeling tea experiences. Make sure you experience at least two (if not all three) before you board your return flight.
The first experience goes back to the plantations. The Happy Valley Tea Estate – in its truest sense, is an experience. It tells you about the history of farming, how it has changed, how do tea leaves change flavor/color depending on where and how its planted and much more. This one, is Darjeeling's very own Tea 1-0-1.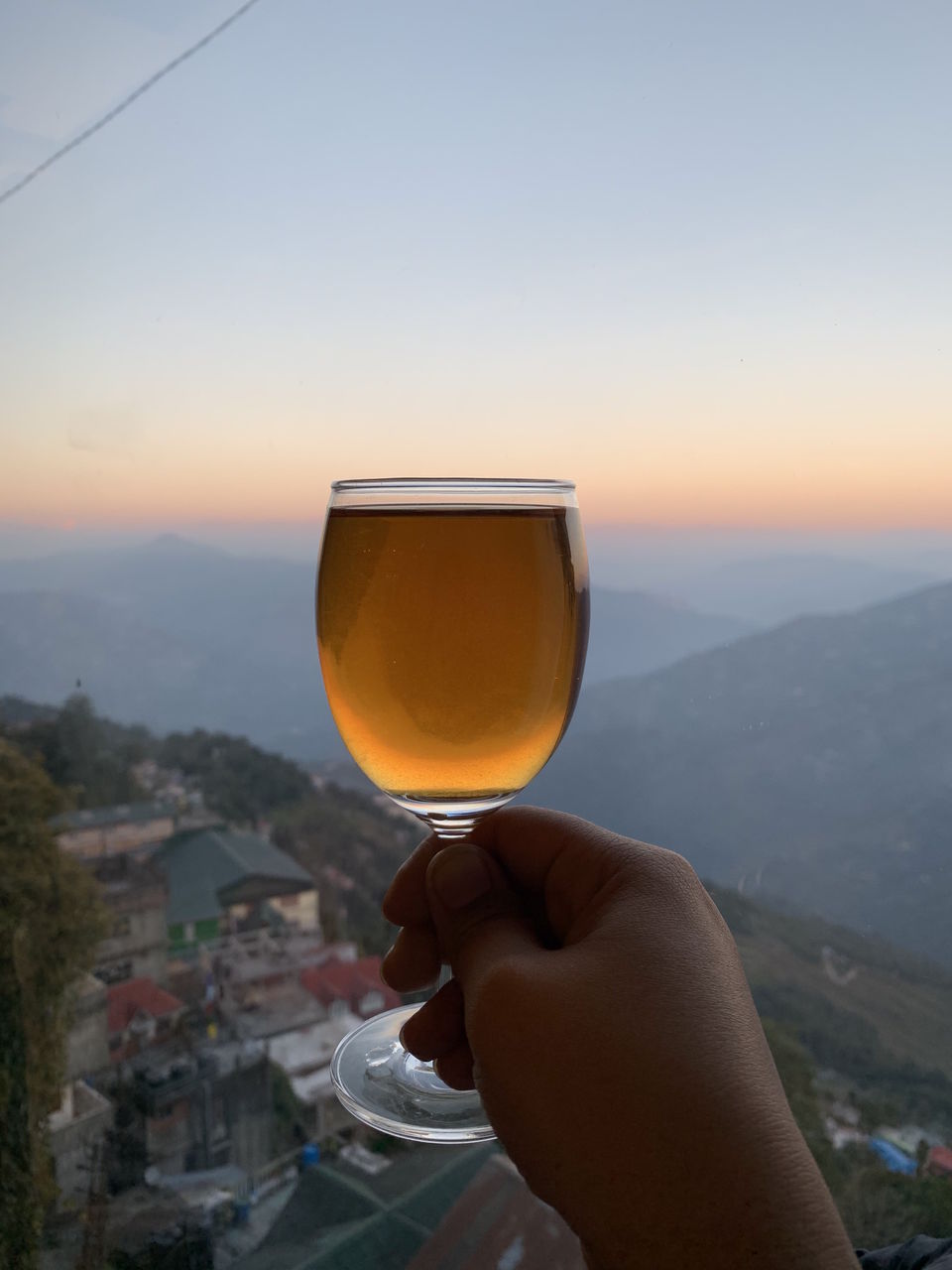 The second experience is that of a connoisseur. Head to the Nathmull Tea Room in the Mall. The friendly people there are in the business over generations and will make you try different teas (some in dainty wine glasses), until you find the one that makes your palate happy! (They will also make you to unlearn your existing tea preferences).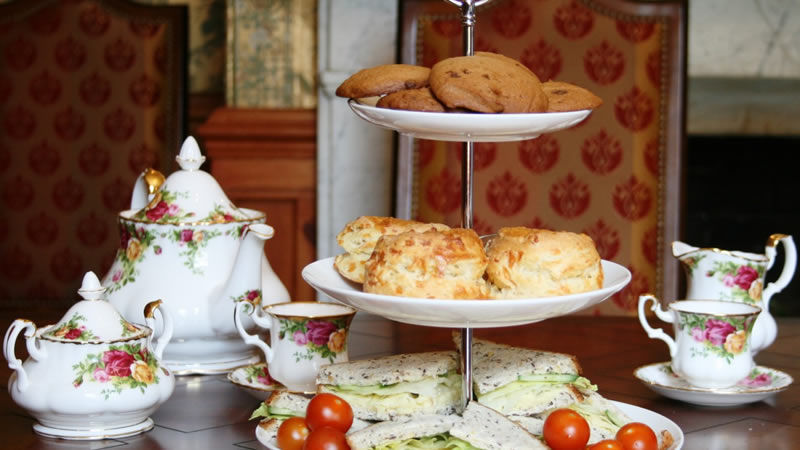 And the third is the English Afternoon Tea experience at the Elgin. This is your favorite local tea accompanied by tiers of tea-cakes, sandwiches, scones (clotted cream) and cookies. All this served by someone with almost-tails and gloves (yeah, really) – will make you feel like one of the Crawleys for a bit being served by Mr. Carson!
#5 – THE MALL
If you want to 'feel' what Darjeeling is really like – don't forget to take a walk down the Mall. Buy yourself something to nibble on and find a bench in the city center. Its bustling – there's always some music, kids running around, tourist strutting about, Himalayas peeking in. Walk around, shop a little, hoard some tea from Mayukh – and walk back into the sunset to your hotel. There's nothing to 'do' as such in the Mall – but its so historical and so true to the core of the city, that it would truly be a miss if you did not experience a good evening there.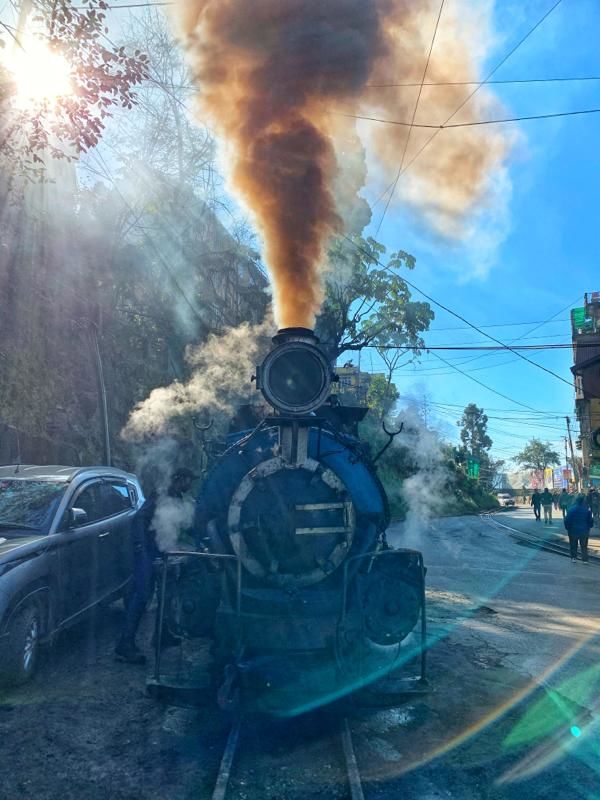 Aside of the above, we took the ropeway trip (huge queues aided by Maggi), Himalayan Railway (quite overrated – honesty, avoidable) and much much more! But I was able to zero down to the above five as must-dos to get a proper feel of Darjeeling!
Frequent searches leading to this page:-
Darjeeling tour packages, darjeeling sikkim bhutan tour packages, darjeeling gangtok tour packages siliguri west bengal, darjeeling tour package cost, darjeeling tour package cost from kolkata