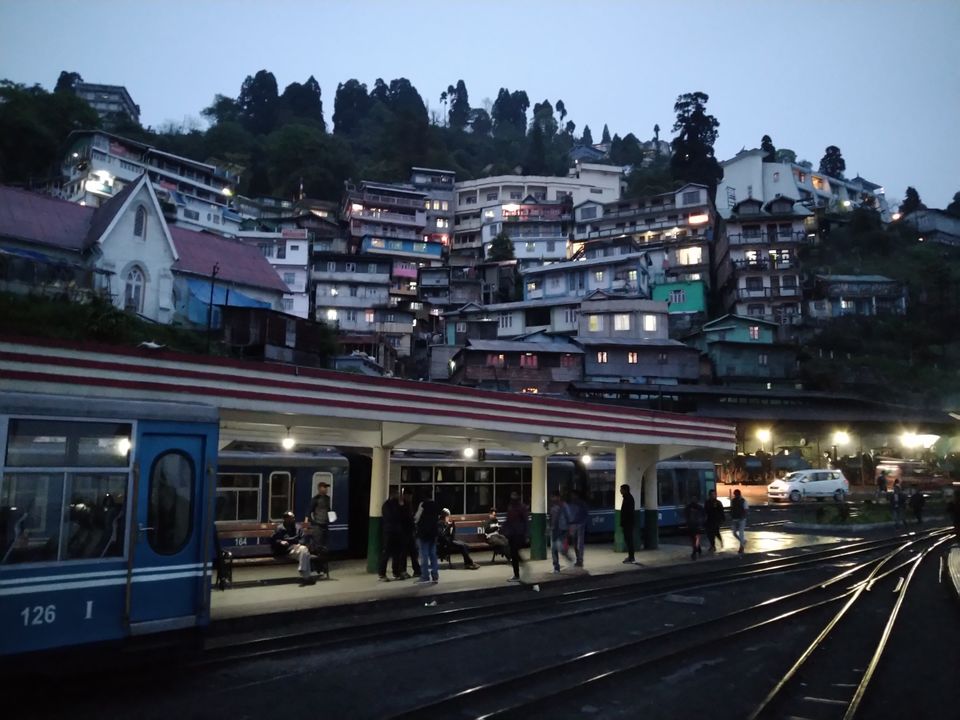 Darjeeling is one of the hill towns established by the British in India, first as a sanatorium for British soldiers and then as a summer resort for the authorities. The strategic location near the then British capital Calcutta (now Kolkata) was apt for its administrative purposes. Today, this beautiful place attracts almost five lakhs national and two lakh international visitors per year. The affordable food and accommodation options, making it more popular among tourists. This blog will give you all the itinerary (with cost) to plan a short trip to the Queen of Hills this summer.
A. REACHING AND ACCOMMODATION
To reach Darjeeling, one can book a train to New Jalpaiguri railway station or a flight to Bagdogra Airport. We took a train from Kolkata station, which took approximately 10 hours and cost us Rs 2470 (two tickets in AC three tier). New Jalpaiguri and Siliguri are the foothill towns of Darjeeling. On arrival to the station, there are options to book a shared taxi which will cost you between Rs. 350 to Rs. 380 per person (maximum of 10 people can board one taxi) or an entire taxi for Rs. 4000. The entire uphill journey will take 3 hours passing the beautiful areas of Kurseong, Kalimpong and Ghoom. The taxi takes a halt for 15-20 minutes, in which you can have or pack a small meal (costing anywhere between Rs. 110 to Rs. 200 for two people). On arrival at the hill station, we walked along the Mall road to look for accommodation. We intentionally did not book a hotel beforehand because of the number of options available here, in hotels and homestays both (although I am not sure about the situation in peak season). We finally settled for Pineridge hotel, a heritage property with more than 130 years old history, located on Nehru road which is a prime location at Darjeeling. One of the prime reasons for selecting this hotel is to get a British Raj era feel plus its tariff is quite pocket-friendly (Rs. 1680 per night). Such a low tariff for this magnificent British era hotel is due to their below-average maintenance. It is a suggestion to only those who are not very selective in terms of quality of quilts, bed mattress and floor carpet to consider this option.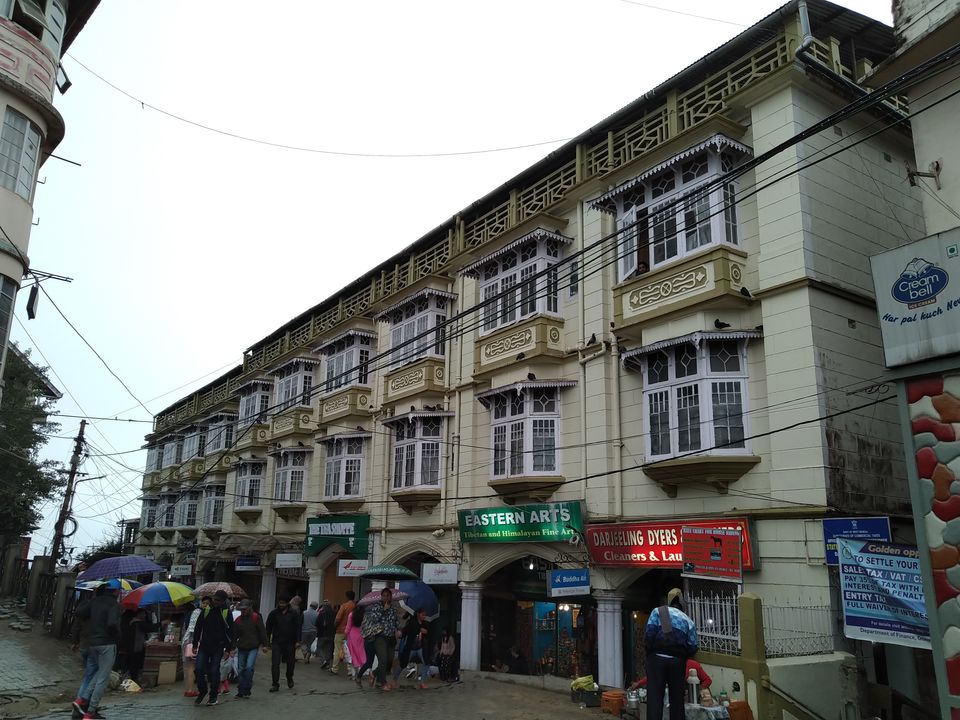 B. FOODIE'S PARADISE
1) Glenary's
The first stop for lunch was the famous 'Glenary's- bakery, restaurant and pub'. It is one of the finest eateries in Darjeeling. Since 1935, this place is serving people with one of the best English breakfast options, cakes, muffins, pastries and handmade chocolates. It is situated at Mall road within a colonial 2-storey building with a multi-cuisine restaurant at the top floor; café and bakery at ground floor and a pub in the basement. One can have their meal at a beautiful open terrace overlooking the Darjeeling city. Lunch for two cost us Rs. 956 (baked cheese macaroni and roasted pork with French fries). The food was beautifully served and was, no doubt, delicious. Their service delivery was normal and the staff was quite courteous.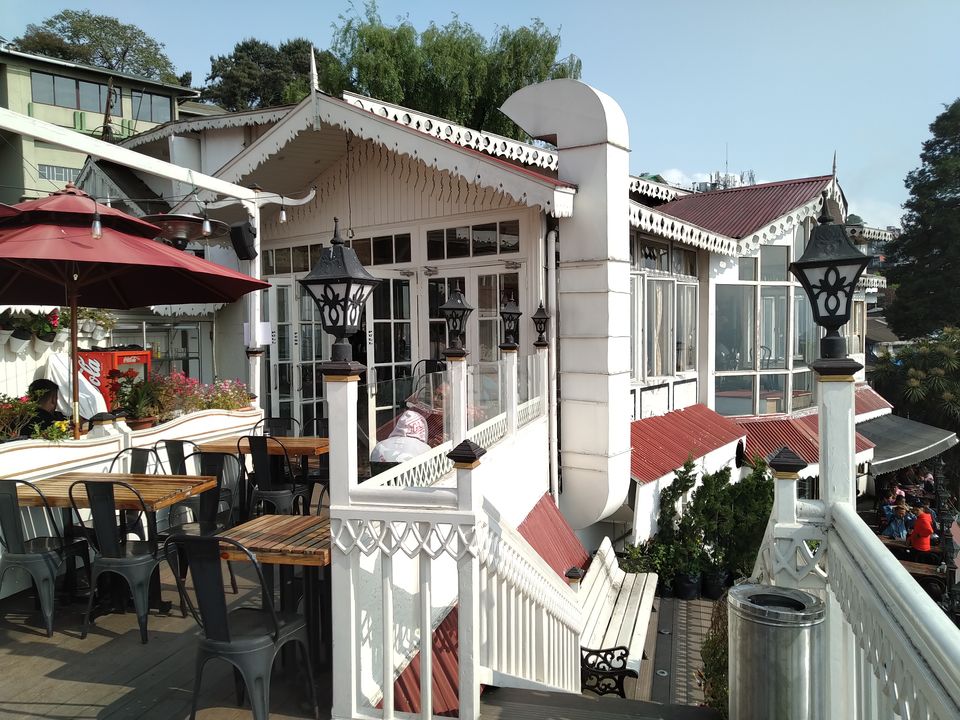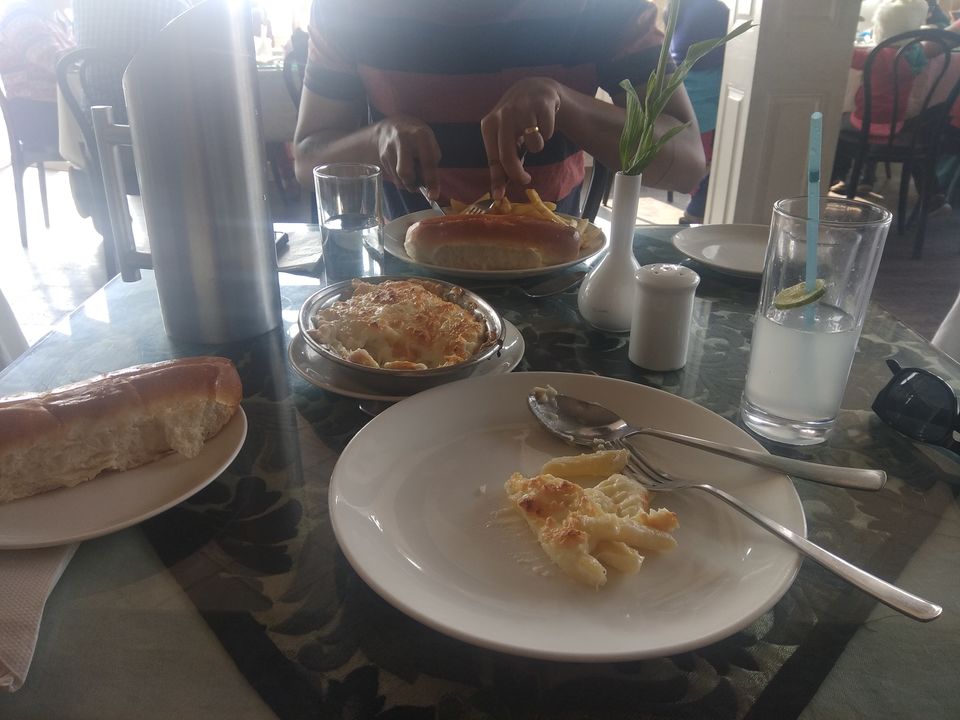 2) Keventers
The second food stop, where we landed the next day for our breakfast is 'Keventers'. Another landmark destination, famous for its English breakfast located in a two-storey building. This place just like Glenary's has retained its old-world charm, however, the viewing terrace has lost its scenic views due to the rapid urbanisation around the building. This location is a famous Bollywood shooting spot as well; with legendary movies like Satyajit Ray's 'Kanchenjunga' (1961) and Anurag Basu's 'Barfi' (2012) shot here. It is not high end like Glenary's and mostly remains crowded with people, but still, a visit here is a must. A single meal for two costed us Rs. 435.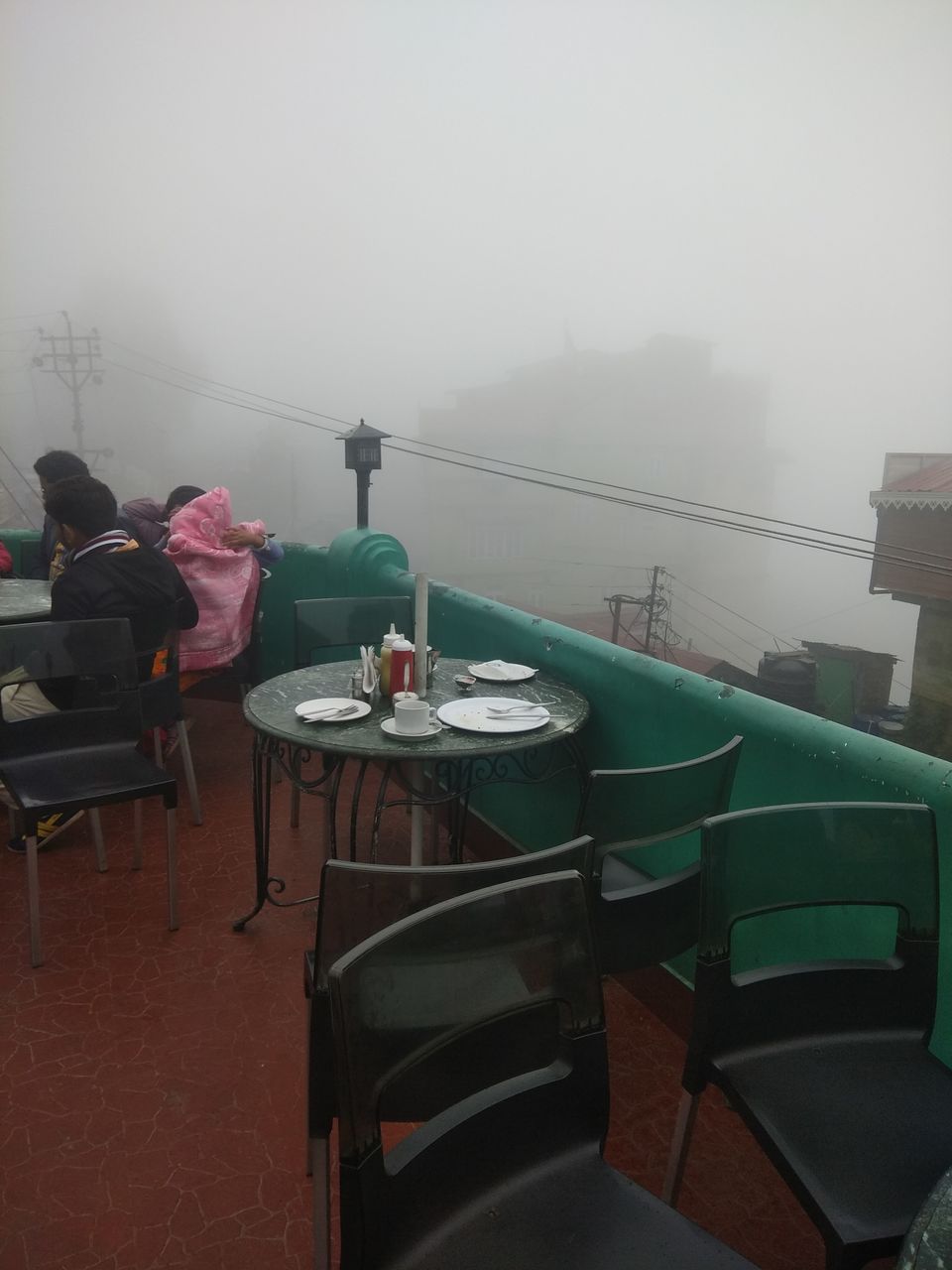 3) Kunga Restaurant
Talking about the food destinations in Darjeeling, one cannot miss the 'Kunga Restaurant'. Located at Gandhi Road, Chowk Bazaar on the ground floor of Dekeling Hotel is a tiny budget-friendly restaurant. For the last two decades, the restaurant is owned and managed by a small family, serving authentic and 'out of this world' Tibetan and Chinese food. With a seating capacity of 20 people, the waiting period might range from 15 to 45 minutes. This place is popular among foreigners too as the food served is best in quality, proportion and comparatively cheap. We had a meal of veg momos and Pork Thenkthuk with two honey lemon tea costing us Rs. 341. The entire experience was peaceful and beautiful.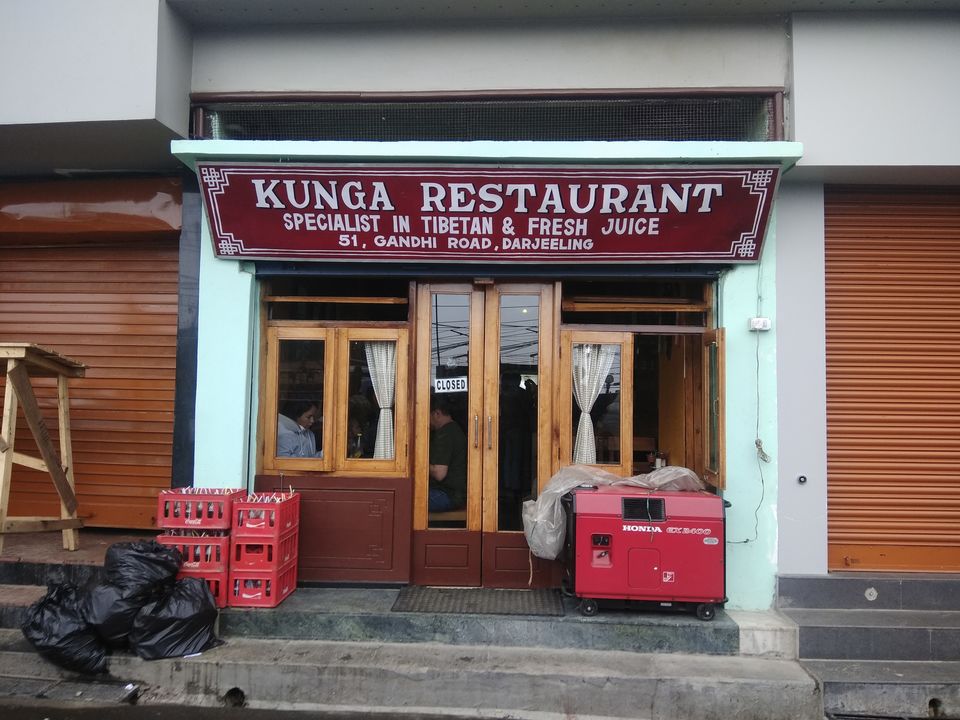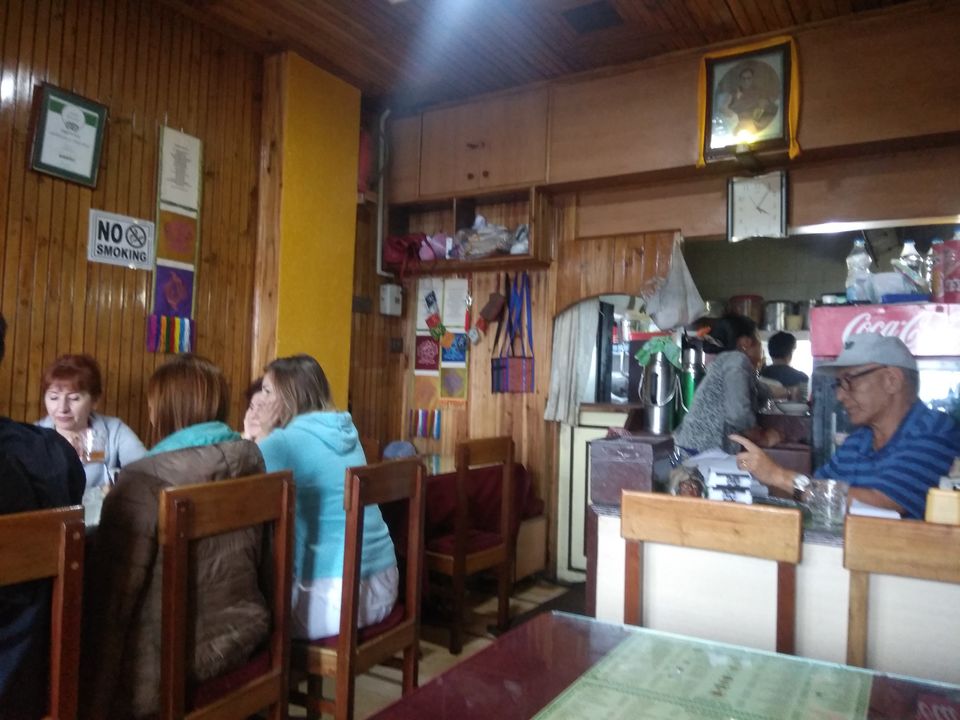 C. SIGHT SEEING
There are a number of places for sightseeing in Darjeeling. Here I am going to stick to a few of them which we visited on our trip.
1) Mahakal Temple, Observatory Hill
We started with visiting the Mahakal Temple on Observatory Hill at Mall road near Chowrasta. This temple dating back to 1782, as the name suggests, is dedicated to Lord Shiva and is a beautiful amalgamation of both Hindu and Buddhist religion. You will find thousands of Buddhist colourful flags all along the route to the main shrine. This is the place for a perfect travel selfie too. The outer wall of the shrine consists of Buddhist prayer wheels. Inside the shrine, both Hindu and Buddhist priest can be seen performing the prayers and rituals. Local population visit this temple on a daily basis in large numbers. Be careful of the monkeys on the entrance of this temple.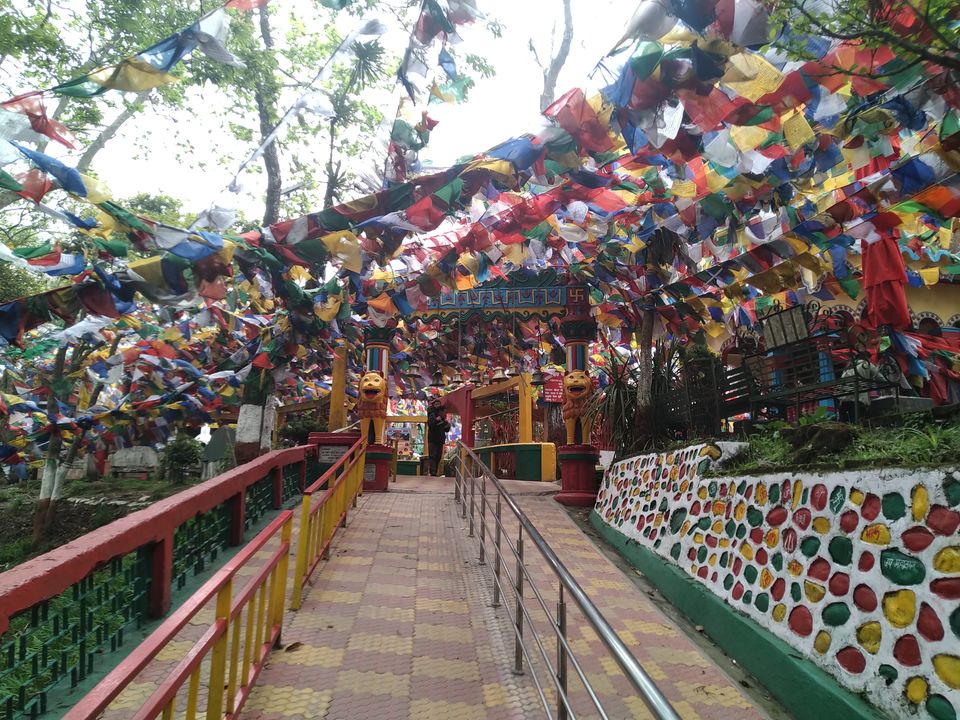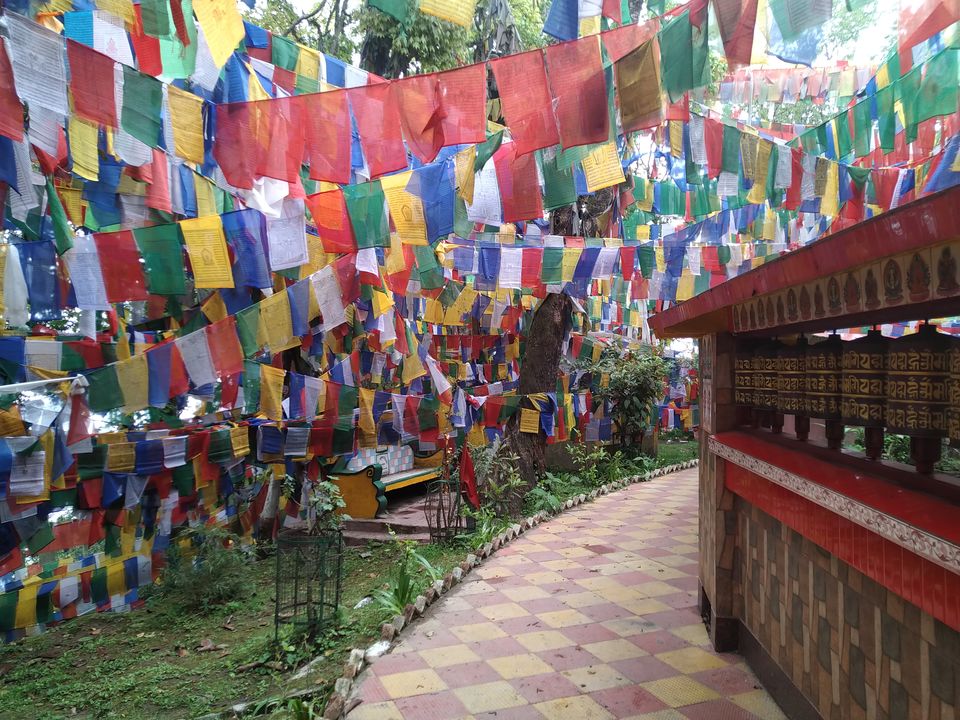 2) Peace Pagoda
Next, we hired a taxi for other sightseeing locations, costing Rs. 2000(open to negotiation according to the number of points to visit) for 4 hours. You can book the taxi near the clock tower or just opposite the Town Hall. Our first stoppage was the peace pagoda at Jalapahar Hills. Like other pagodas around the country, this one too offers a place for meditation and generates a positive vibe for tourists. It houses four avatars of Buddha. One generally spends 15-20 minutes at this stoppage.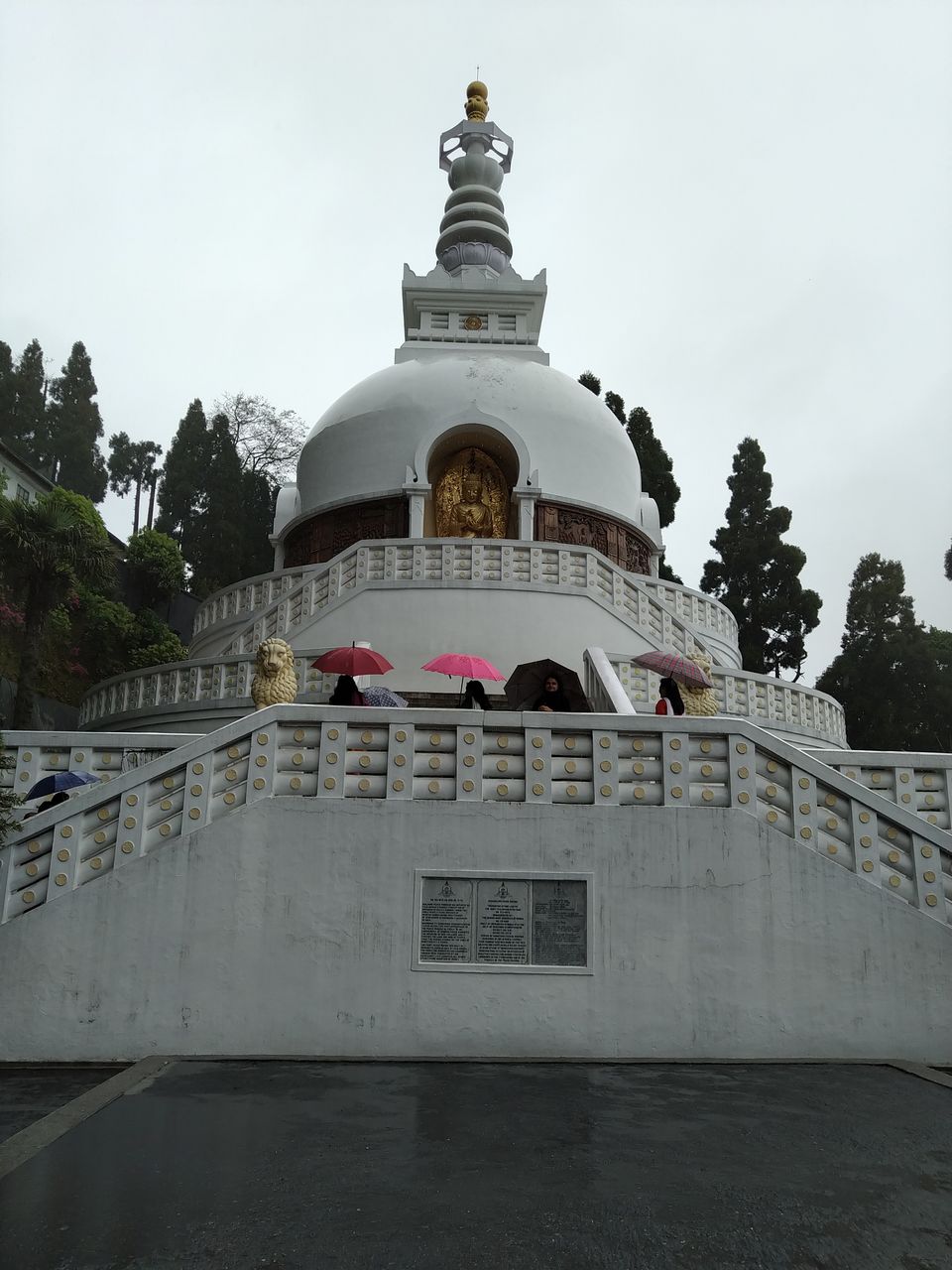 3) Padmaja Naidu Himalayan Zoological Park & Himalayan Mountaineering Institute museum
The second destination was Padmaja Naidu Himalayan Zoological Park or the Zoo of Darjeeling. The entry ticket is Rs.65 per person for domestic tourist above the age of 12 years. This place starts at around 8:30 am and if you choose to have breakfast here, mini-shops within the zoo boundaries provide decent food options for the same. This zoo is famous for its captive breeding program especially for three unique species of snow leopard, Himalayan wolf and red panda. Although because of cloudy weather with continuous rain, we couldn't locate any animal here. So, we headed straight for the Himalayan Mountaineering Institute (HMI) museum, which is again situated within the zoo boundaries. Photography is not allowed within the museum, but it is worth visiting this awesome place. The museum provides a glimpse to all the Indian mountain expeditions starting with 1953 Mount Everest summit completed by Tenzin Norgay, a Nepali-Indian Sherpa mountaineer. An explicitly and interesting displayed mountain gears, attire and types of equipments, do ignite curiosity among the visitors. The only point to remember here is it remains closed on Thursdays.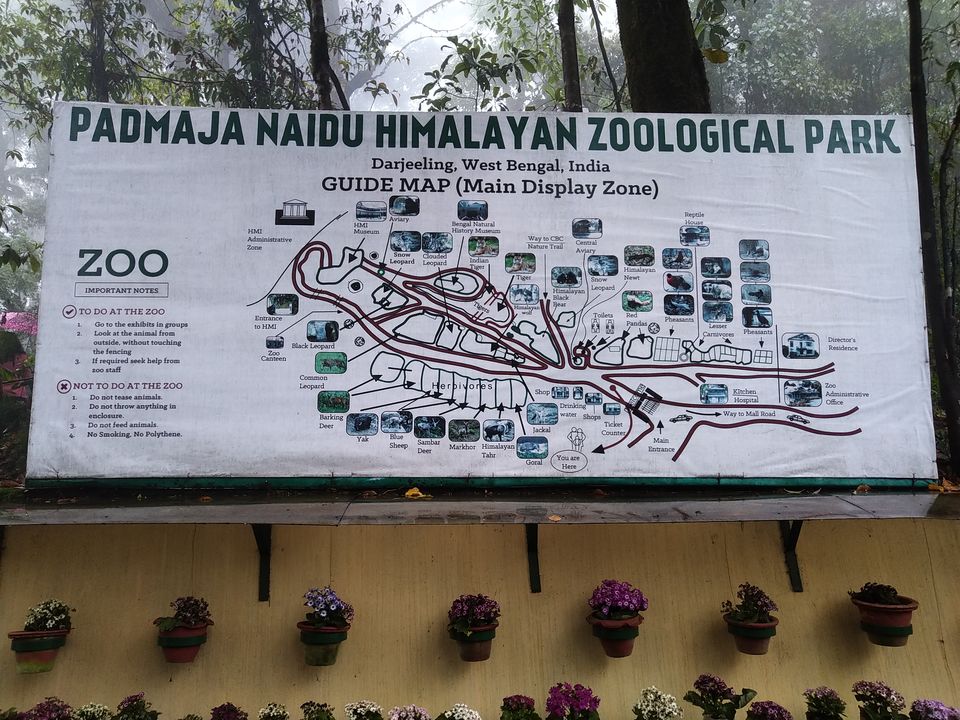 4) Tea Gardens
Our next stoppage was the famous tea gardens of Darjeeling. I don't remember how many cups of Darjeeling tea, me and my husband both had since stepping foot on this beautiful hill station. So, obviously, it's mandatory to check out the tea gardens for once here. The plantation of tea began here in 1850s by the British and because of the apt weather, it became commercially successful. There are around 80 operational tea gardens that spread across acres of land on open hill slopes. Our driver took us to the Happy Valley tea estate near the Tenzin Rock, where we were mesmerized to see the beautiful expanse of tea plants. One can even enjoy more cups of Darjeeling tea near the estate as well as get clicked by photographers wearing the traditional dress of Darjeeling. There is another way to enjoy the beauty of tea gardens: Rangeet Valley Passenger ropeway. The entire journey takes 20-25 minutes.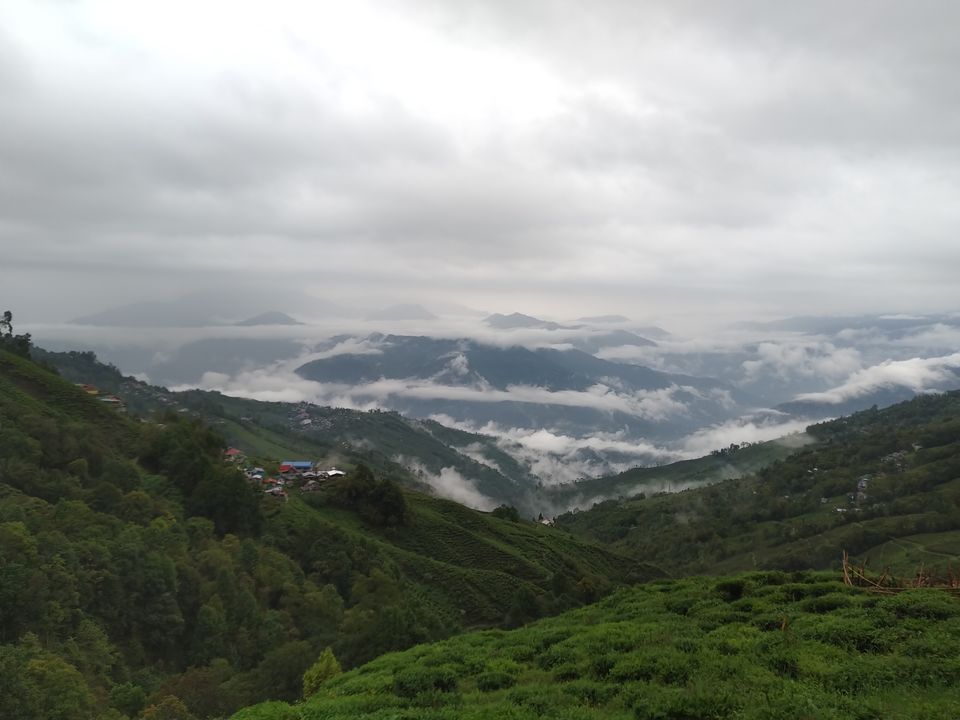 5) Toy Train Journey
Our sightseeing trip ended here and we boarded the toy train from Darjeeling railway station. Now there are two options to enjoy the Darjeeling Himalayan train journey. First is to board the 7-hour long train from Siliguri to Darjeeling or the second, which we took, is to book well in advance the 4-hour joy ride (steam or diesel engine). The diesel engine ride costs Rs. 1000 per person while the steam engine ride cost Rs. 1600. It is advisable to book your ticket prior to arriving in Darjeeling. All the tickets could be purchased from the IRCTC website. Now, about the experience, it was not out of the world though but yes it was quite unique. Due to the fast pace of urbanization in the hills, the landscape and vistas are more of the buildings and structures than the hills and valleys. There is one 15-20 minutes break at the Batasia loop. Batasia Loop was commissioned in 1919 because it was an engineering requirement for the toy train to be able to handle a steep gradient. You won't even realize how the toy train actually descends by about 140ft as it completes the loop through a large circular area and on a gentle slope and then crosses its own track near the beginning of the loop through a tunnel below. It is considered as one of the greatest engineering feats (https://www.darjeeling-tourism.com/darj_000017.htm). It's a good place to enjoy scenic views and click good photos. Next, the train halts for the last stop: 'Ghoom station' after which it goes for the return journey back to Darjeeling station following the same route. At the Ghoom station, passengers can visit the Ghoom museum which is the place for actually understanding the entire journey of Darjeeling Himalayan railways' establishment. It is included in the ticket and you don't need to pay extra for the entry.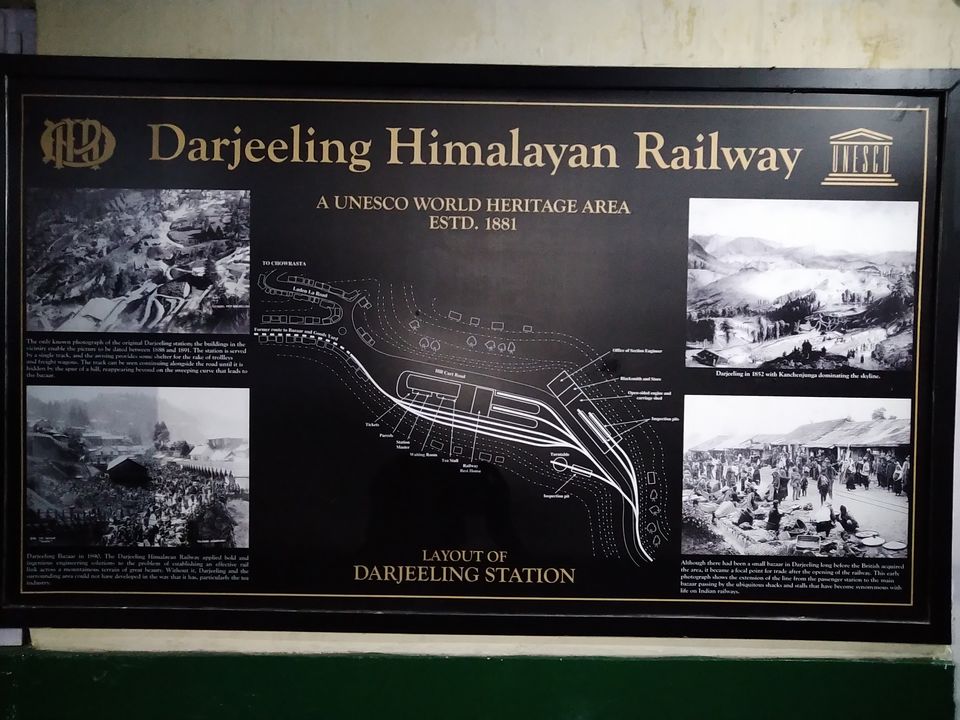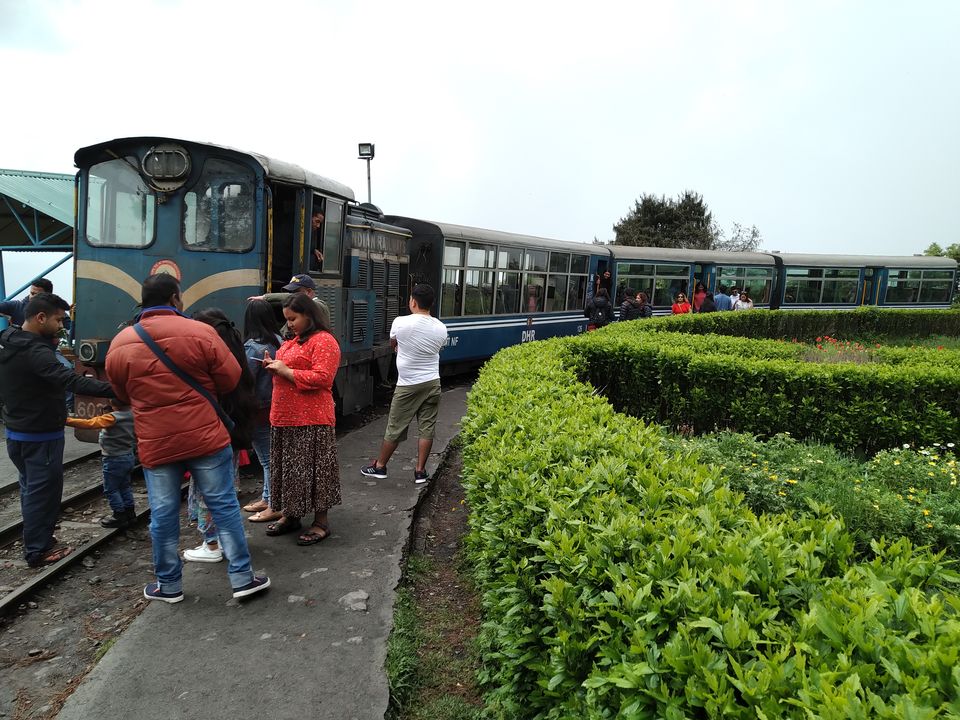 6) Himalayan Tibet Museum
It is a gem of a museum, located on Gandhi road (few minutes' walks from Kunga restaurant) inaugurated in 2015. Tibetan culture is very beautifully and explicitly displayed for visitors. The entry ticket for an Indian national costs Rs 50 each. Not many people include this in their trip itinerary but we highly recommend this as one of the must-visit destinations. The artefacts are donated by His Holiness the Dalai Lama himself, providing a huge opportunity for visitors to learn and gain knowledge about the cultural richness of both Tibet and Himalayan region. Typically, one can expect to spend 30-40 minutes at this place.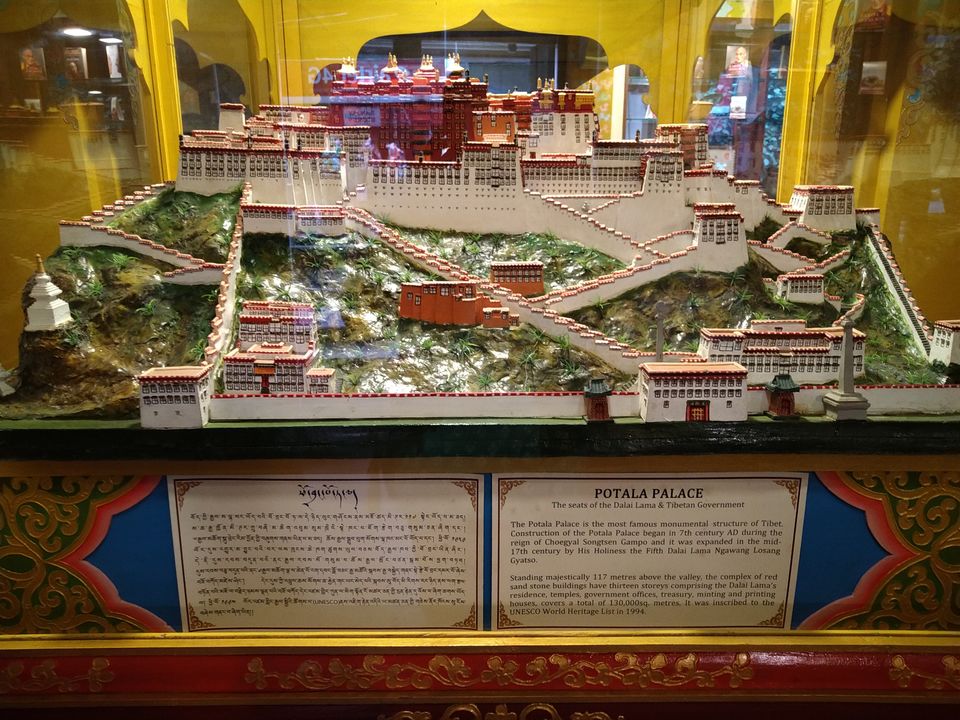 7) St. Andrews Church
It is one of the landmarks in Darjeeling located near Chowrasta. This is an angelic church constructed by Britishers in the early 18th century. The interiors are beautifully constructed and maintained by an active group of local residents. The morning service starts at 9 am between March and November, while from December to February, the timings are from 9:30 am on every Sunday. It is recommended to do visit the interiors for a unique experience.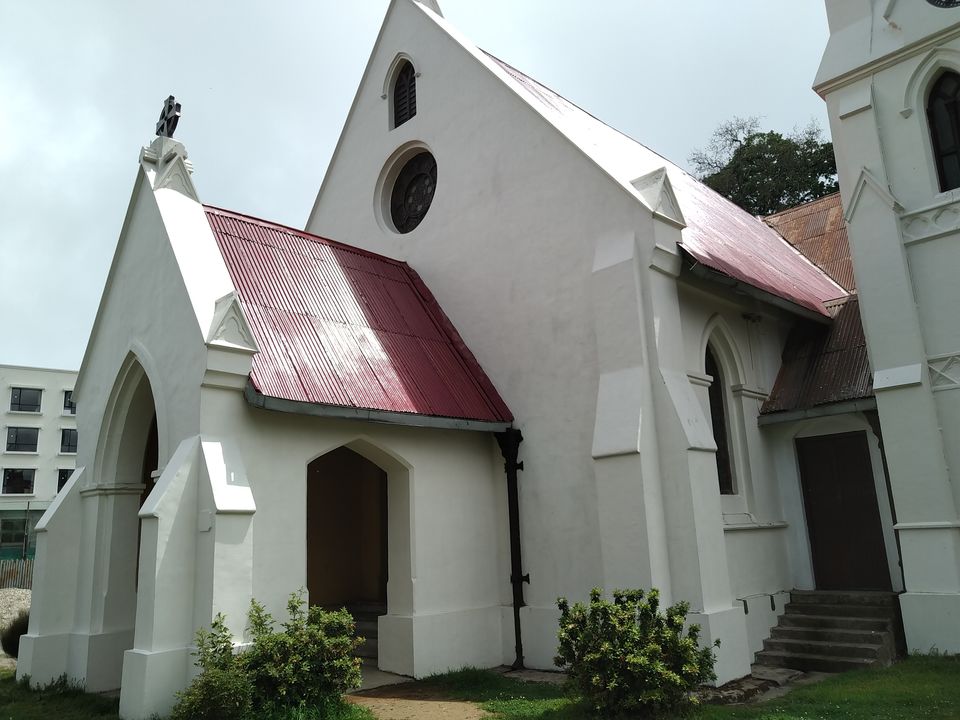 D. SHOPPING
For all those who love to purchase souvenirs from their trips, Darjeeling indeed offers a wide variety of places to cater to this demand. Here is a small list of famous shops:
1) Habeeb Mullick & son
A curio store since 1890 with a variety of options to choose from covering curio gifts, souvenir items, decorative products and handcrafted jewellery; you will keep on coming here in your entire trip. This shop is owned by two brothers and is divided into two shops with separate entrance. You can even get decorative Tibetan mask, pashmina shawls, fine wool and carpets from here. The prime location at Chowrasta makes it more accessible and popular among tourists. This place has a literary mention in the books of "Feluda" too (for Bengali literature lovers)!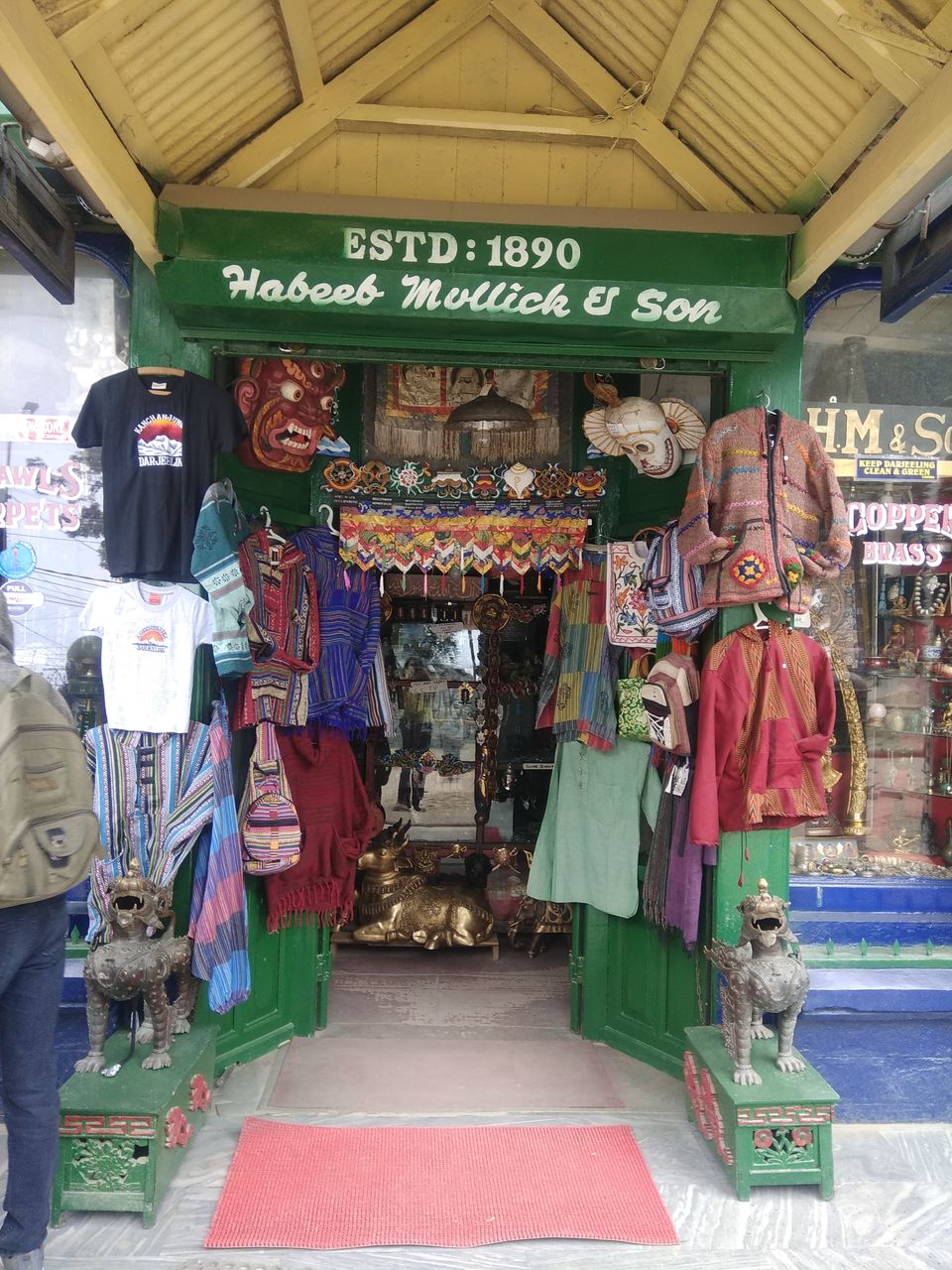 2) Golden tips
Golden tips tea, a destination for all tea lovers is another must to go to. You can purchase fresh flush of the season or can opt for older flush, within exclusive packaging. You can even sit there inside the shop and order a tea of your choice to enjoy it then and there.
3) Glenary's chocolate
This place besides offering delicious food, also provides visitors with their special handmade chocolates. So, don't forget to purchase all the varieties of chocolates from here.
4) Oxford book and stationery
Another famous landmark for over 60 years at Chowrasta offers all the book lovers some rare books on this hill station and other Himalayan regions, that you may not find online. It is especially recommended for people interested in doing research on Himalayan regions or particularly on Darjeeling, Tibet, Bhutan, Sikkim or Nepal.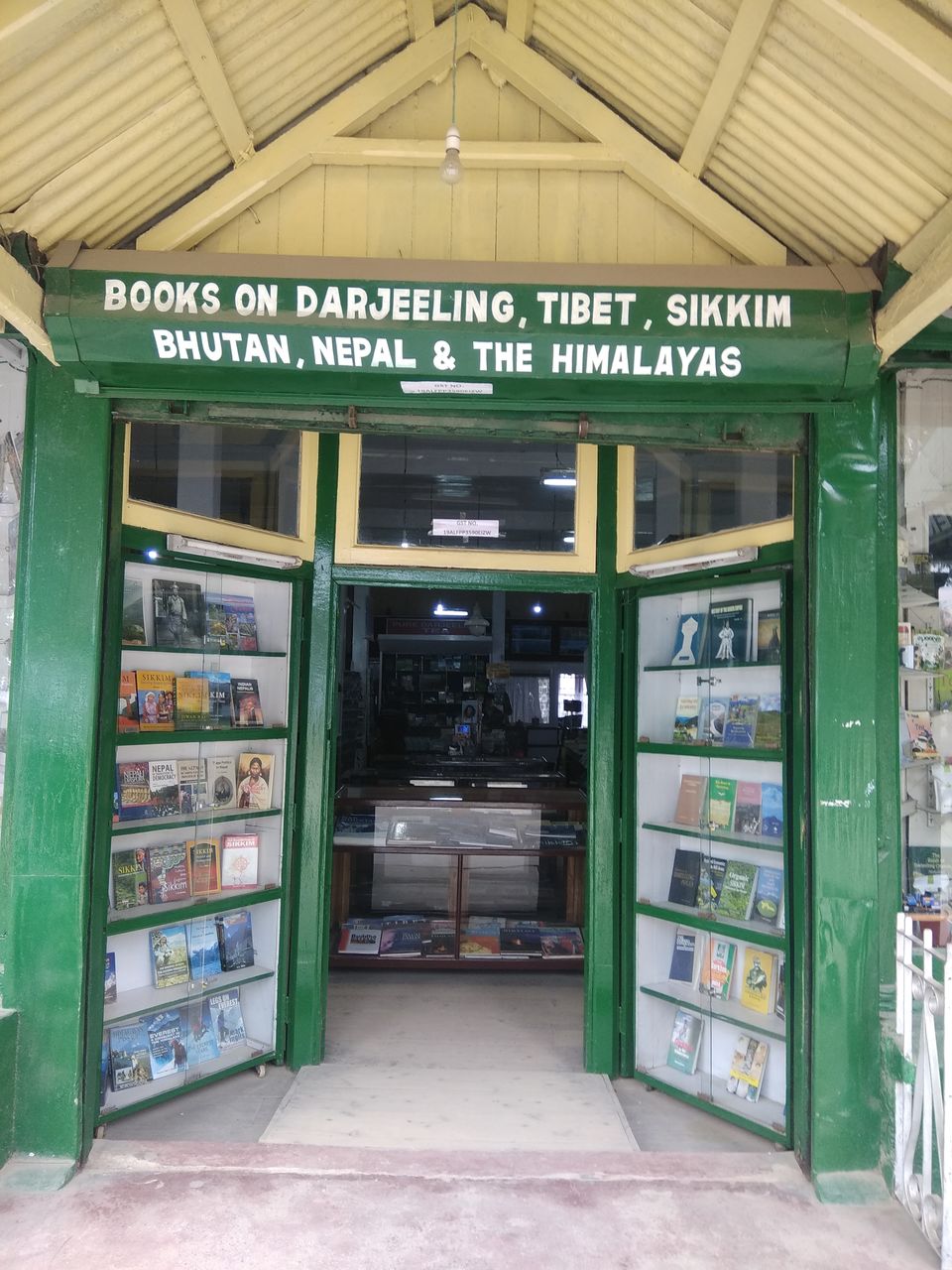 The best advice to actually soak in the vibe of Darjeeling is to take a walk without google map or consulting anyone here. It will be really peaceful and comforting to get lost in its natural surroundings with the happiest people you will ever meet.
(PS.- We couldn't see the scenic Kanchenjunga as well as other mountain range view on this trip because of the clouds).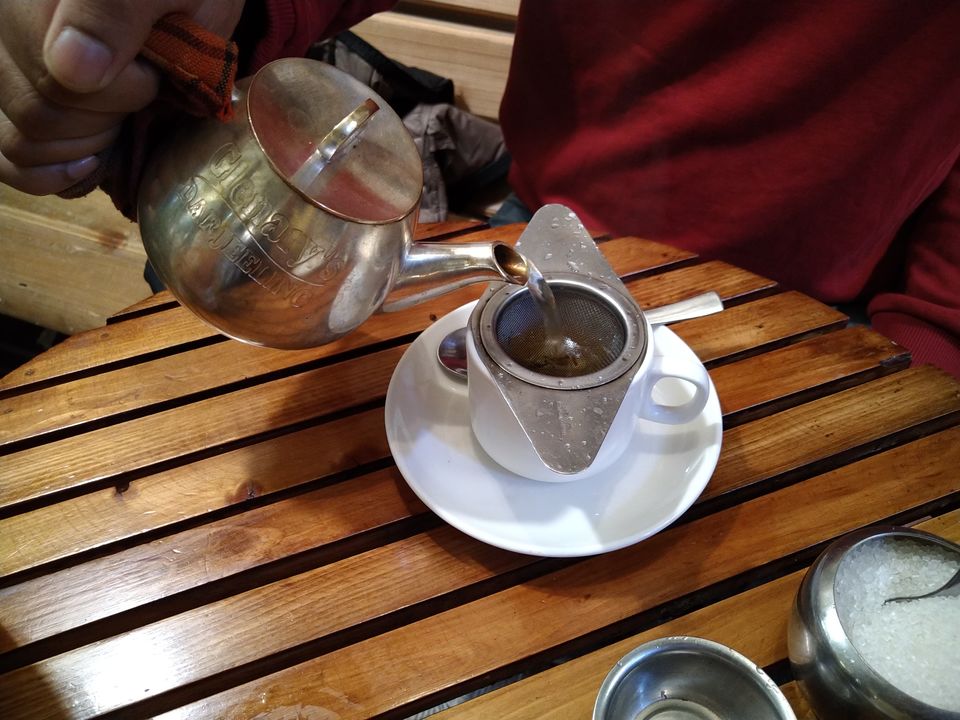 Frequent searches leading to this page:-
darjeeling tour packages from delhi, darjeeling tour packages for couple, darjeeling tour packages from kolkata, darjeeling tour packages 4 days, darjeeling tour packages 5 days