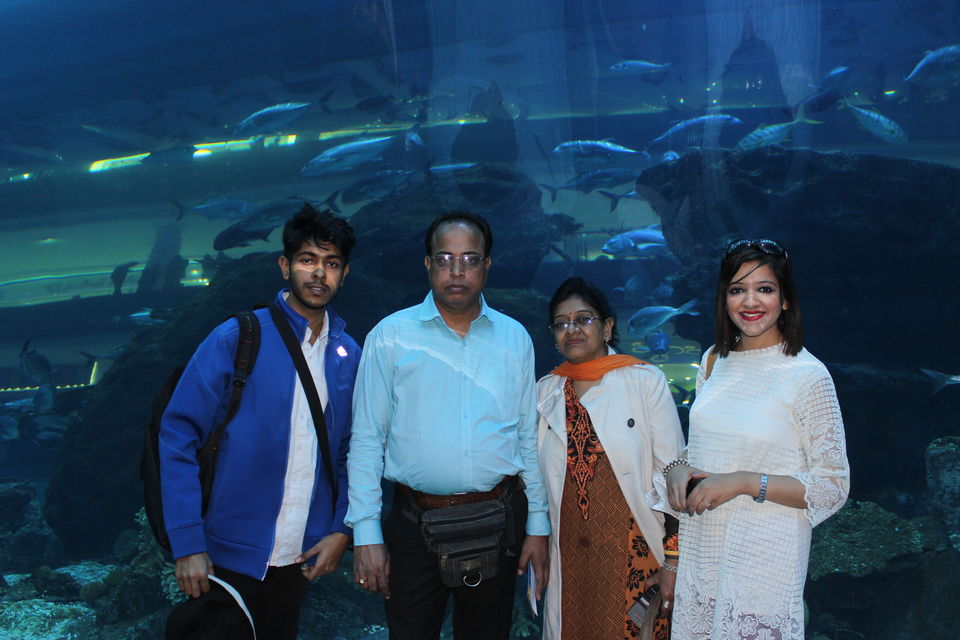 It was a surprise plan by my parent's on their 25th anniversary and they gifted this beautiful tour to me and my sister. They booked a complete 4 days package from travel consultancy in Rs1.7 l for 4 persons. We siblings got to know about this just 10 days before the tour.
On 24th January night, we had a flight from Indira Gandhi International airport. It was just like dream come true because it was our first international trip and we all were so curious to view spectacular Dubai as soon as possible.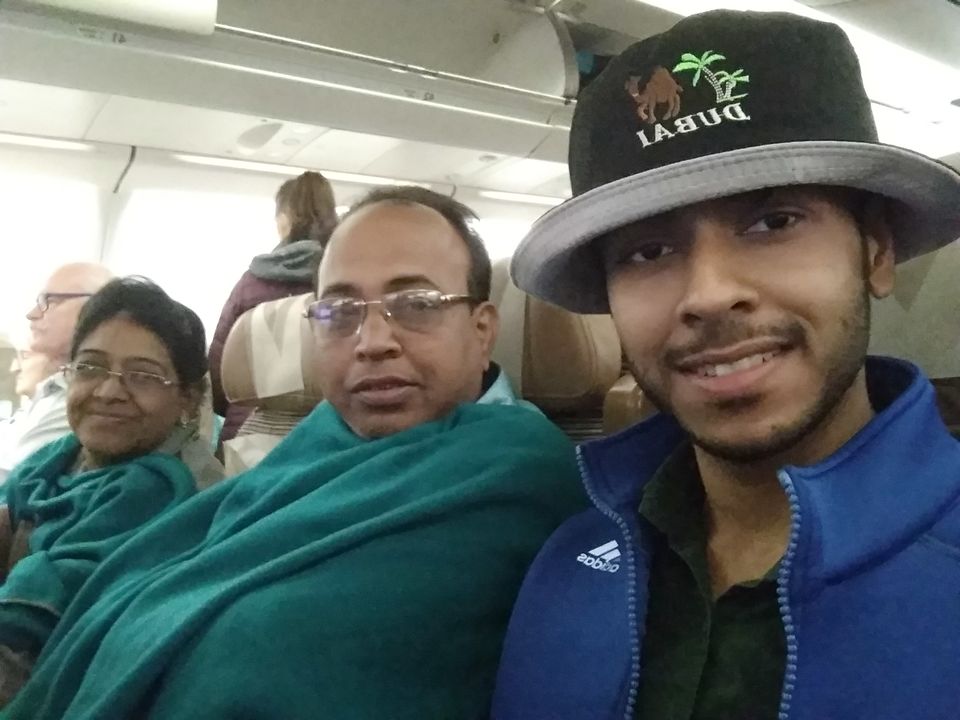 It took 3 hrs from IGI airport to Abu Dhabi airport. From Abu Dhabi, they booked a bus and it dropped us at 1:30 hr in Dubai. Then they called a taxi for us towards the hotel.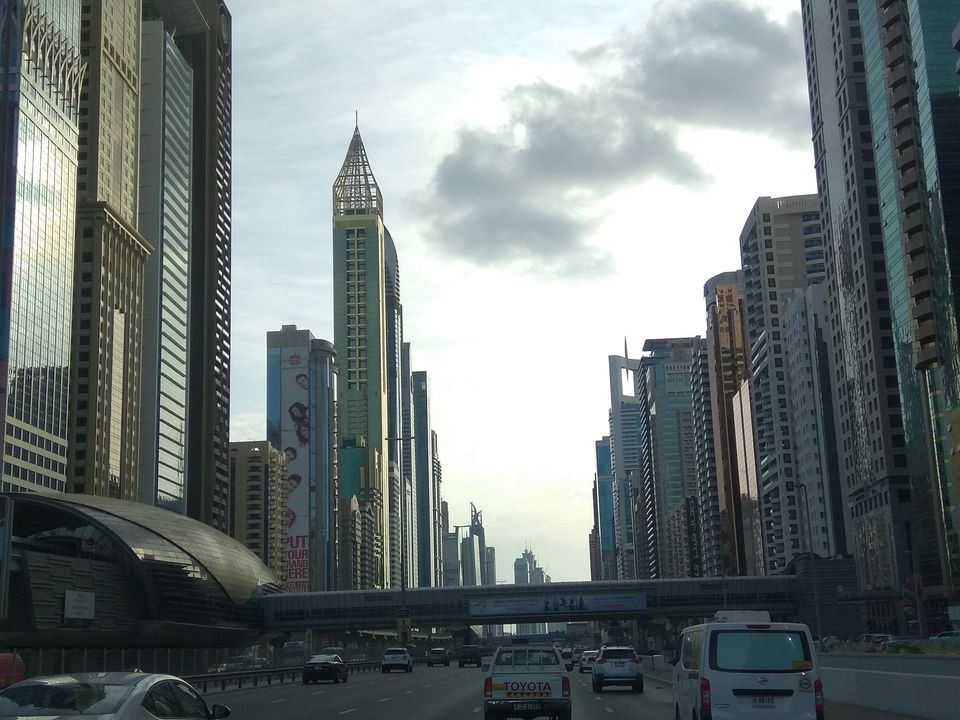 Then we reached the hotel situated in 16 Al Raffa - Al Fahidi - Dubai - U.A.E. The service was excellent and the food was delicious. This hotel is best for budget travelers. There is an RC pub beside this hotel. You can go there for relaxation after spending your joyous day. It is open from 12:00 pm till 3:00am.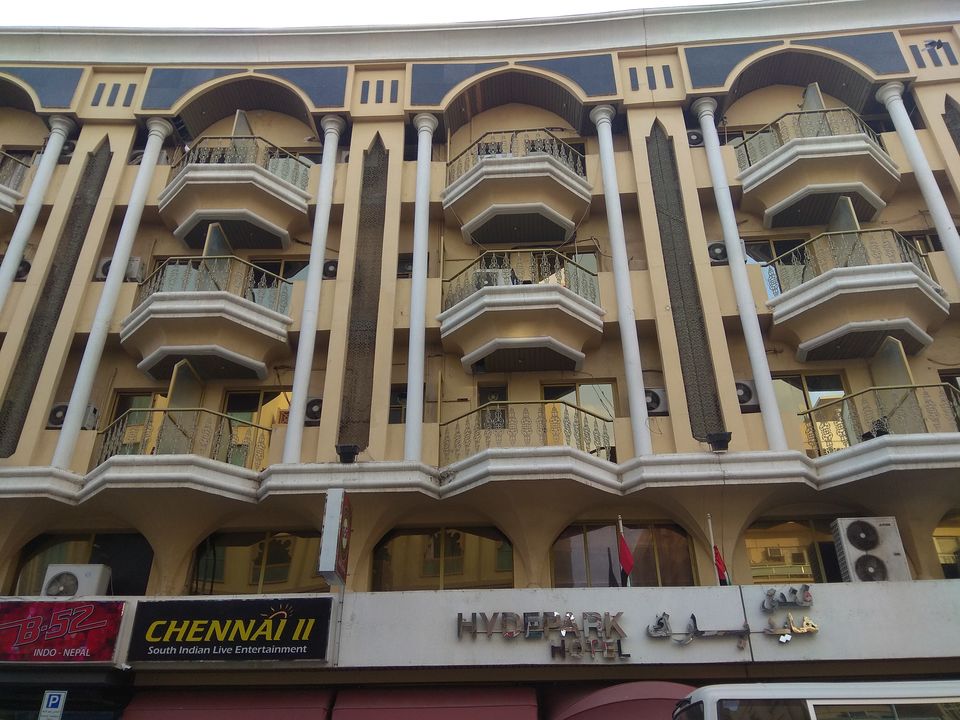 Now, our journey begins, we moved towards our first visit to "Dubai Creek Dhow Cruise". Dhow Cruise is a beautiful way of spending a night in Dubai with your loved ones. We found it was fully covered with sparkling light. The Waiter came and sweetly offered a dining table to us. He said, "just wait for the program to start ( Tanura dance and Bedouin tradition program). Till then you can enjoy an incredible view of Dubai stars and glittering skyline".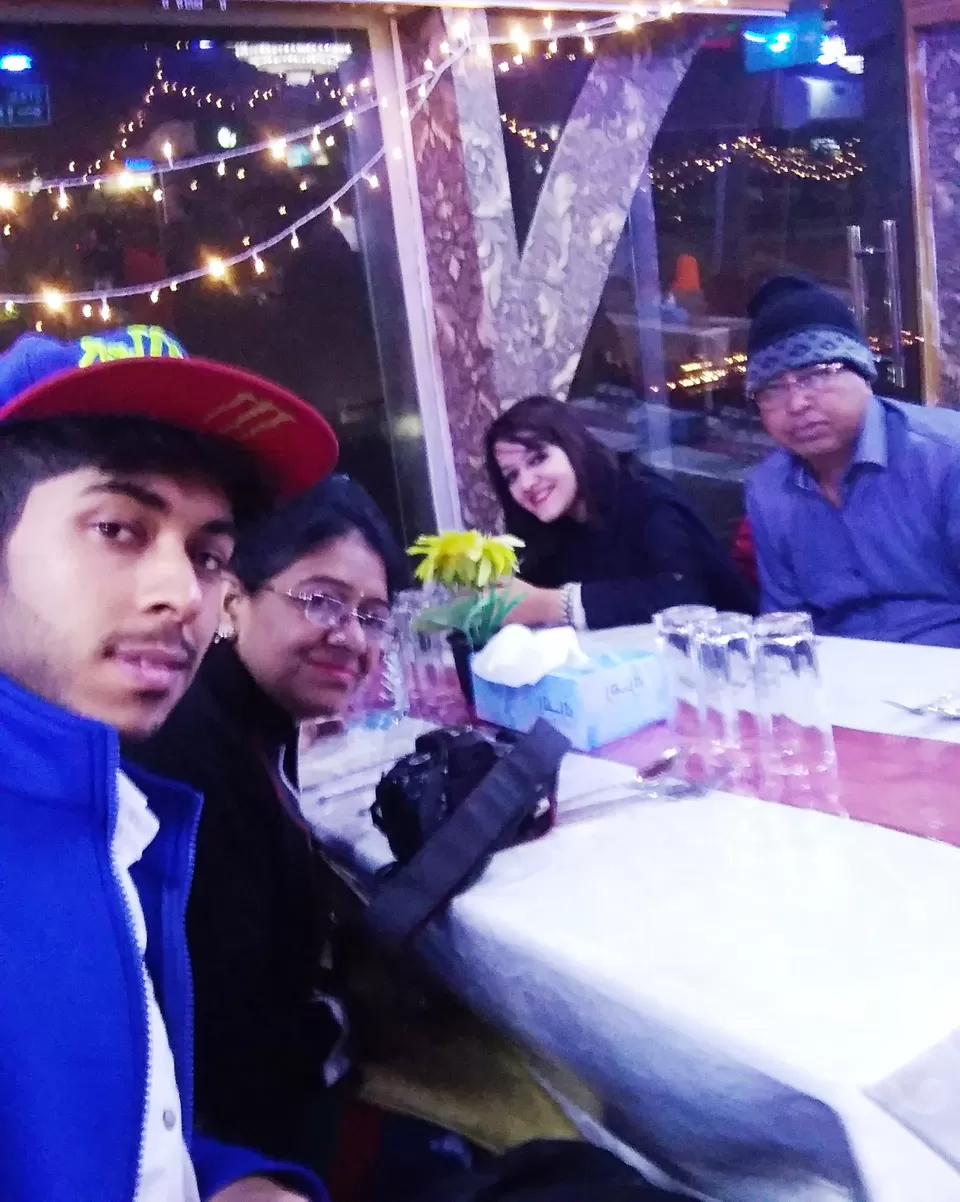 Then we experienced Tanura Dance and Bedouin tradition. There was a delicious buffet veg-non both and a lot of mouth-watering desserts. But we all are vegans. We chose a vegetarian buffet. But my parents are nature lovers and we siblings are party lovers, so we had more fun than our parents. Our parents said it was just 'Ok' experience. We said it's a 'Wow' experience. Its timing is from 8:30 pm. It's approx till in a 3 hr duration. The queue starts at 8:00 pm and Cruise is working daily.
Finally our awesome day 1 ends here. We all were so excited to found ourselves in Dubai.
It was a miracle that we siblings were not early bird persons but our excitement to discover new places woke us up before our parents. We had a tasty breakfast in our hotel.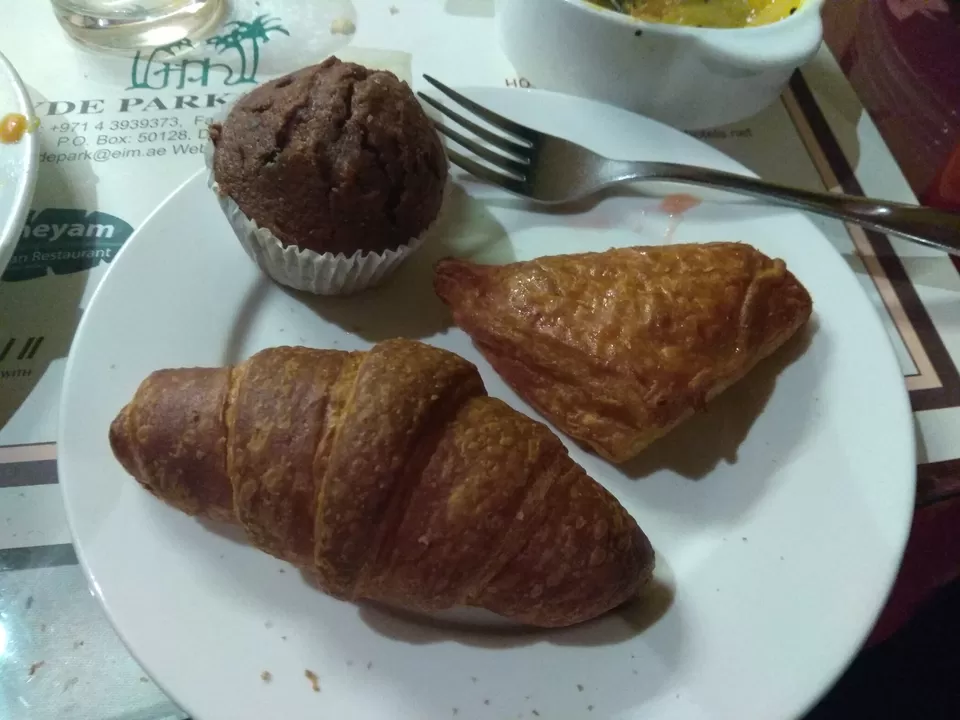 At around 11:00 am, we arrived for the Dubai City Tour on a bus. During our journey, We experienced the big bus. But we missed getting the experience of it because of the timing issue. I recommend that if you visit Dubai, must travel to Dubai Big Bus.
Then the bus stopped at Burj Al Arab beach that is called 'Pubic Beach' located nearby Burj Al Arab. It is the only 7-star luxurious hotel in the world located at Jumeirah St - Umm Suqeim 3 - Dubai. Its average cost is $24000 per night. We observed there were people from many different countries. Some were doing sunbathing, some were strolling with family, and children were playing.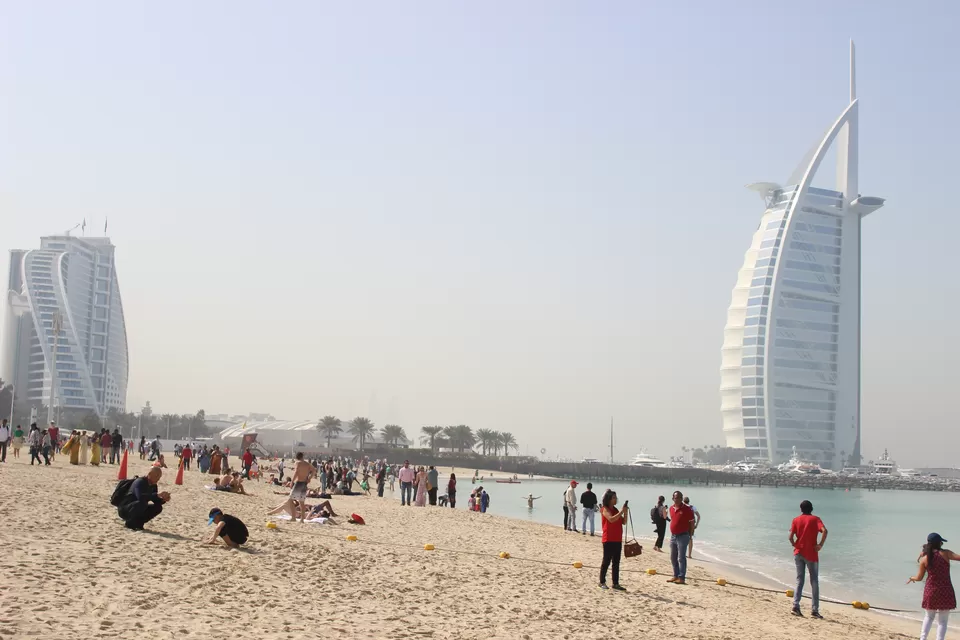 Public beach is best for those who want to relax after a long day's hectic schedule because the crowd here is quite less as compared to the other beaches in Dubai. On Monday, this beach opens from 7:30 am till 5:30 pm only for women and children. But it opens from 7:30 am till 11:00 pm on Thursday and Friday and it opens from 7:30 am till 10:00 pm on other days. The best time to visit here is during sunset because the weather is good at that time and you also get an opportunity to click extraordinary photographs of the sunset.
Then we took away towards Palm Jumeriah monorail. This Monorail line is running down on the track of the first artificial island which is Palm Jumeirah Island.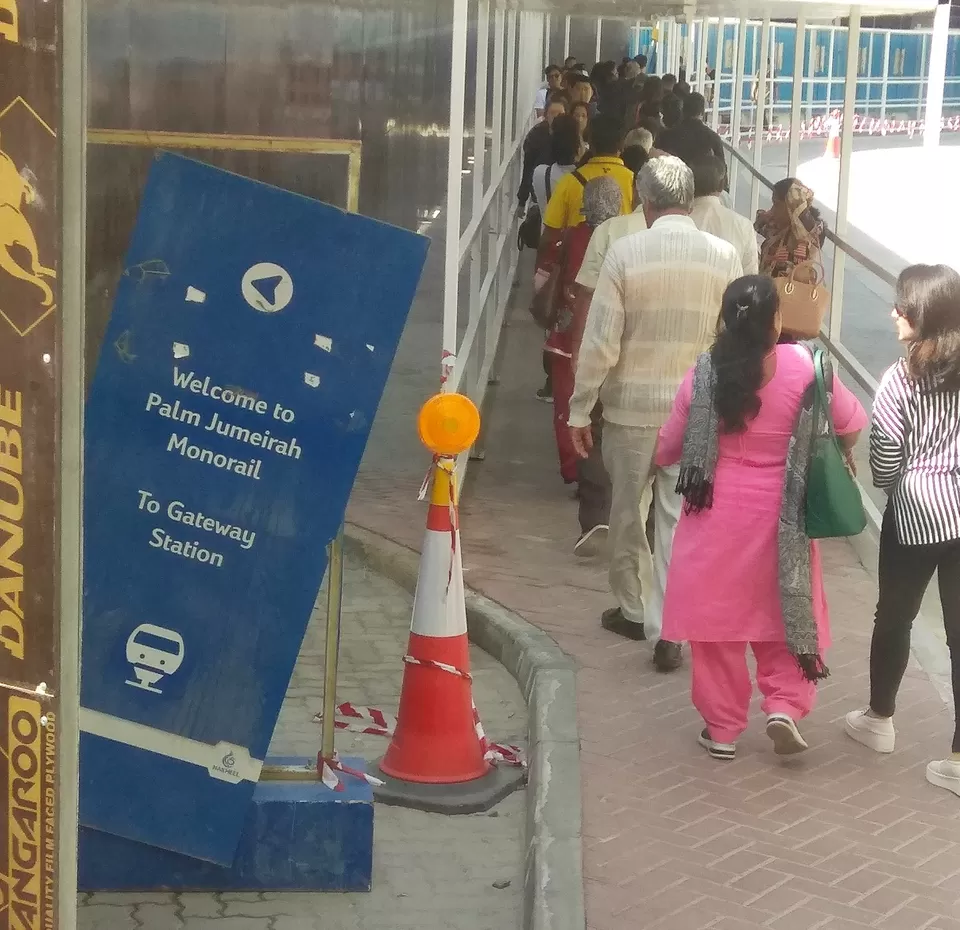 The ticket costs are quite expensive than Dubai Metro and Dubai Tram. It costs 20 AED per person one-way ticket and the return ticket costs 30 AED. Although, we bought a one-way ticket which costs us 80 AED. The 4 stations are covered by this monorail is the Palm Gateway, Al Ittihad Park, Nakheel Mall and, Atlantis Aquaventure. The journey completes around in 10 minutes.
Then we took away for Dubai Desert Safari at around 2:30 pm. It is a mysterious place for adventurous people. It takes around 5 to 6 hours for the entire trip to end. Its morning time is from 5 am to 10 am. Morning Safari is best for those who have less time left for the tour. But in the morning, you experience limited activities than the evening like Belly Dancing, Tanura show, Fire Show, etc. These activities are missing in the morning. I recommend you to enjoy an evening safari if you have a good time because, at that time, there are a lot of things to make you entertain.
Its evening time is 3:30 pm till 9:30 pm.
We were astonished to see dunes all the way around. Now our first activity begins from dune driving in an SUV car. It was a bumpy-rough path. We felt like dancing in a car. It shook us so hard, we felt like we laid there on the ground. The full-ride ends around 30-35 minutes. But anyway, for us siblings, this activity is on the top lists for fun.
Then we came over at the quad bike location. We experienced sunset from there. The sunset there becomes one of the best sunsets, we have ever experienced in our life.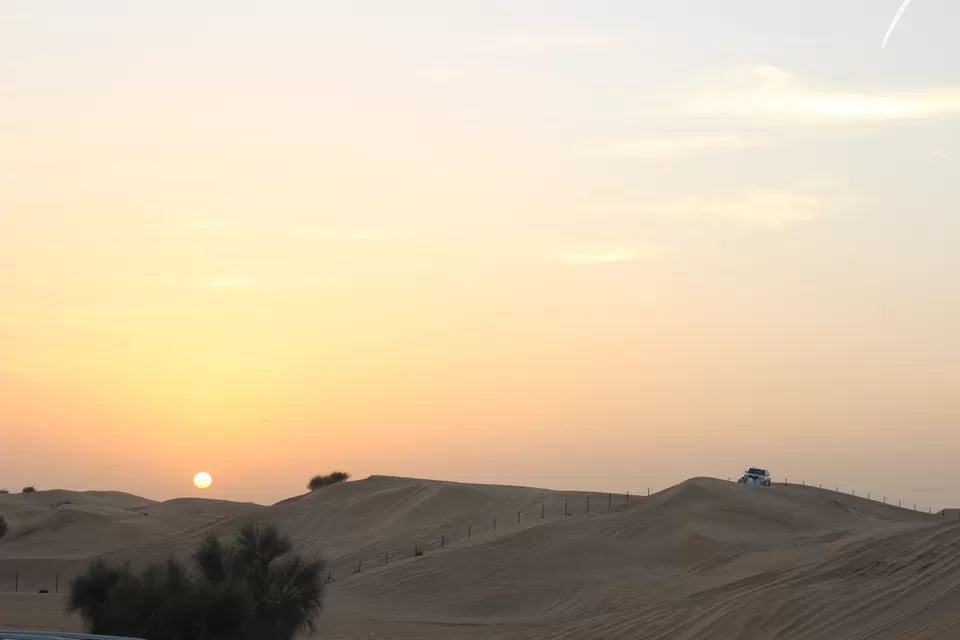 Then we moved to take a ride in Quad bike. At first, our parents said no because they were not adventurous lovers. But somehow, we siblings managed them to pay for this amazing activity. At first, I took a ride. It was an outstanding experience.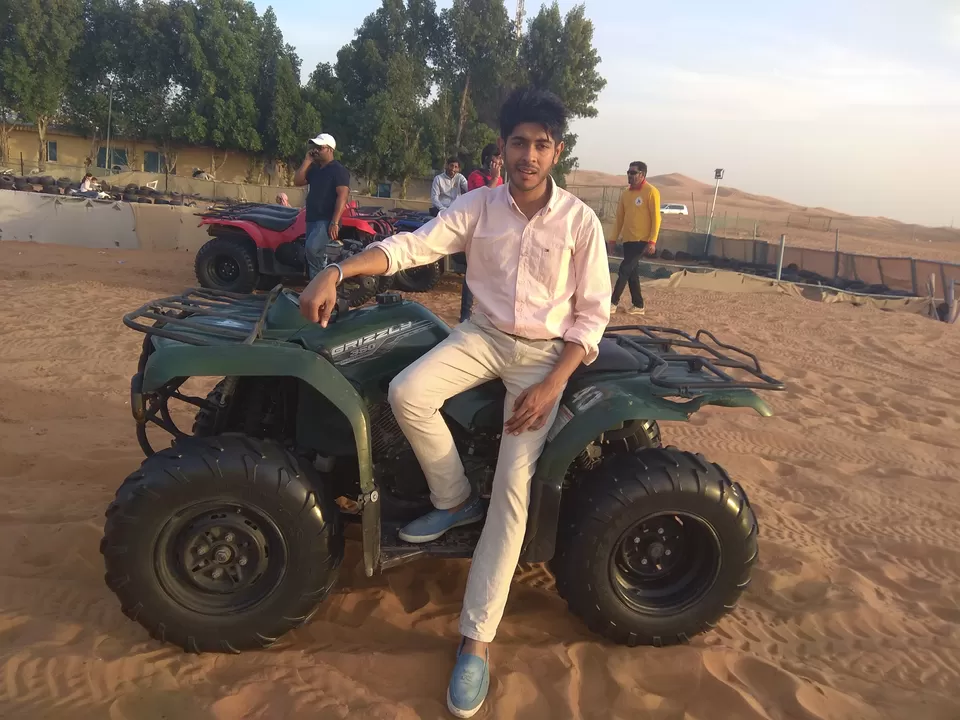 My sister also had the same experience as me.
Then it was our parent's turn for the ride. They said it's just 'wow'. Especially my father loved it the most. Then after a ride, he said I wanted to pay again for it. Still, we could not believe a non-adventurous person failed his children in the game of adventure. We siblings were proud of ourselves that we made our parent's an adventurous lover.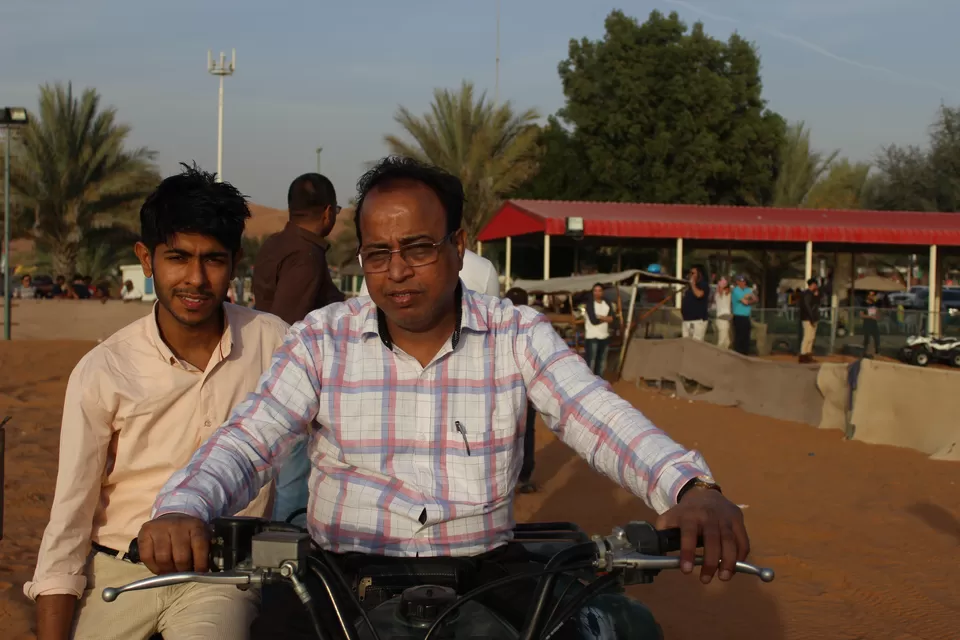 Then after that, we moved towards campsites where other new activities would begin. They welcomed everyone with Arabic coffee and dates.
Activities we enjoyed except dune driving and quad bike are:-
Belly Dancing
Fire and Tanura Show
Traditional costumes with photography
Unlimited soft drinks, tea, coffee
Buffet and B.B.Q
This became the brightest moment in our life that we got an opportunity to enjoy all these activities together in one place. Mostly activities were a new experience for us. Then we arrived from there at around 9:30 pm. We reached the hotel and we were so excited to explore the next destination tomorrow.
On this day, we all woke up early in the morning. We had a delicious breakfast. Then we moved to the Dubai Gold Souk market at around 9:00 am. This market is one of the best places in the world where you find platinum, Gold, and Diamond. They charge you a pretty high price but they also offer you a discount when asking for a bargain, so do not forget about it.
This gold souk is located in Dubai's commercial business district in Deira, in the locality of Al Dhagaya. To reach the Gold Souk, we traveled from Bur Dubai Abra station located at 32 3 A St -Al Fahidi - Dubai. Its timing is 5:00 am till 12:00 am. It charges only AED 1 per person. The distance from Bur Dubai Abra station and Deira is approx 5 minutes. During our journey from Abra, we got a chance to observe old and new Dubai such as big buildings, traditional houses, etc. The spectacular view of the city and blue water made our journey mesmerizing.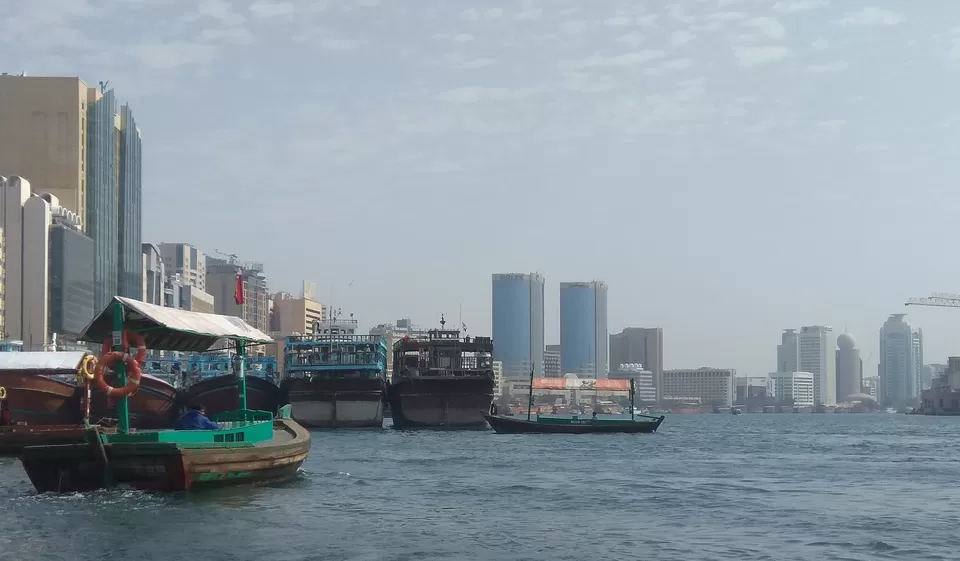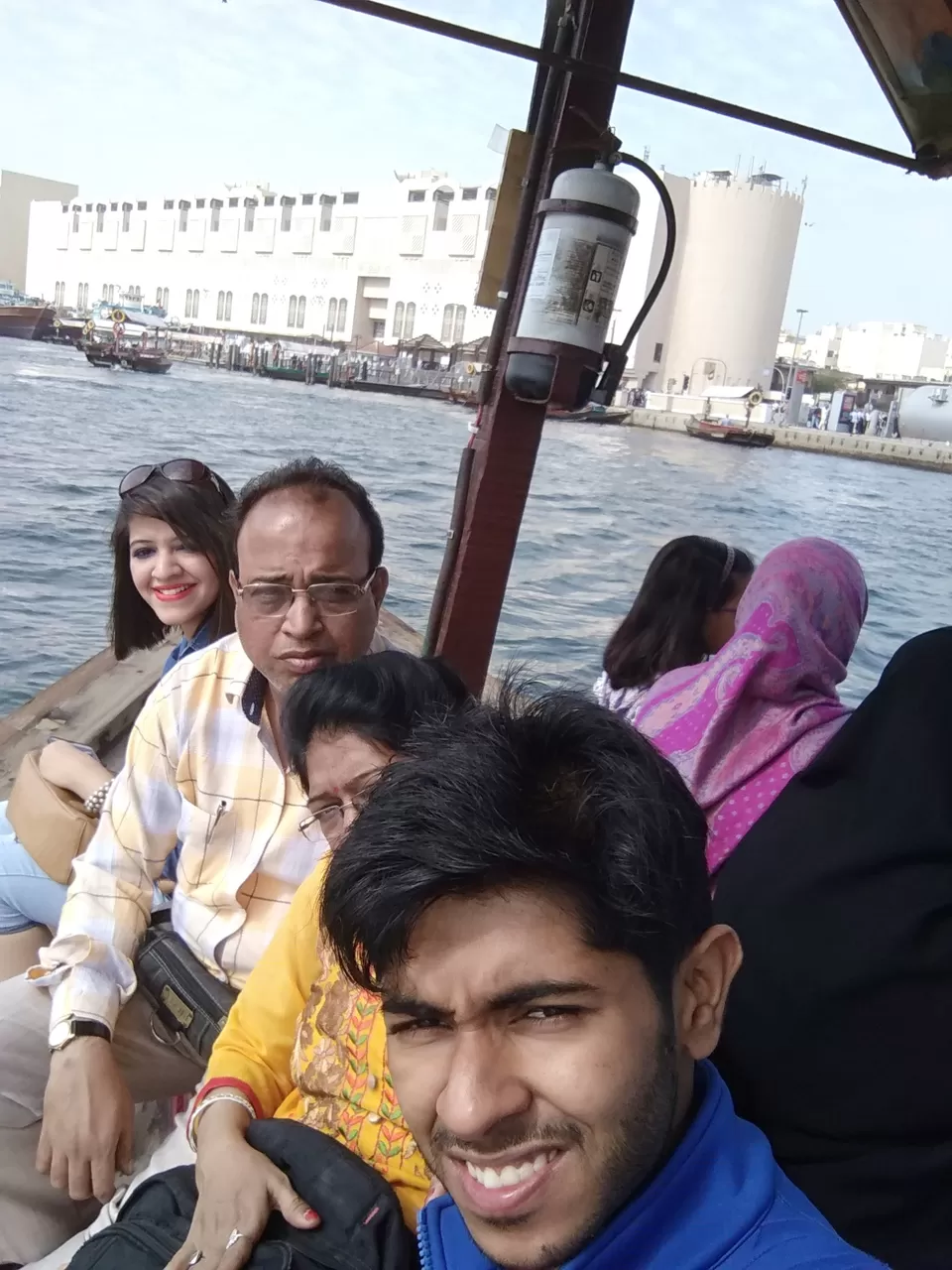 Then we reached in Deira. The distance is approx 1.5 km to reach Gold Souk. We walked till thereby exploring the attractive streets of Dubai.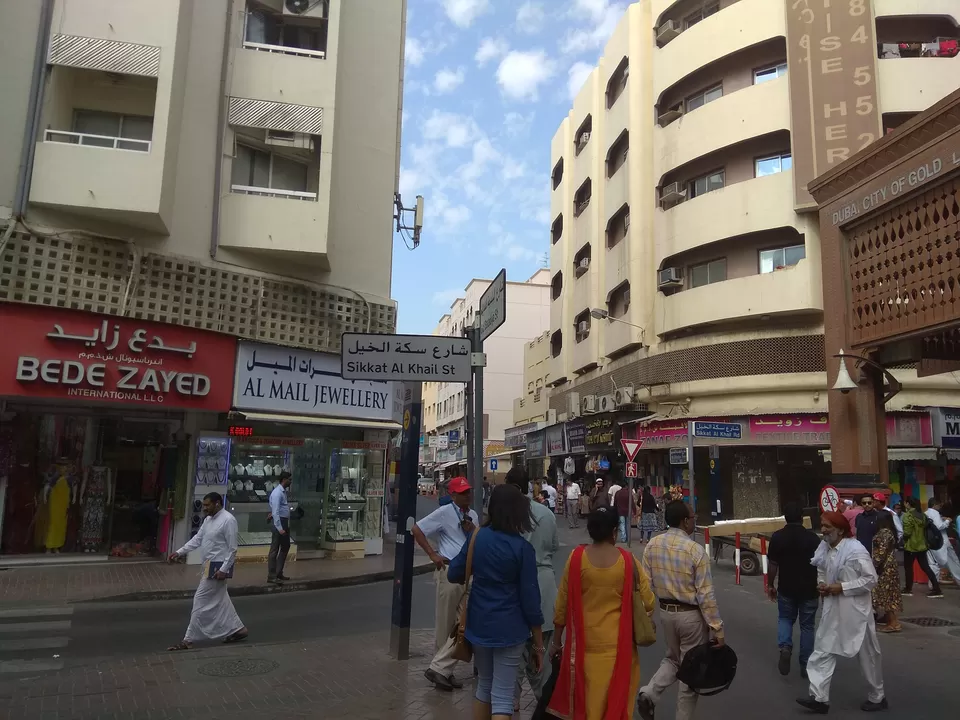 When we entered inside Gold Souk Market, we were shocked to see so many golds, platinum, and diamonds in one place and a lot of shops there.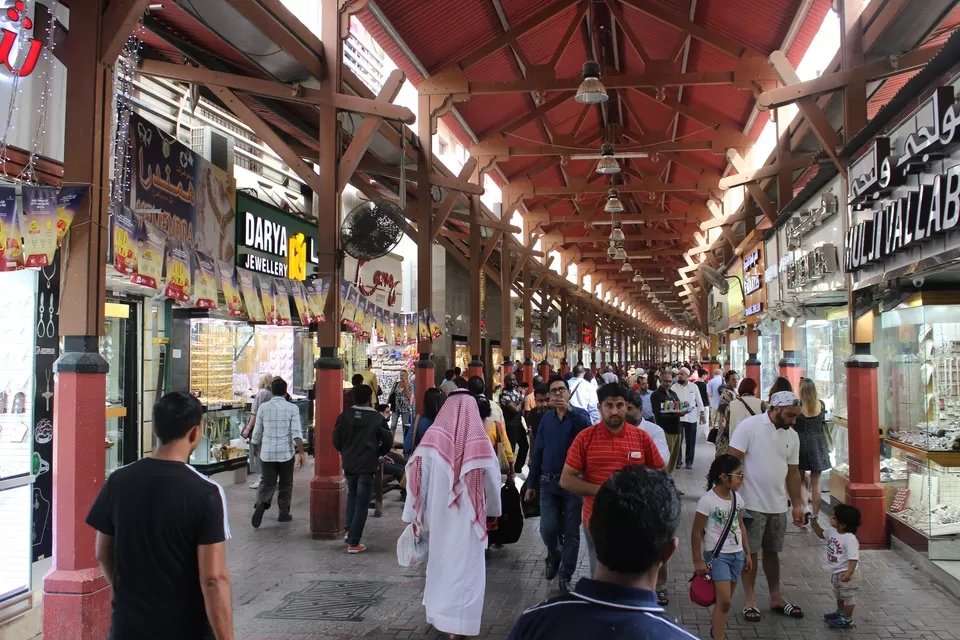 The interesting thing is here is one of the world's heaviest ring called Star of Taiba. This ring is 64 kg in weight and is stubbed with around 5 kg of diamonds, 615 Swarovski crystals, and other valuable stones. It also has a certificate from the Guinness book of records certified its 'weight in gold'. It is approximately Dh. 11 million(US$3 million)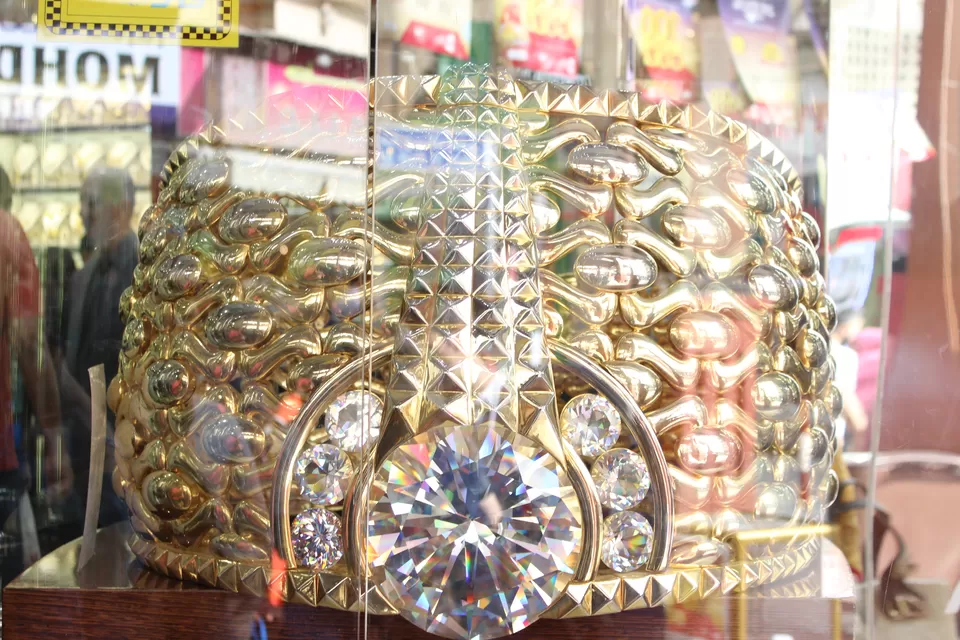 Then we returned to the hotel. We eased up till evening. Then we came up for Meena Bazaar. Meena Bazaar is famous for shopping for textiles, jewelry, handicrafts, perfumes, spices, etc located in Bur Dubai. The flock's hot spot is settled between Al Fahidi Street and Khalid Bin Al Waleed Road. It is called Bur Dubai's little India. There are so many old shops of gold and textile. It is open all over the week. Except for Friday, its timing is 10:15 am to 10:30 pm and on Friday, its timing is 5:00 pm to 10:30 pm. Daytime, it is a little less crowded than the night.
We were strolling down there. In one shop, We have seen the biggest hookah of our life. We were stunned to see this.
We had shopping for dates, chocolates, and perfumes. The taste of the dates and chocolates, we loved the most. The perfume smell is so fragrant that you would not believe is the best perfume fragrance, we have ever experienced in our life. Then we saw that the dates, spices, and chocolates were openly placed there. But it produces the sweet fragrance that it scented our nose.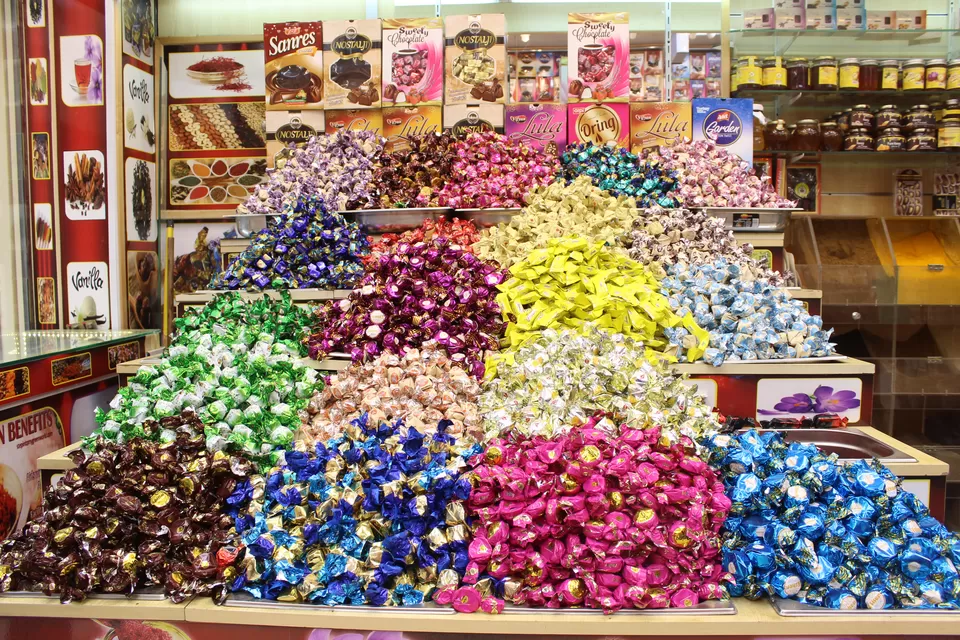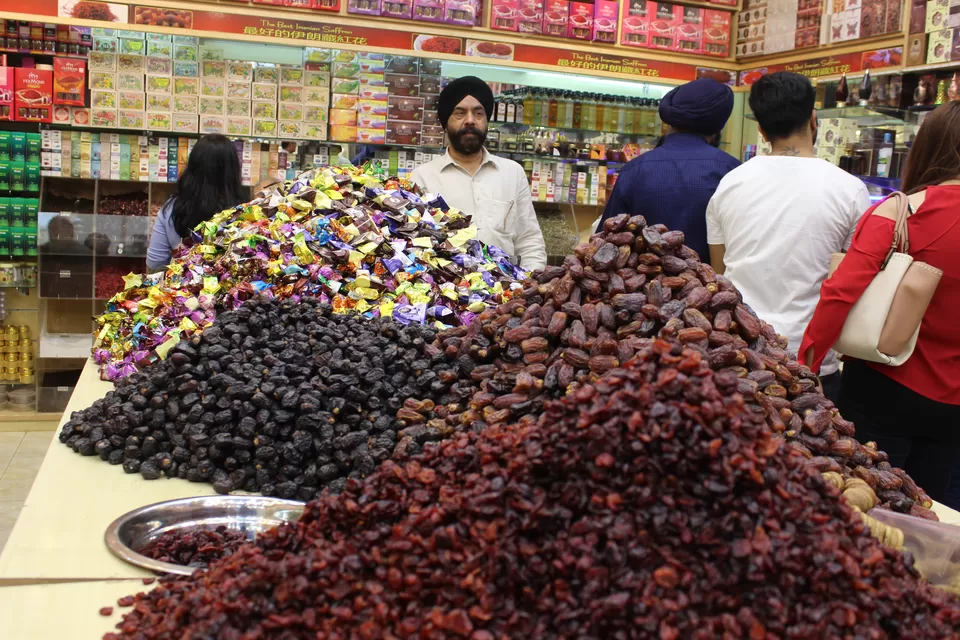 Then after celebrating a market day, with happy and positive vibes, we returned to the hotel.
its 28th January 2018 and this was the biggest day of my parent's life because on that day, It was their 25th marriage anniversary. We siblings made a surprise plan to take them to the Miracle Garden. As they are nature lovers, so we thought that in these 3 days, we had not visited any nature place.
Miracle Garden situated in Al Barsha South 3 - Dubai - U.A.E. It is one of the incredible places for nature lovers. It is the world's largest flower garden featuring over 50 million flowers and 250 million plants which is in 72000 square feet. It is open from mid-November to mid-May at 9:00 am till 9:00 pm on weekdays and visitor's entry closes at 8:30 pm and on weekends, its timing is 9:00 am till 11:00 pm. The visitor's entry closes at 10:30 pm. It has certified by "The Guinness Book Of World Records" for the biggest floral garden in the world. There is everything that is made of a glimpse of flowers such as Plane, Teddy Bear, Face, etc. The entry ticket is DH 40 for adults and children over age 12 are DH 30. Although, for kids below age 2, free entrance for them.
We hired an electric car for viewing all around Miracle Garden. Exquisite look of Miracle Garden and the fragrance smell of different kinds of flowers refreshed our day.
Then, after experienced it in an electric car. We had a good look and spectacular Ariel's view of this scenic garden. We witnessed that there were a lot of people of distinct age groups from many different countries. So, this garden is suitable for all kinds of age groups. This was one of the best encountered of us with nature until now. I recommend you must visit this garden when you are in Dubai. I am definitely sure if you are not a nature lover, but still, you will love it.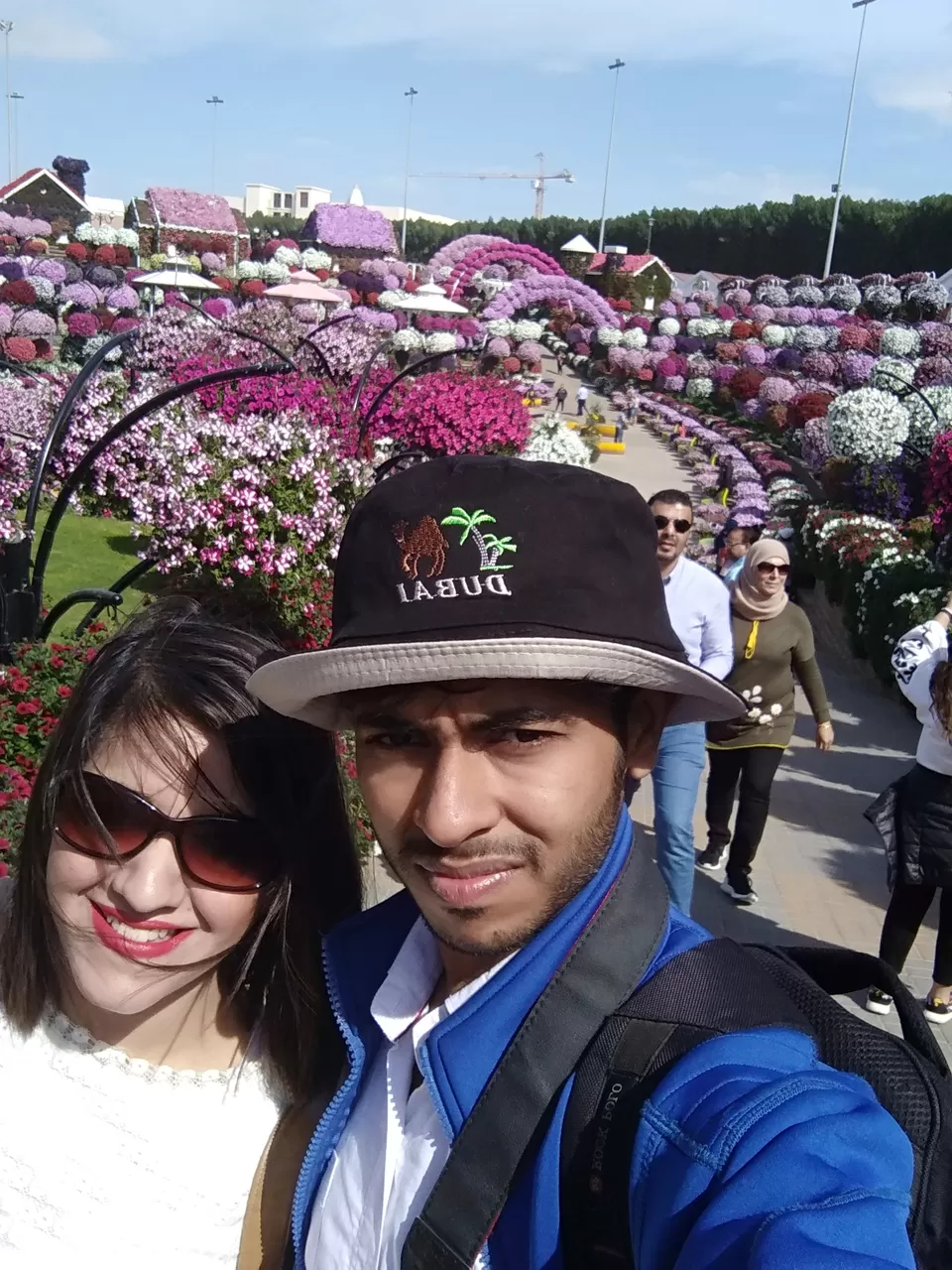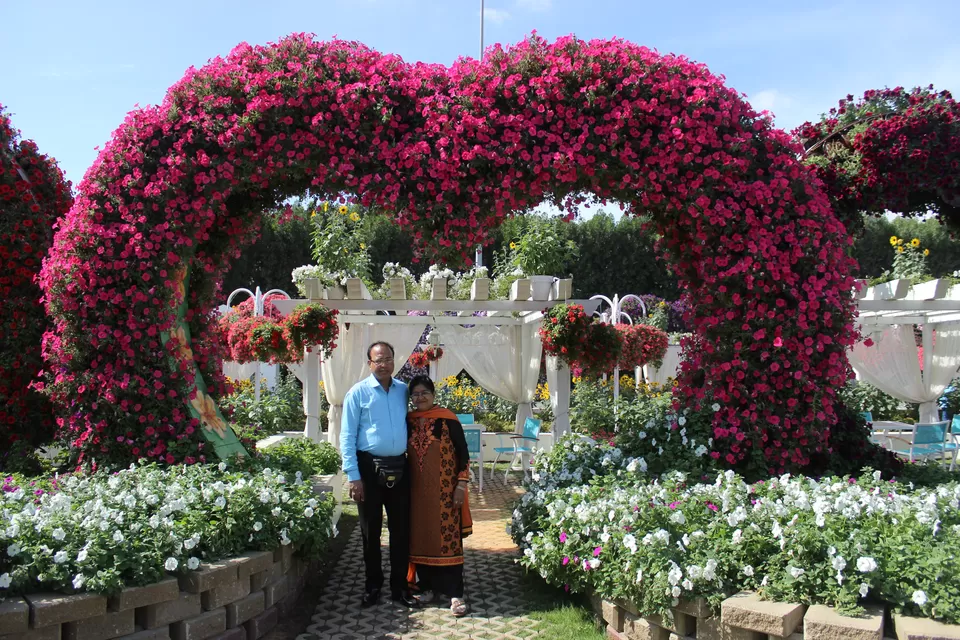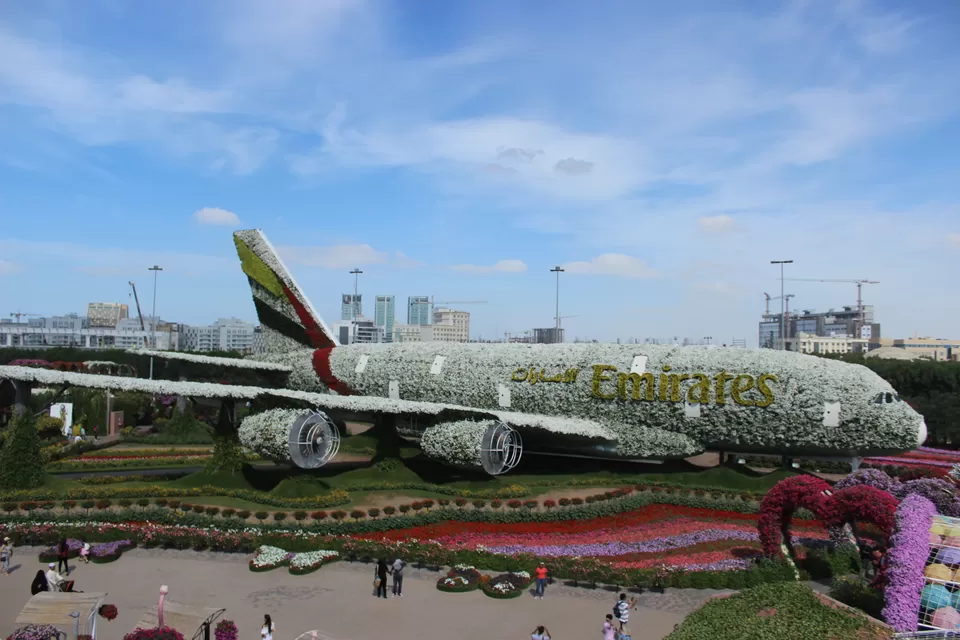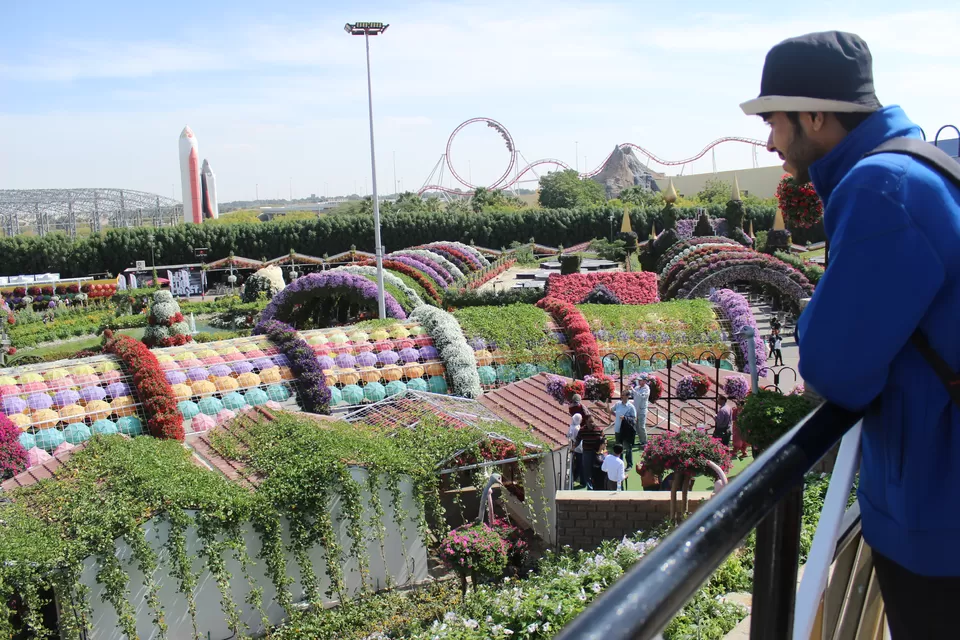 Our journey with nature in Dubai ends here. We arrived at the hotel. It was like we took a bath of flowers.
In the evening, we took away Burj Khalifa on the bus. It is one of the tallest buildings in the world located in a skyscraper in Dubai. It's built approx in 12 million square feet. On Thursday and Friday, its timing is 10:00 am till 12:00 am and on other days, its timing is 10:00 am till 10:00 pm. The last tickets were sold before 45 minutes of closing time. The way of going here is through the Dubai Mall.
When we entered inside Dubai Mall, we were so amazed that we are inside one of the world's biggest mall. Then, we had set foot on for entry inside Burj Khalifa. Its entry is situated on the lower ground level of Dubai Mall. Our observation deck was on the 124th floor. It took us in just 1 min to reach an observation deck from the elevator. Then, we came up with an exquisite Ariel view of Dubai from the window. It was around 7:30 pm and Dubai was shining from light.
After exploring Burj Khalifa, we moved for Dubai Aquarium. Dubai Aquarium and the underwater zoo are inside the ground level of the Dubai Mall. The tank is built in 12 million liters. You have to purchase a ticket for AED 195 and at weekends, it is AED 225. It gives you a 270 degree through a 48 m view of along aquarium tank. You will experience a breathtaking view. There are around 40 different creatures piranha, penguins, shark, crocodile, etc. One fantastic species is archerfish and king croc. It also includes the world's greatest hub of Sand Tiger Sharks. Its opening timing is 10 am to 12 am on Friday and Saturday, from 12 pm to 10 pm on other days.
When we enjoyed Dubai Aquarium. We felt like, we were inside in an ocean. It took us approx 40 minutes in exploring the Dubai Aquarium. This was our first encounter with such a greatest Aquarium of our life.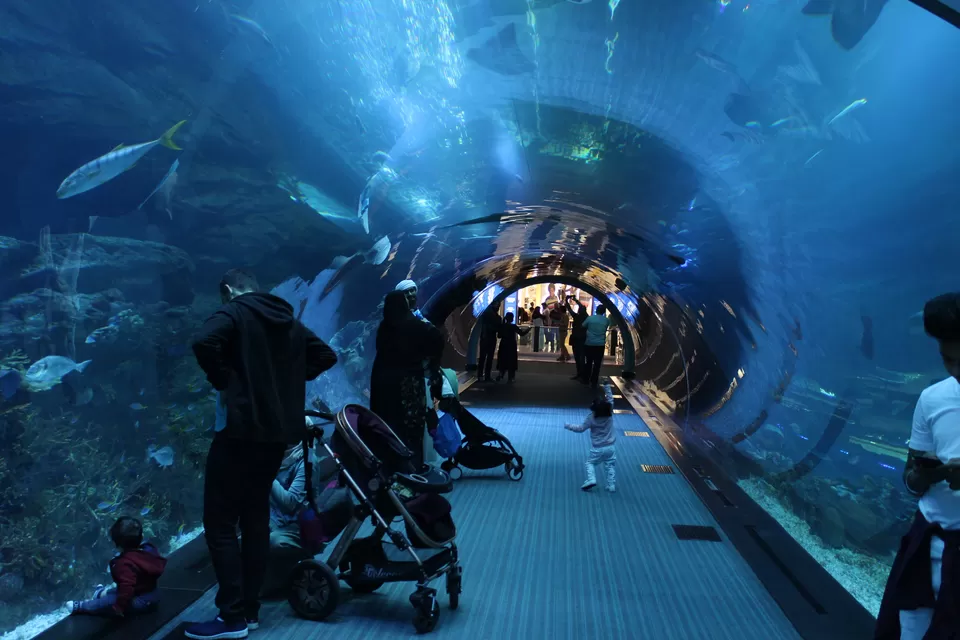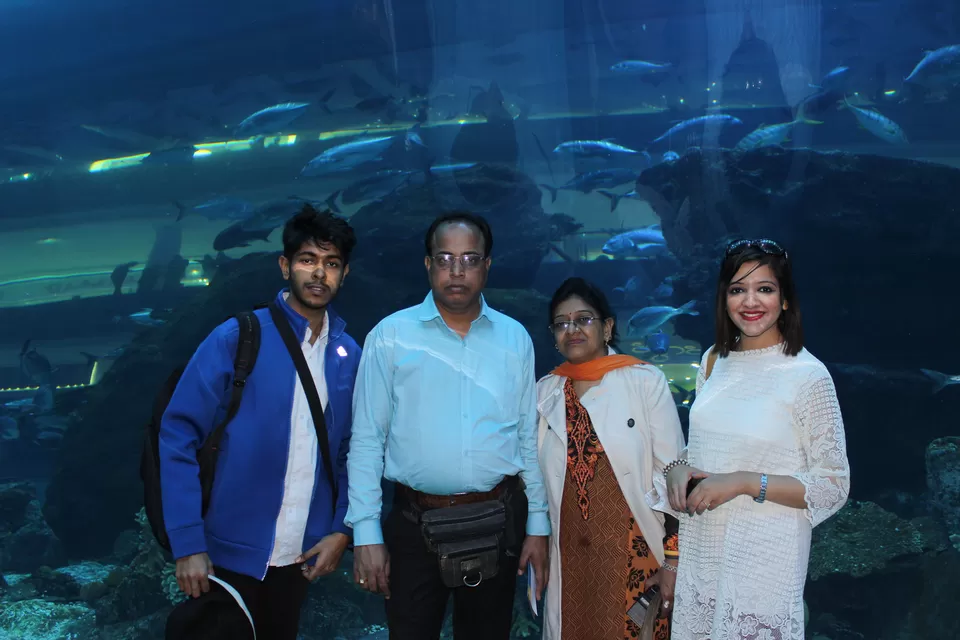 At about 10:00 pm, we left that place and arrived at the airport. Our flight is at 2 am. We felt so upset that today is our last day in Dubai. We missed all those cherished moments. But, somehow we felt so cheerful that our dream together to visit on an international trip has now been successful and we promised ourselves that one day, we will travel to Dubai again and spend more quality time there. By taking a lot of unforgettable memories, we departed from there happily.
#FamilyAndMe