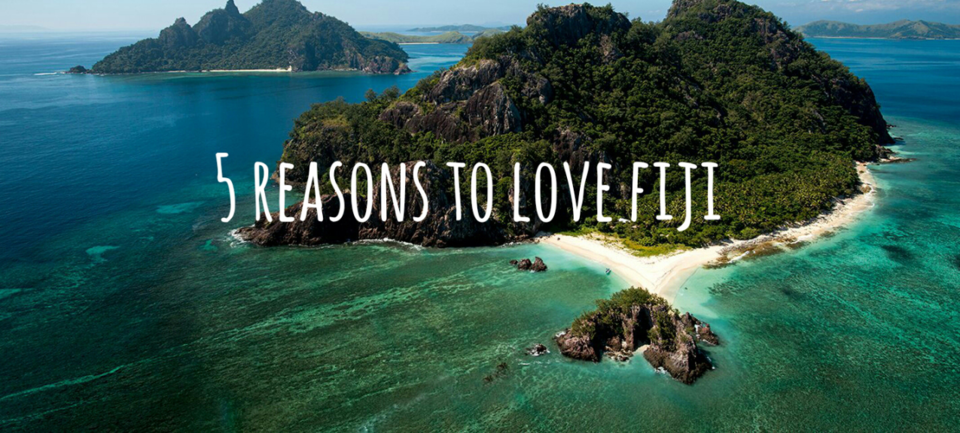 Every time we look at the posters of Fiji hung up on the wall of our home, we want to be transported to Fiji, that very moment. There is something about Fiji, that made us fall in love with it the moment we stepped foot into this blue paradise. Read on to find out the top 5 reasons we love Fiji.
1. Happiness lives here, literally
Photo: Babyboomerstraveling.com
They are the happiest, ever smiling and friendliest people we have ever met. The Fijian tourism Ad saying " Happiness lives here" rung in our minds a million times while we were in Fiji and around the locals. Each and every Fijian would greet us with a friendly "BULA" meaning hello in the local Fijian language. By the end of the holiday, their cheerfulness got transferred to us and we started saying Bula to everyone we met.
2. Turquoise lagoons and warm weather, perfect for hitting the beach.
Photo: Nisreen Akolawala
We loved the blissful fusion of gorgeous islands with turquoise blue waters and warm balmy weather. With lagoons so close to land that one can practically walk into them and find an array of fishes, we couldn't ask for more! Coconut trees, white sand beaches, soothing warm water, hammocks, warm sunshine and an array of colorful fish popping in to say 'hi' right next to the shore..Fiji's got it all. Oh and yes, Fiji is now in the list of the most romantic destinations in the world.
3: We enjoyed being in "Fiji time"
Photo: Fiji.travel
We live in a country where there are so many rules, regulations, deadlines, stresses and work ethics. Here we were in a the middle of Pacific enjoying our Fiji-time, as they call it; meaning no deadlines, no rush…do what you want at your own time! How relaxing it is to stay a place that allows you to do, feel and be whatever you want to.
4. We loved the beautiful concoction of traditional rituals in Fijian culture
Photo: Nisreen Akolawala
We experienced so many traditional Fijian rituals like Kawa ceremony, Fijian fire walking ceremony, Fijian Lovo feasts (a magnificent feast, cooked inside the earth ) as well as lively Fijian music and dances that lifted our moods. Kava is a traditional drink made from a natural herbal ground root. It may look (and taste) like puddle water, but you shouldn't – and probably couldn't – come to Fiji with out trying it.
It's a much loved and respected local custom, most commonly used to welcome visitors, so chances are on your travels between islands you're going to be experiencing a traditional Kava ceremony, drink as much as you dare but be warned, too much can produce a strange (but harmless) numbing sensation in your mouth.
5. Mamanuca islands: A paradise that can be explored in a day tripper from Nadi
Photo: Nisreen Akolawala
Castaway, Treasure, Beachcomber and Bounty islands: part of the Mamanuca group of Islands, west of Nadi are where you should head if you want to experience the bliss of azure blue islands in a day trip. When in Fiji, doing a day tripper doesn't mean hours in a car, it means lying on your very own yacht, feeling the sea breeze as it runs through your hair, having seafood banquets and doing multitude snorkeling stops on the way! This is exactly what we did.
What are the reasons you love Fiji? Let us know.