Goa is calling resistance is futile. They say that plans of Goa are made to get canceled. Well that's not entirely true because BOOM! I just proved them all wrong.
It all started with a extreme urge to go somewhere to chill and what's better than the 'Chill Capital of India'? So Goa was decided then. Shared the plan with my mains who somewhat share the same mental disorder that I have. And they were in, God bless them.
Ok I think I can start with the blog now. So I live in Gandhinagar, Gujarat which means I had to catch my flight from Ahmedabad which costed us INR3800 per head for non-stop round trip flight. Yes, you read it correctly; it costed us INR3800. I had booked my flights almost a month in advance. Now accommodation. There is a resort named Goa Club Estadia in Bardez. My very dear friend pulled some strings and managed to book us a suite in the resort at the same time when I booked our tickets. You can find a ton of hotels or villas to your liking online through OYO or AIRBNB app too.
Flight taken care of? Check ✔️
Hotel booked? Check ✔️
We reached Goa at 4:30pm. I was careful to book the flight in a way that we reach Goa before evening. The next thing we did was to find a cab to our hotel. Now as I'm on the topic of cab let me tell that there is no OLA cabs or UBER in Goa, all there are private cabs that are like sharks, always in a mood to rip you off. The 50 min cab ride from the airport to our hotel costed us INR1200. Please use the public transport when you visit Goa. My friend who reached Goa the previous night was already waiting at the hotel when we arrived and she was kind enough to make arrangements for the blast we were gonna have that night. After checking in the hotel (to our pool facing suite; please excuse my bragging), the party started. The first evening we just relaxed had a couple (Read: couple of crates) of beers and then we took over Mall de Goa which is supposedly the biggest mall in whole of Goa. So the evening was spent in doing some shopping and bowling and some more partying.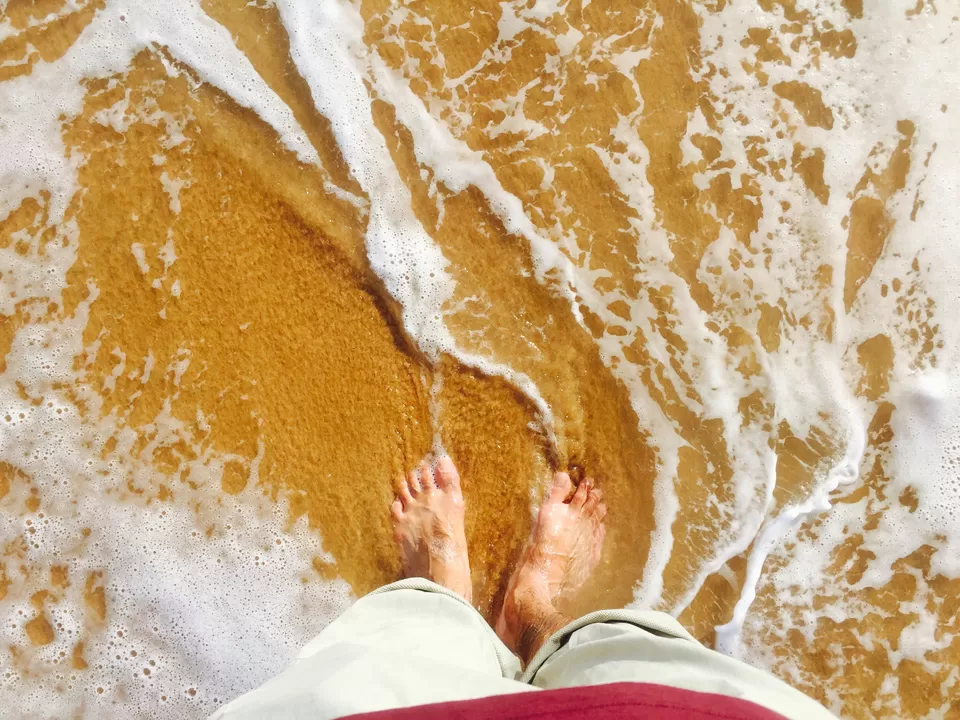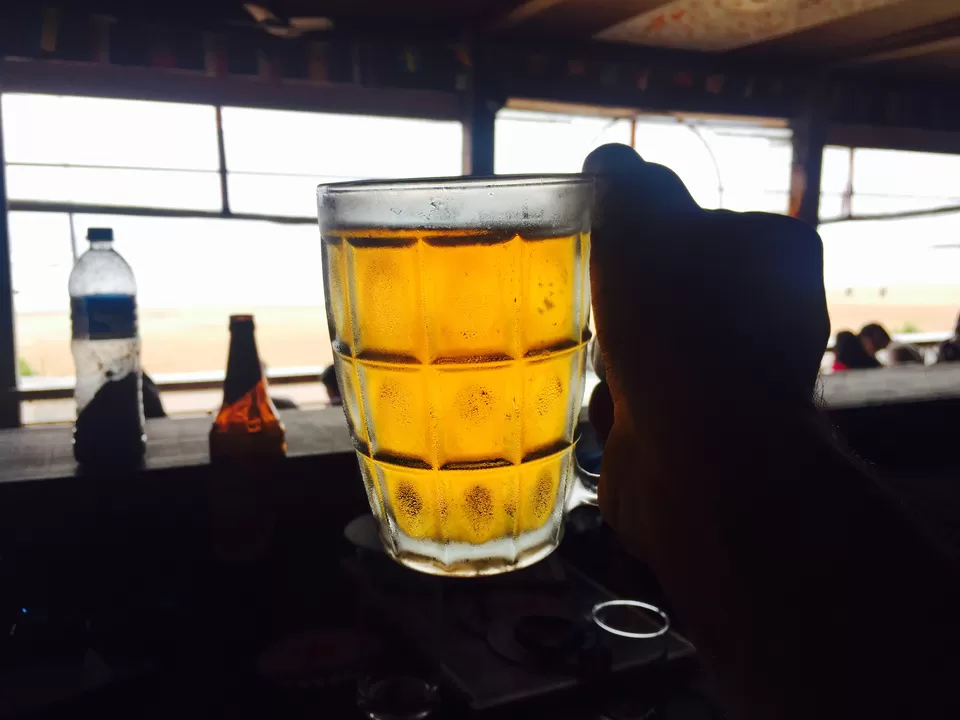 Day 2: Hangover. But waking up in a room bathed in sunlight is a instant cure to hangover which I learnt there. After a hearty breakfast we lazed in the hotel pool for some time. Later we booked a cab from our hotel to baga beach, again a rip off. I would suggest you to rent a vehicle of your own a two wheeler would cost around INR 450 and a car for INR 1500 for one day. The beach, it was just splendid. Having lunch at a shack with the view of endless sea at a open restaurant has a charm of it's own. The day was spent exploring the beach and the markets around it after which we headed to find some cool bar. The sad part was that day some election results were out so it was a dry day, but being a hotelier has some perks of it's own. I managed to convince the restaurant manager of my hotel to provide me a bottle of wine and anything else that we might want. End of day two.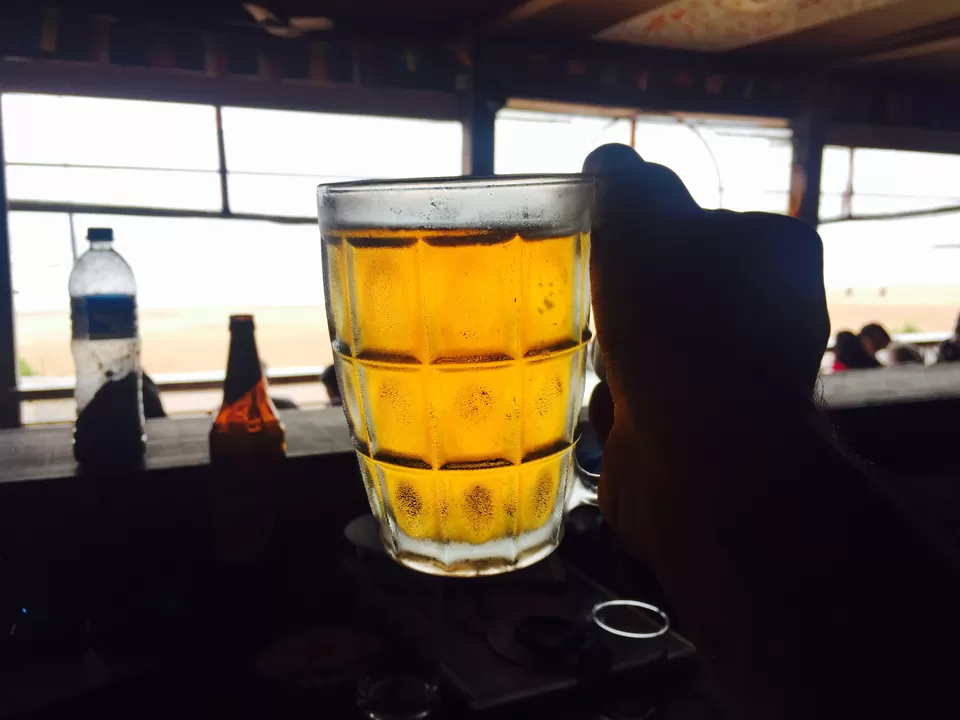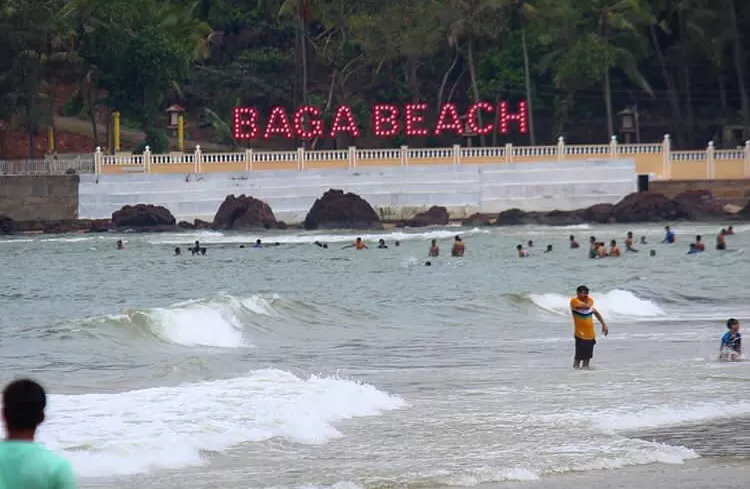 Day 3 was quite eventful. We woke up early and after breakfast we rented out a car for a tour of north Goa which would cost you INR 1800 for the whole day. We first headed towards Fort Aguada. The Fort Aguada and its lighthouse is a well-preserved seventeenth-century Portuguese fort standing in Goa, India, on Sinquerim Beach, overlooking the Arabian Sea. After absorbing the views we headed towards Anjuna beach. This beach had water and sand too like every other beach! Not that interesting as expected. Moving on, we went to Vagator beach. This beach was A-M-A-Z-I-N-G. Standing on a small cliff with sandy beach on both sides dotted with coconut trees is just perfect. The beach seemed endless. It couldn't get any better. It took us a couple of hours to soak the scenery of it, we simply couldn't get enough of it.
Our final destination was the famous Chapora Fort. Let me tell you the fort is a must visit if you go to Goa anytime. Now, Chapora fort is the same fort where one scene of the iconic film Dil Chahta Hai was shot. The fort sits on a prominent position which commands views in all directions. It also has steep slopes on all sides and a natural valley to the beach is protected by some rocks.
Time to head to a club, Now there are many clubs and pubs in Goa but there are only a few worth going. There is club Cabana, Brittos, Tito's and Baga deck that I shortlisted. We finalized Tito's as it was fairly close to my hotel (also the manager promised to give me a nice discount if I came there, it never hurts to have some contacts here and there!) At Tito's there are two discotheques, one is our desi Bollywood theme with all the DJ remix kind of songs going on and the other is videshi Hollywood theme with all the latest pop remix and EDM songs. We obviously choose the later. The inside of the disco was a ambience I never imagined. The interior was dim but bright enough to be comfortable, the dance floor, the overhead spotlights and everything was just what is expected at a discotheque. And yes, unlimited drinks so CHEERS FELLAS!!!
Now before we hit the club I managed to score some pot from a friendly negro and I was high as fuck and we all went nuts at the disco with the drinks. I'm thankful that I didn't throw up and embarrass myself but I don't remember much of that night, except that we came out of the club at around 2:30 am, called our driver and had a shwarma or a sandwich while we waited. Have no idea when we reached our hotel. Lol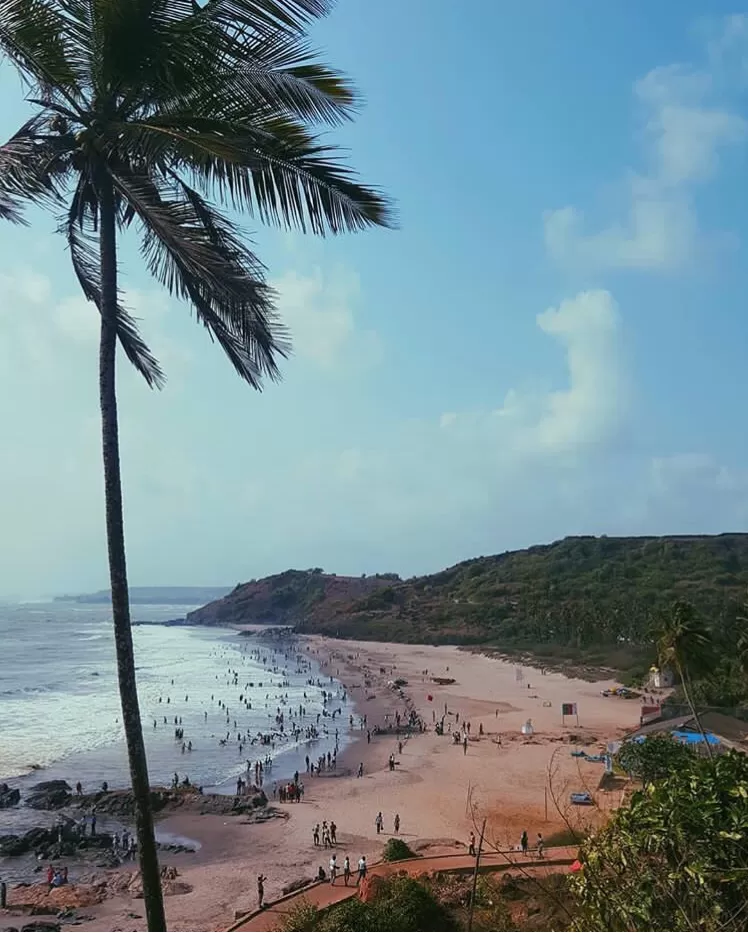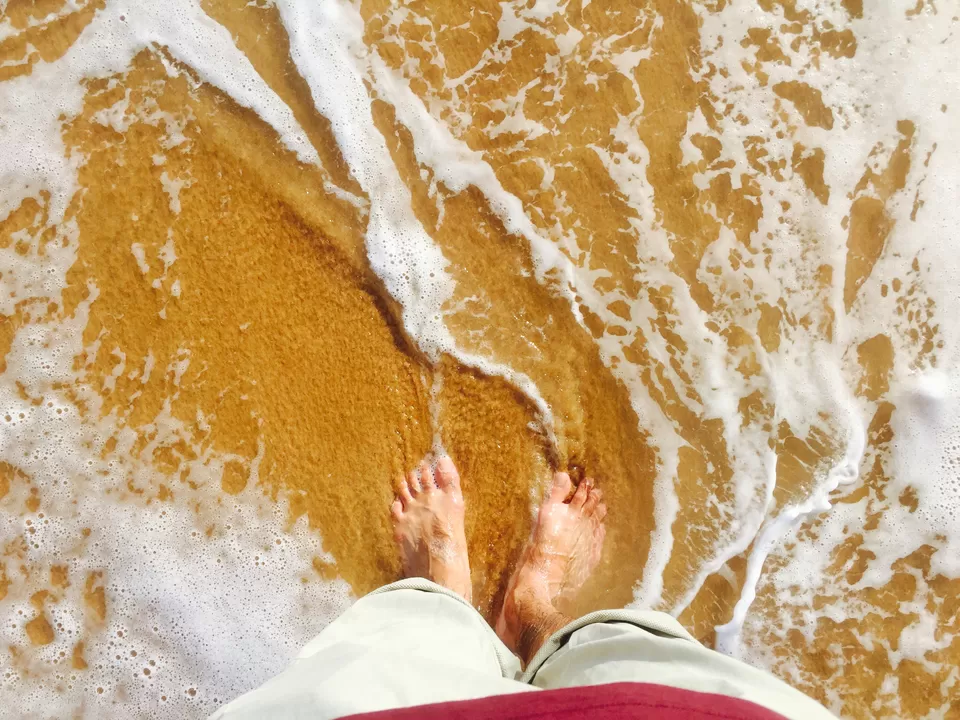 Day 4 started with a hangover of epic proportions. Gulped down a beer, which actually helped with the hangover and tried to recollect the happenings of last night. After a quick plunge in the pool and breakfast we again set out to explore the famous churches of Goa.
So again we booked a taxi for INR 2200 for the whole day sight seeing of South Goa and its churches. The first stop was Our Lady of the Immaculate Church at Panjim. This church was originally built in the 1541 by the Portugese sailors as a place to conduct their mass. It was then rebuilt in the 1600 and the church was expanded and the ancient bell from the ruins of the St. Augustine (We would be visiting this place later) was installed. We then moved towards the Bascilla of Bom Jesus, which is a UNESCO World Heritage Site. This site holds the mortal remains of Saint Fancis Xavier. It is said that the body is as fresh as the day the Saint passed away. The body till this date attracts a huge crowd from all over the world every ten years when the body is put up for public display. The body of Saint Francis Xavier is said to have miraculous healing powers. This place gives such amazing vibes that you must visit it.
We then set off towards the Ruins of Saint Augustine's church. This is also a UNESCO World Heritage Site and was built sometime between 1957 and 1602. This place is mostly ruins due the neglect of the Portuguese government in the past. Only one tower remains standing out of the original four. The main attraction of the Church, a ancient bell, was shifted to Our Lady of Immaculate church in the year 1871, as mentioned before.
We had enough dose of churches and wanted to get our feet wet again so we set off towards the Miramar Beach. We were fortunate enough to plan our trip during the month of June as it is not bustling with people at this time and we can enjoy with peace. We spent the rest of the afternoon and most of the evening at Miramar gazing at the endless sea and trying the local food joints and bars. Tried the Kaju Feni for the first time and it was the BOMB. Tequila is not even half of what Feni is.
We were so bloody exhausted that we decided to head towards the hotel and freshen up. After a round of passing blunts we settled on ordering room service. Some more partying and that concluded the day.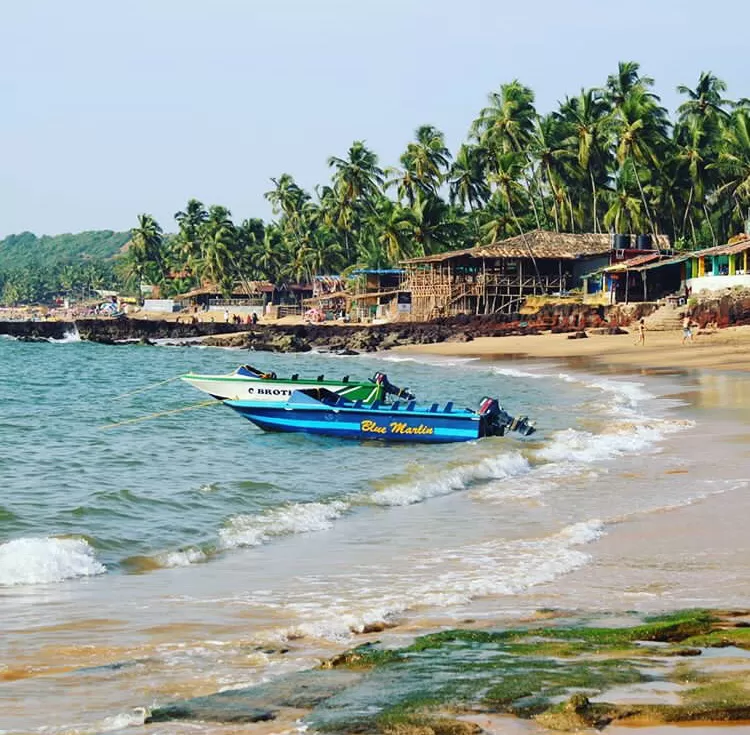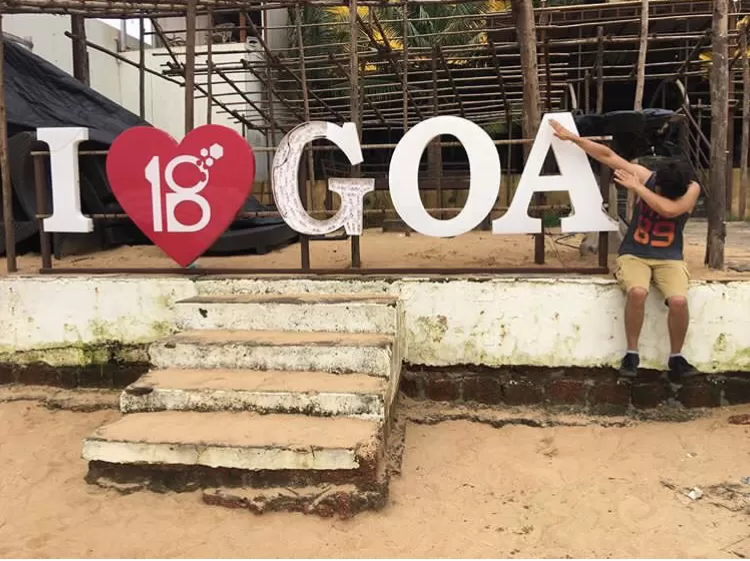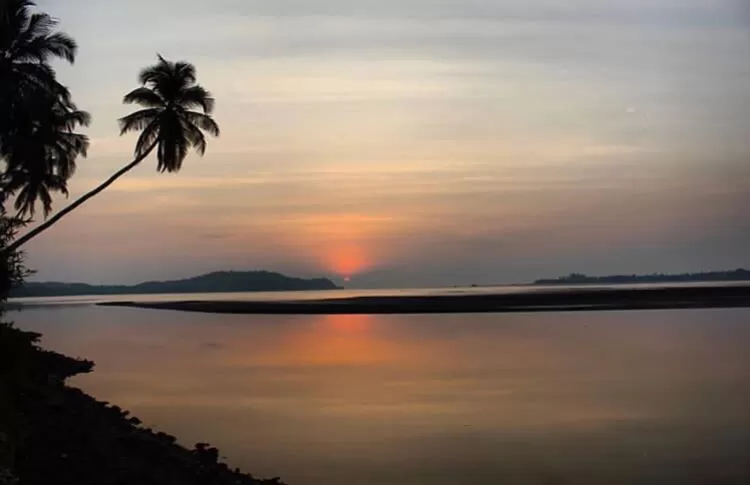 Day 5: The the last day of our trip. We woke up fairly early as we had to make the most of out last day. After freshening up we packed our bags as we had our flight at night. While having breakfast we decided to bar hop the entire day and then return to our hotel in the evening to leave for the airport. The front desk executive was kind enough to give us a list of must visit bars and pubs of Goa. We narrowed down to Sinq, Souza Lobo's Palm Pub, De Baga deck and Britto's shack.
This day was so amazing that I can only remember bits and part of it. I promise to update the post as I recollect the happenings of that day.
This concludes the end of my trip, here are a few things you need to keep in mind if you are visiting Goa.
1. Pack light, you are visiting a beach side place not some fashion capital. The less you pack the better. Just be careful not to wear anything that anyone might find offending.
2. Try to mix and communicate with the locals as they know the best places that you wont even find on Google.
3. Up your bargaining game if you are in Goa.
4. The Goans are very proud so be respectable to them and their place.
So that's it, this was my trip to Goa. Looking forward to hearing from you if you need something to ask or anything. Happy travelling guys!!!