Theme parks are my absolute favourite. Hurling into that make-believe world, carefully crafted to thrill and amuse. It's addictive! I will be visiting Germany soon and I am absolutely delighted, but not really surprised, by how cool their theme parks are, especially the Europapark and Phantasialand.
Defying stereotypical theme park standards, there are no long lines, even in the peak season. The food is excellent and reasonably priced. Looks like the rest of the world has a lot to learn from the Germans.
Let's check out more about the Europapark and Phantasialand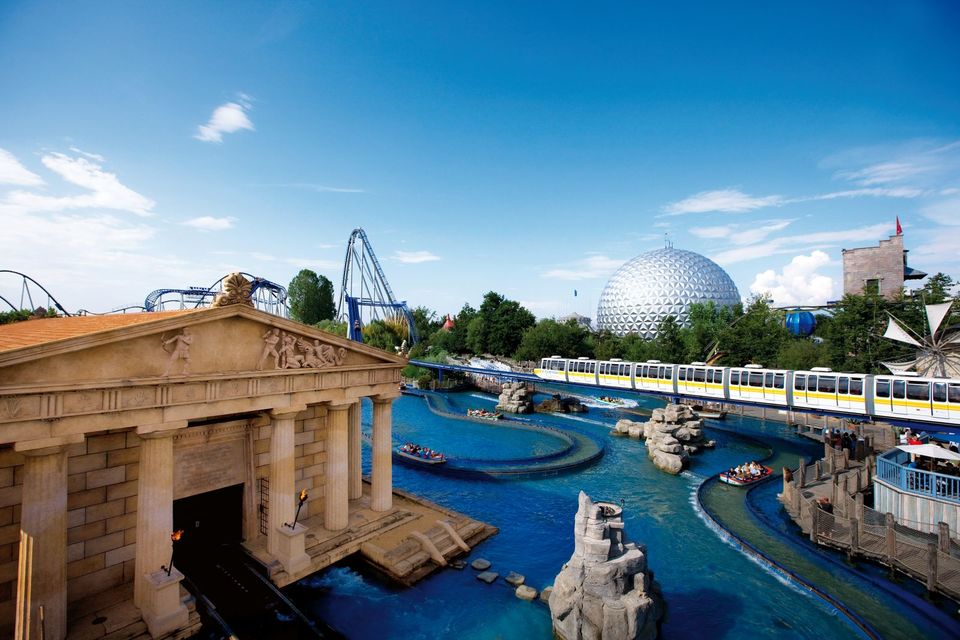 The Germans take pride in making exceptional things, and their theme parks are no exception. They tend to be themed around original, homegrown inspirations rather than borrowed from Hollywood tropes and American superheroes.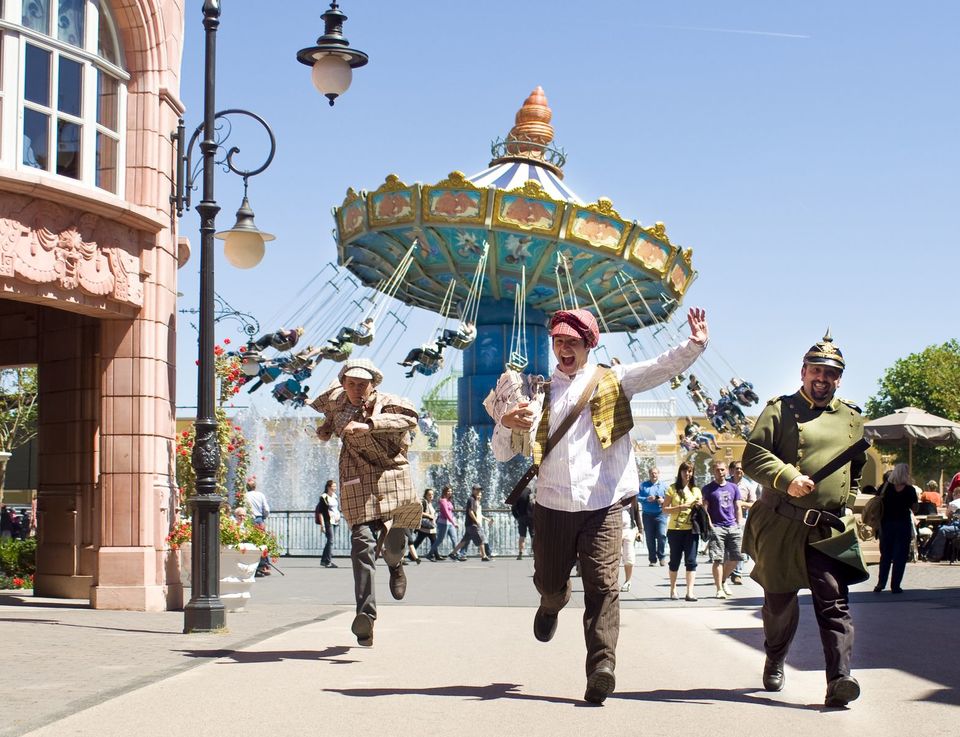 Germany also has a vibrant film-industry, where some of the world's most iconic movies are made. Several theme parks are built around state-of-art German movie studios, a treat for any movie-geek.
From super-fast rollercoasters to magical film sets, Germany is really winning the game when it comes to theme parks. Here's a peek at the scene.
Rollercoaster Wonderlands
Imagine hurling through space at over 3.8G. If you are a nerd for speed, the Blue Fire Megacoaster will satiate your adrenaline cravings within seconds of boarding.
This steel monster is the star attraction at Germany's most popular amusement park, along with the WODAN- Timburcoaster, which is amongst the most impressive wooden rollercoasters in the world.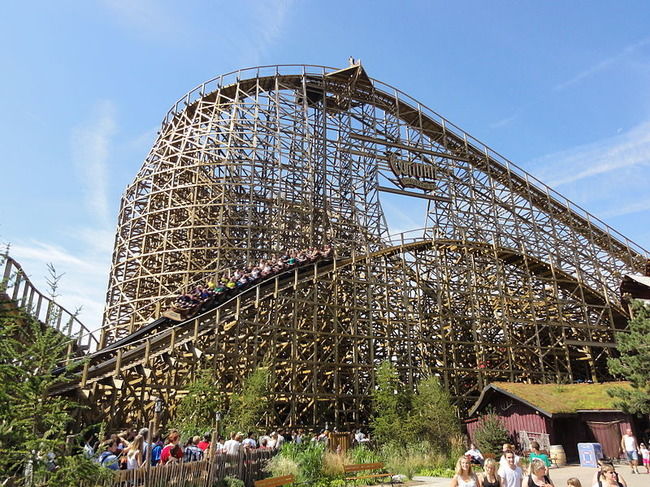 Europapark is located in Rust, a small town in south-western Germany and is widely regarded as one of the most impressive theme parks in Europe. The park is themed around 14 European nations and features 100+ attractions, replica buildings and rides designed to thematically represent the different countries and their cultures.
Over 5 million people from around the world visit the park every season, which begins in April and goes on till September. The park also opens for winter from the end of November to the first of January, with a limited number of rides.
Entrance fee: €44.50 for adults(12 +), €38.50 for children
How to reach: The nearest international airports are in Baden (64km) & Stuttgart (175 km). Ringsheim train station is just 4km from Europa-Park, and there is a direct connecting bus service to the park.
Just 20 km outside the beautiful city of Cologne is Phantasialand. An exotic rendition of a classic rollercoaster park, this park has everything from gravity-defying coasters to mesmerising theatrics, including the likes of Mongolian acrobats and Miji African dancers.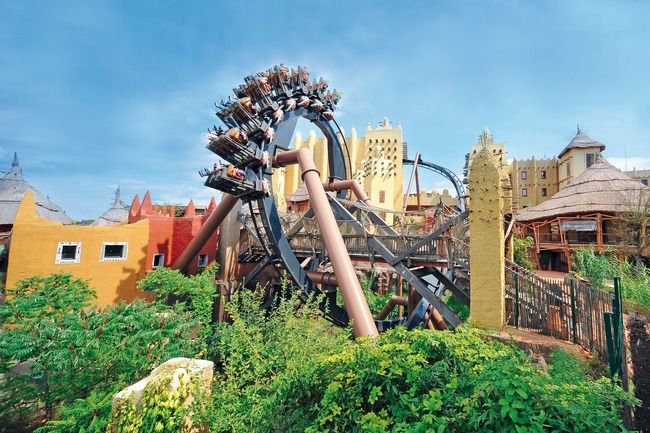 Phantasialand's coolest rollercoaster is called the Taron. It looks like an insane ride with 58 intersections and claims to be the fastest multi-launch coaster in the world!
Phantasialand also prides itself on its gastronomical offerings, unlike other amusement parks in general which are usually heavy on the overpriced ice-cream and french-fries staple. Not here though; there are over 13 restaurants and bars serving everything from Tapas to 6-course butlered, candle-lit meals.
Entrance fee: €45.00 for adults(12 +), €29.00 for children
How to reach: Cologne Bonn is the nearest international airport and Brühl is easily accessible from the city of Cologne by local transportation. Trams (no. 18) and trains run between Bruhl and Cologne all day long. The park also operates a shuttle service from the Brühl train station and the Brühl-Mitte tram stop.
This picturesque theme park is located right by the beach! Imagine having the Baltic sea for a view, right before the coaster plunges into a nosedive. In fact, their signature rollercoaster, which was unveiled just last year, does just that. The Oath of Kärnan features a 60 m reverse free-fall, the first of its kind in the world.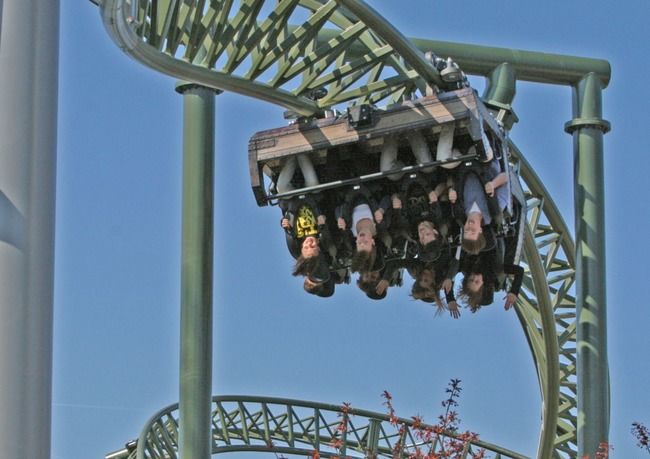 Another screamtastic ride that caught my eye is called Nessie. The ride is named after the legendary Scottish lake monster and has an impressive giant loop with some serious inverted twists. Check it out.
Entrance fee: €36.00 for adults(14 +), €29.00 for children
How to reach: The nearest airports are at Lübeck-Blankensee (20km) and Hamburg-Fuhlsbüttel (70 km) away). Hansa Park is a 10 minute walk from the Sierksdorf train station, which is well connected to all German cities, including Hamburg, Lübeck.
The World of German Cinema
Film-Nerds Unite! Germany's unique film parks are no Hollywood-knock offs. The German film industry has shaped the history of global cinema and their pioneering film studios are sought by filmmakers from around the world. Here are two of the most popular ones.
Filmpark Babelsberg takes you straight into a state-of-the-art film set for a glimpse behind the scenes. If you are a film-geek, you'd relish walking through what was the world's first movie-studio of its scale and was the epicentre of European filmmaking when it first opened in 1912. The Hunger Games and Captain America: Civil War were filmed in Babelsberg, along with films like The Pianist and Inglorious Bastards.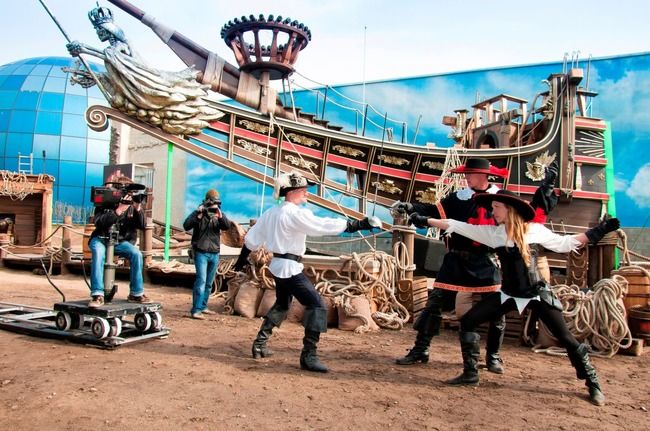 Entrance fee: €21.00 for adults(16 +), €14.00 for children
How to reach: Filmpark Babelsberg is located in Potsdam, about 30 minutes outside Berlin. The S-Bahn takes you straight to Potsdam, and from their buses 601 and 690, both have regular service to the Filmpark.
Classics like Willy Wonka & the Chocolate Factory and Gone With The Wind were filmed at the Bavaria Filmstadt and the studio continues to be among the largest in the country. Visitors can tour the sets of films such as The Neverending Story, Das Boot and Marienhof, complete with original props and displays. A guided tour in English takes place at 1 PM.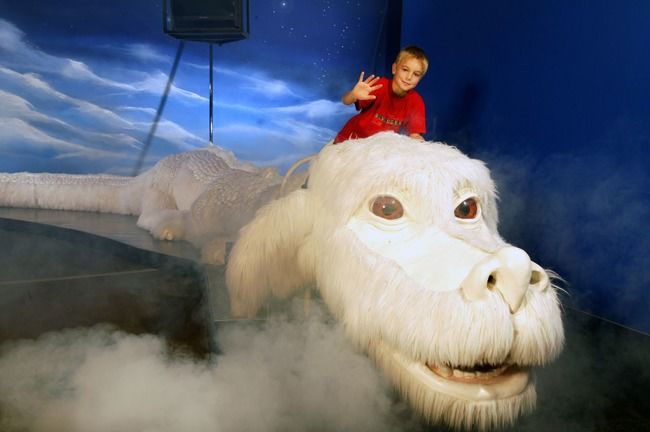 Entrance fee: €27.50 for adults(17 +), €21.50 for children. The price doesn't include the guided tour or tickets to the 4D cinema.
How to reach: Bavaria Film Stadt is about 30 minutes outside Munich. The nearest tram station is Bavariafilmplatz, which is a 5-minute walk from the station.
For The Love Of Lego
One of the world's six Lego-themed parks is located in Günzburg, which is an hour away from both Munich and Stuttgart. The star attractions here are the unbelievably intricate Lego replicas of European cities and landscapes, made entirely out of 25 million tiny little Lego bricks!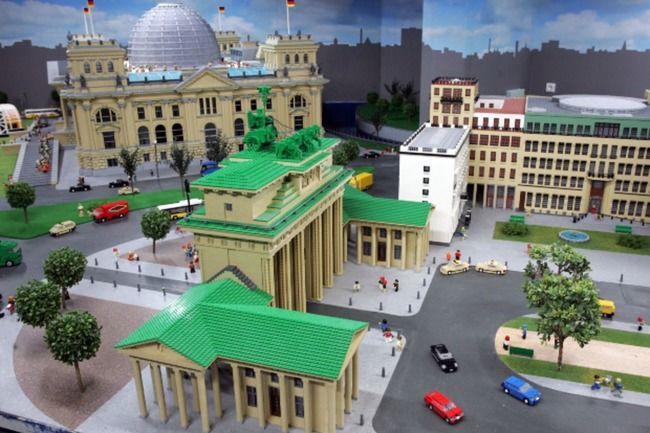 Fire Dragon, is Legoland Deutschland's star rollercoaster which is meticulously styled, of course, as can be expected from the beloved Danish company. Beautiful Lego sculptures adorn the entirety of the park. There's also an indoor aquarium made out of, you guessed it, Lego Bricks.
Entrance fee: €42 for adults (11 +), €37 for children
How to reach: Allgäu Airport Memmingen is the nearest airport (50 mins). Other nearby international airports are in Stuttgart (1 hr) and Munich (1.5 hrs). The closest train station is in Günzburg, from where there is a shuttle service every 15 minutes.
Europapark or Phantasialand, don't forget to include your favourite theme park in Germany? Let me know in the comment section below or write your own guide here.
Sponsored content for Germany Tourism. Click here to find out more about traveling in Germany.
Frequent Searches Leading To This Page:-
europapark, europa park ticket price, europa park tickets price, europa park package holidays 2020