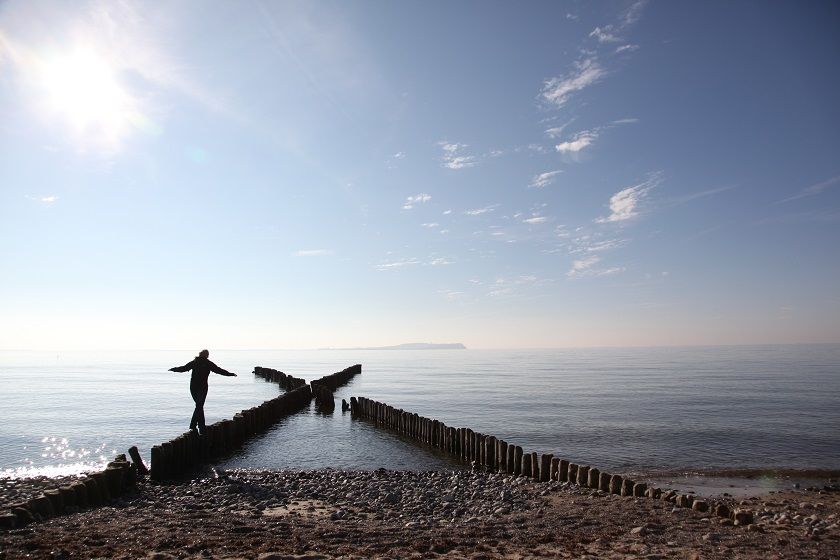 Germany has always had the cultural and tourism influence maintained in its Northeast region. Berlin for example, is Germany's most preferred cultural destination today where tourists would flock in greater numbers. Berlin is vibrant, fashionable, colorful and yet had its own old European Charm maintained. But it was not Berlin that was the most favoured place for travelling in Germany, it was the Island of Rügen, where even Hitler once planned the World's Biggest Seaside Resort stretching as far as 4.5km.

Why Rügen?
For History Buffs, The Town Of Prora: The town of Prora is where Hitler's dream of building the world's biggest seaside resort is located. Notorious for its tourist complex with identical buildings lined up along the beach for as far as 4.5km, with all rooms (perhaps a few hundred) having a seaside view. Today, the site offers people interested in history a chance to revisit the time when Hitler was still ruling the streets of Germany and plaguing it with a depressing architecture.
Accommodation
There are several places to stay in Rügen. The town of Binz, Sassnitz, Sellin, all have a number of options to choose from. But first, you should checkout Sellin that is located right next to the beach and the highlighted restaurant and bar of 'Seebrüce'. A sunrise from the horizon, moreover adds to the charm. For travellers interested in shopping and travelling by public transportation, however, the town of Binz is a better option due to its central location and a massive town market.
For Nature Lovers, The Many National Parks: With more than half of the island covered under a canopy of green, Rügen is an ideal place for nature lovers. Those interested in spotting birds and experiencing a treetop walk can try a 2km long canopy-walk in the Nationalpark Center of Prora.
A Relaxing Vibe: The Baltic coastline in Germany is considered to have the most relaxing atmosphere, with locals having a developed taste for a good life. And when it comes to an island, things become even more relaxing and tranquilizing. With a rich cafe culture, a slow lifestyle and a lot of good Riesling, the island of Rügen promises a self-indulging experience.
Unlike Berlin, and other big towns like Frankfurt in the west and Stuttgart in south, Rügen can be a great alternative for travellers wanting to understand Germany on a fast track. Because its 926 square kilometer land contain something for everyone: beaches, national parks, luxurious seaside resorts, history, and more importantly — an intense German culture. Often termed as 'A dream in the middle of the Baltic', Rügen is also home to some of the world's rare White Chalk Cliffs and a rarest UNESCO Heritage Beech tree forest reserve.
Another distinction is the fact that Rügen is apparently Germany's biggest island.
Rügen's history as a favored holiday destination, back in time, moreover talks highly of its worth. It is in Rügen where Hitler once proposed the completion of a 4.5 km long beach side resort — the largest that the world would ever see. According to him, the beach in Prora in Rügen (where the resort was proposed to be built) offers best views than from any other beach in Europe.
So, Rügen has its own image, and is often regarded as one of the best places to explore in Germany.
Is it expensive to travel through Rügen?
Speaking of the travel costs, consider travelling in Rügen almost as expensive as travelling in Berlin or any other German town. Though accommodation can be slightly expensive if you will compare it with that of big cities, and this is for the simple reason that islands in Europe are always more popular among those interested in a luxury holiday than those wanting to budget-backpack, making it tougher for backpacking hostels to survive. But for food and transportation, consider Rügen not going to be any brutal on your pocket.
Visa
Indians need Schengen Visa to travel to Germany. A short term single entry tourist visa costs 60 EUR on top of additional costs by the vfs. The maximum time period you're entitled to visit on a short term tourist visa is three months. But the visa is generally offered only for the duration of period you're intending to travel to Schengen territory. It may take as long as a month to get the visa after the application was submitted, so plan well in advance. For Indian Passport Holders, Schengen Visa is one of the toughest visas to obtain.
What to see & do in Rügen
When tourists come to Rügen they often think they can visit the entire island in a day. But this is not possible. Its 926 square kilometer size has quite a few dozen attractions to explore. Those having three or four days, however, can explore pretty much everything and get a hang of German lifestyle around the Baltic.
Those interested in more green can visit the UNESCO heritage national park of Jasmund, popular for its white-chalk cliffs and a rare beech forest reserve.
For Honeymooners, The Romantic Rügensche Kleinbahn & The Fairytale Like Towns: With their white Victorian-era villas, white sand and blue water seaside beaches, the many towns in Rügen offer a romantic getaway for honeymooners and couples alike. And among all, the town of Binz, Sassnit and Sellin are the most beautiful — offering a pull of history amid the modern-day realities. The island of Rügen moreover has its own steam-powered narrow gauge railway system Rügensche Kleinbahn (one of the rarest in Europe) that runs between the idyllic small towns of Rügen and offer an experience and memories of a lifetime.
How To Reach Rügen, & Costs
The nearest international airport from Rügen is Berlin International Airport, from where you can get regular buses and trains to Rügen. A few people always travel from Hamburg, but given the frequency of public transport and the amount of travel time, Berlin is a better destination to travel from.
Take the train if you want to explore beautiful countryside and reach the island of Rügen quickly. If taking the train from Berlin, it takes around 40 EUR and about 4 to 5 hours to reach Rügen. DeutchBahn (or DB) operates a train between the two places almost every hour. In a bus, however, the journey is comparatively much cheaper but may take over 7 hours between the two destinations. Flixbus offer the cheapest bus tickets, costing less than 20 EUR.
If travelling from Hamburg, consider an extra hour as your travel time. There are moreover comparatively fewer buses and trains that connect the two destinations.
Flight from New Delhi to Berlin costs nearly 40,000 Rupees (return, per person). Flights are expensive from Delhi to Hamburg.