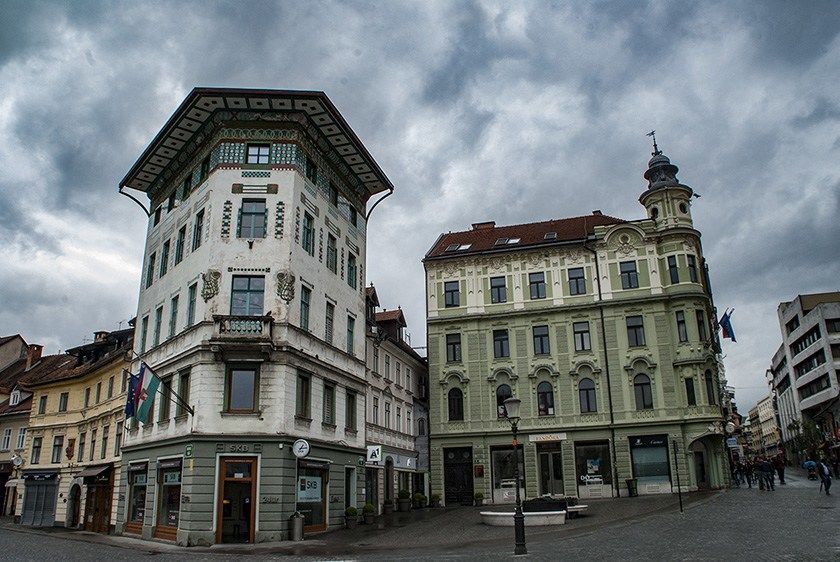 When most people think of Europe they think of fine wine and cuisine, exceptional scenery and a laid back lifestyle which is the envy of the rest of the world. The diverse picturesque landscape, a kind that has long inspired poets and writes and artists alike. Huge snow capped mountains, acres of green countryside and an eight lane highway stretching towards infinity.

And all these metaphors and distinctions turn into a reality when you visit Slovenia. I remember as I left Budapest and made my way to Ljubljana in Slovenia, I was left baffled by the kind of beauty it offered. Slovenia, by far, was the most beautiful country I'd seen in Europe — perhaps more beautiful than the Bollywood beloved Switzerland. It Snow-capped peaks, turquoise-green rivers and Venetian-style coastline, Slovenia revealed itself as one of those rare earthly places that can be termed as paradise.
And its towns, well let's start with its capital Ljubljana…
The Town Of Ljubljana: For Backpackers, Honeymooners, And Slow Travelers
The town has enough hostels to choose from, its autonomous party hub of Metelkova Graffiti Area offers more to a backpacker than what Amsterdam and Berlin do.
Lake Bled is one of the highlights in Slovenia and is unarguably the most romantic place you can visit in Europe. Surrounded by lush green mountains, the journey to Lake Bled takes nearly an hour from Ljubljana.
Located in the North West of Slovenia, on the edge of the Triglav National Park, Lake Bled is the natural island in Slovenia. But that's not its original charm. The original charm, however, is the beauty it offers. Looking half dramatic and half unrealistic Lake Bled reminds you of the Disney movies you have grown up watching.
A 10 minute hand maneuvered canoe ride to the island will moreover feel no less fairy-tale-like. Speaking of a fairy-tale imagine this: A medieval roman-style castle, overlooking a serene lake. Almost in the middle floats a small island which is home to a church and a couple of al fresco cafés. The lake is moreover so calm and undisturbed as if someone has swiftly painted it over a canvass — call it a great location for honeymooners.
There are options to stay around one of the many hostels/hotels in Lake Bled, and backpackers often choose to stay a few nights near Lake Bled (because of a cheaper accommodation here than in Ljubljana) but if you're in Slovenia for only a few days, or moreover a week, it's advisable to keep Ljubljana your base because it's convenient.
Predjama Castle: A Castle Made Out Of Rocks, & A Cave
Next in the list of day trips from Ljubljana is Predjama castle, a 15th century castle perched high up in the 123-meter high cliff, that stood there for some 800 years (and still counting). Listed among the Guinness World Records as the largest cave castle in the world, it is one of those rare castles that would make you question its foundation, even today.
It's interesting to watch how a natural cave was used to build an entire fortress with a few well distinguished bedrooms for its royal owners and the adjoining castle walls. It's rare to find such an establishment from the past, anywhere else in the world.
Please note that the best time to visit Predjama castle is between May and September. During the rest of the year, the castle only allows a restricted entry, because of its favourable temperatures as a hibernation for a colony of bats.
A day trip from Ljubljana to Predjama castle and Postojna cave (yes both places can be visited in a day or a half-day trip) can be booked for nearly 70 Euro.
Postojna Cave In Slovenia: Traversing Through Europe's Biggest Cavepark On A Surprising Railroad
Perhaps the highlight of all day trips in Slovenia, the cave-park of Postojna is a no miss. It is the largest cave in Europe and offers an experience that is rare to find anywhere else: of a toy-train ride inside a cave. Spread over a 24 kilometer of an underground passages the train takes you through various galleries and magnificent halls inside the cave that has a constant room temperature of 10 degree, throughout the year.
Ljubljana may just be the capital of Slovenia, but when you're in the town, you don't actually feel that. Being one of the smallest capitals in Europe, Ljubljana is of bite-size, with a population of only 200,000 residents, most of whom travel around by bike. The town of Ljubjana is exceptionally convenient for backpackers to travel. Cheap Flixbus can cost you only 30 Eur to get here from Budapest, Zurich or Vienna.
And if experiencing a charming cafe culture was the very idea why you wanted to visit Europe at first place there can't be a better alternative than Ljubljana.
The city center of Ljubljana itself is located around the Ljubljana river, which is the center of all activity. Summer days here bring visitors and locals alike flocking to the cafes and restaurant lining the river banks. To keep the capital quiet and relaxing for tourists furthermore Ljubljana's capital district has been kept car-free. The city moreover boasts for it nearly 70% of the land being claimed by green spaces.
A Not so Costly Affair
Though staying in Ljubljana is still not a cheap affair, and you can definitely not compare it with its neighboring state of Hungary, or other east European highlights of Prague and Bratislava, it is still a good bargain if you compare the capital towns in the west (like Paris and Vienna) that offer a similar kind of polished and a pampering European holiday experience.
Expect a good quality dorm bed in Ljubljana for 12 or 15 Euro, with a kitchen at your disposal. You can spend a day including all costs somewhere between 25 or 35 Euros. The good thing is, when in Ljubljana, you don't need to be spending money on transportation.
With its relatively small size, the city is easily walk-able, thus saving you a lot of money. You can stay at one end of the city and still easily walk to the other end in less than 20 minutes. From the city castle, to historic town center to the beautiful Tivoli Park (built on a 17 century Renaissance mansion) everything can be conveniently walked. It is one of those rare capital towns in the world that offer the comfort of a big town over the charms of a place rather smaller and cuter.
A Day Trip For All The Highlights
Because Ljubljana is located right in the heart of Slovenia, day trips can be done to pretty much any corner of the country, making it easier to cover entire Slovenia while still not giving up on the comfort of staying in a capital city. And if you just have a few days don't miss a day trip to the popular Lake Bled, Predjama Castle and Postojna Cave (which is Europe's largest cave park).
Lake Bled: A Journey To The Magical World Of Disney
Open every day, whole year round, Postojna Cave is accessible for a ticket price of nearly 40 Euro (if you haven't booked a tour) that comes with a guided tour available in fifteen languages. One can moreover choose between the regular tourist cave tour or an adventure tour. The regular cave tour comes with the train ride too.
Ljubljana is a wonderful city to travel. The word 'Ljubljana' itself means 'beloved'. And this sums up how many Slovenians and visitors alike feel about this city.