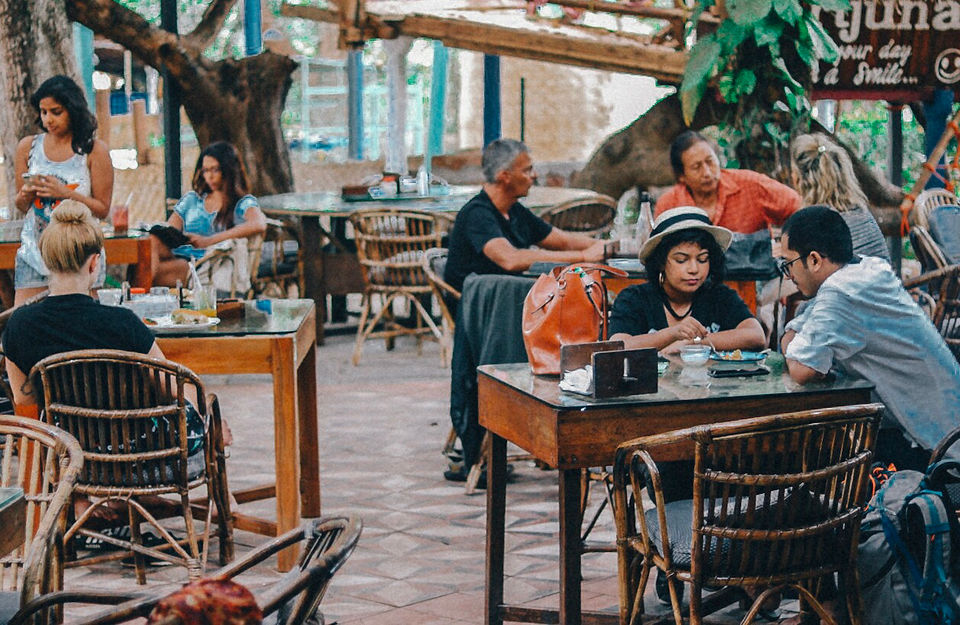 While the sunshine state of Goa is heaven for seafood & meat lovers, I thought of writing a blog for my Vegan and health conscious readers who are planning to visit Goa and not give up on their diets.
So, here's a list of my favourite Vegan, Healthy, Gluten-free Restaurants in Goa:
1. Artjuna
I've been a regular at Artjuna for almost 3 years now and they never disappoint. The ambience takes you to a Goa state of mind and the food is heavenly. They serve up some of the best Middle Eastern food you'd find in Goa and yummy desserts too. If you're searching for good coffee in Goa, this is the place to be and the best part is that their open throughout the year. Don't forget to say hello to Tia, their resident cat, always spotted taking a leisurely nap. You can also find the Artjuna stall at the Friday market at Hilltop and on Sundays as well, serving some of their most loved delights.
Address: 940, Market Rd, Monteiro Vaddo, Anjuna, Goa.
Timings: 7 am – 10:30 pm
2. Bean Me Up
Built under the canopy of age-old mango, jackfruit and palm trees, this serene vegan restaurant in Vagator serves yummy kombucha, gluten free pizzas and guilt-free desserts made without sugar. Everything available on their extensive menu can be made gluten free including their pastas, wraps, burritos and burgers. Don't forget to check out their in-house conscious boutique, selling organic food products and lots more.
Address: Ozran Beach Rd, Vagator, Goa
Timings: 8 am – 11 pm
3. Zest Café
Located on the main beach road, you can't miss Zest when in Palolem. Zest Café serves delicious vegan breakfast with gluten free & dairy free options. I absolutely loved their smoothie bowls, chia pudding and tropical fruit platter. You have to make a breakfast stop at Zest before hitting the Palolem beach!
Address: Main Rd, Palolem, Canacona, Goa
Timings: 8 am – 9 pm
4. Natti's Naturals
This popular healthy café has now shifted to Vagator and continues to serve yummy delights. This is not a vegan restaurant as they do serve chicken and fish but in healthy preparations. They do have dairy free and gluten free options available. I personally loved their Super Food smoothies, gluten free desserts and the Mediterranean Chicken Bowl made with grilled chicken, hummus, spicy chickpeas & quinoa, it was wholesome and super filling and the perfect option for a healthy lunch in Vagator.
Address: Ozran Beach Rd, Vagator, Goa
Timings: 9:30 am – 6:30 pm (Closed on Tuesdays)
5. Aether & Echo
I'm so glad I discovered this gem of a place and it's most likely the only healthy beachside café you will find in Arambol. Aether and Echo is a breath of fresh air compared to the noisy and unhygienic beach shacks. They serve a good selection of bowls, smoothies, sandwiches and salads here. I really enjoyed their Blueberry Crumble Bowl made with Caramelised apple and blueberry crumble. Make sure you visit Aether and Echo the next time you're in Arambol.
Address: 542, Harmal Beach Rd, Behind Famafa Hotel, Arambol, Goa
Timings: 8 am – 10 pm
6. The Garden of Dreams
Another hidden gem located on the main Arambol Market road; Garden of dreams is truly out of a dream. Enter the Garden of your dreams through a wooden frame which takes you to an oasis of hippies relaxing on bean bags, lost in conversation of days gone by. I would highly recommend this place for the experience itself. They serve delightful vegan breakfasts and a lot more.
Address: Near the Old Police Station, Arambol, Goa
Timings: 7:30 am – 5 pm
7. Mojigao
Tucked away in the sleepy village of Assagao, Mojigao is a secret garden café that you must definitely visit on your next Goa trip. Mojigao serves delightful Mediterranean treats just like Artjuna as they are owned by the same people. You should also check out their daily yoga classes. Also, don't forget to try the chocolate eclairs, cheesecakes and other desserts here, freshly made at their bakery in Assagao. They also offer luxury jungle cottages if you're looking for a peaceful stay in Assagao.
Address: Near Swan Yoga, Off Assagao Road, Assagao, Goa
Timings: 9 am – 5:30 pm
8. Little World
Little World is another unmissable vegetarian café located on the main Palolem beach road serving vegan masala chai and green bowls. I really loved their desi interiors with Rajasthani umbrellas and quirky details all around the restaurant. Do give them a visit if your looking to grab a quick bite when in Arambol.
Address: Palolem, Canacona, Goa
Timings: 8:30 am – 9:30 pm
9. Soul Booster
This place is a new addition in Anjuna but they are already gaining followers because of their yummy vegan thalis and interesting smoothie bowls. I love how everything at Soul Booster is gluten free, vegan and sugar free. You have to try the Johnny Bravo and Northern Lights smoothie topped with home-made granola, superfood powders, organic blueberry and hemp seeds. Soul Booster is the most instagrammable café in Anjuna with their tasteful and rustic interiors which give this place a bohemian vibe.
Address: Anjuna Mapusa Road, Anjuna, Goa
Timings: 9 am – 9 pm
10. German Bakery
When you're looking for a comforting, healthy, home-cooked style meal in Anjuna, look no further. German Bakery serves wholesome food in a beautiful bohemian setting. To be honest, I've tried the best gluten free puri bhaji here made with buckwheat atta and I absolutely love it and keep coming back for it. They also offer delicious vegan desserts and love their banana chocolate cake. You must add this to your list of Goa vegan cafes with a chill ambience.
Address: Market Rd, Anjuna, Goa
Timings: 8 am – 11 pm
If you end up visiting any of these cafes, don't forget to tag me in your Instagram stories @thebohospiration as I'd love to see them. Happy travels!
If you end up visiting any of these cafes, don't forget to tag me in your Instagram stories @thebohospiration as I'd love to see them. Happy travels!