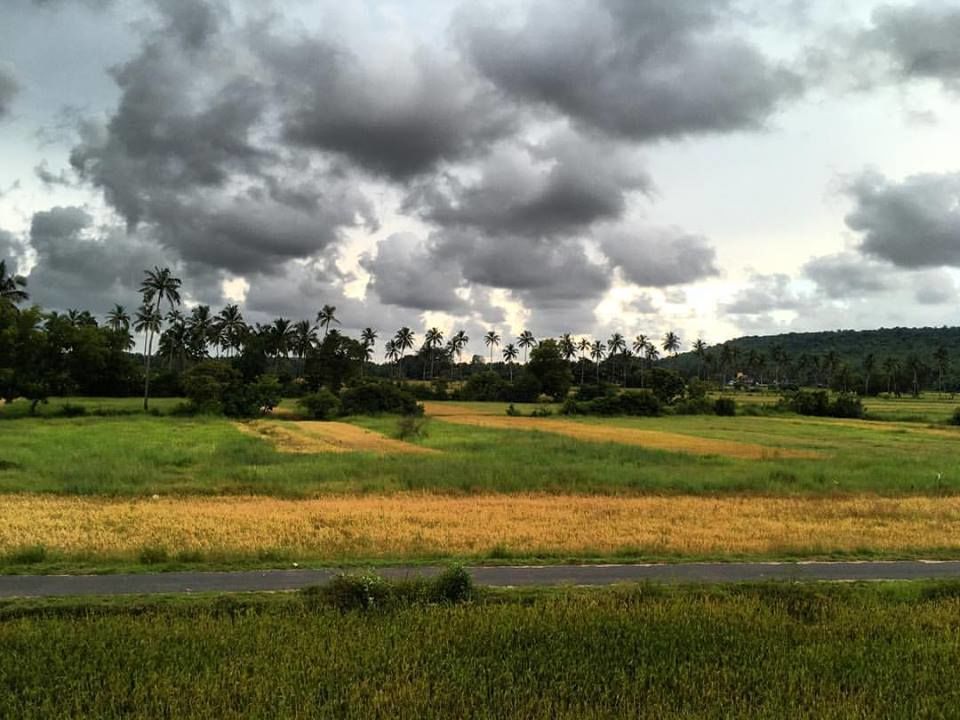 It might come as a surprise if I tell you what the Goa is after the seven or fifteen or thirty day vacation you came for, will leave you astounded forever. What if I tell you that Goa is much beyond those beaches and those clubs and the resorts and the food? What if I say come to Goa to "live" and you will never escape from life again.
Living in Goa is not always late nights and French fries for breakfast. It is a choice and it comes with its own pre-requisites. Village life is also not everyone's piece of cake and the pre conceived notions might be the biggest hindrances. So if you are bored of hearing all the clichés Goa seems to be generating, it will be a good idea to take my free advice to the secrets of Goa which will always have your heart.
People from all over the world live in Goa. I was astonished to meet people who have been revisiting this haven for a good 25-30 years and the charm is not at all lost, they say. Maybe the party scene is not as vibrant anymore or maybe the corruption has increased but Goa is still the same and all we need to do is explore. Explore further, have more conversations and befriend a local.
AN EARLY START- The parties might be on till the wee hours but the villages wake up then and it is the best time to catch some activities.
The cutest spots open up early and you can get the warmest pao or poi and the most delicious bhaaji. Pair it with a cup of tea or strong coffee and you are ready to take on the day.
SUNRISE in Chapora opens at sunrise. They have a varied menu which is home cooked to deliciousness.
SAGAR in Vagator opens at 7am and it will give you an authentic Goan breakfast.
MANGO SHADE in Anjuna opens at 8am and is a favourite amongst all the party people. You can chill there for hours and eat some freshly made sandwiches and fresh juices and other hot and cold beverages.
BABA AU RHUM is open all day and is ideal if you want to sleep longer and still want breakfast at 3pm.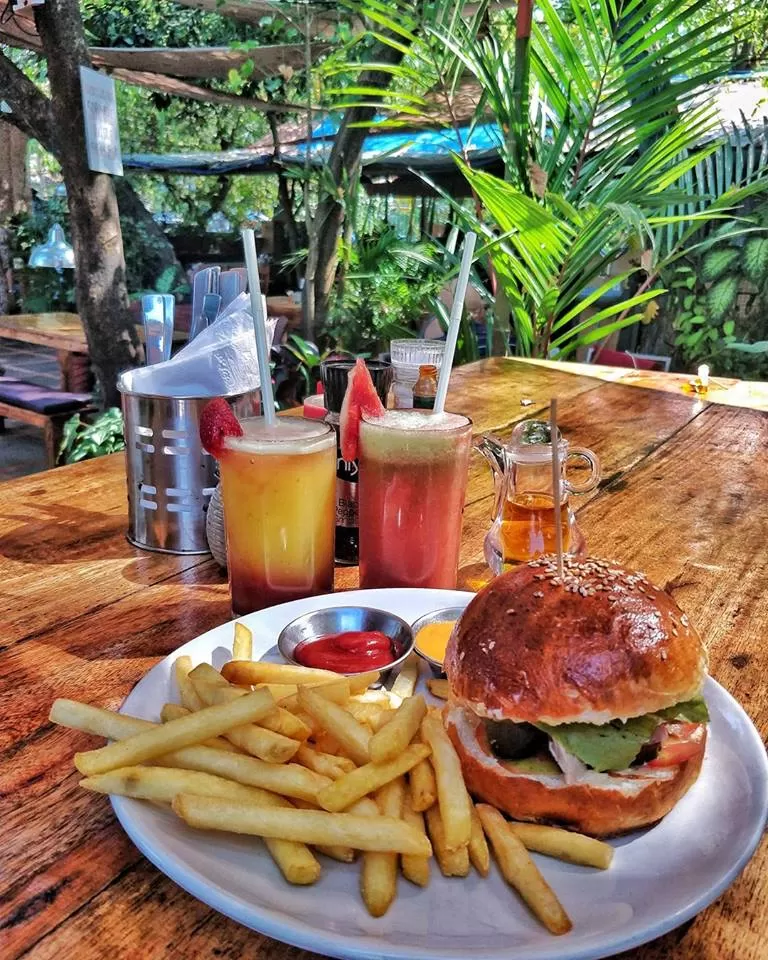 Waking up early gives you more time to even enjoy the tourist spots without all the cacophony.
If you would like to see your seafood before you consume it, the jetty is your best bet. Chapora Jetty will give you everything ranging from Mackerels to Kingfish to everything in between. The earlier you are there, the better prices you will get. Ask your local friend to help getting it cooked. Any restaurant would cook it too for a price.
Lunch is an important meal and all joints start serving around 1:30 pm. You either reach before or around 3:00pm to avoid the rush. Reservations cannot be ruled out but can't be guaranteed either.
EAT LIKE LOCALS- Goa has world cuisine. And locals prefer scintillating their taste buds from time to time even though everyone here definitely prefers fish curry rice on most days.
TEJA'S RESTAURANT- A small set up of about eight tables, TEJA is colloquially called Bhao's (meaning brother in Konkani) and their speciality is Thali. Choose your fish and later find yourself craving for the siesta.
ANAND BAR & RESTAURANT- A bit overrated, ANAND Bar has a more extensive menu and will give you many reasons to come back. Their thali is good too.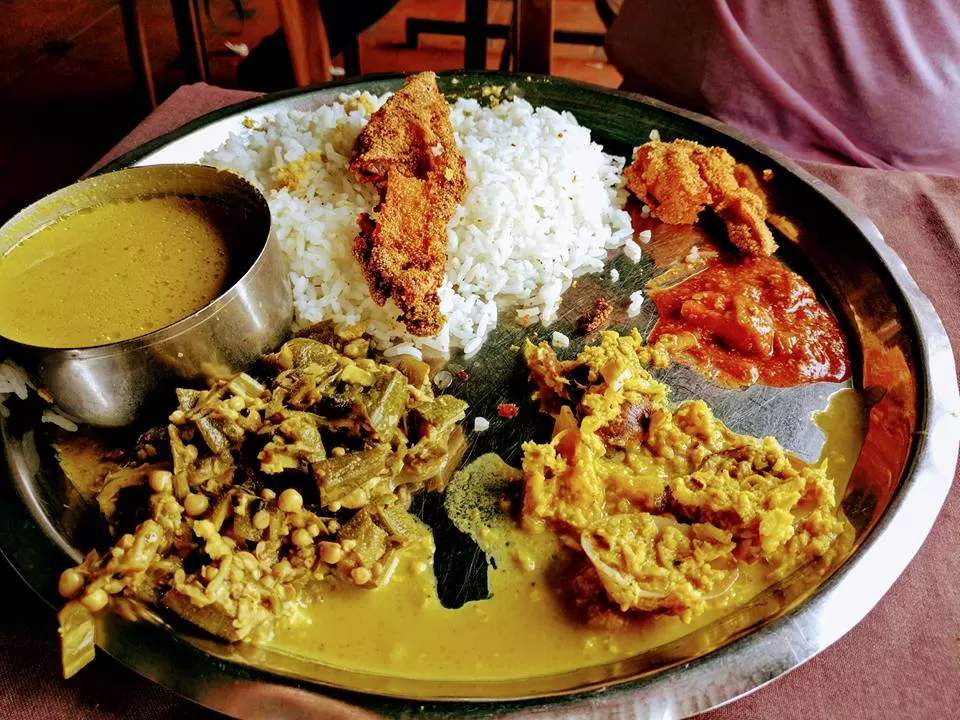 COCO's THAI KITCHEN- Coco and her brother are from Thailand and they have started serving us the most delicious street food authentically served in a cute little spot in Siolim. The Red or Green curry is soothing on a hot sunny day and the mango with sticky rice is heavenly considering all the tasty mangoes Goa produces.
ARTJUNA- An art café that supports healthy eating, Artjuna is Anjuna's most popular spot even though it is vegetarian. They have a shop that sells beautiful clothes and delicate jewellery for the bohemian in you.
BEACH, PLEASE
If you like to delve into the beaches, it is recommended to give it considerable time every day. 4 o' clock is my preferred time as it gives you ample time to take a dip and get a tan and soak in the pink orange skies.
SILVER SANDS – This shack has the best music and a great vibe. Even after being on Morjim which is quiet crowded otherwise, they are on an almost private beach and it's perfect.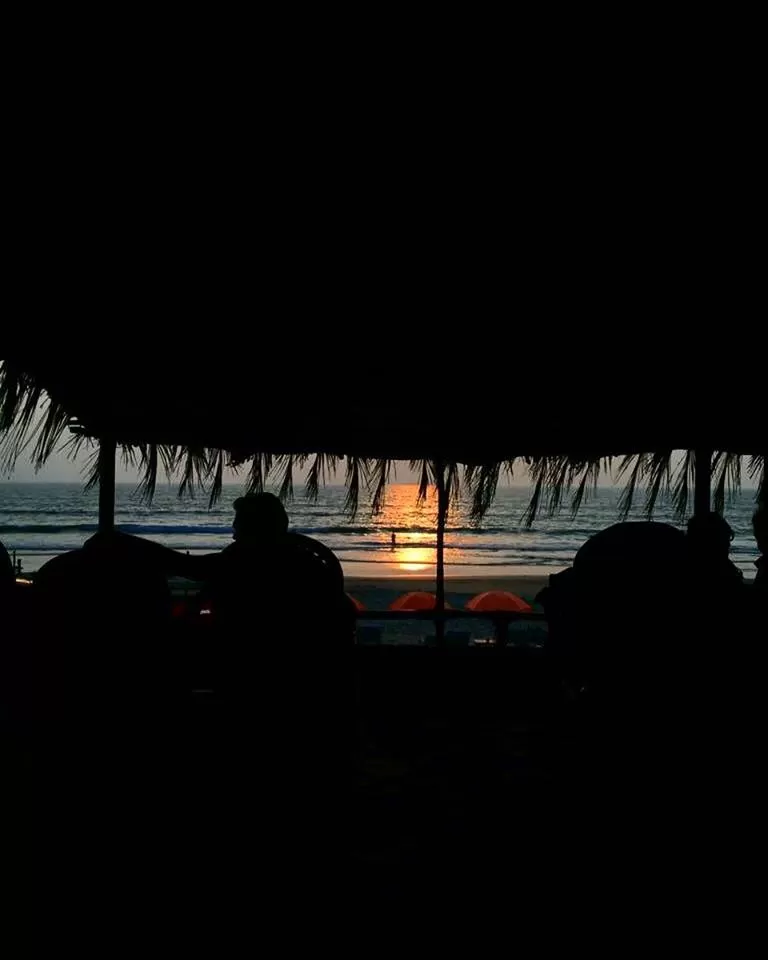 LA PLAGE – On Ashwem Beach, this is a fancy setting and serves a delectable menu. Almost 10 years in business, they know what scintillates your appetite. Must try is their Liver Patte and Chocolate Thali.
SINQ BEACH- Their intimate décor will make you comfortable immediately and if you still need some convincing, grab a glass of wine and jump into the Jacuzzi overlooking the sea.
Arambol- Keri are the last beaches on the Goa side and is filled with backpackers. Expect reasonable stays and lots of other establishments. A good place to buy leather and souvenirs, Arambol also has basic rooms on the beach and if you keep walking towards the horizon you will reach the Sweet Water Lake. If you like forests, you can hike in the jungle behind and maybe take a mud bath.
BEYOND THE BEACHES- Goa is India's most hip village and it will never lose this reputation because Goans have kept their architecture intact and history alive.
The villages will transport you straight 150-200 years back and choosing a homestay will enrich your experience by many folds.
The villages of Assagao, Aldona, Ucassaim, Saligao still have a lot of Portuguese villas left and people prefer living in these houses even though they are not air conditioned( the high ceilings keep it cool) and needs a lot of maintenance, they make a better space and the grandiose is such a temptation. You can find many restaurants too in such settings and they all lead to foodgasm.
VILLA BLANCHE in Assagao has been operating every season for the last twelve seasons. Yogini is German and drives her RV all the way with all the ingredients. She has dishes whipped from local ingredients too like her ice cream which is ethereal.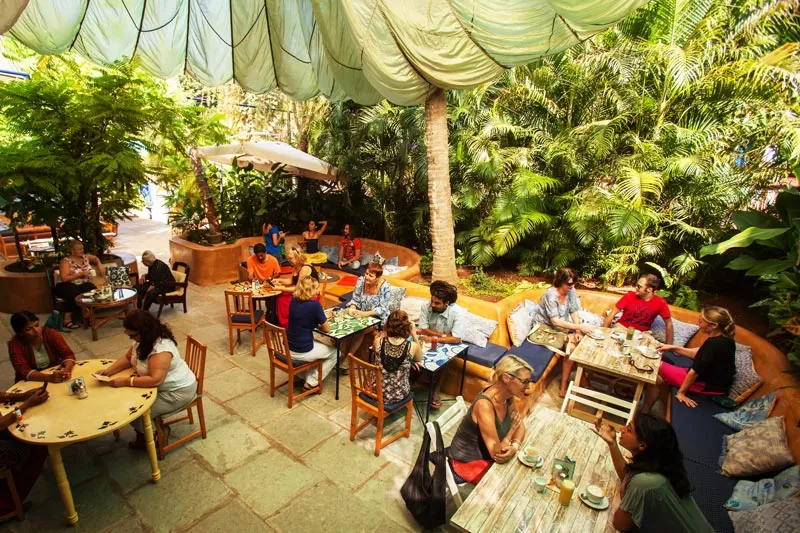 WHISPERING CAFÉ in Ucassaim is owned and managed by the most amazing boss ladies Mritika and Sonal. They have a scrumptious menu of local ingredients intelligently served in the setting of a Portuguese villa. Their menu is concise and their portions generous. They have three AC rooms too if you would like.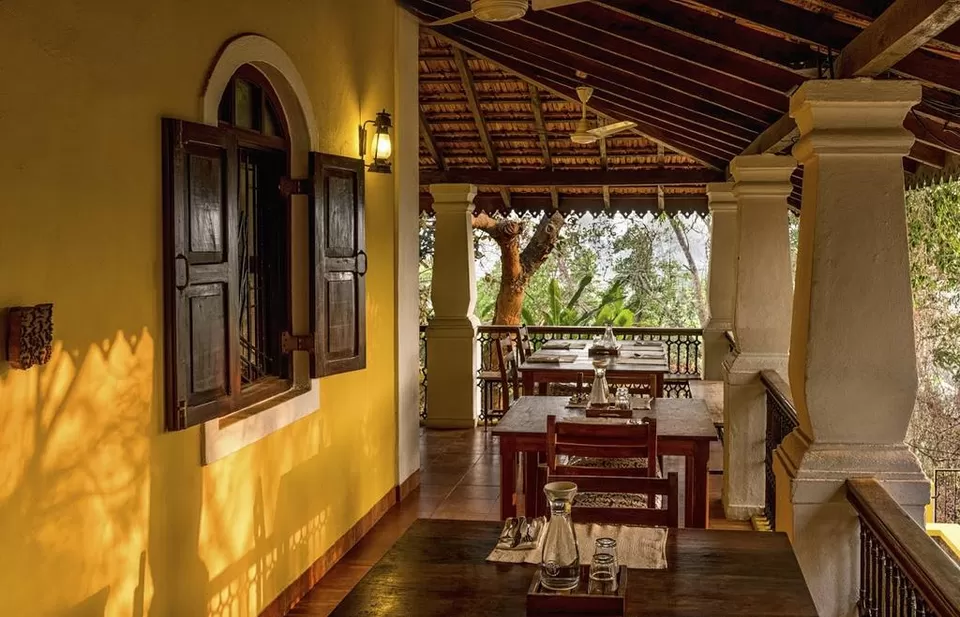 These villages are still untouched. Nothing has reached here and the real face of Goa is revealed. Life in the village is the most beautiful and you wake up every day to the sounds of nature. The morning bells of the Poiwala is there on time for breakfast by the time you finish your tea on the balchao watching the village wake up.
In the afternoons, the village is quite and all sleepy. As the strong wind gushes into your 'sala' (Portuguese for living room), you can succumb into the lap of lull.
Just before dusk, ride into the villages and find a tea shop for your dose of chai and kappa and chase the sunset. The backwaters is an alluring sight .There are many spots to kayak, cruise on the Mandovi and watch the sun turning everything into tangerine.
The evenings are all about early dinners and hours of chill sessions.
PASCOAL'S in Vagator has a simple menu of continental dishes, cooked with a Goan touch. Their portions are generous and with AIR FM Rainbow playing in the background maybe you can play a game or two of UNO.
OPPA'S in Chapora is Brian and Maria's homegrown spot. Brian is the chef too and I guarantee you are in safe hands. Let him surprise you. His roast beef with mashed potatoes followed by caramel custard for dessert has been my comfort food for years now.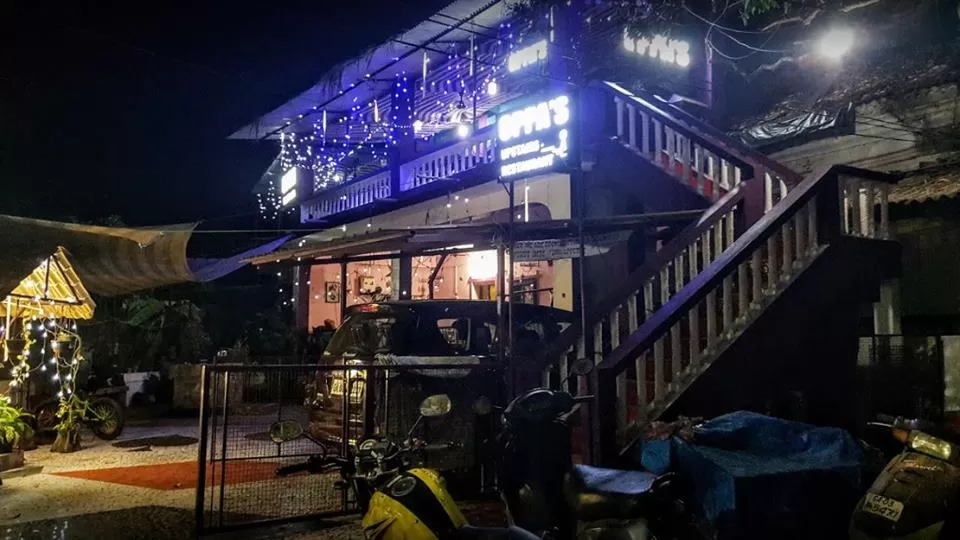 A lot of live events happen around since the party scene has been off lately.
HOPPING FROG is a hostel and hosts interesting events ranging from musical evenings to Open Mics to hosting indie artists. A small menu and a great crowd, this is the recipe for a fulfilling night out.
604 in Vagator has a beautiful lawn and they host intimate musical nights too. They have a food pop up for all their events (Contact if you want too) and coupled with the small bar, it is an ideal spot for a date before you hit the clubs, if you fancy. They also have 8 AC rooms and a tattoo studio.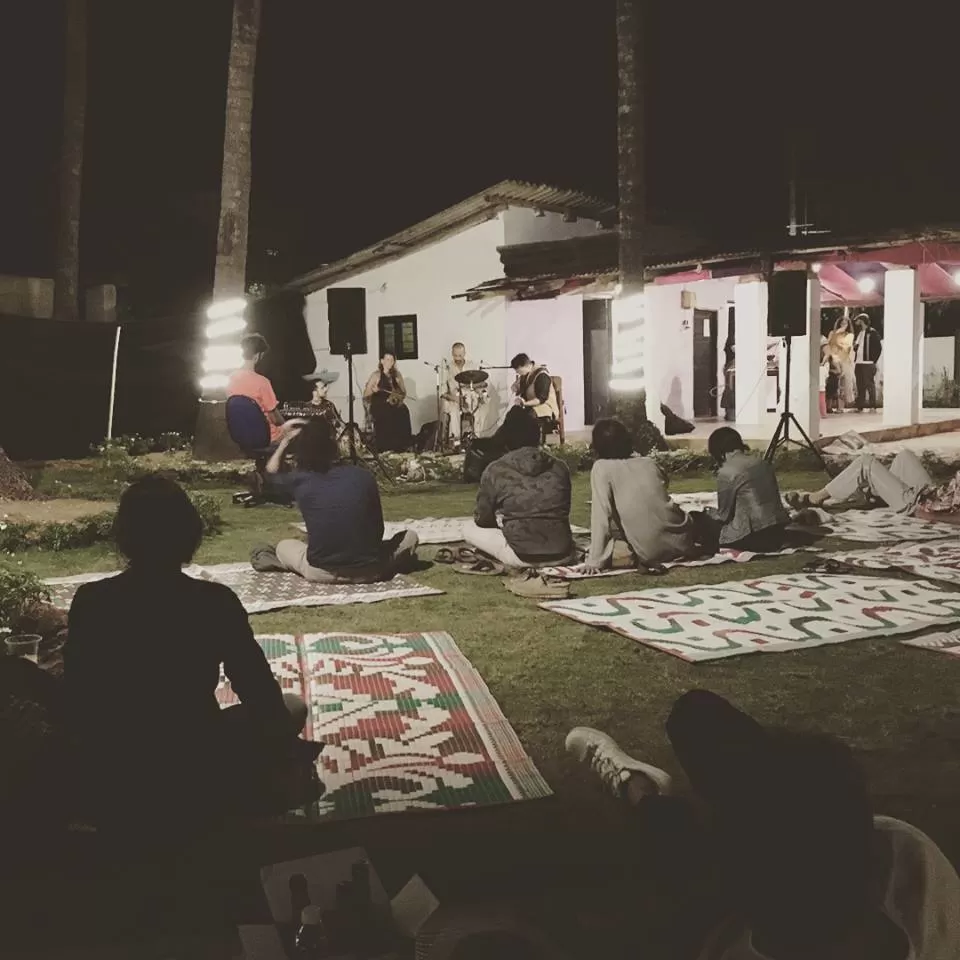 Six years in this constantly evolving-ever surprising- high standard of living- green state, one thing is for sure. The Goan life is not of sussegaad. It is not about the beaches or the cheap alcohol. It is more often than not about all the liberties you have here. The liberty to follow your passion and the motivation from many like-minded people from nooks and corners of the world is definitely a huge boost. A new facet of Goa is revealed everyday and the exploration never stops. The locals are happy and helpful and there is a strong sense of community here. The real face of Goa is the feeling you get when you see the green and smell the air. I fully agree that a bad day in Goa is better than any other day anywhere else.