I straddle the present and the past … I am the gateway to the former and the hatchway into the latter. I might appear nondescript, dusty and even desolate at first sight. But scratch my surface and I gently reveal a host of wonders that will amaze you.
I am Bhuj, the phoenix that rose out of the shattering earth quake of 2001, I am Bhuj, a city far from ordinary, I am Bhuj, as modern as today and as ancient as forever.
Come visit me and soak in the history that I am seeped in. Sense my resilience and savor my gentleness and be amazed at the fruitfulness of my barrenness !!!
I am Bhuj and I invite you to revel in my glory.
Meet me in in the heart of the great Kutch district of the Western Indian state of Gujarat.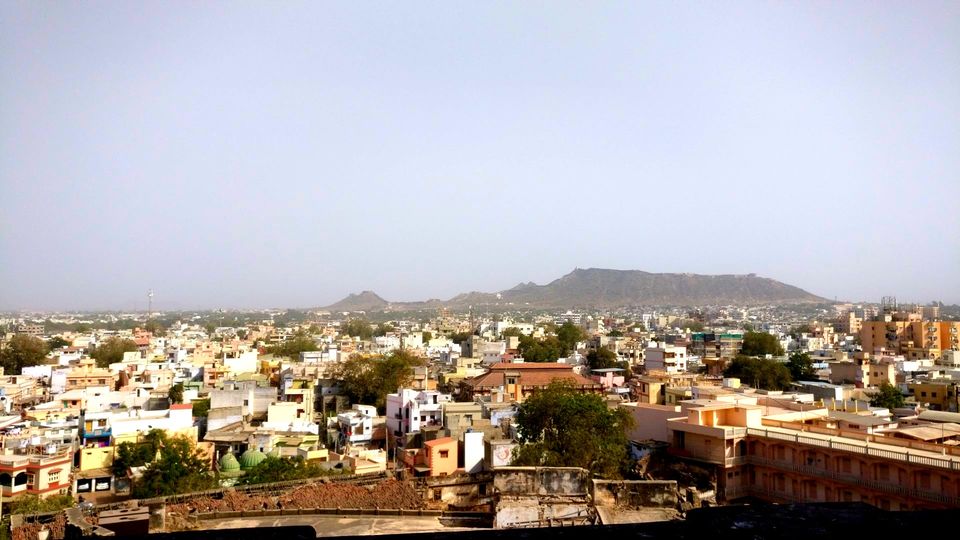 Bhuj is the capital city (headquarters) of the district of Kutch, which is India's largest district, even bigger in size than some of the Indian states and some countries of the world. Bhuj gets its name from the Bhujang Naga temple that lies atop the Bhujia Dungar (hill) on which the Bhuj fort is also perched.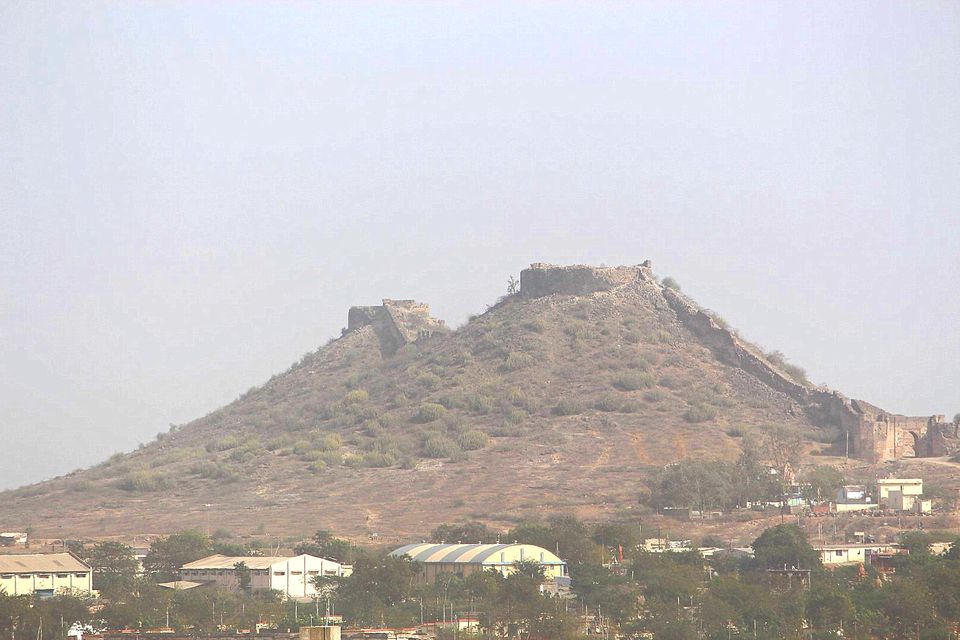 Bhuj ironically shot into fame and built up its brand, after it crumbled in a devastating earthquake on Jan 26th, 2001 … the earthquake that forms a point of reference in most conversations and though it was a long time ago, continues to dominate the narrations by the guides who tell its story, by the auto drivers who take you around and by everyone who has a tale to tell about this resuscitated city.
This is an important place not just because of its strategic location today as a gateway to the wonders of Kutch but also for being a passage through which one can fall back into the past, way back as far as the Indus valley civilization that has left its relics in the village of Dholavira, through the palaces (mahals), tombs and monuments of its various rulers and through the Kutch museum that holds an impressive array of archaeological finds and cultural artefacts.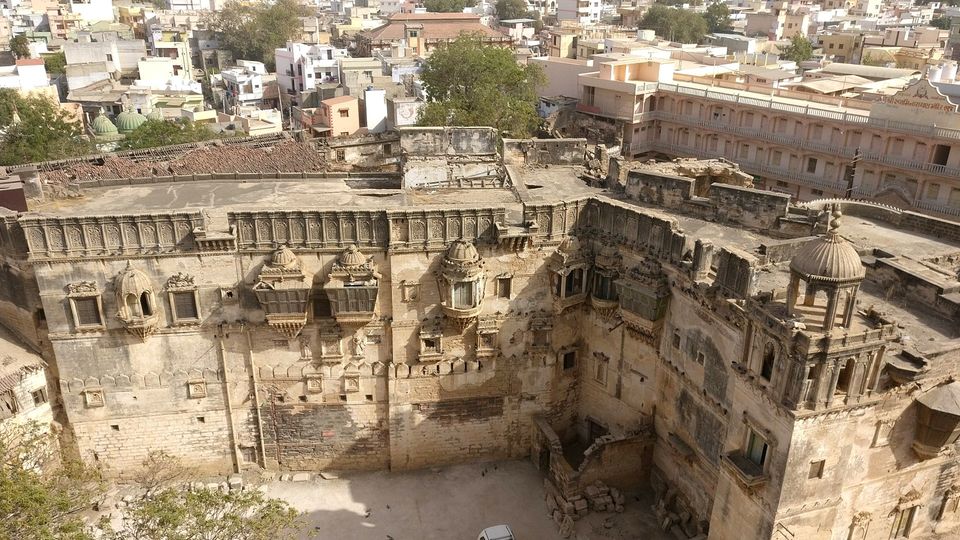 This is a city that ensconces lakes, gardens, temples and market places that attract history and culture buffs from all over and encompasses towering landmarks like the Bhujia Hill that is visible from nearly every angle in the city.
Bhuj is your easily accessible stepping stone, one that you should take advantage of during the limited 4 months in the year when the winter weather is conducive to tourism.
Things to do in Bhuj -
Swaminarayan temple – A majestic temple built by the followers of the Swaminarayan sect, with exquisite marble carvings and gold tipped pinnacles.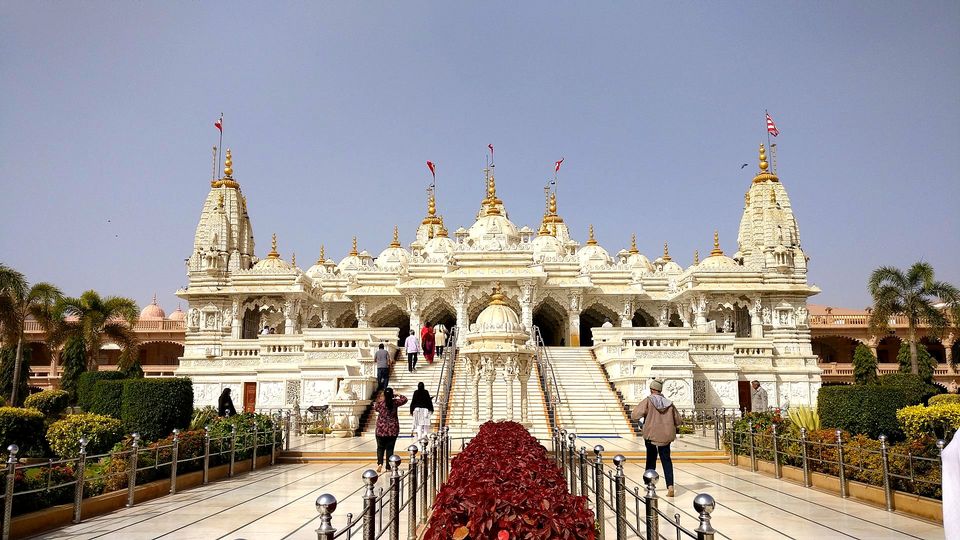 Kutch Museum –
A treasure trove of relics and artefacts and an exciting place to understand and revel in the history of the region.
Please note that this is closed on Wednesdays.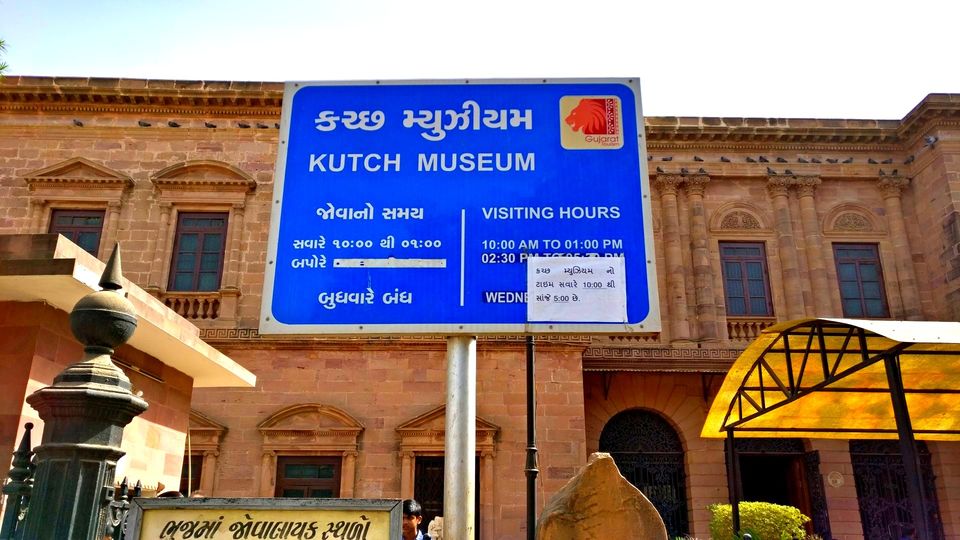 Bhujodi –
Also known as Hiralaxmi craft park, is spread out over 10 acres and is a space dedicated to rural artisans to showcase and promote the arts of Kutch. An outstanding feature is the Vande Mataram complex built in the form of the Parliament house (Sansad Bhavan) in new Delhi. This is a museum of sorts that showcases 4D exhibits that immortalize significant episodes from India's freedom struggle.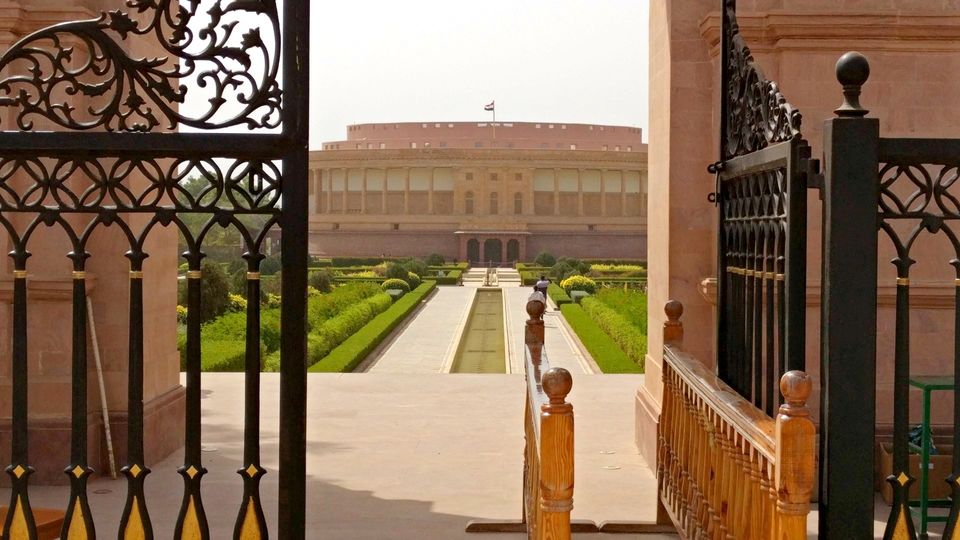 Aina Mahal – is an 18th century palace built in Indo European style and is currently famed for its Hall of mirrors (mirror = aina). Though it was locked up due to the weekly holiday (Thursday) and I could not view the inner chamber of mirrors, I did take pictures of its near crumbling exterior that owed its dilapidated look to the 2001 earthquake.
Precariously clinging latticed balconies provide perches for the hordes of pigeons that from afar look like blue grapes glued onto the ruins.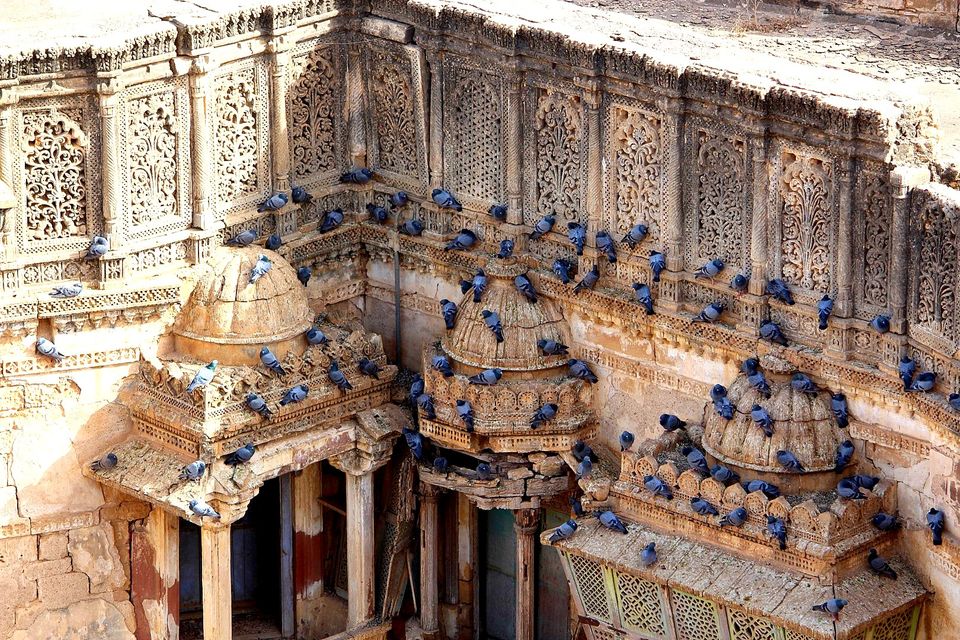 Prag Mahal -
This is a 19th century red sandstone palace built in Italian Gothic style, complete with stained glasses, pointed spires and ribbed vaults. It was commissioned by the ruler Maharao Shri Pragmalji II and is considered to be the first structure in India, built in this style of architecture.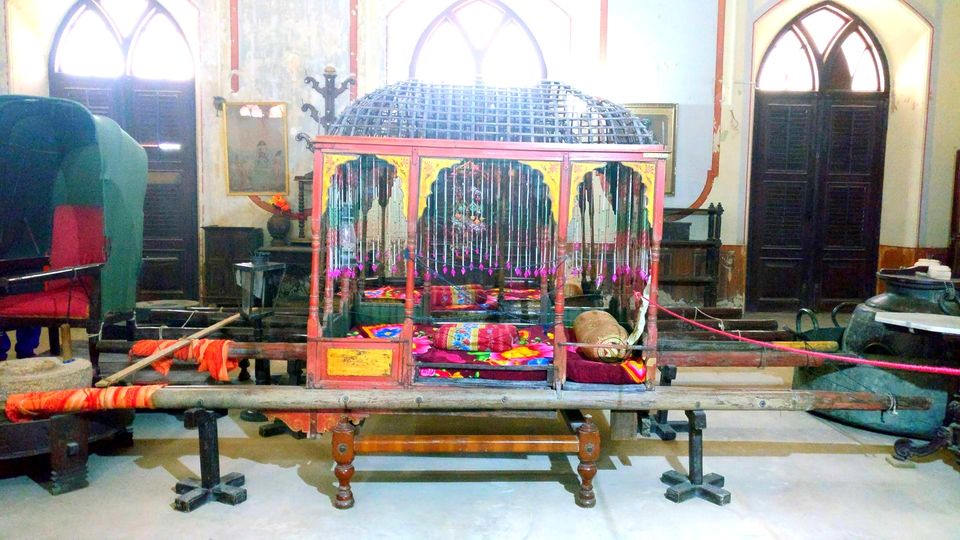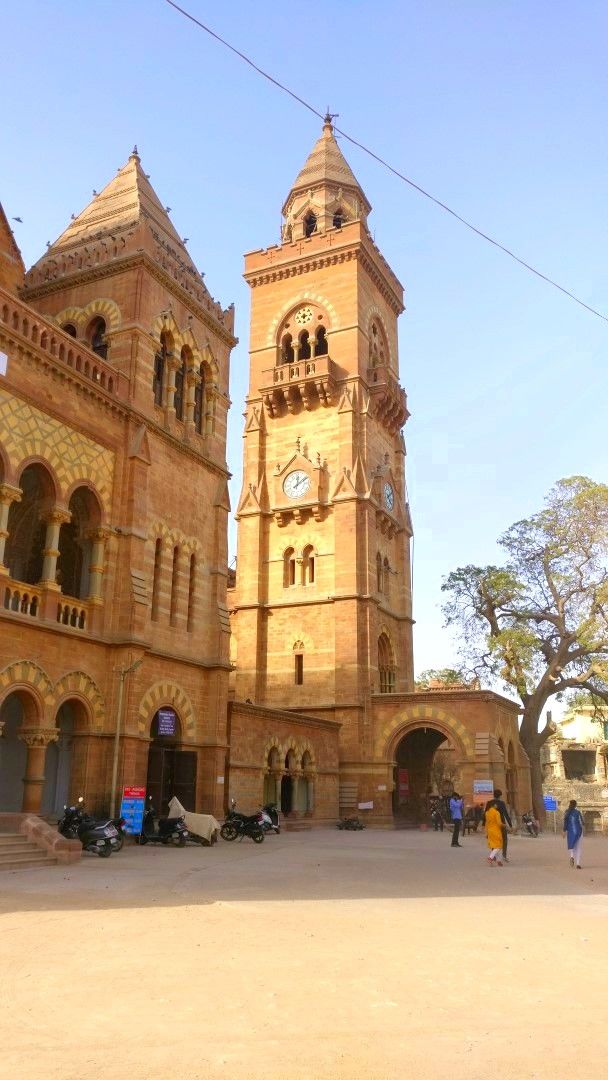 Currently one of the large darbar halls on the first floor of this palace serves as a museum of sorts with exhibits like framed portraits, regal furniture, stuffed lions – no doubt victims of royal hunting, ornate chandeliers, large mirrors and even royal clothing.

The palace is famous for its Bing Bang clock tower which is still functional to date and chimes appropriately at frequent intervals.
Darbargarh market –
just a few steps behind the Mahals is the market, which is mostly a long gully (lane) flanked by shops selling all the ubiquitous Kutchi fare right from mirror work clothing and fabric to artefacts to local snacks that include roasted gram and groundnuts.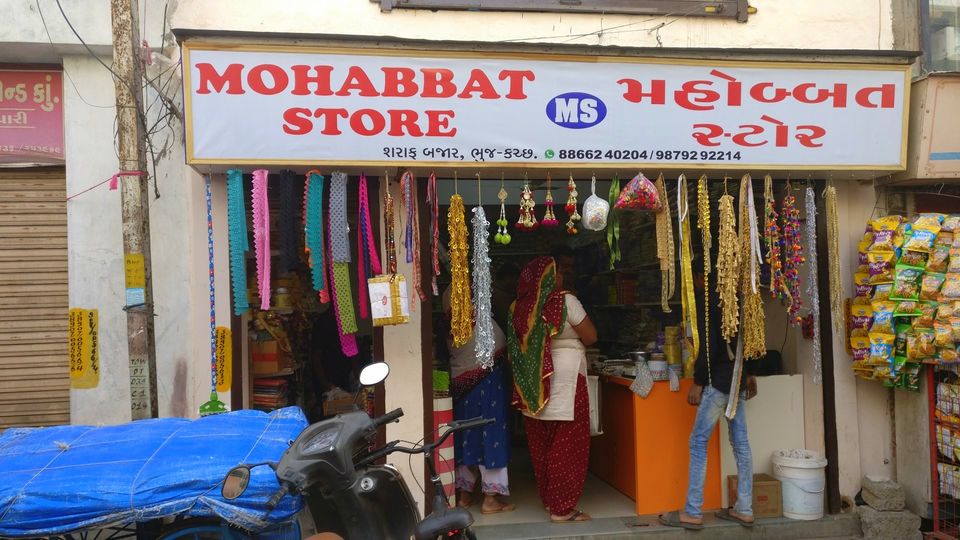 I had only a day in Bhuj so apart from visiting the above places, I took my guide's help to make a list of more options to visit in future. Some of them are as below -
Bhujia Fort -
Bhujia Fort stands atop the Bhujia hill and was built by the Jadeja rulers in the 18th century, for the defense of the city. The Bhujang Naga temple is also situated on this hill.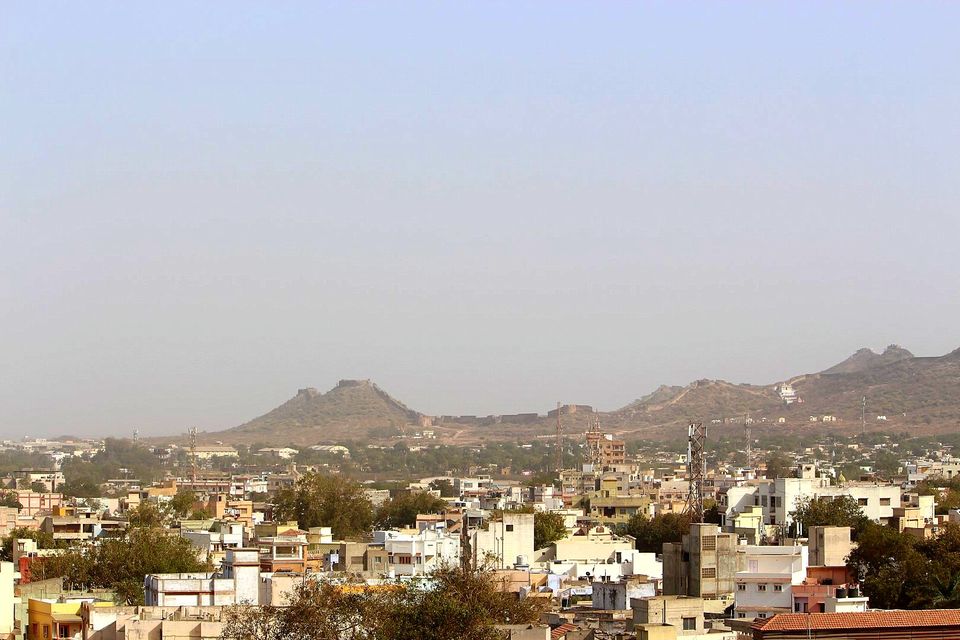 The Hamirsar Lake -
is a 28 acre lake located in the center of Bhuj. This lake was artificially created than 470 years ago is named after the founder of Bhuj, Rao Hamir. It also has a beautiful garden right in the middle. The lake is a popular spot for tourists and also offers views of the surrounding monuments like the Prag Mahal palace.
The Royal Chhatedi -
is a cenotaph which is a monument erected in the memory of someone whose mortals remains have been interred elsewhere … a virtual tomb of sorts. The Chhatedi in Bhuj is said to have been built by the royal families in honor of soldiers who perished in war.
Sharad Baug palace and gardens –
A beautiful garden that adjoins a palace which is also a stay option.
Surrounding attractions –
Bhuj provides access to the surrounding villages/areas of Madhapar, Ajrakhpur, Nirona, Anjar, Dhordo, Great Rann of Kutch, Dholavira, Gandhi nu dham, Kala Dungar, Shyamji Krishna Varma Memorial, Vijay Vilas palace, Mandvi beach etc. These places are worth visiting because each of them have some unique handicraft or feature that would be of interest. More details on my blog.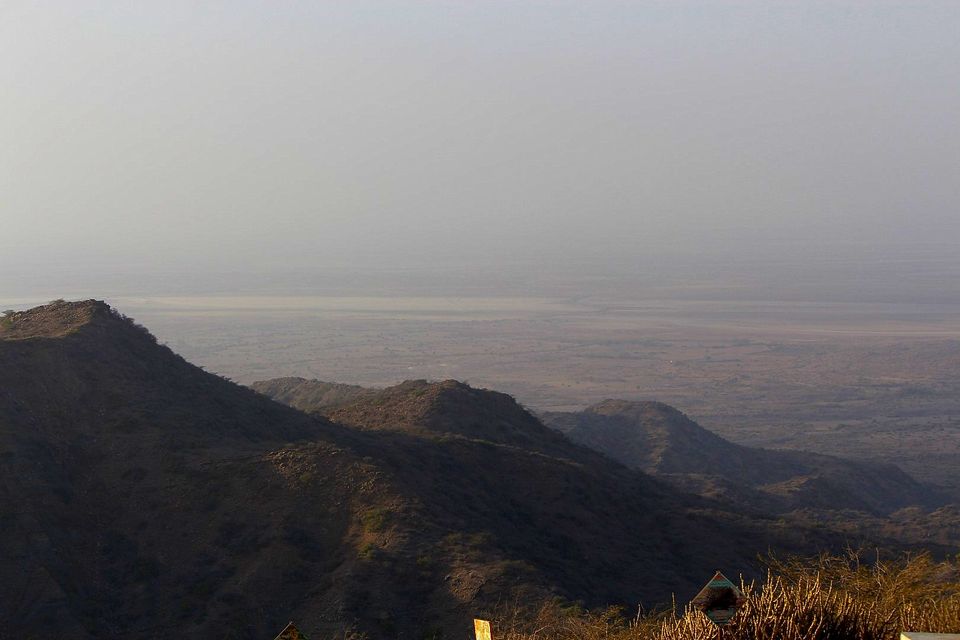 Where to stay –
Bhuj has a number of low cost as well mid range stay options that are easily booked online. I stayed at the the Tent City in Dhordo village, 85 km from Bhuj.
Getting there –
Bhuj is well connected by road, rail and air to many major cities across India.
Bhuj railway station is neat and well maintained and has frequent trains running to Ahmedabad which is a major city 330 km away and has an international airport.
Frequent buses ply between Ahmedabad and Bhuj, both air conditioned and regular. Bookings can be done online.
Bhuj has a domestic airport which operates direct flights to Mumbai and stopover flights via Mumbai to all major cities like Bangalore, Hyderabad etc.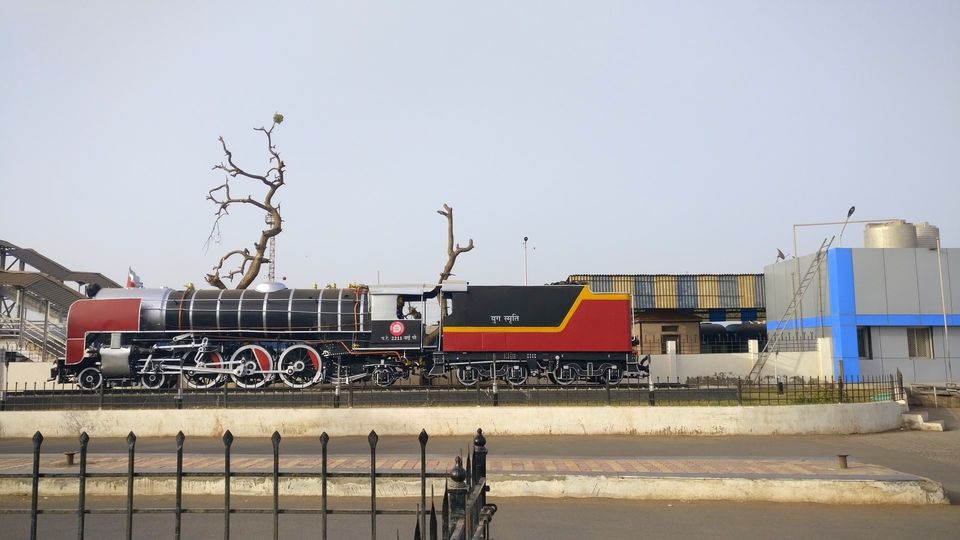 This post was originally published on Currylines
I hope this post was interesting enough for you. I would love to hear your thoughts in the comments. Find more of my stories on my Instagram @currylines and my Facebook Page @currylines
Frequent Searches Leading To This Page:-
Places to Visit in Gujarat, Gujarat Tour Package for Couple from Delhi, Things to do in Gujarat, Gujarat Holiday Tour Packages, Top Gujarat Packages for Family