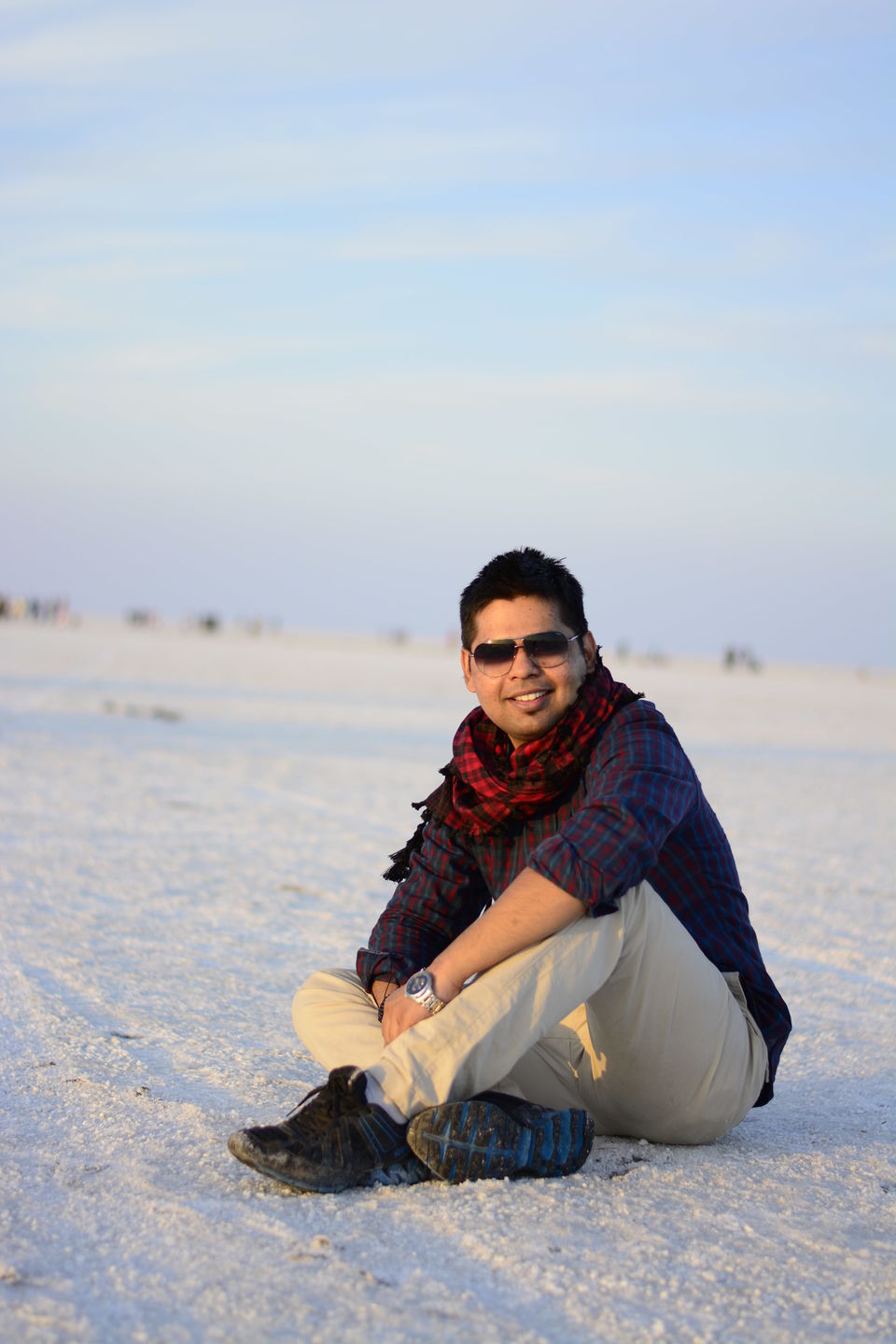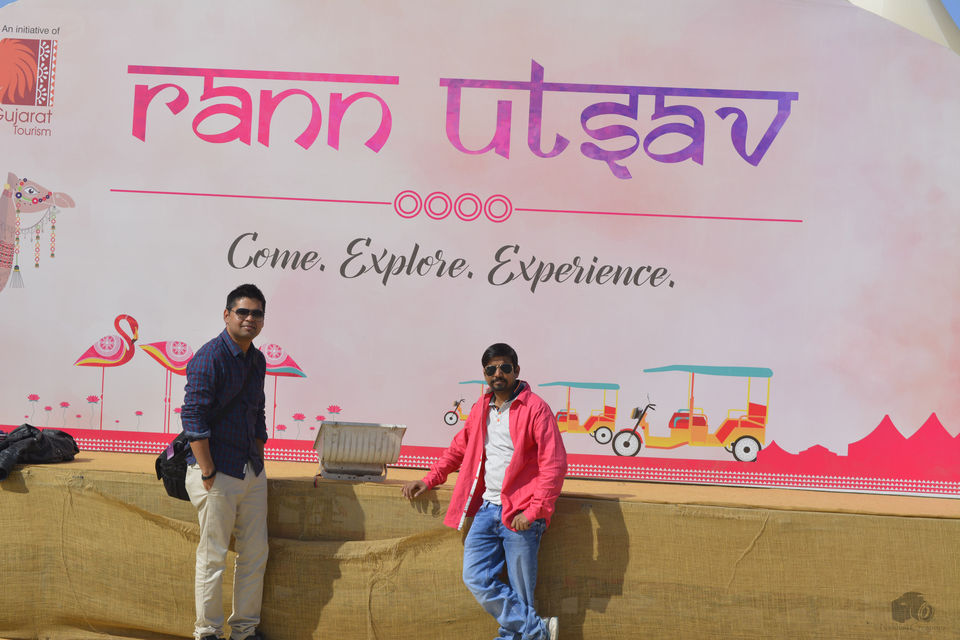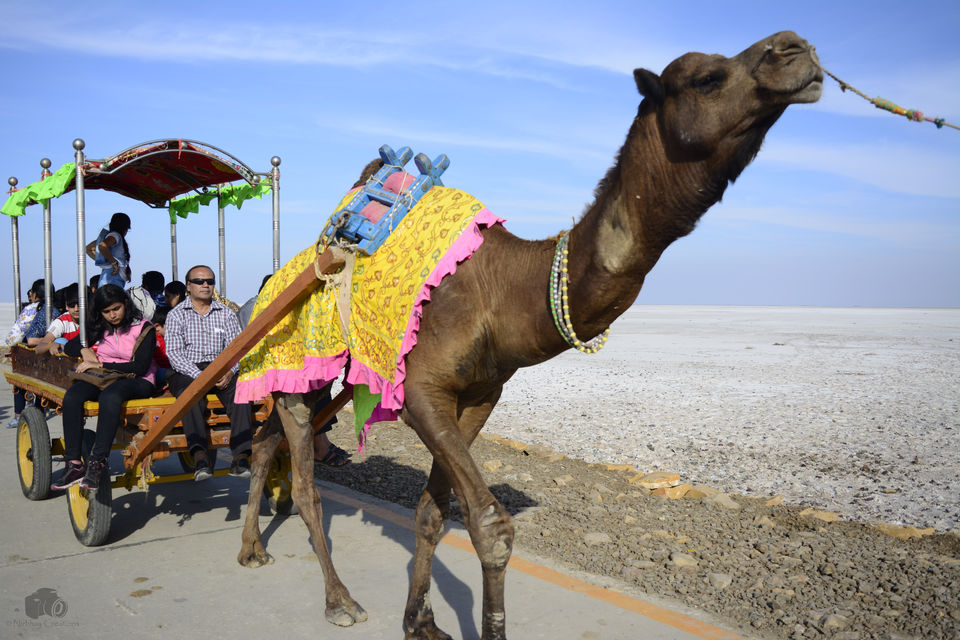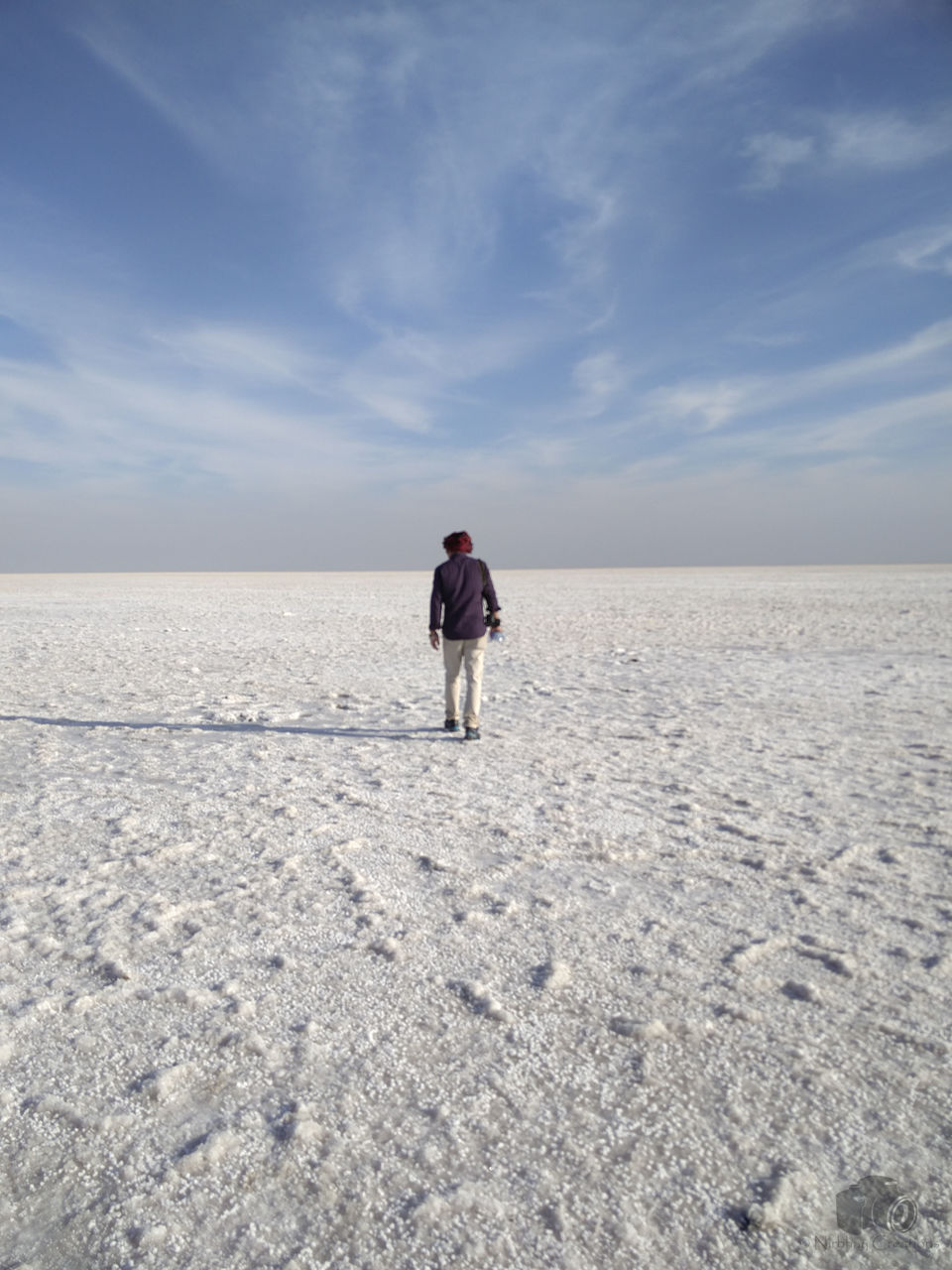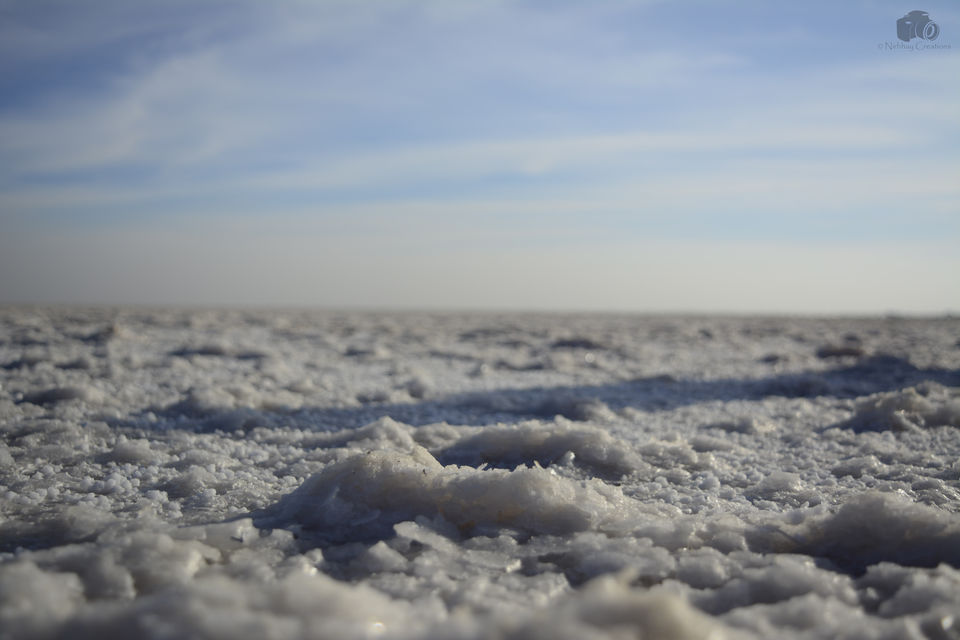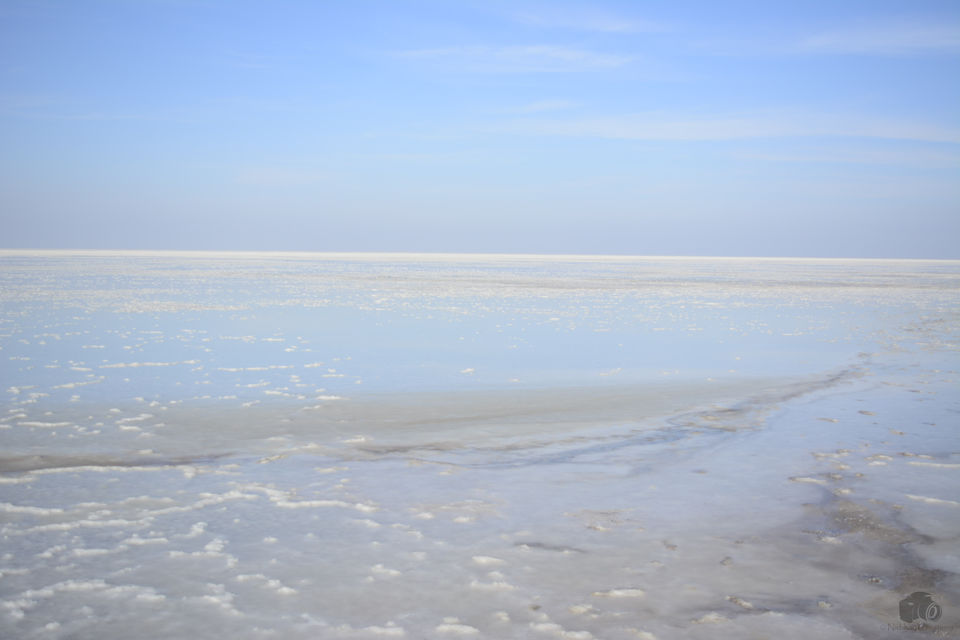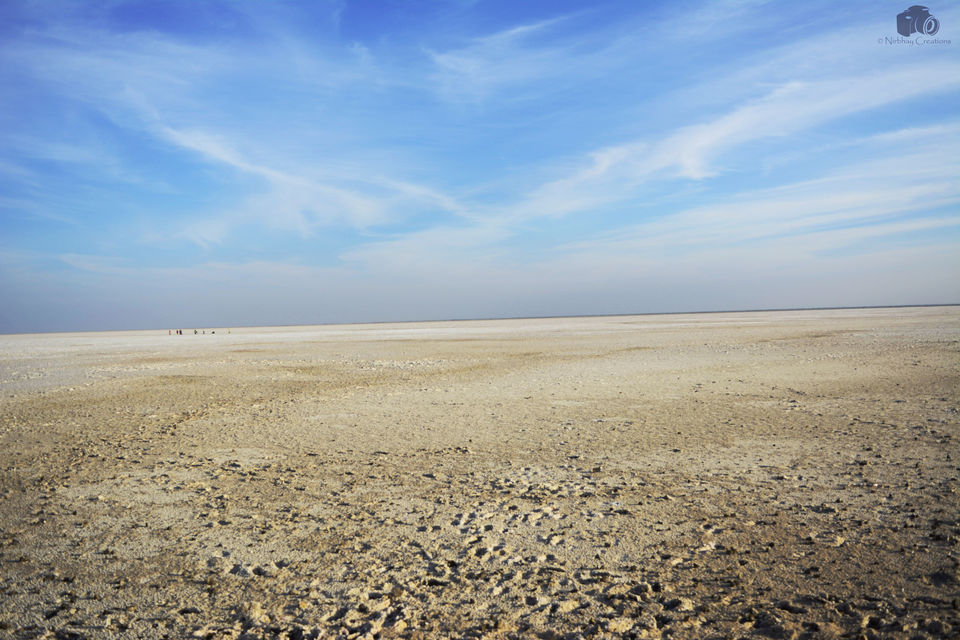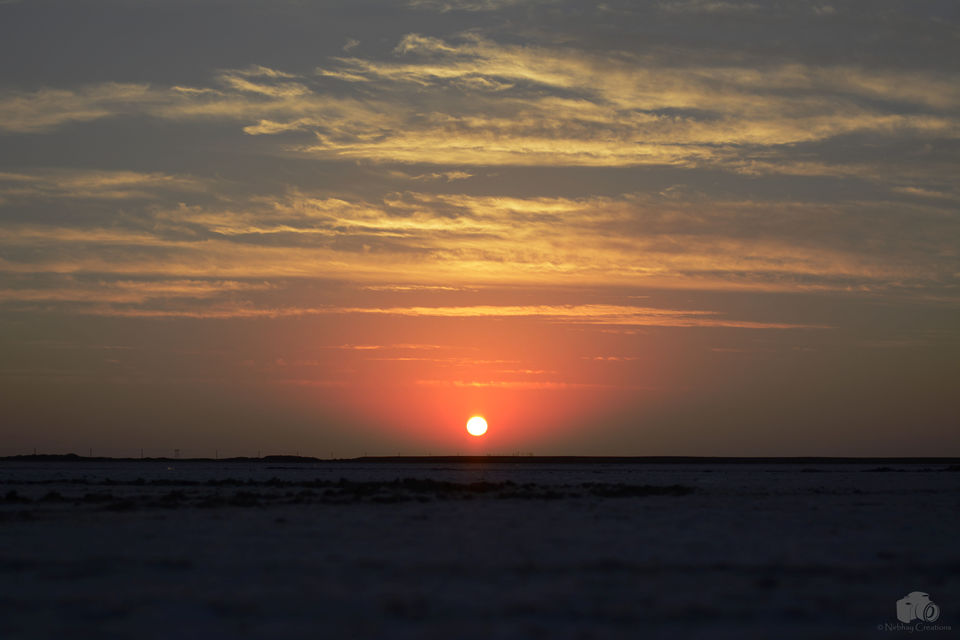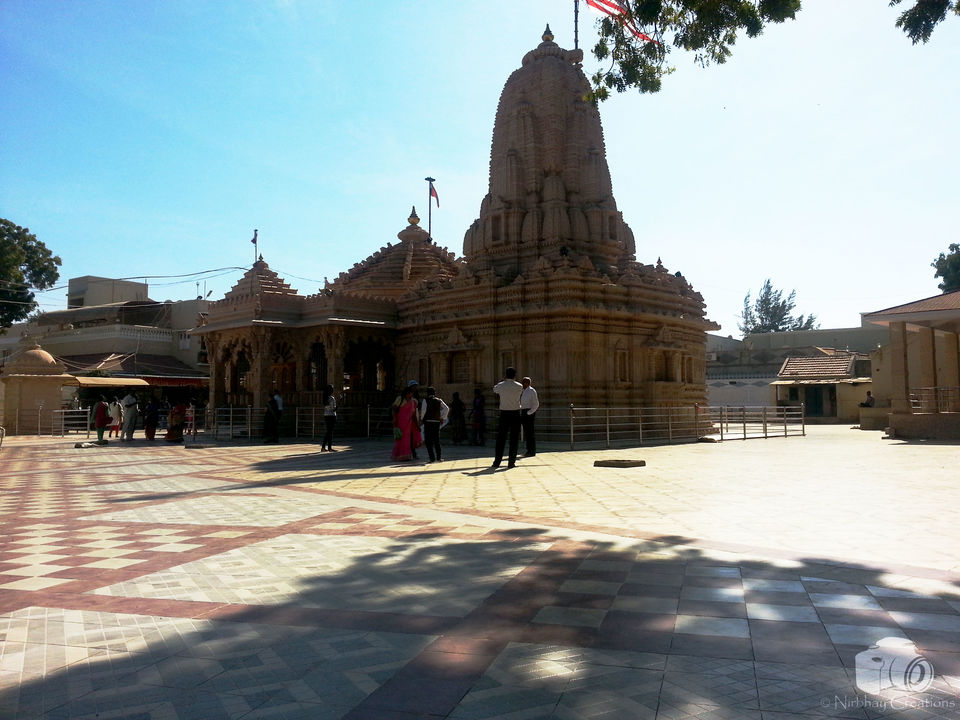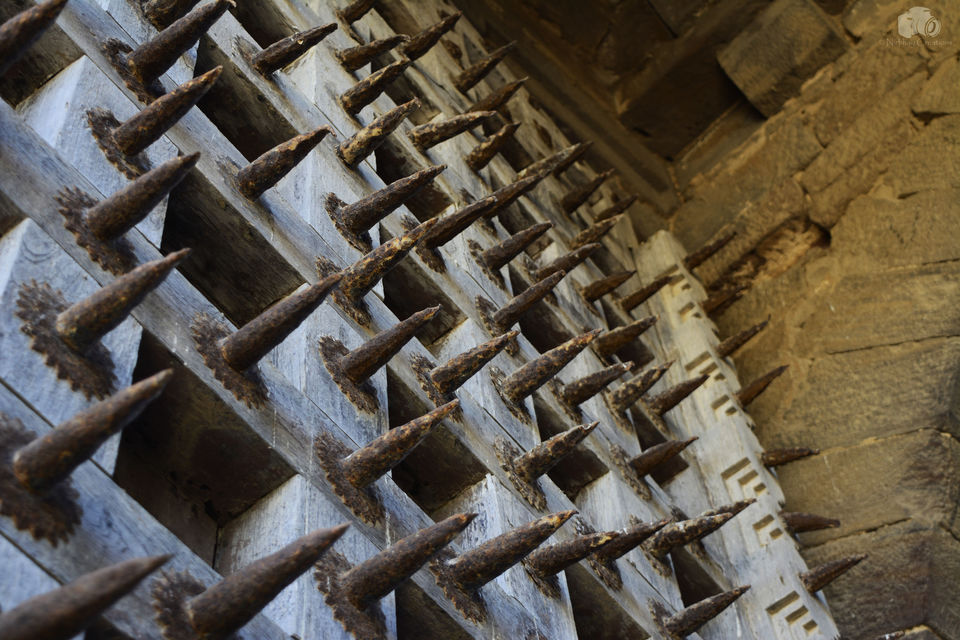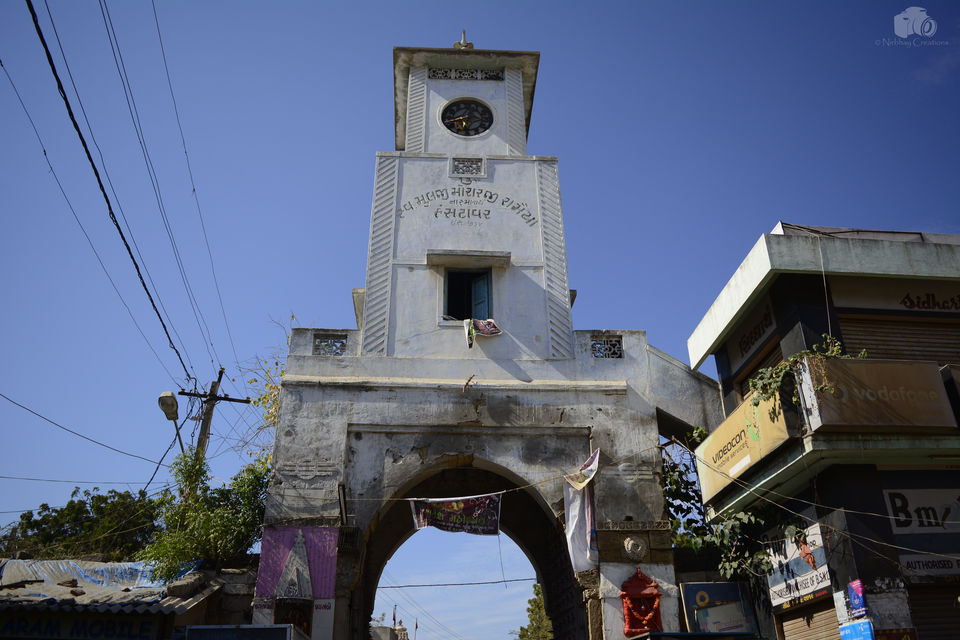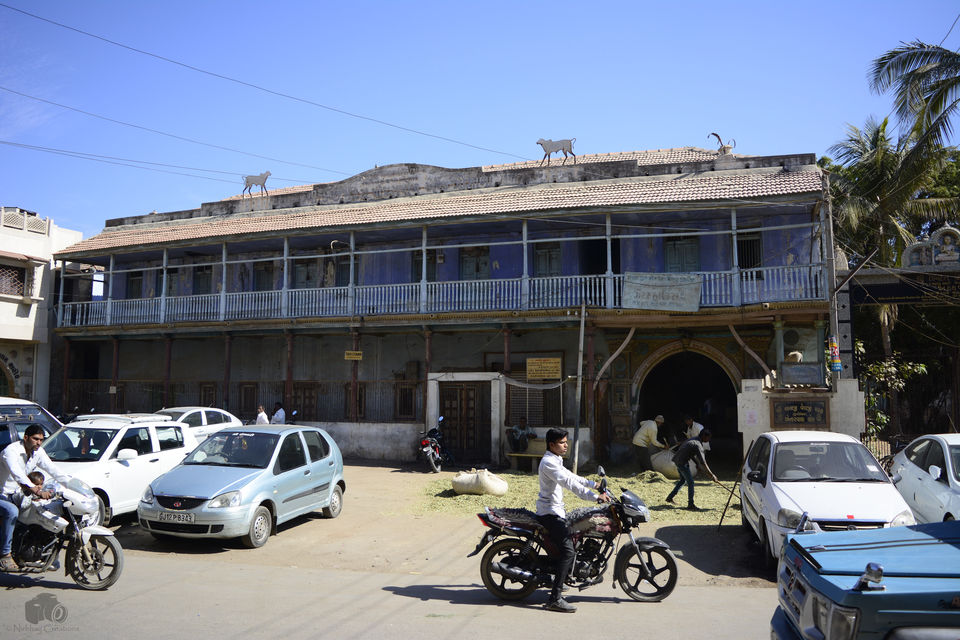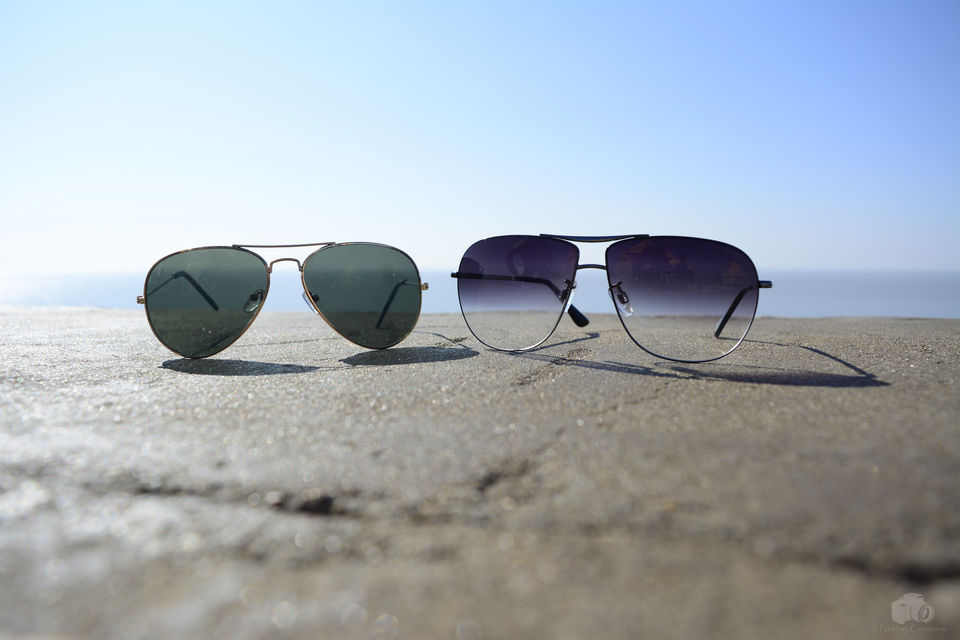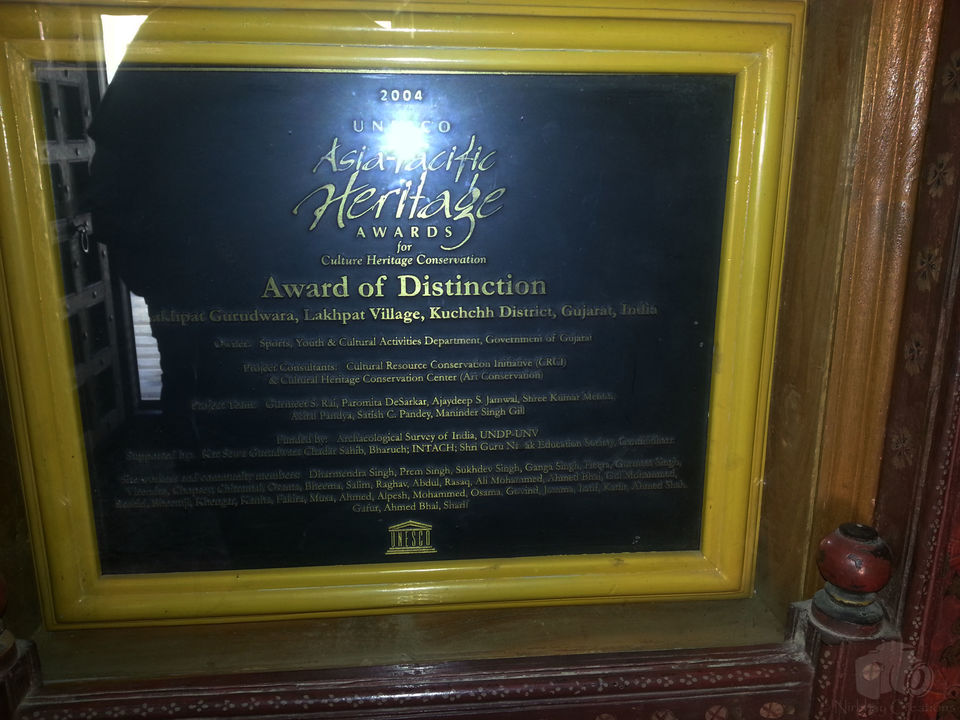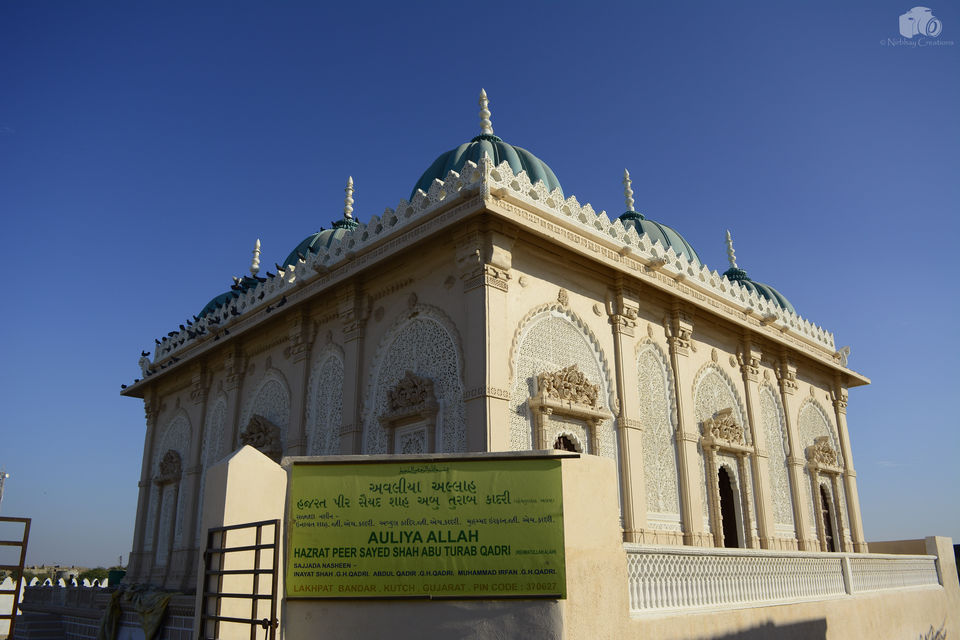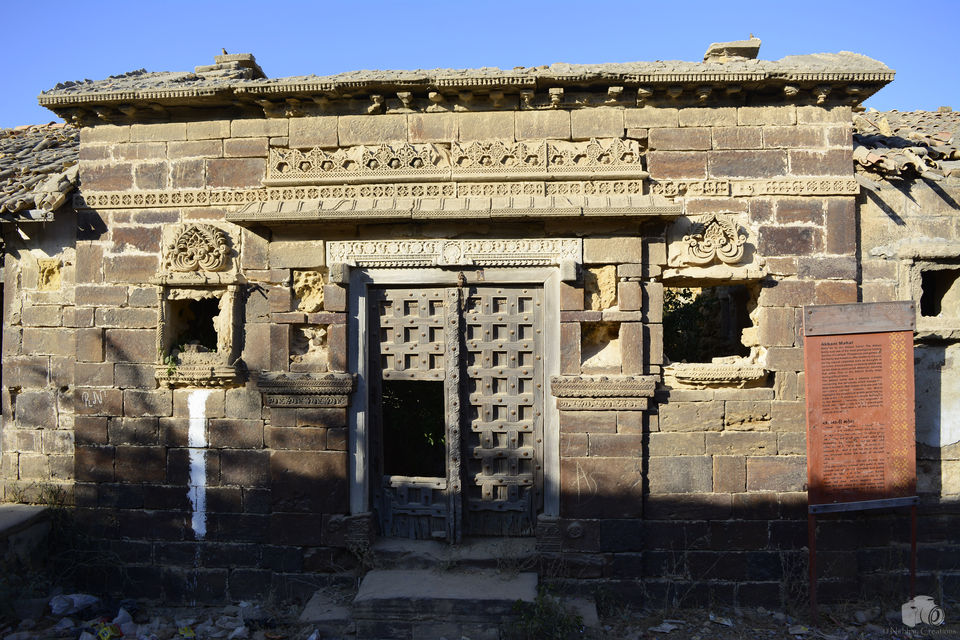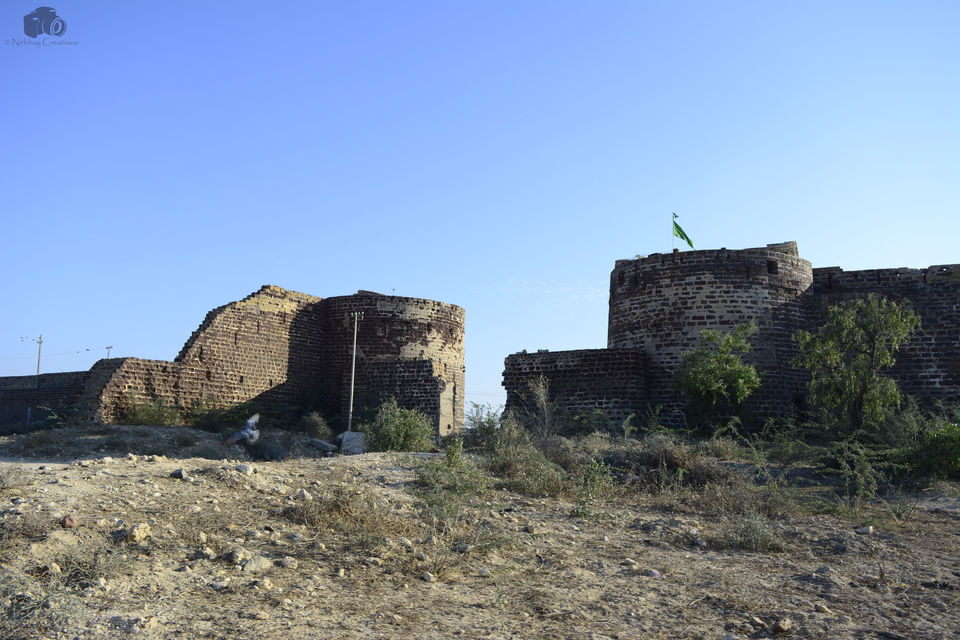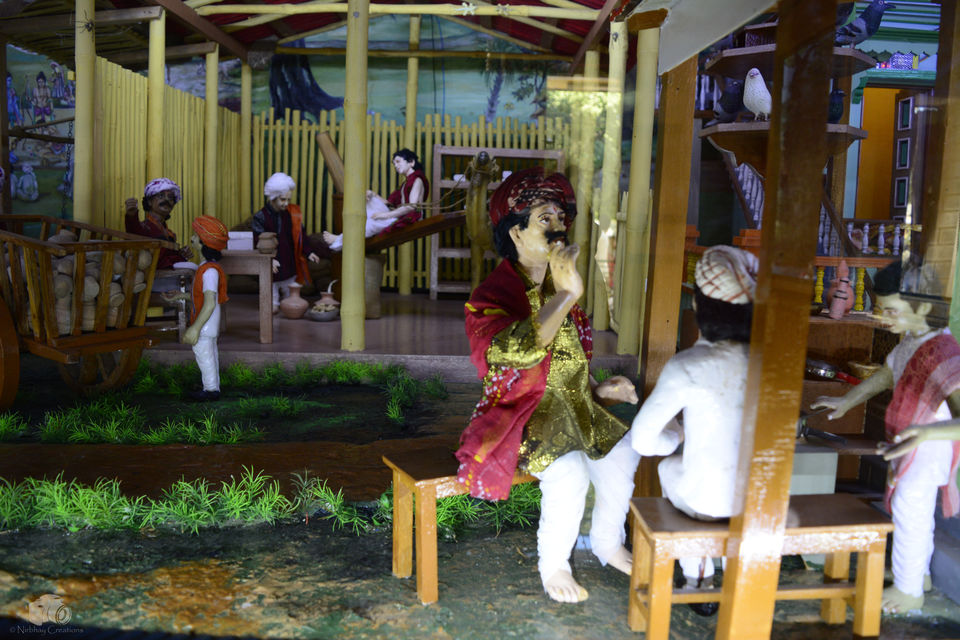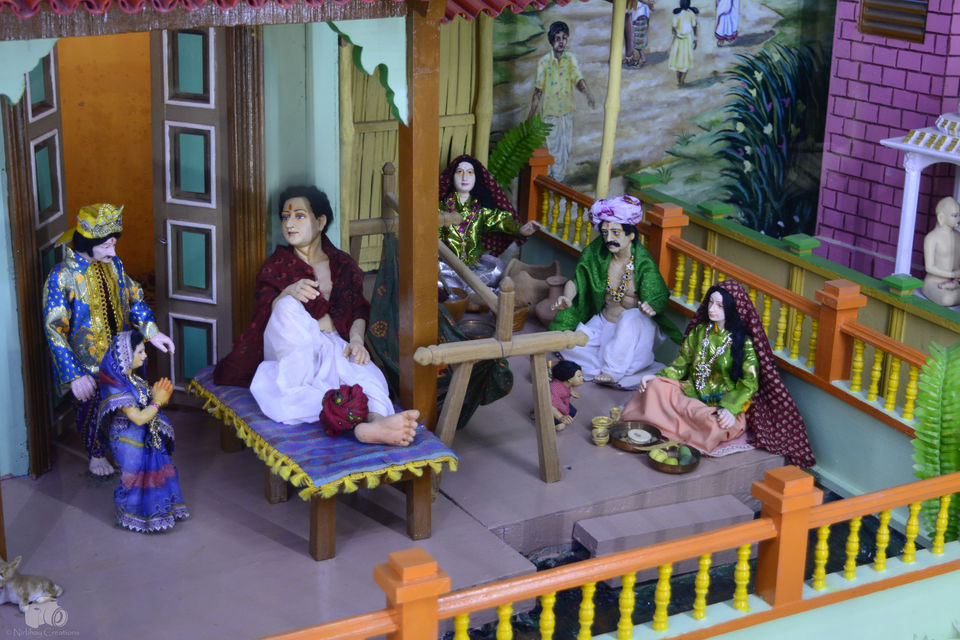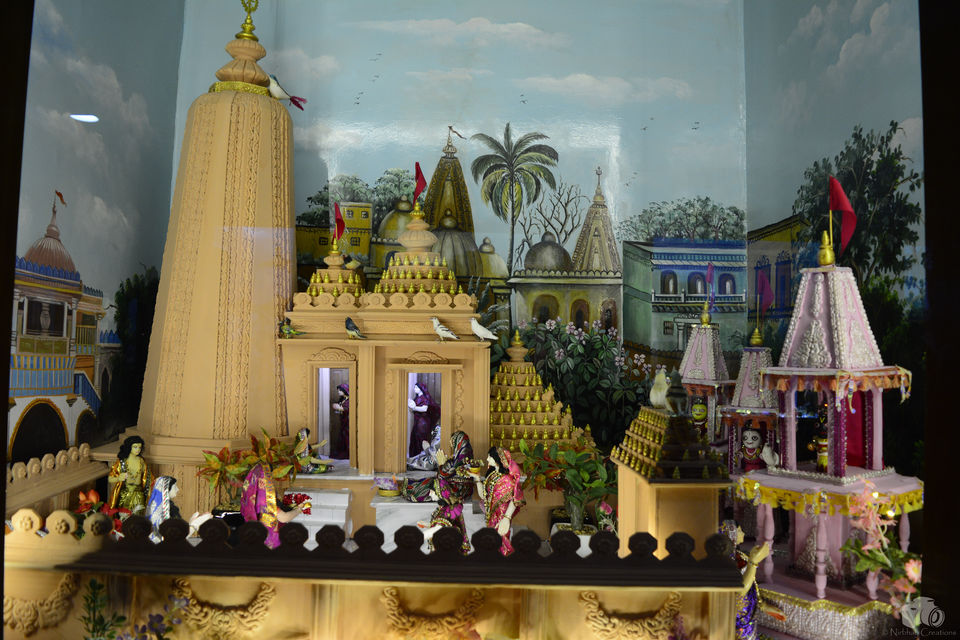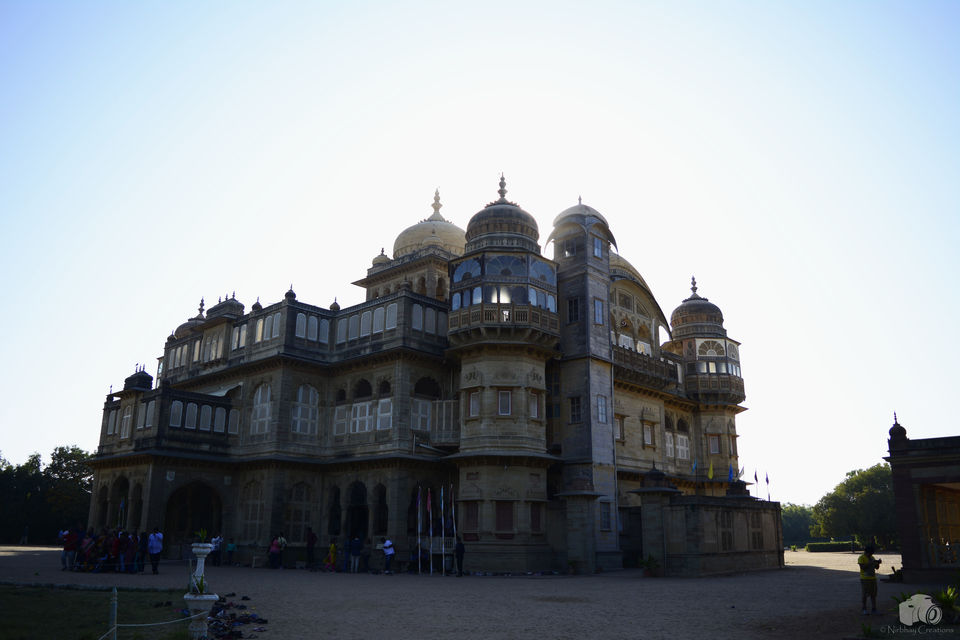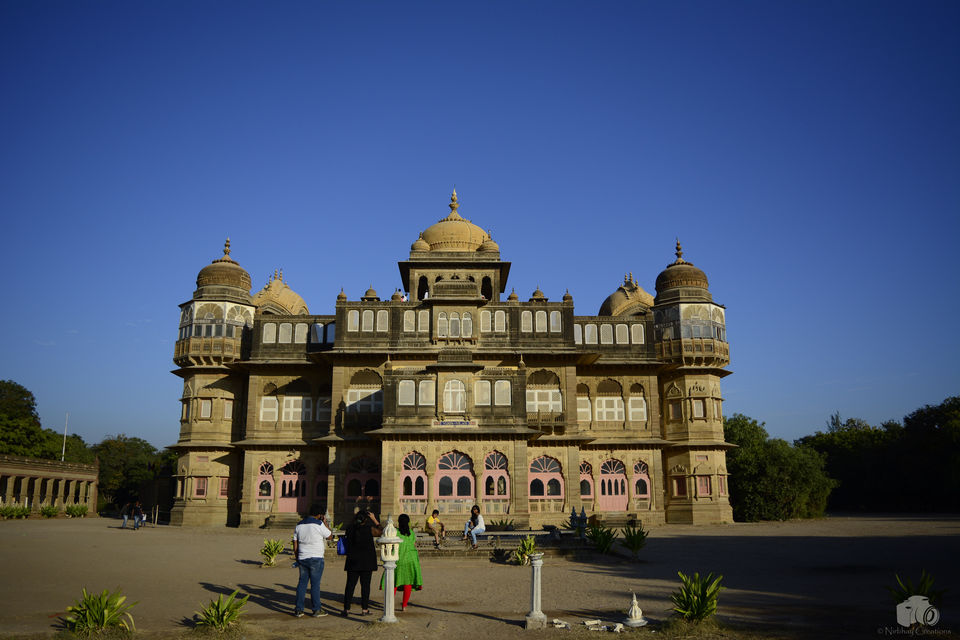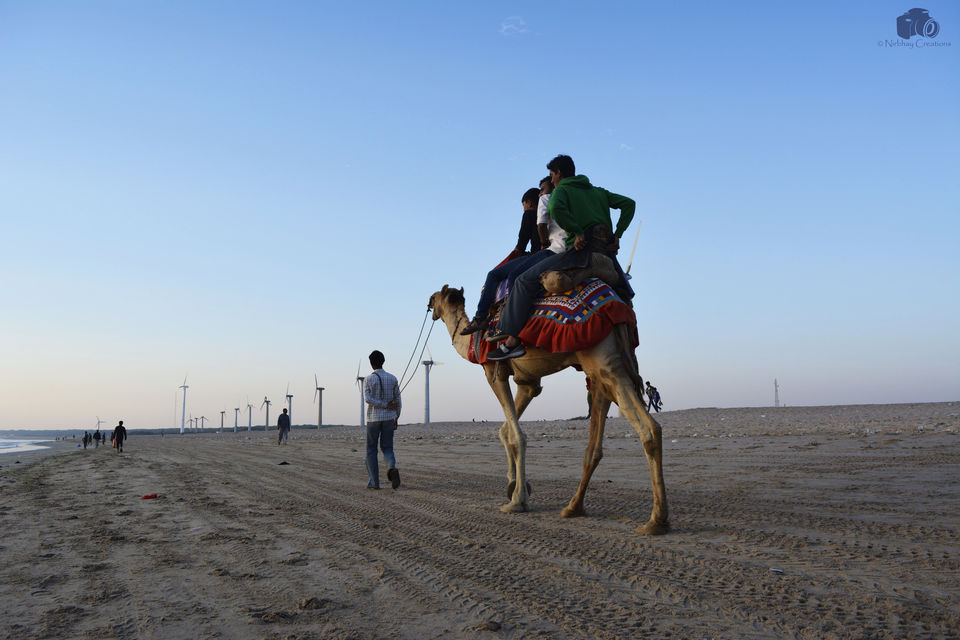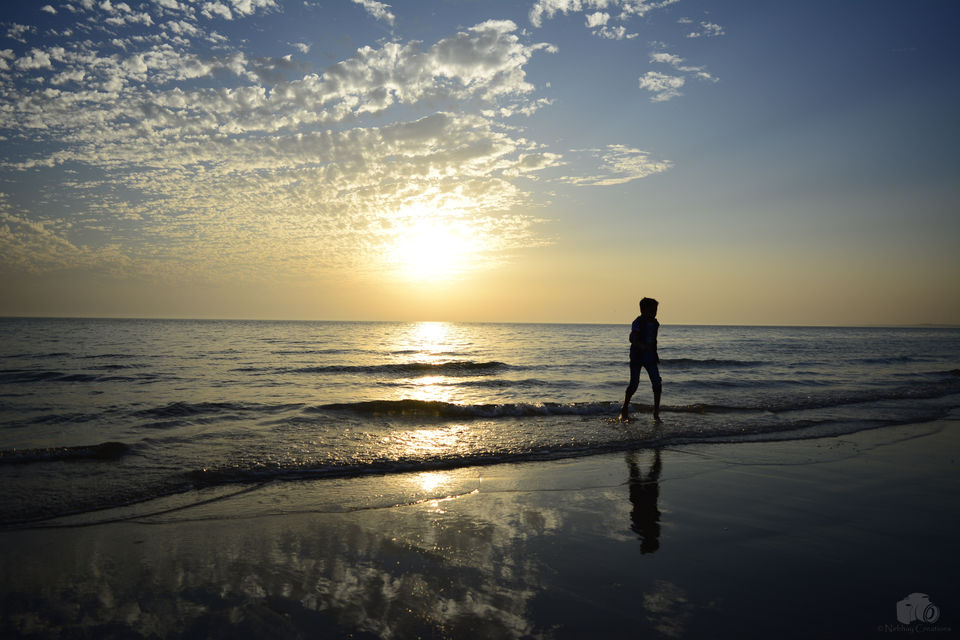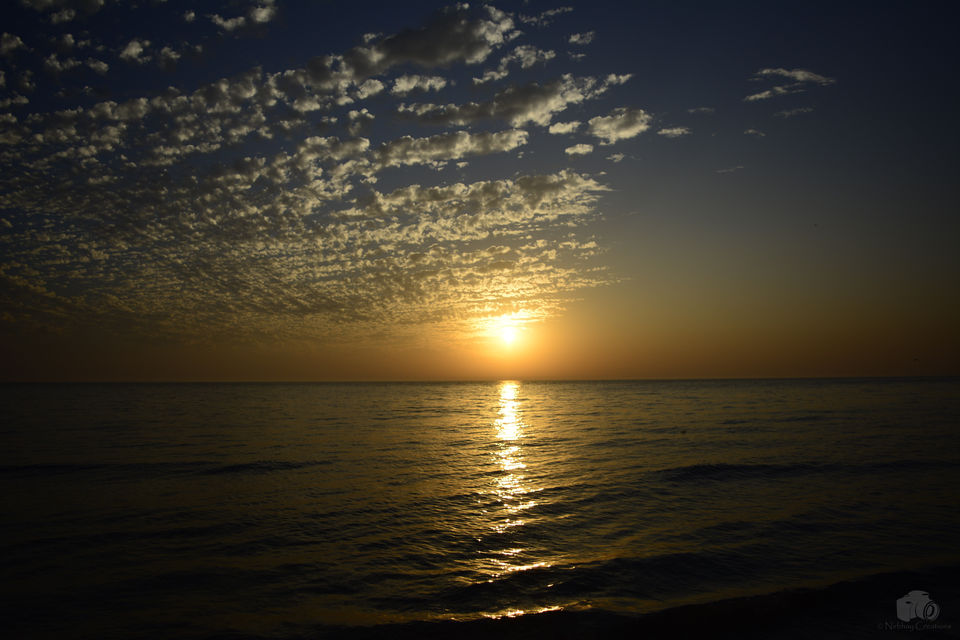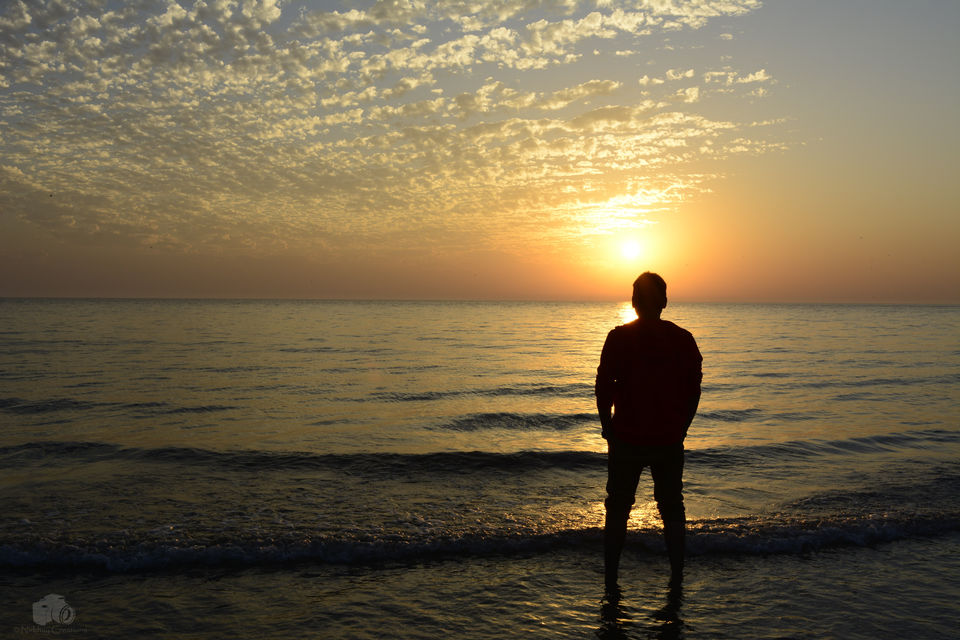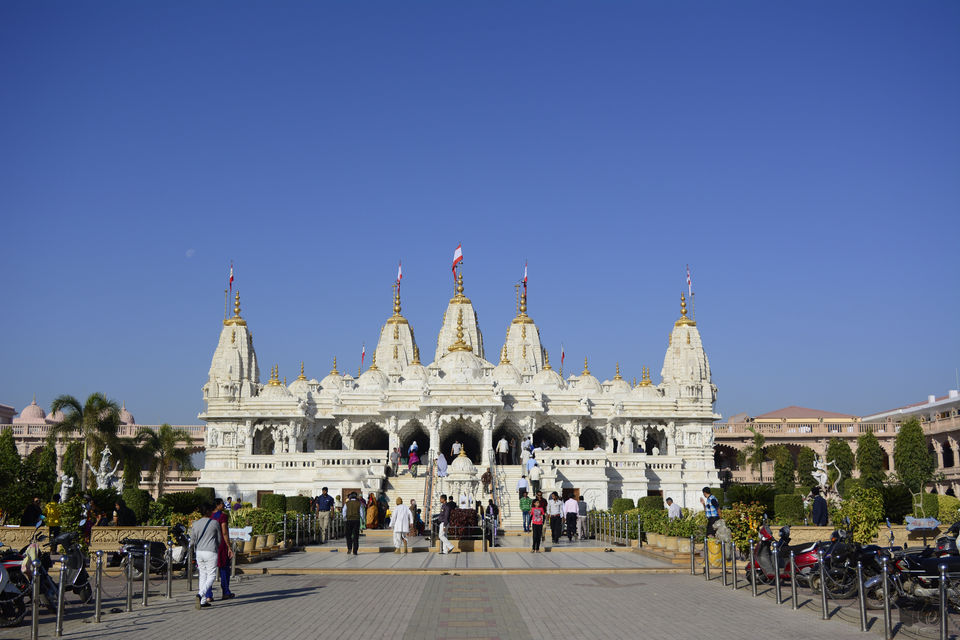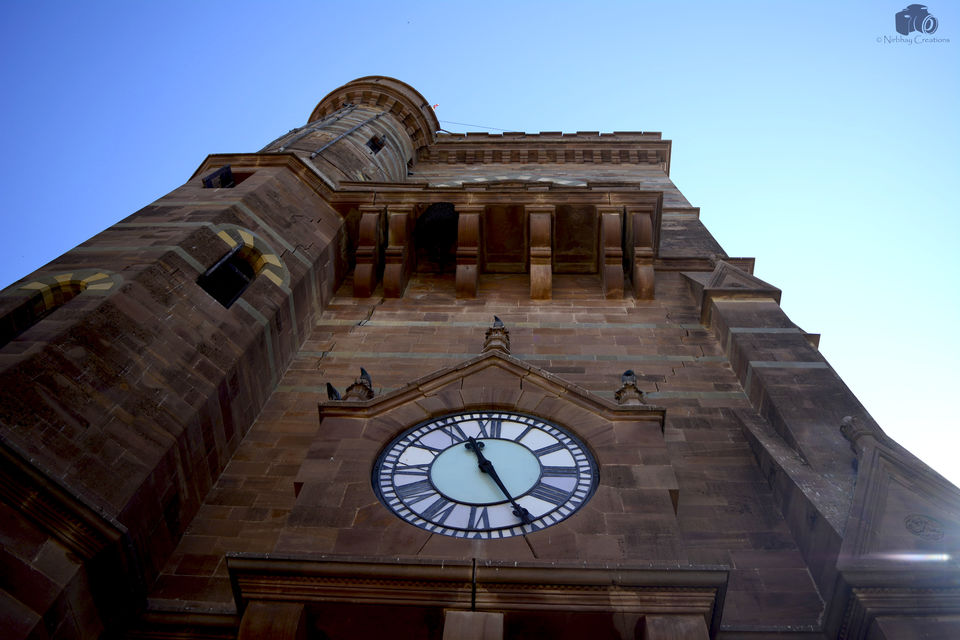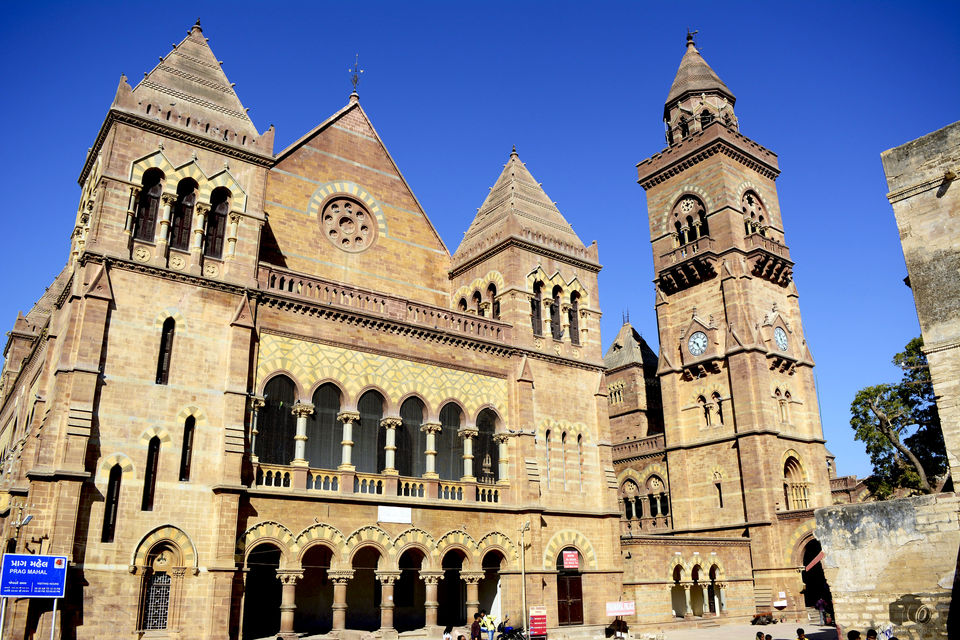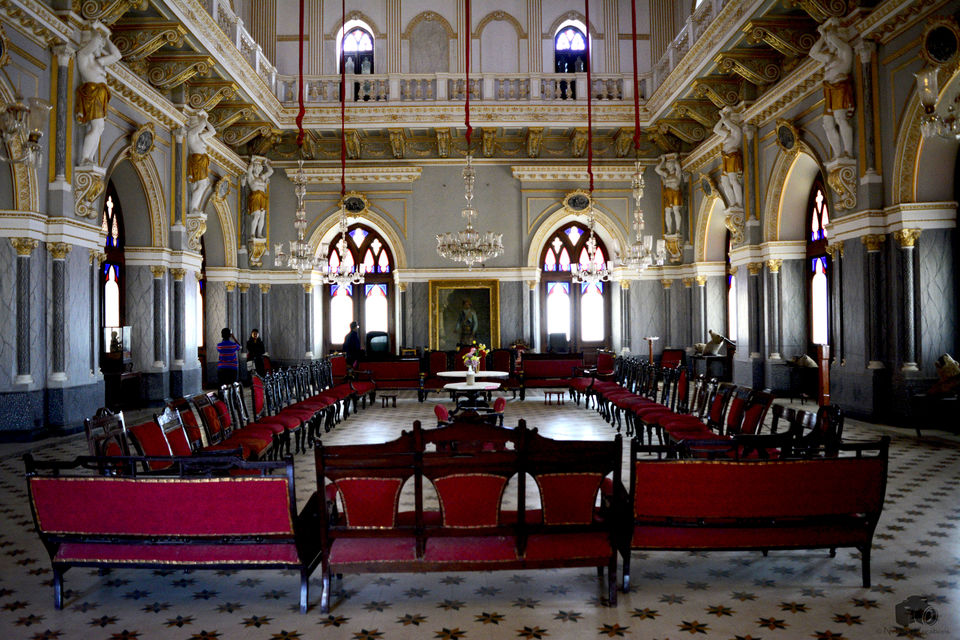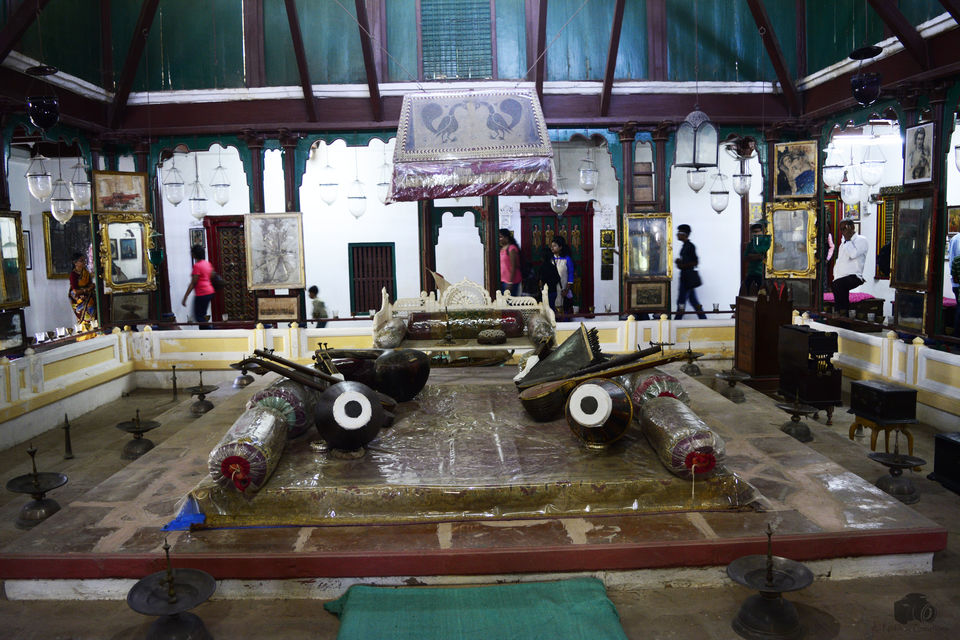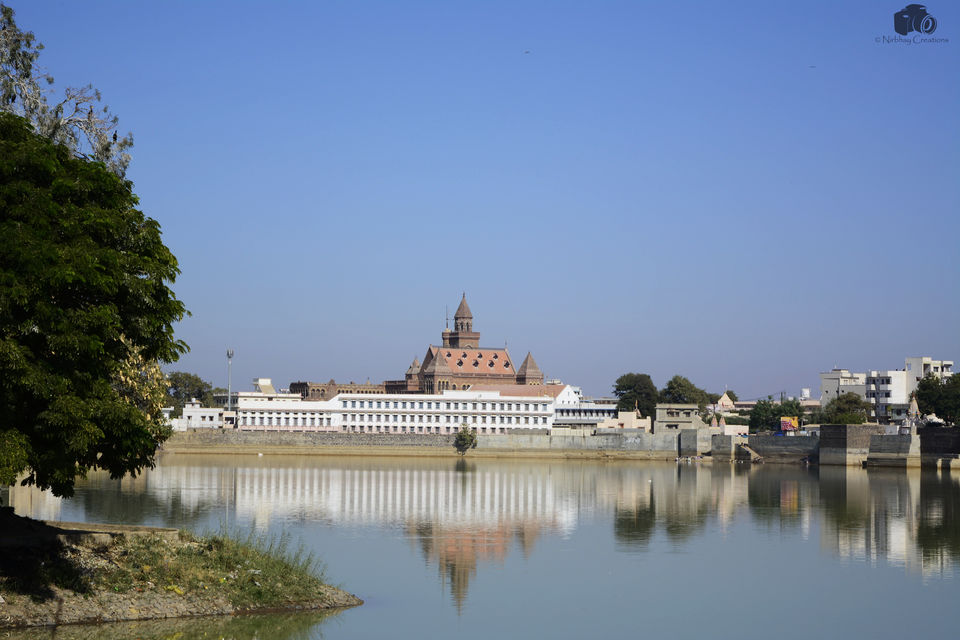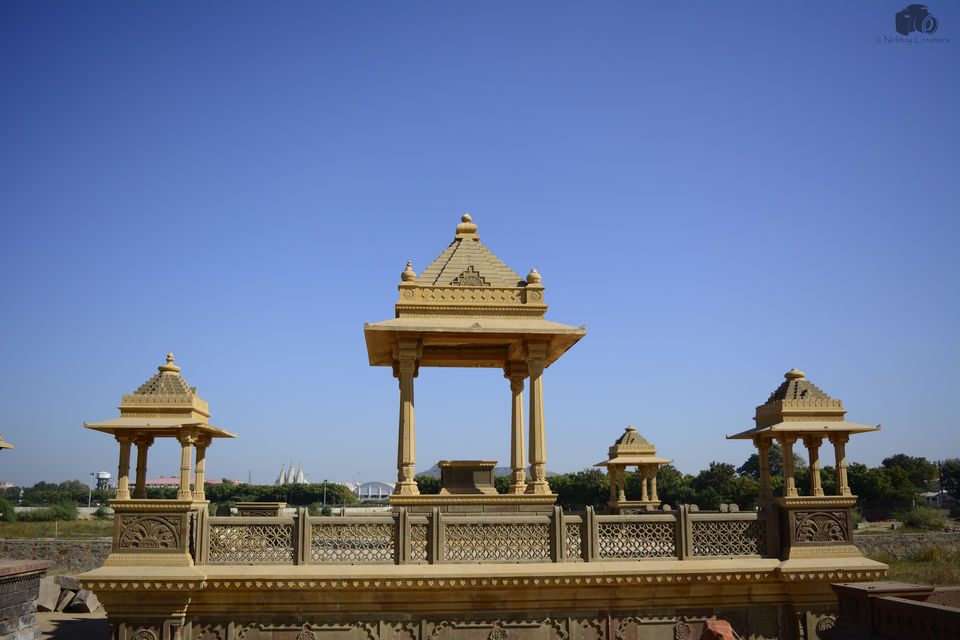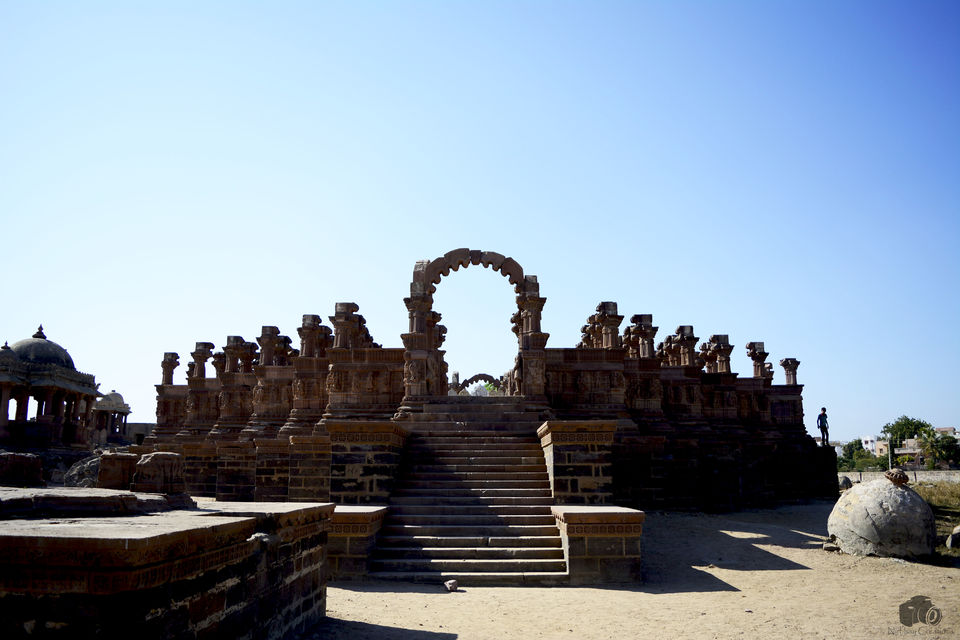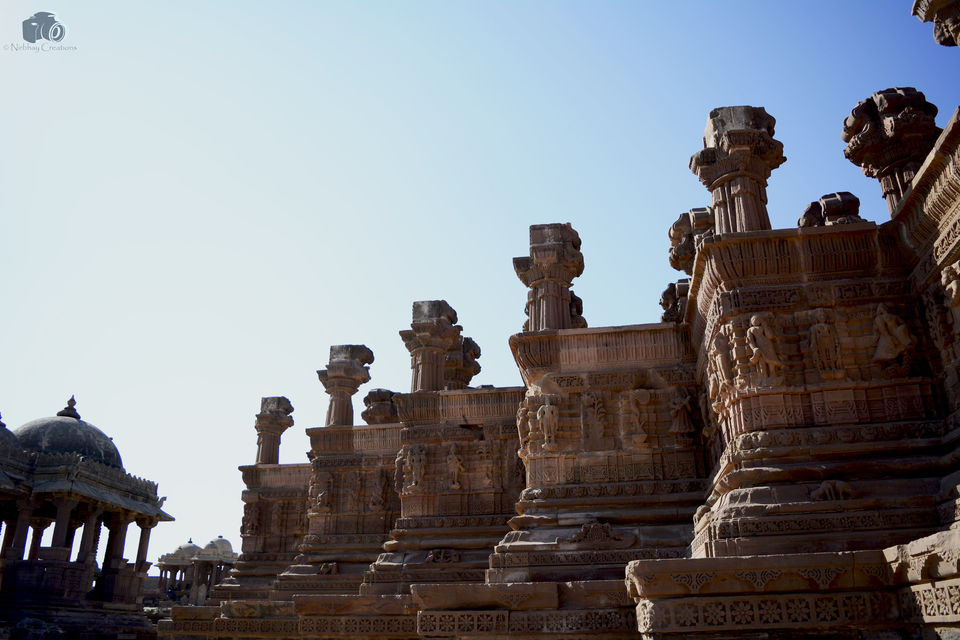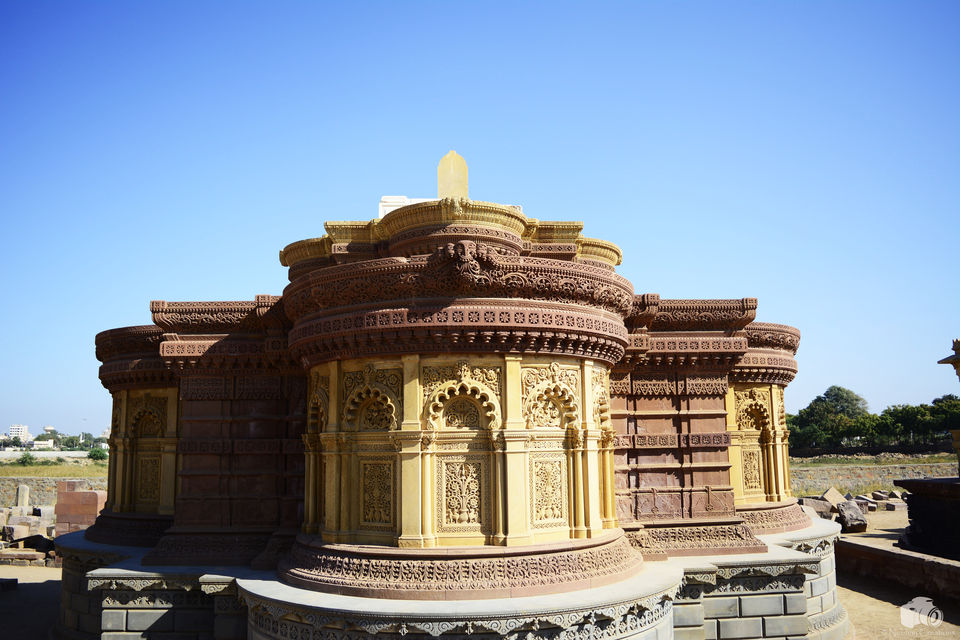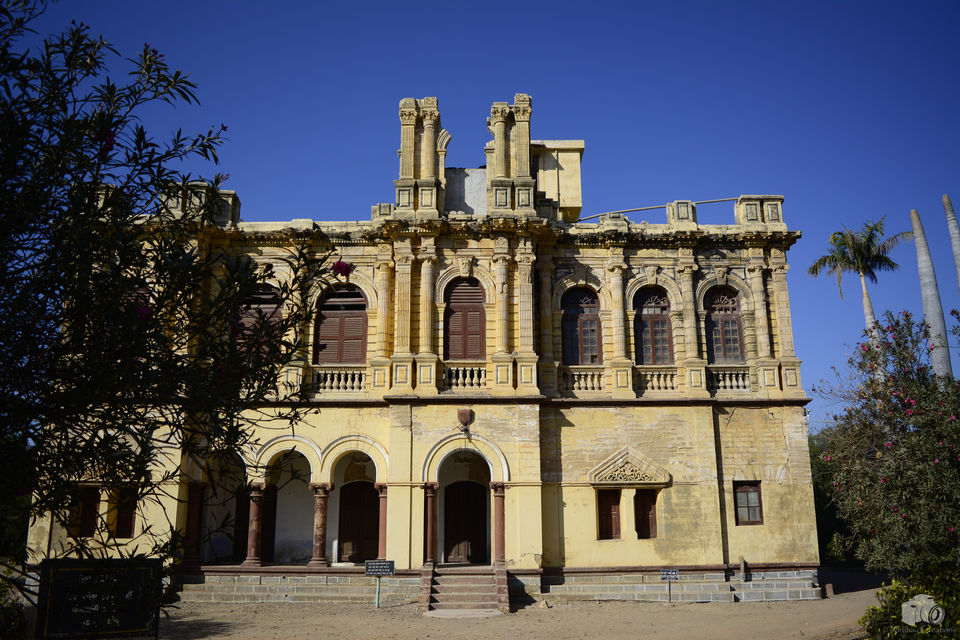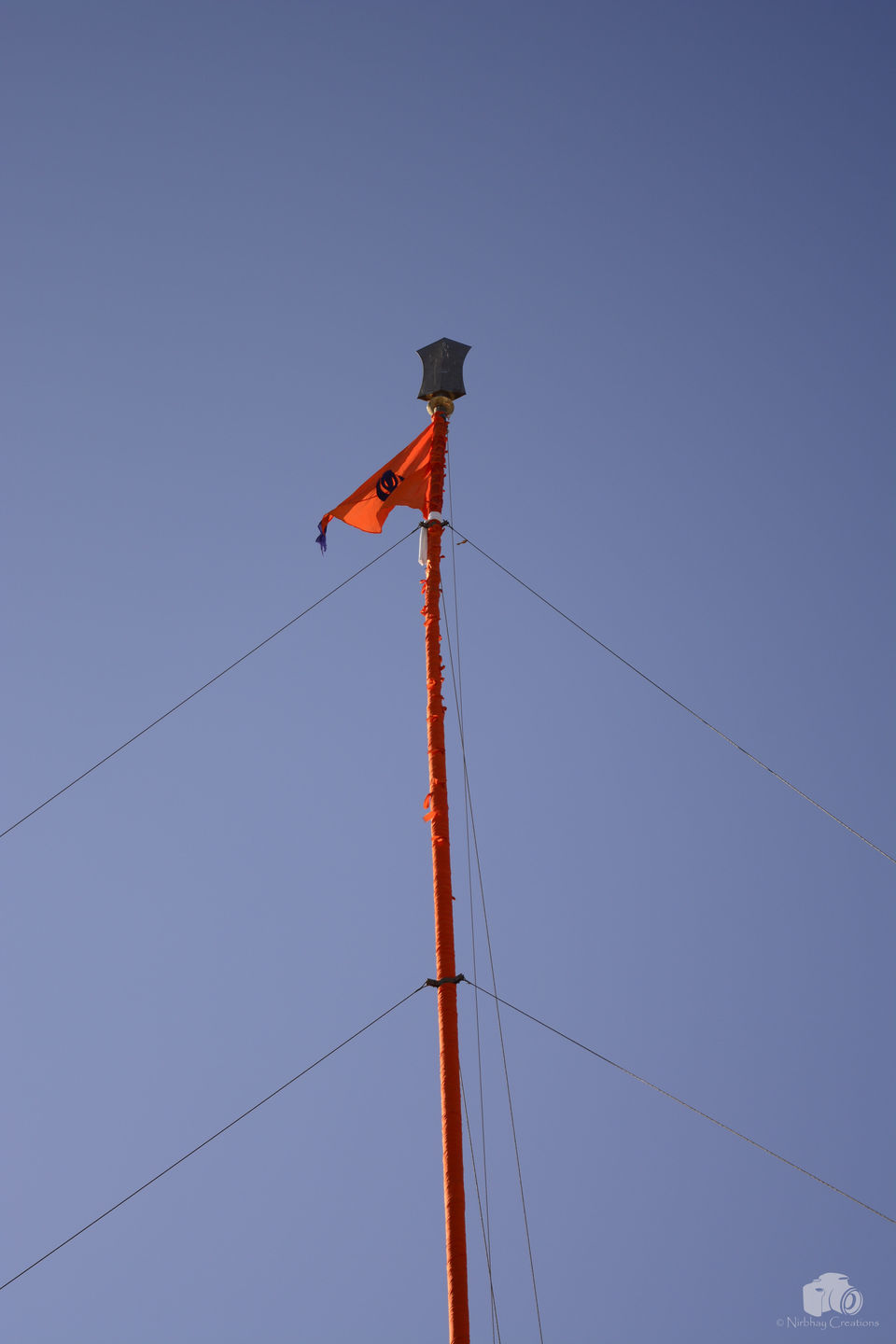 The irresistible beauty of worlds largest salt desert "The Great Rann of Kutch", the hospitable Culture of Bhuj and mouth watering food have attracted us to Plan and accomplish an unforgettable chapter of Gujarat.
Me along with my friend Ashish had planned our trip for 4 Days to Gujarat from 27 Dec'15 to 31st Dec'15. We had gone through internet, searched so many sites to list down the "Must places to visit" in Bhuj-Kutch just like every other travel planners.
Kutch district is divided in 4 regions as Northern, Western, Eastern and Southern parts including some exceptional local sight seeing of Bhuj city.
Starting our trip from Gurgaon we had already done booking of hotels and cab in advance as during New Year and Kutch festival season it is really hard to find place to stay and cab to travel.
26th evening we had left at 5:30pm from Gurgaon-Delhi and took a flight to Ahmedabad as direct flight to Bhuj is very costly around 10K.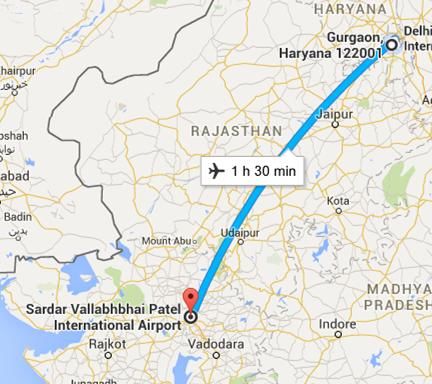 Reached Ahmedabad around 7:10pm we had booked Volvo bus of Gujarat Transport INR 680 only ,people in Gujarat don't use GSRTC Volvo's instead of that people opt for private roadways like Patel & Swaminarayan Travels which can be booked though Redbus.in.
1st Day 27th Dec'15 North Kutch:

We had reached Bhuj in morning at around 6am and reached Hotel Anjali Palace at Hospital Road which was nearby to NH.
The taxi was already booked in advance on per day basis which cost Rs.8/- per km (Min 300km per day exceeding that 8Rs per km).
In morning we were excited and waiting to cherish that moment of White Rann,we left around 11am for our first and most awaited destination"Great Rann Of Kutch" which was about 80km from Bhuj ,took around 1.5hrs.On the way of White Rann you have to take permission to visit Rann at Bhiyandari police post and fill a form paying Rs.50/- per person to get your permission.
On way to Rann we had stopped at Bhiyandri,a small place with full of street food of Gujarat,we were confused from where we should start,than we had decided to start with "Dabeli" made with Pao and our cab driver told about "Mawa" specially made from Camel Milk which is very famous so we had tried that too it was of good sweet taste.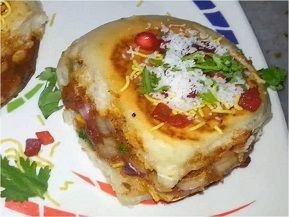 First we had planned to visit "Kala Dungar" which is at one side of Rann and located at hill where you can see the whole view of Kutch but we couldn't make it as there were heavy traffic on our way to kala dungar and we had to return back to see SunSet at White Rann.
We had reached White Rann at 2p.m where we have seen Rann Utsav tents and food stalls,we were so hungry to attack food.
After having lunch we had taken some pictures outside area as we couldn't enter Rann Utsav tents, for that special booking of whole week is required which cost around INR 20k then we had left for White Rann at 4p.m which was near from tents around 5Km.
White Rann was basically divided in two parts,one area was little bit with water at some place while the other part was totally dry salt where Sunset View was remarkable.
We initially went to First part which was wet,the vehicles were allowed up to some distance then you have to walk on road to enter "White Rann".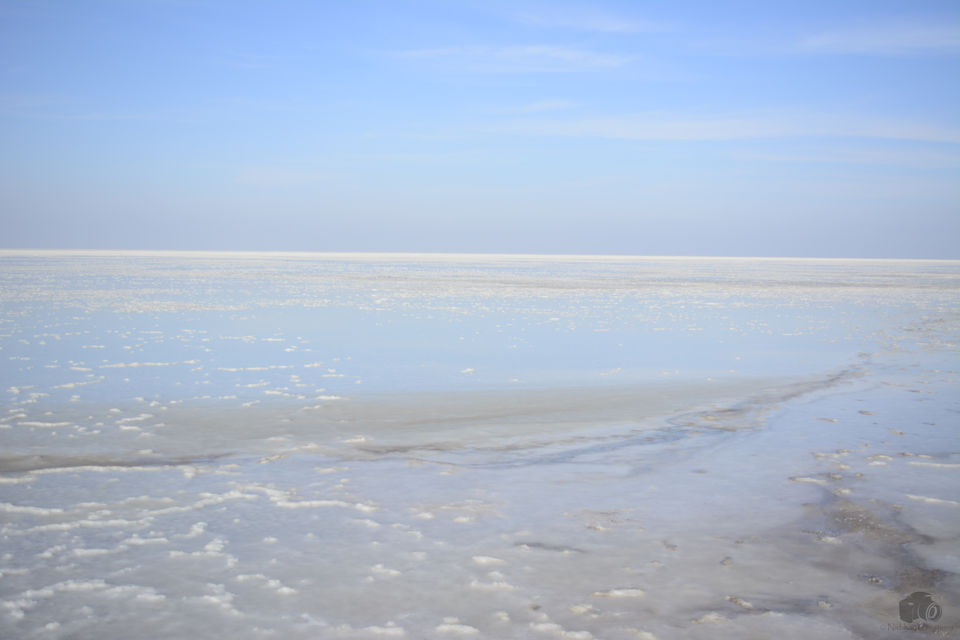 When we have reached there the view was phenomenal and amazing as there was only White salt everywhere, that endless calm and luminous beauty can't be described in words you have to visit and experience by yourself that moment of life time.
We had clicked so many pics and walk through the white Rann as far as we could walk.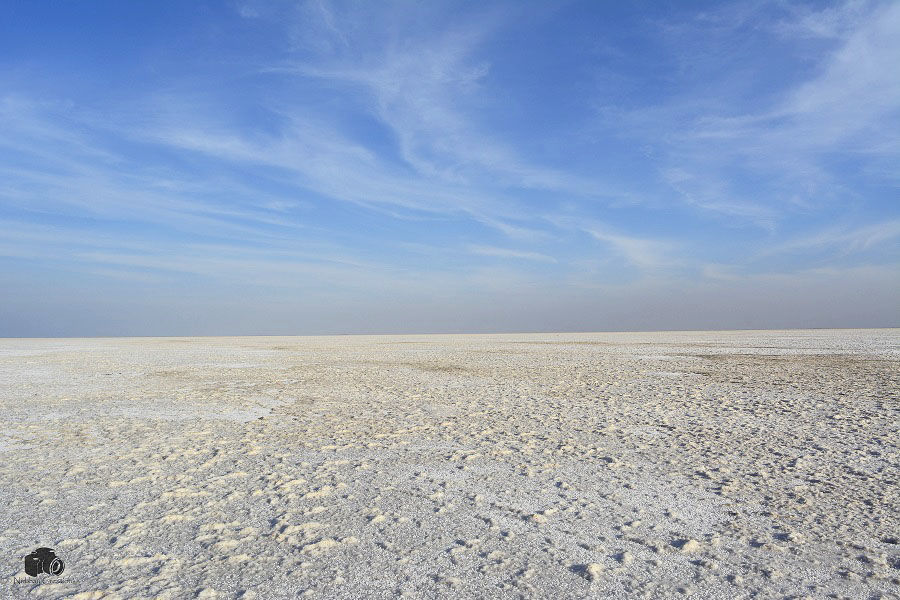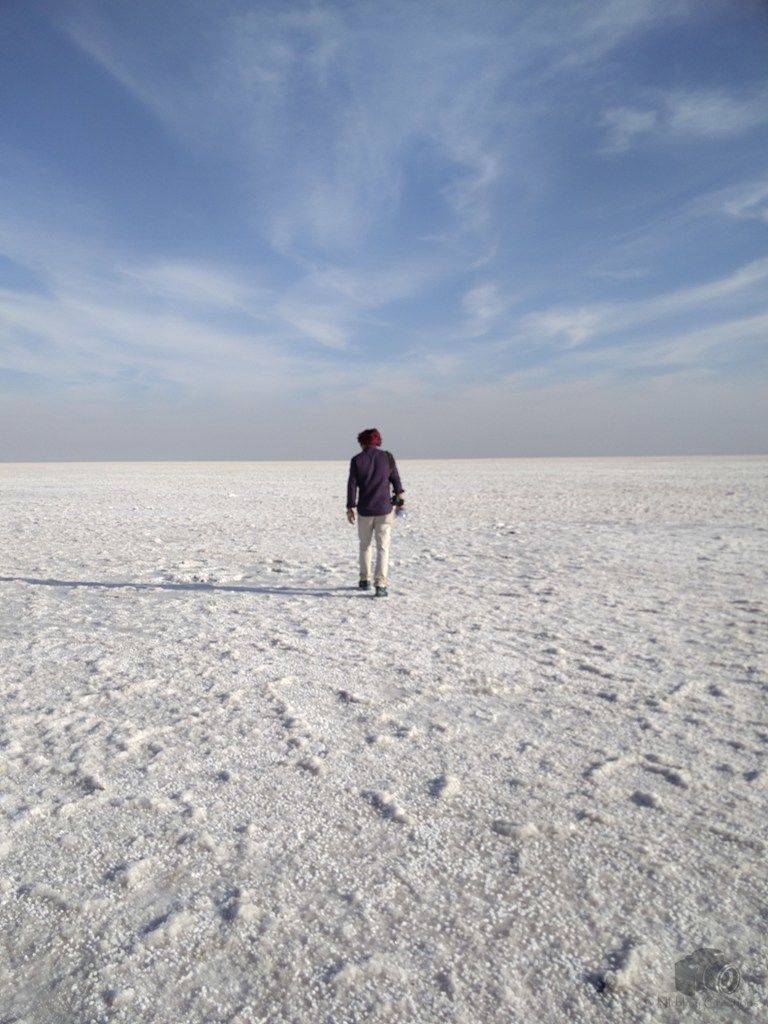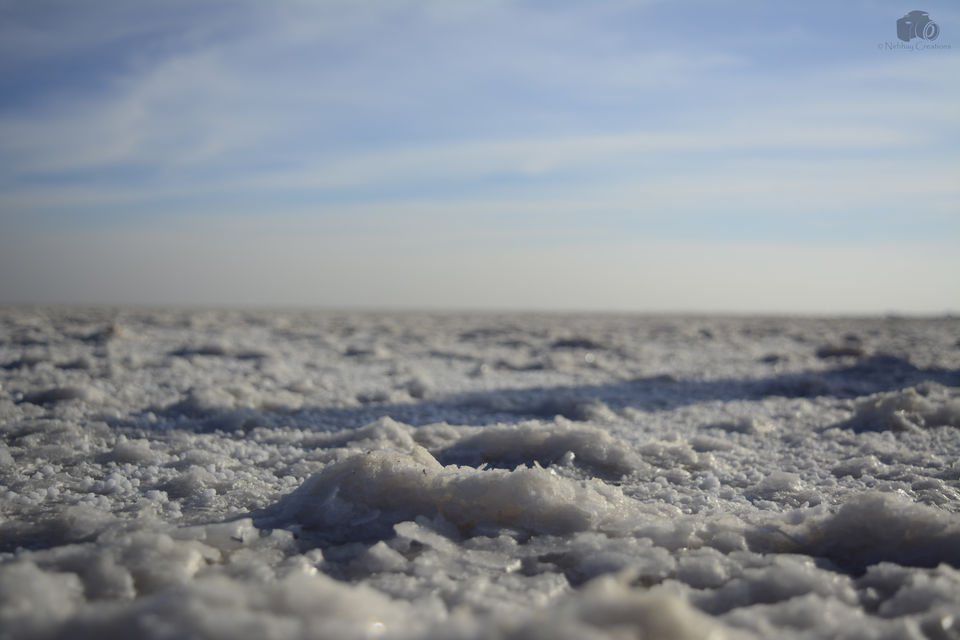 At 5.15p.m we went to other dry part of White Rann, the view was awesome, sun was about to set very soon people were dancing with music doing Garba, enjoying with families and army people were also gathered there, i had clicked them too :).
We had waited for that beautiful moment and captured that special shot of sunset with orange clear sky and white salt at ground.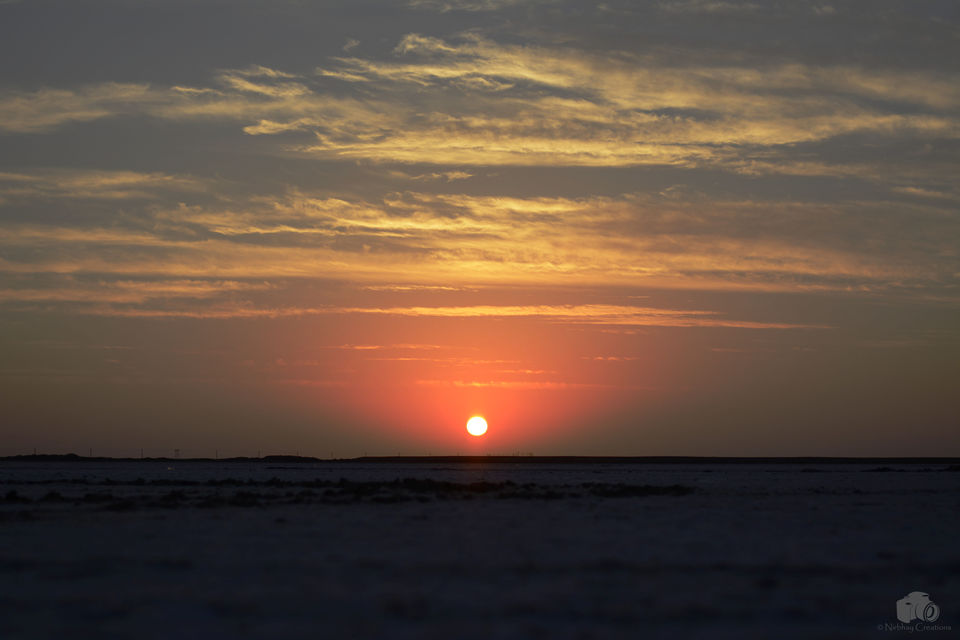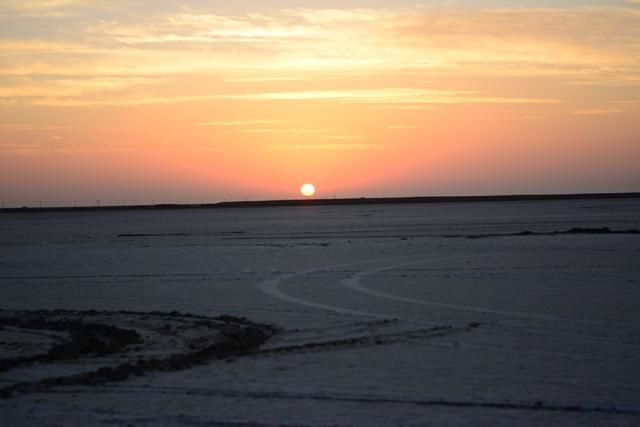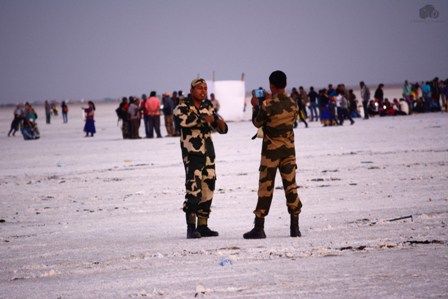 Enjoying the cool breeze of evening, we didn't want to go back rather then just stay there for long, as it was dark we had to leave that place, at 8 p.m we returned back to Bhuj.
After reaching Bhuj around 9:30 pm we had our dinner at Viram Hotel which was basically an open large place specially made for Gujarati Big families, the food was good, the Chaaj after dinner is a must drink to have :)
2nd Day 28th Dec'15 Western Kutch:
The last night was cold but not as cold as in Delhi, in morning we were ready to start our 2nd day to western Bhuj and started at 10a.m.
We had decided to take breakfast on our way and stopped at some street food restaurant, tried Faafda, Jalebi, Dokhla and Pakori with special Khajoor ki Chatni which was very tasty and with an different touch .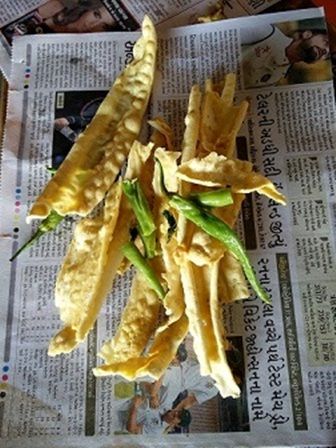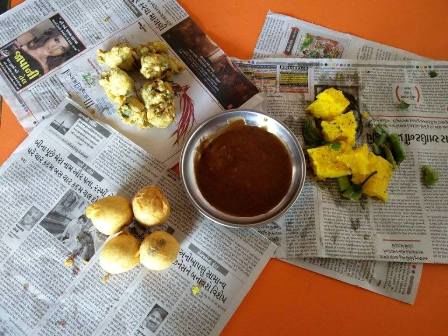 We had reached "Mata no Madh", it's an old temple dedicated to Ashapura Mata, there was a small market outside the temple where we bought prashad and some souvenir of that place, we had left that place close to 11:30am.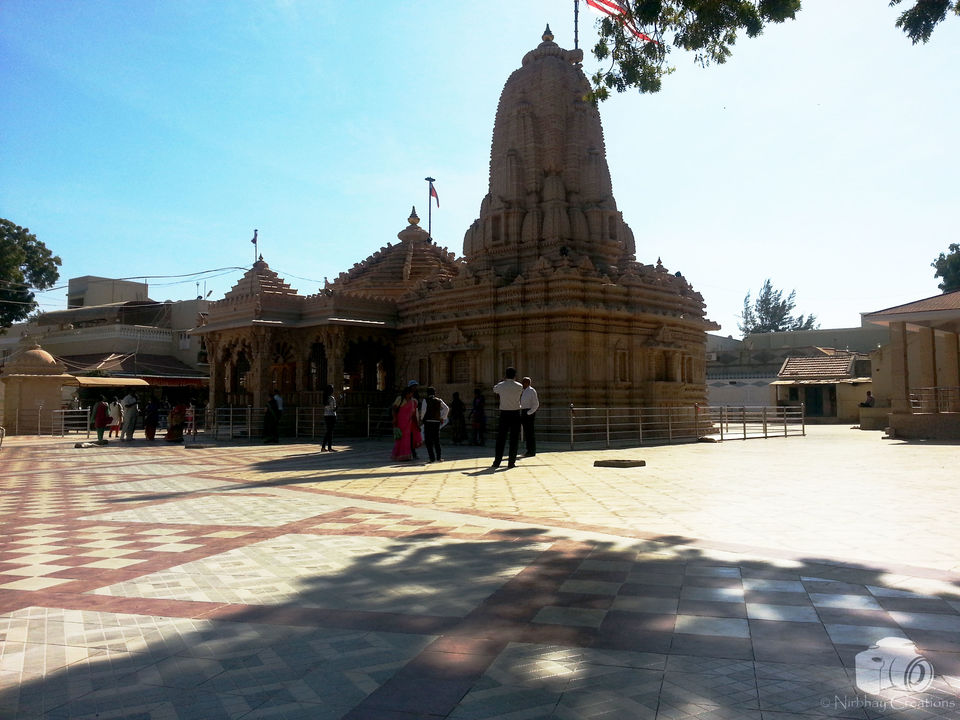 Taking 1 hr drive ,we were at next place "Narayan Sarovar", located close to Old temple of Vishnu bhagwan. The construction of temple was with yellow stones and beautiful carvings and next to it there was a pond called Narayan Sarovar which was calm, blue water, people were taking bath in that pond because it has some religious beliefs too.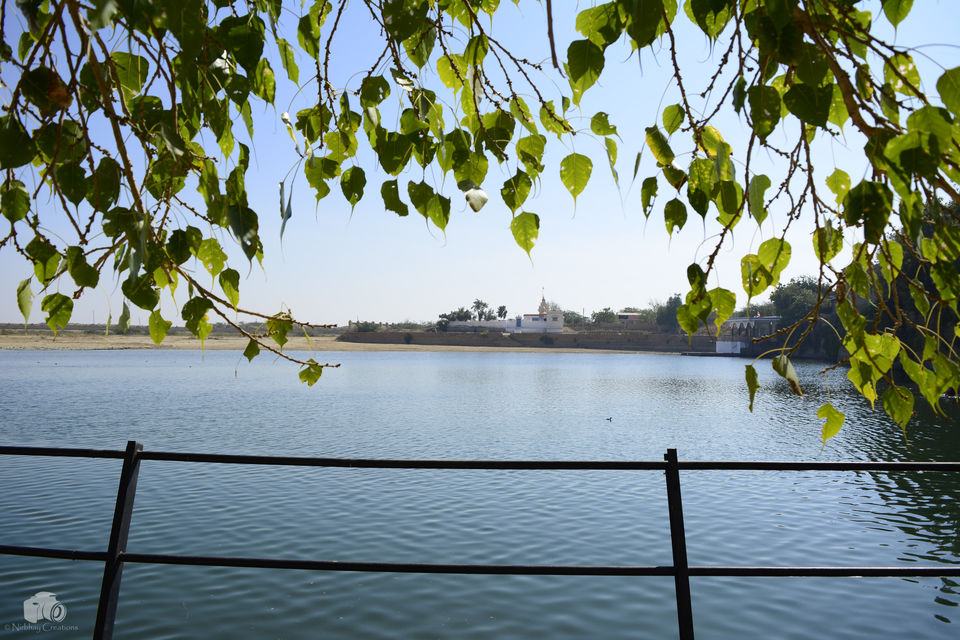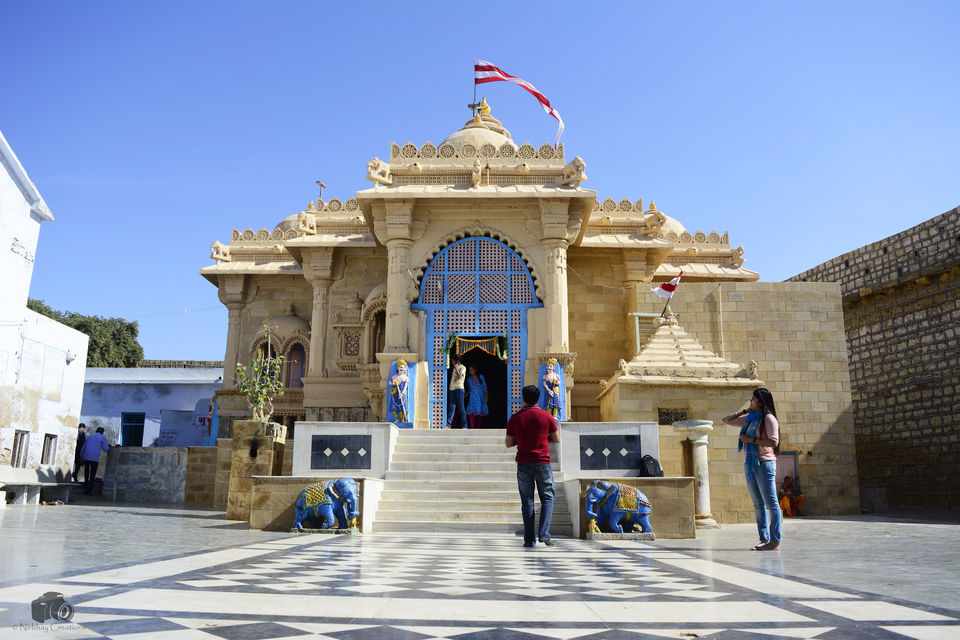 Our driver told us that we have to take our lunch there as no hotel or dhaba were available on our way forward to koteshwar temple and Lakhpat fort,so we had decided to take our lunch,there was a bhandara kind of place as we have in gurudwara close to that temple, the food was prashad so you can't expect a menu to choose but still it was good.
Then we headed to "Koteshwar Mahadev Temple", which was just 2km from Narayan Sarovar. First we saw BSF check post on one side and opposite to that calm, endless Arabian Sea, it was a eye pleasing view .
The location of temple ,its stone carvings have made everything special,we had walked to temple the wind was blowing,we could see water everywhere, on one side there was a check post with a walkway going into the water.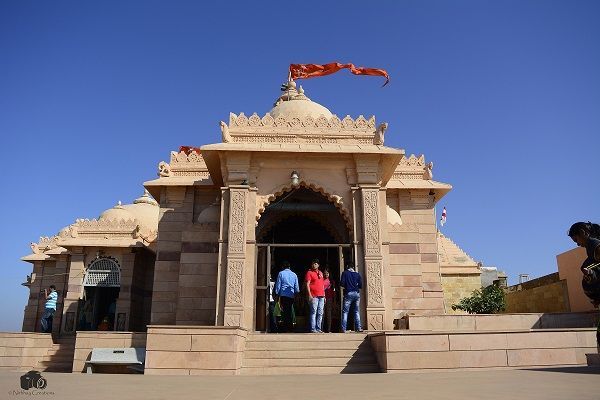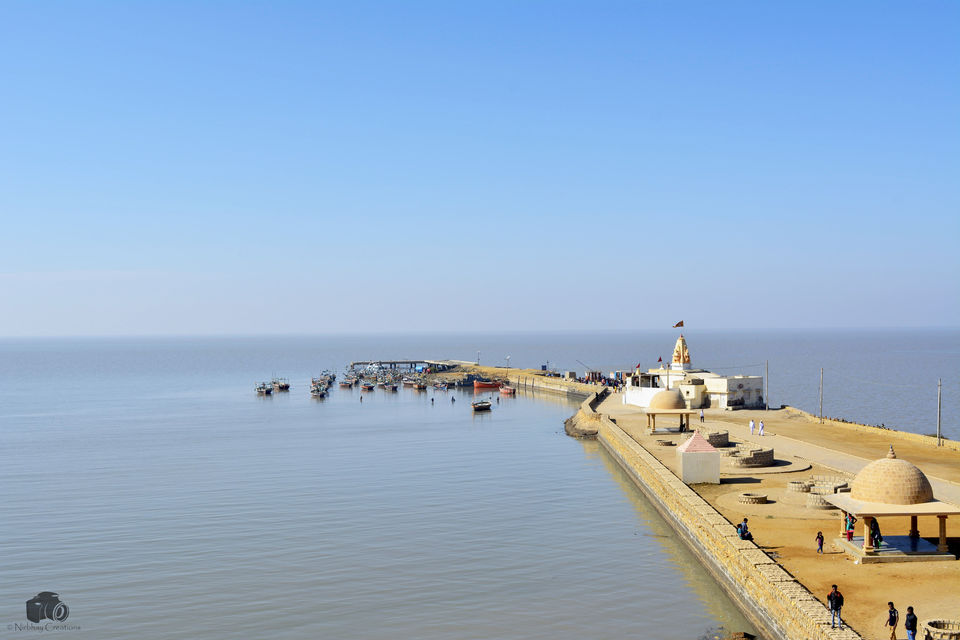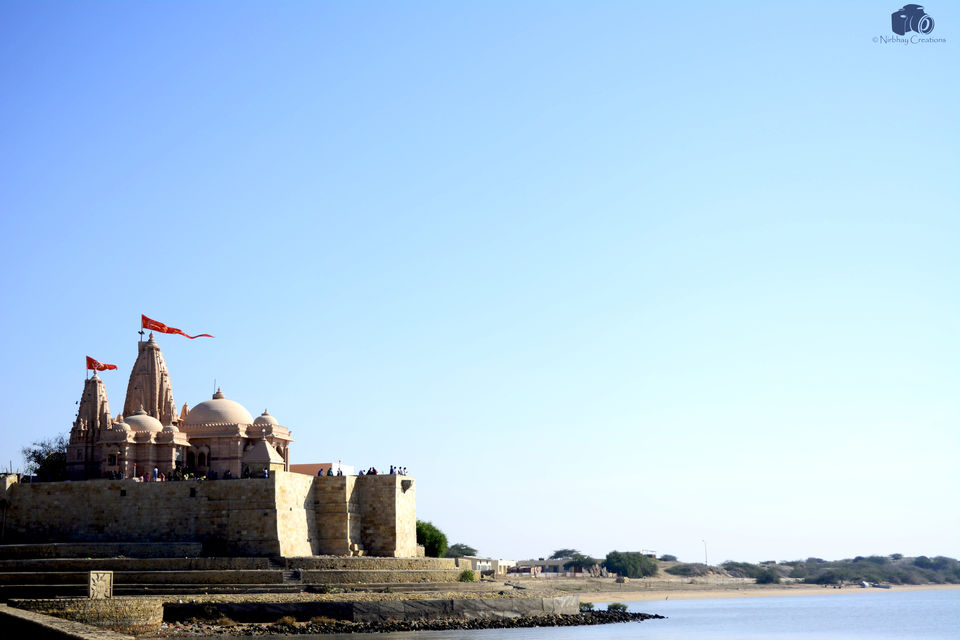 Approx 40km to that our next destination was "LakhPat Fort" ,it was the place where some movies were shot like Refugee.We had reached to a very old constructed "Lakhpat Gurudwara" it is believed that Guru Nanak Devji had visited that place during old times,its a small gurudwara you can skip if you want,Close to that there was Lakhpat Forts boundary surrounded every where and covering the whole village having population of 560 people only.There was a Hajrat Peer dargah which was under construction,on our way back we saw a way going out of town which was an old market.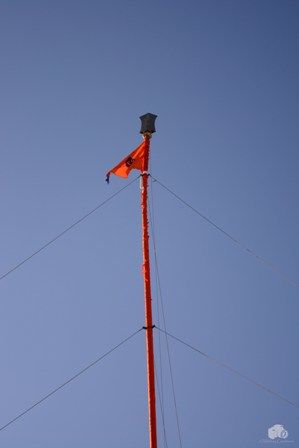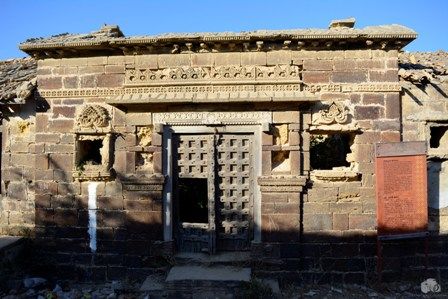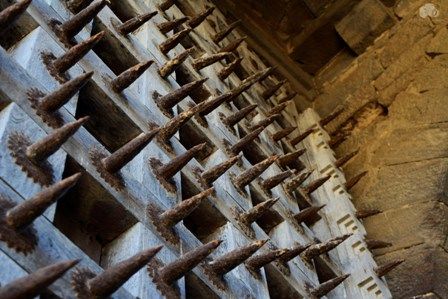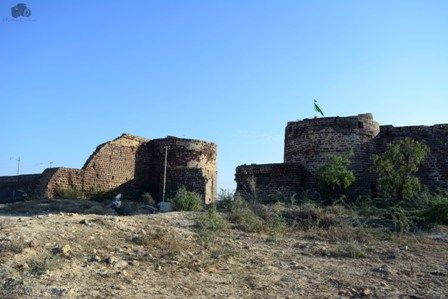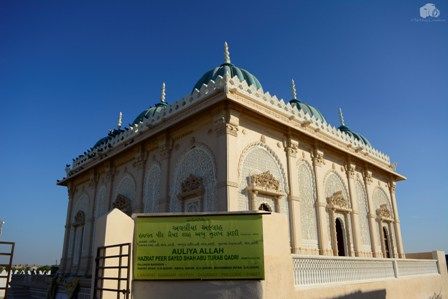 We had returned bhuj around 8p.m,that night we had decided to do some shopping so we headed to market to find something to buy.
I have searched on internet that Bandhni handicraft work is famous in Kutch ,so we were searching what to buy.We went to shops tried some things,then we decided to enter into some shop and asked what we could buy and from where,the shopkeeper asked me "Are you a Reporter??" ...haha....i asked him why??he said because ..you have a Big DSLR cam with you.....i told him bhaiyaa..nahi.....aap batao yaha se kya kharid sakte hai??? Then he directed us to some shops and locations,from there we bought Bandhni work clothes...then we had done our dinner in
Hotel Nilam..the food was good there too...
3rd Day 29th Dec'15 Southern Kutch
Third day in Kutch....it feels like we were living there from long time...same like previous days we had done our breakfast of mouth watering Gujarati Street Foods....
We had planned to visit mundra port.. located at 60km ..its basically an old township...not having tourist attraction places...we had gone there to see the township and architecture of old ports...we couldn't visit the ports as there were permission required in advance..so we had visited only Mundra City ....then we headed to Godhra...around 1:30p.m..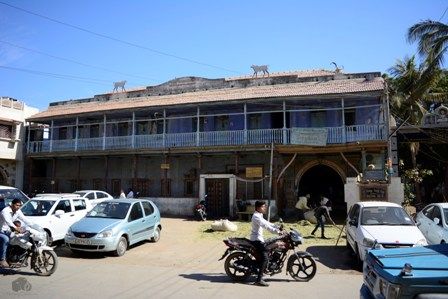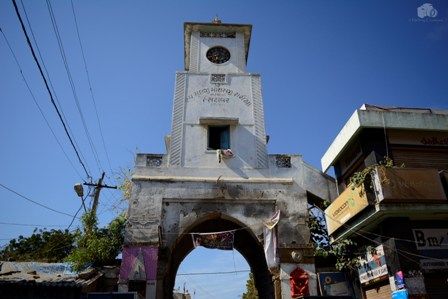 Saw a Milestone of Godhra.......that incident of Gujrat stroked my mind that moment...leaving that apart..we had reached "Ambe Dham"....
It's a place with temple of Ambe Mata.. and there was an "Art Gallary" ..it was full of beautiful miniatures.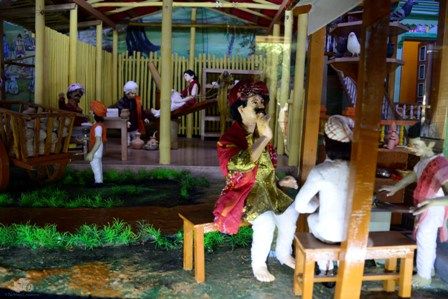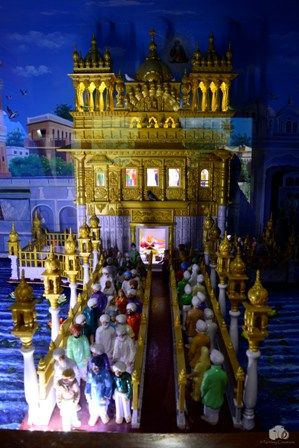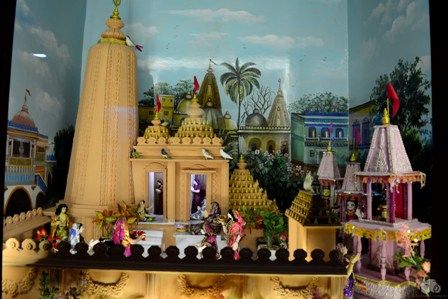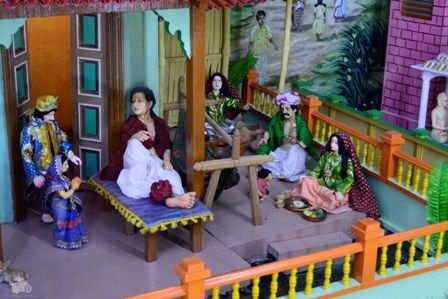 Spending an hour,we had reached "Vijay Villas Palace" around 4pm.Heavily crowded place,its a Palace built by Kutch Maharaja.
The life of Maharaja ,their living were displayed there.Beautiful architecture and there was a roof where you can see a beautiful view around that palace.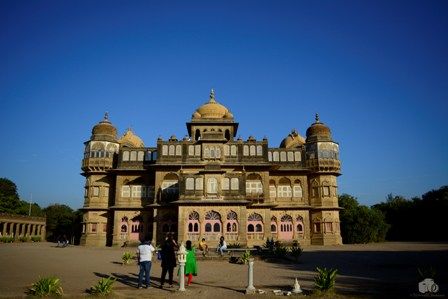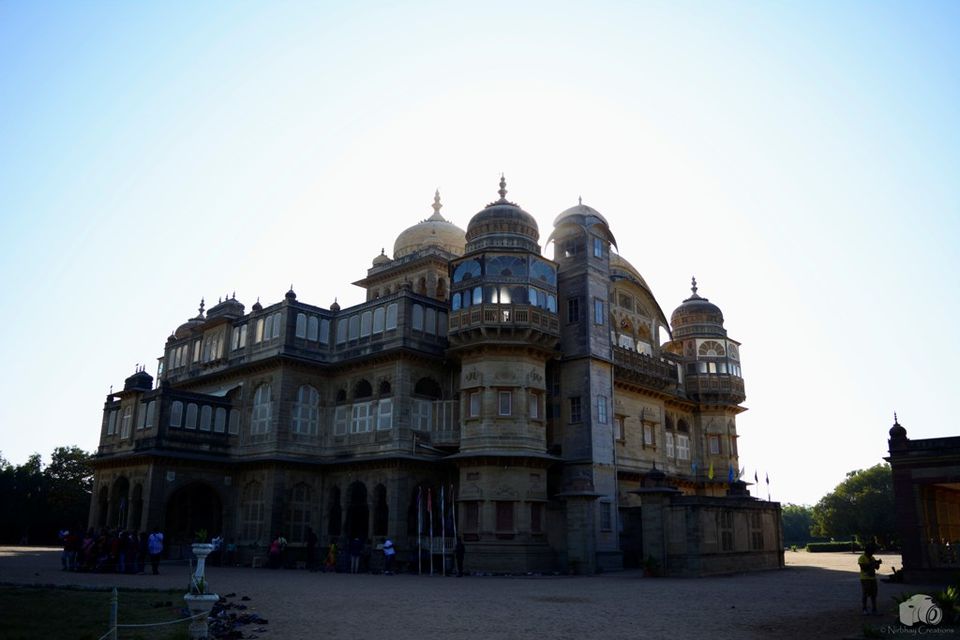 Last destination of the days was "Mandvi Beach" as sunset at beaches is always pleasing we had planned that at the end of the day.
At 5:30p.m we were there,it was beautiful beach and the good thing was that it was not that heavily crowded like other beaches.
Water sports were also there ,people playing with ball in water,some were enjoying camel riding too.There were windmill at one side of the beach
that gives that beach a different look from other beaches i have been before.The sunset at that place was really amusing,clear sky beautiful pattern of clouds and that golden color of sun was an unforgettable moment.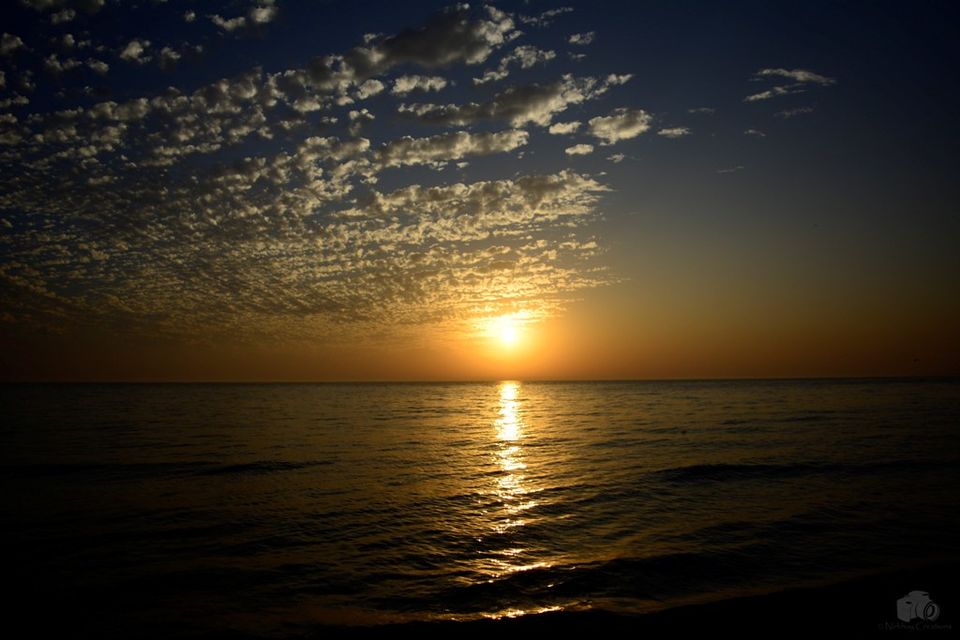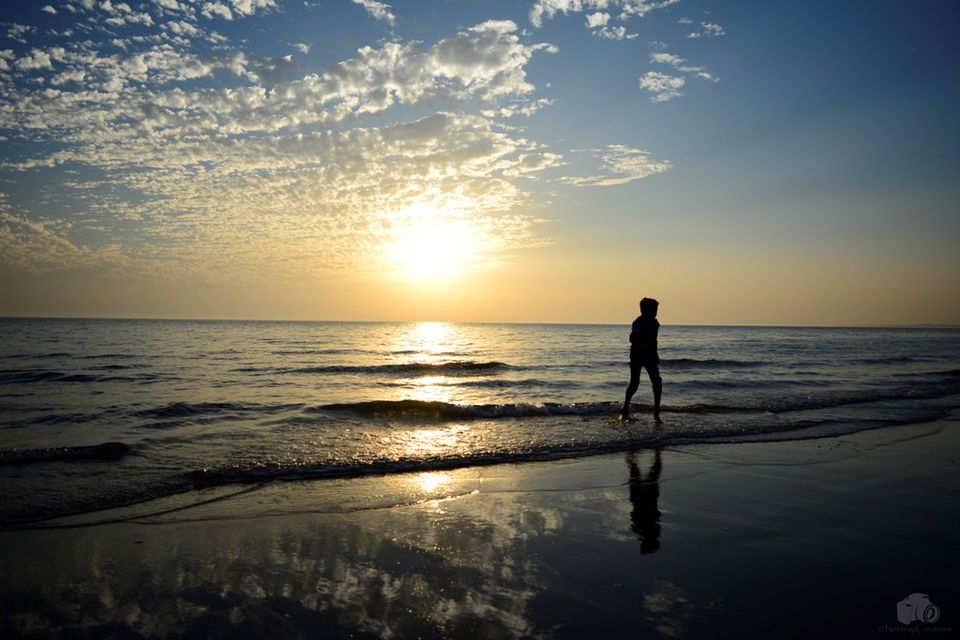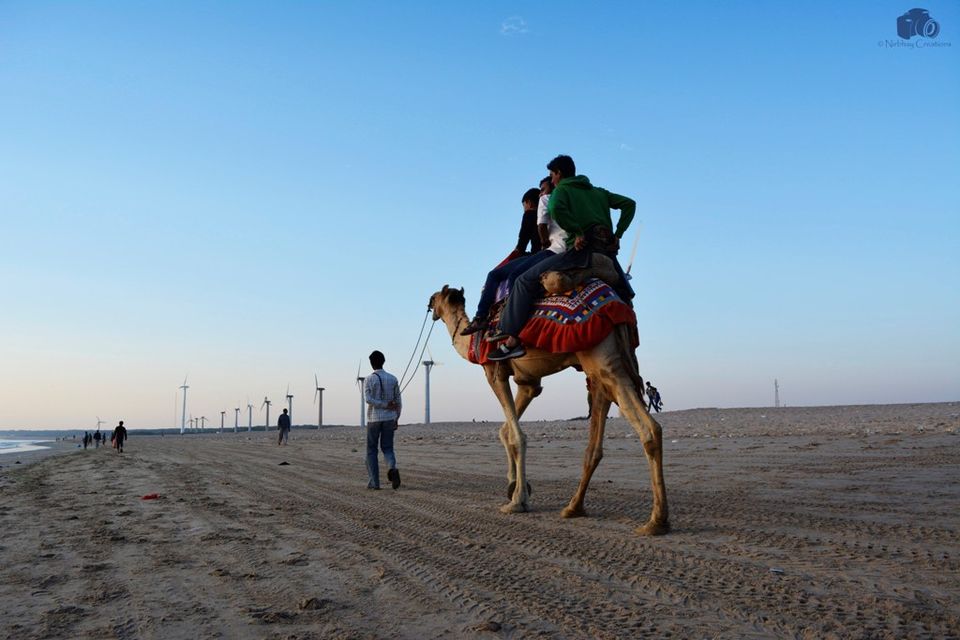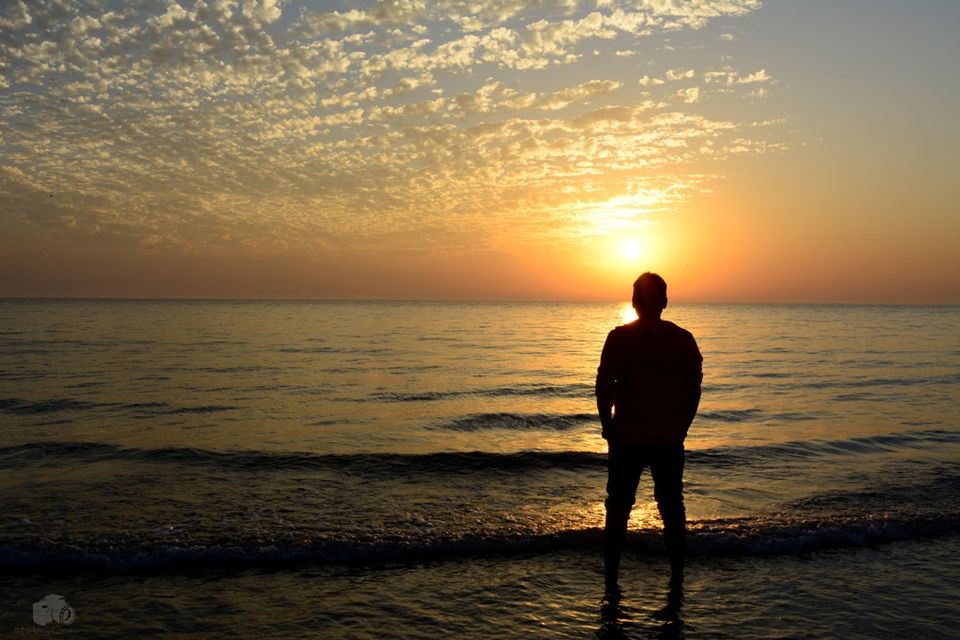 Reached back to Bhuj around 9p.m we had taken our dinner at hotel KBN ,there was a specialty about that restaurant, the ambient
was built in a form of an inside view of an airplane,the seats ,windows everything was only like that,i had never seen such kind of restaurant.
The food was good too, we had tried Papad Ki sabji which was quite tasteful to have.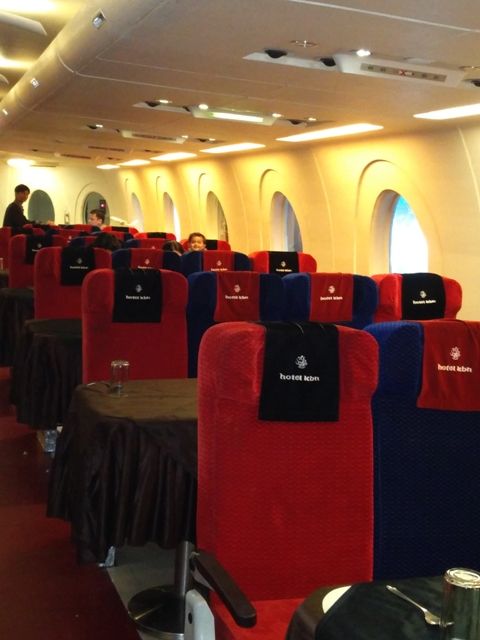 4th Day,30th December'15 local Sightseeing of Bhuj
Last day at Bhuj,decided to cover them with the local transport.We took an auto and headed to first place of the day "AksharDham Temple".
The temple was built with white marble stones ,beautiful carvings and architectures like other swaminarayan temple.The different thing was that "women were not allowed to some places in temple" which i didn't liked that much.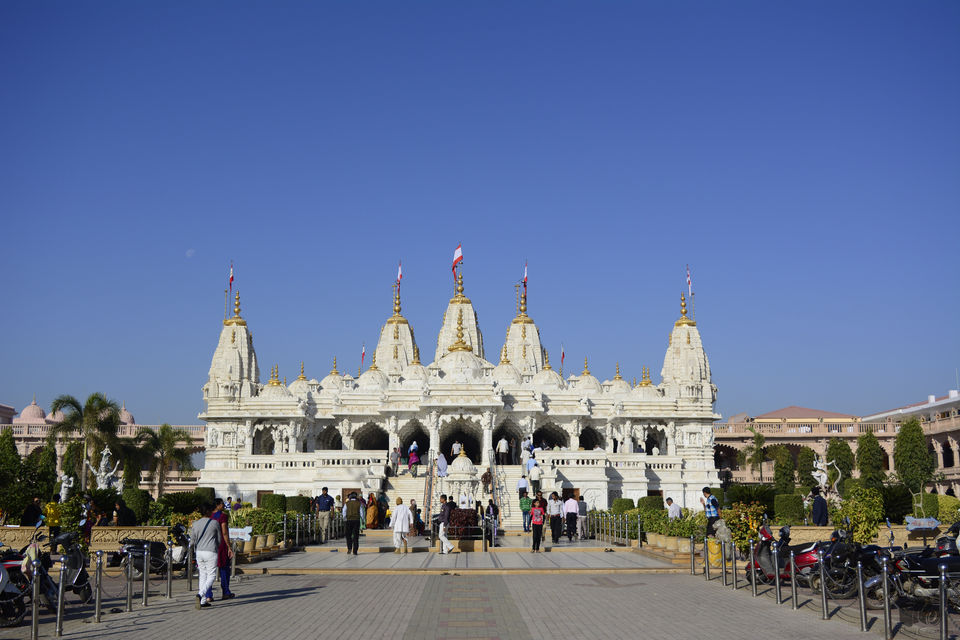 Then we had started to walk and looking at our GPS to locate Parag Palace and other sight seeing as most of the places of bhuj were located on that single road.We had asked from local people then reached to "Kutch Museum",unfortunately that was closed on Wednesday so plan your visit accordingly.
Walking further more from that place we had reached to "Parag Palace" that was amusing i must say ,the architecture was built with Gothic Style of Europe.
I had really liked that Palace ,inside of that we saw a glimpse of life of royals,there were huge mirrors which were with beautiful design at their ends.
There was an clock tower at top of that palace were you can have the view of whole Bhuj .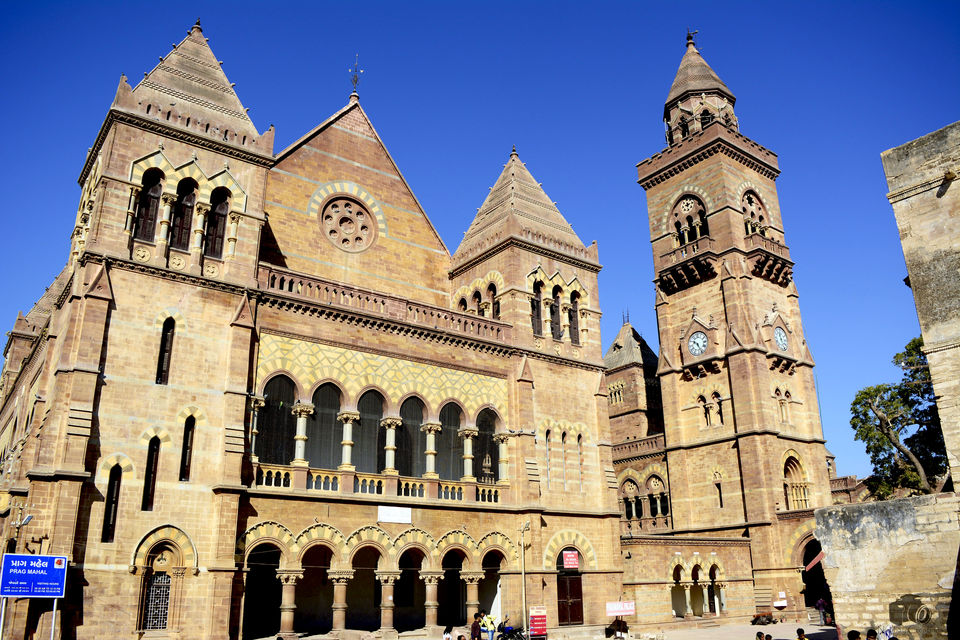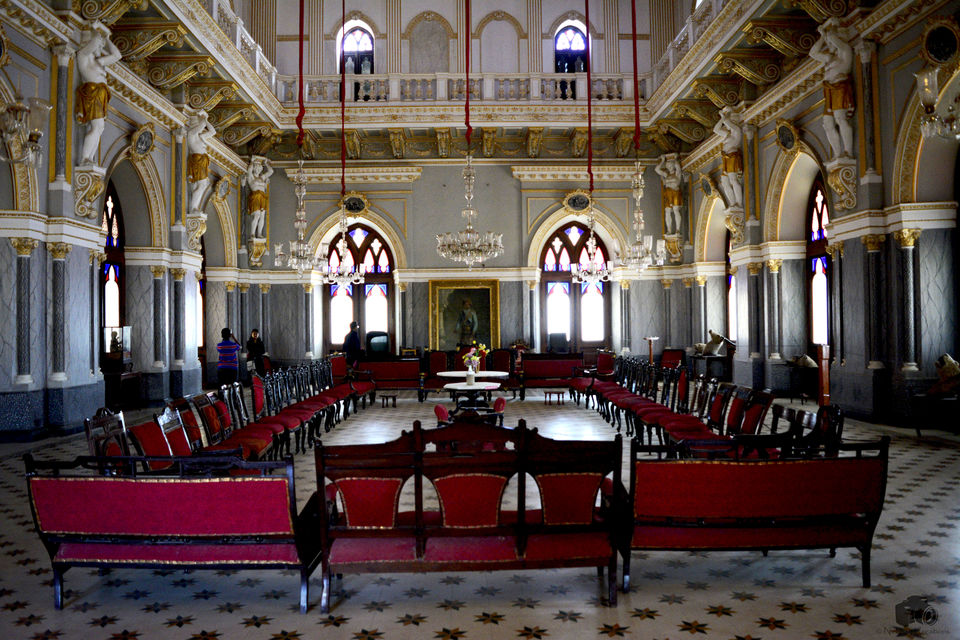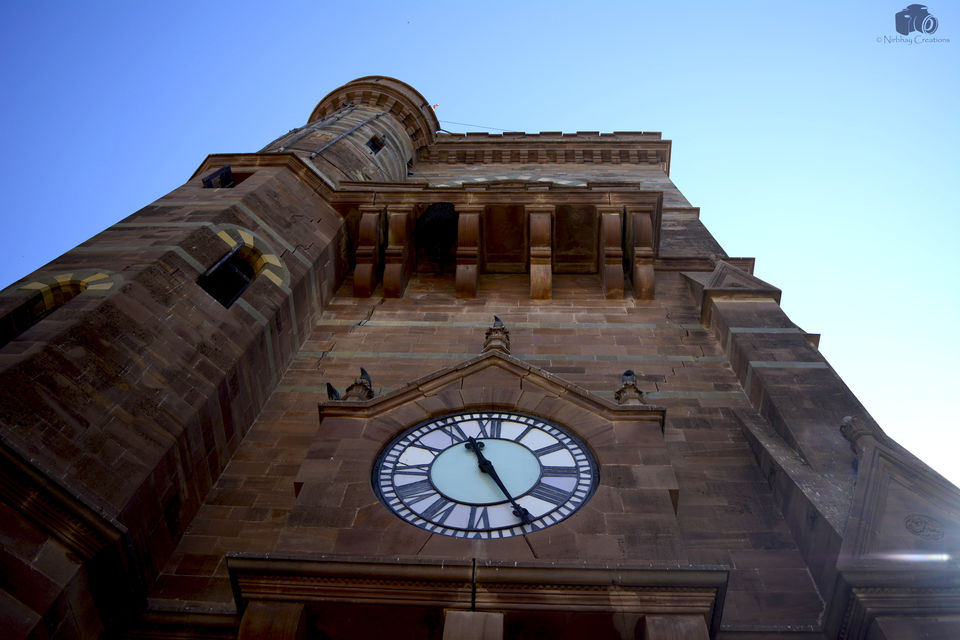 Close to parag palace there was "Aina Mahal" known as hall of mirrors,by the name that place was filled with mirrors, beautiful carvings of elephant tooth and paintings, there i saw an original painting of "Mastani" of famous Bajirao, i hope you are aware of that Bajirao Mastani...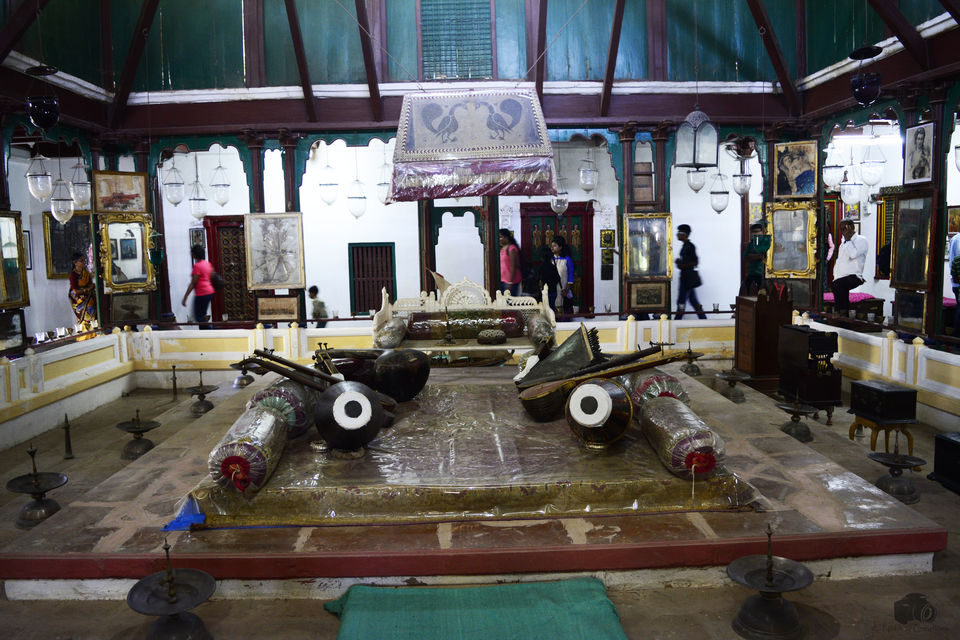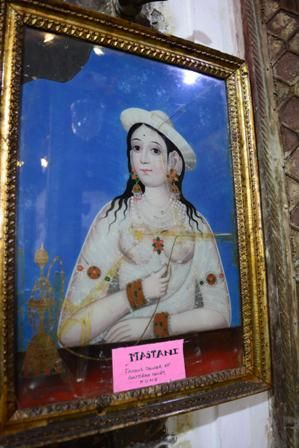 After that,we had done our lunch at Prince Palace walk in distance from Parag palace,there i had ordered Kolhapuri veg dish with Chaaj,again i must say it was good as like as we had experienced at other places of Gujarat .
Then we saw some places like "Hamirsar Lake" nothing much was there just a lake where you can see that parag palace view .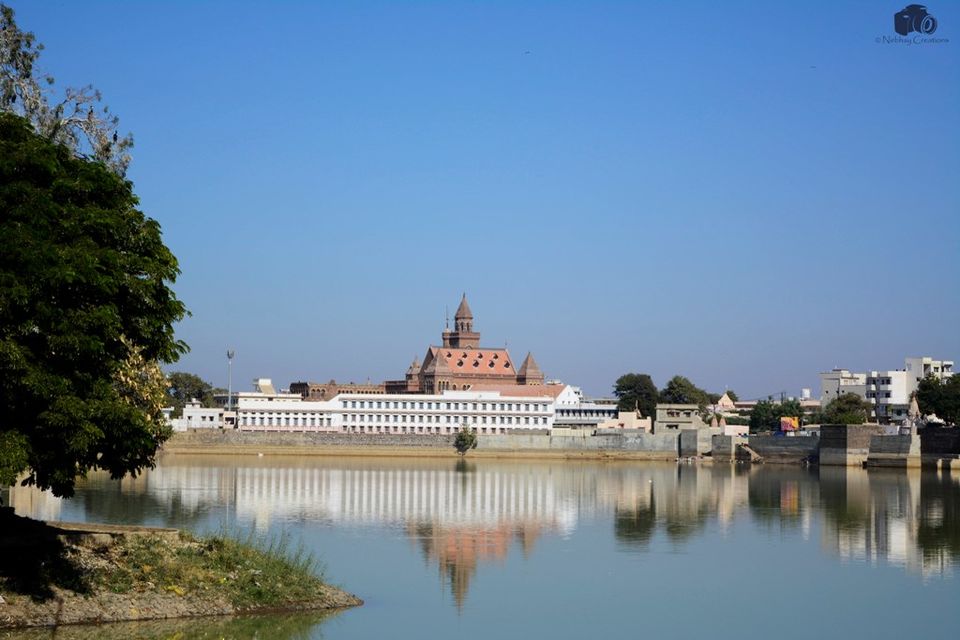 Close to that there was "Chattedi" which was badly damaged by earthquake of bhuj, at that place Hum Dil chuke Sanam was shooted.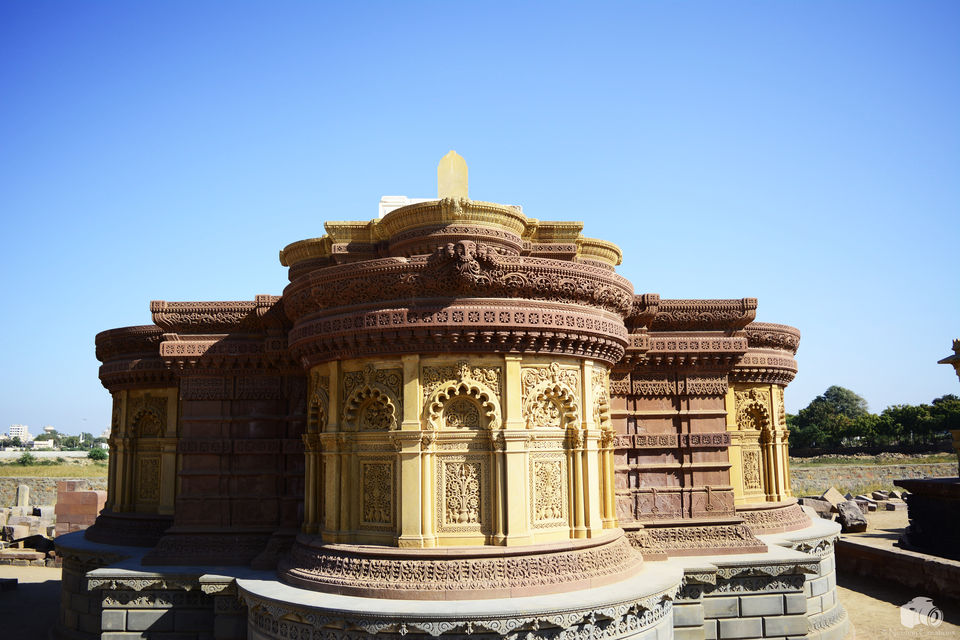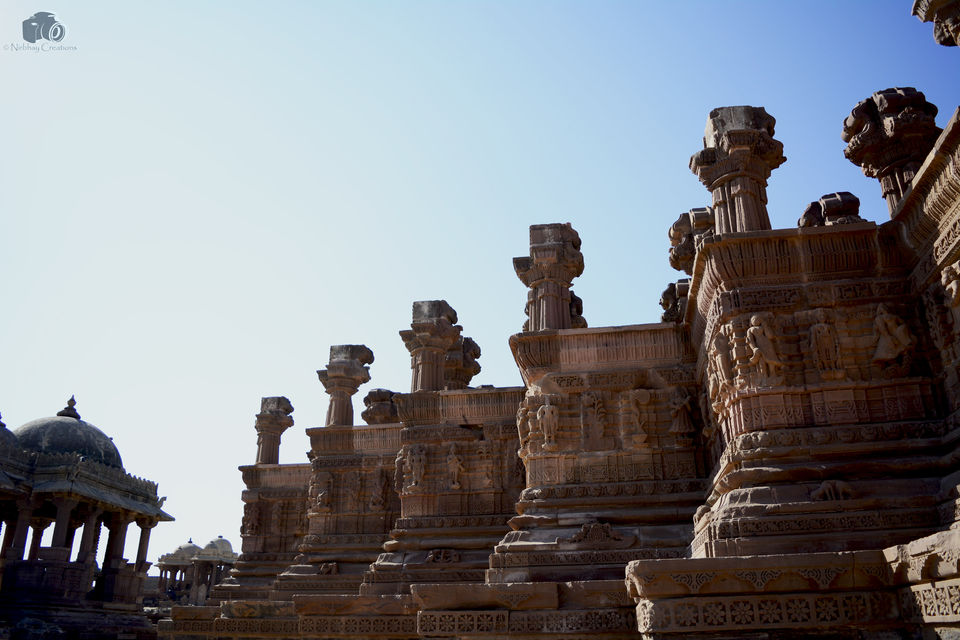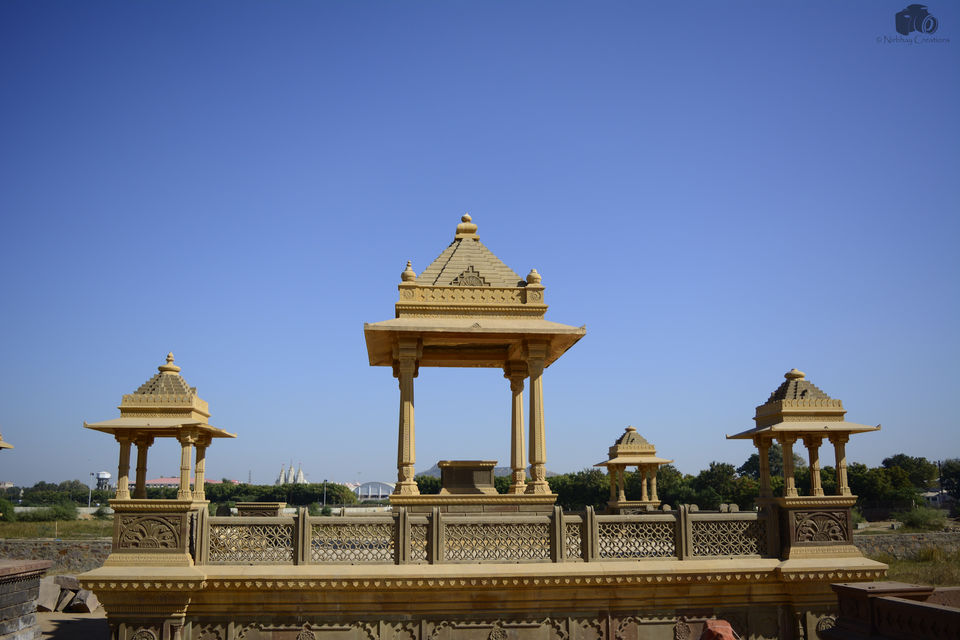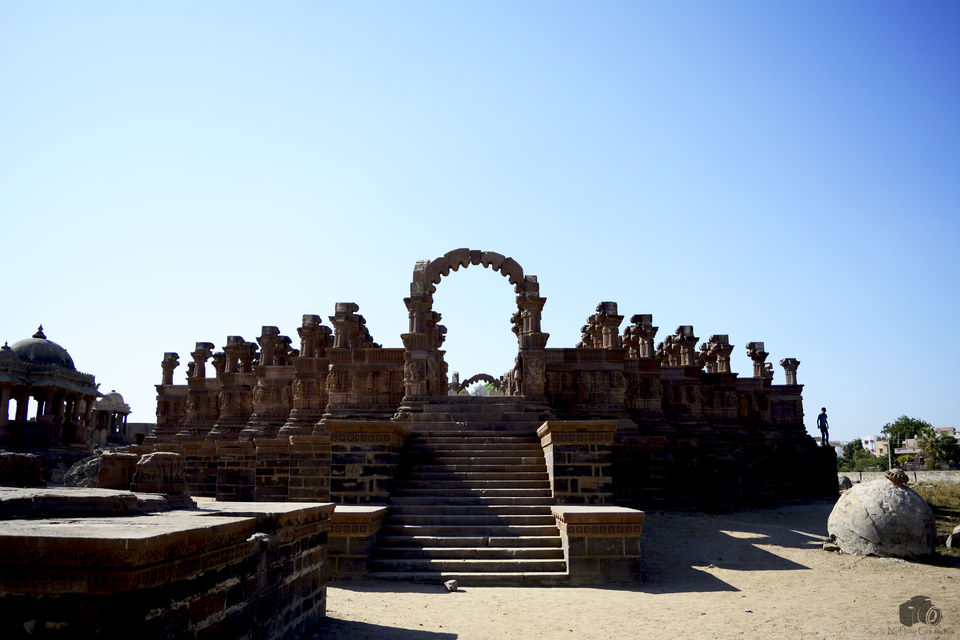 " Sharad Baug " was an place of residence of Kutch King ,most of that place was damaged with earthquake but still you can see Tigers statues and gifts of Maharaja presented by chinese and hunting images by kings of Kutch.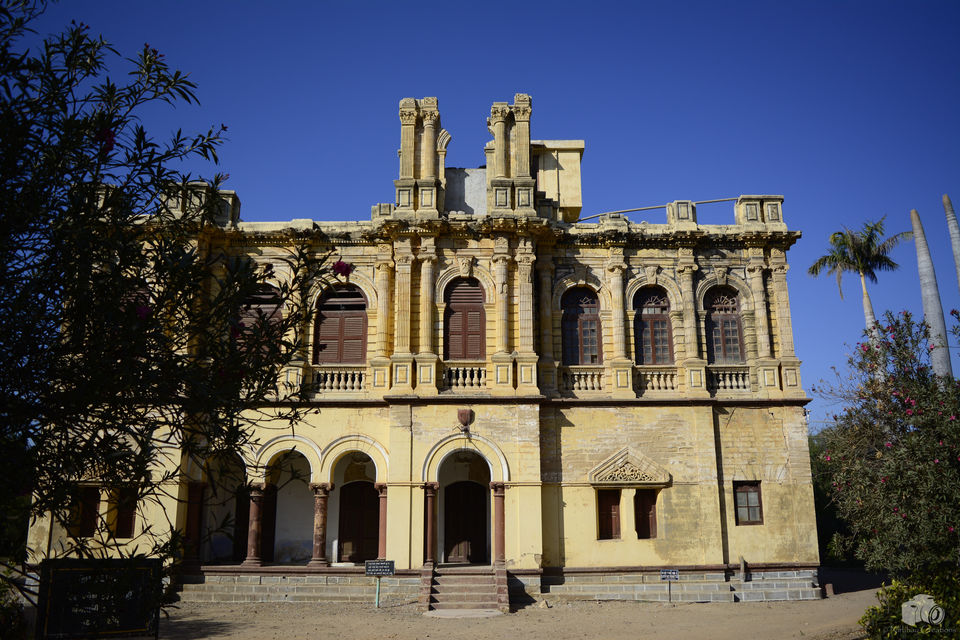 Leaving Bhuj around 5:45pm we had booked Volvo bus of Patel Roadways from Redbus.in we headed back to Ahmedabad reached around 12:30 night.
Morning 6:30am we had flied back to our place Delhi.
I must say if you want to be at place where you can have the feel of beautiful architecture,friendly people,mouthwatering foods and specifically how it feels to be at Worlds Largest salt Desert you must visit Gujarat's Kutch............Kyonki Kutch Nahi dekha to Kuch Nahi Dekha....... :)