One fine sunny day my penchant for driving overtook my fondness towards resting, and finally I was heaved by the inner sense to plan an unplanned Road Trip. Short listing Kutch was not a difficult task as it was the only unexplored region nearby
Adventure is a good thing, but safety is primary. Before starting your expedition, you need to look for certain things in your car. The very first checkbox is filling more than adequate fuel, you never know when will you be lost (also in my case) so higher than required fuel must be there in the car. Second checkbox is cleaning your car, especially windshield because you can end up driving on highways in night and high beams can do some destructive work there. Third thing is checking for engine oil, break oil, coolant and windshield cleaning liquid. Fourth thing is air pressure in wheels; just go through the adequate amount of air pressure which your car require (average 35) and make sure to fill air properly. Fifth and last thing is a survival kit; life sometimes has a plan B, so we need to be prepared beforehand. This survival kit includes basic tools like screw driver, spanner, jack (used in case of tyre puncture), some extra food, water, torch and a knife. After these initial to-do list, it's time to full-charge your cell phone and powerbank - and you are ready for the voyage.
Kutch, known for its culture and diversified geography is situated at the North-Western region of Gujarat. Due to its proximity to Pakistan, there are numerous border security force (BSF) bases there. People are very generous here and they are anytime ready to help you out. Even if you are stuck on a road at 2 in the night, you don't have to worry at all - someone will help you out definitely. Kutch has a diversified geography including farming land, desert, sea, lakes and hills in one place - a very rare combination. Best time to visit Kutch is in winter between November to January; during this time the weather is pleasant and above all there is this Rann Utsav taking place, which is once-in-a-lifetime experience for all. But I didn't have the time to wait for these months to come, so I decided to go in the off-season only. Off-season travelling has its own beauty; you will not find much throng and one can roam around the place peacefully. So I mostly prefer off-season travelling. If one wants to visit Kutch, then they can select Bhuj as their base location. Bhuj is at the center of the Kutch and most of the places are in the vicinity of around 100 kms from there. Staying in Bhuj is convenient for people with different budgets - it has three star hotel, budget hotels and good guest houses. And above all, for the sack of experience one can stay at least one night in mud houses at Dhordo, Kutch (Gateway to white desert). These are the AC and non-AC tents built around the neighborhoods of white desert. Looking at the clusters in the map given below, we can say that 4 days trip is the best option, but we had only 2 days.
Day 1:
Distance from Rajkot to Bhuj is approximately 256 kms. So from the anticipated speed at which I can drive and from the condition of roads (as per the google maps), we decided to head-out early in the morning. Waking up early is another Roadie Task; but motivation of travelling is the best alarm. It was 5:30 AM and we were already out of Rajkot. If you are travelling from another city, the Google maps can be a great help. Nevertheless there are two roads one from Rajkot and other from Ahmedabad which converge somewhere around Samakhiyali in Kutch. Roads are tricky at the moment with many diversions and uneven roads because of the construction work going on. We reached Bhuj at around 9:40 AM (the time included one tea halt - we drivers are always fond of tea).
Very first thing to do in Bhuj was to investigate for a hotel. We stayed in a budget hotel (I am never a fan of three star hotels, as long as they don't give discounts) named Hotel Abha International (don't go by name, there was nothing international about it). We didn't have much time, so after a small bath and refreshment (tea, of course) we headed towards Northern region of the Kutch. Three main attractions here are Black hill (kalo dungar of Kutch), White desert and India Gate.

About 90 kms North to Bhuj lays Black hill, as known as Kalo Dungar in Gujarati. This is the nearest one can go to Pakistan border. There is a State Highway connecting the Kalo Dungar and this two-lane road is enough to drive at a speed of 100 kmph, but one needs to watch out for buffalos as you will find a lot roaming around in-between the road. Kalo Dungar is the highest point of Kutchh at a height of around 462 m. Believe me the slop is around 40 degree at one point; so you have to put your car in 1 st gear or max 2 nd gear (I didn't realize the magnificent slop at first, so ended up stalking the car and finally I had to take reverse to the lowest point from where the car climbed in 2 nd gear). Another situation was at the maximum slop; car halted in the mid way due to uneven road and on the both sides there were stones which supported the car from going down (very risky though) but finally by over-heating the engine we were able to climb that one also.
Black hill is the house to the 400 years old Dattatrey mandir (jackal of temples; This area constitutes world's highest density of jackals). Dattatrey was a three faced saint with faces of Bramha, Vishnu and Mahesh. One day he was at the same point when he saw some jackals were hungry-to-death, so he told them to eat him. As long as the jackals continued eating, his body was regenerating the parts eaten by jackals. Today also, after evening prayer 'prasad' is given to jackals (who are known as carnivorous, but they are fed vegetarian food). There is also a sunset point on the mountain, where you can also see the desert. One can see a vast area of desert from here and can feel enormity of desert.


Rolling down the hill is another great experience. There was a phenomenon reported recently and I could also feel is that if you descent your car in neutral gear, it will roll down at speed of as high as 80 kmph. Even with the second gear, I could see the speed of 50 kmph. Currently the Gujarat State Disaster Management Authority is looking into this mystery. It is said that there is a possible magnetic field passing through this area.

On the spilt road downhill, we took right for a village called Kunwar Bet. There is an India Gate situated, which is a large no-man's land with India-Pakistan border in between. View of desert and with a powerful binocular, view of Pakistan is awesome.

Revisiting the same road, one need to take permission at the check post for white desert which costs 100 Pax and 50 for 4-wheelers. As it was off-season, we could see the heath and deserted area (as if it was contaminated and no-man's land). Also we could not walk on white desert as water was not evaporated still. But the area was very splendid. One needs to visit white rann during rann utsav to know the tradition of Kutch better.
Day 1 was a hectic day with 520 kms drive on these kinds of roads. Evening was leisure, roaming around in local market. Bhuj is famous for Bandhani (kind of dresses for women), knives and other handicraft items.
Day2:
Another fresh morning to get started; destination - western region of Kutchh. There are three main historic places to see here: Mata No Madh, Narayan Sarovar and Koteshwar.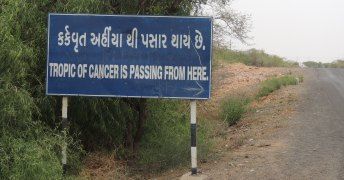 Situated at about 80 kms from Bhuj, Mata No Madh was built in 14 th century and it is the temple of Ashapura Mata. It was built by Jadeja rulers. Road is great, with one being crossing the tropic of cancer. Temple is always crowded by people; one can sit and reflect peacefully inside the premises.
Narayan Sarovar (lake) is situated Just about 60 Kms from Mata No Madh, a must see place. It is one of the five Holy Lakes worshipped in Hinduism. Narayan Sarovar is also mentioned in Bhagvad Geeta (one of the holiest book in Hinduism). There are temples of LaxmiNarayan, Dwarkadhis, Trikamray and Laxmiji. During Rann Utsav (in November/Decemeber) fair is held here.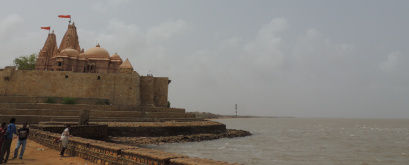 Just 4 kms from here is the Koteshwar temple. Its story begins with Ravana, who got a shiv-ling from Lord Shiva as gratitude of his deity. But he dropped it after which the linga turned into thousands of identical one. Ravana could find the original so he took a different one and returned. So this temple is build around the original Linga. It is the westernmost human construction of India, and on a clear night we could see lights of Karachi from here (but we didn't have time to wait for night).
After this we returned to Bhuj and planned a small local sightseeing. Places to see in Bhuj include Bhujiyo Dungar (Location where cricket match of Lagaan was shooted), Aina Mahal (museum displaying the tradition of the rulers), Hamirsar Lake (with no water in it). Finally after a heavy lunch we headed back to Rajkot. These two days were frenzied and I needed some caffeine to drive back 256 kms. I remembered Marketing lectures; professor told about mountain dew. Dew had the caffeine what I needed.
Trip was over; with many places remaining. One can also visit Mandvi where they could see beach, port. Also in Bhachau district about 129 kms from Bhuj there is Dholavira, which contains ruins of Indus Valley Civilization (Harappan Sites), temple of Jesal-Toral in Anjar (tombs of Jesal and Toral, and story of their never ending love) and many more places are there which must be visited.
Trip ends but memories last forever. Finally, as the sign boards said in Kutchh - "Keep Smiling, you are in Kutchh!"