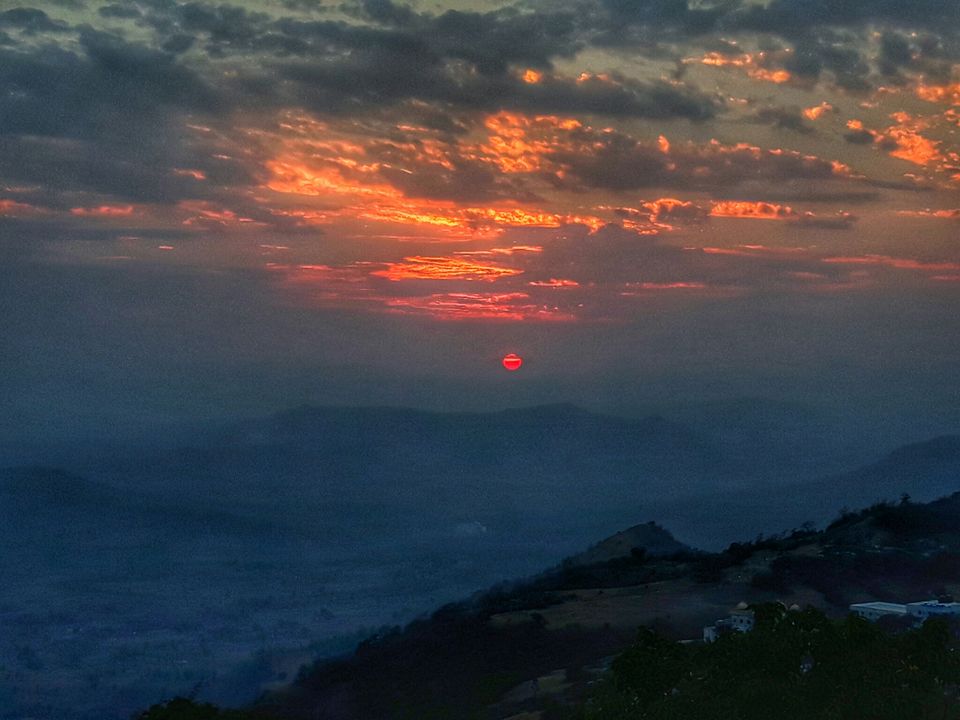 Saputara:
We visited gira fall before we were going to the saputara hill station. This hill station curve road is very dangerous but overall this rout bike ride experienced was amazing for us .this rout passing in the forest which was great scenic landscapes. Saputara is a small hill station lying on the border of Maharashtra and Gujarat; this is a part of the district Dang in Gujarat state. Tourists looking for weekend destination flock here to enjoy the serene beauty of it. Mostly the tourists from Mumbai, Nasik and Surat visit here to spend their valuable time with beautiful Saputara Lake amid hills and greenery spread around. This can also be considered as a picnic spot and you will love to visit this place with your family. As it is a small hill station, all the visiting points are situated very close to each other. It does not require a lot of time to be spent in travelling; therefore one can explore whole Saputara within a day.
We travelled almost 48km from gira fall to saputara hill station and reached saputara around 11:30 than I booked a resort near the sunset point. The name of the resort is Chitrakoot. We went to visit this place in the summer season so there is no heavy traffic so we got a very good discount offer in the room. This room seasonable time price is between 2000 to 3000. I booked our hotel room in 1500. We paid money is totally worth it because it provides good ammonites as well as great services. The hotel structure is very great because it looks like a stairway of the mountain. This hotel available one big and children swimming pool, children play area, garden, volleyball court and some indoor games. The biggest benefit is that we can see sunrise, sunset and natural landscape at the resort. We took rest almost 2 hours then we started to find some amazing place in saputara. Although, I have visited this hill station three times during my school time but my friend first-time visit. this hill station, we reached by bike so this was a new experience for us.
Saputara Lake:
Saputara lake boating is one of the main attraction of tourist. Here, there are several kinds of enjoyment spot near the lake such as boating, fish massage and small fair for children. This lake provides water for the whole saputara. Lake water is very clean and very well maintained. We parked our vehicle in the parking available for tourists in front of Lake and took the lunch near the restaurant but the taste was not very good. There are different shapes of boats available in the lake but the two different types of boat for people. One is row type and another is a pedal boat. Pedal boat normal charge is 40Rs per half hours'. I am suggesting that people should be boating at evening time because of that time pleasant atmosphere and can get more enjoyment. We did not boating because we have done boating several times and at that time the sun was very strong.
Honey bee centre:
By visiting the Saputara Lake, we went in search of bee centre at 2:40 pm, which is a few meters away from the lake. This centre is sold 150rs per 300 grams of honey. It is a small garden area where the bees are arranged in different boxes under the roof for a roof to collect honey. If you are a jelly chocolate lover then you should buy jelly chocolate. We bought some jelly chocolates for the family. We did not spend much time here. People should visit this place, which has enough time to explore this hill station.
Saputara Museum:
This museum is showcasing a tribal lifestyle, culture, history,types of equipment, hunting methods and war weapons. It is located in the middle of the saputara hill station. Saputara has the majority tribal population of the dang. This small museum attracted a large crowd of people and they know about art and craft skill to making stuffed animals, tattoos, hand paintings, pottery, woodcarving, clay ritual and much more. This museum entry fee is 5rs and if you are a student then pay only 1rs. I specially recommended this museum for all generation people so they can knowledge about our past lifestyle. We had spent almost 1 hour in this museum and it was worth for us. People can click the picture anywhere in the museum.
Saputara ropeway:
There are two sunset points at the saputara hill station. This is the easiest way to reach from governor point to tabletop point. The ropeway starts in the morning from 9am to 1pm & 2pm to 7pm.however, it depends on climate condition The ropeway ticket price is very low The charge is 62rs per person. We waited about half hours in the line of trolley then we seated in trolley. Its capacity is four people. The trolley takes 7 to 9 minutes to pass the distance and takes stop the trolley in the middle part so people can see the whole saputara. That scene is mesmerizing I remember exactly when I was 8 standards that first time; I experienced in ropeway and had a wonderful experience for me. We passed about 25 minutes at the second sunset point before returned main sunset point. I conclude that people should experience this thing at this place.
Sunset Point:
When we had visited the museum, the time was around 4:20pm then we decided to go sunset point which is very popular as well as the main attraction of tourist. We had really excited about watching the sunset. Sunset point road is very dangers but you can take the amazing experience to drive the vehicle on the sunset point road. When we were going to sunset point that time one unreliable experienced faced. My friend Jaydeep was driving the bike on this road. Suddenly, the longest slop came in this road at the time bike was stop and bike was falling down then after we had realized that bike had in the neutral gear before the solved problem. Finally, we reached the sunset point. It was a dangerous experienced for us. This rout length is almost 1.5km. There are many enjoyments facilities in this place like bike riding, camel riding, horse riding and other types of games. People can eat some fast food such as Maggi, ice gola and American boil corn at the sunset point. We were hungry at that time the best food option was magi. I believe that Maggi is very best as well as the cheapest food option anywhere. We clicked some photos at sunset point. The time for the sunset in summer was from 5:45pm to 7pm.it was a memorable scene for me when we returned to the lake and took dinner.
Paragliding:
The paragliding adventure is available during the months of November, December, and January every year. It starts in the morning at around 10 and lasts as long as there is enough sunlight in the evening; generally 5.30pm. We could not do this sport at that time because we had not enough time. It would cost between 2000 and 2500rs per person.