My first encounter with Manali was a couple of years ago, while driving up to Leh from Chandigarh - we opted to drive into Leh for two reasons, one, to witness the surreal and changing beauty of the region and two, to get acclimatised, Leh's low atmospheric pressure can play havoc with some.
We spent one night in the famed hill station in a beautiful Swiss cottage style resort - the name for which I don't quite remember. Since we reached quite late at night we were left bereft of the town's charms. Next morning as we drove past Rohtang Pass into Sarchu did it reveal its glory. I was immediately love struck and vouched to return but it took a good five years to come back.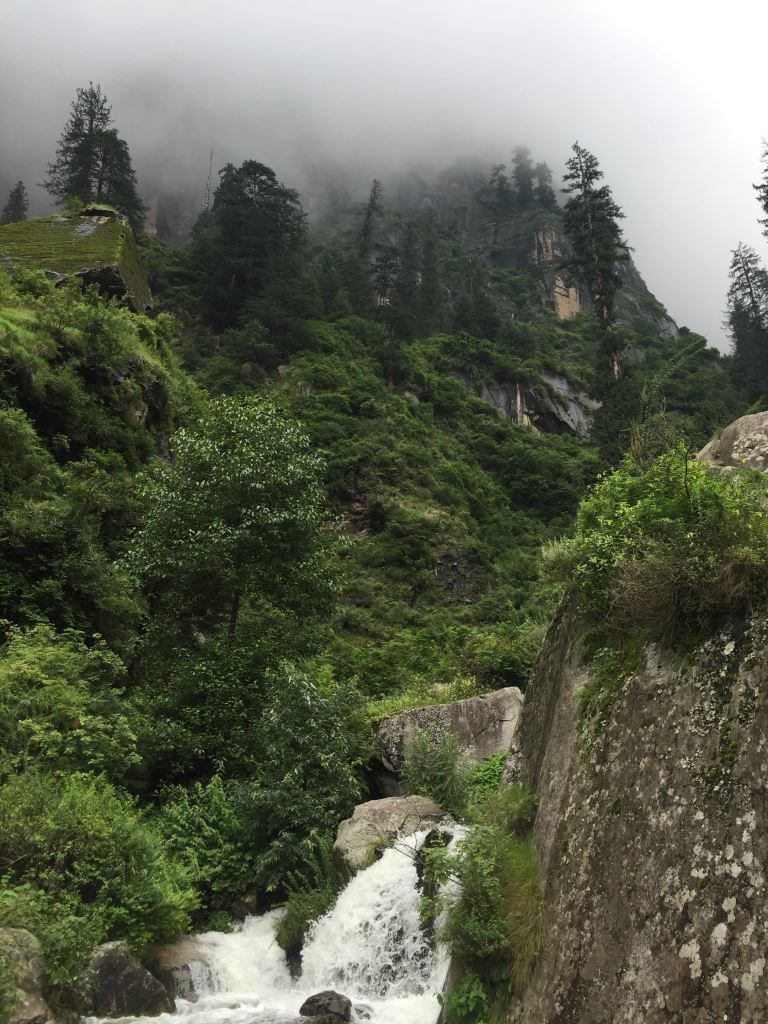 Photo caption - Gorgeous alpine beauty of Manali
As last time, we decided to drive from Chandigarh for the same reason, to behold the rugged beauty of the region and did we encounter just that! Manali stayed true to its promise, lush alpine mountains, open blue skies - albeit dotted with clouds owing to the wet season, cascading waterfalls, raging rivers, warm hospitality and lip smacking cuisine.

Our home in the mountain town was The Himalayan, a medieval style castle resort replete with an outdoor swimming pool, which we sadly couldn't use attributable to the pleasant weather, resplendent spa, a gorgeous garden which to me was a depiction of the Garden of Eden, fully functional fireplace and four - poster beds in every room.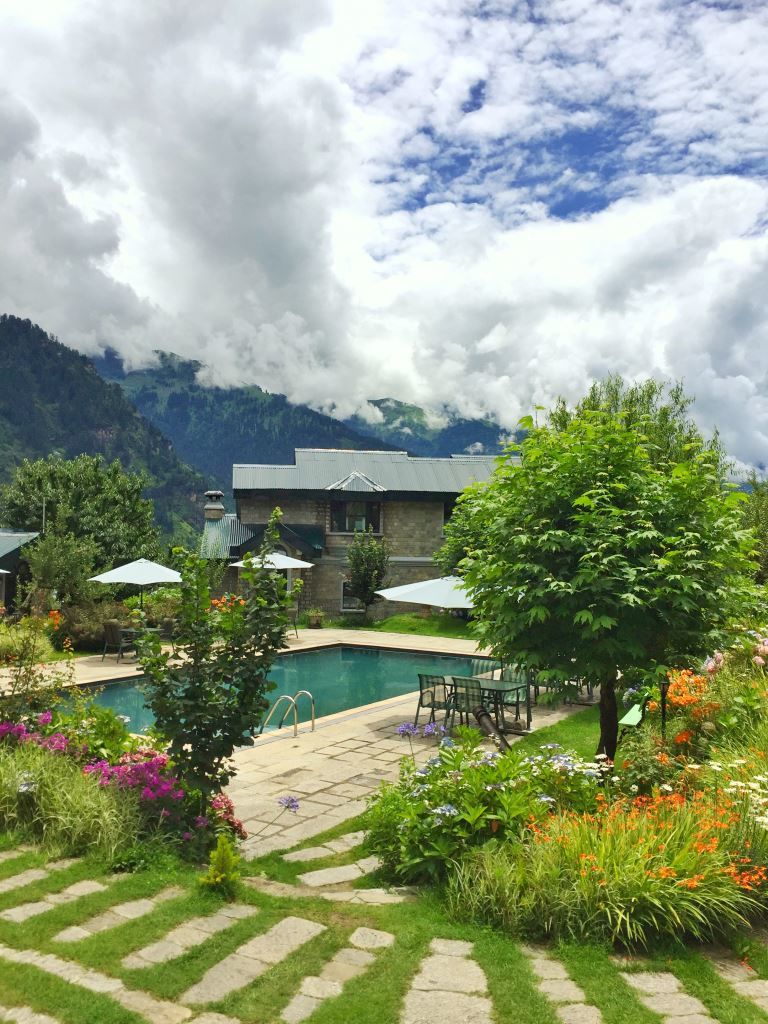 The resplendent Himalayan Hotel was a sight was sore eyes
The erudite swiss-educated owner Nishat Mohi — is involved in all aspects of its up keep — told us that the construction of the hotel was indeed a labour of love and took a decade to complete. Each nook and corner of the hotel is well conceived, nothing about the property is either random or contrived. The architecture which has Gothic influences marries beautifully with its verdant and blossoming surroundings.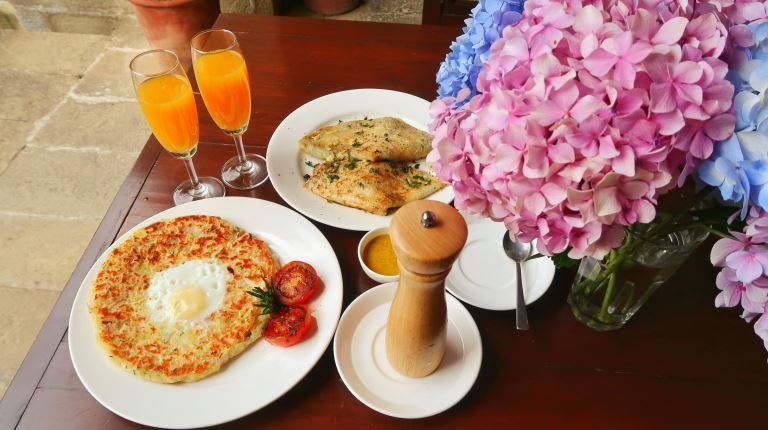 Lip smacking cuisine at 'The Himalayan'
The 'chamber' we stayed at was the comfortably appointed classic room that offered panoramic vistas of the mountains and the hotel's garden. This was definitely an oasis for city slickers like us. We literally had to drag ourselves out on the last day.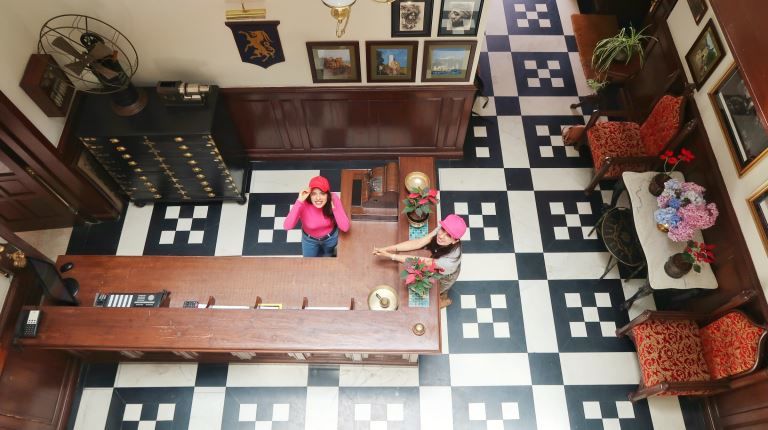 The elegant lobby at 'The Himalayan'
On to the cuisine, we loved the fact that the breakfast was not a run of the mill buffet with the usual suspects - one could order a la carte here which meant everything was prepared freshly and served piping hot. Not just that the hotel has its own vegetable garden, not to mention the myriad fruit trees bearing apples, plums, cherries and hazelnuts.

One of my favourite meals on the trip was dinner at the property where we decided to feast on their scrumptious Indian fare, Manali, to my surprise served some of the most gorgeous continental cuisine, but we were at the fag-end of our trip and our palate was beginning to tire from all the cheese and bread that we ate. A good Indian meal was something that we all looked forward to.

Following Mr Mohi's advice, which was absolutely true to its word, we ordered the aloo nazakat which essentially are fried potato cases stuffed with paneer and dried fruit, marinated in spicy yogurt and subsequently baked. They really hit the spot. Next came the bhutta kebabs which were just as finger-lickingly good. For the main course we opted for black dal, butter chicken and biryani.

The Himalayan really nailed the black dal and butter chicken, I know superlative Punjabi fare from the average variety, I am married in to a food obsessed Punjabi family that has rendered my standards sky high. Even the biryani, I am a biryani aficionado and have a recipe from a Hyderabadi Grandmother which never fails to wow, but the biryani I ate here was pretty close. We couldn't have asked for a better finale to a trip as perfect as this one, thankfully we had nothing planned post dinner and had a long drive back home the next day so sleep was welcomed. This was one beautiful food coma!

This article was originally posted on 'The Glutton and the Owl'