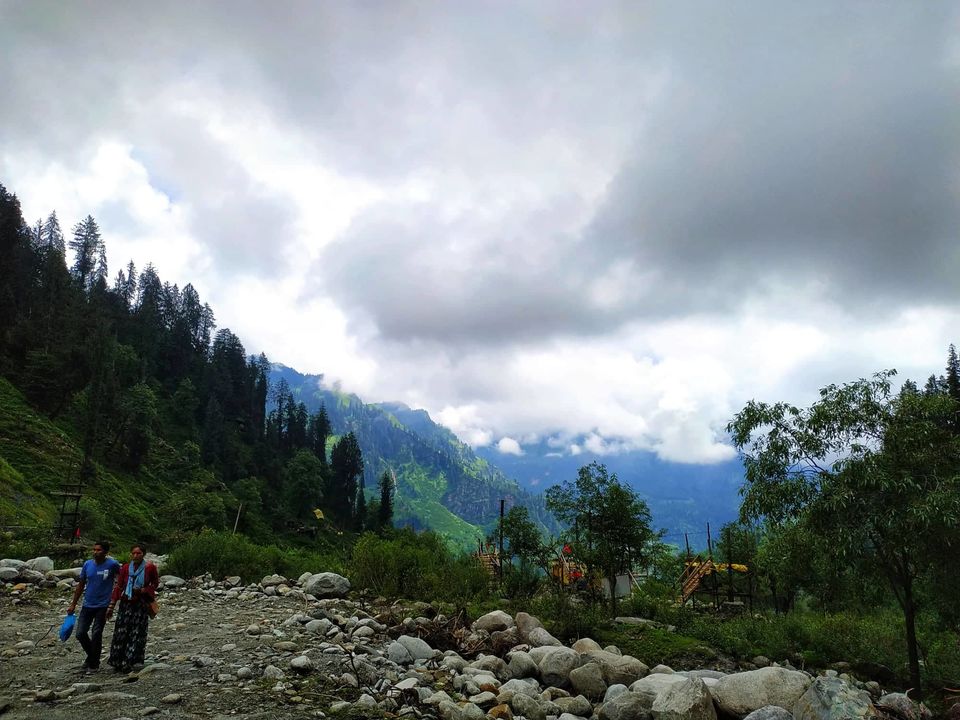 The best way to know a person is to spend a couple of days in an unknown destination with them. To keep it short, take a trip with them. And as a self-proclaimed traveller who cannot do away without heading out the city every once in a while, I had to go on a trip with my boyfriend.
This is how our plan to travel to Manali came into the picture. But as you are well-aware, travelling to hills during heavy rains is not the best idea. Ignoring all the weather predictions, we went ahead with our plan anyhow because Pahad, maggi and chai-sutta in the company of your favourite person was compelling enough. Also, what could be the worst thing that would happen?
You know, apart from being stranded near Kullu Airport for an entire day with no news of when will the buses start again. So, yeah for future reference, try to avoid heading to the hills in monsoon. But if you really do want to go, I would say it is pretty darn beautiful and absolutely worth it. However, always have a couple of days extra on your hand if you are applying for leave from your office.
A Short and Quick Itinerary Of Our Trip
Having left Delhi from the RK Ashram Marg bus stop on 14th August 2019, we reached Manali Bus Stand at around 1 PM next day.
After checking in at our hotel, The Himalayan Paradise, we spent the rest of the day just acclimatising to the place and soaking in the gorgeous view our balcony offered us. Seriously, when it comes to a #staycation in the hills, make sure you opt for a #roomwithaview because those pine trees shrouded in mist (and cloud) with the gushing water of the river nearby makes all your exhaustion of travelling worth it.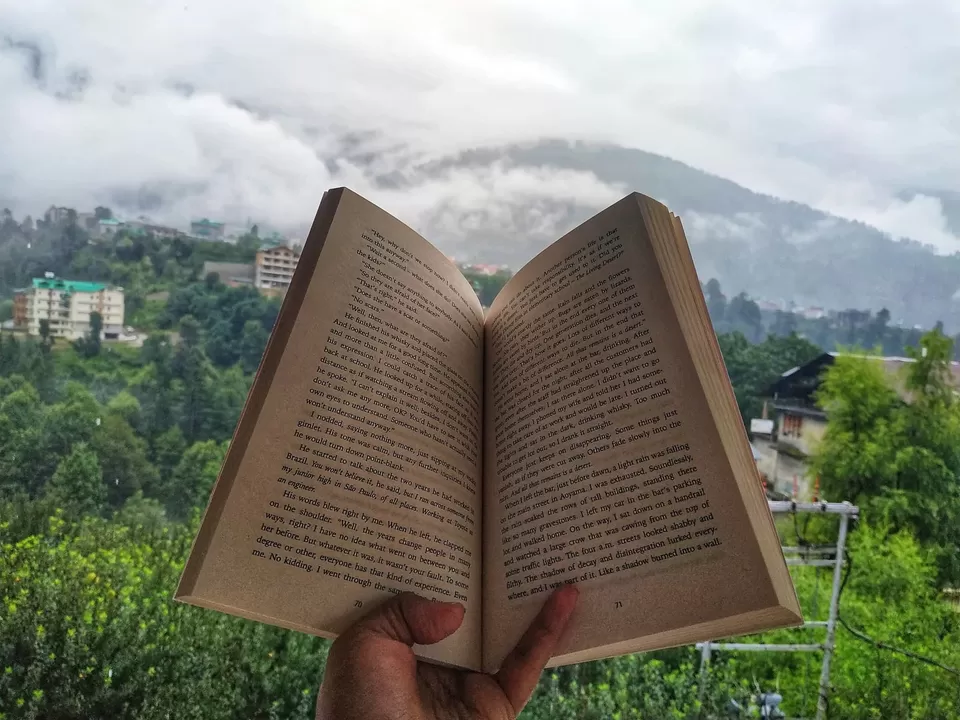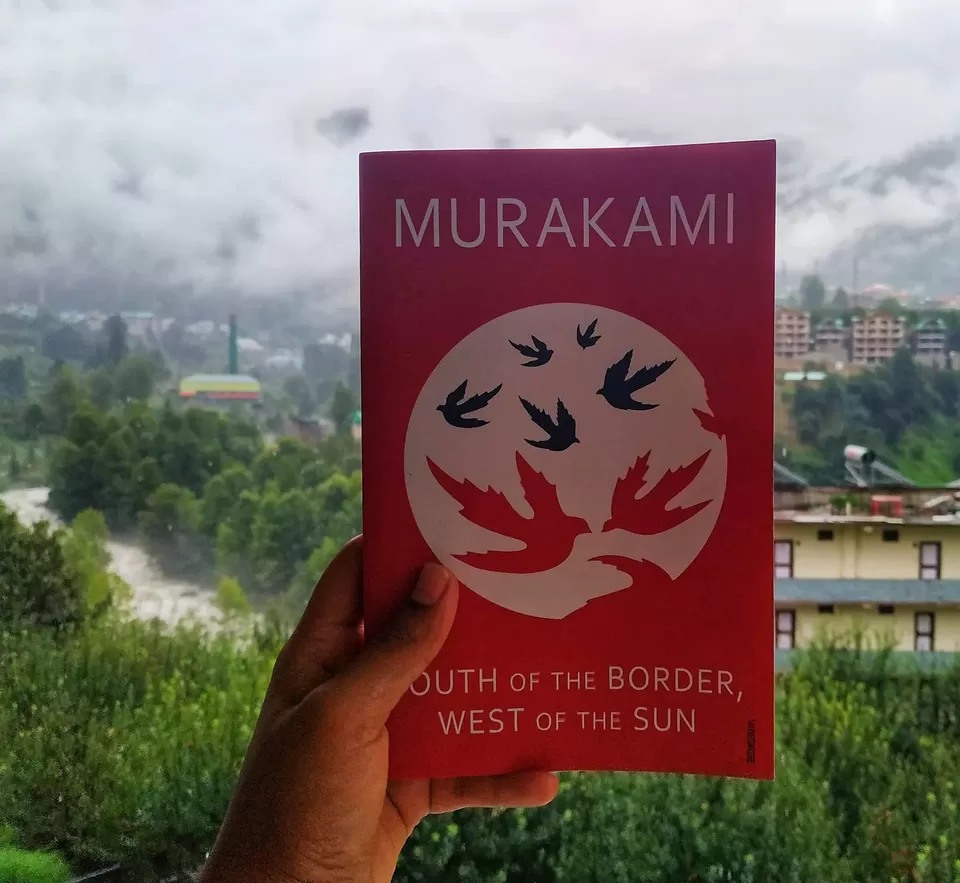 Favourite Part - Waking up to that stunning view. And when it is raining, it becomes all the more better!
In the evening, we headed to Mall Road. While the Mall Road in Manali is no different than all the other Mall Roads you might have visited in Nainital or Shimla, it has a number of cafes and bars where you can chill.
We just took a walk around the road, had the iconic 6-in-1 ice cream and headed back.
Moving on to day 2, we were all prepped to explore Solang Valley. Rohtang Pass is further away from the main city and you need Inner Vehicle Permit to visit it, thus, we decided to leave it for our next visit.
While Solang Valley in itself is just a meadow with plenty of camping sites, you can try different kinds of adventure activities. We went for an ATV bike ride from the base of Solang Valley all the way to Anjani Mahadev waterfall. From river crossing to zip lining, zorbing and getting your photos clicked in traditional attire of the locals, you can do it all here.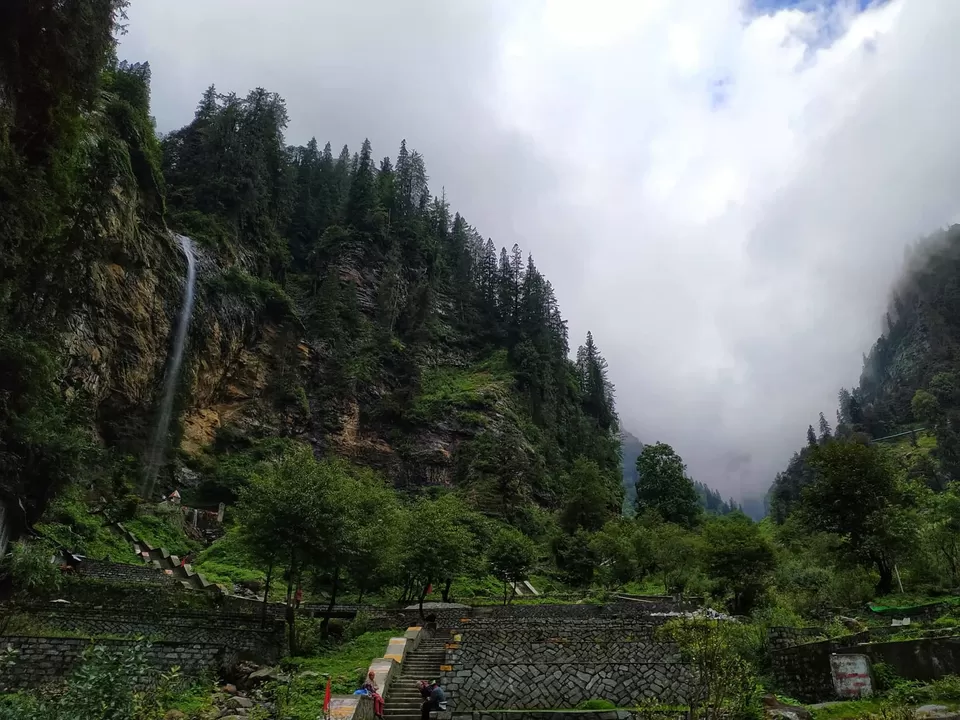 The walk up to Anjani Mahadev is beautiful. Lush green forests all around with the waterfall coming in view makes it worth your time. You can idle away and spend some time here or climb up the stairs to the waterfall and get a glimpse of the shivling. The waterfall freezes during winter and the shivling is covered in snow. Now, that will be a sight worth travelling to Manali.
After an afternoon of adventures, we headed to Old Manali. One thing I would recommend you do when you in the hippest part of the city is to go around and look at all the cafes. In our case, we went inside the first cafe that came into view - River Music Garden Restaurant and German Bakery.
As the name suggests, this resto-cafe is situated right next to the river. You can soak in the view of river, faraway trees and misty hills right from the restaurant. A pretty chill ambience with good food, smoothies, pastries and croissants, it is perfect for spending a couple of hours lost in conversation with your friends or bae.
We had their grilled Trout Fish, Tandoori Chicken, Special Smoothie and of course, the delectable walnut cake. All of it was delish. However, the trout fish is something you should have from the fish farm located in Naggar. We did that on the second day.
On our way to Kullu, we stopped at the Fish Farm in Naggar. All I have to say about this place is that it is soooo greeen!! With plenty of flowers blooming on many a trees, a shelter for dogs, and waterways created for breeding the Himalayan Trout fish, this place gives you the illusion of being in another reality, another realm altogether. Because you don't find such tranquil spaces anywhere in your daily life.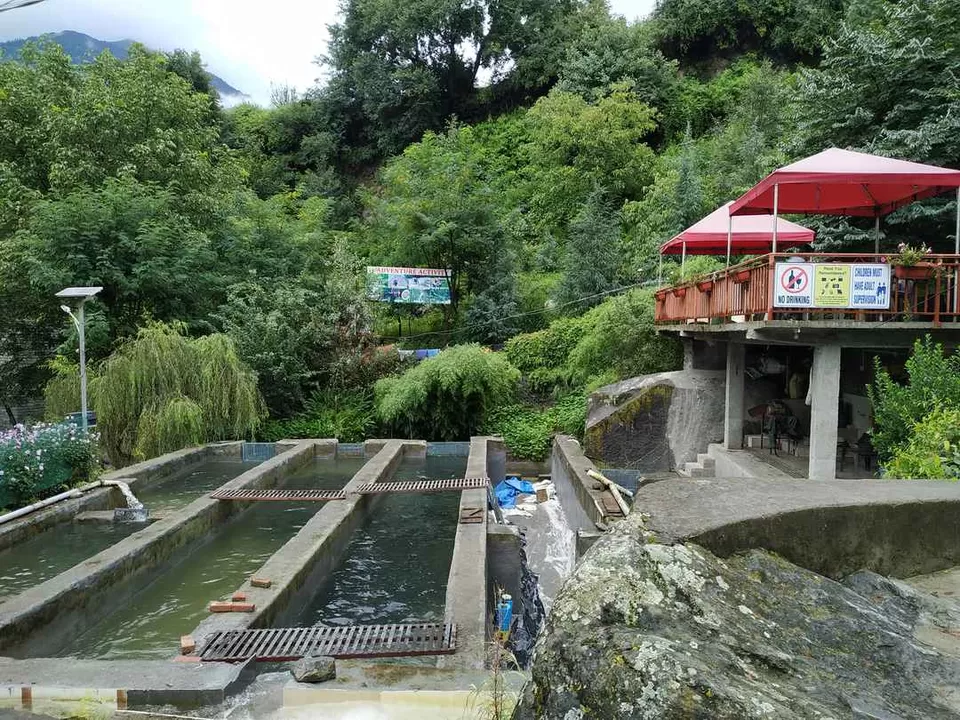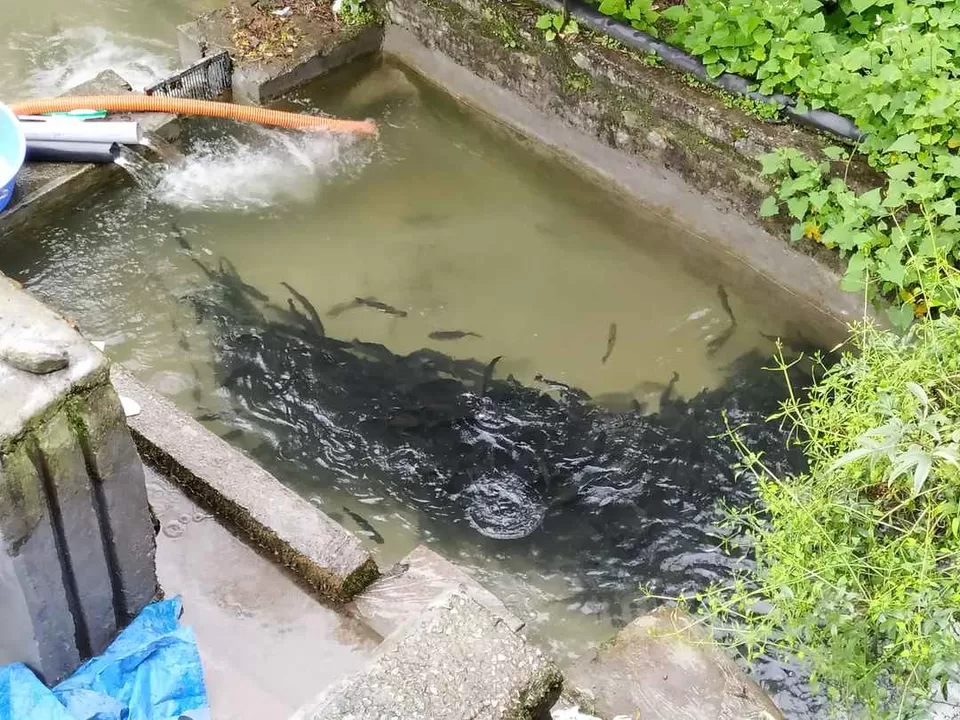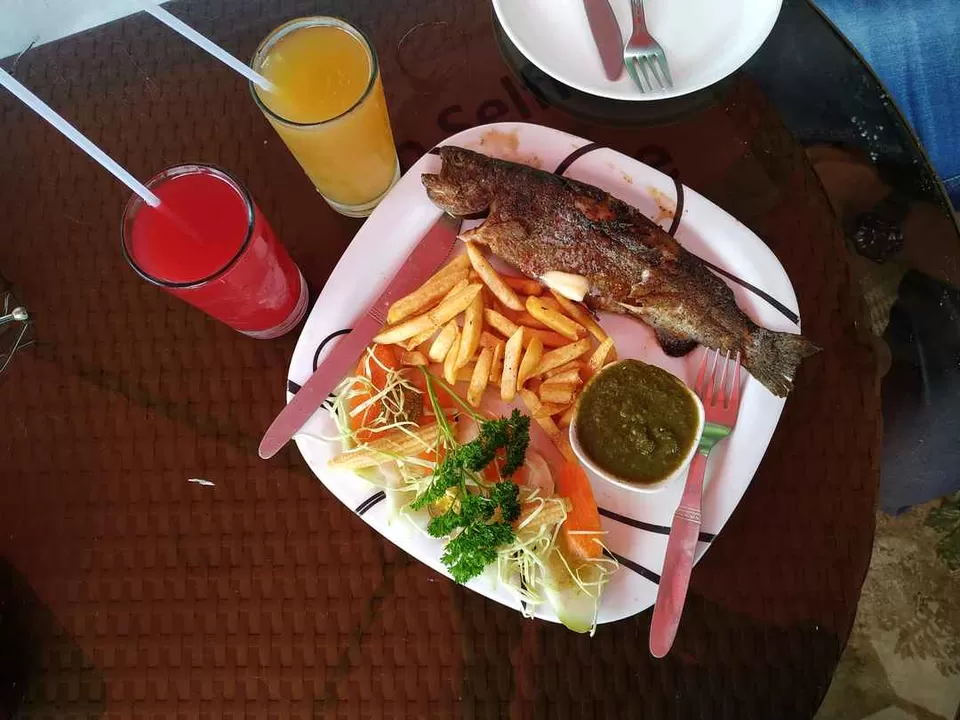 Apart from watching the locals take out the fish right in front of us, we sat here just awe-struck at the kind of peace you only find in mountains. And in corners like these, untouched by touristy crowds and so serene that you can hear your own thoughts, for a change.
Must Try: Their grilled trout fish is absolutely lip-smacking. Down it with a glass of fresh plum or apple juice.
After having our fill of that lip-smacking fish and juice, we made our way to the famous Naggar Castle. While the view from the castle is stunning (thanks to the weather), there is not much to do here. An open-air restaurant in the castle also serves Himalayan trout so if you missed it at the fish farm you can try it here.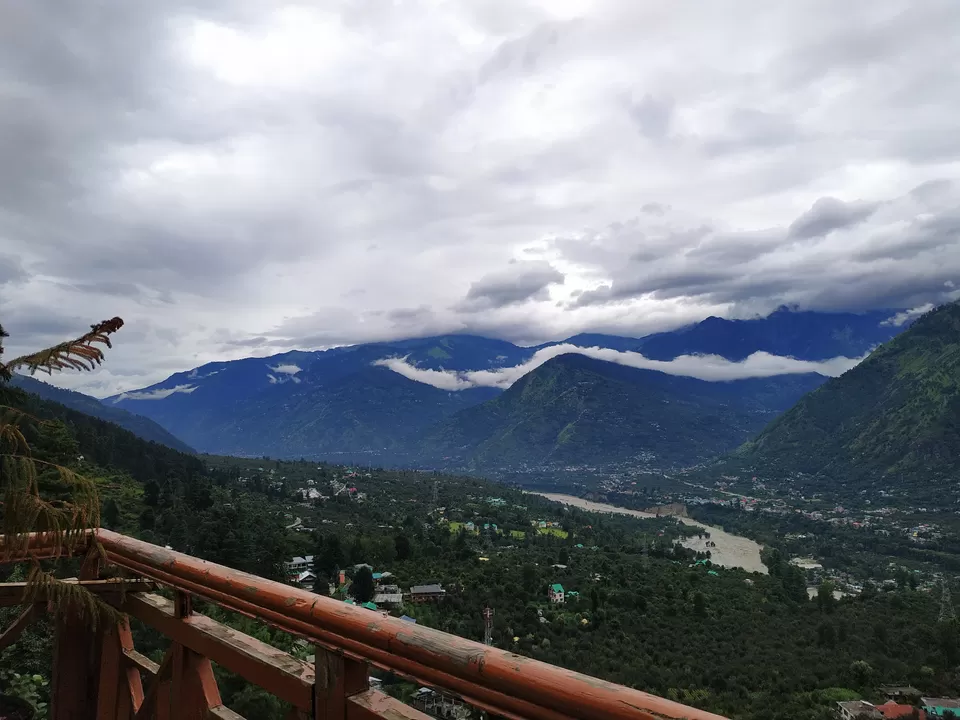 Later in the evening, we stopped by the Mall Road and spend a couple of hours at Cafe Signature as we waited for our bus. This cafe is often missed out because its small and tucked atop a shop. The part terrace seating is covered and gives you the luxury to watch everything happening down below. Order in some pizza and a steaming bowl of thukpa as you sit back and relax. We did the same!
Now, comes the part that we weren't prepared for. After boarding our bus back to Delhi, we dozed off because of all the exhaustion of the day finally took over. However, just a couple of hours later, we woke up as the chatter around us grew louder. Our bus was halted, just a few distance away from Bhuntar Airport in Kullu. The obvious reason was floods, landslide and everything else my anxiety-ridden head had concocted before we planned our trip.
Now what? We spent the next day waiting (and exploring) for the bus to move. But as it happened in that week of August, our bus got cancelled.
While this is where we thought we were crazy for planning this journey in the month of monsoon, it actually was a blessing. Because to reach Delhi on Monday morning, we finally decided to take one of the smaller vehicles everyone was hopping onto to reach Mandi, from where buses were plying.
We shared a Tata Sumo with 6 other people and reached Mandi in about 3-4 hours, in time to board our pre-booked Volvo back to the Capital.
While this entire fiasco of our bus getting stranded for a day and taking another route seemed agonising, we forgot all about it as we made our way from Kullu to Mandi. Because the other route which the driver took was simply magical. Sun about to set, displaying all the hues we ever imagined to come together to form a rainbow sunset and the soothing old Hindi songs making the entire drive all the more romantic and memorable.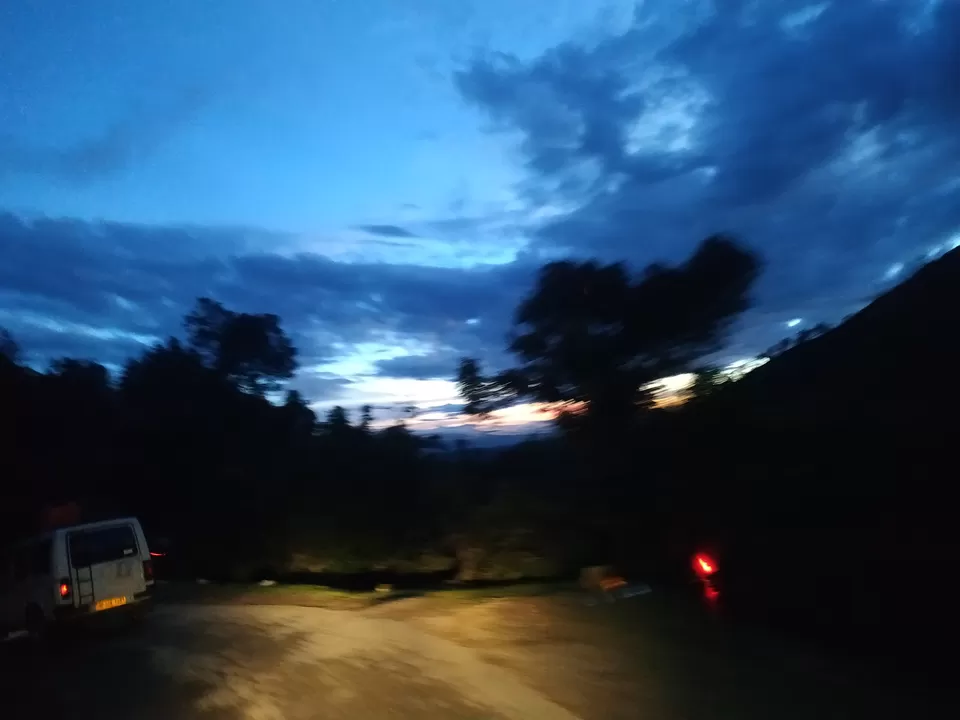 It was worth whatever we had to go through in the past 24-hours and in the end we were glad to have made this trip.
Coming down to it, while going on a trip in the hills might seem a little too daunting, it is doable. You will find a way to get out if you ever get stuck and might make a memory of a lifetime. Isn't it what all our journeys are about? Making memories, with or without your favourite people!
Frequent Searches Leading To This Page:-
shimla manali sightseeing itinerary, himachal pradesh full tour packages, shimla manali tour package from delhi, 3 nights manali itinerary from delhi, delhi to manali tour package by car, delhi to manali car packages