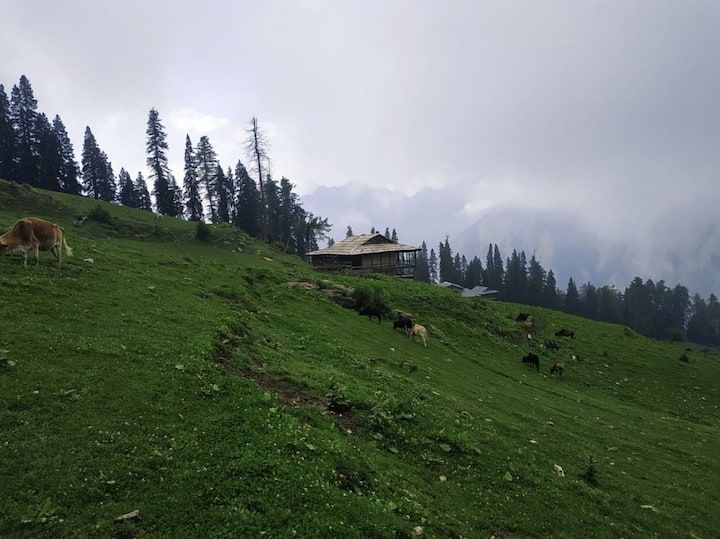 The picturesque town of Shangarh, located in Sainj Valley of Himachal Pradesh will transport you into a world few will believe is real. The idyllic location is tucked away within the Great Himalayan National Park - a UNESCO World Heritage site. Known for its dense forest teeming with flora and fauna, the meadows of Shangarh are coveted by trekkers, hikers and travellers who yearn for a path unknown to most.
The V-shaped Sainj valley is 90 sq. kilometers in area and has the Sainj river meandering her way to the river Beas. The Sainj river moves past sleepy towns, towering deodar trees and lush pastures that are revered by the locals for its mystical powers.
Believed to be home to the Pandavas and the seat of humanity, the villagers consider this town to be a holy land. The blue-grey Himalayas form the perfect backdrop to this town. Dusted with pure white snow, the mountains reflect the sanctity of Shangarh.
The tranquil region welcomes wanderers who can choose from hostels and homestays that are built with locally found wood. The charming homes add another dimension with the warm, brown hues. Shangarh is an understated hideout for avid trekkers who enjoy exploring trails amidst nature with the mighty Himalayas playing tour guide.
What to do
Shangarh is perfectly located within the Great Himalayan National Park connecting it to many of the neighbouring attractions.
1. Shangarh Meadows
Take a walk at sunset on the pastures that are soft, green and welcoming. Watch the sky change colours with pine trees for company. Breathe in the fresh air as the hills speckled with colourful village homes lazily come to life, with smoke floating through the chimneys luring you to them for chai and dinner.
2. Barshangarh Falls
Get an early start in the morning to drive up to these milky-white falls that are accessible by a 30-minute hike. Take a sip of the tastiest water, capture a whiff of the pine-scented air, listen to the birds chirp and feel the icy-cold water touch your skin as you awaken all your senses at the foot of the falls.
3. Shangchul Mahadev Temple
Its exquisite wooden architecture draws locals and visitors alike to take in the craftsmanship. This famous temple is revered by villagers along with the lush pastures that surround the temple. Travellers are expected to respect the meadows by not drinking outdoors and maintaining silence.
4.Trek through the valley
Trek to Jangaon Thatch which takes a single night to complete. If you have more time to spare, explore the Thini Thatch and Pundrik Lake trails that are nestled among green trees, musical birds and sightings of animals as you make your way across the bright green meadows. Trekking requires permits and you can request the hostel you're staying at or visit the government site to apply for one.
5.Live like a local
Visit the neighbouring villages of Goshati and Darari. The national park is also bordered by Shakti and Marari - two villages that are equally beautiful. Spend time within apple orchards, catch elevated views of the valleys from the hills and take a nap at a quiet corner as you cloud-watch with the fresh mountain air filling your lungs. You can also drive to Tirthan Valley and spend some time exploring the breathtaking views it has to offer.
How to get there
1. By bus - From Manali, opt for the Aut Tunnel stop. From here take a local bus to Sainj
2. By train - Reach the Joginder Nagar Railway Station.Take a taxi or bus to Sainj
3. By air - Arrive at Kullu Airport. A taxi or a bus from Bhantar will get you to Sainj
Where to stay
You can choose to ask one of the few shops at Aut Tunnel for a homestay. You can also pre-book accommodation:
Budget travel - Zostel Shagarh
Mid-range homestays - Ted's Cabin or House of Stories
Exclusive stay - Doors Shanshar
This tranquil town is a hidden gem which welcomes visitors who love the outdoors, spending time amidst nature and enjoying some much needed peace and quiet from the hustle and bustle of the urban jungle. So when are you heading to Shangarh?
Earn credits and travel for free with Tripoto's weekend getaways, hotel stays and vacation packages!
Find like-minded explorers, learn from expert travellers or become one yourself and help others on Tripoto's Travel Forum!