This Travel Blog is of our exciting and adventurous trek to the Great Himalayan National Park (GHNP) Gate and Hippo Waterfall.
We, The Adrift Couple, were returning to Tirthan after a hiatus of 17 years having first discovered the valley in 2005. We had lodged in Nagini then, which at the time, had very limited staying options; unlike now – the riverbank and hillsides being dotted with guesthouses, homestays and cafes.

So, we drove a short distance further on to but this time we opted for the quieter Gushaini and found ourselves a quaint place, with a few cottages, by the Tirthan River.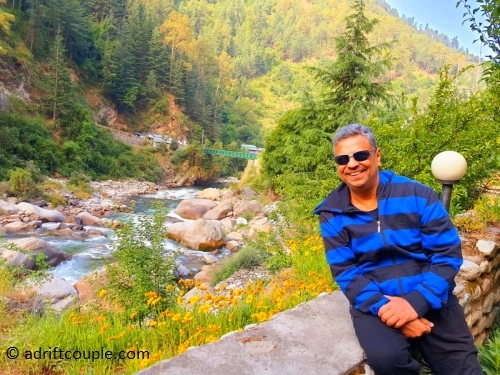 Well, the initial idea was just to space out here for a few days perhaps trying out various Himachali dishes. However our itchy feet pushed us out on daily hikes - starting with an adventurous 7 hour round trek to the Great Himalayan National Park GHNP Gate and Hippo Point followed by the climb to the Chhoie Waterfall hidden in the forest up in the hills and ending with the hike to the pristine Barasari Meadow beyond Sharchi Village!

3 days, 3 hikes - passed the reality check - as we are about to hit sixty, the mountains still welcome us. Did you know that these Himalayas are about fifty million years old albeit being one of the world's youngest mountain ranges?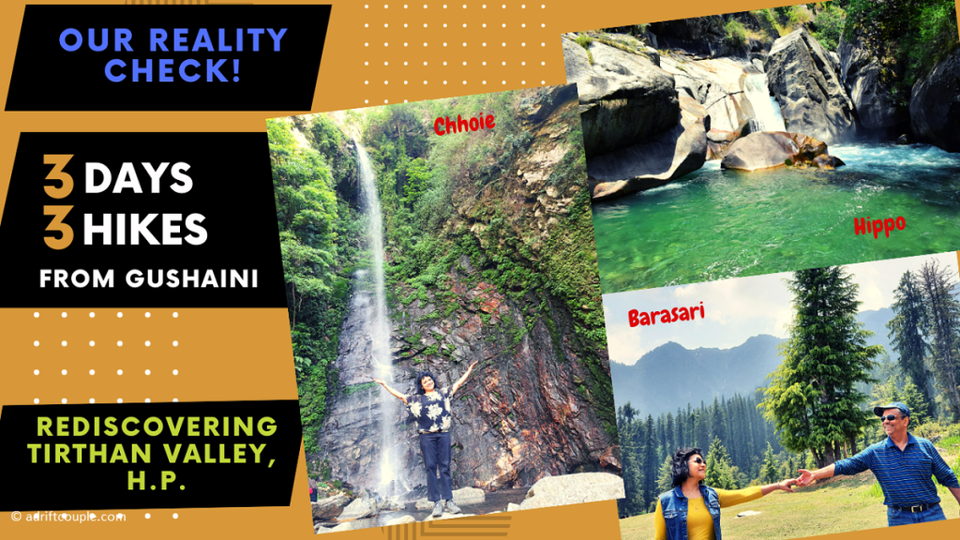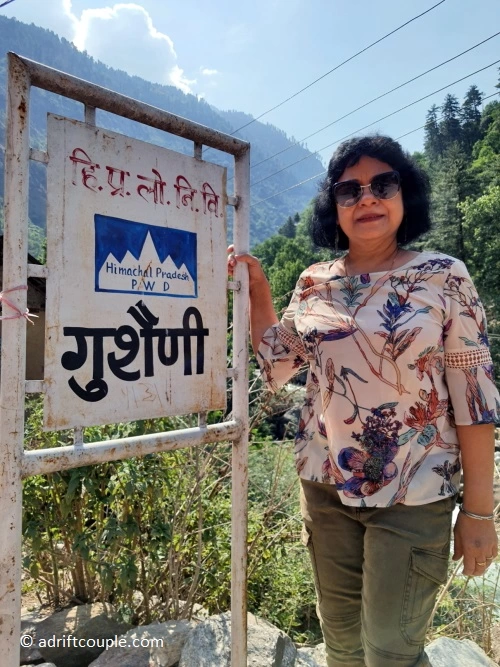 The idea of a trek till the Gate only of the Great Himalayan National Park seemed confusing and not very exciting. Aah, the beauty of offbeat travel - you explore, you figure out, you build an experience for nostalgia! That day some misconceptions got debunked, as we fathomed that The Gate is way inside the forest, much beyond the road head. The trek is thrilling and the return absolutely possible before sunset!
Leaving the road, we drifted down into the jungle and took the forest trail, crossing village houses as we advanced, the birds and the Tirthan River keeping us company.
Walking through this forest is meditative and the sound of the flowing river euphonious - the turbulent white waters fresh from the Tirath glacier gushing down below.
- the best part was the hour spent here at the Hippo Waterfall, dipping our feet in the cool, clear waters as the snowy aqua pura cascaded over the rocks forming a pool - green now caused so by the reflection of the surrounding forest.
"And into the forest I go, to lose my mind and find my soul." ~ John Muir
Article Authored By: Achal Bindraban.
Page Design By: Ranjana Achal.
Pictures By: Achal and Ranjana and couple pics by locals.
Travelled in May 2022
#adriftcouple #DayHikesAndTreksInTirthanValley #ForestHikes #GHNP #GHNPGateHike #GreatHimalayanNationalPark #GushainiHike #Gushaini #HikesInTirthanValley #Himachal #HimachalPradesh #Nagini #OffbeatHimachal #OffbeatTravel #Ropa #TirthanValley #TravelBlog #HippoWaterfall #Trekking #TreksInTirthanValley #IncredibleHimachal #AwesomeHimachal