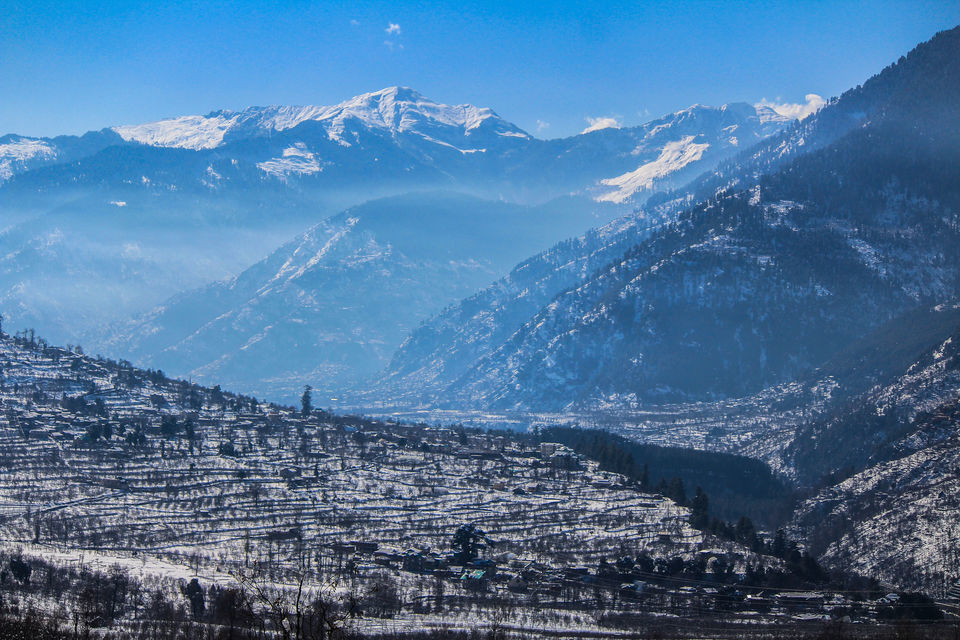 With winter at its peak, our otherwise dormant travel plans must now be out of hibernation already. For most of us, this is the best time to see those towering snow-clad mountains, play with snow, take in gorgeous views of free-flowing rivers, and breathe in fresh air. And winter break doesn't get any better than travelling to any of the popular hill stations in Himachal, does it?
But wait! How fair is it to keep overruning these beautiful destinations in Himachal without ever giving them a break? Won't it be a great idea to allow those hill stations as well a chance to recover from heavy tourist onslaught? And why not when you can simply go offbeat, avoid huge crowds while still enjoying your holiday?
So, if you're the one who's up for it, we have listed down some of the best alternatives to famous destinations in Himachal which can make your holiday even better.

1.) Tosh instead of Manali
You love Manali and you really want to experience the unique vibe of this incredible resort town. But the huge crowd, traffic jams, and outrageously-priced accommodation facilities might just be some unwelcome experiences you may get in Manali. So, why not travel to some offbeat place where there's no crowd, no honkings of cars, no long queues; just you, the serenity, and heaven-like natural beauty? Why not just give Manali a break this winter?
You can, instead, visit Tosh — a small hamlet near Kasol — and trek to Chalal, another beautiful, quaint village whose natural beauty is just indescribable. And it snows there, too!
How to reach: Bhuntar Airport is the closest airport for those travelling by air. If travelling by road, reach Bhuntar, take a bus to Barshaini, and from there, you can either trek 5km or hire a cab to reach Tosh.
2.) Narkanda instead of Shimla/Kufri
When it comes to best hill stations for tourists in India, there are few that can match the manner in which Shimla, the capital city of Himachal, has inspired and welcomed the travellers for decades. But as it happens, Shimla, too has started to show the signs of an overrun, exhausted tourist destination; traffic jams, scarcity of water, outbreak of diseases, and what not! Even Kufri has been coping with the same problem for a while now. So, does it mean that we can't witness that Shimla-esque beauty during our winter holiday? Of course, you can.
Instead, visit Narkanda, the winter ski resort town just 63km from the capital city. You won't experience unrelenting crowds here; just the kind of holiday experience you expect from any destination in Himachal.
How to reach: The airport in Jubbarhatti at a distance of about 80km is the nearest airport to Narkanda and the railway station in Shimla is the nearest railway station. You can also hire a taxi from Shimla or take any bus going towards Kaza or Rampur. It's a two-hour drive from Shimla to Narkanda.
3.) Palampur instead of McLeod Ganj
Mcleod Ganj, the hometown of His Holiness Dalai Lama, is home to breathtaking landscape, including the much famous Triund hill top. But every winter, the little town is subjected to an uncontrolled number of tourists, and the results have never been more discouraging. Now, it rarely snows in Mcleod Ganj, the Triund trail resembles some street in a metropolitan, and the Dal Lake is a pale shadow of its own.
So instead, if you choose to go a little offbeat and explore Palampur, you not only give yourself a chance to experience the lesser known beauty of Kangra Valley but also give Mcleod Ganj the much-needed break it deserves this winter.
How to reach: Kangra Airport is around 40km from Palampur. The nearest major railway station is in Pathankot, about 120km from Palampur. For those who prefer to travel by road, direct state-run buses are also available from Delhi to Palampur.
4.) Bharmour instead of Dalhousie
Dalhousie, and its neighbour Khajjiar, are just the kind of places every honeymooner would have on their mind. And therefore, if you plan to take a break from the daily hustle and visit Dalhousie, don't be surprised to see the place full of honeymooners during winter. Isn't that a good reason to allow them and the place some tranquility and visit some place that's less crowded and more peaceful?
Well, you should rather visit Bharmour. It's a small hill town located about 60km from Chamba and a great alternative to ever-crowded Dalhousie. On a lucky day, you may have a whole waterfall to yourself!
How to reach: Kangra Airport at a distance of around 200km and Pathankot Cantt at a distance of 180km, is the nearest airport and the railway station to Bharmour, respectively. The nearest town, Chamba, is well connected to Bharmour by road and buses and cabs are easily available until afternoon.

5.) Chail instead of Kasauli
Known for awe-inspiring view points and British-era architecture, Kasauli is the gateway to quaint-looking hills of Shimla and has a Mall Road of its own as well. But the close proximity to Haryana and Punjab makes it a popular weekend escape for "peace-seeking" tourists. Resultantly, the place remains quite crowded for almost whole year, which can obscure the natural bliss of Himachal in winter. So, where to go?
Well, you can always visit Chail, a peaceful hill town about 65km from Kasauli. It is home to the world's highest cricket ground, Chail Sanctuary, and an ancient royal palace offering spellbinding views of the surrounding landscape.
How to reach: The nearest airport in Jubbarhatti is around 61km and the nearest major railway station in Kalka is around 81km from Chail. By road, Chail is well connected to nearby towns and cities from where taxis and buses ply regularly.
6.) Bir Billing
Some say that Bir Billing is a perfect alternative to many other popular destinations in Himachal. However, the reality has changed in the recent few years. With the ever-increasing popularity of Bir Billing as one of the best adventure destinations in India, the tourist influx has taken its toll on this place. While it's still a spectacularly beautiful getaway, you might want to give the place a break this winter and go offbeat.
So, instead, you should visit Barot. It's a quaint village nestled cozily in the hills about 40km from Jogindernagar. Famous for camping, welcoming homestays, and amazing local food, Barot will sure not let you miss Bir Billing.
How to reach: Kangra Airport (90km) and Jogindernagar Railway Station in Mandi (40km) is the nearest airport and railway station to Barot, respectively. It is connected by road to Mandi, a major town from where one can get buses and taxis.
7.) Prashar Lake, Mandi
Surrounded with hills and facing an 800-year-old temple, located on a mountain top, Prashar Lake in Mandi is any adventure lover's dream. But apart from the unpredictably treacherous path to lake, especially in winters, overtourism is the other reason why we recommend avoiding Prashar Lake this winter.
Instead, you can visit Rewalsar Lake in Mandi, which is also surrounded with lush green hills and a number of Hindu and Buddhist temples. Visiting this lake lets you avoid the visitors in unexpected numbers and unwanted risks without compromising on the picture-perfect natural views.
How to reach: Bhuntar Airport in Kullu is only 75km from Rewalsar Lake and is the nearest airport. Jogindernagar Railway Station at about 75km is the nearest railway station. The lake is just 24km from the city of Mandi and can be reached by taxis.
These beautiful destinations need us as much as we need them. After all, sometimes going off the beaten track can serve more than one good purpose.
So, do you agree ? Let us know in the comments. If you've already covered any of these lesser known places in Himachal, share your own experience here. Enjoy a virtual tour of best places and experiences by subscribing to Tripoto on YouTube.