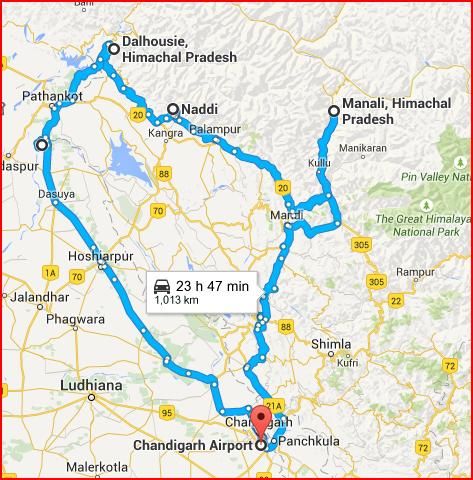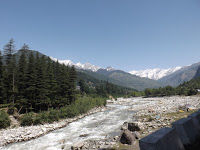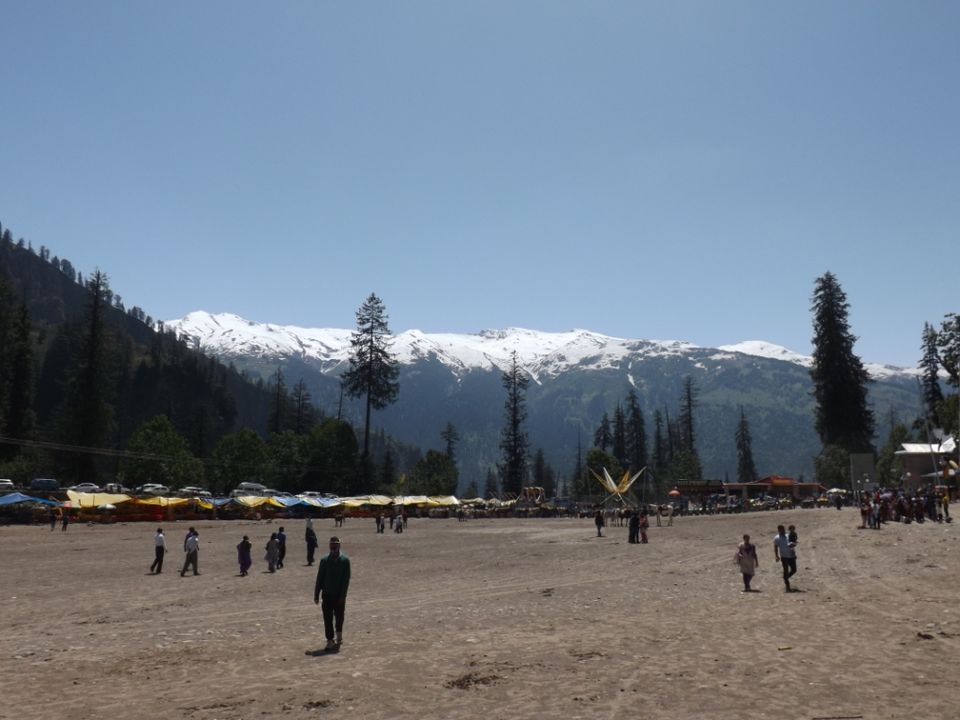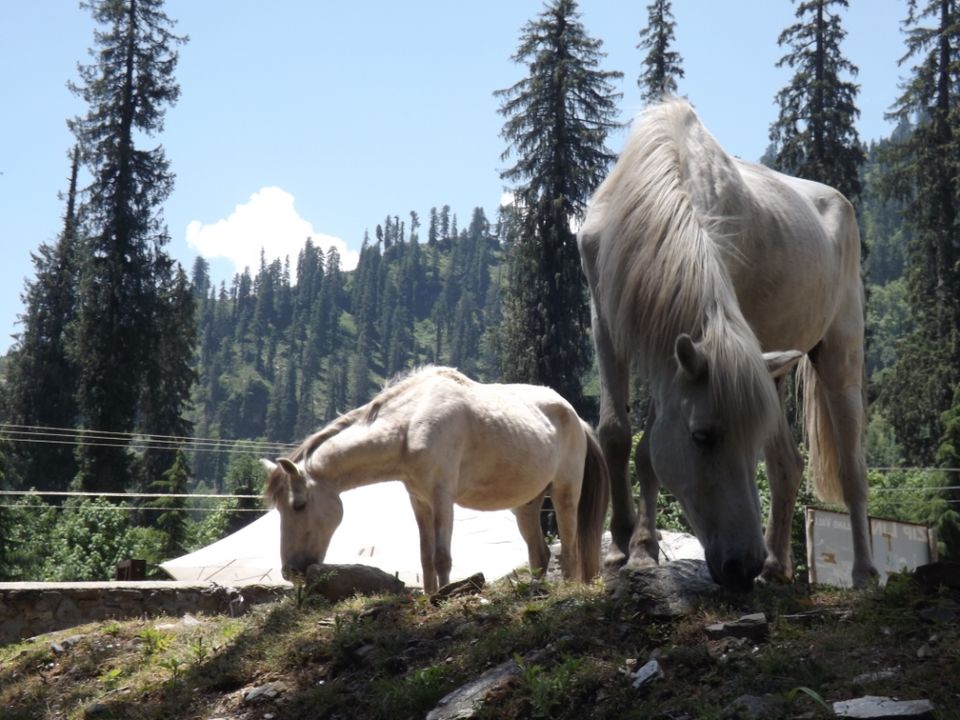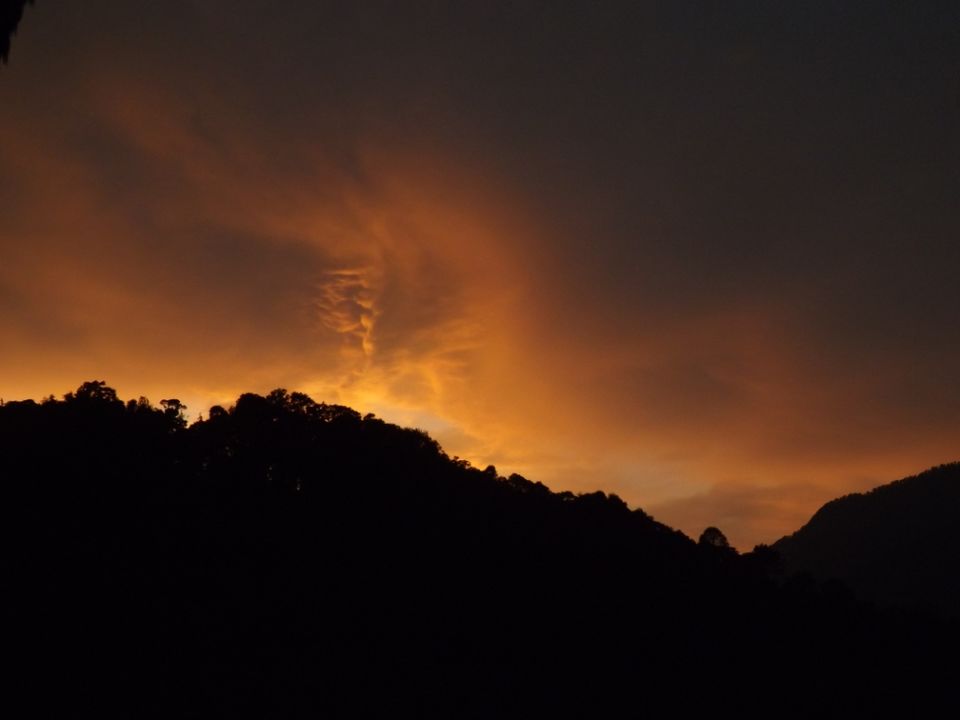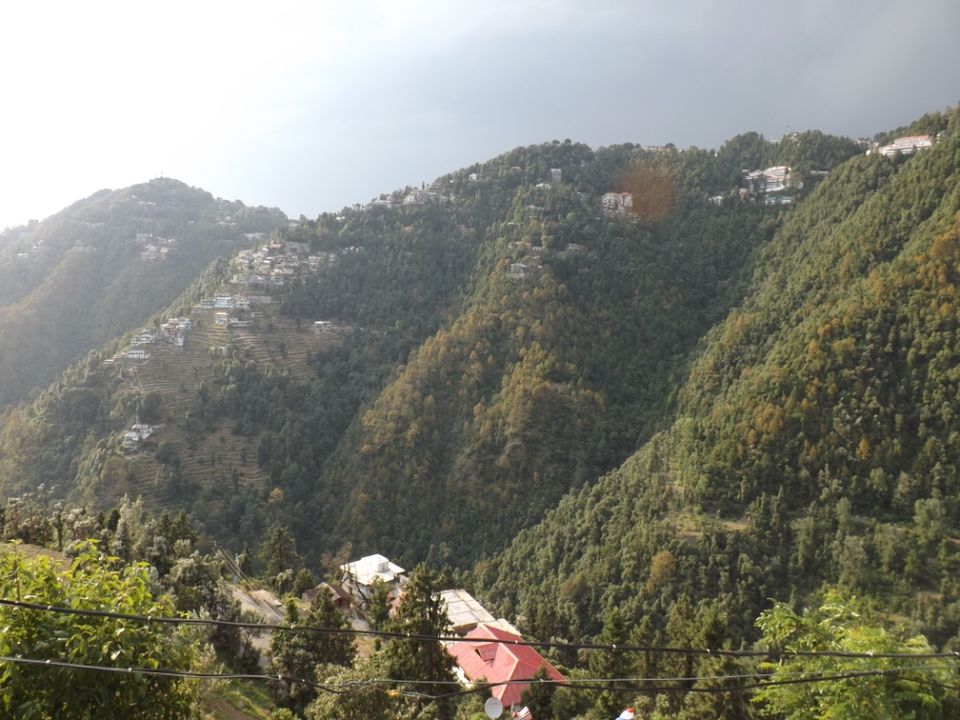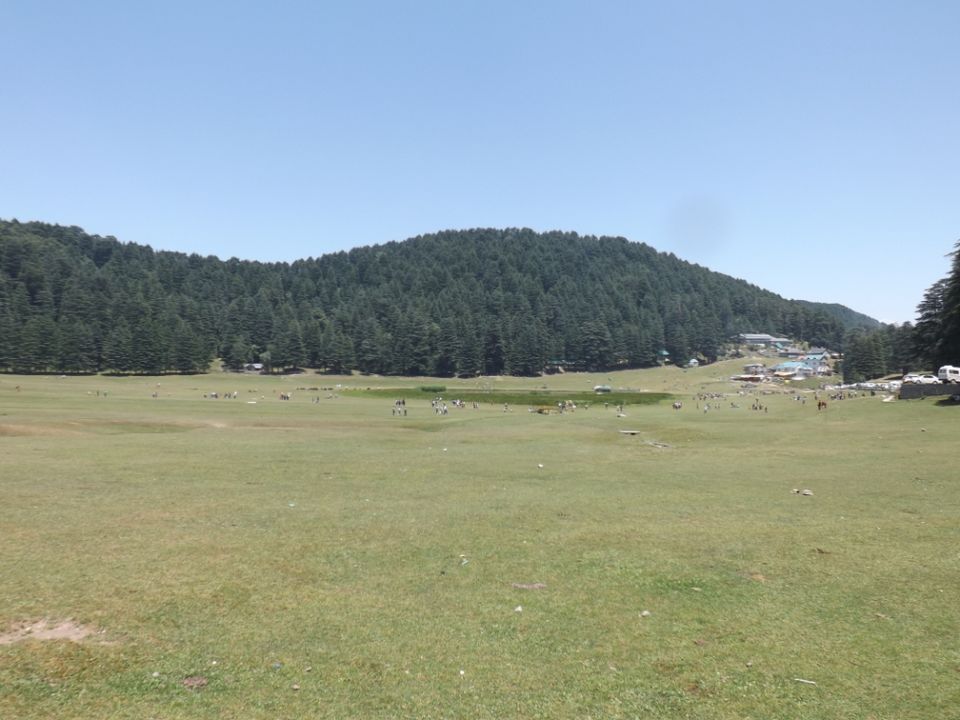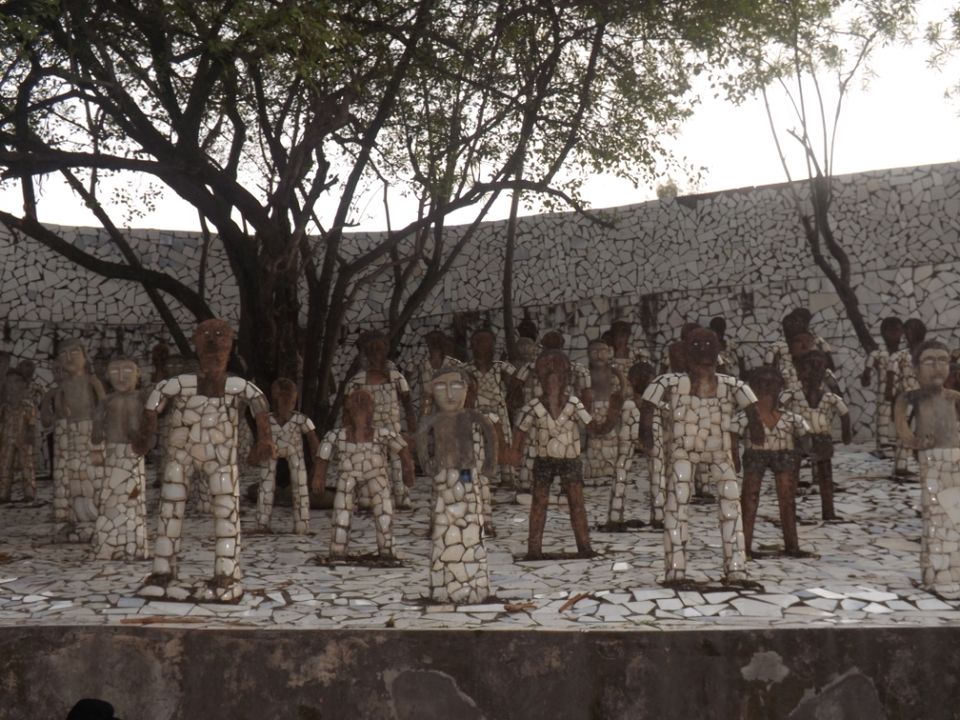 Planning to beat the summer heat of June 2014, we decided for a road trip in the Himachal. The tour chalked down was Chandigarh-Manali(3N) -McLeod Ganj(2N) -Dalhousie(2N) -Chandigarh(1N). One of my other interest was also to drive through the beautiful Himalayan ranges and hence we decided to rent a self-drive car(Swift) from Chandigarh.
We took the Go Air flight from Mumbai to Chandigarh and landed around 11 AM. The car rental was at the airport and after completing the formalities, we were ready for the drive. It was a new 2014 Swift diesel model with only 7000km running. Chandigarh - Manali is about 310km and while Google shows an ambitious 5 hours, it takes approximately 8-9 hours. Setting the GPS, we hit the NH-21 and its first 100 km are through a well-maintained highway and possibly the stretch where you would reach your maximum speed. The road becomes average to bad in the middle 100km till Mandi and the last 100km is again good. The drive from Mandi to Manali is the most scenic, however, we could not catch much as is it was already late evening. We reached our Manali cottage at around 9 PM - tired and exhausted, we quickly had dinner and closed for the day.

Manali:
The next day we were pleasantly surprised to see the snow clad peaks, the lush green carpet of pine trees and apple orchards and the gushing river Beas from our room. It was the peak season in Manali and the weather during the day was around 25C. We covered Solang Valley, half-way drive to Rohtang and some local market on day 2. On the third day, we covered Vashisht - which is a hot water spring & a temple. It's small and not so great place and you can easily give it a miss. Wherever we went, parking was a huge issue with a lot of tourist buses and vehicles making it extremely slow to meander through the small bylanes of Manali. We quickly covered the Hadimba temple and the Club House and took refuge in a river side cafe in Old Manali. In the evening, we went for a trek in the apple, strawberry, and cherry farms near our cottage.
Tip: there is nothing much to see or do in Manali - try nature walks and river-side serenity. I would recommend staying in a cottage than in a crowded hotel.
Naddi / McLeod Ganj:
On Day 4, we started early at around 7 AM and had to drive on NH 21 till Mandi and then take the NH 20 towards Pathankot. The NH20 drive is through narrow winding roads with some bad patches.It took around 7 hours to cover the 260km to Dharamsala and then 30 min for the last 10km to McLeod Ganj. Enroute you can visit some religious places like Baijhnath Jyotirling, Chamunda Mandir and Palampur tea estate. Our hotel was not directly in McLeod but about 5 km before in place called Naddi. The view was splendid - Kangra valley and snow clad mountain peaks.
Next day we went to McLeod ganj - the home of His Holliness Dalai Lama. It's a small and extremely crowded and dirty town. The main temple was not grandiose as the ones we saw in Thailand. The lanes are very narrow and finding a parking is an uphill task! Eating authentic Tibetian cusine is also an opportunity for food lovers here - try the Tibet Kitchen. You can spend some time on road side shopping of local handicrafts and arts. Back to hotel, we went for a small trek through heards of sheep and horses.
Dalhousie:
The drive from Naddi to Dalhousie is about 5 hours through narrow winding roads. We did the mistake of taking SH28 from Nurpur which was a shorter route but a rough patch. Our hotel was a homestay few kilometers away from Dalhousie and had a 250 step climb to the room.The view from Dalhousie is not as beautiful as our previous destinations but the small hill station has its own charm.
Next day we traveled to Khajjiar, the official mini Switzerland of India. It's a beautiful natural landscape of a huge flat green plain created by a meteor impact surrounded by tall Deodar trees. It's a perfect picnic spot and time to spend under some trees. On the way, you can also visit the Kalatop sanctuary and few nearby temples. On the way back we spent some time exploring the Dalhousie Mall road and market. Overall, Dalhousie is a place which you can afford to give a miss and try for alternatives for a stay in Chamba or Khajjiar.
Chandigarh:
Dalhousie to Chandigarh is about 320km and there are multiple options to drive through. I would recommend not to blindly trust the GPS as the shortest route is through patch state highways. We drove down till Pathankot and instead of taking the SH from Nurpur, we drove towards Jalandhar using NH 1A and then taking a left towards Chandigarh from Dasua. It turned out to be a good decision as we did not over-drive by a long distance but were able to drive fast on some beautiful roads completing our journey in about 7.5 hours. After lunch and a quick nap, we decided to explore the famed Rock Garden in Chandigarh and have some local food for dinner.
The last day was time to return back to Mumbai and work life with a morning flight from Chandigarh and returning the car on the way. The car was a good companion giving us absolutely no trouble on the way. The drive through the Himalayas was beautiful and totally worth it - the only downside was the hot summer making it unpleasant to drive during the noon.
This trip was originally published on THE DESI TRAVELS