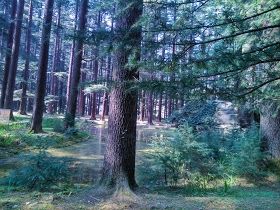 Many a times you feel life is not fair with you, if it opts to be fair then it would be unfair to call it life. The reception, sensation and acceptance of feelings mark the difference between an animated and non-animated. The feelings make you feel the essence of life blessed upon you by almighty. So, stop complaining about life, stop trying to control conditions and people and, excuse an ample of time for you and only you and feel the essence of being a human before it loses its ability to do so. It's time to organize a trip to a place you have never explored before.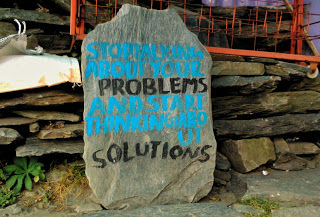 If it suits your personality, go for a solo travel. A solo traveller has certain privileges such as he can roam unplanned, needn't have a poll for consensus, prolong his stays at places which may not satiate others for long, can interact with locals for long. He can self-introspect fathomlessly.
Beyond the hullabaloo of exhausting mundane chores, there lies a abode of solace. An abode which pacifies your soul and make you feel the animation you are blessed with. You just need to find such an abode for yourself. After spending ample of time in three districts of Himachal Pradesh, I headed towards Manali (see more), Kullu, Himachal Pradesh. I took a bus with a predisposed mindset that in public transport one can actually interact with the locals and may come to know about phenomenon peculiar to that place. Thanks to the bus conductor, my predisposition was not refuted. Belonging to Himachal per se, he acted more like a professional guide to me professing everything he knew about the places that were coming in the way. The scene being crafted out of Pandoh valley with Beas river in its cradle and hefty-lofty mountains suddenly attaining infinite kind of elevation can't be expressed by the colors of a painter, rhymes of a poet, adjectives of a writer, psalms of a singer. It can only be experienced. It reinforces a belief of one's existence which is faded away by the workaday activities. It moved me deep inside filling my lachrymals. Reaching Manali bus stand, thanking for the Japani fruit and apple that he offered me, I bid an adieu to conductor uncle and moved to look for some decent hotels.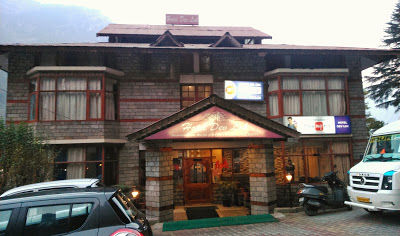 You would get many quality hotels in Hadimba road. Hotel Devlok (see more) with its aesthetic visage attracted my sight. ' Aesthetics may betray unless virtues don't complement them'. The amenities of its super-deluxe rooms, the services, it's cuisine, its location and its staff, especially Chander Mani uncle and Mr. Gourav, add virtues to its aesthetics. They turned out to be advisors and friends in outlandish climes for days to come. A 10 hour bus journey was tiring enough to plunge me into sleep.
According to Devlok hotel's travel guide pamphlet, Manali tour can be completed in four stages: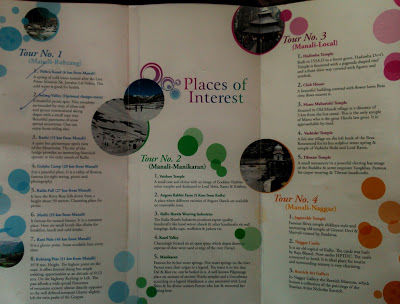 Sunrays peeping through the curtains of my room's window stimulated the process which was going to make my day. Rendering the curtains collapsed to one side, the picturesque that welcomed me proved all the lullabies chanted in the praise of Manali not a hoax. Foggy window panes, mighty mountains and the sun spreading the benevolence over all the existence. Having my breakfast, I left my hotel at around 10 am and headed towards the Hadimba Temple which was 1 km away from my hotel. ' Means are more beautiful than the ends'. The curvy and gradually steeping road with the pine trees on both side thrilled me. The Temple is built around a cave where Hadimba performed meditation. Hadimba used to live there with her brother, Hadimb. Born in a Rakshas family, Hadimba vowed to marry the one who would defeat her brother Hadimb. During the Pandava's ex ile, when they visited Manali, Bhima killed Hidimb. Thereafter, Hadimba married Bhima .
Entering the Hadimba temple premises, my heart dodging my mind made a abrupt statement that one can stay here for days motionless.
Taking the benedictions of Hadimba Mata, I headed towards Manali Van Vihar Dhungri. Utmost silence, peace, calmness the ones where you can actually hear the most natural sounds be it the self-breathing of air, swallowing of your saliva, churning o f withered pine twigs under your boot or chirping of birds. I humbly and patiently exper ienced all this. Tourists were coming with all their enthusiasm. Sometimes, I feel quite amusing that how the variations in perception and experience lead to the different presentation of same things presented to different people. I felt it once again afte r observing the visitors. A bunch of friends in their teens found the place suitable for selfies. Three friends in their late fifties found it apt for sharing their familial affairs. A Russian group was difficult to be judged by phonetics but perhaps they were adoring the place.
A solo traveller like me have the liberty off assignments and compulsions and I preferred to channelize my liberty in observing nature, its phenomenon and its creation, of which human is one. I saw a couple of newly married couples sitting, under the shades of infinitely erected pine trees, cuddling, roaming around with hands in hands and witnessing the most beautiful moments of their life and assuring each other's soul that no matter how cold the weathers come and go, they will never part away rather nothing in the whole universe inherit the potential to dare the act, that they will hold each other in the crests and troughs of life and stay along in the nastiest storms, that they will tell their grandchildren how they made it possible to live continuously for years together accepting each other the way they would have been. The ultimate solace for them was each other's jocund company. I caught envy being a solo traveler but I smiled and vowed almighty to bless them with togetherness of centuries so that the warmth a human strive for doesn't need to be looked elsewhere but in the arms of their beloved. It's the biggest triumph of one's life when one completes a life of togetherness with the one (s)he loves beyond skies. Well, keeping my poetic instincts aside, I next headed towards Club House situated on the other side of river Beas. The the creator of human race in India. Club House Manali offers amusement and adventure sports activities like boating, bubble ride, water roller, bull ride, go karting, virtual cinema, haunted house, paint ball, zip-line, archery, carnival games, Segway etc. Simple Thali of Neelgiri , a decent quality Punjabi restaurant on the bank of river beas, put out my ever insatiable hunger before exaggerating it to a threshold owing to aromatic fragrance radiating out from the delicious food. A simple Neelgiri thali offers palak paneer, dal, rice, four chapati, salad all in proportion enough that can satisfy a foodie like me. A kilometer uphill situated in Old Manali is the Temple of Manu, Sanatan Hindu lawgiver and It is believed that Manu landed in Manali to recreate human life after a great flood had plunged the world. Manali lies in the North of Kullu Valley. The valley is often referred to as the 'Valley of the Gods'. Actually, Manali is named after Manu . The name Manali is regarded as the derivative of 'Manu-Alaya' which literally means 'the abode of Manu'.
The road leading to the temple inhabit a market with numerous cafes, handicraft and leather articles selling shops and it witnesses more foreigners than natives. There you will see travel agencies offering trekking packages, bikes on rent upto Rohtang, Lahual Spiti, Leh-Ladakh. Simultaneously, you will experience the essence of a typical Indian village environs if you take any inside short cut alley route to the temple. This whole set up gives a perfect amalgamation of countryside and exotic vistas.
You can get any two wheeler especially Royal Enfield. It just took 10-15 minutes to reach village Vashisht, approximately 3 km from Manali bus stand.
It was named after Vashisht Rishi, who meditated there for years.
Known for sulphur water hot spring, Interacting with Pandit ji and his wife, I came to know the descendants of Rishi Vashisht spread across India, recognized by Vashishth kund attracts many tourists across the globe. It's prevailing lore that bathing in hot spring washes all your sins and remedies any skin problem. gotra 'Vashisht'. Interestingly, my gotra is Vashisht. Knowing this, wife of Pandit ji exclaimed with delight, "So you have made it to your progenitor's place." Indeed that was an icing on the cake. Water was scorchingly hot, seemingly unsuitable for bathing but once you hold your heat receptors for a minute, you would find it very relaxing and worth spending time assigned for next schedulings. But it's said that bathing for long may prompt giddiness.
Nearby Vashishth temple are Lord Shiva and Lord Rama temple.
Locals suggested me to head towards Jogini temple and waterfall (see more photos) near it. It was a track of about 1.5 km. It gave me a crude feel of trekking. The falling water off the mountain cliffs vividly seemed uttering a prophecy that feel its present glimpse, perhaps it may not come the same path again. One can sit there and meditate for hours together as you would not get beleaguered by crowds and noises of this artificially ornamental world.
Call it a curse or a blessing, it is bound to happen. Obeying the law, I had to move too towards Jogini temple.
The fall is said to be the boon of Mata Jogini devi, whose temple is situated nearby the fall. A lady in her fifties was sitting outside the temple and keeping a watch on wooden logs being thrown by her grandson from a height distant enough to betray my optical abilities. I sat along with her until I realized that the dusk would soon gave its way to night. The conversation plunged me in a state of deep contemplation that what an urbanized fellow define a problem as, is actually nothing but a disappointment over his failure to acquire his ever proliferating expectations. For the villagers like her, meeting the means of sustenance is the real problem. She told me that they couldn't afford any other source of fuel than wood to cook and keep themselves warm during winters. Forest department employees often refrain them from cutting trees. A battle of ideas between preserving the nature and meeting the ends prevails constantly. She enlightened me about many things a tourist would miss unless he spares some time interacting with localites. She informed me that there is a lake called Bhrigu, named after Maharishi Bhrigu, which is reached by trekking either from the Vashishth temple or from Gulaba village (an area of the Pir Panjal mountain range).The sage used to meditate near the lake and hence it has been rendered sacred; the locals believe that due to this the lake never freezes completely.
Evening was one among the memorable ones at Ram mandir in Vaishishth. There was classical dance-cum-music festival. Artists from Gujarat performed on the beats of bhajans of lord Rama, Shiva and Krishna. The frequently changing face expression of dancers, from those of smiling to ones showing utmost anguish, the coordination among them impressed me the most. The singer was an adept of his profession with vocals reaching straight into the hearts of listeners. Violin player not lagging a second in syncing with the vocals seemed to be in a trance who was moving his head and enjoying the sweet sound coming out of his violin. The bhajans were actually story-telling in a musical form that engraved upon the tablet of my heart. The bhajans, soulful music and unparalleled dance triggered a cascade of goosebump inductions.
An alien traveler must try to find out the characteristics unique to the place he visits. The best among those are its art and culture. I visited Museum of Himachal Culture and Folk Art Utopia Complex near Hadimba temple.
It houses models of Brahma temple, prasher temple, kamro temple (sangla valley), saraji temple (these kinds of temples were used as rest house by devtas while traveling), models of kinnouri, kullu, kangra traditional houses, chehnai kothi, and model of Gondia fort. Model of Saraji devta with musical instruments and puja accessories, palanquin of whom is carried on the shoulders of male devotees from village to village during festivals. Traditional musical instruments like 'Dilruba, Saarangi which were used in the king's court for background music, used more abundantly in chamba district and 'Shehnaai' used during marriages, folk dances and festivals also enhanced the charm of museum. Finding wooden small dining table traditionally known as 'Soltak',of which I had come to know a day before from lady near Yogini temple, brought a smile on my face and the conversation with the lady got revived.
Long wooden serving spoon, wooden containers, wooden curd Malan, wooden water containers, wooden dishes and trays, jewellery and jewellery boxes traditionally known as 'Baksu' made out of copper, wooden, and brass, shawl worn by ladies traditionally called 'Pattu', traditional blanket known as 'Sela' were also present in the museum.
Slippers of Lahaul made by sheep's skin, goat goat's hair and straw grass, woolen socks made by goat's hair, woolen rope natively called as 'Dora' tied by shepherds around their waist to provide warmth during cold, different types of hubble bubbles (hookah), axes of iron, cutters /scissors of iron, bamboo baskets, water pot made by clay and alage. Flask made by gourd (any of various hard-rinded inedible fruits of plants of two genera (Lagenaria and Cucurbita) often used for ornament or for vessels and utensils),
Sickles, wool cleaner brushes, sieve of leather and wood, spinning wheels especially spinning wheel of Gandhi ji.
Next morning, I hit the Manali-Leh road for Solang Valley (read more) which is situated 13-15 km from Manali. Riding only this short stretch, I realized why this is called the 'Biker's paradise'. It makes one feel satiated and completed even if one doesn't own most of things in his life. It extinguishes every single thought one is often besieged by other than the perplexity invoked out of a question whether to concentrate on driving or keep browsing the landscape leisurely. It should be a time to cheers when a solo rider meets another solo rider. Ankit, from Ahmedabad, Gujarat was also riding solely like me, met me at Leh-Rohtang and Solang Valley juncture. It takes a jiffy to acquaint with ones having interest similar to yours. We rode to Solang Valley which welcomed us with paragliders scintillating in sky. Calibrating the scale of one's adventurous instincts, one can opt for paragliding, skiing, ropeways, horse riding etc. Following Ankit's suit, I bought ticket for paragliding with doubtful mind and headed towards taking off point along with my pilot via ropeway.
Adrenaline doing its supposed wonders escalated my pulse manifolds. Whoosh! I was one with the nature, flying with the birds, taking deep breathes, trying to live many lives every minute. I felt a numbness of calmness. Everything below looked tinier than their actual appearance.
I ended my day and Himachal tour with the benedictions of Lord Buddha at Himalayan Nyinmapa Buddhist Monastery, Manali. It houses statues of Sakyamuni, the historical lord of Buddha, Guru Padmasambhava ( also known as Guru Rinpoche, was an 8th-century Indian Buddhist master) , lord Buddha, ("having the neck of a horse", is an important deity in Tibetan and Japanese Buddhism .
The only complain I would be having for Manali is its cunning gratifying spells. Usually, I thought of visiting 3-4 places in a day but reaching one of the spot was rendering me stationary. Thus, spoiling all your plans and leaving you with no other option than prolonging your stay at Manali.
Life is too short to waste in agonies, regrets, sorrows, hate. A human is so unfortunate that he won't be able to see all the places existing on this planet and it seems a big gamble if he postpones doing it in his next life because who knows you'll be getting another one. So, move on and explore the unexplored. You'll find thousand reasons to procrastinate but one good reason that you can't let life going unexplored most of the places.
Moreover, Solo travel makes you believe in "Solitude is the ultimate solace".