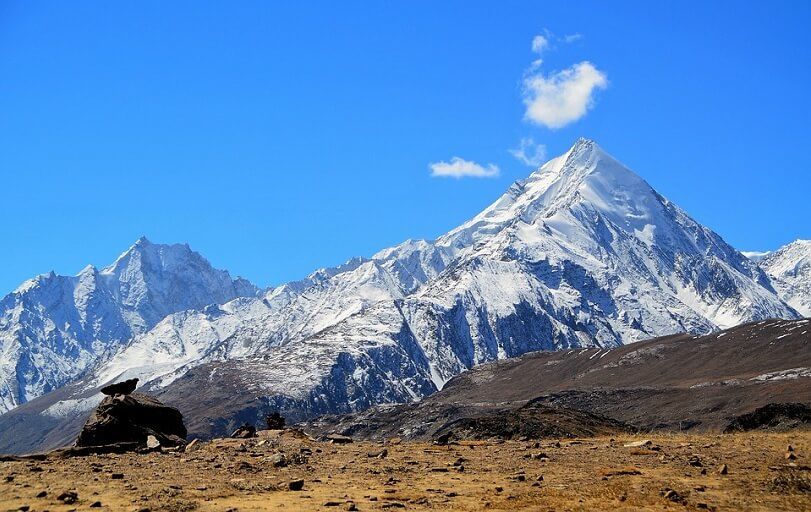 Rangrik Rang is a mountain in the Himalayas that is located in India. The elevation is 1 535 meters/5 034 feet. It is located north of the upper Sanglatals. The frozen masses of the Eastern and Western Racho Khad have their feeding zones on the upper east and northwest flanks of Rangrik Rang, and they support the northern Tirang.
We first saw the mountain when we crested a shoulder just below the settlement of Charang, only a few miles from the summit. P 6553, which has been renamed Rangrik Rang after the Rangrik Tungma temple right below Peak, dominated the snowy peaks in the skyline.
The slopes of the Himalayas lead to the settlement of Thangi at the base of Tirung Gad, the valley that leads to our Rangrik Rang. Three days of hiking brought us to Rangrik Tungma, two kilometres past Charang. The Tibetan-style settlement of mud-covered walls and flat roofs clung to a promontory between two rivers, with a colourful chorten below it and a traditional gateway with prayer wheels at the entrance.
Rangrik Tungma means "Temple Made by God" because, according to legend, God descended into the valley and transformed himself into a yak herder. Using a yak halter to measure a square on the ground, he constructed the temple in a single night.
The gompa (monastery) was constructed in the eleventh century. The main chamber, which is illuminated by a single small window, has exquisite statues of the Buddha, sages, and other deities. It is a Tara temple, which means it is dedicated to the female form of the Buddha or enlightenment; thus, nuns are responsible for its maintenance. One of the nuns performed a pujah for the voyage.
Racho Thach Glacier on the west side of the massif to find a way through the enormous wall blocking the approach to Rangrik Rang and the two flanking peaks Rangrik Rang with a probable route up a 300-meter-high ice wall to a col where the long, snow northeast ridge headed to the summit.
Base Camp is situated at 4,170 metres on a grassy platform adjacent to the ruins of a yak herder's cabin, close below the confluence of two torrent glacier-fed rivers. A spring offered potable water, and there was a breathtaking view of the snow-capped peaks at the top of the valley, although Rangrik Rang was obscured by subsidiary peaks of crumbling rock.