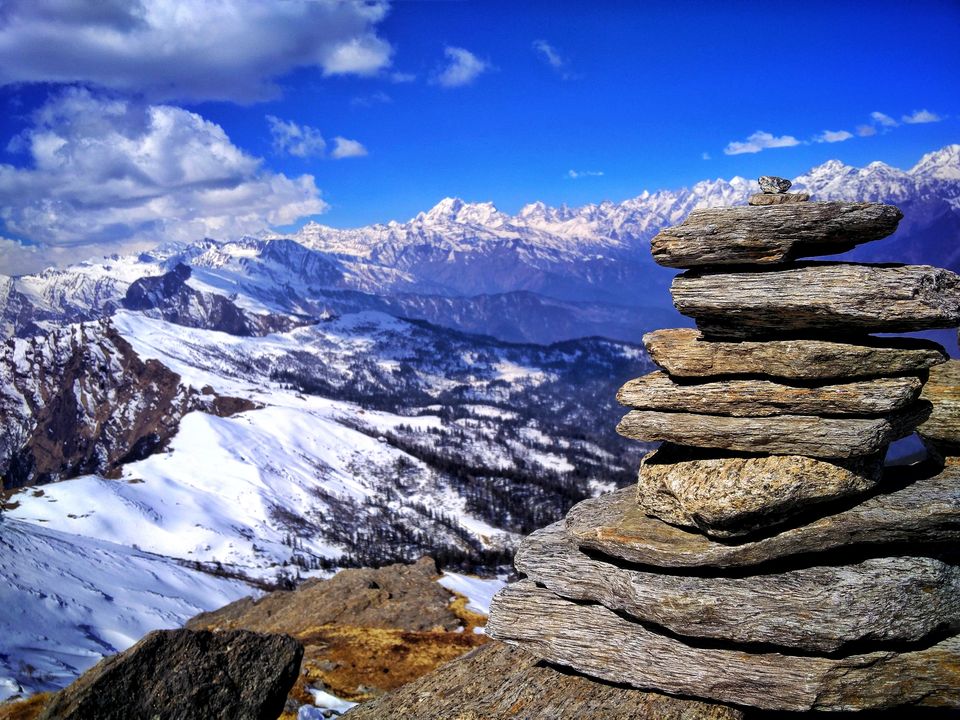 There is a famous saying: "Traveling - it leaves you speechless, then turns you into a storyteller."
So here is my story of a winter trek into himalayas, a place called Kedarkantha in Uttarakhand, India
Having done a few treks in the Himalayas in Summers, I had this deep urge to go for a winter trek. I decided to trek Kedarkantha.
Kedarkantha
With its feet touching the beautiful village of Sankri, about 10 hours away from Dehradun, Kedarkantha sits strongly at a height of 12,500 feet.
Kedarkantha means Throat of Lord Shiva. Other than Kedarkantha, following are the major Shiva temples: Kalpeshwar: Hair of Lord Shiva, Rudranath: Face of Lord Shiva, Tungnath: Arms of lord Shiva, Madhyamaheshwar: Navel of Lord Shiva, Kedarnath: Back of Lord Shiva, Pashupati, Nepal.
The myth goes back to the time of Mahabharata. After the war the Pandavas went to himalayas to seek blessings from Lord Shiva. Lord Shiva did not appear to meet them. Instead he took a disguise of buffalo and mislead the Pandavas. Bheem seeing the herd of buffalo played a trick. He stood on two rocks with his legs opened wide. The buffalo were made to pass under Bheem. One of the buffalo (disguised) refused to pass resulting in fight with Bheem. In this fight, Bheem ripped apart the buffalo in pieces. The place where these pieces fell Pandavas later constructed temples of Shiva to worship.
Day 0: Dehradun
We, a group of 5 friends, boarded a bus from Delhi to Dehradun at 10:30 PM. We reached Dehradun, the capital city of Uttarakhand at around 5 in the morning and took a cab to Sankri to reach our starting point.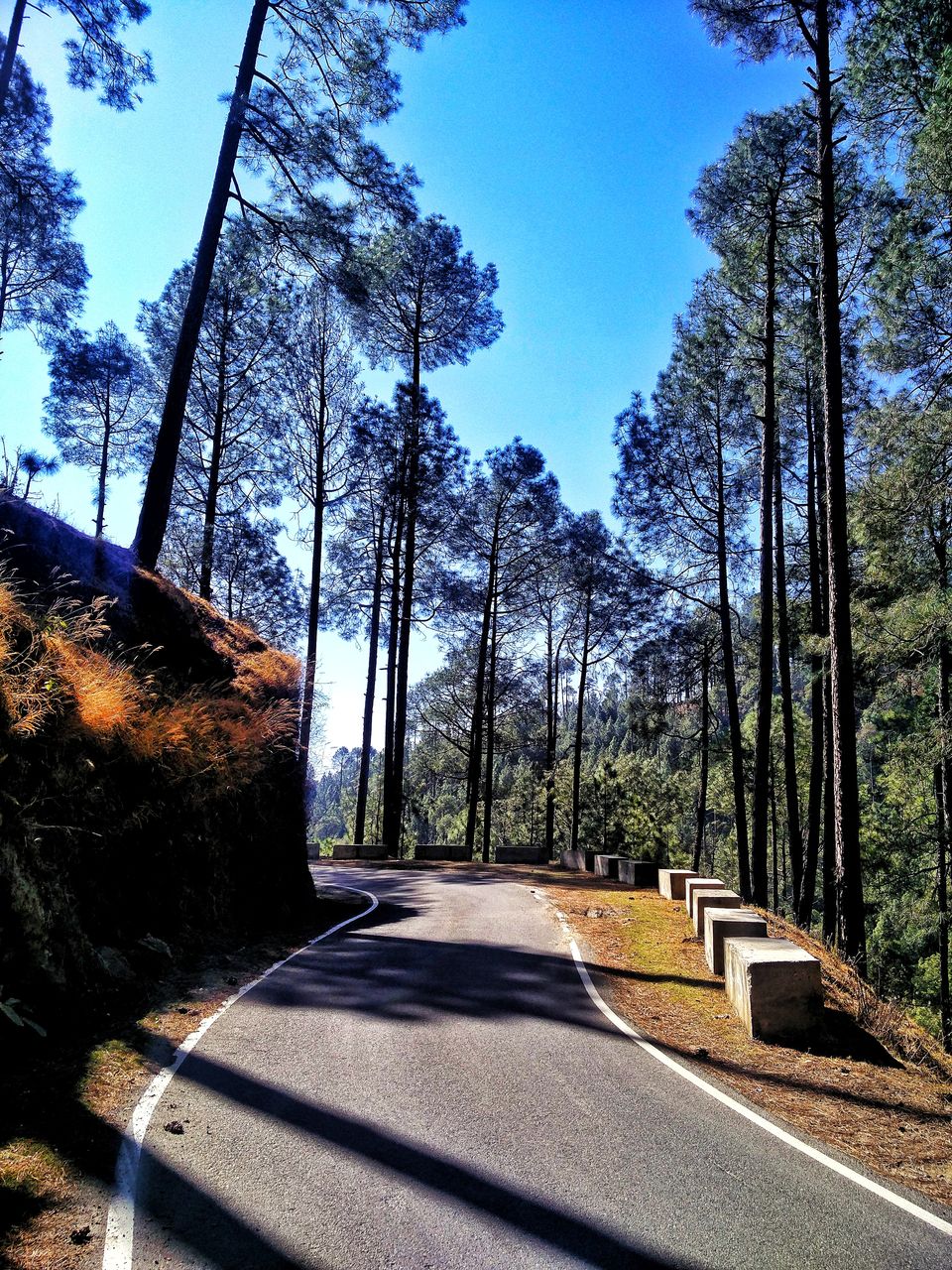 Day 1: Sankri
The drive to Sankri (from where the Kedarkantha trek starts) is through Mussoorie, Barkot, Purola, Mori, Netwar, Motwat, which are parts of Uttarkashi district.
The way to sankri runs along the clear blue waters of Tons river, a tributary of Yamuna.
At some point after Mori, is the prayag (confluence) of Rupin and Supin rivers, which in turn form the Tons river. All along this path you can hear the burbling sound of the river and can actually feel the serenity of it by looking at its crystal clear water.
As we reached Sankri around 4:00 PM in the evening after an 11 hour journey from Dehradun, we had this clear view of a huge mountain in front of us with the sun drooling down and bidding the day a good bye with a golden kiss.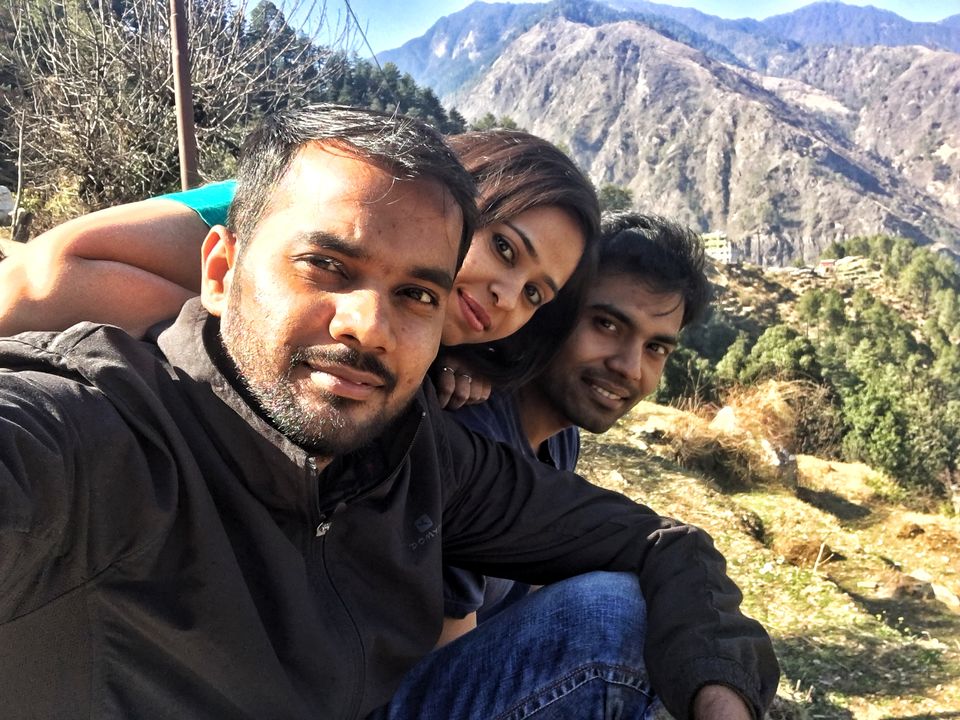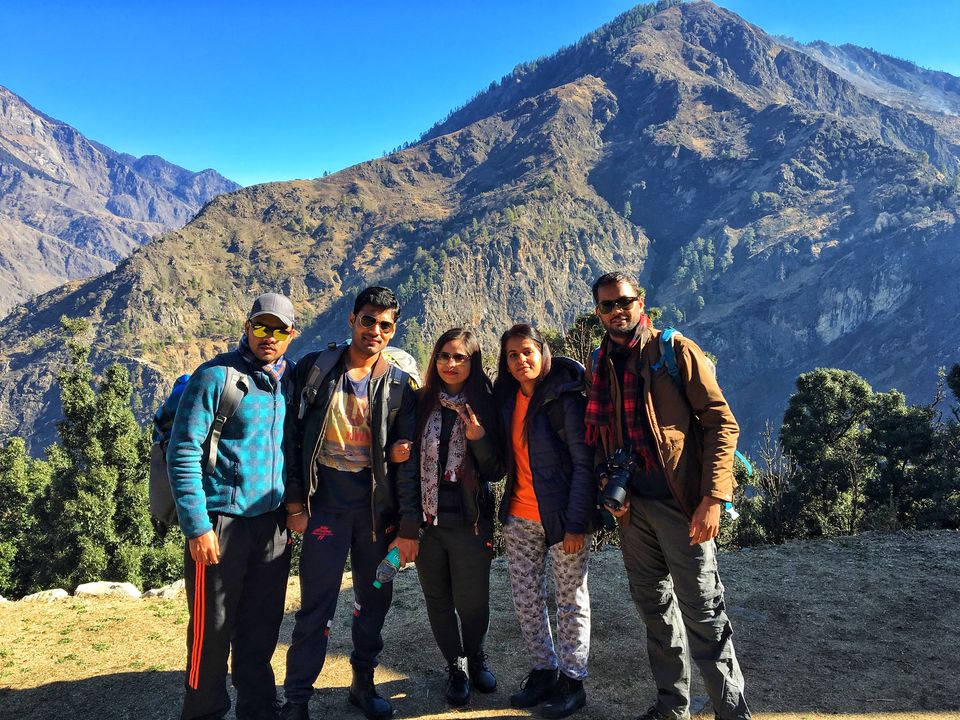 Day 2: Juda ka Talaab - Base camp
It was a sunny day with clear sky and the weather was just right to begin our trek. We begun from Sankri (6400 ft) and headed to Juda Ka Talaab (9100 ft) which was a good altitude gain.
The trail from Sankri to Juda Ka Talab passes through the woods with tall,old and beautiful pine and oak trees with patches.
Juda ka Talaab is a semi frozen lake amidst gigantic mountains and dense forest.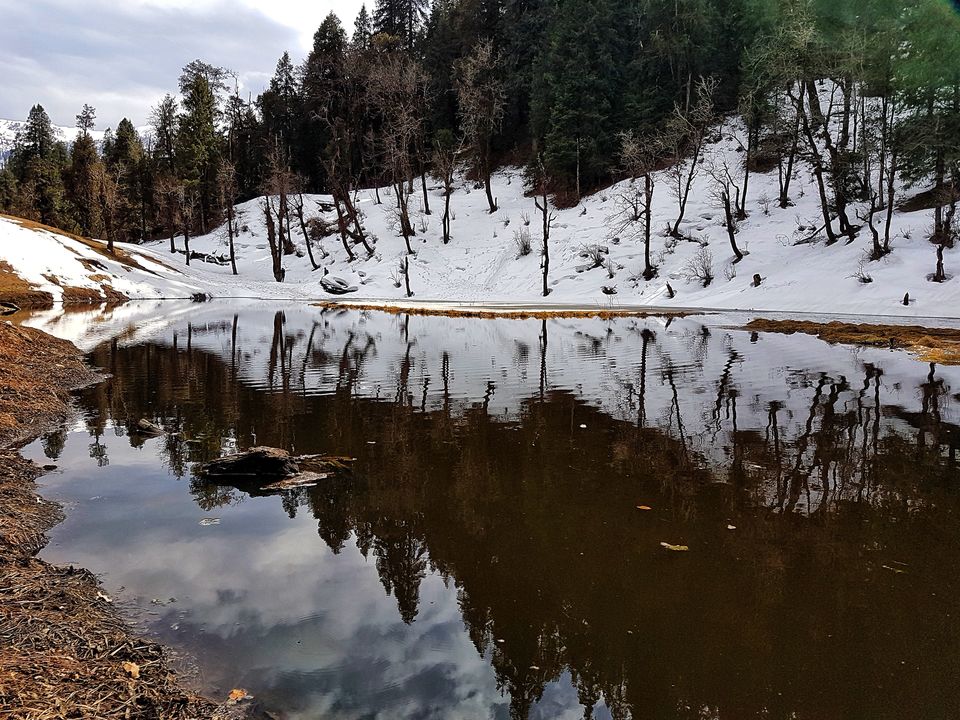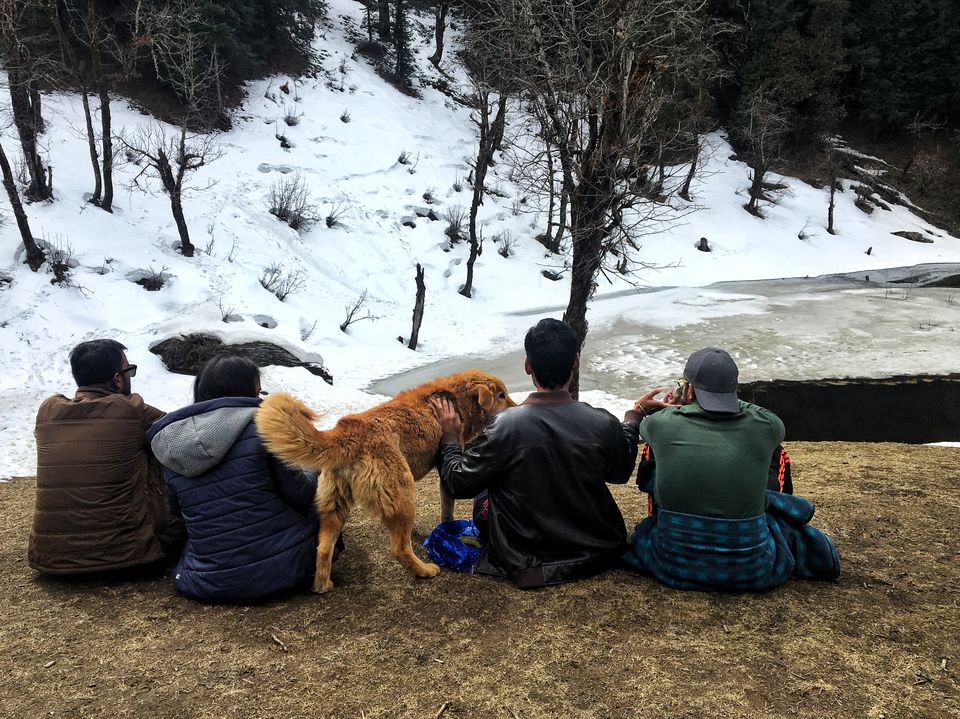 Day 3: Base camp - KK summit - Base camp
The next day we started early at the golden hour when the peaks were all lit like candles.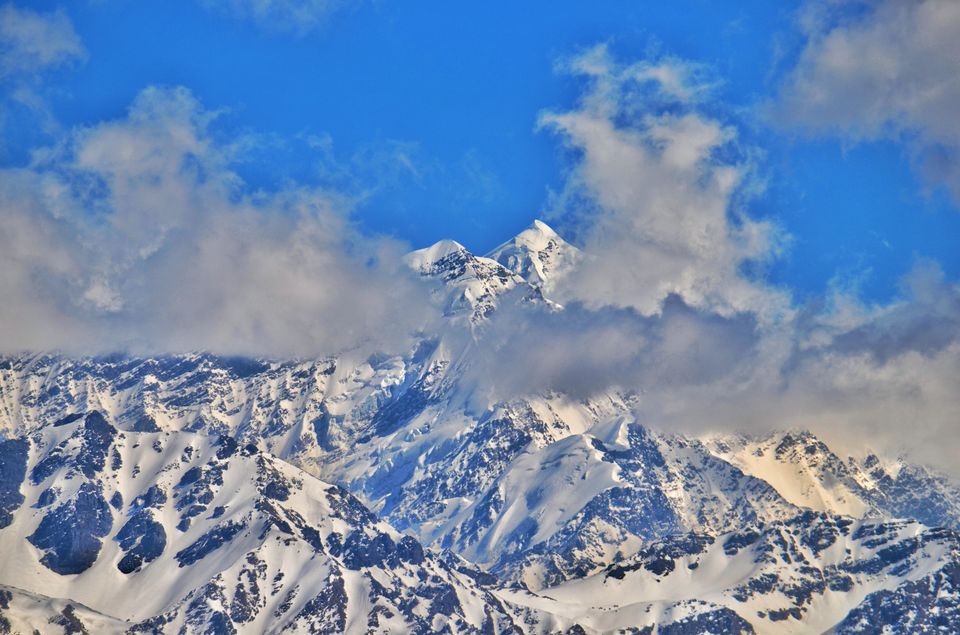 Day 4: Base Camp - Hargaon - Sankri - Dehradun- Delhi
The journey from KK base camp to Hargaon was more of a flat walk which took about 3 hours. It runs through dense pine and oak forests. We took a short break at Hargaon and soon continued with the descend back to Sankri.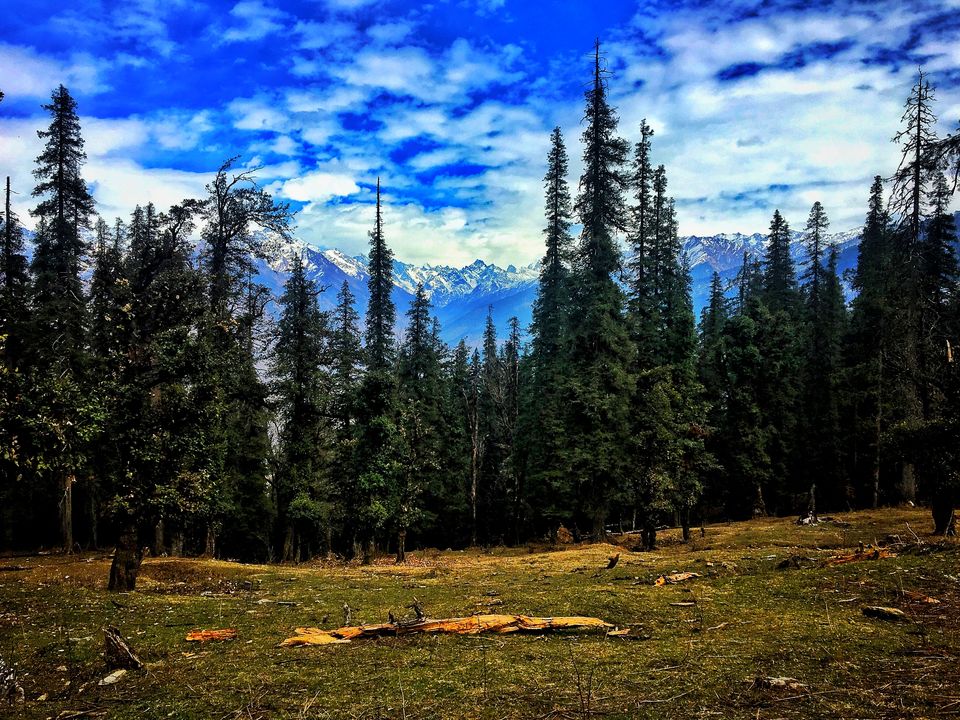 We reached KK Base camp at around 4 in the evening, and the beautiful Kedarkantha Peak was visible from there. Kedarkantha peak has a stone sheeted Shiva shrine at the peak.
We were far away from civilisation, sitting in the midst of forest, staring at the massive peaks, startled by the freshness, beauty of the mountains. The night was beautiful with glowing stars and shining planets ornamenting the moon. The temperature at night dropped to -10°.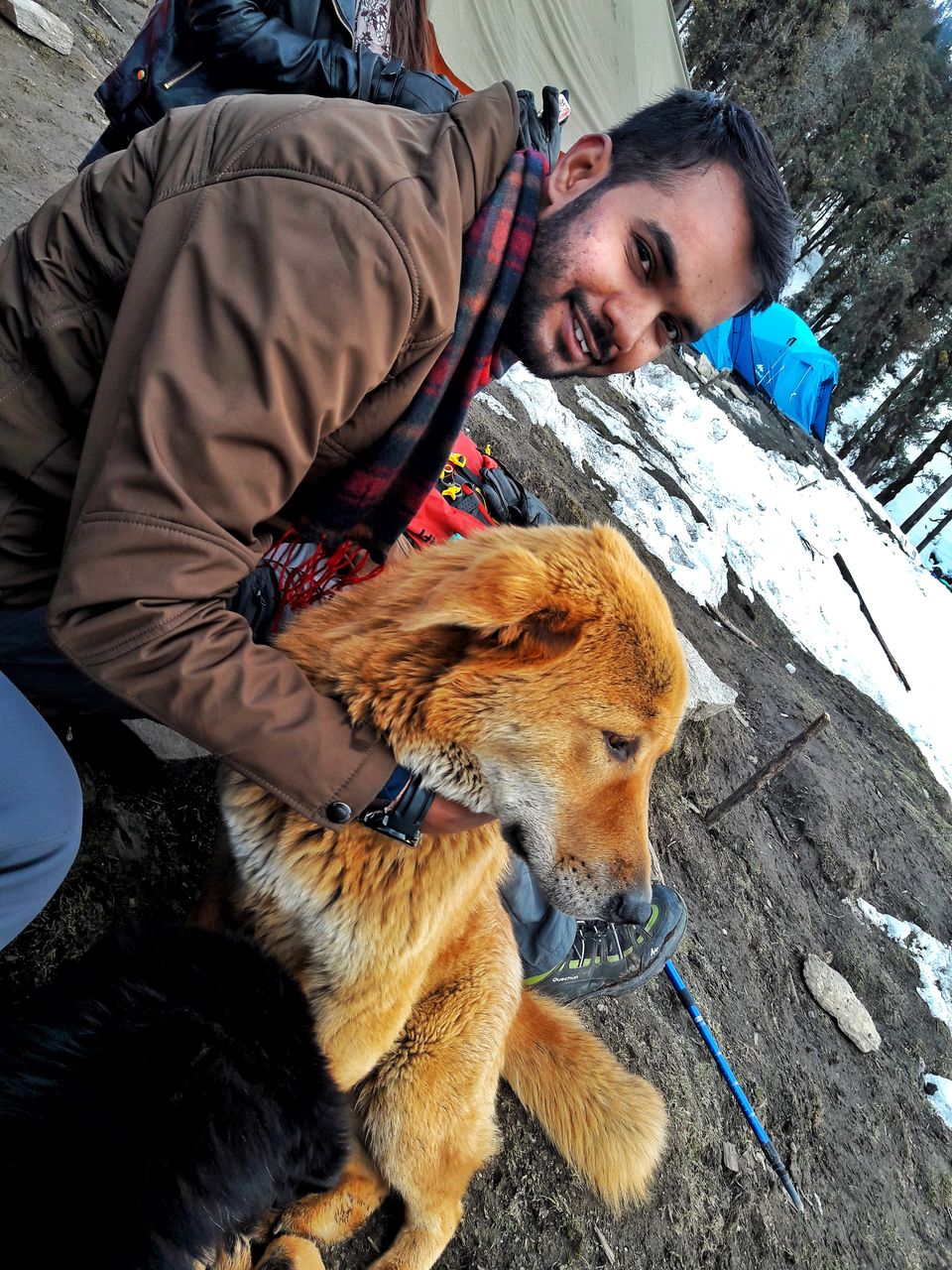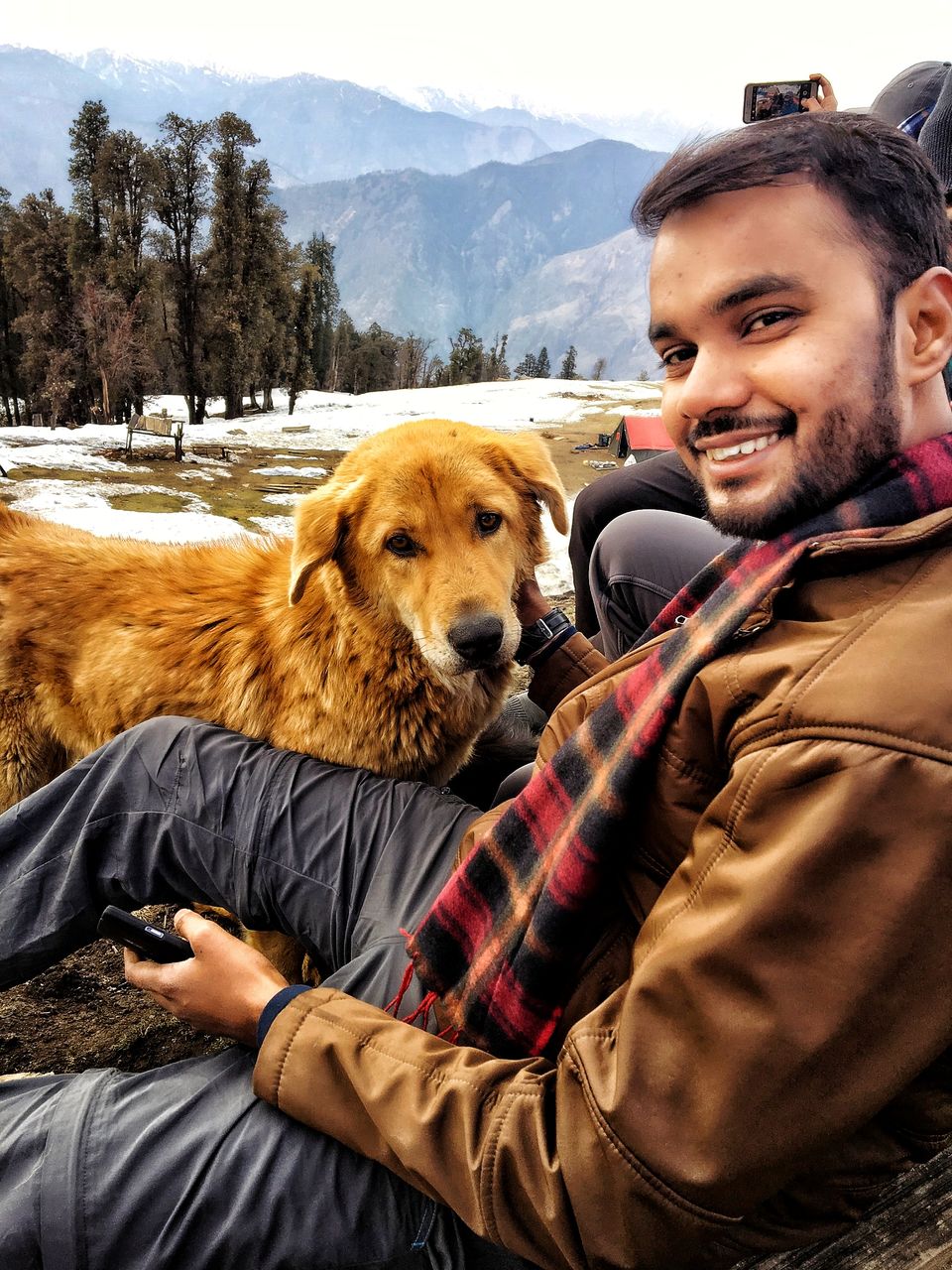 This lake is connected to another lake down at the village. The locals believe that this connection keeps them tied to the mountain. 'Juda Ka Talaab' as they call it.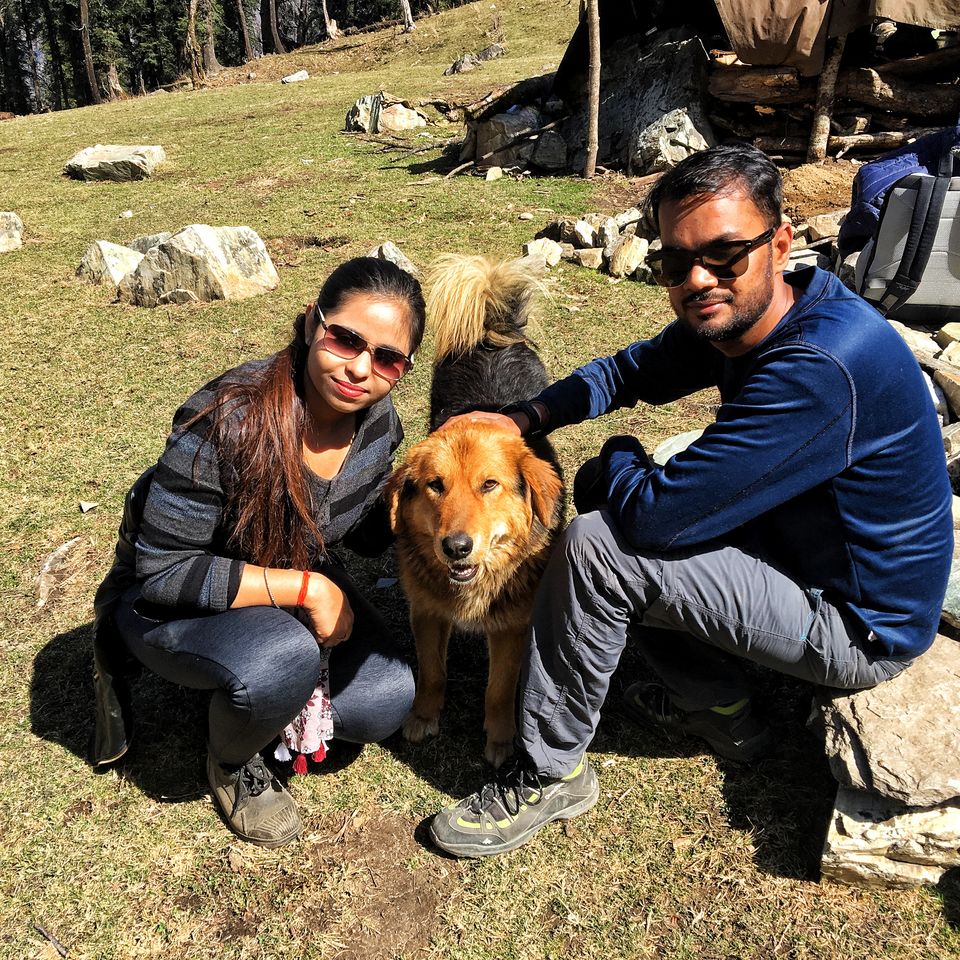 Soon, we were all set and ready to start our trek to Kedarkantha Base camp at an altitude of 10900 feet. As we kept moving, we could get clear views of various peaks and one of them was Swargarohini Peak. Swargarohini derives it names from the legends associated with that it peaks forms the path to heaven that was followed by Pandavas, but only one pandava, Yudhishthira, and a dog had reached heaven.
The climb was partially steep, mostly slippery but absolutely beautiful.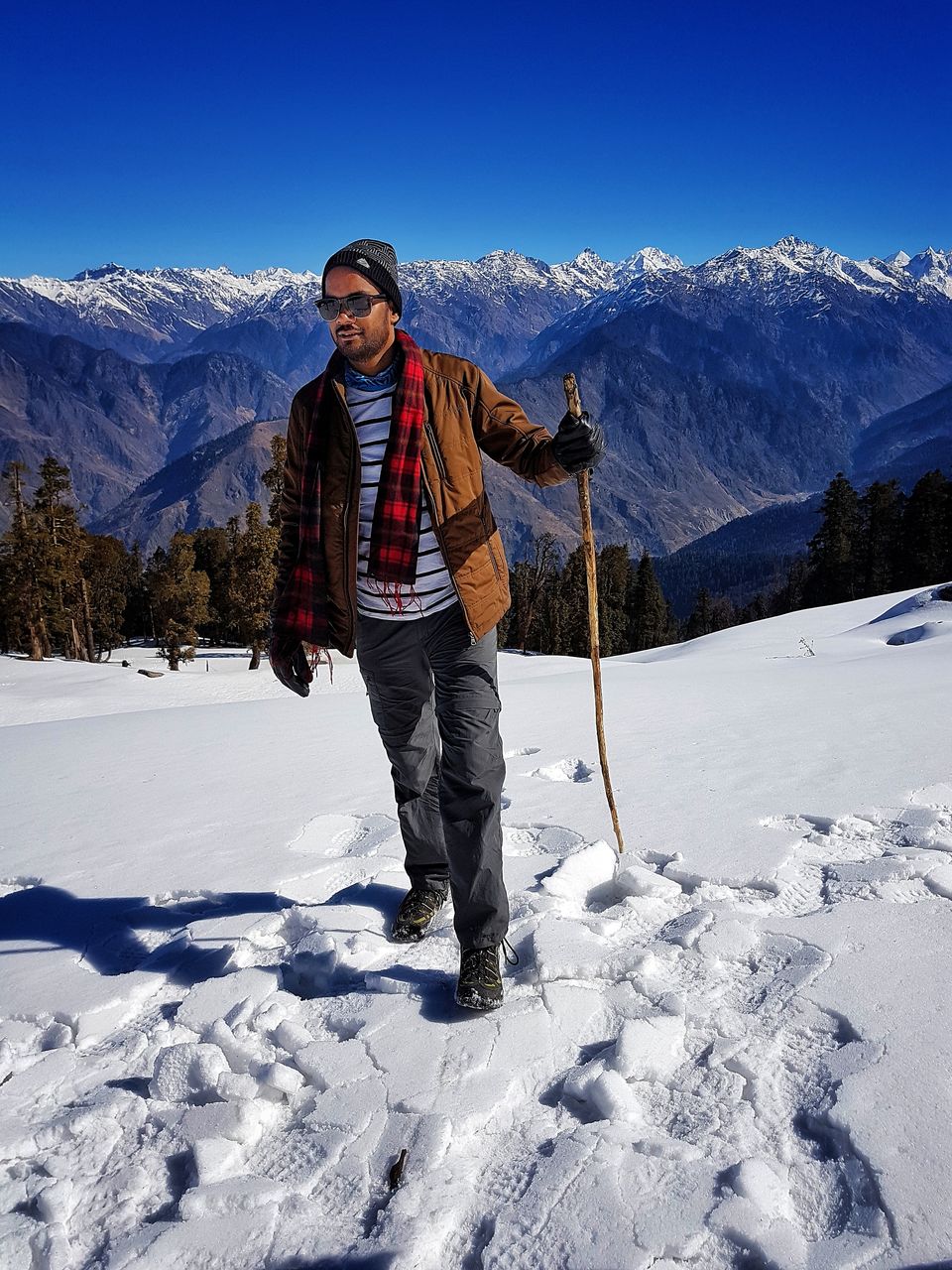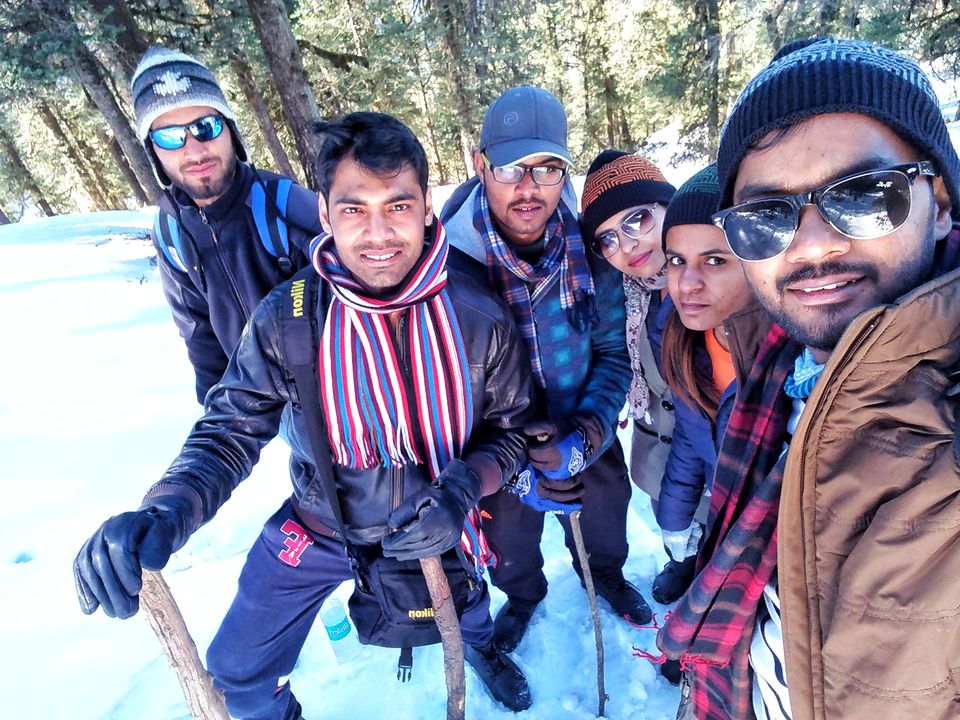 Walking on snow is a very engaging process, you need to be careful about each of your next step such that you don't place it on hard and frozen snow and slip. Contrarily with every step on the soft snow you have to push your way forward while the snow tries to grab you by your feet. With every step on snow you can actually sense the formation of your boots' tread impression on it. The trail from Juda ka talaab to base camp was confirming to such a description.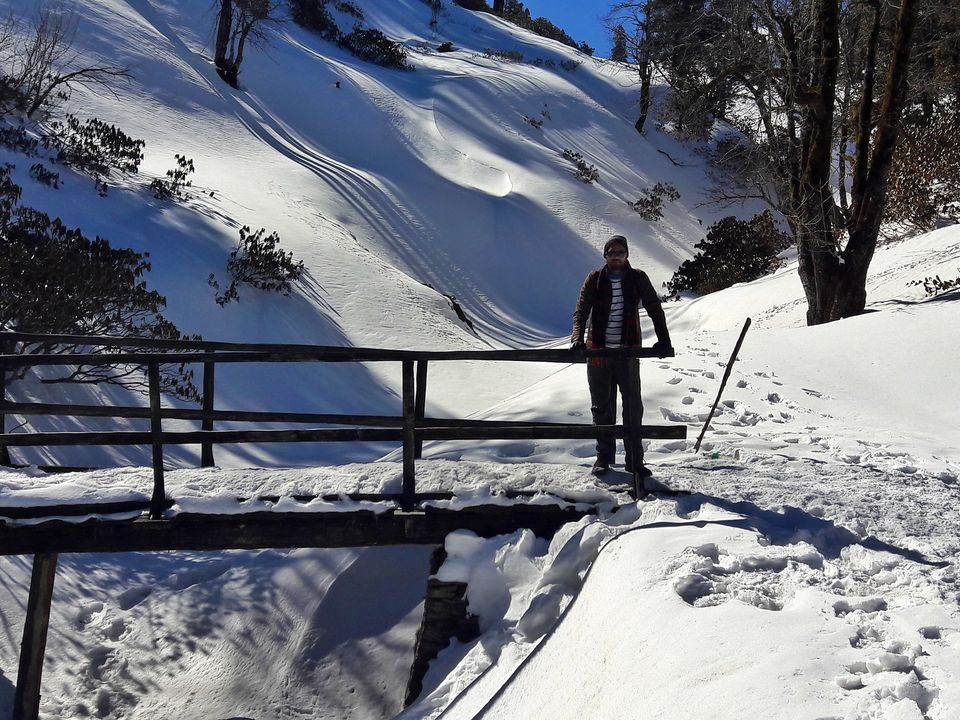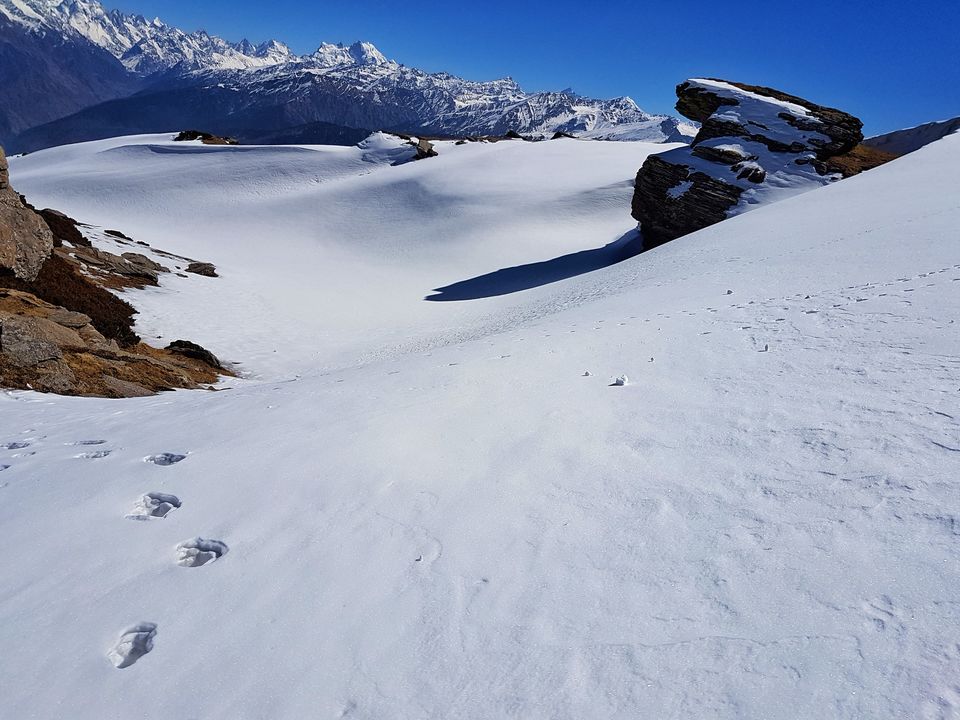 The trail to summit was mostly icy and surrounded by knee deep of snow. We could see the summit in front of our eyes but what was weird is that with every step we took towards the summit, it kept on going far away and felt the distance only went on increasing instead of reducing. The peak is not where the incline stops and it seems you are on top, it is two more hours ahead of that.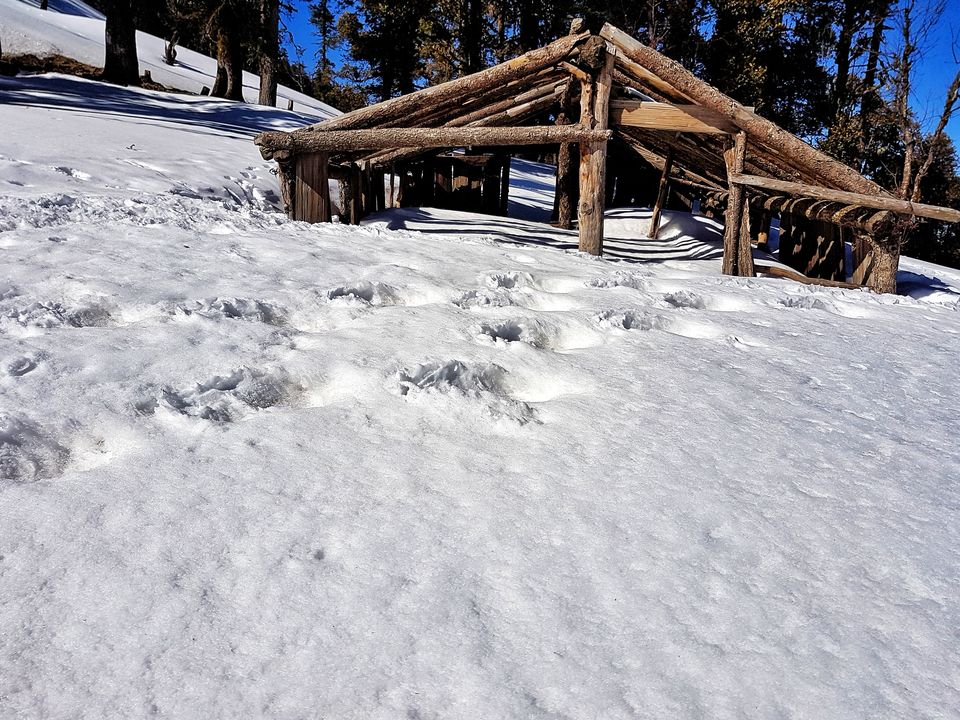 The trail from there gets quite tricky since there are no definite trail markings and one has to walk along the edge of the mountain, any slipped step could lead you to abyss below.
Finally we were at the summit, on the peak of Kedarkantha. Being there was enigma. I felt very proud for being on top of the world, yet being humbled by the grandness of the place I was at.
That moment, being at the top, was priceless…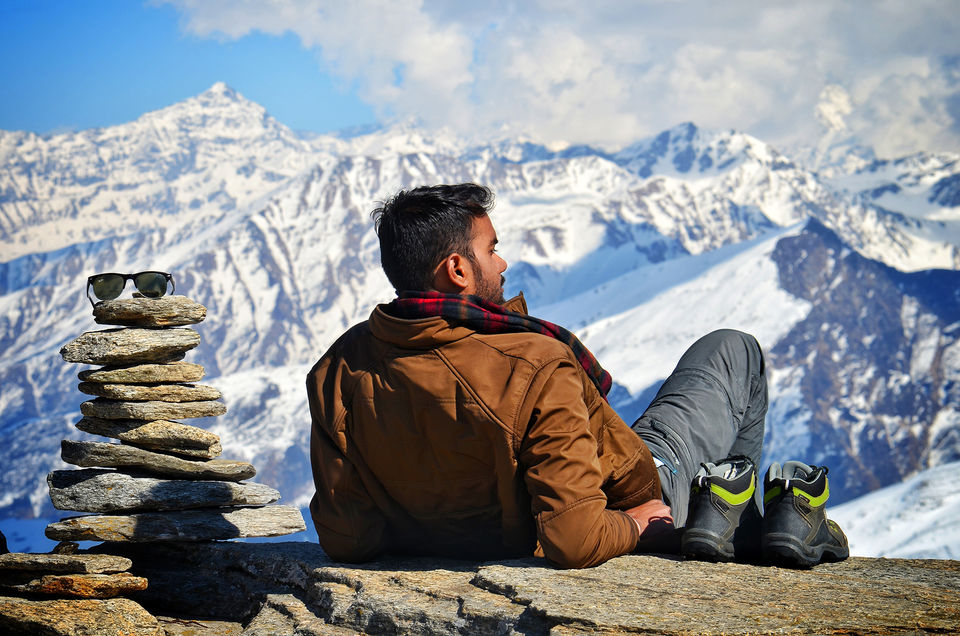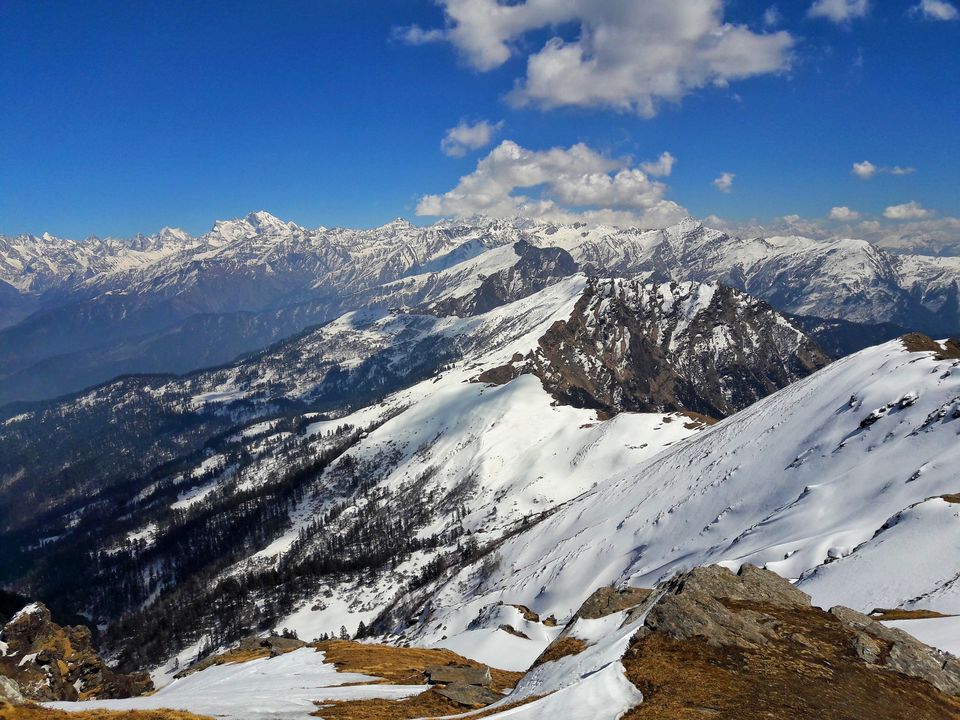 The summit offered a stunning 360° view of the Himalayan ranges. One can see Nanda Ghunti, Swargarohini, Kalanag, Bandarpunch mountains, Rupin valley, Har ki Dun valley.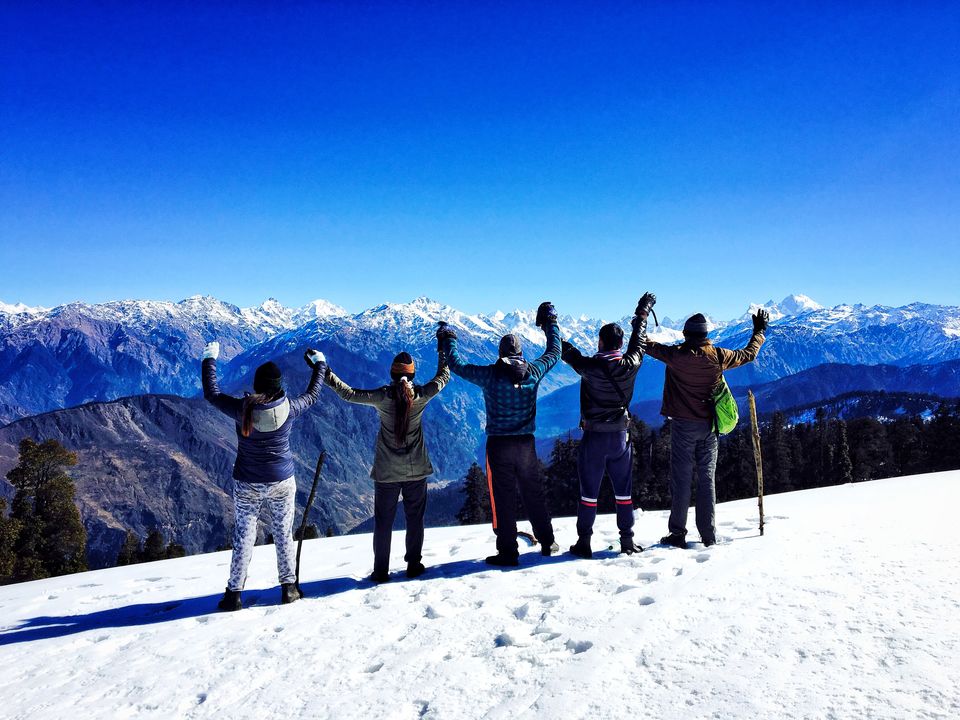 On our way back to base camp we had too much fun in the snow. We sledged down the trail on our bums, walked in almost waist deep of snow. Descending was not that easy considering the hardened snow and slippery surface of the trail. But after almost 3 hours of our descend of wary steps, multiple falls and many slides down the trail we reached base camp at around 3:00 PM.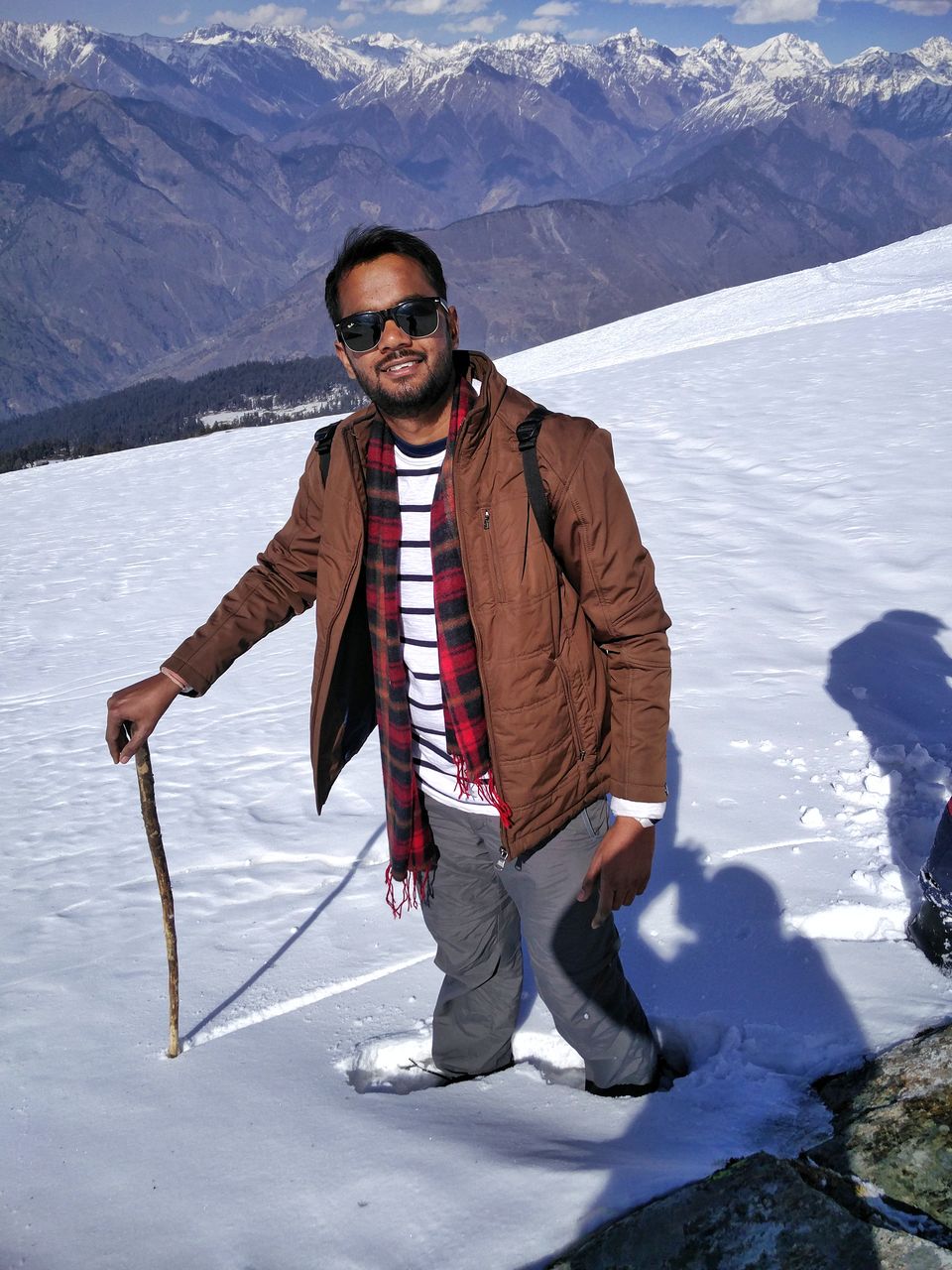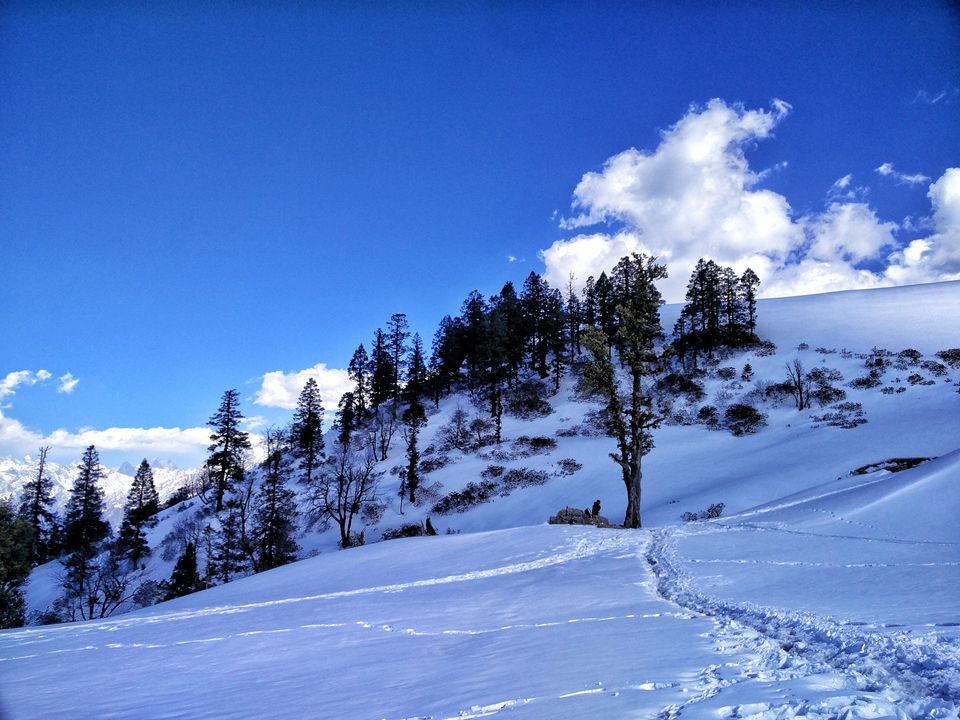 We reached Sankri in the evening, freshened up, had our lunch and took a cab for Dehradun.
After a quick dinner in Dehradun, we took our bus back to Delhi with many memories and happy moments that would remain with me wherever I am.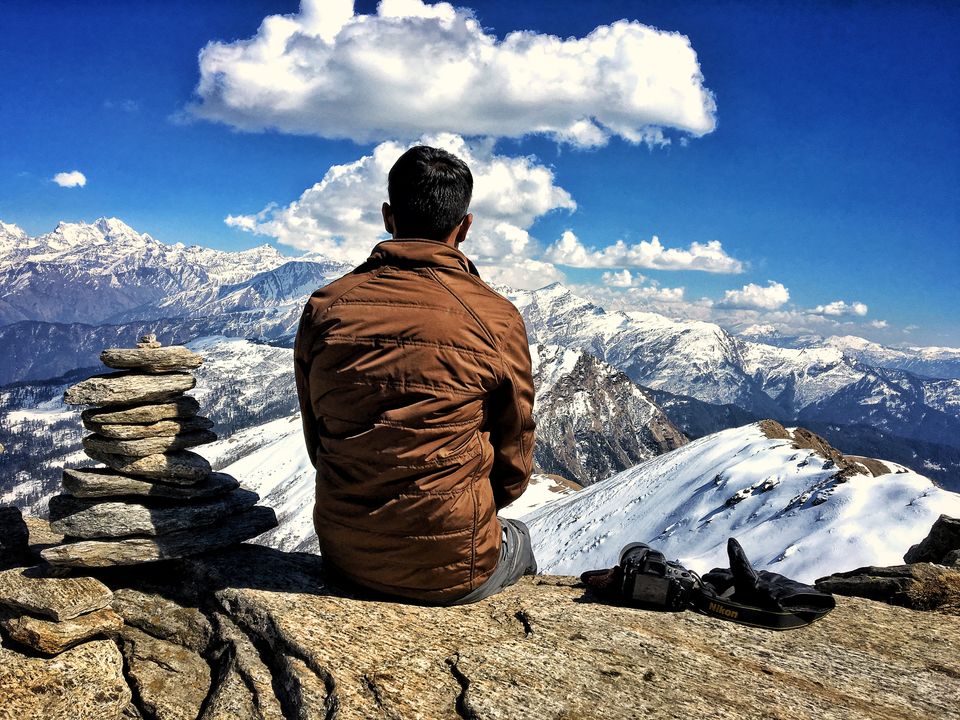 Frequent searches leading to this page:-
kedarkantha to kedarnath distance, kedarkantha and kedarnath, kedarkantha temple, kedarkantha and kedarnath, kedarkantha history in hindi