Rivers and mountains have very strong connection. How glorious a greeting river gives to mountains! I always wonder while traveling to Uttarakhand, when I see sacred rivers cutting down its way in between Himalayas and travelling thousands of kilometres. So, I thought of penning down my experience about the major rivers, peaks and glaciers of Garhwal region en route to places like Kedarnath, Tungnath and Badrinath.
Rishikesh lies at the foothills of Himalayas and after that point Ganga river flats and flows till Gangasagar in West Bengal. Its 6.30 in the morning when we reached Rishikesh, the yoga capital of the world. Millions of people across the globe come and stay for 3-4 months to learn and practice Yoga. Ganga aarti at sunset draws attention of lot of people and it is beautiful to see floating diyas (lamps) on water. That's my moment, when I sit and keep watching those diyas till edge. And I do it every time I visit Rishikesh.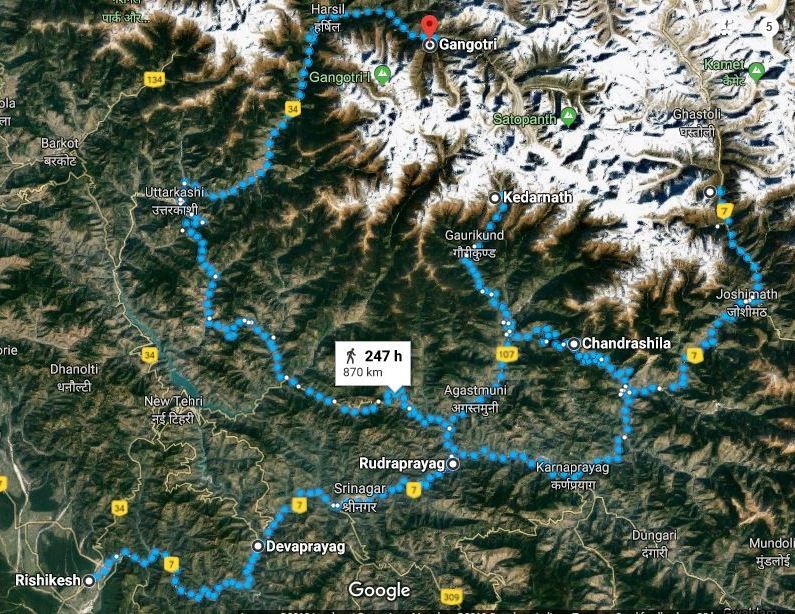 Few miles from Rishikesh (towards Himalayas), you will be driving along the river. The view was so mesmerizing that it takes to out of this world and really you don't want to come back. The rapids, valleys and the roads tell their own stories. Stories of standing tall even after horrible calamities of 2013. Most of the valleys are lush green but, as it was spring, some of the mountains were covered with new purple carpet.
Devprayag
Devprayag, our first halt at distance of 75 kms from Rishikesh, where Bhagirathi and Alaknanda rivers meet and is known as Ganga after this point. This is one and last of panch prayag (five holy confluences) of Uttarakhand. This place is surrounded by 3 peaks, named Giddhanchal, Dashrathanchal, and Narsinghancal Parvat. Also, this town is the seat of Priests from Badrinath dham.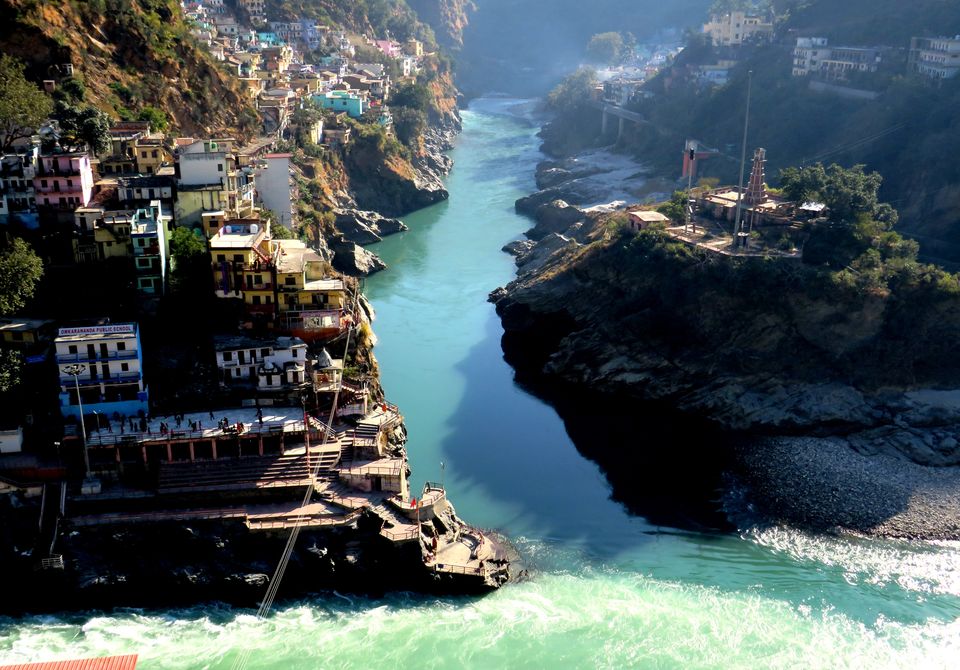 Bhagirathi river is coming from Gangotri glacier, whereas Alaknanda comes from Badrinath. So, We were heading to Tungnath (towards Kedarnath and Badrinath) so we crossed the bridge and started driving along with Alaknanda river. People who are heading towards Gangotri will take left from this point and enjoy the journey with Bhagirathi till 255 kms. Alaknanda river looked extreme silent as if it was not flowing at all. The water was dark green and crystal clear. Moreover, the banks of river have the finest white sand in the region.
Rudraprayag
Rudraprayag, named after Lord Shiva is situated at the holy confluence of Mandakini and Alaknanda rivers. The entire region is blessed with beautiful natural scenery. Devprayag to Rudraprayag distance is 68 kms and river is named as Alaknanda between these two points.
Mandakini is coming from glacier near Kedarnath and Alaknanda comes from Badrinath. So, this place separates routes of Kedarnath and Badrinath dham. We took left and followed Mandakini river. This is the longest route in India where you will be driving along with the river.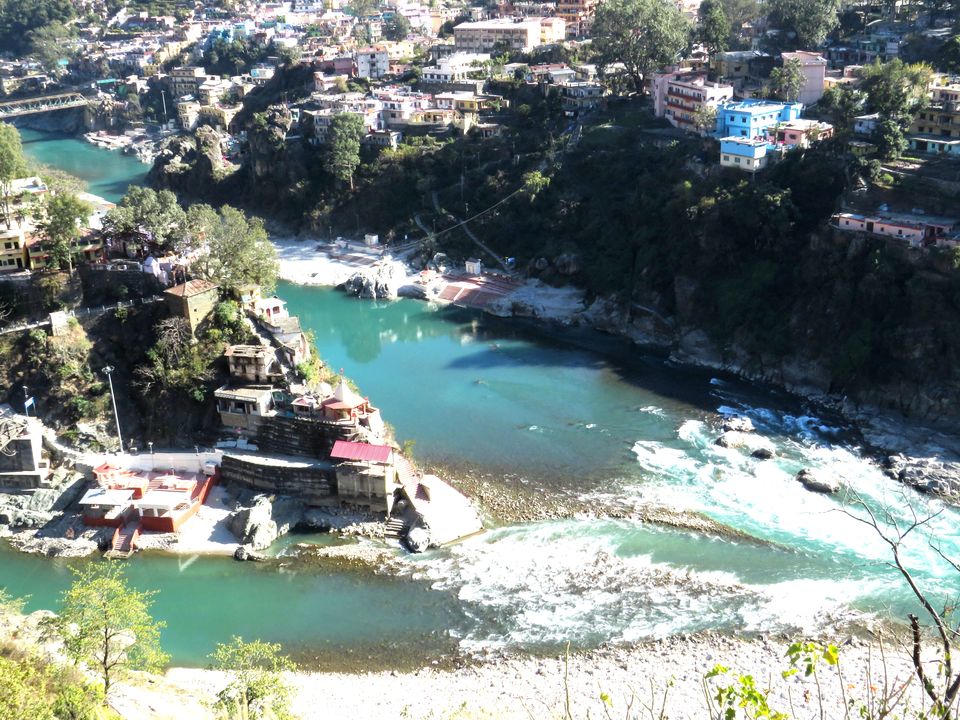 Mandakini river has a good flow and looks mesmerizing when splashes on stone. As if its saying something. But, need patience to see for hours and concentrate and I didn't had both. After driving for an hour, I got first glimpse of snow clad mountains and excitement to gaze at them kept on increasing. These were the first look of Himalayan peaks, which you can see from Kedarnath and Tungnath, but with different angles. And they look great from any places you see from.
Kund
It was 1.30 pm when we reached Kund, which divides route of Kedarnath and Chopta. We left Mandakini and said goodbye to thank it for the all day company. Kund to Chopta distance is 45 kms and you will drive through lush green valley all the way. The road is well constructed and the best part is, hardly any vehicle will cross you. We were enjoying the view of Kedarnath Peak, with soft music and little chit chat with our driver.
Tungnath - Chandrashila
Finally, we reached Chopta from where we had to start Tungnath-Chandrashila trek. Tungnath is the world's highest Lord Shiva temple at an altitude of 12073 ft and Chandrashila summit is further one hour trek steep trek at height of 13500 ft. You will get the best views of the Himalayas, including Kedar Peak, Chaukhamba peaks, Nandadevi, Trisul, Bandarpunch and few more. Also, this is the place which divides valley of Kedarnath and Badrinath.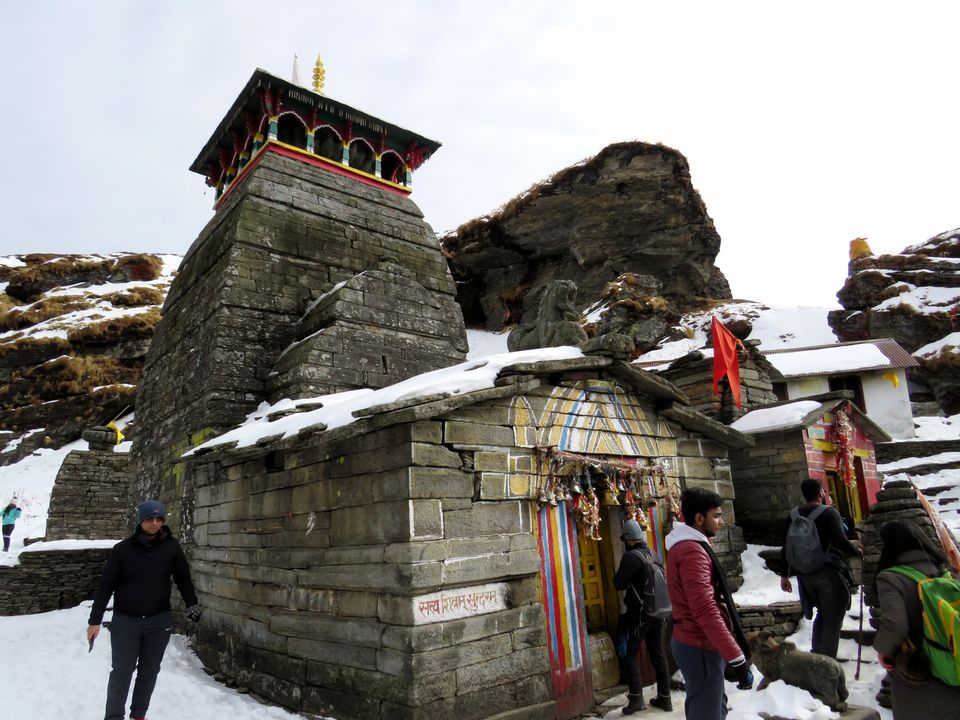 Himalayan Peaks
Kedardome peak (6940 m) : This is just above the Kedarnath temple and can be viewed from Guptkashi, Chopta, Tungnath also. From every angle it looks great and magnificent. It becomes more attractive when last rays of sun fall on the peak.
Meru(6660 m), Sumeru (6350 m) & KarchKund (6632 m) This group of peaks lie in Garhwal region and is located to left of Mandani peak.
Mandani peak (6190 m) : This is part of Kedarnath range, but looks glorious from Chopta valley.
Chaukhambha - As the name suggests four pillars. This massive mountain lies in Gangotri group of Garhwal Himalayan peaks. It has got four summits at different elevations
Chaukhambha I - 7,138 m Chaukhambha II - 7,070 m Chaukhambha III - 6,995 m Chaukhambha IV - 6,854 m
Source of Alaknanda
The origin of Alaknanda is at the foot of confluences of two glaciers Satopanth and Bhagirath Kharak. If you want to look at the origin, then trek begins from Mana ie the last village of India and is near Badrinath.
These glaciers are very nearby at distance of 1.5 kms. But this is high altitude Himalayan trek of 24 kms.
Source of Mandakini
Mandakini river originates from Chorabari glacier which is near Kedarnath temple. This lies at an altitude of 3900 m from sea level. The trek distance from Kedarnath to Chorabari is 4 kms only and is pretty easy to access. But if you consider your trek from Gaurikund, then total length would be 22 kms.
Source of Bhagirathi (Ganga)
Gangotri and Gomukh - As per the very popular legend, Gangotri is the place where Goddess Ganga came down from heaven to earth. And Lord Shiva released the river from matted locks of his hair. The river is named as Bhagirathi and known by Ganga after Devprayag when it meets Alaknanda.
The temple was built in 18th century by Gorkha commander and is said to be seat of Goddess Ganga which is one of char dham of Uttarakhand. The river originates from Gomukh or Gangotri glacier at an elevation of 4255m. There is a trek of 18 kms to reach Gomukh. Here is the trek path

Gangotri -(9 kms)-Chirbasa (5 kms) Bhojwasa - (4 kms) - Gomukh
I would to hear from you on this post, please drop in comment to let me know. There are lot of hidden places to explore on Himalayas which I will be covering in future posts.
Till then, stay fit and happy travelling!
For more such posts on beautiful places of Uttarakhand, please visit my personal blog