Tethys Ski Resort, Narkanda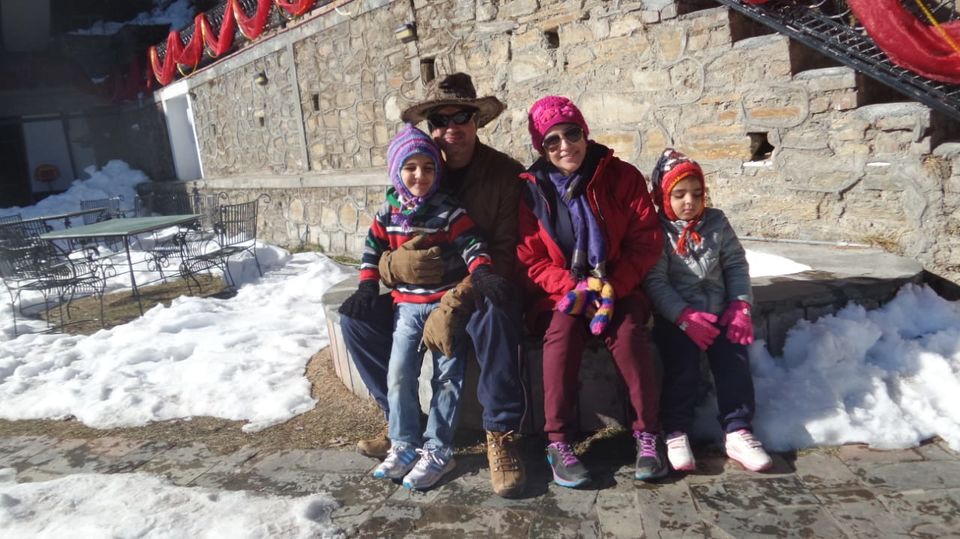 After a phenomenal Christmas party the previous evening, on the morning of 26 December we decided to try our hand at skiing. The slopes are about a km off the main Narkanda town, and about 3Kms from the Tethys ski Resort. Similar to the facilities at Gulmarg and Auli, Narkanda too has a decently organised skiing scene. From a beginners perspective, you get serviceable equipment on hire, along with pretty adept instructors, and all at a reasonable price. The beginners slope itself is a tad smaller than Gulmar, but when you don't know how to ski, I guess one slope is as good (or bad) as another!
We quickly put on the skis provided, grabbed our ski poles and started plodding uphill as the instructor had told us to. Except Avantika. She'd put on her skis, grabbed the poles, and refused to move an inch. The way she saw it, the effort she'd put in thus far was sufficient to get a picture taken, and there was no merit whatsoever in her trekking up the mountain, only to come down again in 10 seconds. Ritika and I told her that apparently it's great fun to ski, let alone the sense of accomplishment she'd get once she figured out how to do it. Just then we heard a shriek and loud laughter behind us - someone had taken a spill while skiing down, and landed on her posterior, prompting her companions to break into peals of laughter. That was enough for Avantika to completely shut her mind to skiing. So far it was a suspicion that she might fall, which was keeping her desire to ski at bay - now that suspicion was confirmed, and there was no way she was going to listen. Aditya and Behbe added their two bits, but she wouldn't budge.
All set to ski down the Narkanda mountains!
Leaving her behind with Behbe, we plodded up and tried our hand at skiing. Needless to add, we had far more success walking up than skiing down, and by 'we' I mean Ritika and I. Aditya waltzed up the mountain in double time, and came zipping down on his skis like he was born to it! At some point Ritika and I got the hang of it too, but nowhere close to the proficiency with which Addy was doing it. Must be something to do with the lower centre of gravity, or that children naturally have better balance while sliding down slopes! Irrespective, we spent a superb hour or so trudging up and skiing down the slope. Once we were done, we realised Avantika had also made fruitful use of the hour, having got Behbe to do a photo - shoot of her. True to the Indian hill station / mountain retreat tradition, there was a gent selling piping hot maggi in the waiting area, and everyone grabbed a plate of the much needed 'nourishment' (getting your picture taken is quite taxing and tiring - ask Avantika if you don't believe me), and we headed back to Tethys for some lunch and siesta.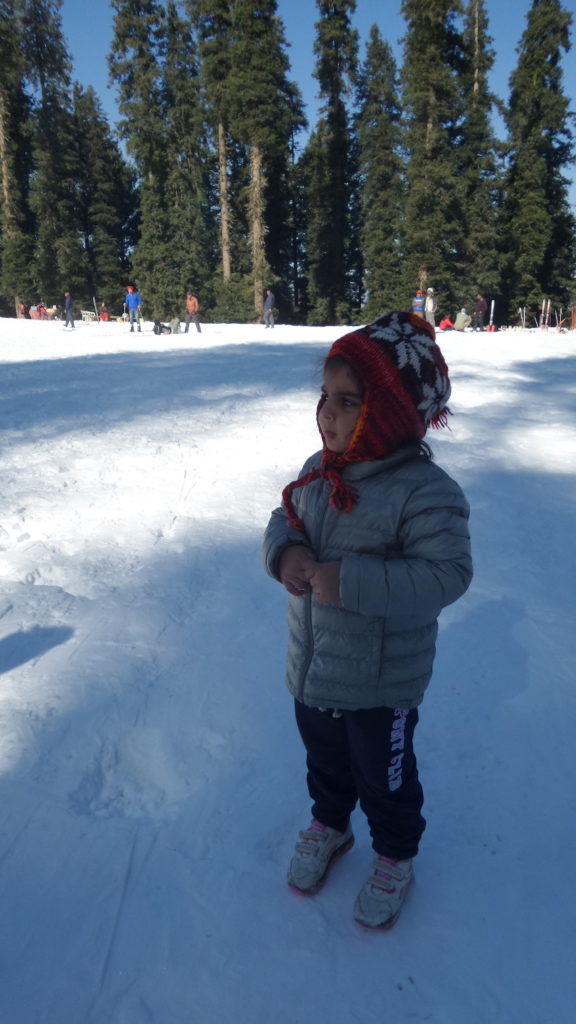 Why ski, when you can dress up & get pics taken!
As we got onto the slope leading to the resort (the same place where we'd gone into a skid on the night we arrived at the hotel), we found an Innova parked bang down the centre of the road, and a man relieving himself on the mountainside. Considering we were barely a kilometre from the resort, this was a little weird. Irrespective, I stopped the car and we waited patiently for him to return. Strangely, once he was done, he walked up to our car instead of his - 'My car isn't moving' he said. Apparently, there was a 10′ x 50′ patch of black ice, and his car wasn't moving beyond it. The wheels would just spin freely. I had an idea, and offered to try. I backed up my car halfway down the path, and in neutral allowed his car to roll down too, till it reached a patch without any ice. From there I asked him to race up as fast as he could - it helped that the road wasn't curving on this stretch, and was a straight path up a 40 degree incline - hoping the momentum would carry his vehicle past the ice patch. Interestingly, the Innova would zip till about halfway through the ice patch, before the wheels lost all traction and started spinning freely! We both tried this a couple of times, with the same result. These antics of ours had already cost us 30 minutes, and I asked him to move his car aside into a crevice, so at least we could pass, and bring some help back from the resort. The Yeti comfortably navigated through the patch of ice without so much as a murmur, and we once again thanked our stars for having a AWD vehicle! A few 100 meters, and we passed a young lady walking down with the resort manager. It was the wife of the guy stuck below. The manager seemed quite amused with the situation, and told us this happens routinely with 2 wheel drive cars, and he'd have them up in a jiffy. We headed back, and post lunch caught up on some much needed sleep.
Later that evening, we met the same couple again. As it turned out, the resort manager had driven the Innova INTO a bank of snow when he reached the patch with the black ice. Apparently cars get sufficient traction on snow (so long as it isn't too deep), and since the manager knew the terrain, he just drove the car down the side of the hill, which was packed with snow, crossed the patch of black ice, and got back on the road to bring it back. Pretty cool!
We spent the next couple of days skiing in the mornings and trekking around the locality in the evenings. On our second morning, as we were walking back from the skiing slopes, 2 boys aged around 13 approached us, offering to tow the kids back to where our cars were parked. It turned out they were both students of a school in Shimla, back home on their winter break. Both, called Mahesh & Utpal (hope I remember the names correctly!), were quite handy with a ski, and aspired to represent India at the Olympics! They spent their vacations teaching tourists how to ski or towing little kids on their sled, saving the money they earned to buy better equipment (most of which they purchased second - hand). One of their fathers ran a dhaba in the town, and the other a grocery store. We were super - impressed with their poise, confident body - language and strong sense of pride. Their self - belief, that they'd one day represent India at the winter Olympics was a lesson in backing yourself, and working hard to achieve your goals. When I offered to help them pull the sled, they politely refused, and seemed to be enjoying it as much as the two brats sitting on the sled seemed to be enjoying the experience! I've never felt happier paying for a service than I did paying these two entrepreneurs!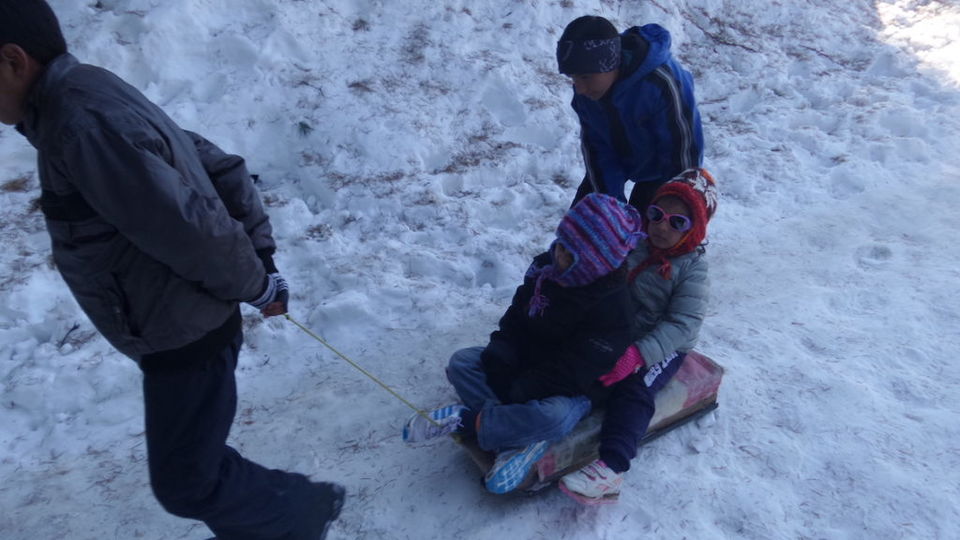 India's future winter Olympians earn their way to glory!
With no guides or plan, exploring the region was actually fun - having no agenda in itself is quite relaxing! On one of our exploratory drives, we stumbled across a decently sized lake, all frozen over. A board announced that this is the Tani Jubbar lake. There was no one around save us. I'm yet to come across a quieter or more peaceful place. One end of the lake sported the ubiquitous temple, this one dedicated to Nag Devta. This is an artificial rain - fed lake, surrounded by a pine forest on all sides. The lake itself is in a valley or depression of sorts, and it is but natural that the rain water from the forests surrounding it would flow into the reservoir. Wish we had more such lakes! The only habitation in the immediate vicinity was a small homestay / bungalow, called the Orchid. We walked up to the gate and asked if they had a restaurant. They did, but unfortunately only served resident guests (which was a problem with most resorts in the area. I guess raw material is procured keeping in mind the existing occupancy only, hence their inability to serve walk ins).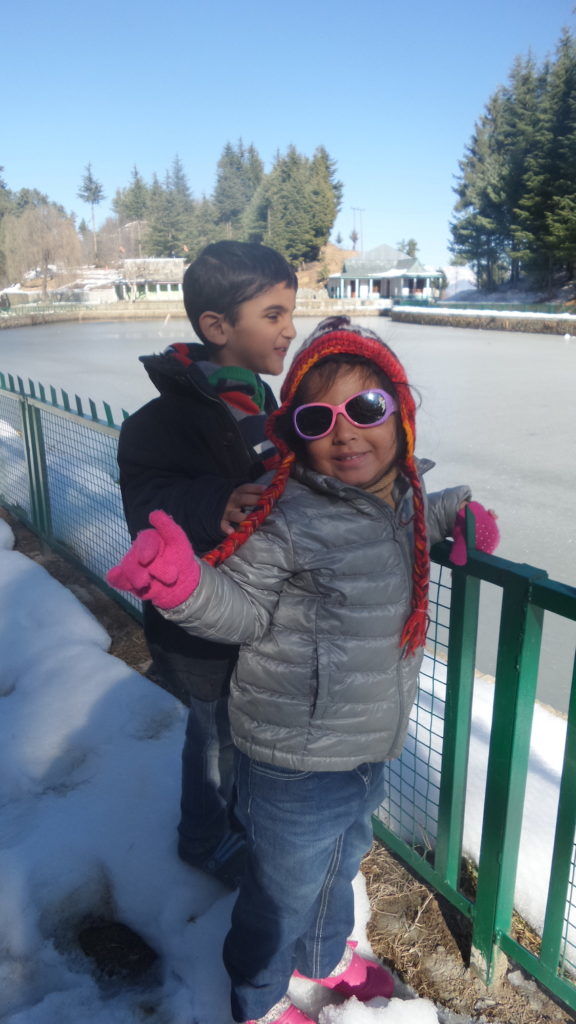 The frozen Tani Jubba lake in all it's glory
The nights would typically be spent at the bonfire which the Tethys management was kind enough to build every evening, enjoying a drink or two with a snack served up by the chef, followed by dinner. All in all, we'd spent an idyllic 4 days at the Tethys Ski resort, and looked forward to the next leg of our journey, as we headed back towards Mumbai and civilisation (or the Urban Indian version of it!)