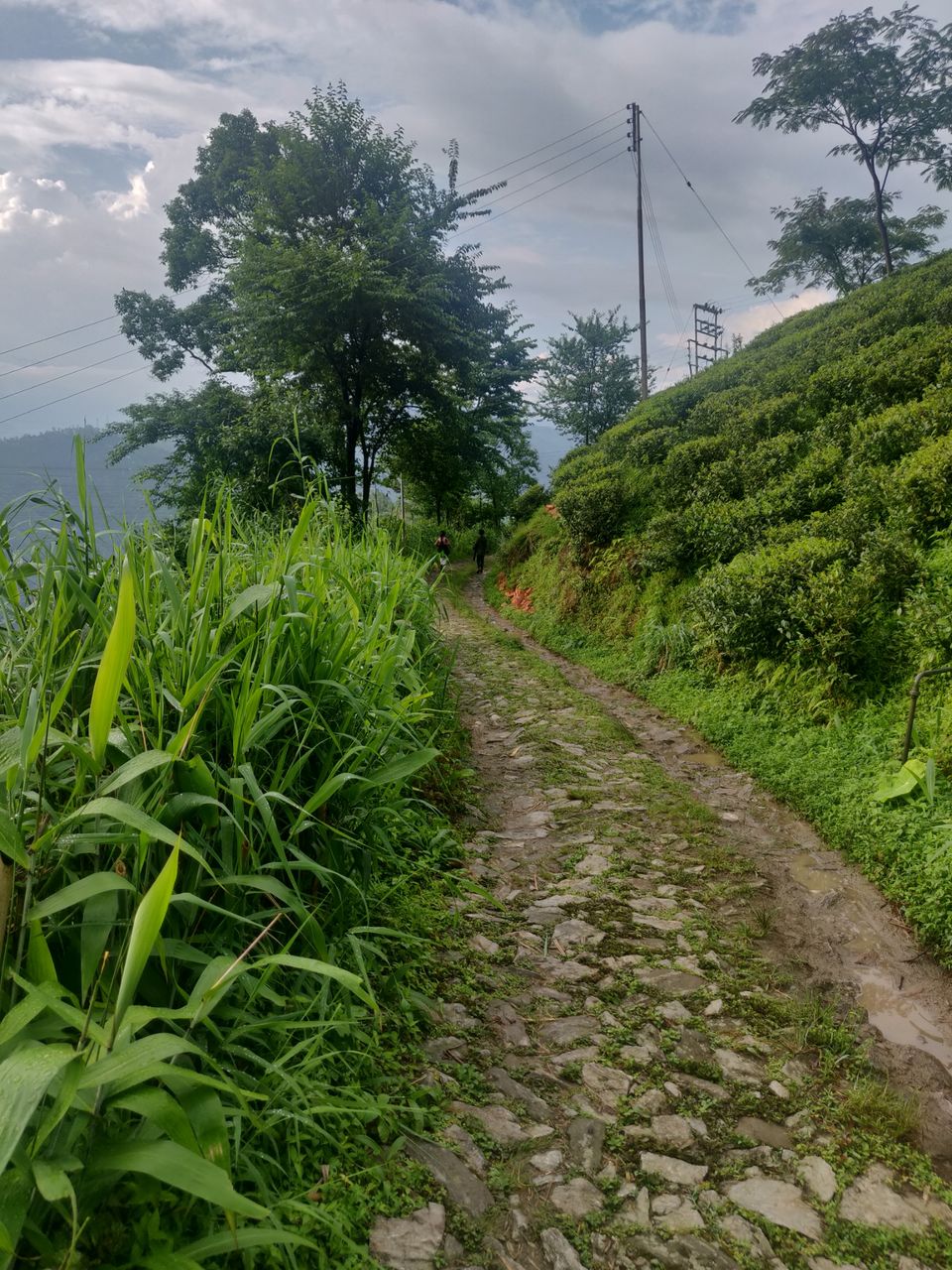 Day 6 - Dec 25, Trekking through & Exploring Narkanda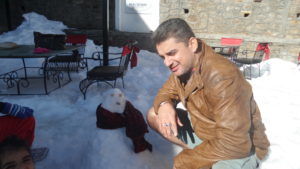 Perched at an altitude of over 8500 feet above sea level, Narkanda is a different world altogether from Shimla. Where Shimla is busy, overcrowded and bursting at the seams, Narkanda is serene, quiet and replete with beautiful virigin mountains and forests. We woke the next morning to a view of endless fir and birch forests on the mountainsides, stretching away as far as the eye could see from our bedroom windows. Blanketed with a layer of snow, it couldn't have looked prettier. After a hearty breakfast, we stepped out to explore the area. It was very cold, and the resort thermometer read 6 degrees C. An indication of how freezing it was is the fact that at breakfast, by the time we'd toast bread at the buffet counter and bring it to our table, it'd turn cold!
All bundled up, we stepped onto the resort porch, and the kids proclaimed that they wished to make a snowman (watching all those cartoons on TV!), and without so much as a by your leave, plonked themselves onto the ground. I squatted next to them and proceeded to collect the snow fallen around to make a snowman. In about 3 minutes my fingers were freezing, and I had to shove my hands in my pockets to thaw them out again. After about 15 minutes of this I gave up - we'd anyway piled up enough snow to build a decent sized snowman, and Ritika and I decided to go exploring. With the children announcing that building a snowman was their present priority, we left them to it with instructions to Behbe to ensure that they didn't overdo it (last thing we'd want is one of them falling ill).
The excitement of children seeing snow for the first time ever
A short walk to our right brought us to the rolling mountains that were visible from our bedroom window. There was a winding path making it's way down to the valley, and we proceeded along it, the snow crunching under our boots. Thankfully we were both wearing ankle - length trekking boots, and the going was fairly easy. Pretty soon the path took a sharp incline, and we made our way along it, ending up at the Hatu Mata Temple. This is on top of the Hatu peak, and although barely a kilometre away from the resort, it took us nearly 30 minutes to ascend the 2500 feet difference in altitude to get to the temple! Depending on who you ask, this is a temple dedicated to Mandodari, the wife of Ravan or the Goddess Kaali or Draupadi, wife to the Pandavas. There seems to be a definite lack of consensus about the identity of the reigning deity here, save that she is 'Hatu Mata'. The only thing everyone seems to agree upon is the fact that a formation of rocks near the temple, that look like a stove, was used by the Pandavas for cooking during their exile! Maybe the temple was their home, and since Draupadi was incharge of the home, today it is a temple in her name. Or maybe not. I guess what matters is that the place is surrounded by a lush green virgin forest, that simply takes your breath away! The quaint wooden building of the temple looks like it's from another era altogether, which it probably is, with strong Buddhist influences to it.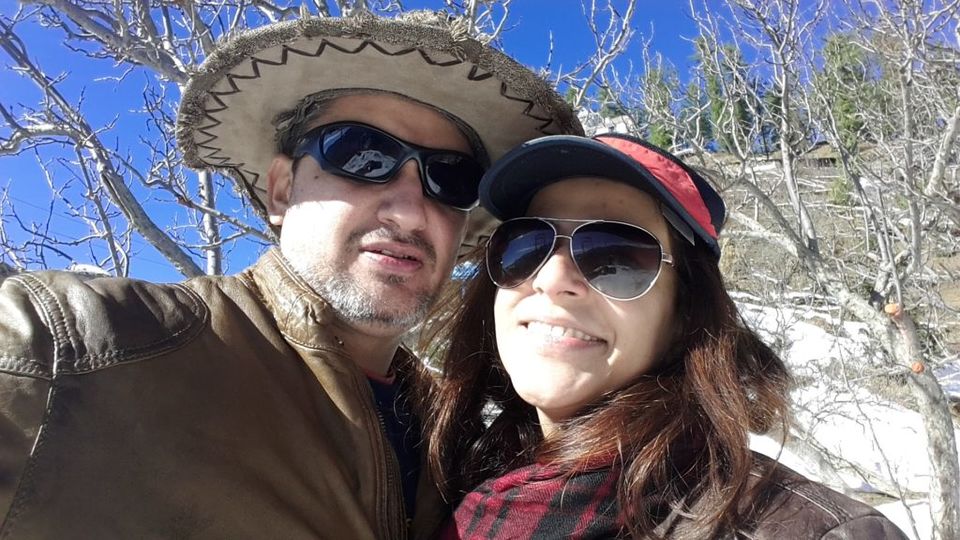 The mandatory selfie en route to Hatu Mata Temple
We continued on our trek, wandering on a path through the jungle. From our vantage point, we could see a shepherds home away in the distance, and decided to make our way to it. As we trekked on, we came across an old woman, bent over under the weight of firewood as she trudged along in the same direction as we were going. I waved to her as we passed, and her wrinkled face broke into the widest smile, her eyes twinkling with mirth! She was dressed in what looked like a Luanchari and Dor, which is the traditional attire of the Gaddi tribe, but her features were more Tibetan than Pahari! That notwithstanding, she promptly raised a gnarled had to wave back, and said something while gesticulateling animatedly at the same time. Seeing we didn't understand, she said 'cha, cha?' while mimicking someone raising a cup to their mouth. We were amazed that a total stranger we've come upon this mountain path is inviting us over for a cup of tea! We told her that we'd take her up on the invite on our way back, perhaps. She cheerfully waved us on, and we went on our way. We soon passed the house we'd seen from afar, with a couple of kids playing out front. We were the only people out here, and it was blissfully quiet. The sun had melted the snow in several places, and the path was still green underneath.
After trekking for about an hour or so, we turned back to return the same way we'd come from. Soon enough we came back to the same house, and the same old lady was now perched comfortably on a stool outside the house, her load of firewood lying in one corner. Seeing us she immediately renewed her offer of tea. Not having the heart to refuse or sound rude, we asked her for a glass of water, which was immediately provided. As we sipped water, 3 kids looked at us shyly, but with unconcealed curiosity. It emerged that they were her grandchildren. Despite our best efforts we couldn't quite decipher what she answered when we asked about their parents. I assume they were out at work. Done with the much needed hydration, we offered the children some money. The old lady seemed offended with this, and she was only pacified when we explained that since we were visiting her home for the first time and hadn't any gifts for the children, this money was only a poor substitute for that. With the trademark mischievous smile planted firmly back on her lips, we continued on our way back to the Tethys Ski Resort.
As we trudged up the pathway to the main building, we found the children still engrossed in building their snowman. Or stone - age inspired snow art, where I use the word 'art' with a fair amount of metic license. We'd been gone nearly two and half hours, and these kids were still plodding away with their hands in the snow! Behbe informed us that they'd been at it without a break, and since they didn't seem any the worse for it, she hadn't stopped them. The children's resilience to withstand cold to this degree was astounding. Over the next 4 days we got several indications of this. Post lunch we headed up for a nap, except that INSIDE the room was freezing! Walking through the mountains we didn't realise how cold it was, but once we got back indoors, out of the sun, it was freezing cold. Much to the hotel staff's amusement, we put on the heaters in the room and snuggled in for a much needed siesta.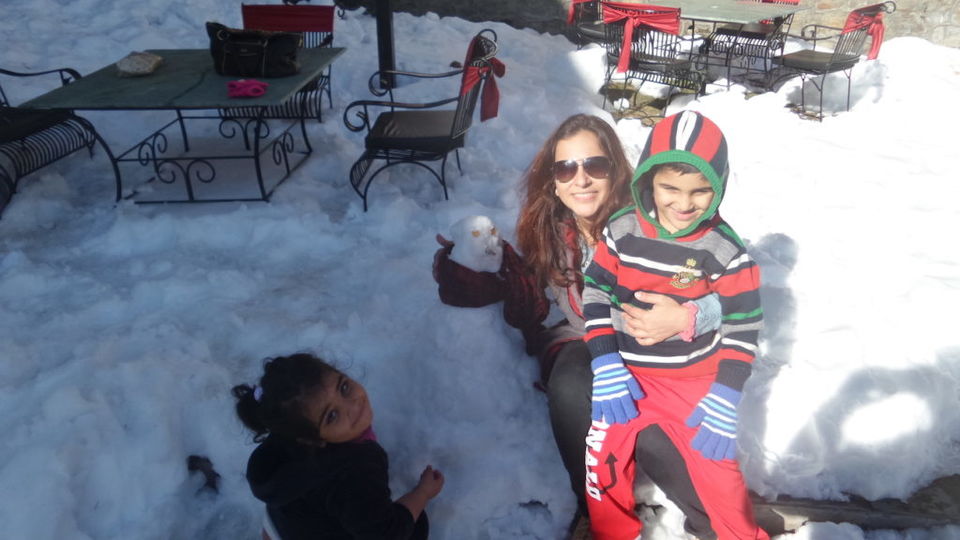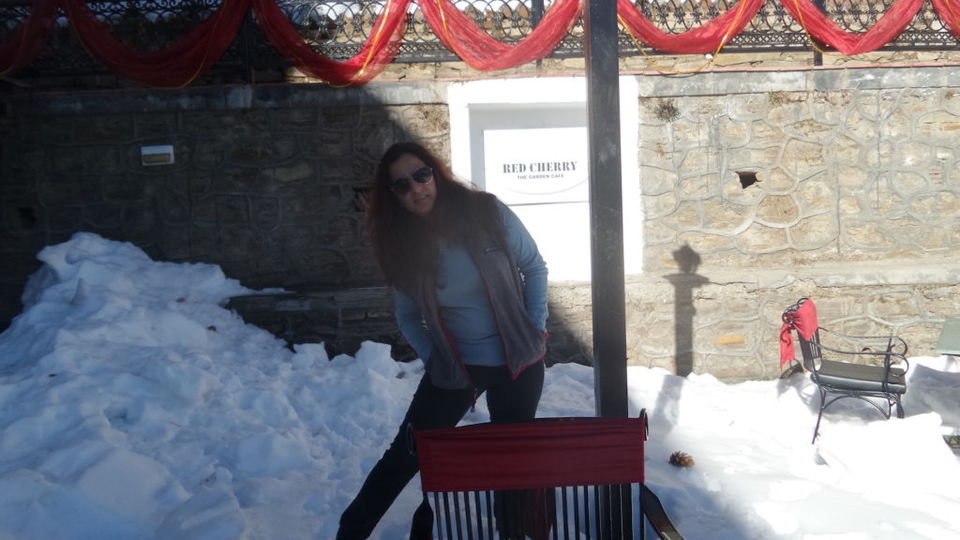 This is what passes off for a snowman around these parts!A bit of stretching never hurt anyone after a hard trek
It being Christmas, the resort had arranged a BBQ out on the terrace for dinner. Other than us, there were 2 other groups staying at Tethys - a family from Delhi, and the other a group of 4 middle - aged gents from Ludhiana. The evening started with everyone gathered around the massive bonfire. The Delhi and Ludhiana gang seemed inured to the cold. The rest of us tried to stay as close to the fire as possible without getting burned, if possible. The resort thermometer read a merry - 3 degrees C, and every tiny gust of breeze reminded us of it! The Ludhiana gents were all businessmen (hosiery traders, obviously), friends since school and had come here to get away from their wives for 2 nights (oye kaka who the hell spends christmas with their wives yaar?). Till then I thought the Patiala was the largest peg one can officially make. I was wrong. You also have the 'Ludhiana'! Without their wives to frown at their every move, the Ludhanvis knocked off 2 bottles of whiskey between themselves before the hour was out!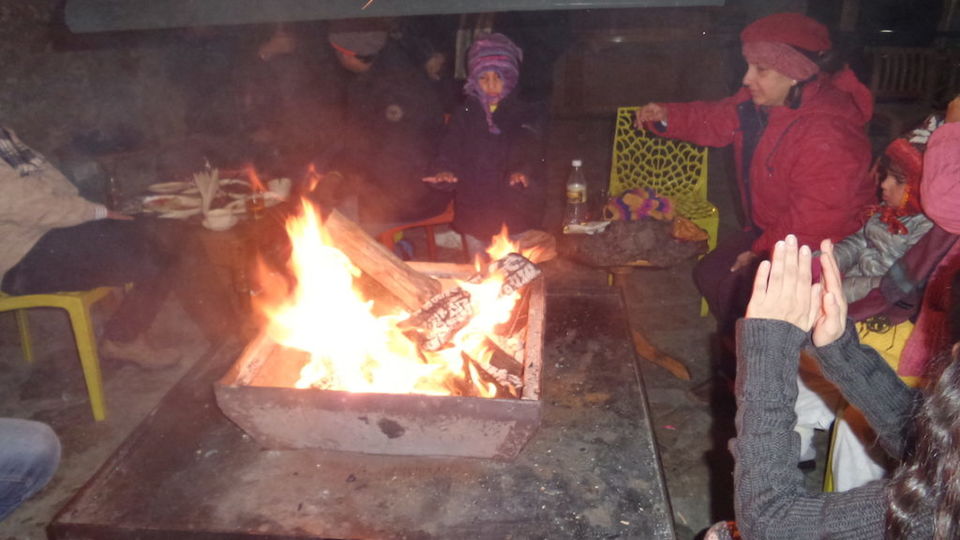 Try as we did, we couldn't get close enough to the fire.
The Delhi family, a MRS. & MR. Jain had driven down to Narkanda much against their family's wishes, coincidentally, also in a Skoda Yeti. "You are the people who've come here in the Bombay registered Yeti?" he asked us incredulously. He then proceeded to tell us how he had to convince his dad, mom and elder brother to allow him to drive from Delhi to Narkanda. Considering he was here with a 16 year old son, that's saying something! The fact that we'd driven over all the way from Mumbai confirmed his suspicion that the world was full of 'crazies' and he was tickled pink over the stories he would narrate about the 'crazies' who drove here all the way from Mumbai, once back in Delhi! With the ice broken, we all had a few drinks together, bonding like long lost friends. At some point he decided Jagermeister was the order of the day, and dispatched his son to bring the bottle down from his room. We wished each other 'Happy Hunting' as we downed shots of the fiery yet immensely pleasant liqueur and made promises of looking each other up whenever we were in Mumbai or Delhi.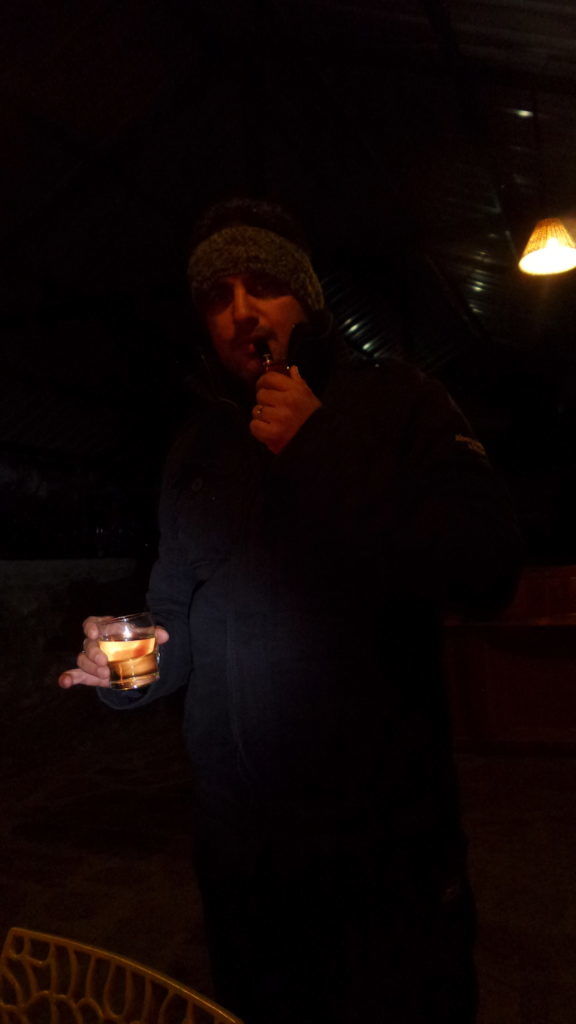 For once, no matter how long and hard Johnny Walked, he couldnt keep warm!
In the midst of all this, we heard a loud squeal from behind. Now, while the Jain family and we were bonding, the 4 gents from Ludhiana had produced the quintessential blue - tooth speaker and were belting out Punjabi pop numbers on it, dancing amongst themselves. All in good fun. On all our road trips we faithfully listen to Pink Floyd, Aerosmith, GnR, Ozzy Osbourne, The Doors, U2 etc. I'm a firm believer that you can never start your children's education too early. Having said that, Aditya's favourite all time favourite song is 'Dhinka Chika' from the Salman Khan film. Obviously the attempt to educate isn't going very well. So naturally when he heard this Punjabi pop being belted out, one hit after another, his heart went Yo Yo, melting like Honey and wanted to 'Singh'. Without anyone realising it, he'd joined the Ludhiana gang in doing bhangra to the foot - tapping music. Or at least his version of Bhangra, which involved flinging his arms up in the air while jumping as high as he could (dances like his father, this kid). The loud squeel was him getting all excited at a particularly peppy track where this bloke kept telling some woman that she was hot like a joint, or gets hot with a joint or something equally inappropriate. The Ludhianvis seemed to be enjoying this thoroughly, and couldn't stop congratulating us on what a 'funtastical' kid he was. So we all shook a leg till the wee hours or till the alcohol ran out. All in all, a good time was had by all. Can't remember a Christmas party that was more fun!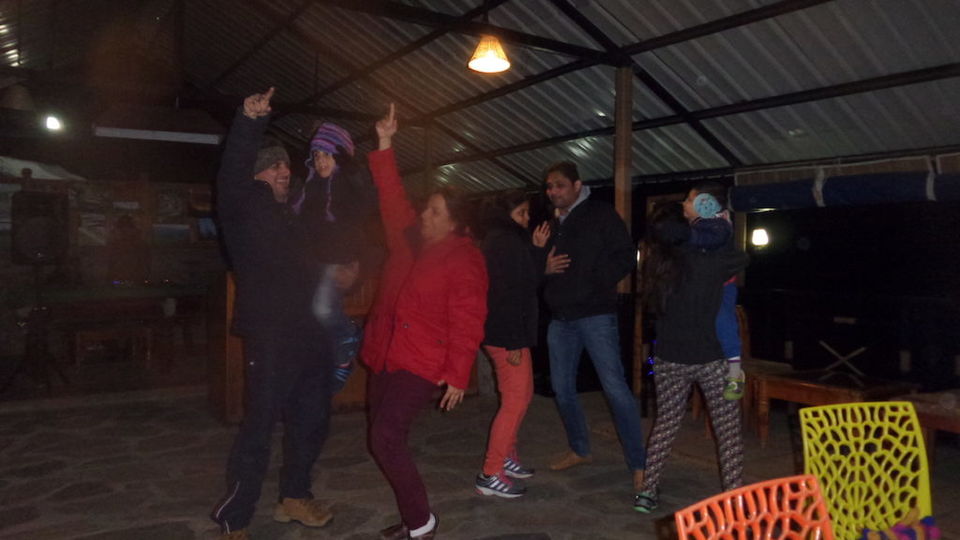 Let the party begin!
Day 6 - Dec 25, Trekking through & Exploring Narkanda
Day 6 - Dec 25, Trekking through & Exploring Narkanda