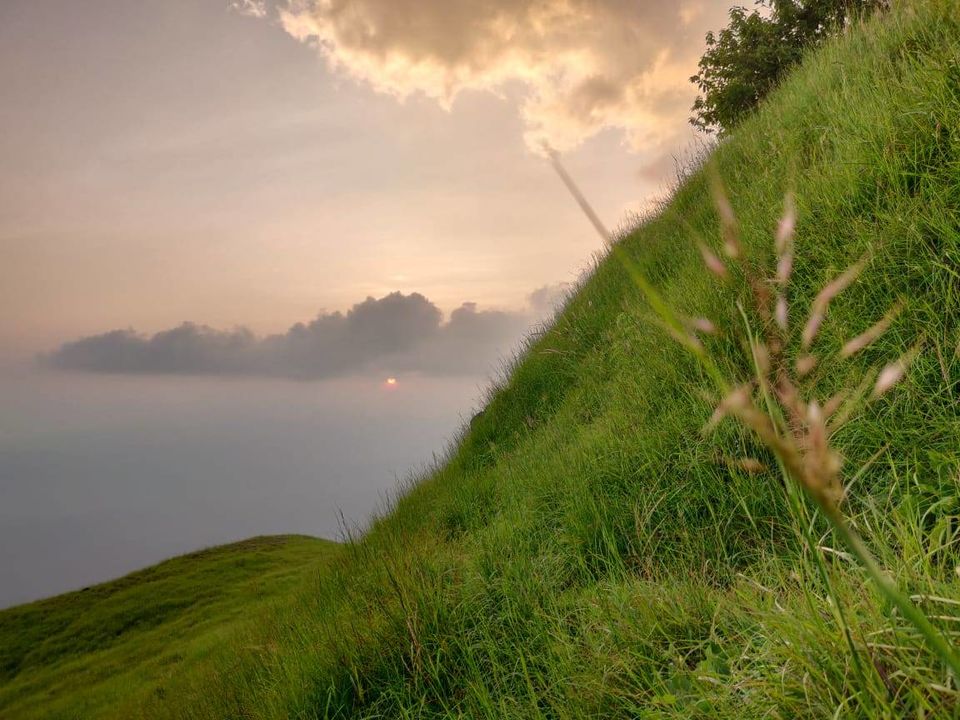 "The gentle wind kissed my cheeks softly
the pristine meadow had a sight to behold
My heart fluttered hard
This time, the grass was greener on my side "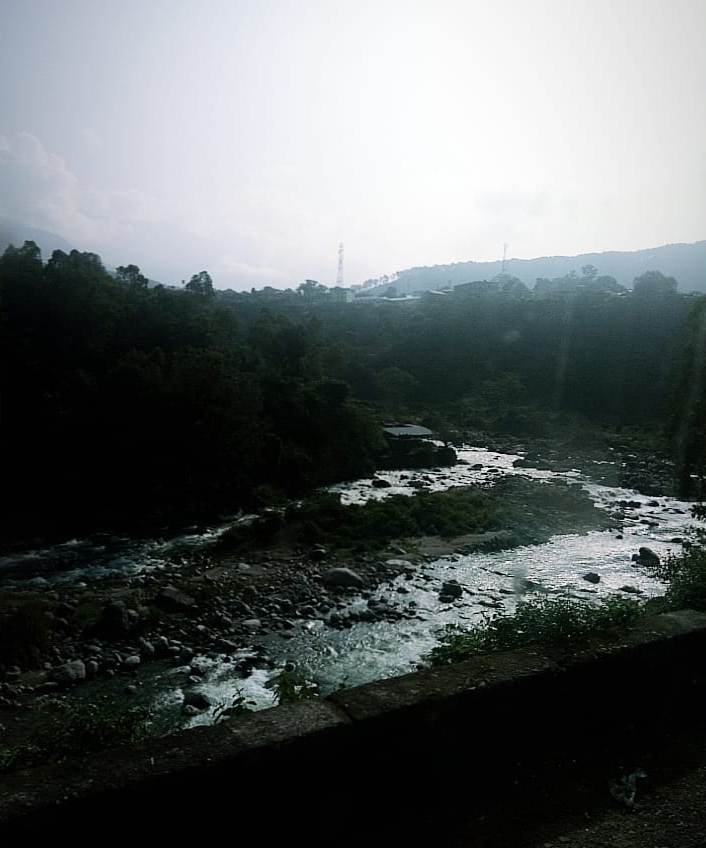 Everyone comes across a moment in their life when they gather the courage to do something for the first time in their life and I did it too. City and college life had me gripped in the continuous loop of tiring schedule and my head in between books. I chose to travel solo for a few days. Choosing a particular place was a real struggle but after a lot of internet surfing and considering numerous factors I settled for a beautiful place famous for its sunsets, cafe's, monasteries, and paragliding :- BIR.
REACHING BIR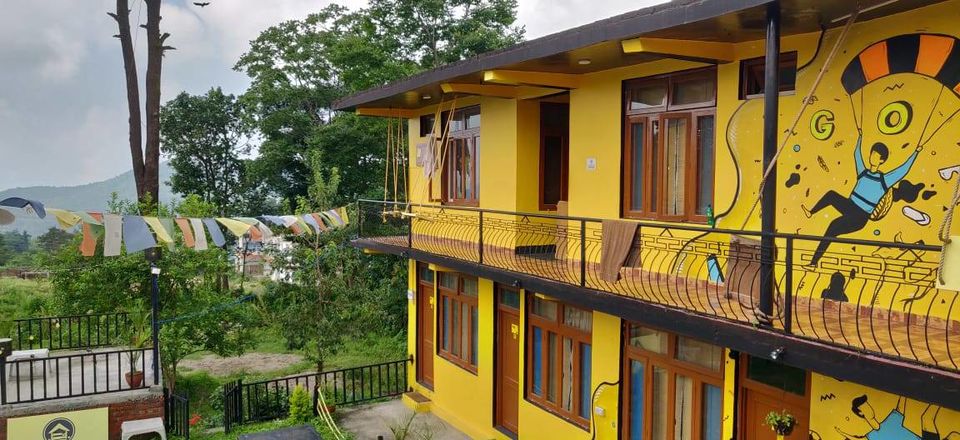 I had booked a semi-sleeper Volvo from ISBT Delhi Kashmere gate to BIR. The bus departed around 9 in the evening and reached Bir around 7 in the morning at the nearest market to The Hosteller in which I had booked a bed in an 8-bed dormitory. I called and asked for the directions and it was quite easy to locate my hostel. The view from The Hosteller was spectacular, the lush green mountains, open grounds with flags, and the cold breeze it all had my heart at the very first sight.
TIP:-There are other options available too, either you can book a direct Volvo according to your budget or you can book a train from Delhi to Pathankot, take another toy train to Ahju which is only 3 km away from Bir.
DAY 1: "FINDING A HIDDEN GEM"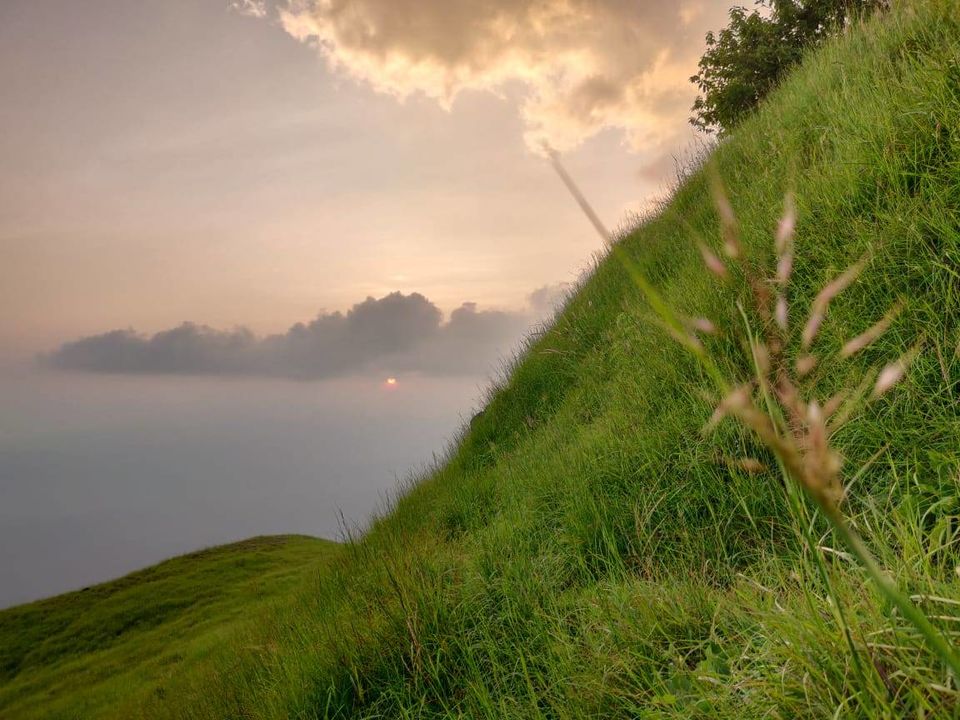 I was welcomed by Joey the doggo. After having an omelet, strong coffee, and stuffing my backpack into my bed I was ready to start my day.The hostel was all empty except me, the staff, and 2 other guys. I was amazed to hear their traveling stories. Our host joined us and told us what could be planned for the day. We decided to go for a hidden spot that our host had discovered on his own. We rented 2 scooters from a nearby dealer, put on our helmets and started our Journey of the day.The day was bright, the sun was sparkling over our heads and the wind cold but soothing. It was a sort of day you can mold into anything and we all were effortlessly making it the best. I won't reveal the spot, it would be better if you discover it on your own. ;) (It was a mountain with a small room on top which enabled us to have a 360-degree view)
It took us around 15 minutes, the next task was to climb around 200 steps and then climb on a not so steep mountain. Finally, after 25 minutes we stepped on the top of the mountain. My mouth fell open at the sight of whole Bir-Billing, marked by monasteries,clouds, and the sun still making it through the gaps in-between "bright". We played some songs and sat there silently for about 2 hours looking at the wonders of nature.
DAY 2: "PALPUNG SHERABLING MONASTERY"
Breakfast and meeting new travelers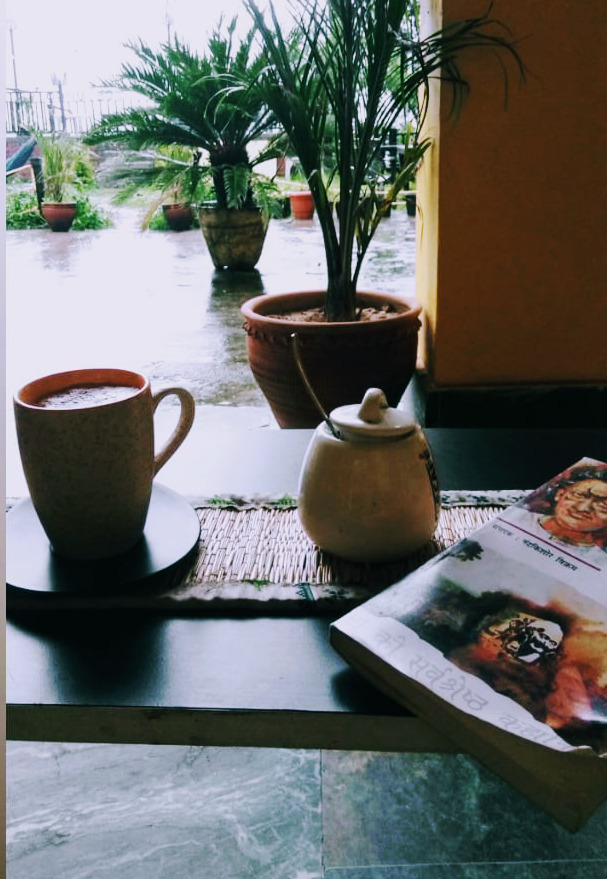 Next day we had our breakfast at the hostel only, as it was raining heavily and we sat with three new comers who had been traveling for about 2 weeks in the Himalayas and had booked beds in the same dormitory as ours. As it was the starting of September and the paragliding sessions had still not started the whole BIR was quiet and ours to explore. The afternoon went by talking and listening to the music of heavy rain and the wet leaves reminding us of the existence of little things we usually forget to appreciate in our daily life.
Visiting the Monastery in the rain
The sun was starting to fall and the rain had almost stopped, we picked our scooters and departed for the Palpung Sherabling Monastery, the way had become more beautiful because of the rain. The small huts on the way with small streams of water by their side, mountains in the background and small drizzling had held my eyes tight. It took us 10 minutes to reach there. The monastery had a beautiful view of green grass around and monks moving around with books in their hand pressed against their chest. It was all surrounded by the sounds of children playing, woman chatting and birds chirping. The prayers had been done so we went inside the monastery and enjoyed the peace and beautiful carnation. We directly went to nearby Cafe and had our dinner.
TIP:- Bir is famous for its monasteries, there are many monasteries like Chokling monastery, Nyingyang monastery, Tsering Jong monastery so you can visit as many as you like.
Do you love exploring cafes? Bir is THE PLACE with amazing cafes like June 16, Ara cafe, Garden cafe and many more to satisfy you stomach with tasty food and your heart with amazing views.
DAY 3:"LOOSING TRACK AND ENDING UP AT A BEAUTIFUL PLACE"
Accidentally finding a spot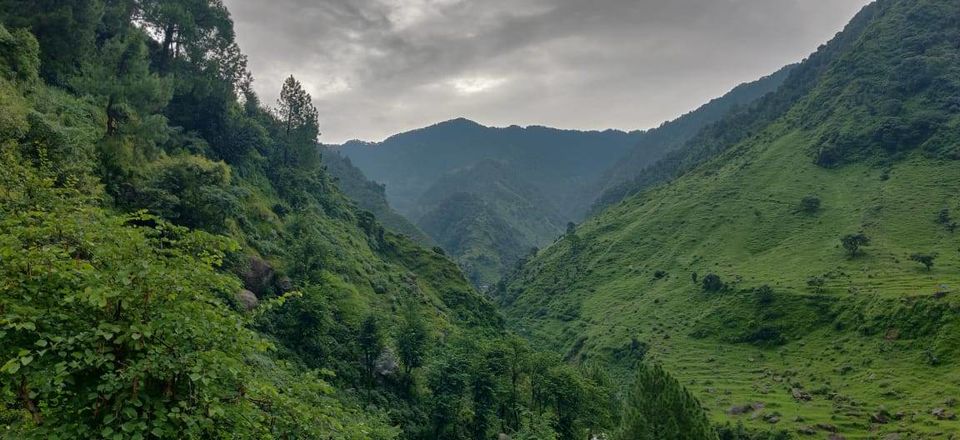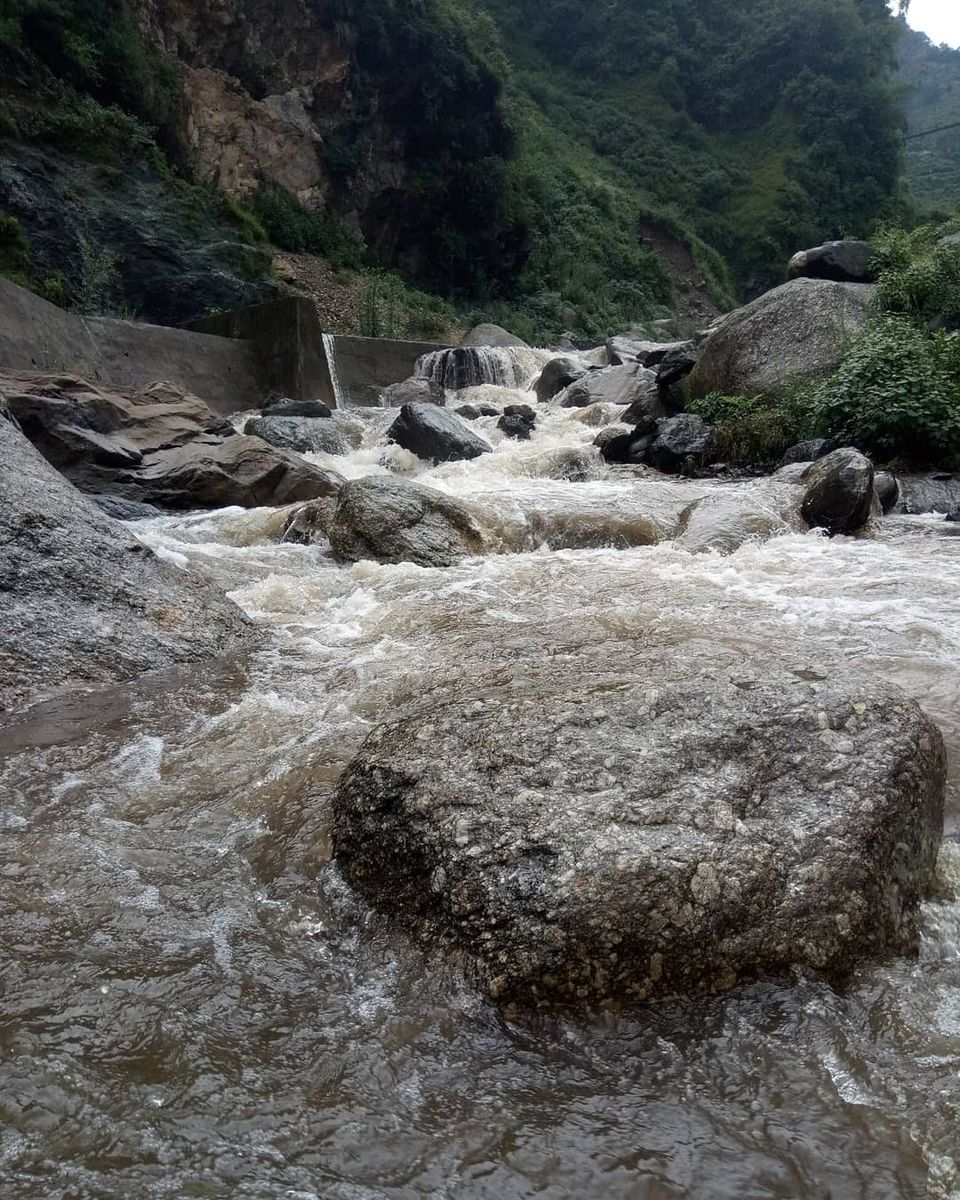 After a decent breakfast in the hostel as it was raining a little in the morning, we sat for a while, talking. Then we picked our scooters and went to find the Gunehar waterfall our host had told us about. We parked our scooter where the road ended and walked by the side of village locals, sheep, chickens. We asked the locals and decided that it would not be difficult to locate. Once we crossed the Gunehar village, the mountains were more close, and the east and west sides of the open valley were divided by a river. We climbed on a small mountain and enjoyed the super green view, the cold breeze, and the peace. We couldn't find the waterfall and in the end, we all laughed for we had seen the eternity and natural wonders but the goal, well unsuccessful yet happy with a day so wonderful we went again to the hostel to have some light food and some rest.
A night worth remembering with fellow travelers
Around 10 in the evening we all sat together with joey dosing off by my side and our manager telling tales about his experiences and amusing stories in The Hosteller with some local drink dangling somewhere in between our hands and our smiles. We all sang, shared music, and poetry. The sleep was nowhere around us so we decided to take a walk up to the paragliding site which was a kilometre away. We picked a light bag with the necessities and reached the site in 20 minutes. We couldn't locate a single soul apart from us and the peace around us was loud. The paragliding site was stretched in front of us in an open meadow. We laid there by the side of road starring at the stars and the site stretched in front of us, feeling the biting night wind, listening to music for 2 hours.
TIP:- The paragliding season generally starts from the 15th of September and is a busy and wonderful season to be in Bir. You can enjoy the paragliding tournaments too.
DAY 4: "MUST VISIT PLACES"
Gunehar Waterfall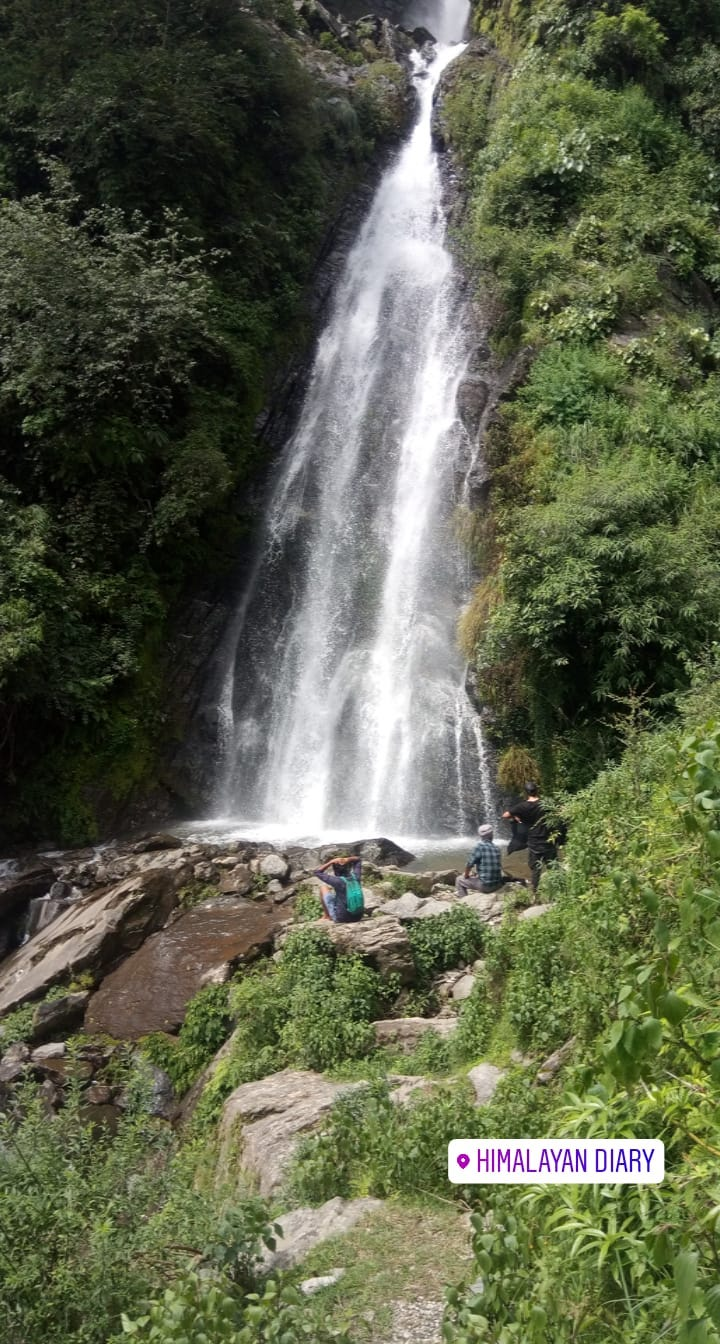 We still had a curiosity for Gunehar waterfall so we decided to go with our host. We booked a cab and departed again. It started to rain lightly and the weather turned amazing. Finally, we reached THE WATERFALL, it was a spectacular view. We spotted many butterflies, dipped our legs in the super cold water, and sat there. One of us took a bath too, the water was so cold I didn't dare to even think of taking a bath. Once we reached and enjoyed a cup of coffee we bid goodbyes to our 3 friends as they had to leave for another journey.
The Northern Cafe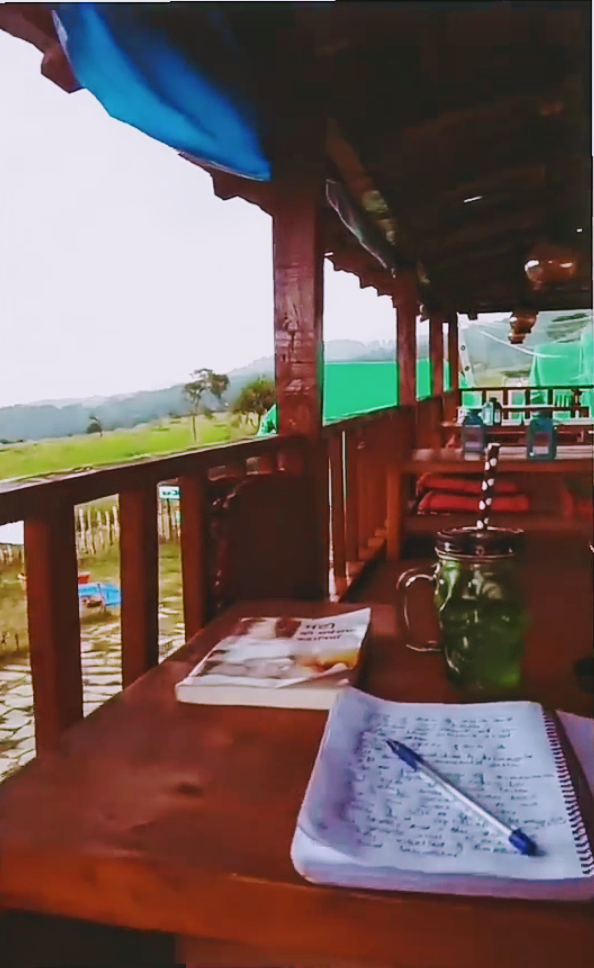 Once the sun was nowhere to be seen we went to The northern cafe to have SIDDU, the traditional Himachali cuisine, also the view of The Northern cafe had my heart and is my favorite place in Bir. Also KARA and BUDDY, the golden retrievers welcomed us with love. All thanks to the fellow friend who suggested me this beautiful place.
DAY 5: "THE BIR MONASTERY"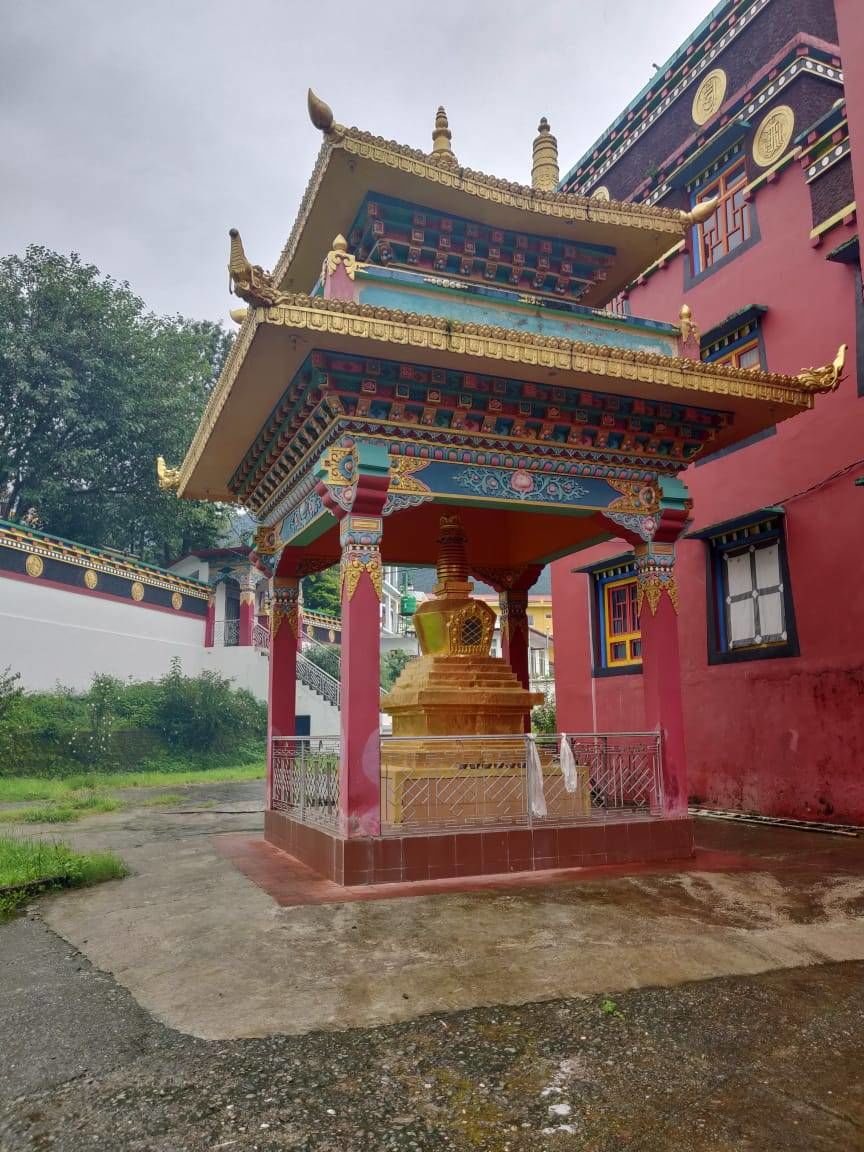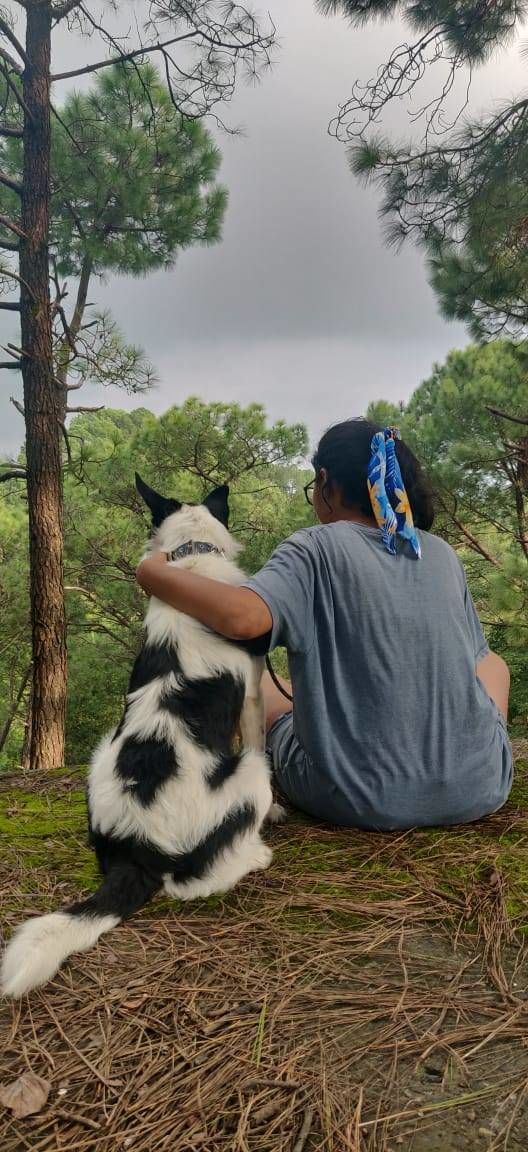 Everybody left, except me and a friend whom I meet the first day. We went to Glider's Pizzeria near the paragliding site but this time with us was joey too. We had a decent Pizza and cold coffee served by a beautiful lady in her late 40's who turned out to be the manager of the Cafe. After a little chit chat, it was time to visit a monastery, led by a narrow alley with one side lined by mountains closing it and the other by an open valley. Joey sat in between my legs with his face out of in the air to enjoy the beautiful way. The Bir Monastery has an amazing vibe with monks making their way peacefully around. The interior is different and there is also a shop within the boundaries where you can buy colorful prayer flags, bracelets, and Buddha figurine. At 6 in the evening I bid goodbye to my last fellow traveler and enjoyed the evening reading and scribbling.
DAY 6: "LAST LAZY DAY"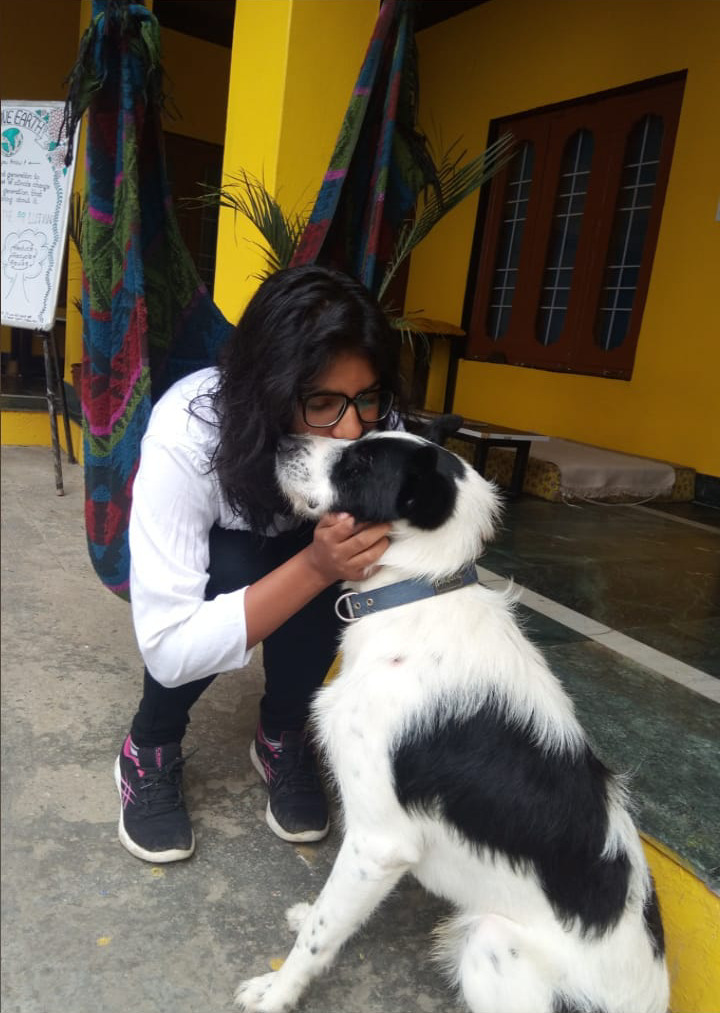 I didn't want to move my lazy ass on the last day, so I spent it with joey, The Hosteller's staff playing cards, cricket and went to have lunch at The Northern cafe again with my diary to enjoy the view and my last moments in Bir. As I was sitting there I realized how these little steps can move your life, can shift your mind and change how you look at people around you.The staff, my fellow travelers and the beautiful Bir itself made my heart want to have more experience in travelling and surely has a major hand in my other solo trips. It made me trust strangers, laugh with them, and forget about my worries. I came back not just to have a fresh start in my life but also with memories.
TIP:- You can also enroll yourself in other activities like camping, shopping on Bir road, mountain biking and most importantly go to billing which is 14 km away from Bir.
You can rent mixed bed dormitory room in hostels like Zostel, The Hosteller, goStop, the bunker Bir or you can book a private room too in the hostels or hotels around.
In love with sunsets? Bir is especially famous for its sunsets, the sky changes color magnificently and let you have one of the most memorable sunset views.
~Song of the trip: My other side by Taba Chake
~Book of the trip: Forty rules of love by Elif Shafak