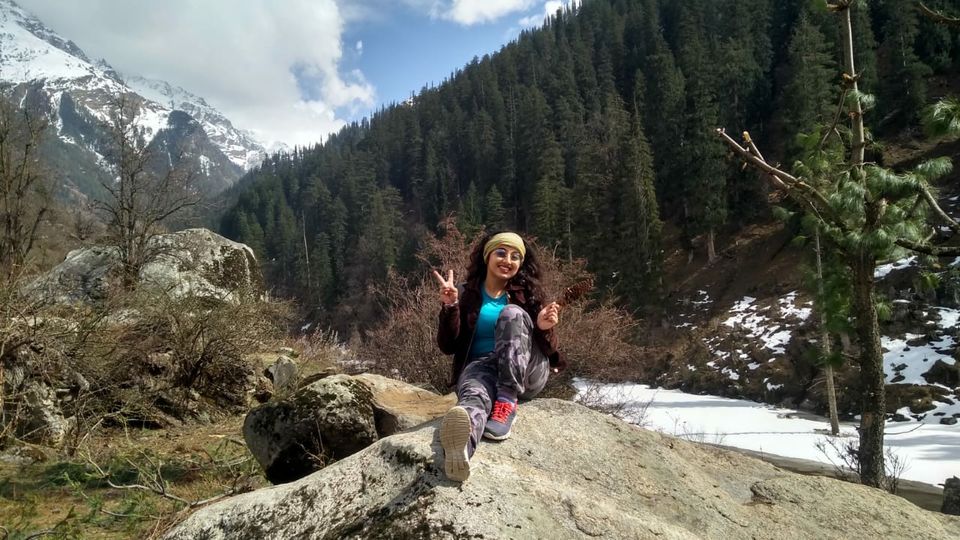 COVID-19 eve it was for India then, five people tested positive for the novel COVID-19. And we were all set with our bags packed to explore Himachal Pradesh since it was not a pandemic then. Things seemed to be simple and we thought we are going away from the virus carrying 100 mL of hand sanitizer. The following is my story where myself along with my friends made the impossible "POSSIBLE".
February 28, 2020
It was 3:40pm and my phone was continuously ringing. I could hear that Mi default ringtone from the washbasin area of Kailash Hostel, IITD. After a mild and gentle facewash, at 3:50pm I received it. "Are you ready?" asked Aryadip da.. I said "Yes, shall we start?". And this way started our "The Leap Year Trip". We were a group of nine.. two of us were boarding from IIT metro and rest of the people from RK Puram metro due to our discrete scatter of lodging in the campus. We were about to board the Bus from Kashmere Gate scheduled at 6:50pm. All of us reached Kashmere Gate on time and headed towards the bus stop.
We boarded the bus, kept our bags and six of us got down again as there was sometime for the bus to start. Some of us were extremely hungry so we thought of grabbing something; saw a tea stall and more importantly they had bread-omlet as well. Six of us started eating there, called the rest three and they also wanted some so we ordered some more for them. While grabbing a bite, my Dad called and asked about where were we. I said we were eating (didn't mention bread-omlet though) cutting my sentence in the middle, he said "Don't eat non-veg. You already know about it right!". During that period, it was believed that COVID-19 was also spreading via meat and eggs. My Dad was little worried as India already had 5 positive cases that too geographically very near to our location. Meanwhile, the bus started moving. My friend Subhasish is a soft spoken guy, with his softness he asked the driver to stop and wait for us; the driver said that he was just making the bus park in a corner; on the other hand we were not done with our tea and bread-omlet. Subhasish called us and asked us to come asap. We started running..couldn't find the bus anywhere..called Subhasish..he said it has moved forward and we need to take an auto..meanwhile Driver to Rita Di "Madam, hum wait nahi karenge aur..bulaiye jaldi apne dosto ko..5 minute mei chalegi bus"..Subhasish to us "Come fast! They are leaving in 5 minutes!" The autodriver almost crossed two red signals for us to drive us to our bus.. Six people in a auto-rickshaw, can anyone imagine!..lol ho gaya hamara.. Finally, we boarded the bus and aur hamare trip ka "Shri Ganesh" hua.
Hurray!!! Finally!! All of us together!! We started singing songs..Had our dinner in the middle (Menu: Chicken Biriyani, Chicken Noodles, Paranthe and Sabji and most important of all Pepsi!!) and again with full energy started singing. Our bus stopped near Ambala where all of us wanted to get caffeinated..some with tea and others Kappi..but sadly, the Dhaba had only Kappi which costed 50 bucks each...woooaaaah unbelievable!!!..those tiny disposable coffee cups wouldn't cost more than 10 bucks in Delhi but chalo koi na, caffeine was more important then.
In 5 hours or so we had reached an inclined angle.. those tiny lights and thunderstormy sky...haaah I wanted to capture it but my Mi phone couldn't capture that scenic beauty and that was when I decided to buy a DSLR camera from my savings. The moment was wonderful for some while others had actually started pucking.. #motionsickness happens.. To be clear with the pucking scores, Arijit topped the list followed Aakash.. others thankfully didn't. Those roller coaster roads didn't let their gastric juices to grind the biriyani well! Out of sickness (for some) and peace (for others), all of us slept to wake up to the splendid scenics.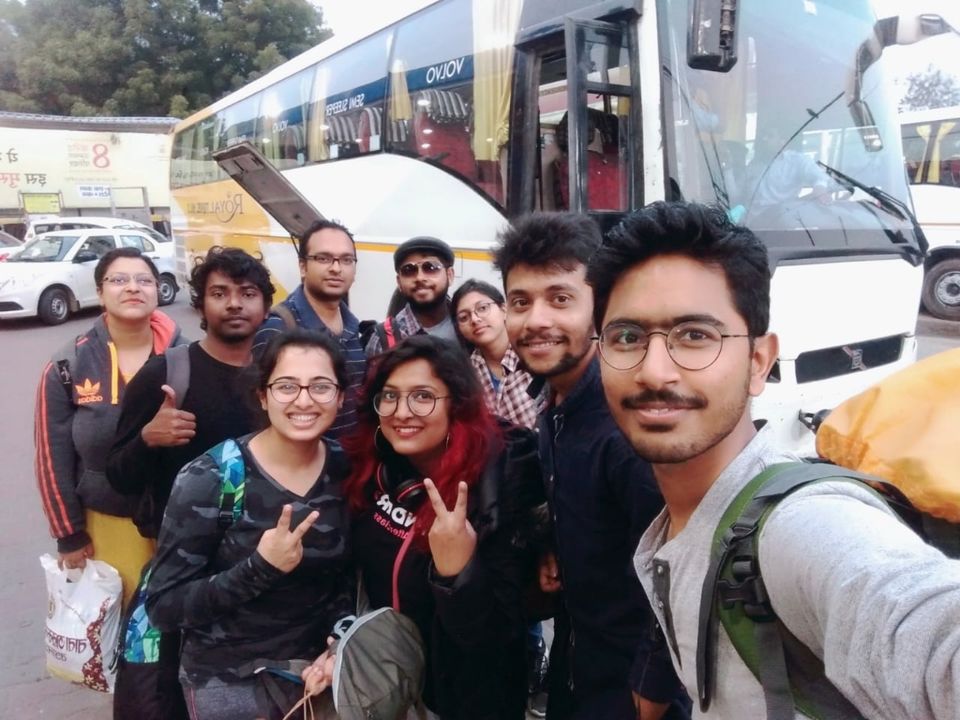 For the first time in my life, I was glad to wake up early.. couldn't afford to miss such beauty. There I rightly realized "Every hill has its own story". The beautiful Parvati river channeling herself down the hills, taking sharp turns and those elegant cherry blossoms brought freshness and contentment. We crossed several small towns, saw people jogging in that cold, some were warming themselves with firewoods and then reached our homestay destination. The accomodation was perfect as expected, double bunker beds, wooden interiors with a special room lighted in red, artworks allover the building, a terrace with a bonfire setup, Parvati river view and ofcourse the magnificent snow capped mountain. Myself and Aakash, with the help of the housestaffs, prepared capsicum waali Maggi for all of us. One by one, we freshened up and got ready. We booked Chhetri ji's vehicle for the visits.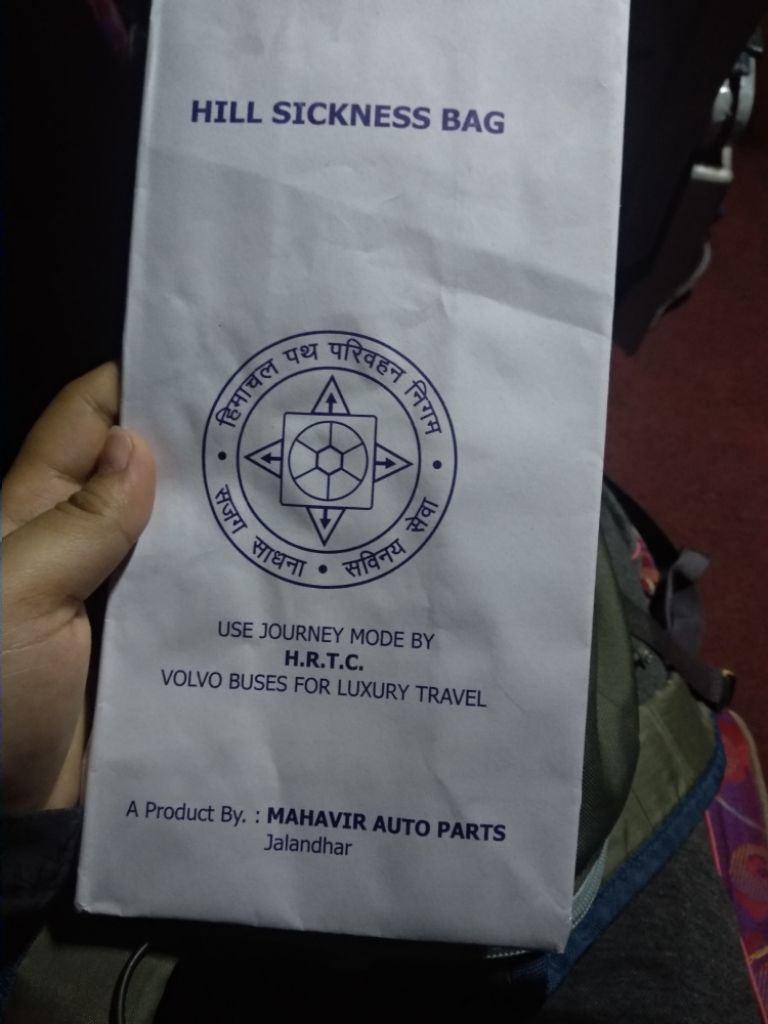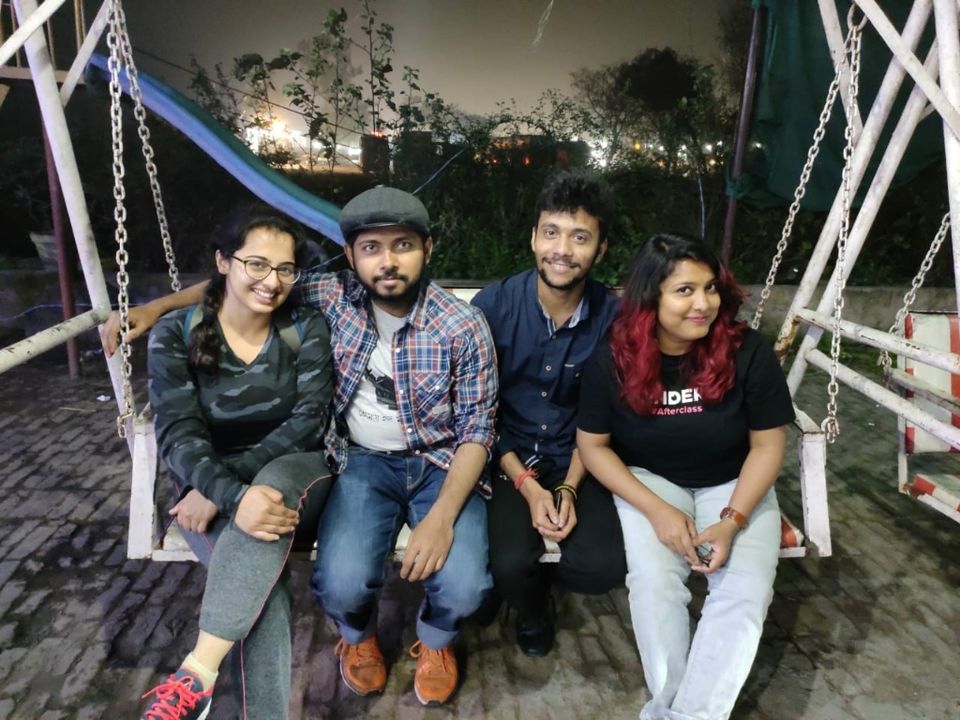 Started from Kasol, it took us merely 2 hours to reach Malana. But I think, mother Nature had well planned our arrival! Snowfall started as soon as we entered the periphery of Malana.. Gosh..it was first time for most of us!! And it was super exciting! The snow flicks were all over our head.. we could feel it!! We all had umbrella, hand gloves, sweaters and jackets and one of us even had a raincoat. We were all set for Malana Village trekk.
Adrika couldn't trekk down with us but she was exploring nearby places. Malana Village is "World's oldest democracy", there you cannot touch anything or anyone without permission. Just love the location of the place. But food there...naaah! You don't even have much options, so I would always suggest you to carry your own food there.
Grabbing all the chips and waffys, we drove down to a place and the locals call it "Loha pul". The bridge is huge and compliments the beauty of its location. So, we found another place for some more clicks. And there we started again!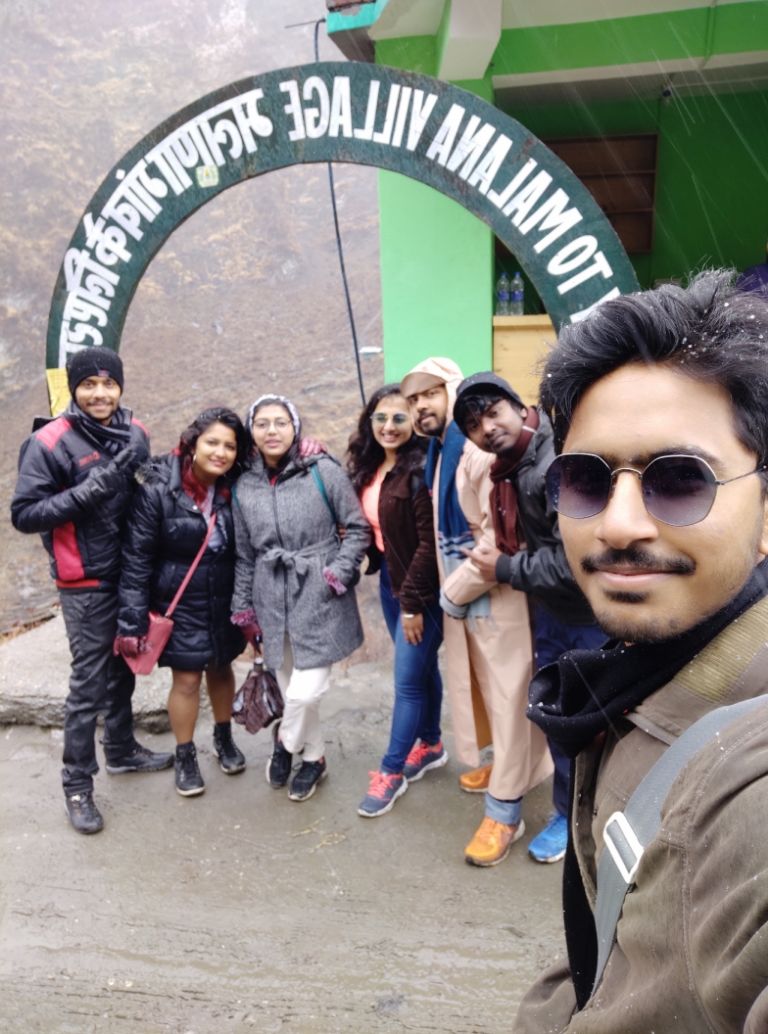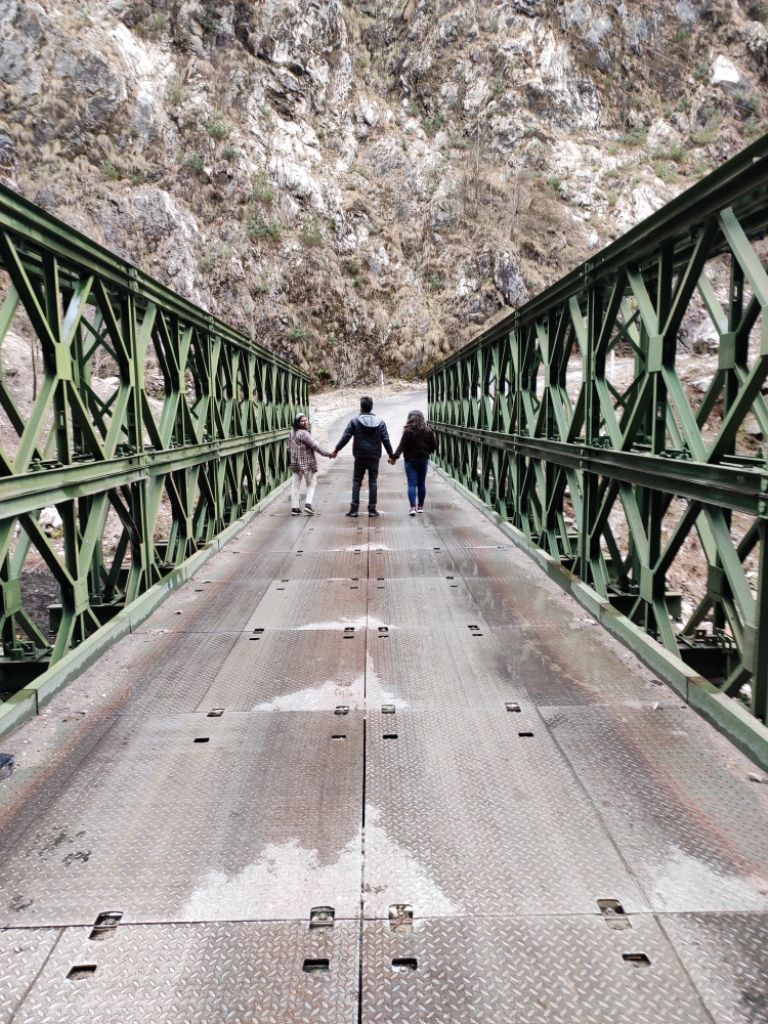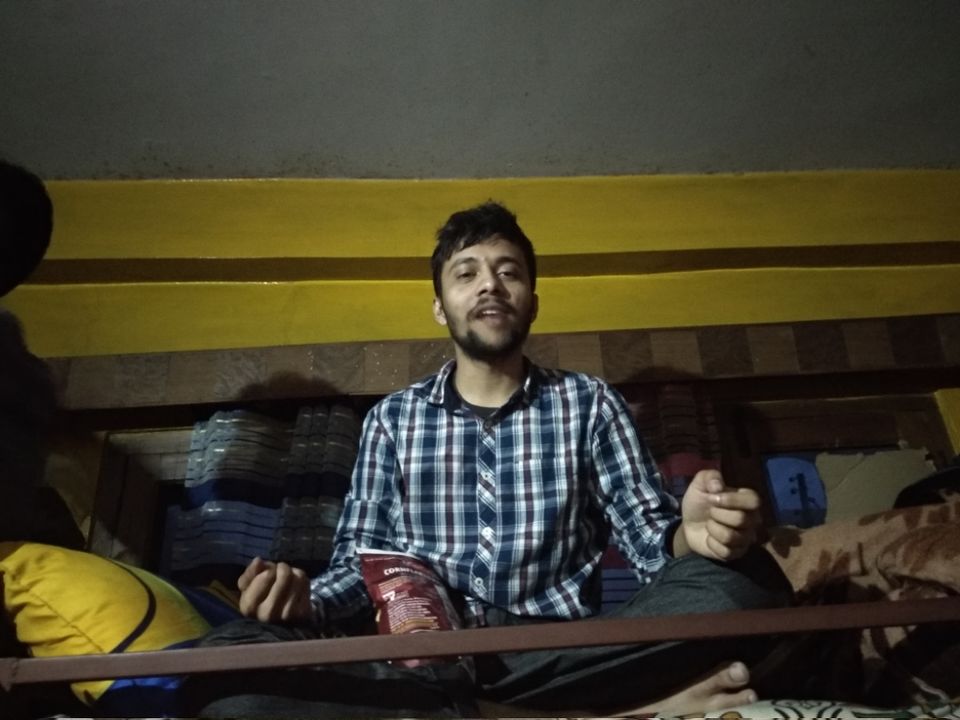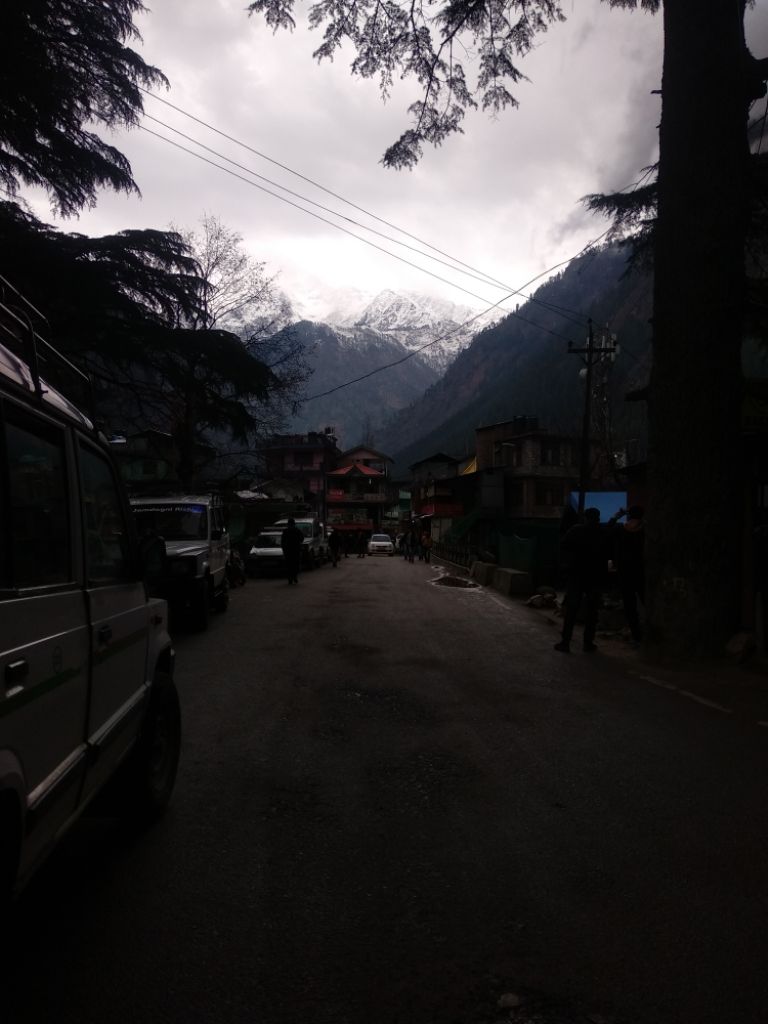 I could hear Adrika's alarm ring since 6:30am but I woke up to Jyoti's shout "Where is my Mickey mouse bottle?"! Though I couldn't remember that specific bottle but her concern made me think about it. She took the Bus driver's number from Aryadip da and called him several times but he didn't pick up. Here is the story " Jyoti's Mom had gifted her that bottle before joining IITD. That was an asset to her. Most of us do have tiny little things which we can never expect to depart from. Old memories, nostalgia, emotions can be associated with them. One such example from my life is my ruler (15cm). I have it since 2011. A real nostalgia, I don't know why but I carry it with me. Coming back to Jyoti, she thought the bottle is with Arijit but when she found out that it's not the case, she broke down." All of us consoled her but she cried hard. Eventually she had to overcome it. Then one by one we started getting ready, they had arranged Aaloo Paranthe with garlic chutney and sandwiches for us. Also, must mention that cinnamon tea. We had to start early today with Chhetri ji as we had to cover number of destinations and so we started.
We reached Tosh. I don't have much words to describe the beauty of the place.. I was just spellbound and speechless. We got down our car and started walking towards the other side.. Proper roads are not yet built there. They have a few self made roads with lots of snow melting. Reaching to the other side was a trekk one of its kind!! Then unknowingly we entered someone's territory (ssssshhhhhhh.. don't tell anyone!!) and then we changed our direction to a lovely hill faced restaurant cum cafe. I really don't remember the name or I am not sure whether they had a boared or not..ummm..okeey!! Then we had spent some lovely time there clicking beautiful pictures.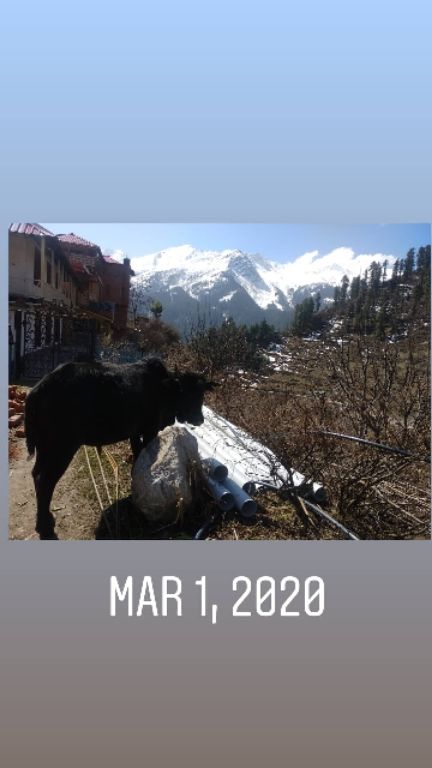 Then to kill our hunger strikes, we decided visit an Italian cafe in Kasol market. Market it was, drove us crazy. We started shopping then and there. Too many fancy things to buy. I bought a beautiful handmade Kullu shawl for Maa, muffler for Baba, a headband for my sister Sneha, gifts for Golu and accessories for my friends. All of us bought similar type of headbands for ourselves as a "Signature" of our group.
Then Adrika decided to take an initiative to cook homestyle chicken for all of us. We bought lots of chicken and other essentials needed for the prep and reached our homestay. We were eagerly waiting for Bonfire but due to climate changes, it got delayed. But we decided to celebrate either way. We boozed up with lots and lots of snacks. This made Jyoti to get end-to-end encrypted with Arijit and brought out the folk Singer from Arkajyoti Da. Aryadip Da, Aakash, Subhasish, Rita Di and myself were sober as always.. xD.. Adrika was the Angel who determinantly pledged to feed us that night. Then came Pankaj (the owner) with a good news that we can start with the Bonfire. Hurray!! All went upstairs. That heat from Bonfire felt so soothing. The light from the fire and those songs made me forget almost all my pain in that moment. It seemed like everything has stopped for a while and I felt really joyous to listen to Jyoti sing "Shape of you".. and that was when Arkajyoti Da started pucking. I missed on the counts of his vomitings after a while as it was so vigorous and non-stop. It was a tough day for him as he didn't sleep even for an hour properly in the bus just to take care of us and the belongings. That and the booze made his acids shootup! Later on, he regained his momentum, all of us had dinner together (Menu: Homestyle chicken by chef Adrika and rice by the homestaffs).
All of us went to our respective beds.. ahem wait!! Aakash and Subhasish slept together..xD.. it was chilling cold and all of us had a good and sound sleep to prepare us for the upcoming day.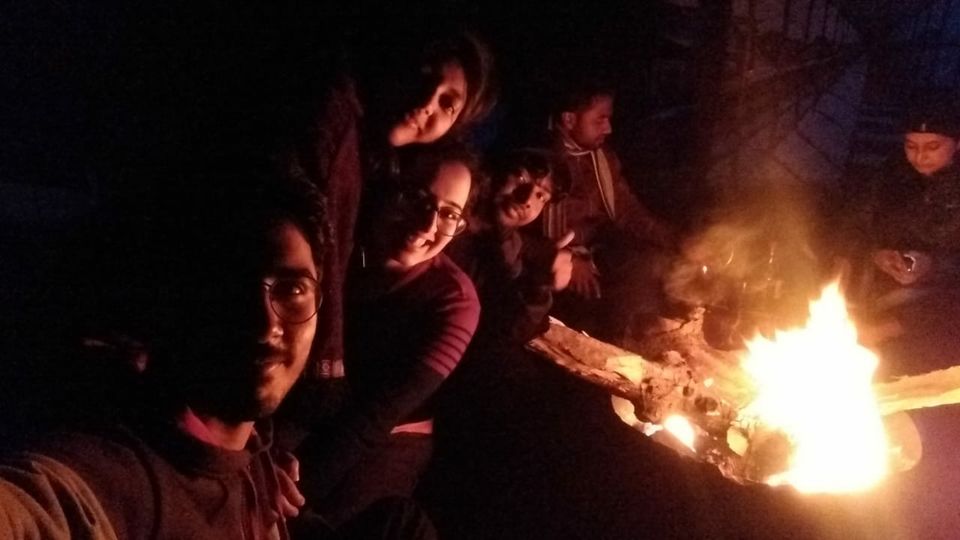 From Tosh, we drove down to Kheergang trekk point. And there all it started and was too much fun! And this time it was special as Adrika also accompanied us. All of us enjoyed a lot. Aakash had clicked lots and lots of pictures.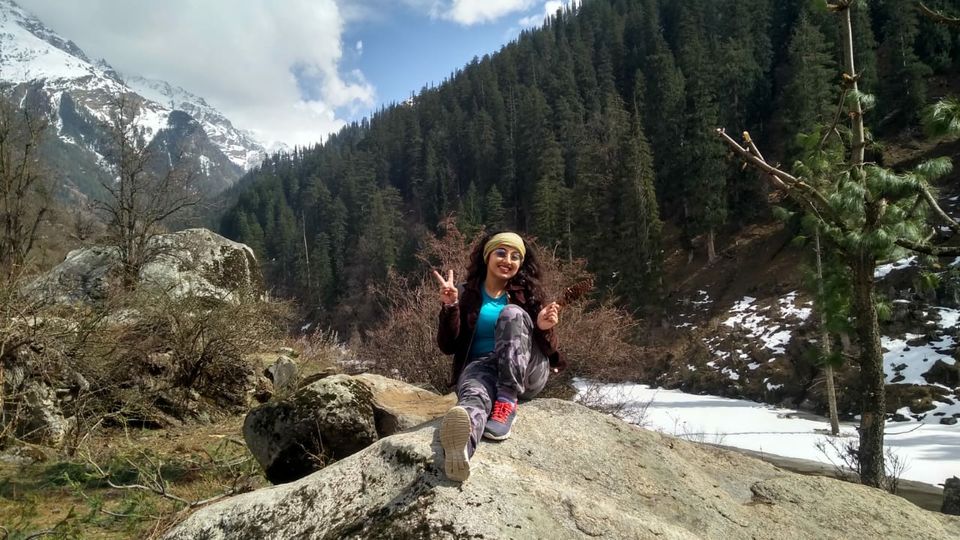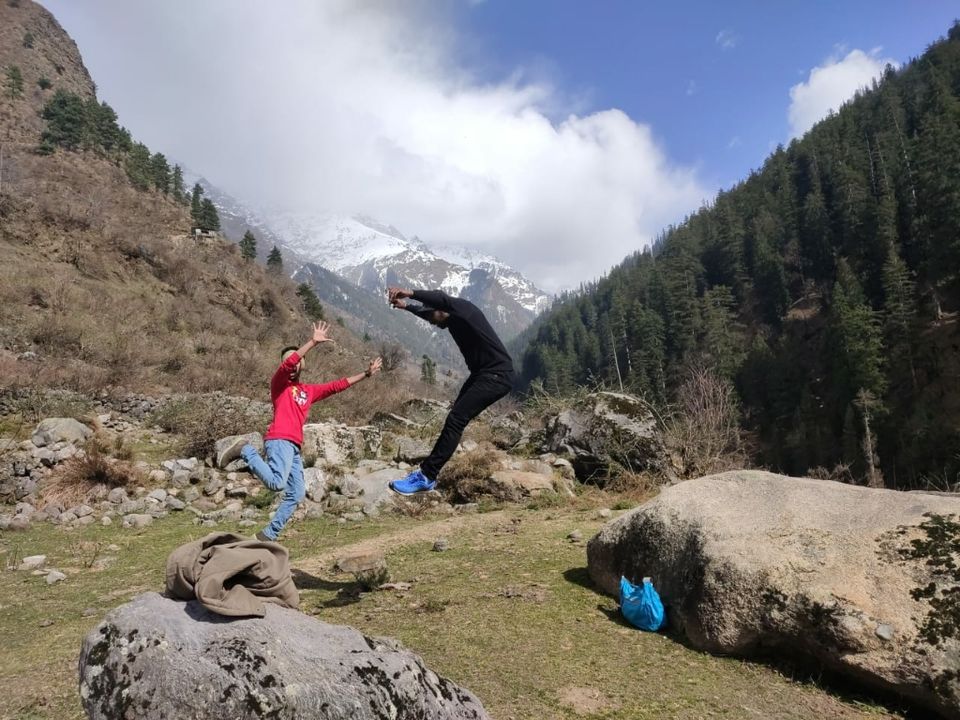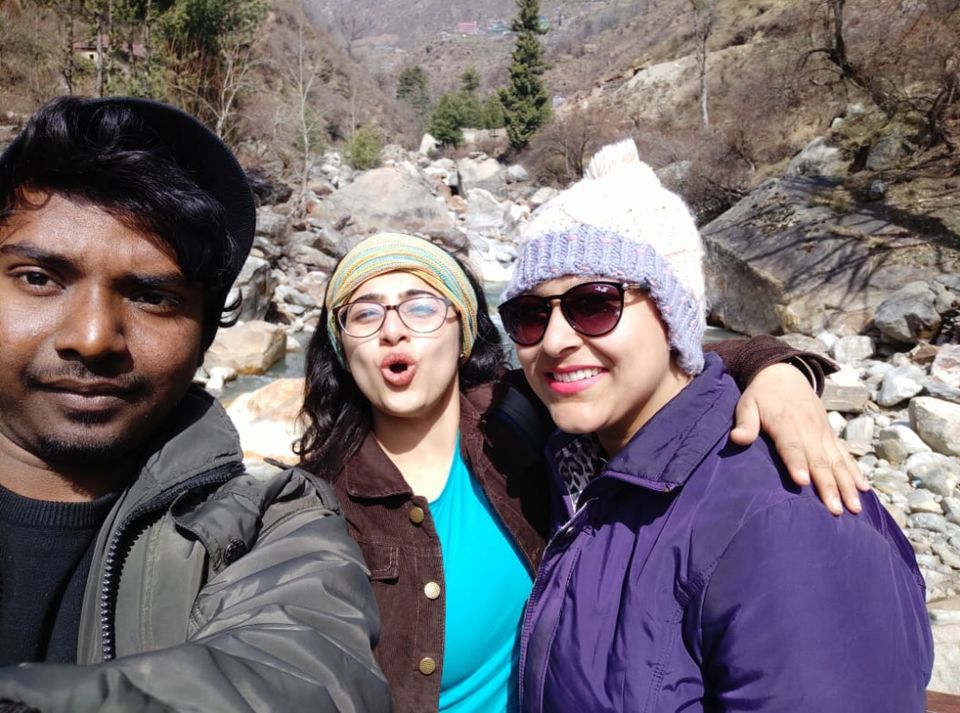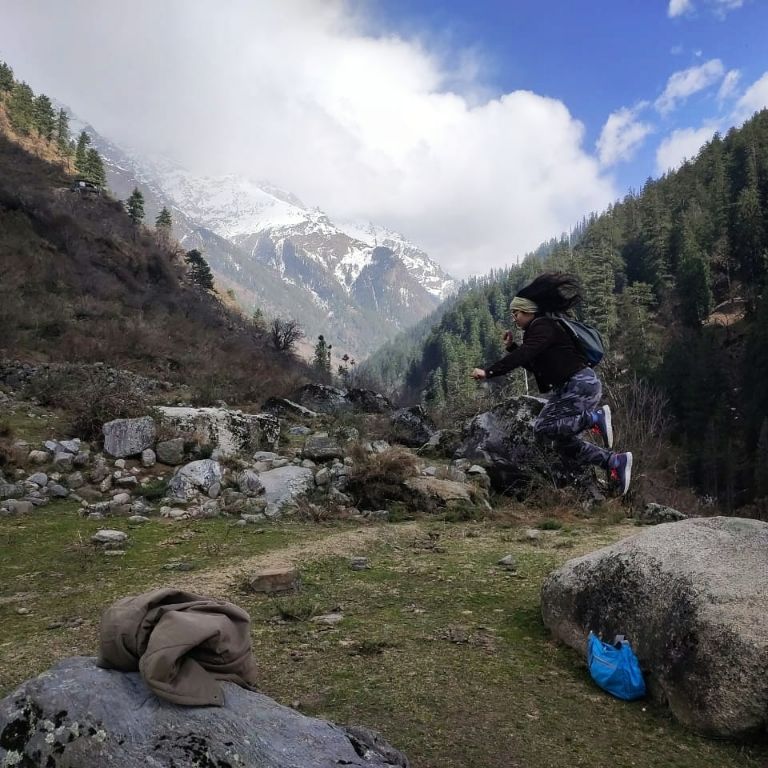 The next destination was Manikaran. Finally it gave some spiritual touch to our trip. Prayed to Waheguru ji at Gurudwara Saheb. Then had delicious Rajma Chawal and Kadhi in bhandara. Simple and pure, the food filled us with generosity, good health and most importantly Blessings. Then we visited Manikaran temple and saw the Hot Springs. Amazing it was. Rice was being cooked in the Hot Spring's water. Sustainable way of life and simplicity is what you can sense in the air.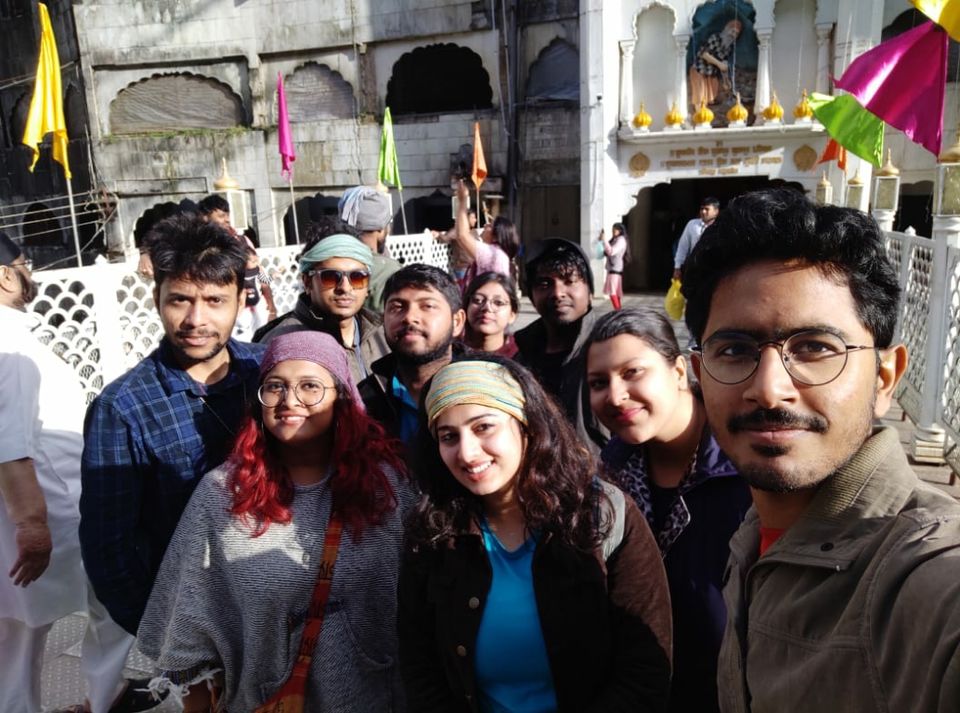 With this done, we went back to our homestay to pack our bags. Pankaj had been really a nice Host. Thanks to him for holding up all our requests.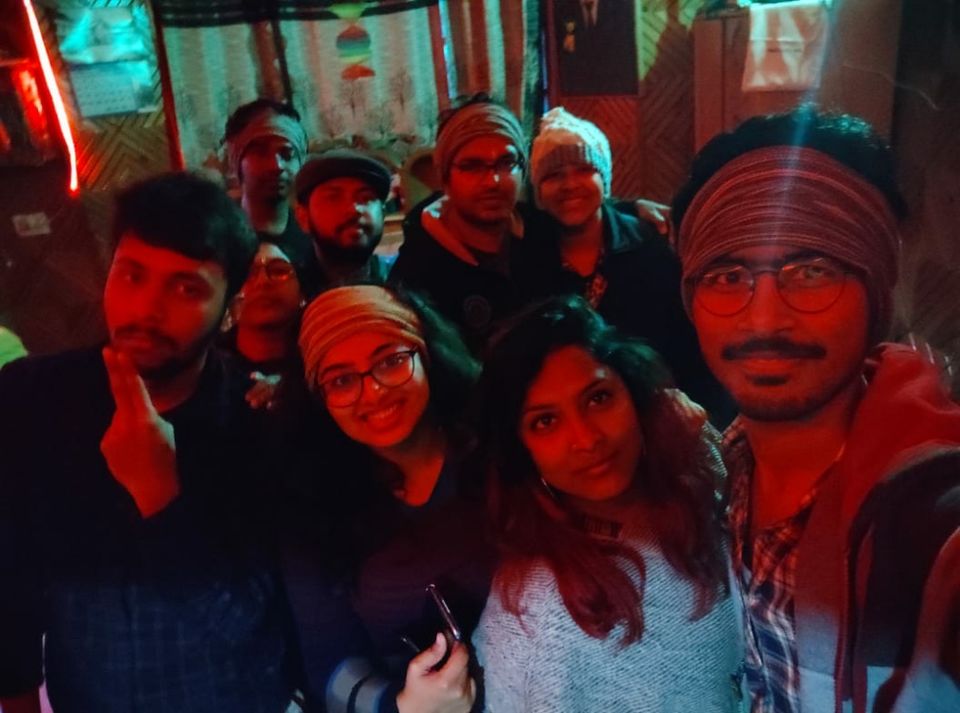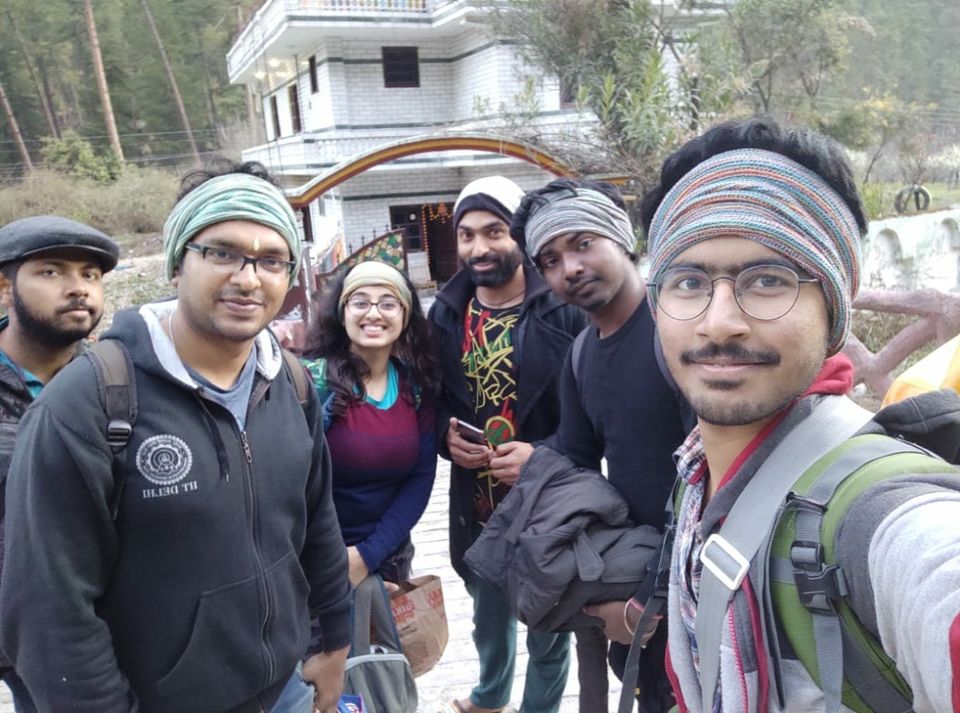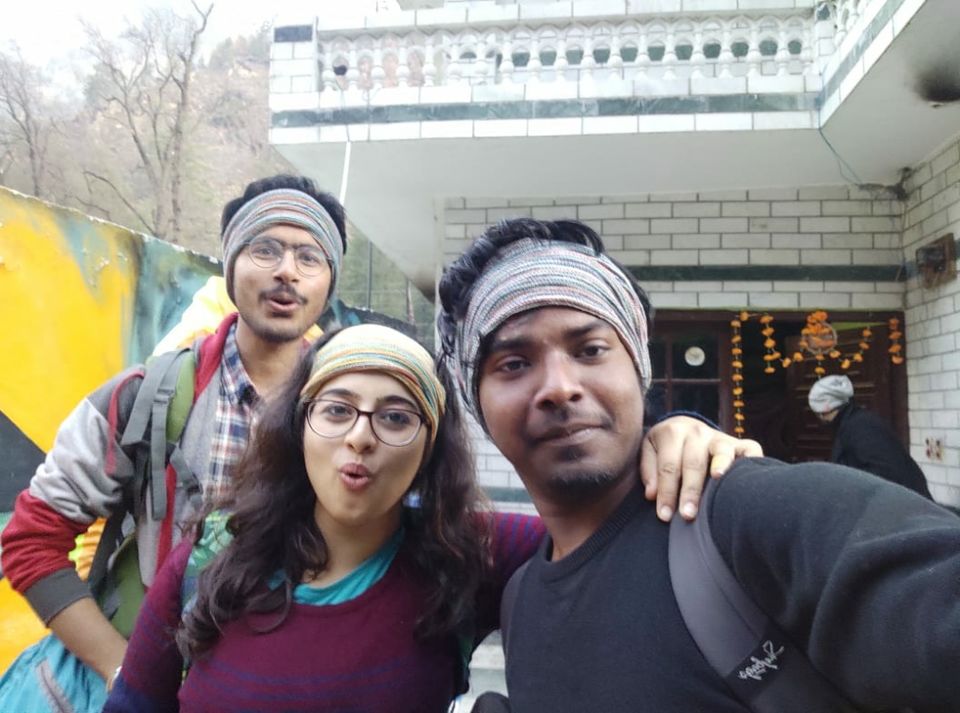 Chhetri ji dropped us at Bhuntar bus stop. Couldn't have a picture with him due to time constraints. We had some snacks near the bus stand and boarded the bus. While driving down, it seemed that slowly and steadily those lights dimming in the hills are sad. Sadness might also be due to the fact that the very next day, all of us have to go back to our work with full energy and enthusiasm. We, human beings always try to escape from the reality. When we have lots of things to do, we tend take off for a vacation and when we have nothing to do then we start missing our work.
What I have realized during this lockdown is "Life is unpredictable". One should do what he/she likes to. If your Goa vacation is pending or you want to go to a hillstation then go for it after the current situation is being normalized. Don't wait for anyone, for anything. You are the only one who can bring you happiness.
#kasol #malanavillage #tosh #manikaran #himachal #trekk #adventure #2020trips #leapyeartrip #explorer #roadsofhimachal #parvativalley #kheergangatrekk #kheerganga