Cleverly instigating the spark of curiosity, marvels in India never stop astonishing an avid reader and a traveler. One such mouth gaping story is of a magical escape named 'Bathu ki Ladhi', where a cluster of temples become visible only for 4 months of the year!
1) 'Bathu ki ladhi', the name comes from 'Bathu', a type of stone used in the temple construction and "Ladhi" means the cluster of temples
2) The location of this phenomenal landscape is over the Pong Dam in Kangra district of Himachal Pradesh
3) The temple remains submerged for 8 months of the year and becomes visible only when the water level decreases (March-June)
4) The whole cluster consists of 6 temples out of which 5 are dedicated to Lord Vishnu and the main one in the center is dedicated to Lord Shiva
5) There are various folklores about the existence of the temple. Whereas some locals claim it to be constructed by a local king, others believe it to be built by the Pandavas in Mahabharat era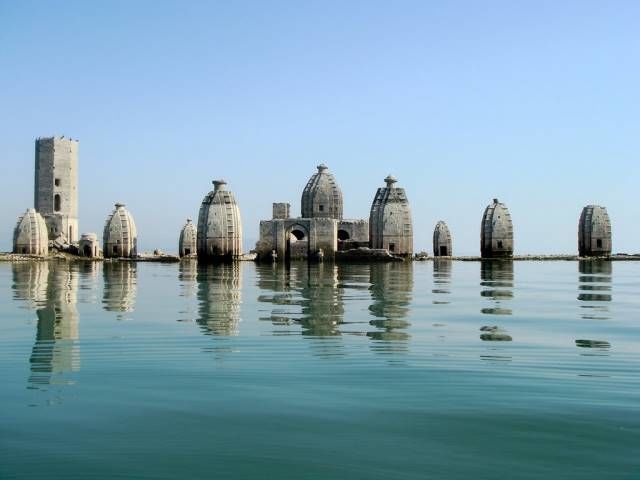 6) Even after staying immersed in water for so many years, the temple construction and foundation is strong as Bathu stone is extremely strong and smooth
7) The only medium to visit the temple is via boat. Around the temple, there is a small peaceful island known as Rensar
8) Untouched by big crowds, the location is a serene sight with calm waters all around and a warm sight of migratory birds all over
Best time to visit:
May-June
Where to Stay:
Govt forest resorts are available in Rensar. Accommodation can also be booked at Dharamshala (a drive of 1.5 hrs)
How to reach:
The nearest airport is Gaggal airport (Dharamshala). The temple is located at half an hour's distance from a small hamlet named Jawali.
Picture Credits: Beingpahadi
Posted by: Isha Chopra