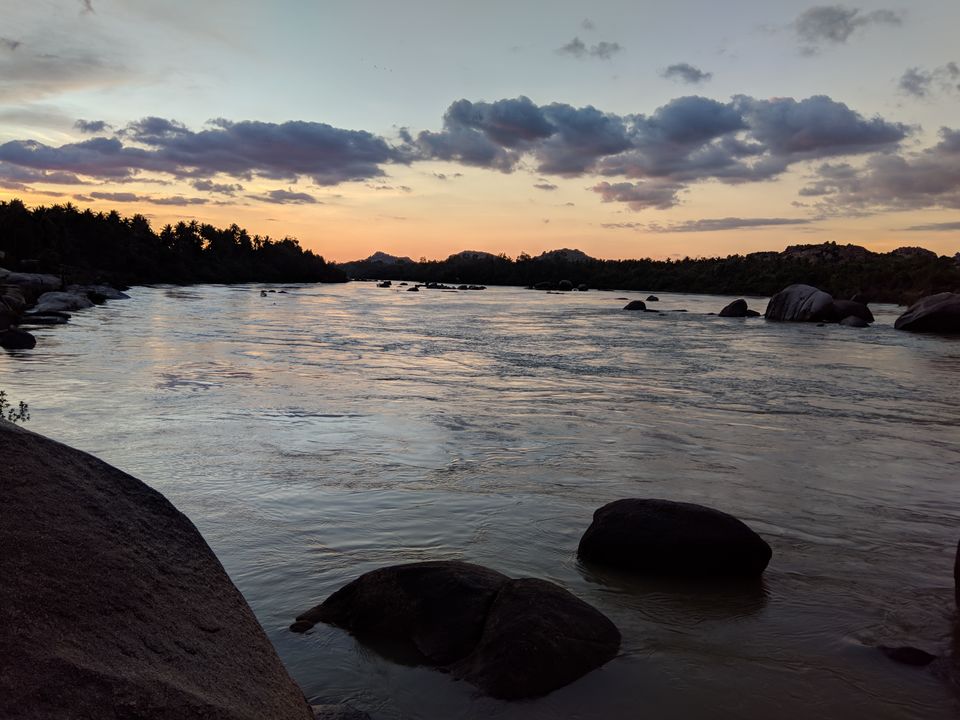 Hampi; a destination which I am sure is on the bucket list of every travel enthusiast, if not I urge you to make it a priority. I can vouch that you won't be disappointed even a bit.
Since long time, Hampi was on my mind but due to one or other circumstances, I was not able to go. Finally decided to go on a solo trip there immediately a day after Diwali. And thus, began one of the most memorable experiences of my life.
How to Reach:
The most convenient way of reaching Hampi from Mumbai is to take a bus up to Hospet and from there you can easily get a rickshaw to take you to Hampi. Even government buses are easily available at regular intervals, which was the mode of transport I preferred. It hardly takes 20-25min to reach Hampi from Hospet.
Where to Stay:
At Hampi one can stay either at Hampi island across the river which is famous for party culture or in main town of Hampi that is quaint and known for the ruins. Lots of options including homestays are available to suit every budget. All the places are satisfactorily clean and locals are quite friendly. As far as I am concerned, I had already booked my stay at New Lakshmi Tourist Home in the main town of Hampi for 2nights. The owner was kind enough to arrange complimentary pickup for me from Hampi Bus Stand without me even asking for it. Overall this marked a very good start to my trip ????.
The stay was adequately clean and at a stone's throw distance from Virupaksha Temple and Matanga Hill. I had originally planned to explore Hampi Island also known as Hippie Island on 1st day and rest of Hampi on remaining days. But as luck would have it, due to heavy rains and rise in water levels of Tungabhadra river, all boat services were suspended during the duration of my stay. That's given me the perfect reason to visit again ????. Now I had three whole days to explore the historical side of Hampi at a leisurely pace.
Day 1:
Hampi being the capital of the mighty Vijayanagar Empire still stands true to its name. Just a step in and you feel like you have travelled the time into the past. It's like witnessing history all around you. Wherever you turn your head, you will see ruins of grand structures and boulders.
On getting fresh after travel, all excited to explore, I decided to skip breakfast and visit Virupaksha Temple first and get the blessings of Lord Mahadev. Skipping breakfast was the biggest mistake as I was to realize later in the day. Virupaksha Temple is a huge complex with excellent artworks and carvings all around. There is also a Temple elephant called Lakshmi who blesses you with her trunk on giving her 10rs note. It took me almost 90min to explore entire temple premises. At the back side of the temple, there is a small marker known as Virupaksha Bazaar. On going a bit further, you can find boats that are supposed to take you to the other side of the river.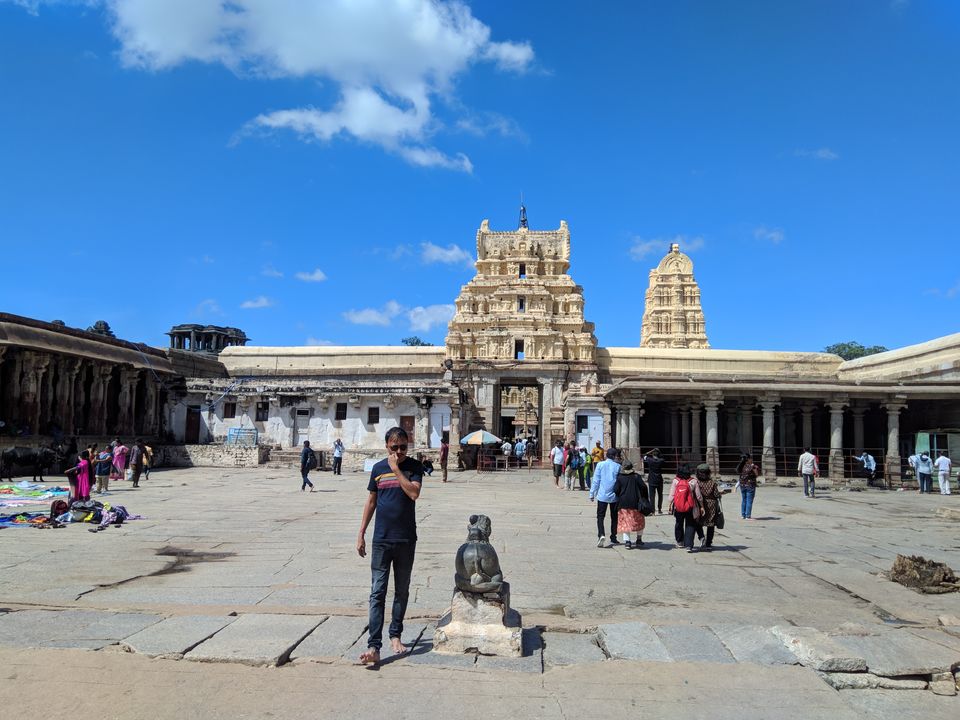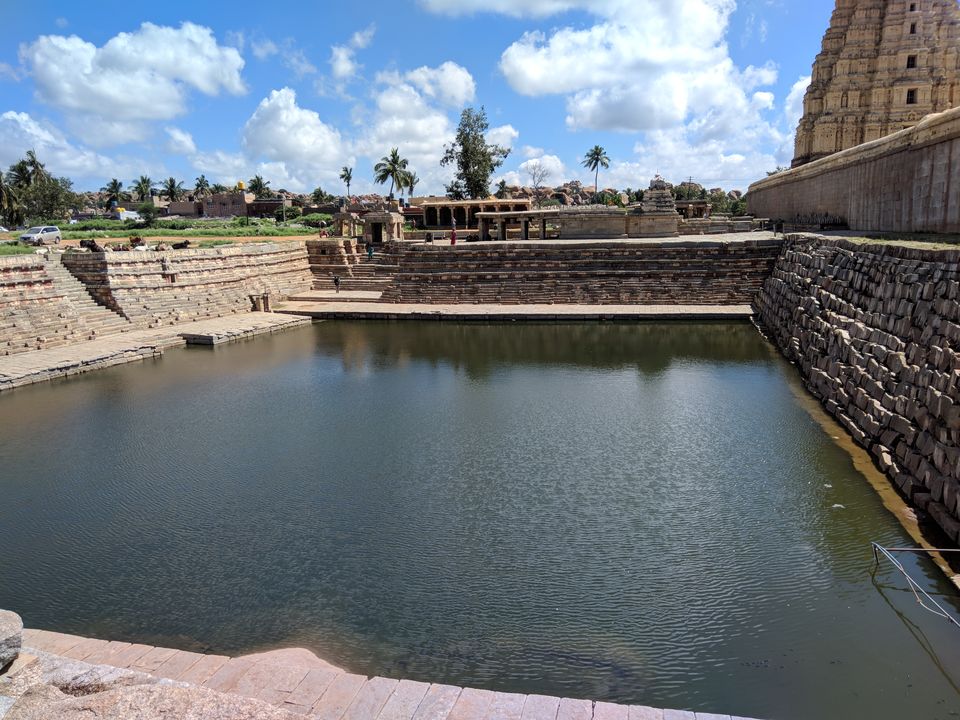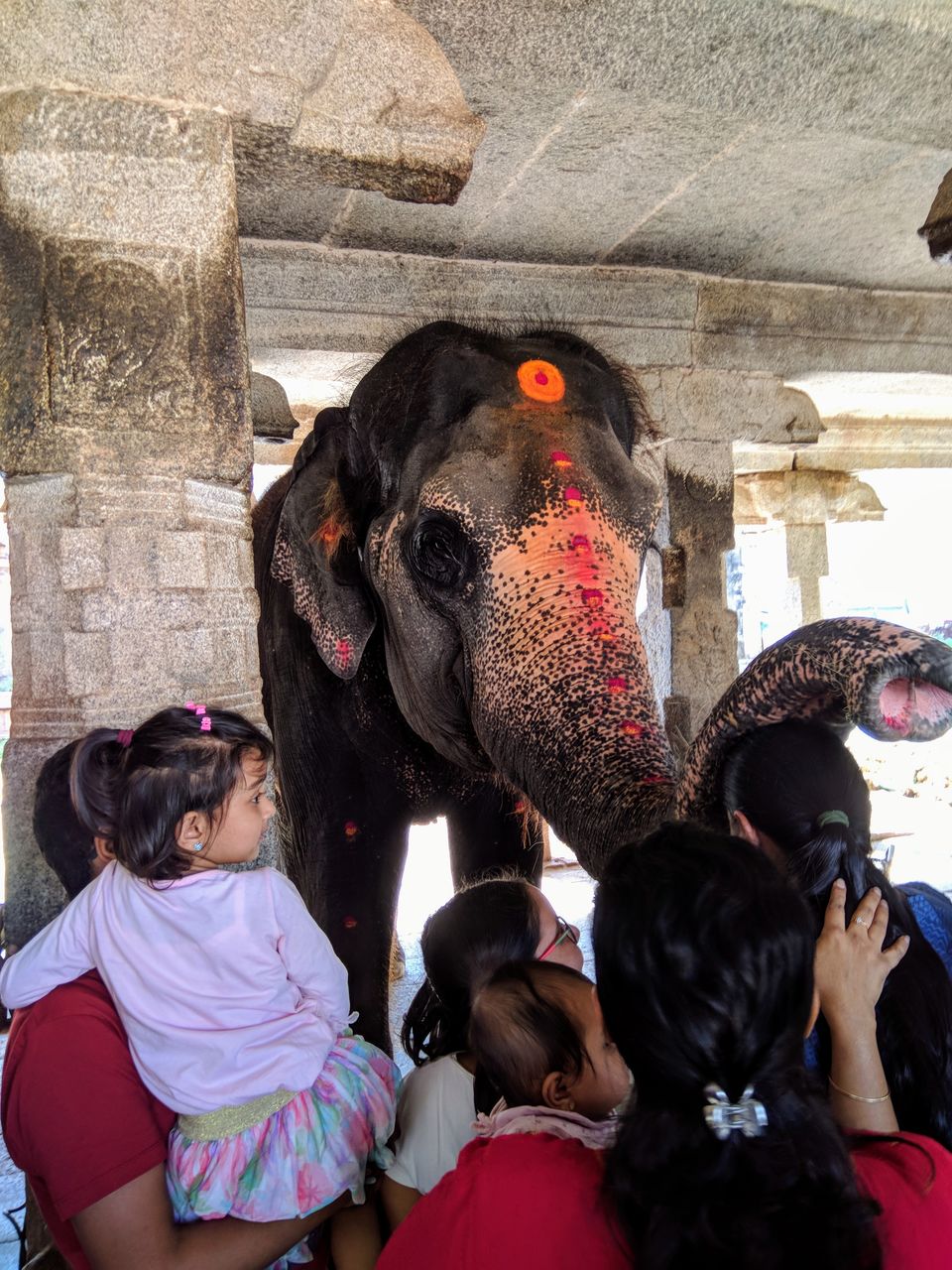 After Virupaksha Temple, I continued to Hemkuta Hill which houses a huge complex of temples and mandapas. Its located right next to Virupaksha Temple. Here you can see different temples and structures that are ruins but can still stun anyone with their beauty and magnificence. It takes more than 2hrs to see everything on Hemkuta Hill.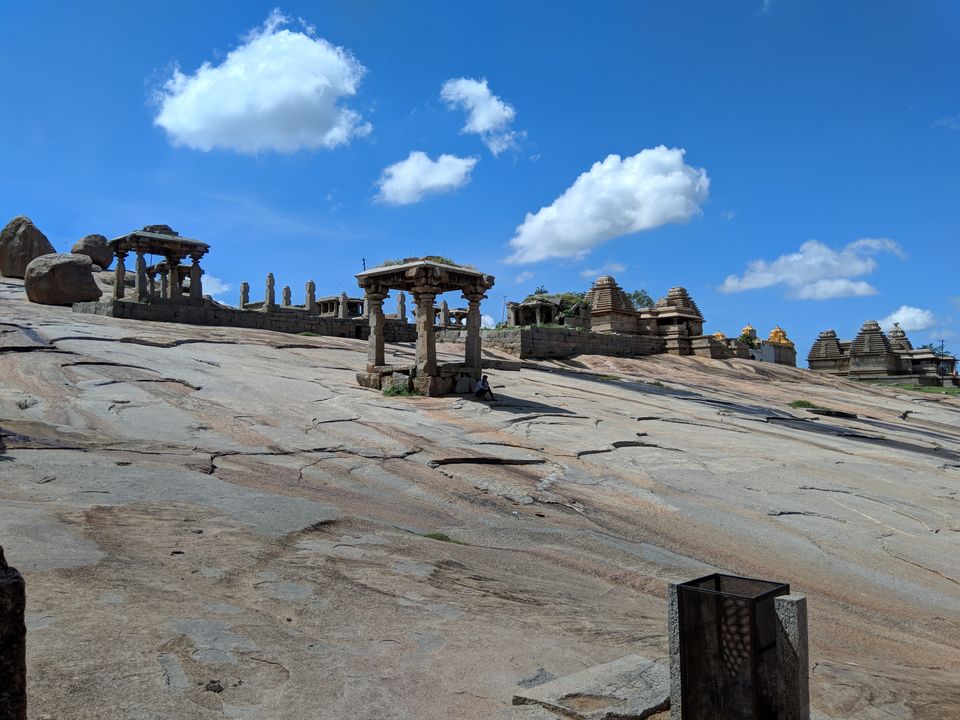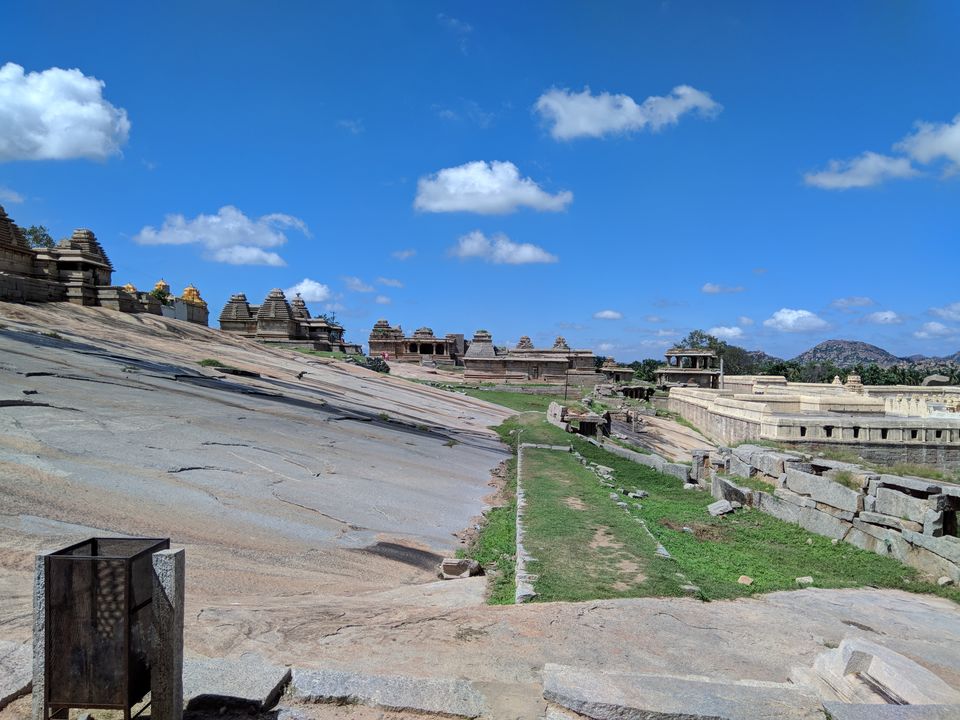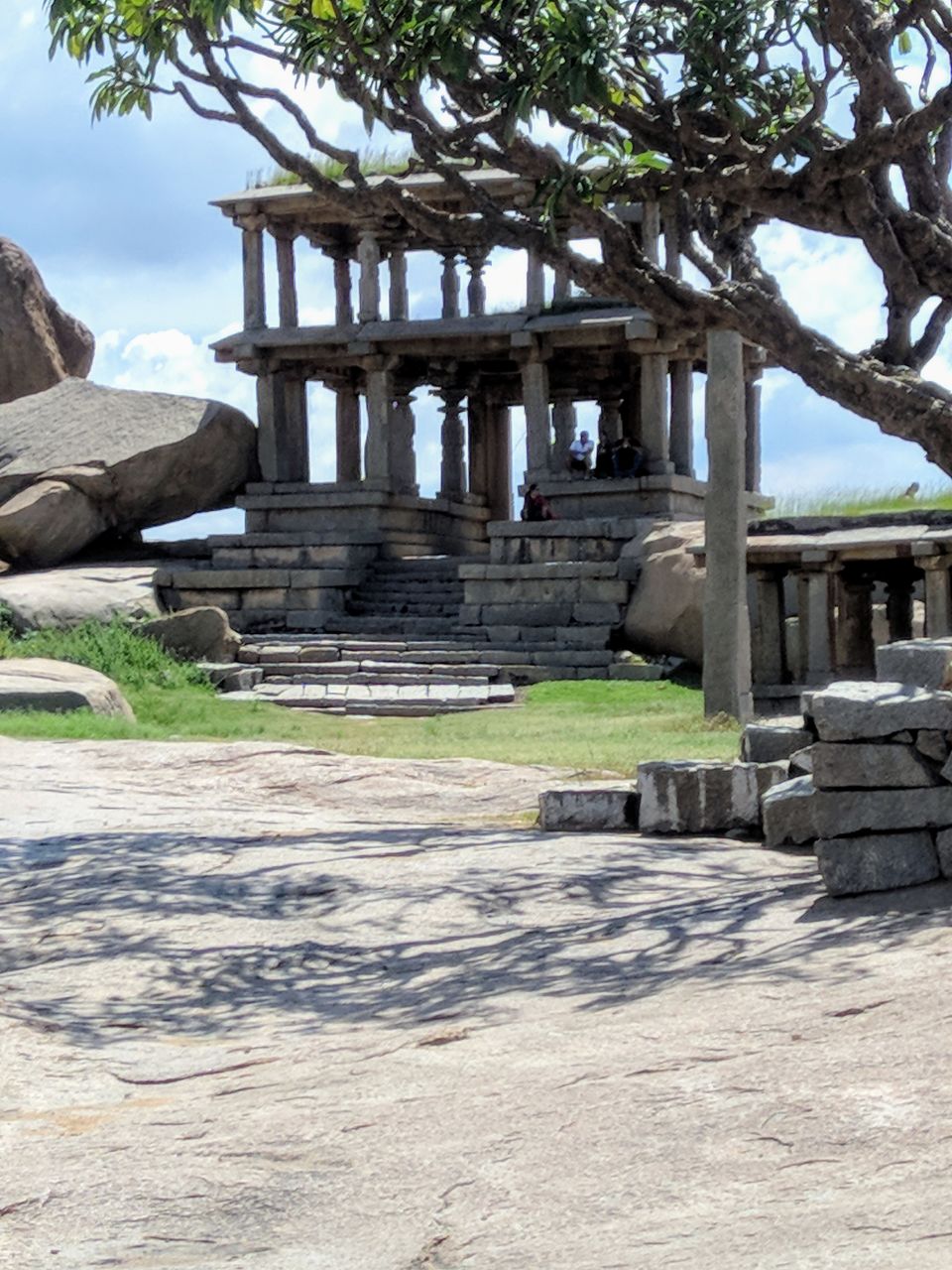 By now it was already 12:45, sun was overhead and I was drained of energy as I had skipped breakfast, and had only some water and a protein bar; but that wasn't enough to sustain. Adding to that was the exertion of 16hrs of travel from Mumbai. So, decided to have lunch and head to my stay for some rest. Hampi feels hotter in noon as all the boulders get hot and emit heat. So, it's always better to rest during noon. Directly headed to most famous restaurant of Hampi, Mango Tree Restaurant which is hardly 5 min walk from Virupaksha Temple premises. It's famous for South Indian Thali and Mango Lassi. Had a luscious meal there, rested for a while and also got an opportunity to get acquainted with fellow travelers there. They prepare everything fresh at the restaurant, so you might have to wait a while for your food to arrive, but the ambience is so nice that you won't complain. After lunch, headed to my homestay and got rest for almost 2hrs. It was already 2:30 in noon by then.
At around 4:30pm, after recharging myself, stepped out once again to explore Achyutraya Temple Complex, on the way saw monolithic Bull structure, yet another example of beautiful craftsmanship. Achyutraya Temple Complex is a huge complex of temple ruins and many mandapas. There are also hug step tanks which must be serving purpose of providing water for temple use and for visitors during its time. It takes about 60min to see everything to heart's content.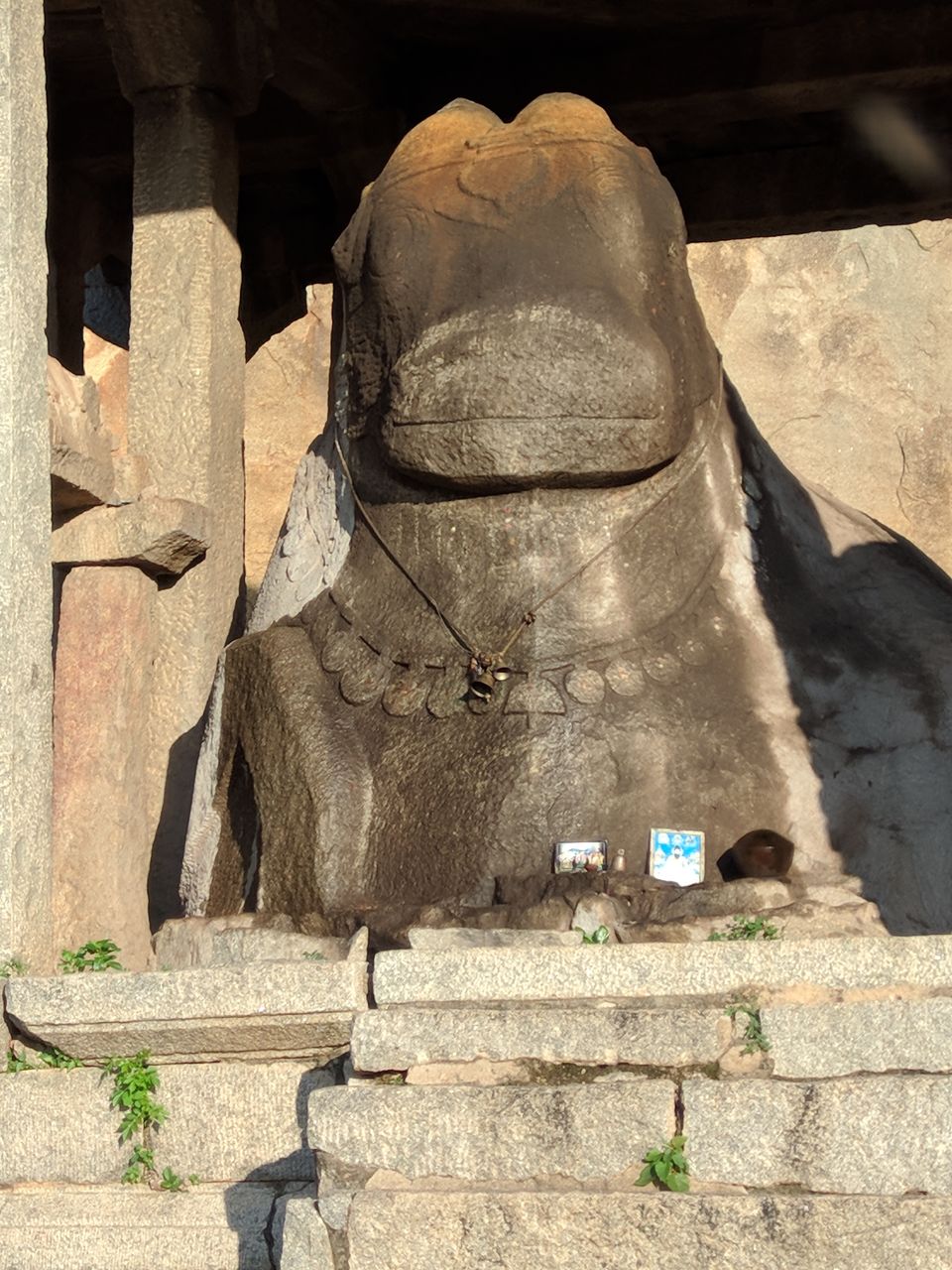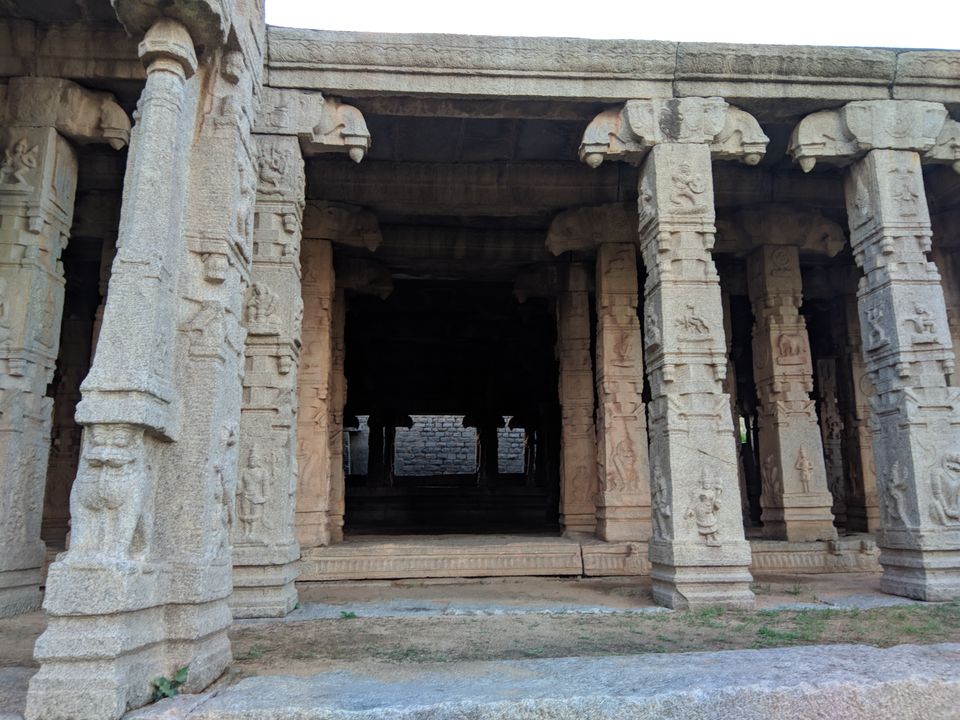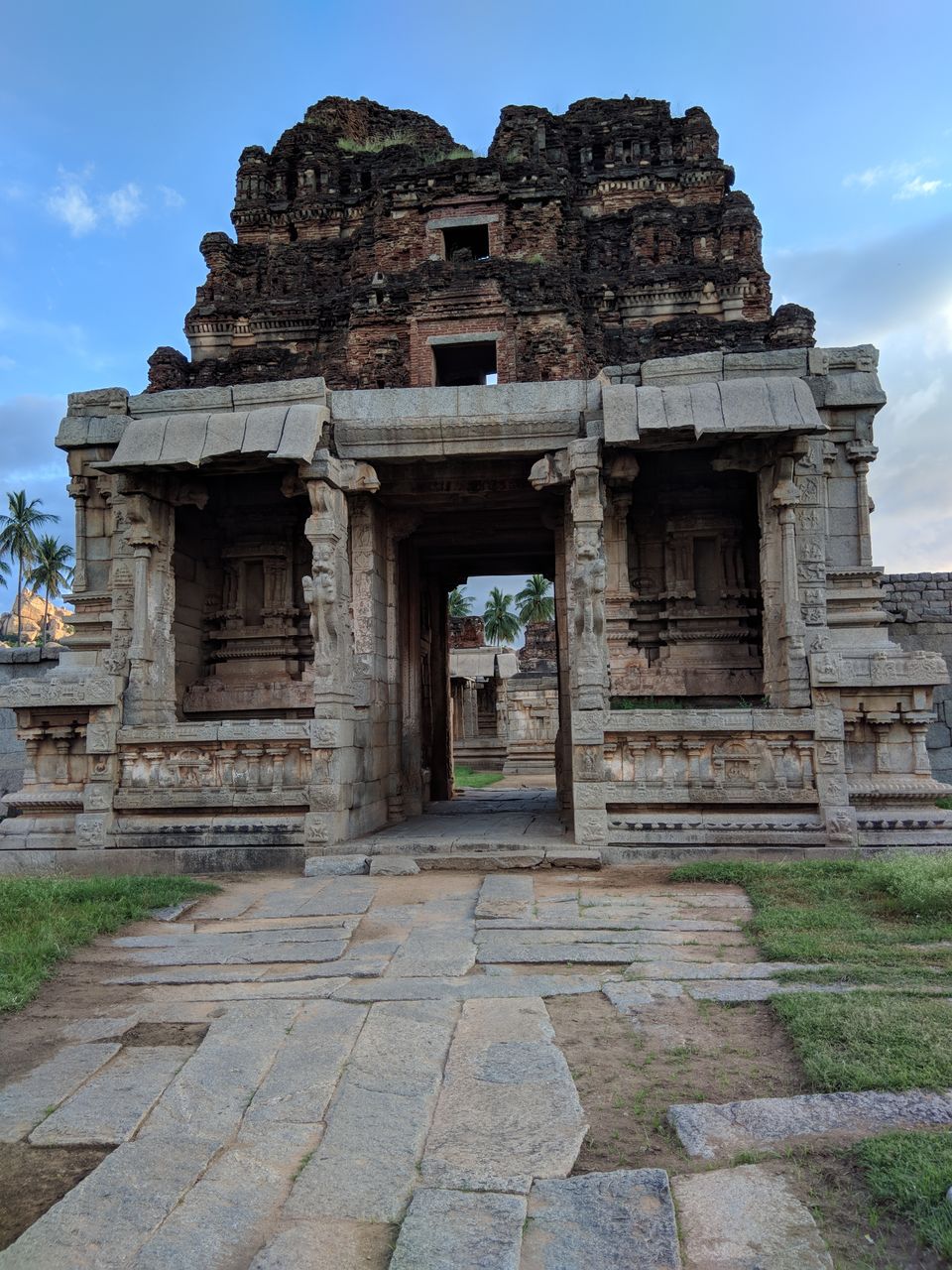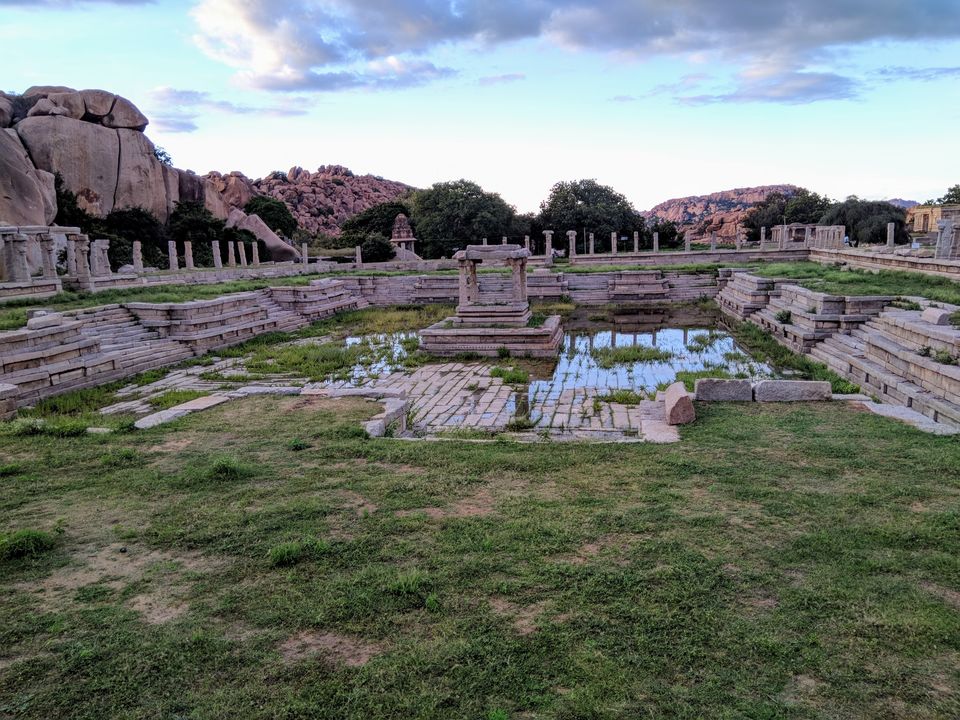 Tungabhadra river bank is also located within the complex and is another wonderful place to witness the mesmerizing Hampi sunset. I generally feel very calm near water body, and this was the most serene experience I had till date. Had some tea and snacks while watching the sunset from the only stall situated there.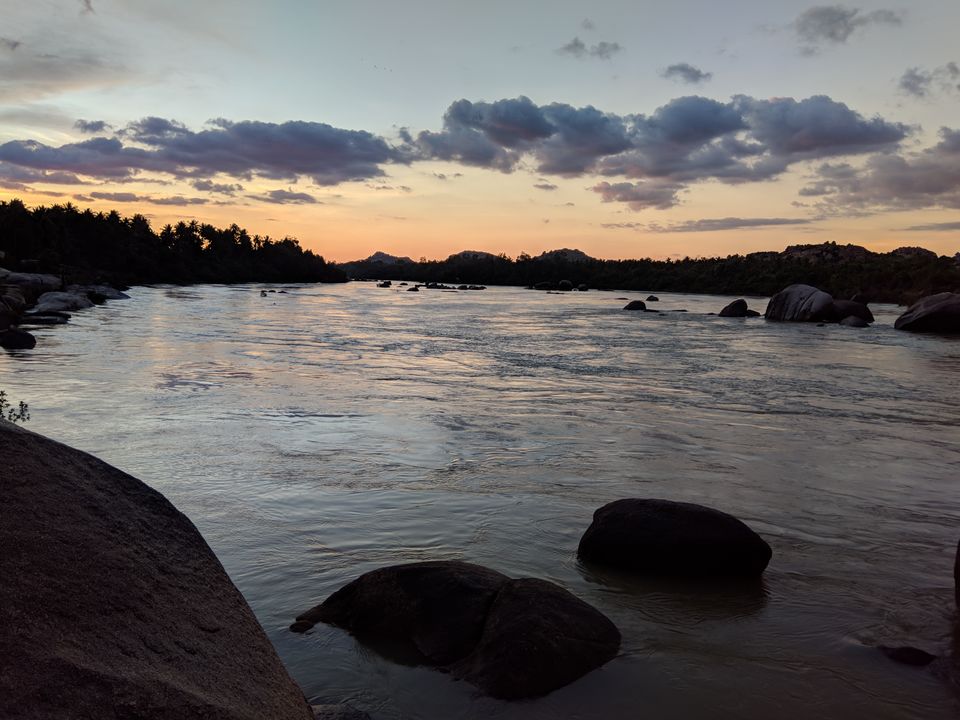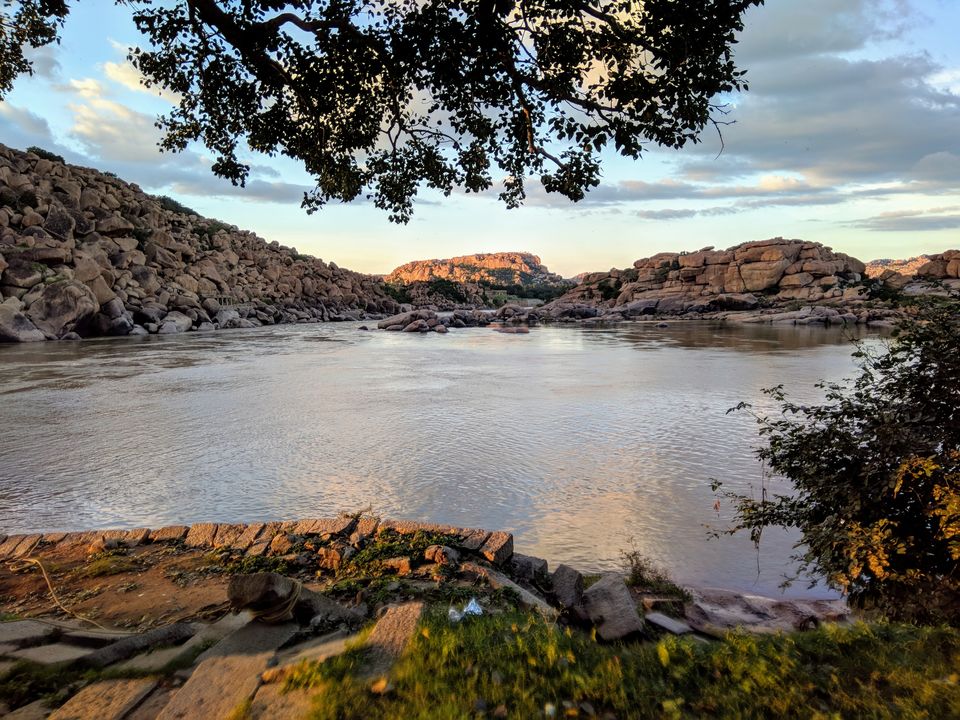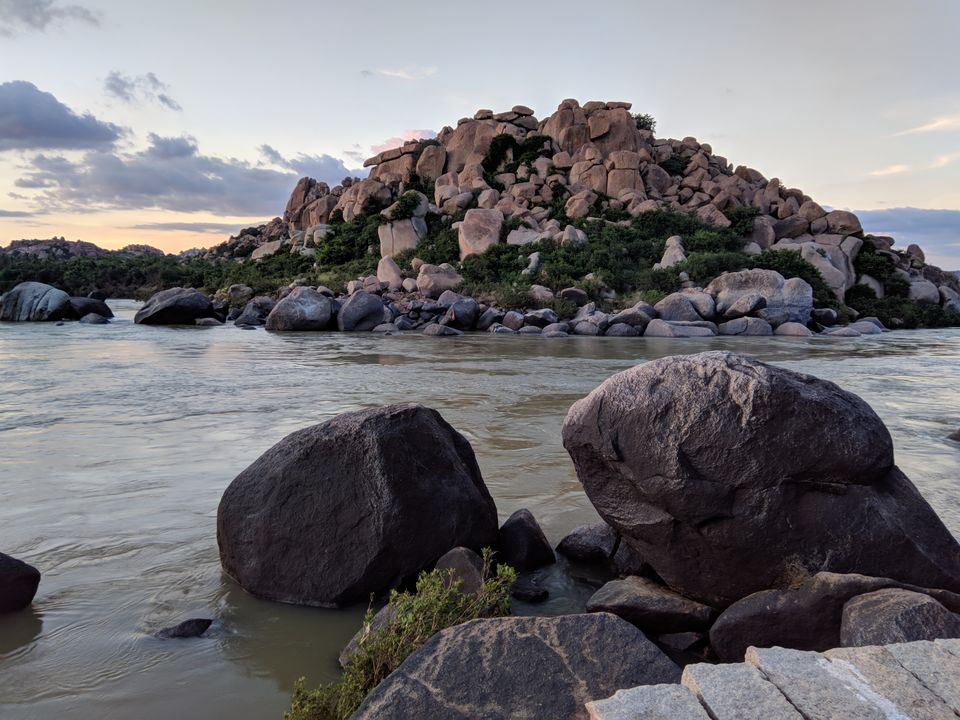 Started walking back to Hampi. There is no nightlife in Hampi as alcohol and non veg food is not available on this side due to Virupaksha Temple. Eggs are available though. For alcohol and non veg food one should stay on the island side of Hampi. So had dinner at 8:00pm, made few new friends while eating, got to have a great time till 10:30. Then went back to my stay vowing to get up early the next day to experience Hampi sunrise.
Day 2:
Got up early in the morning at 5:00 am, but was very cloudy so could not witness the sunrise. Had much exploring to do, so decided to start early by 8:30am, remembering to have a heavy breakfast before starting out to various sites.
First stop was Kadalekalu Ganesha, another monolithic structure on the slope of Hemkuta Hill. I was told that only the royal family was allowed to perform Puja here in those days. On one side of road, there was a huge gate made specially for the royal family to visit the temple. Across the road on the other side, there are ruins of Bazaar where a huge market used to be held. Next stop was Krishna Temple, and what a work of art it was. The whole campus is so impressive. You cannot miss the beautiful carvings on the pillars. It's one of the most beautiful sites to visit in Hampi. Some restoration work was going on there, just hope that it gets more beautiful once its completed.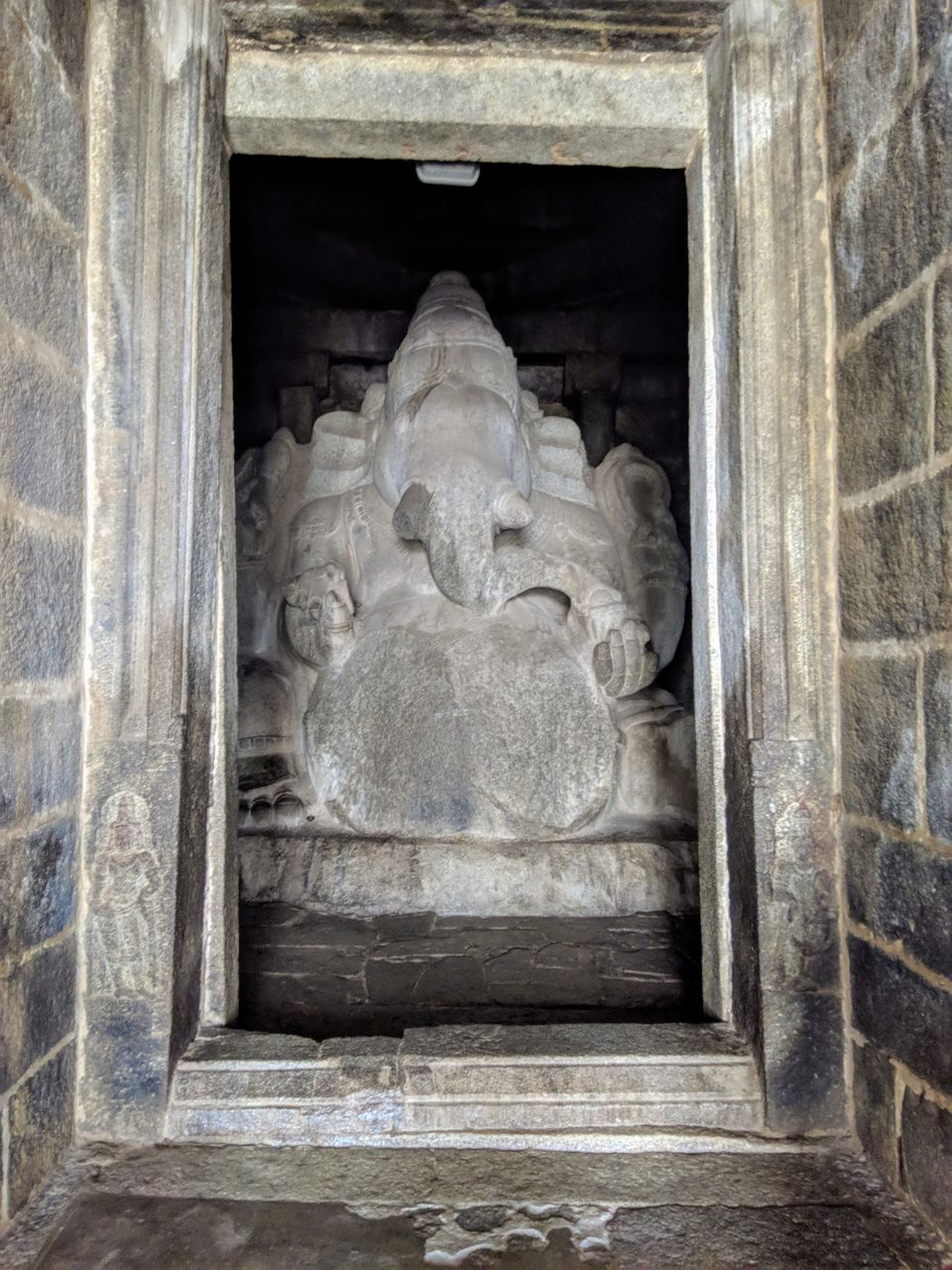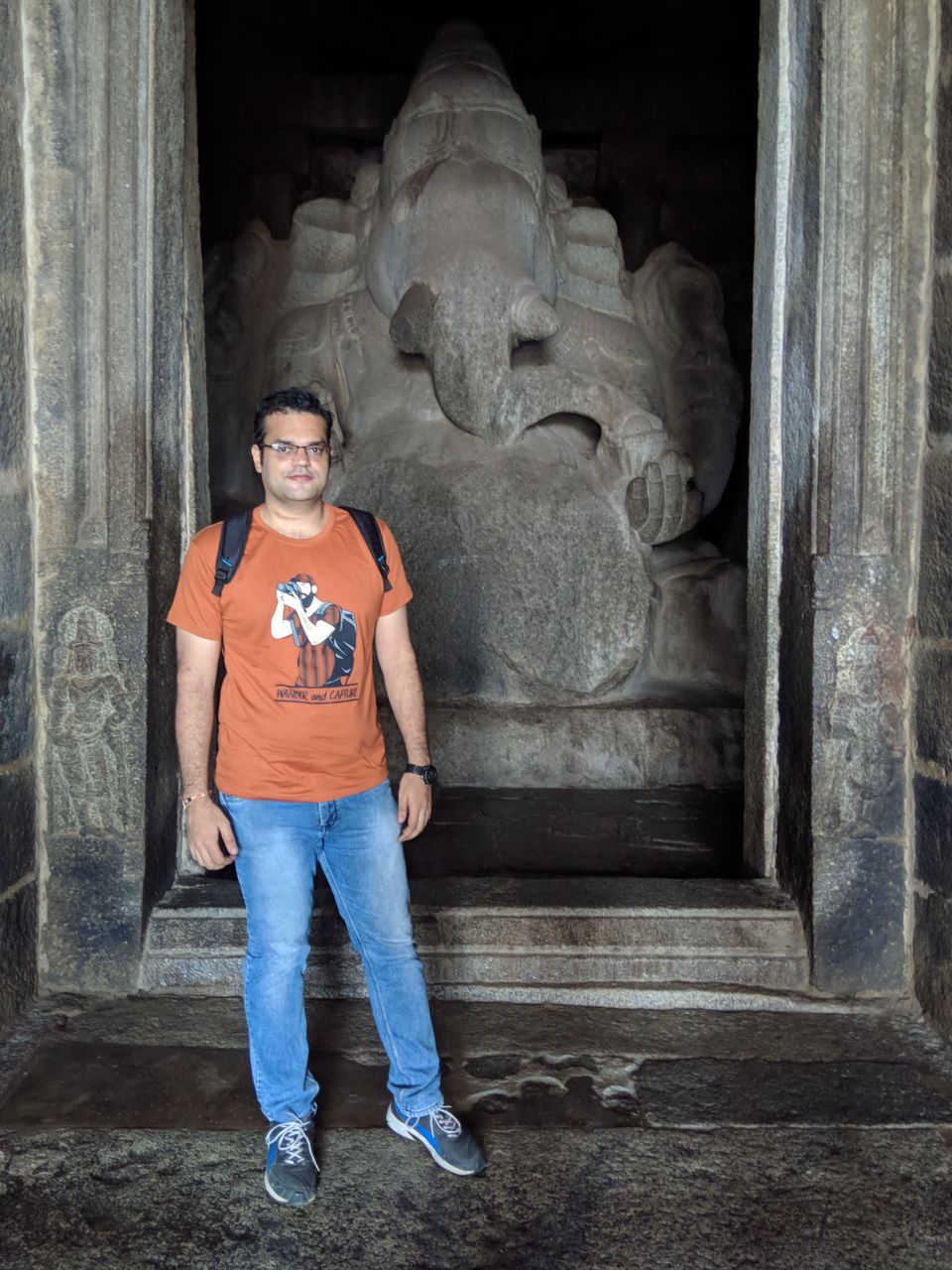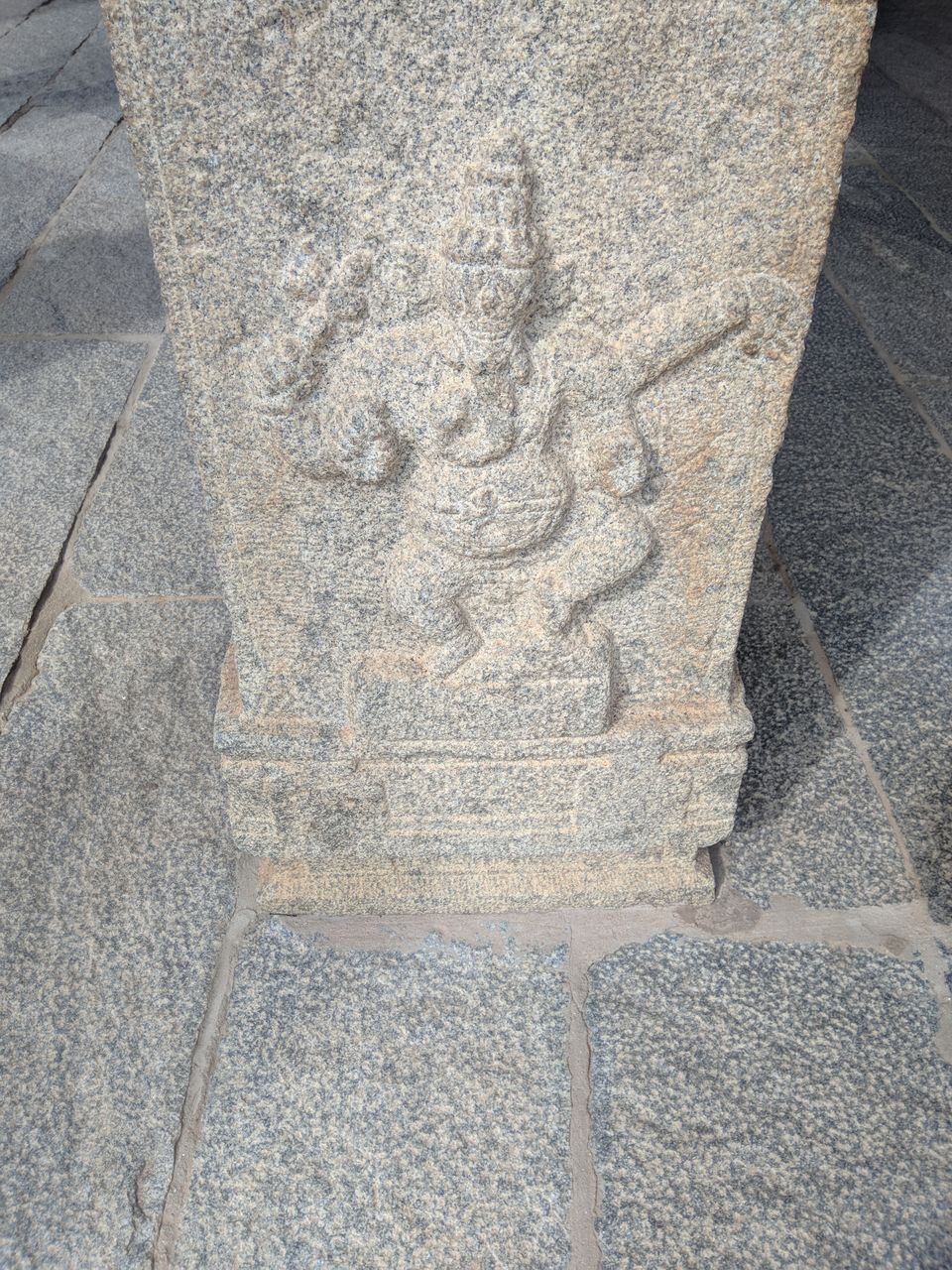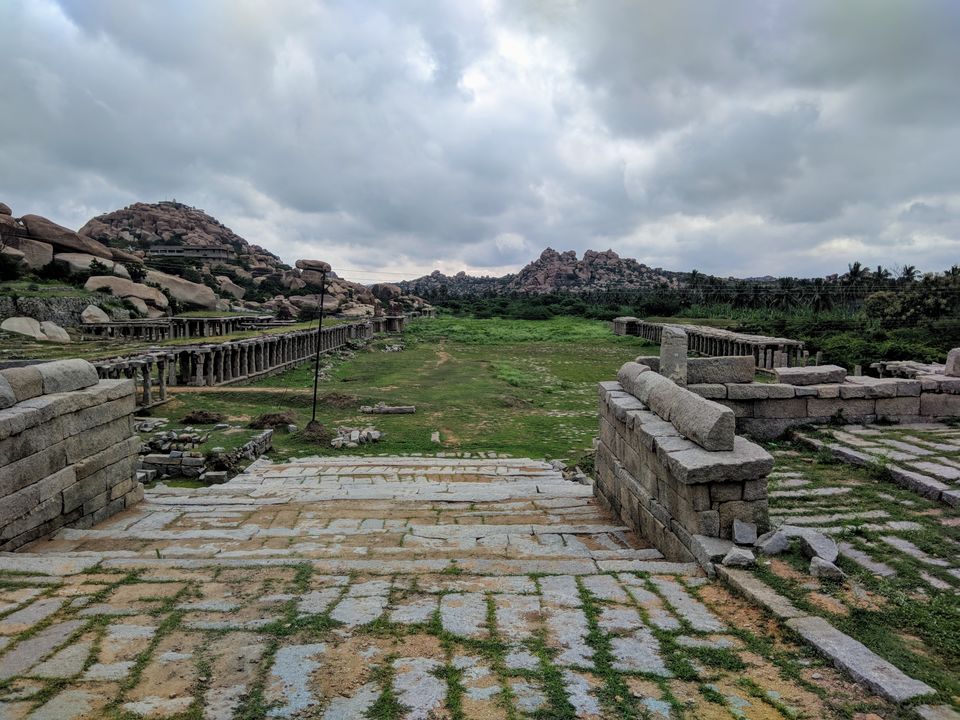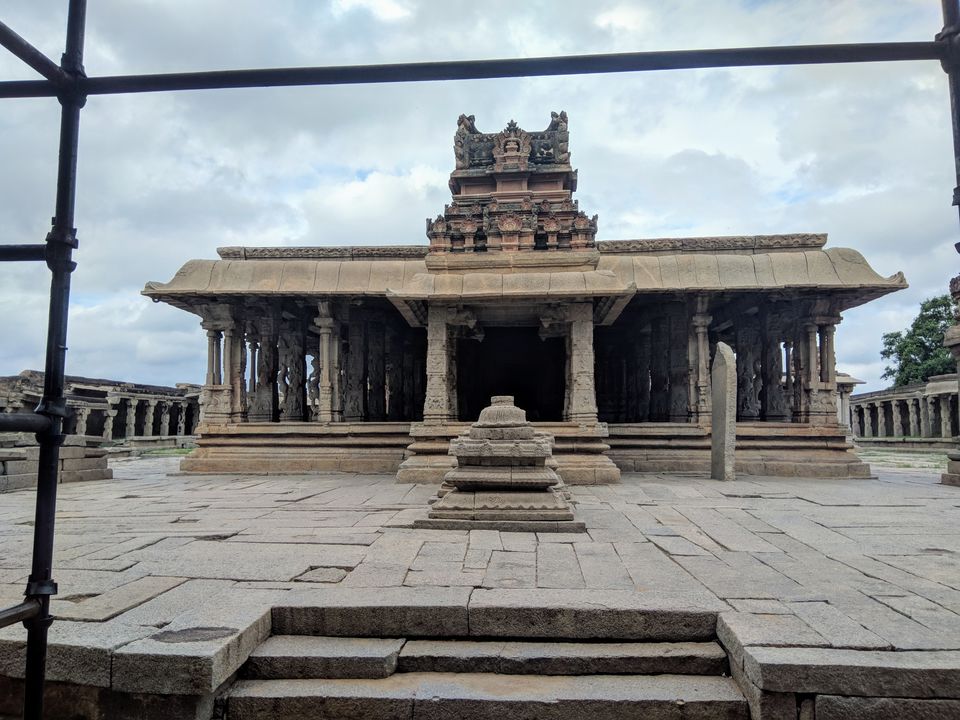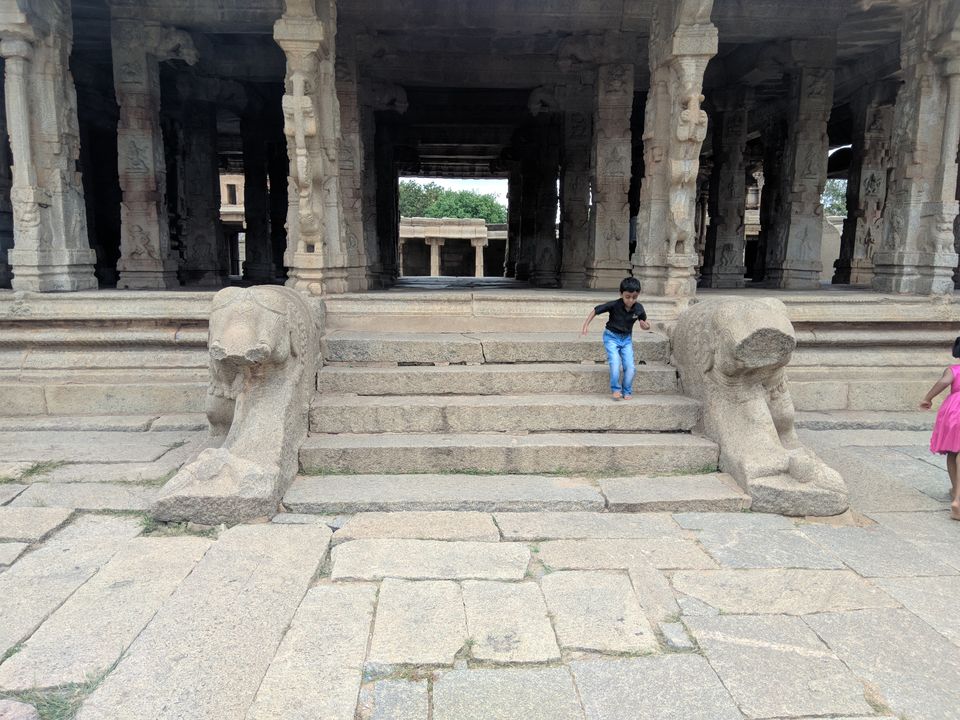 Around 200m from Krishna Temple, is home to two other famous structures. One is LakshmiNarsimha statue which is in desecrated form and now only the statue of Narsimha stands there. Next to it is a huge Shiva Linga where Puja is still performed on a daily basis. At some distance from here, you will find an underground Shiva Temple complex that was discovered not long time ago. Another wonderful site to visit.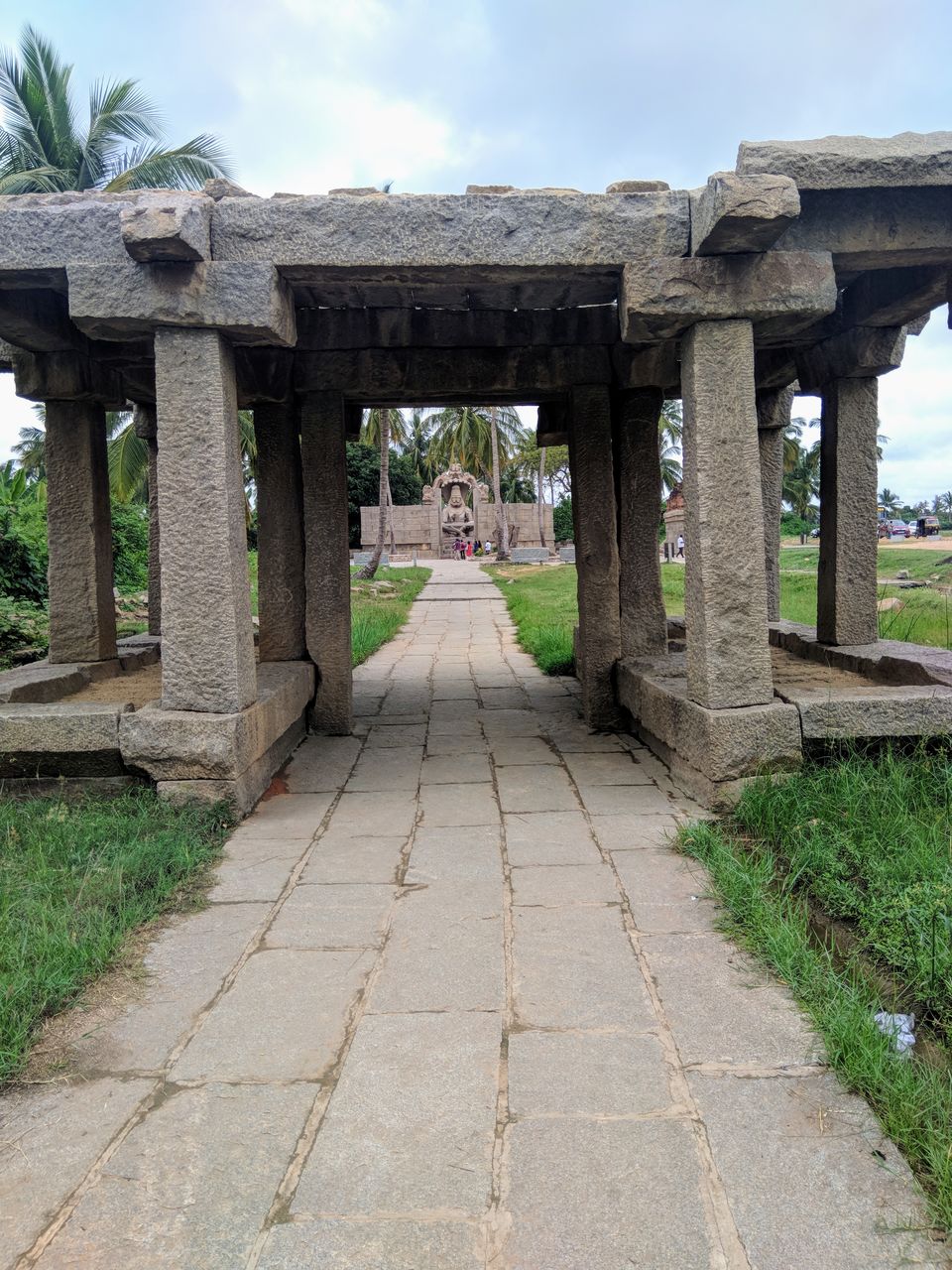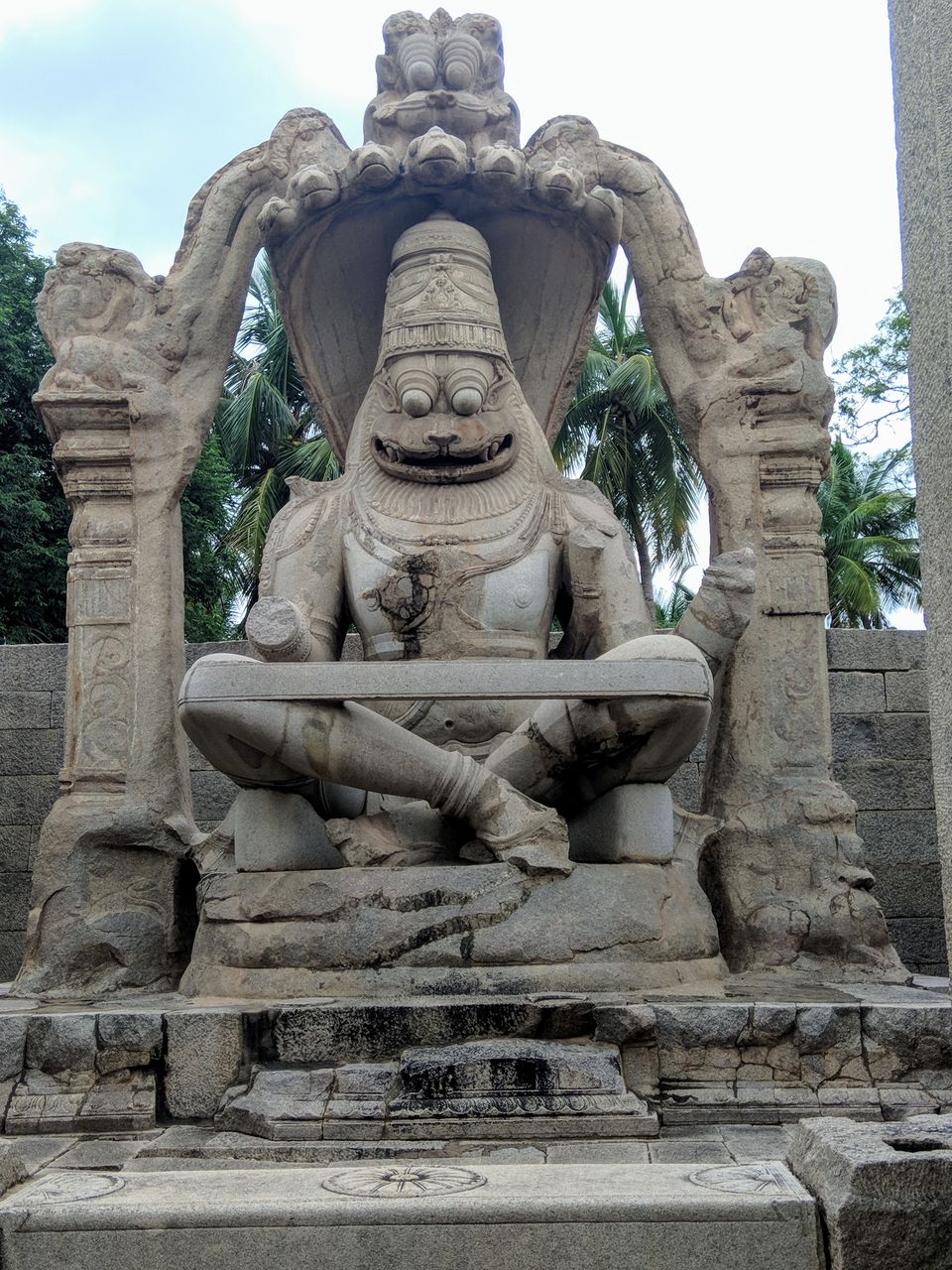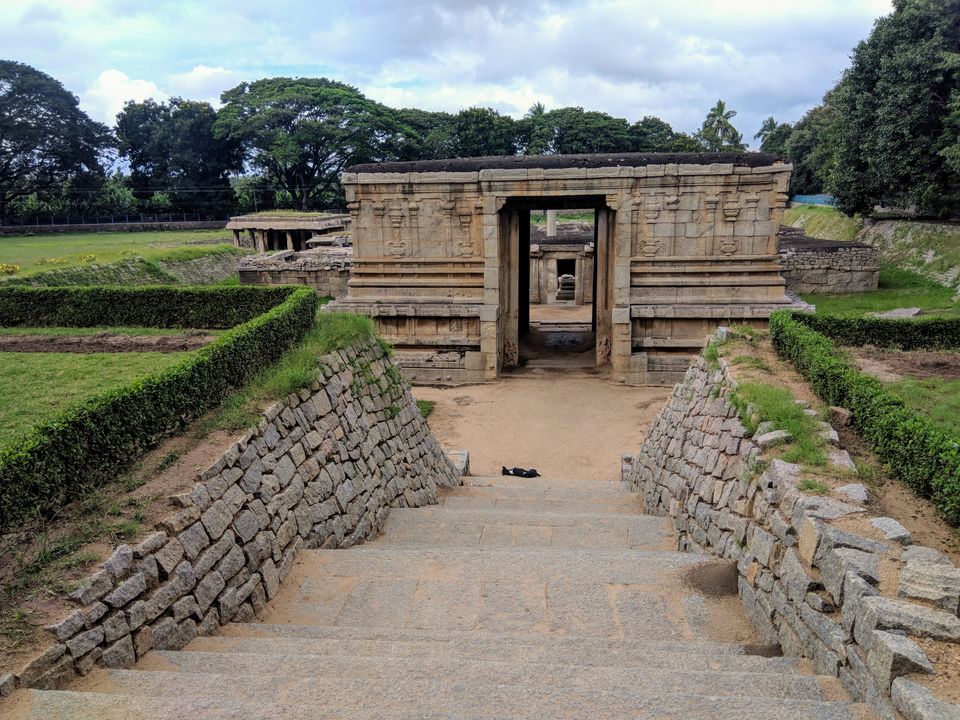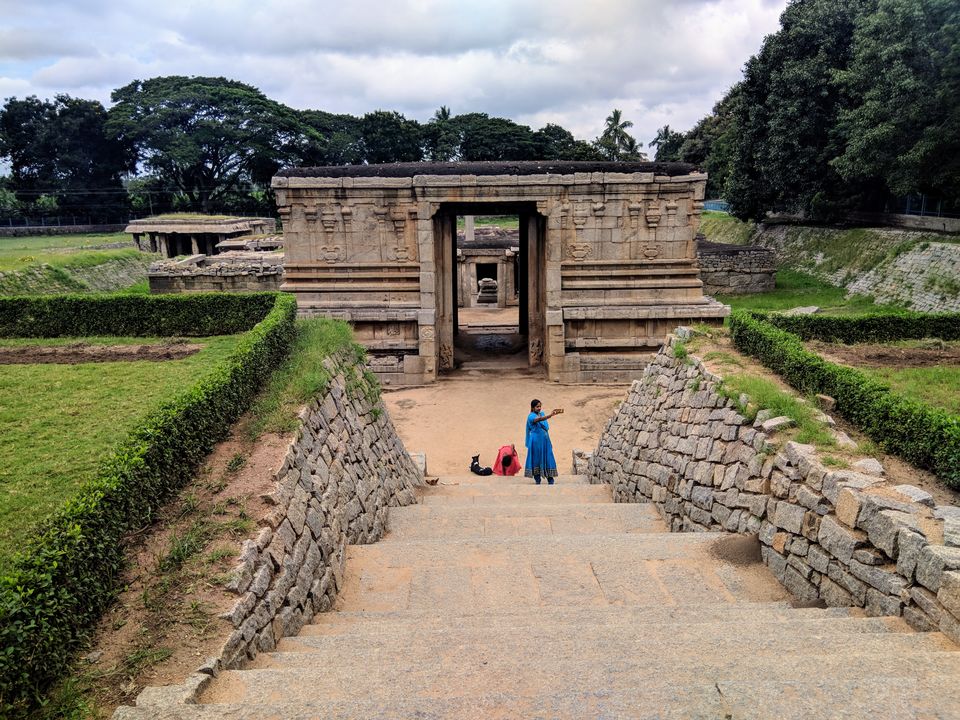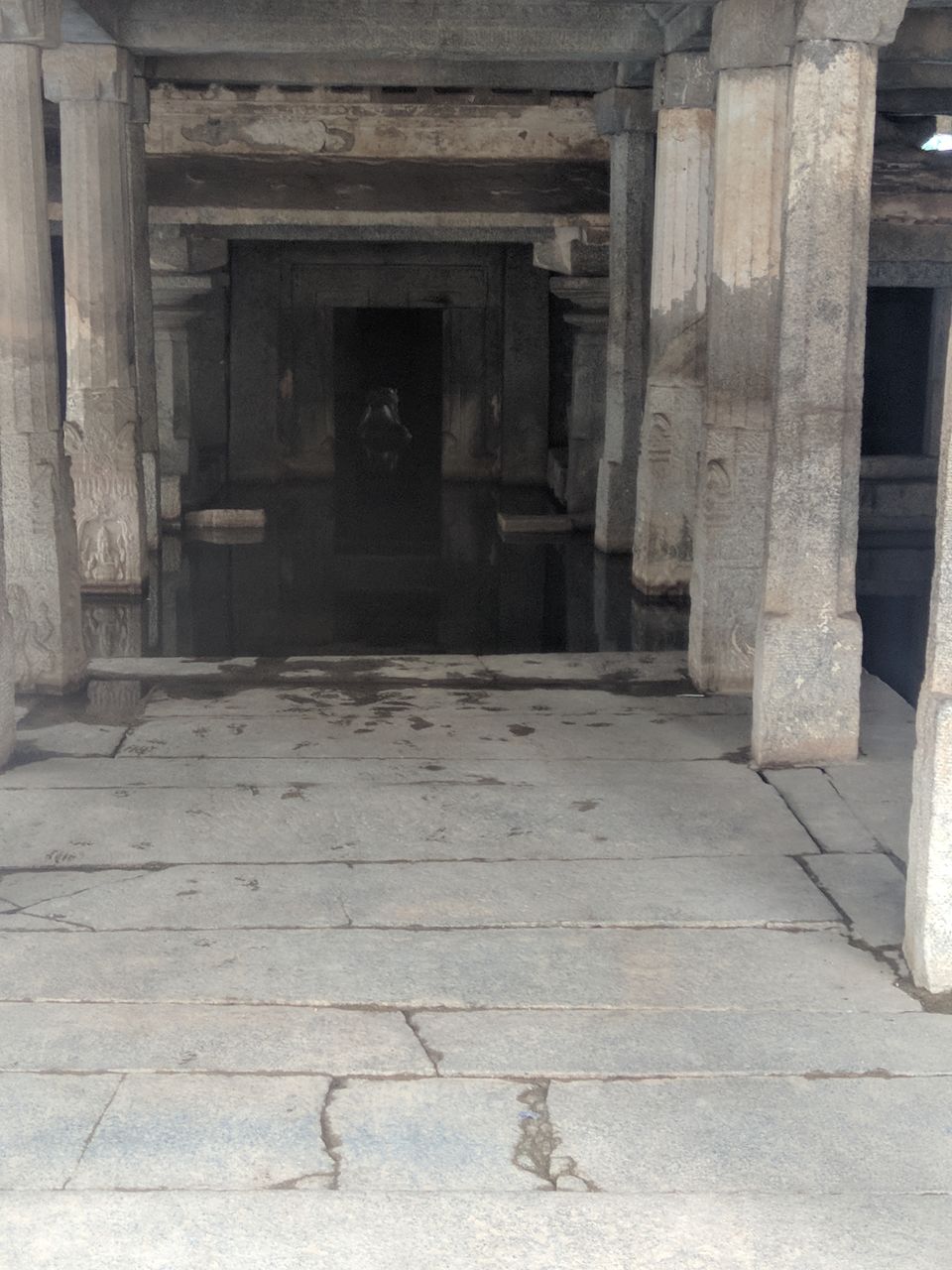 On going bit further, you will find all the major tourist attractions like Elephant's Stable, Lotus Palace, Treasury Building, Hazari Ram Temple. Famous stepped water tank. Each site telling its own storied from the ruins and beautiful carvings. All we get is a peek into the grandeur, might and skills and scientific advancement of the Vijayanagar Empire. Each site will need a separate blog to describe. Its better if witnessed in person.
On the backside of Elephant Stable, there are lots of temple ruins dedicated to Lord Vishnu. One Jain temple dedicated to Lord Parshwanath is also there. Another complex that houses the Stepped Water Tank, there are huge aqueducts and underground pipelines. There also was an arrangement where one can control the force of flow of water and the quantity of water. Hazara Ram Temple has carvings mostly depicting various scenes from Ramayana. Another building that cannot be missed is Queen's bath.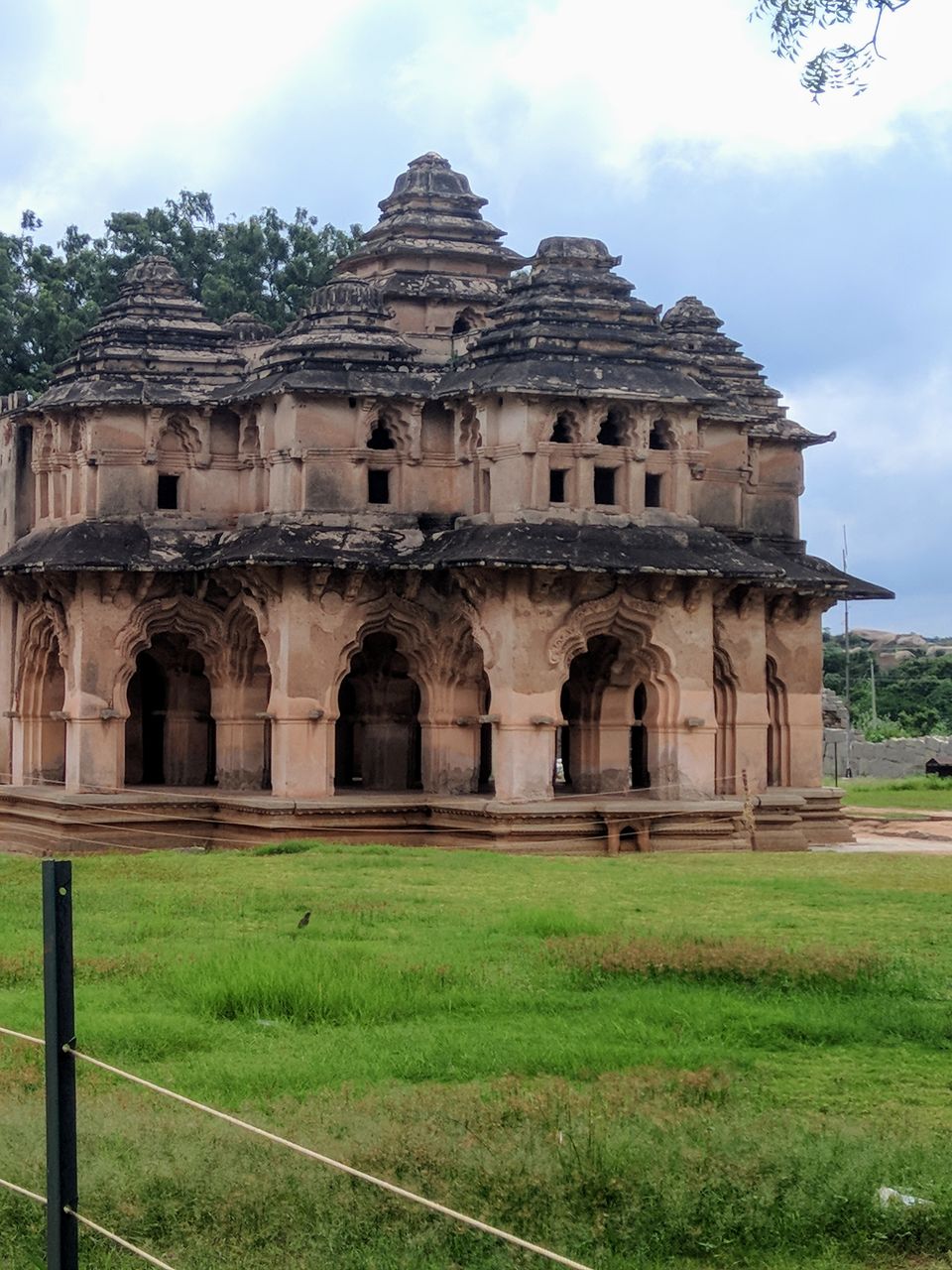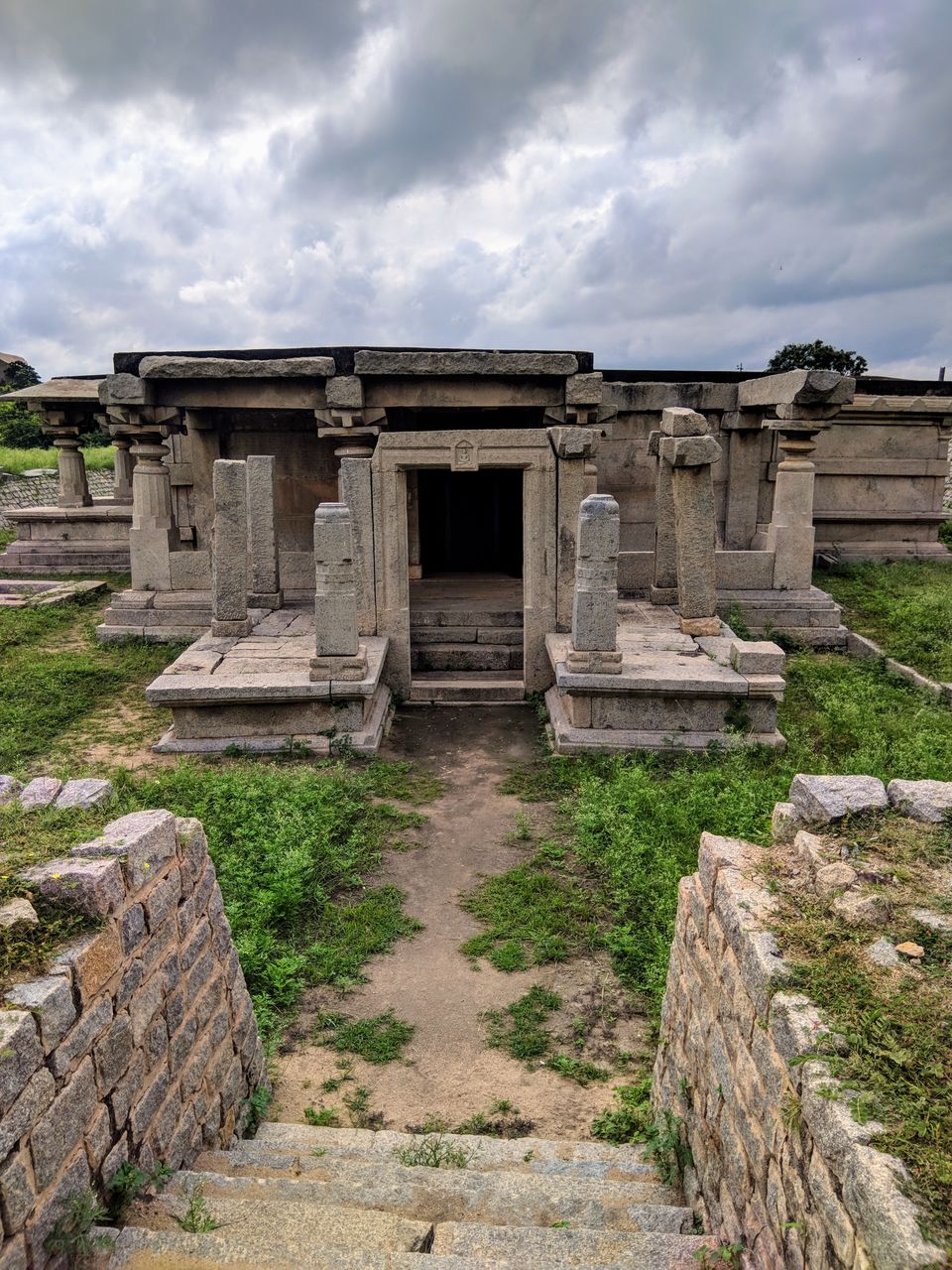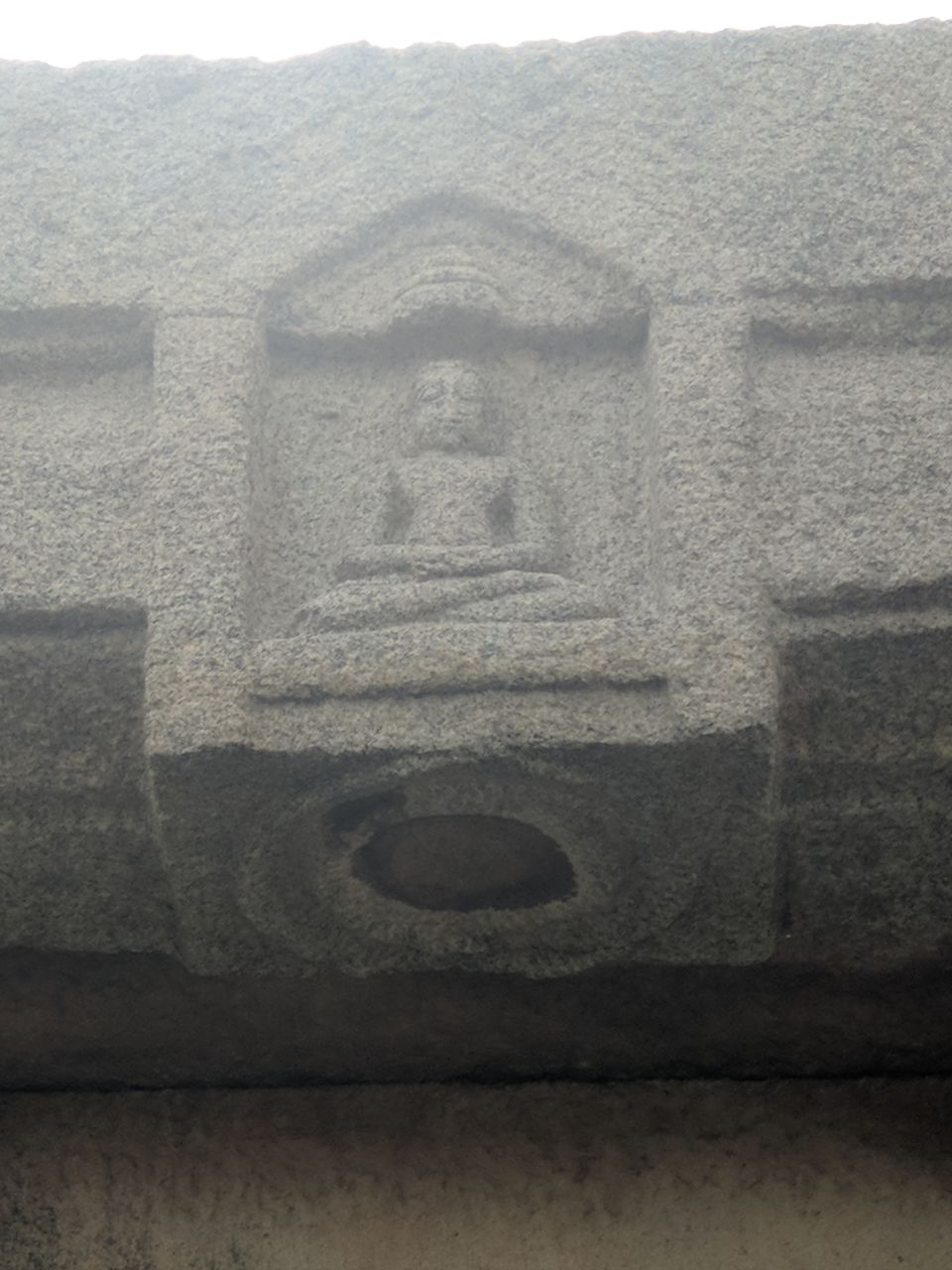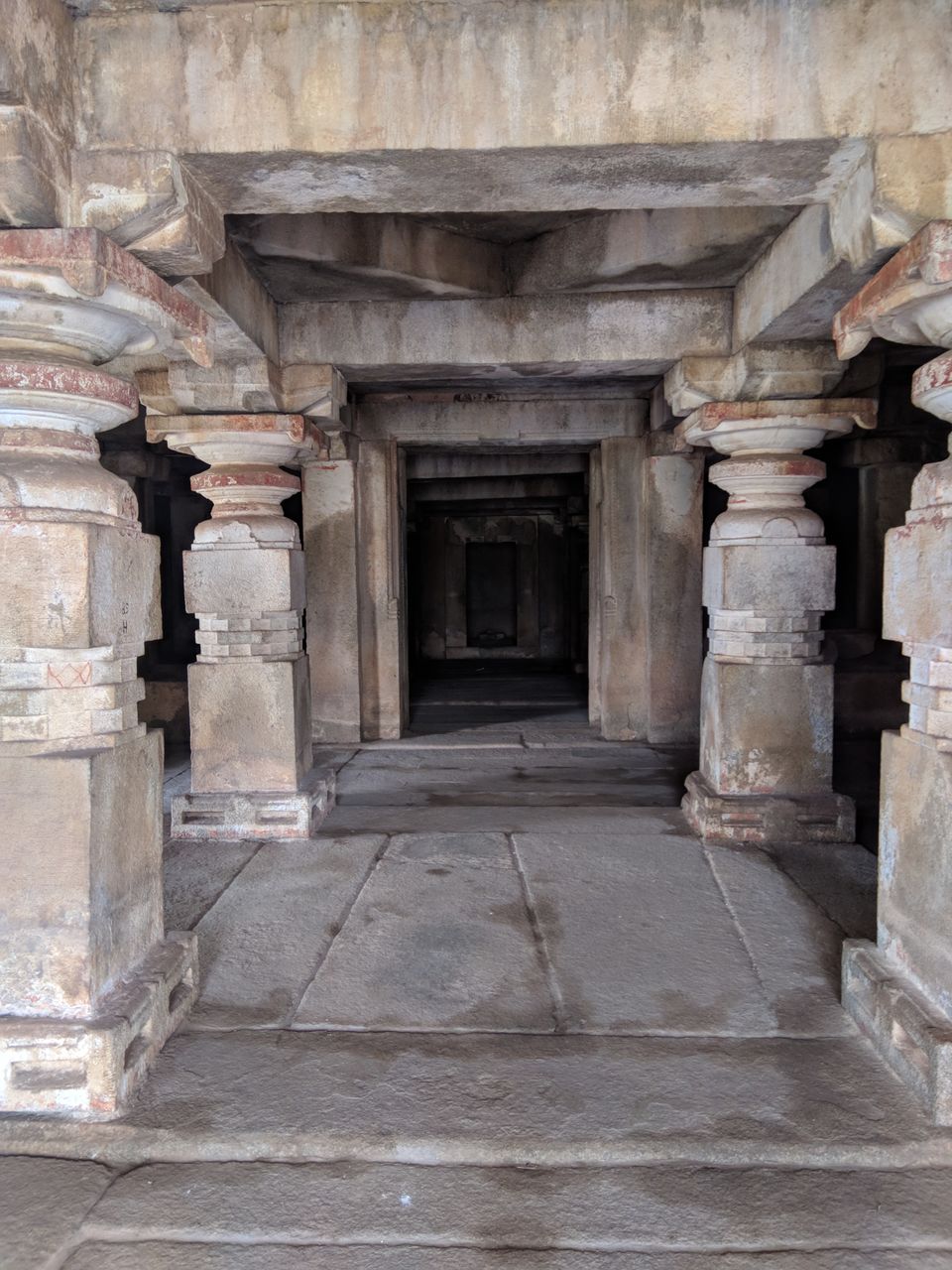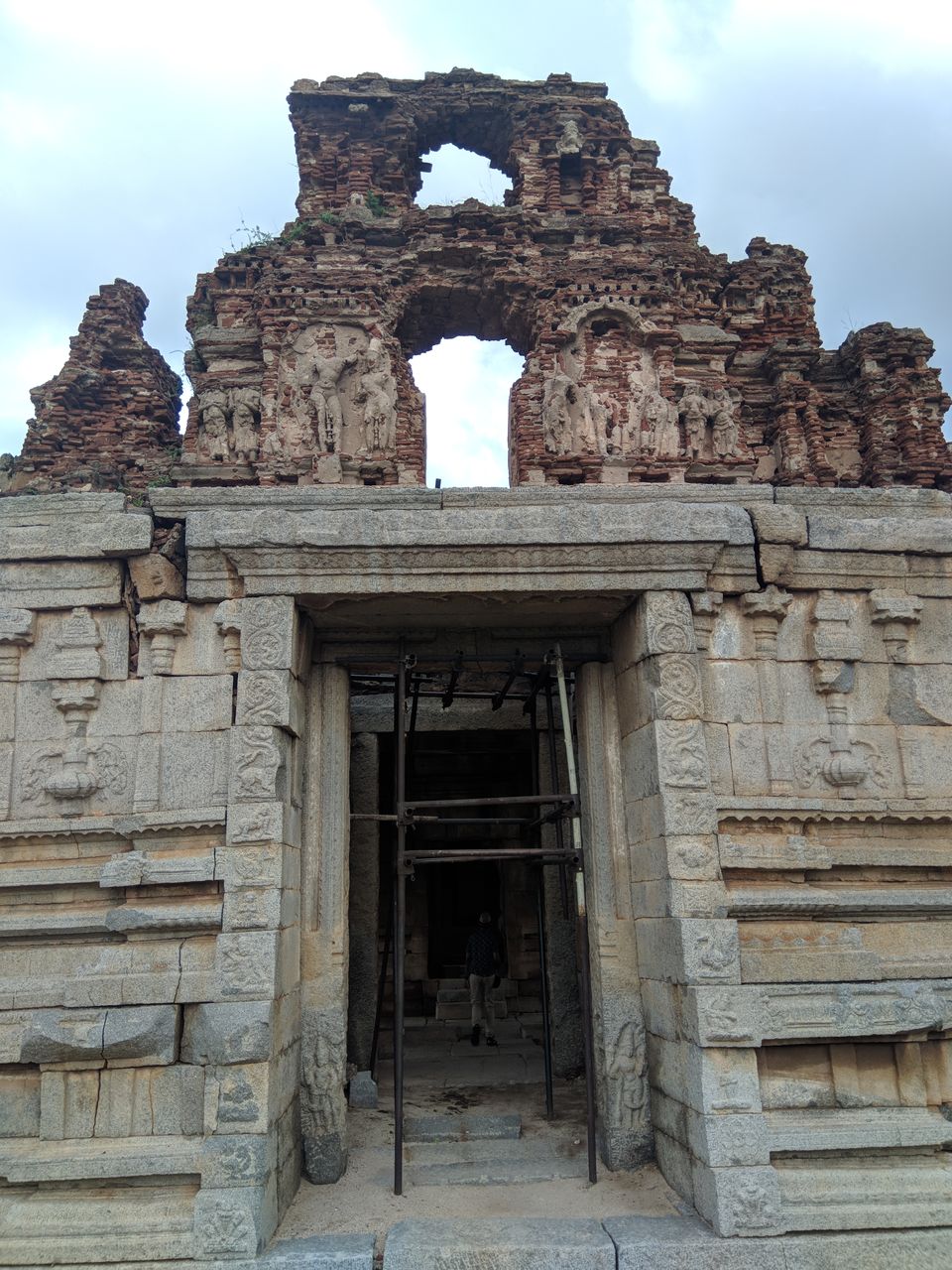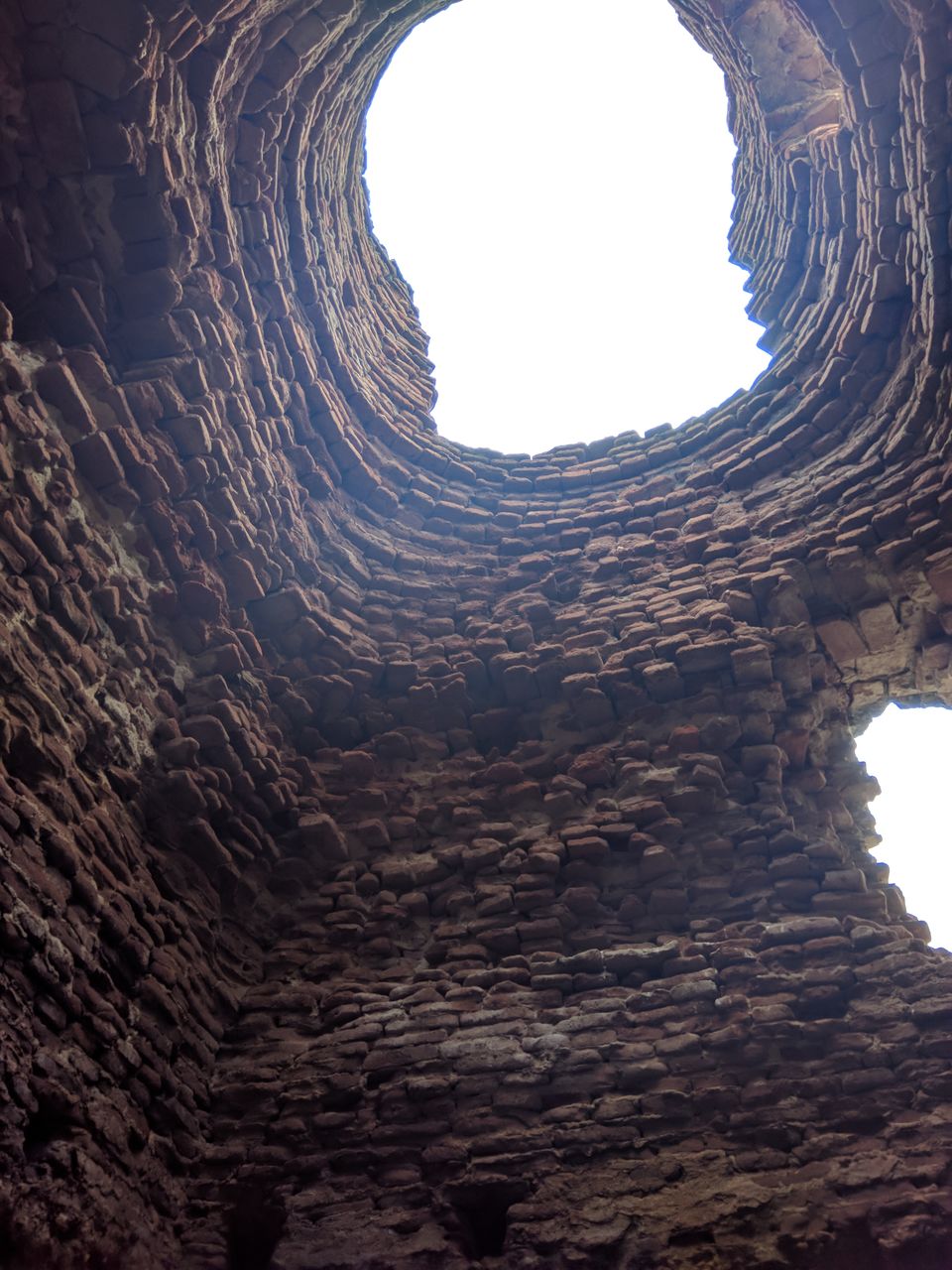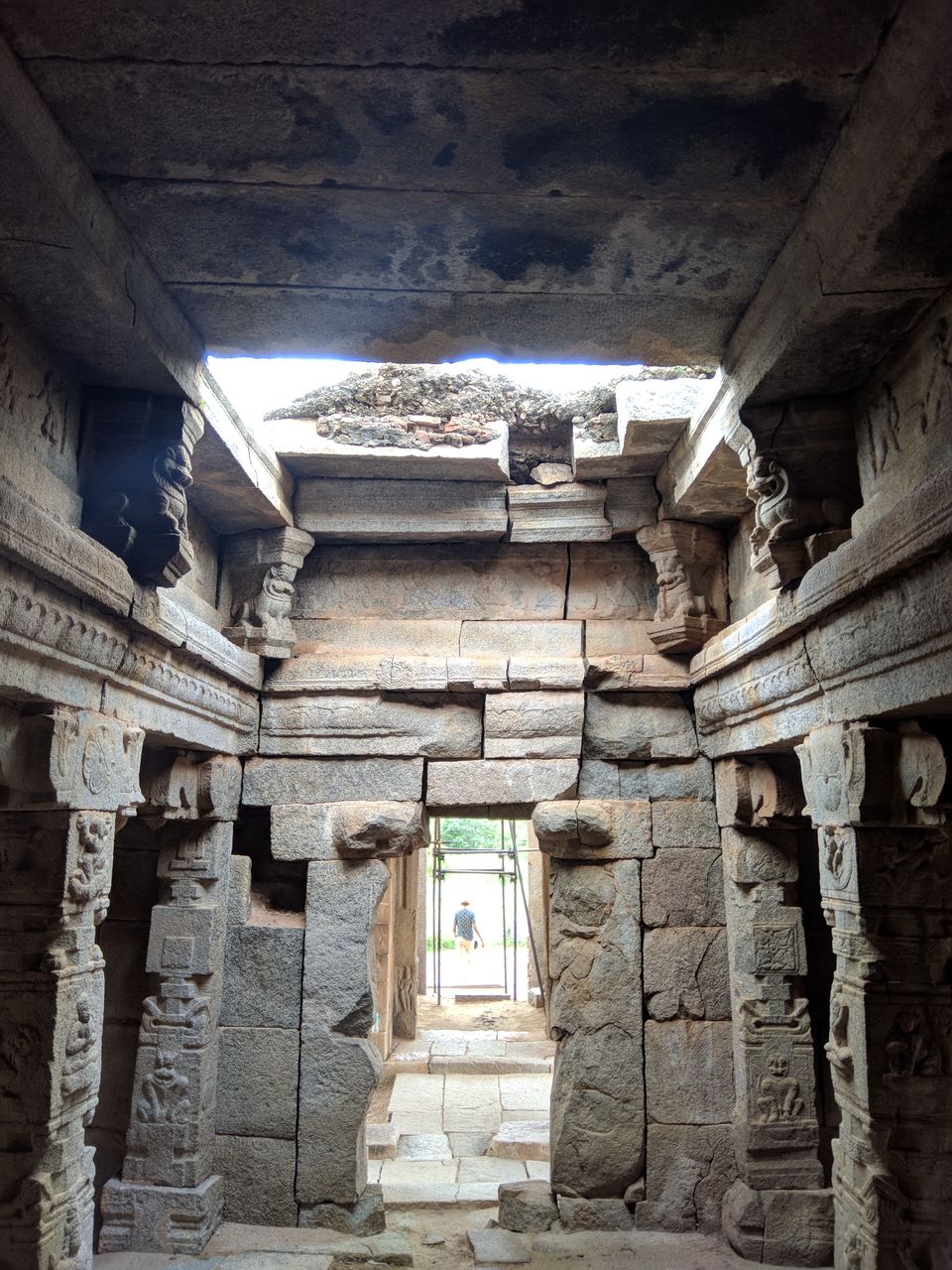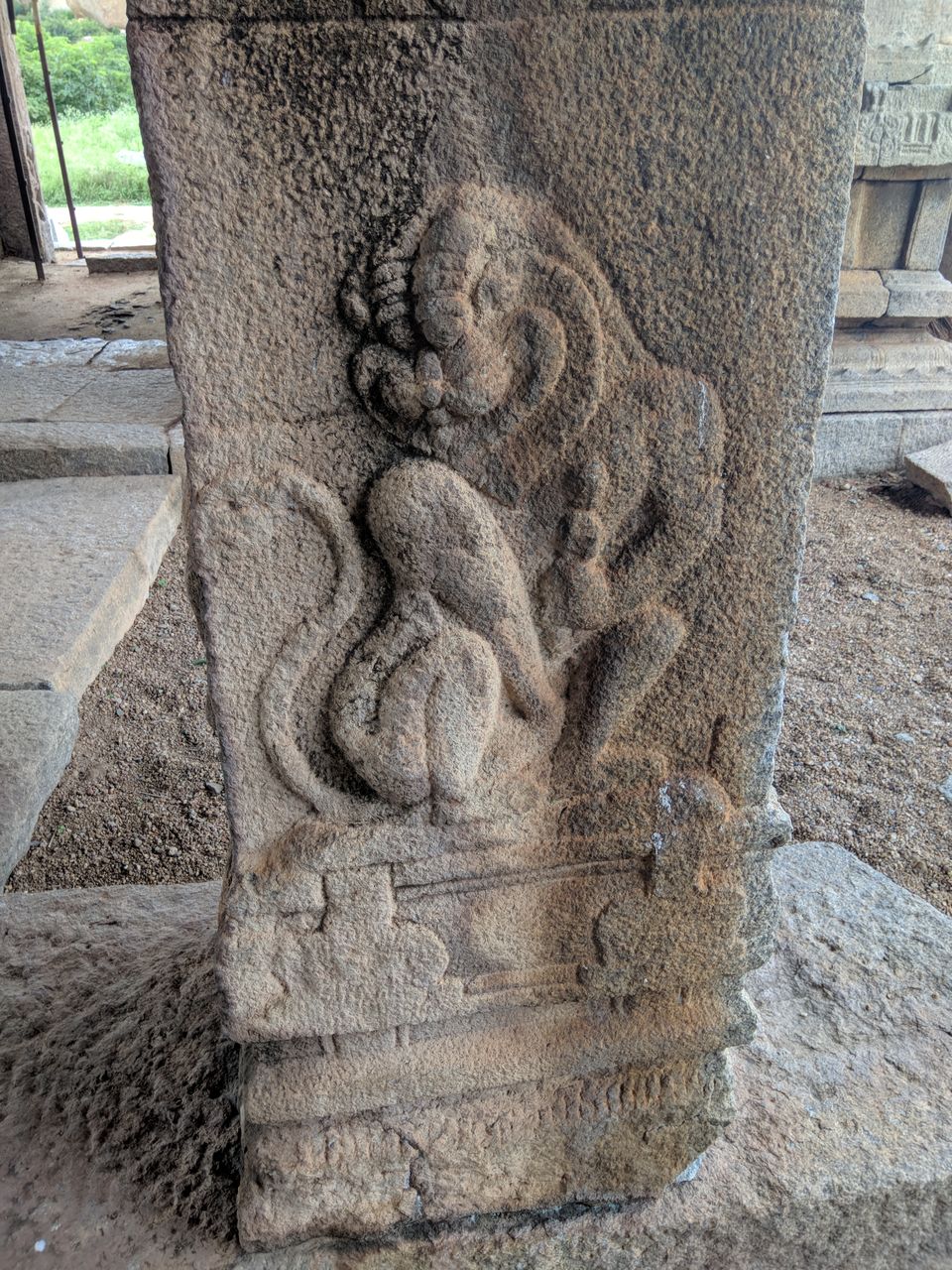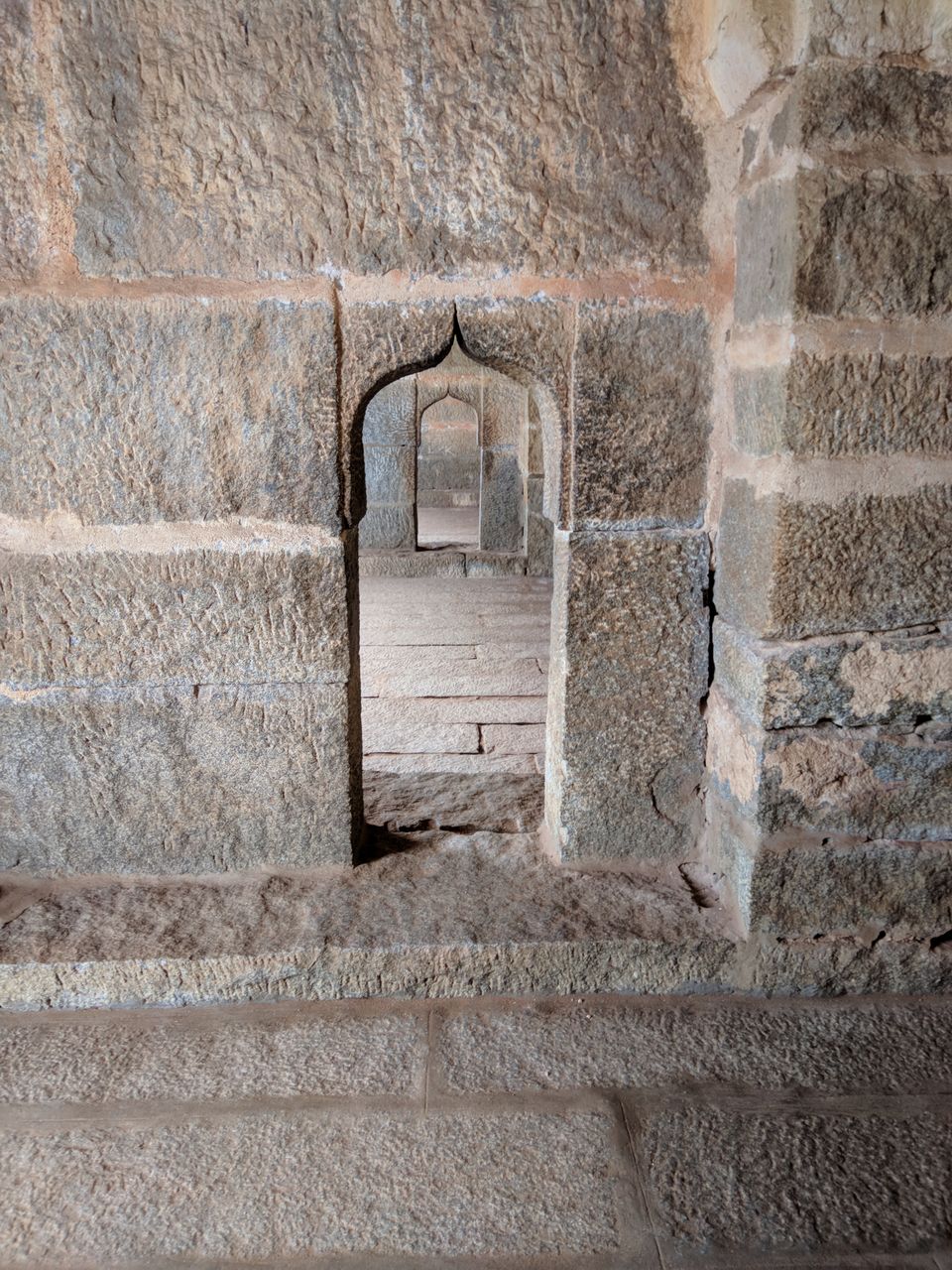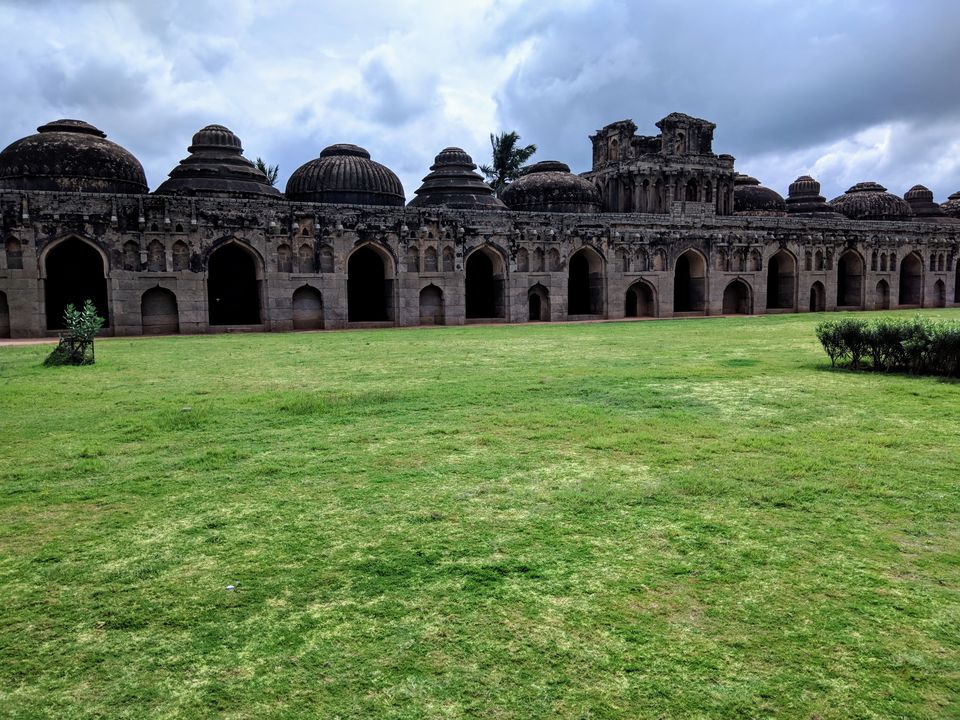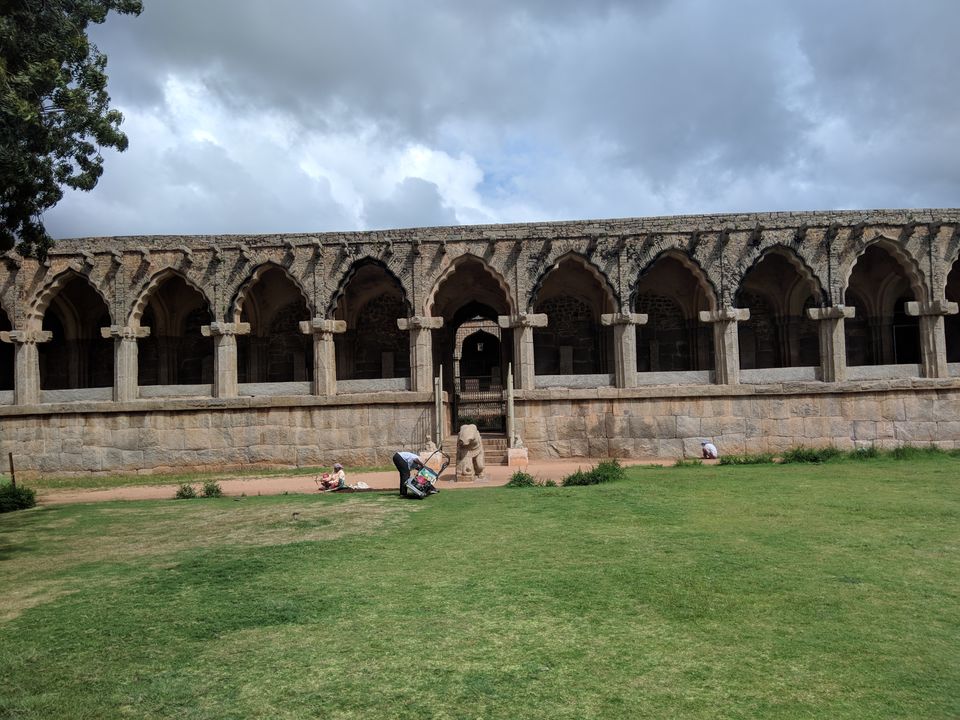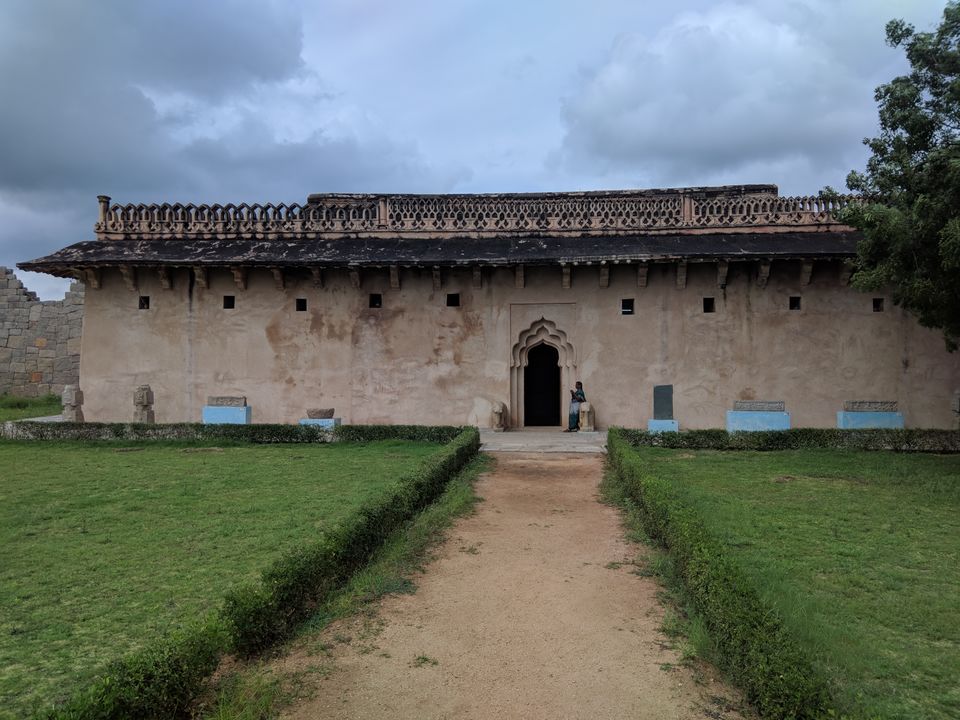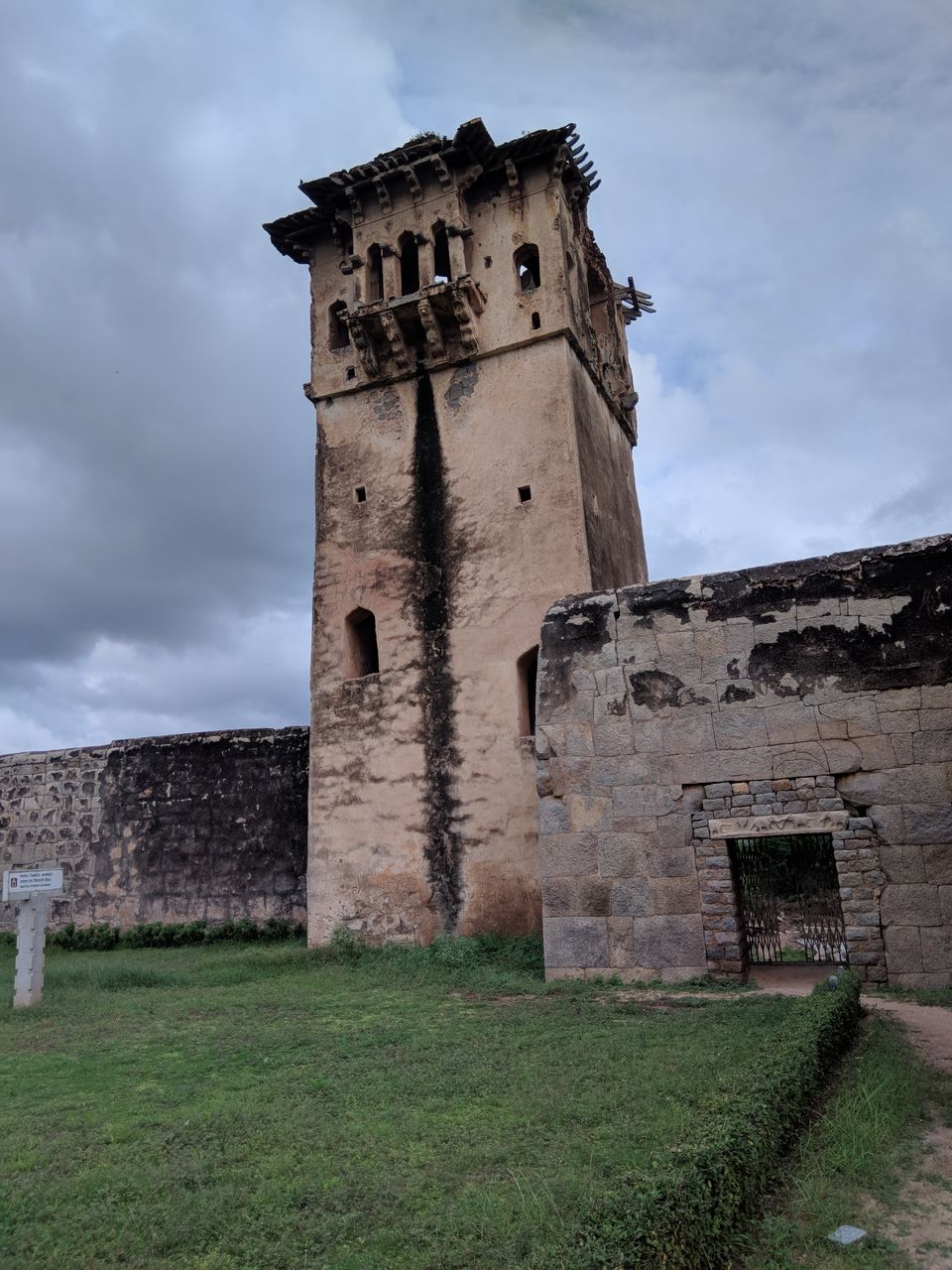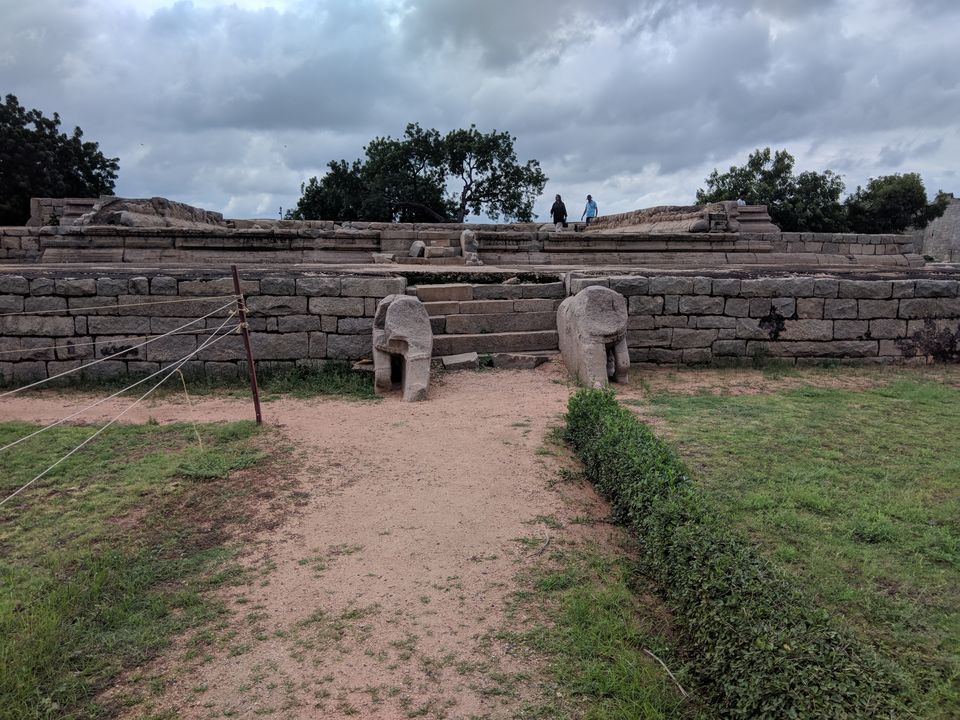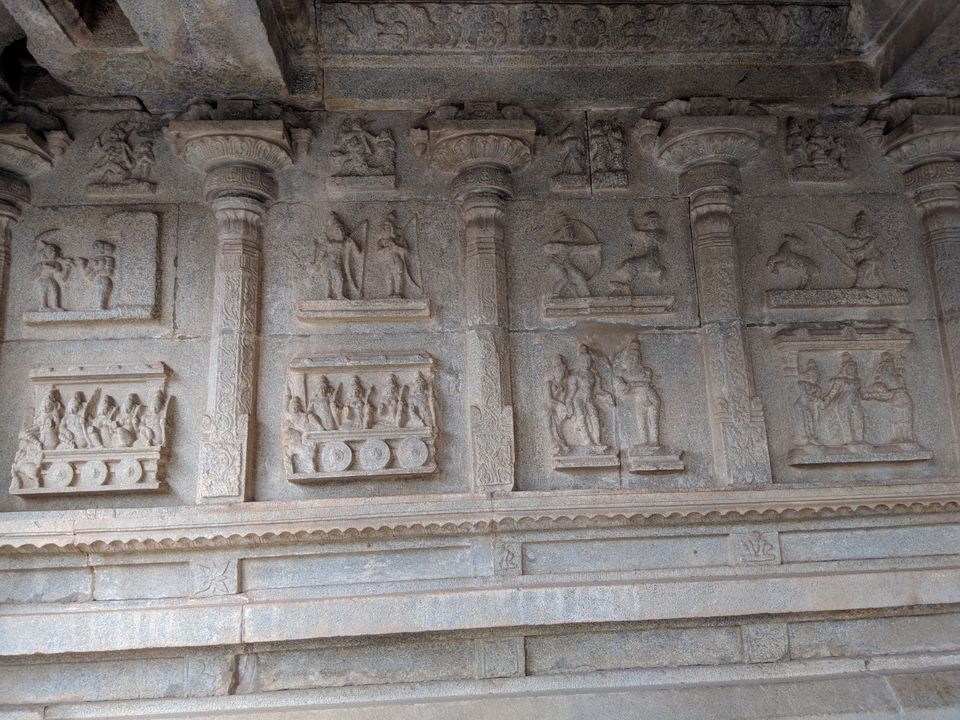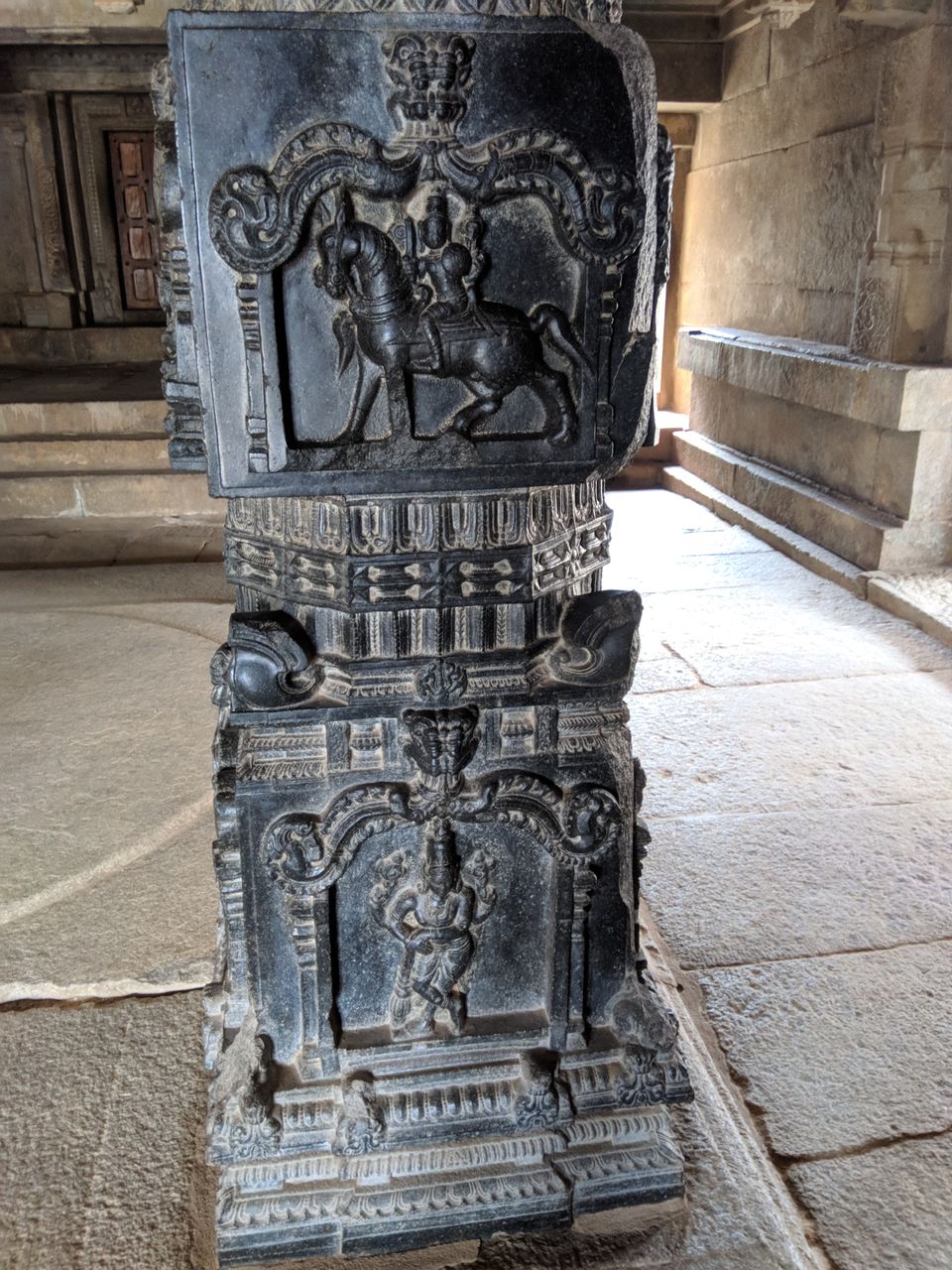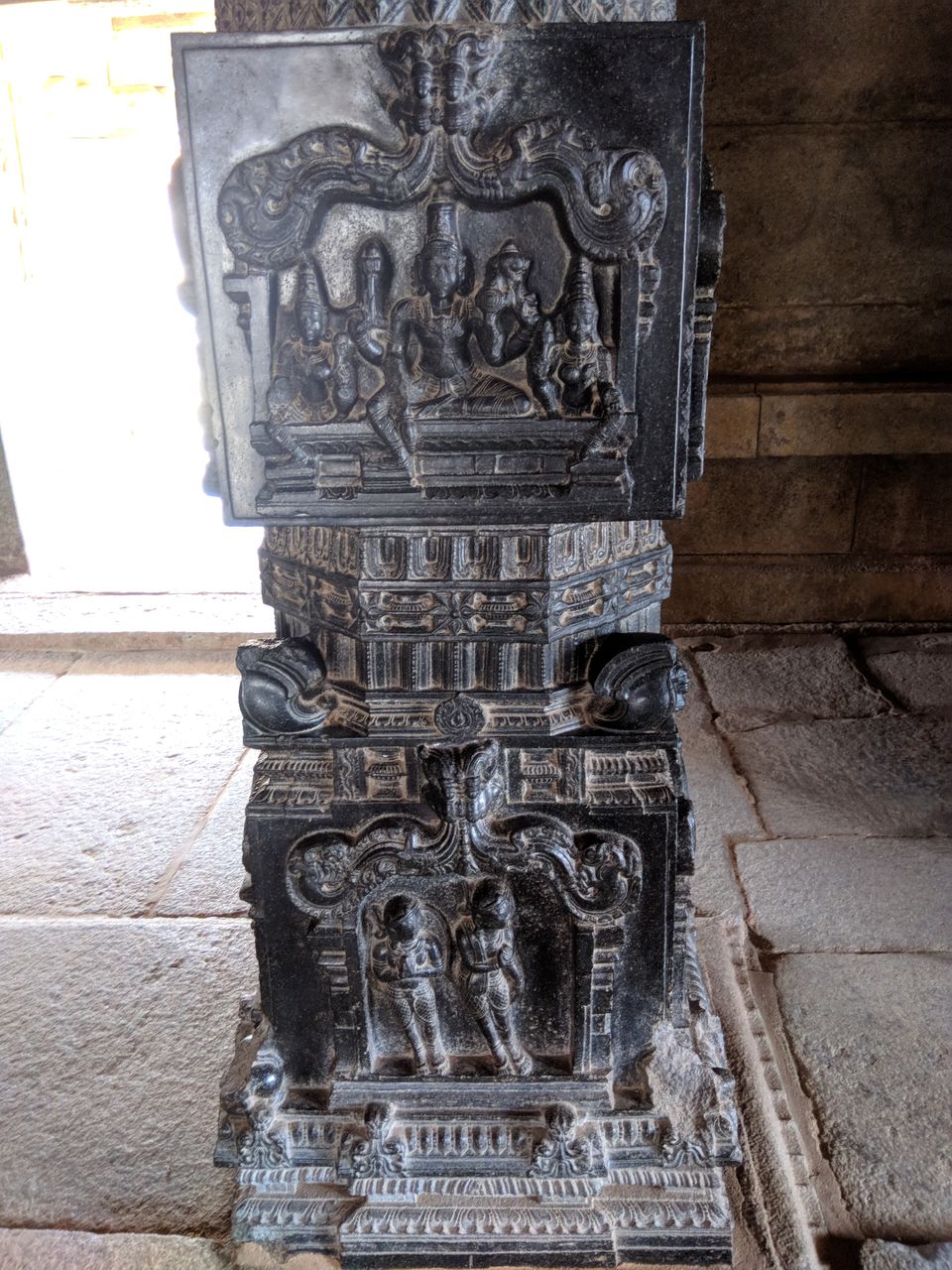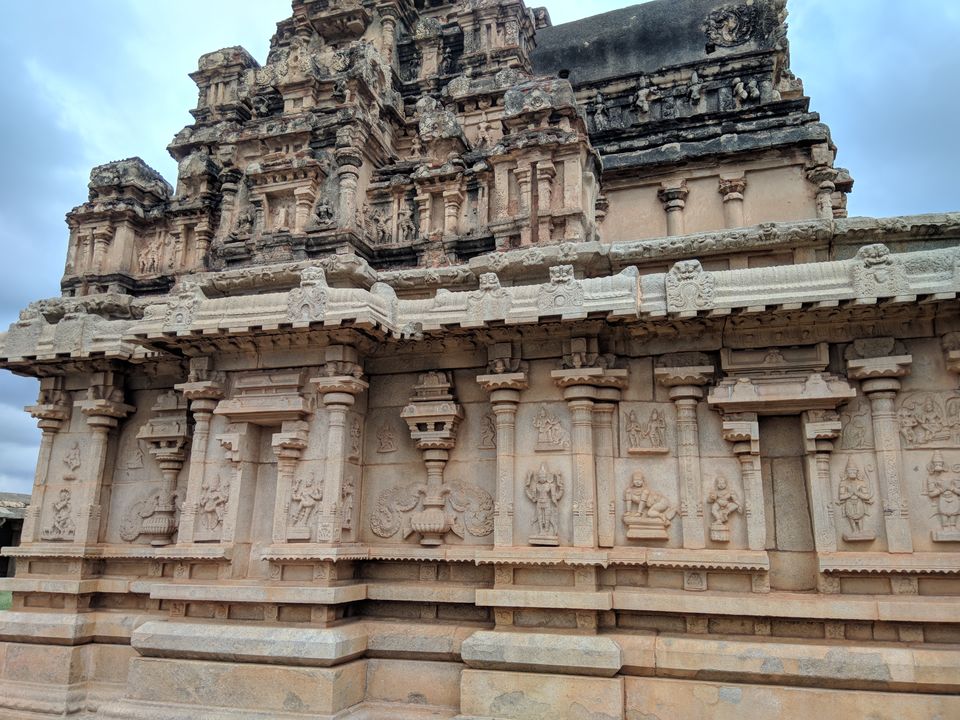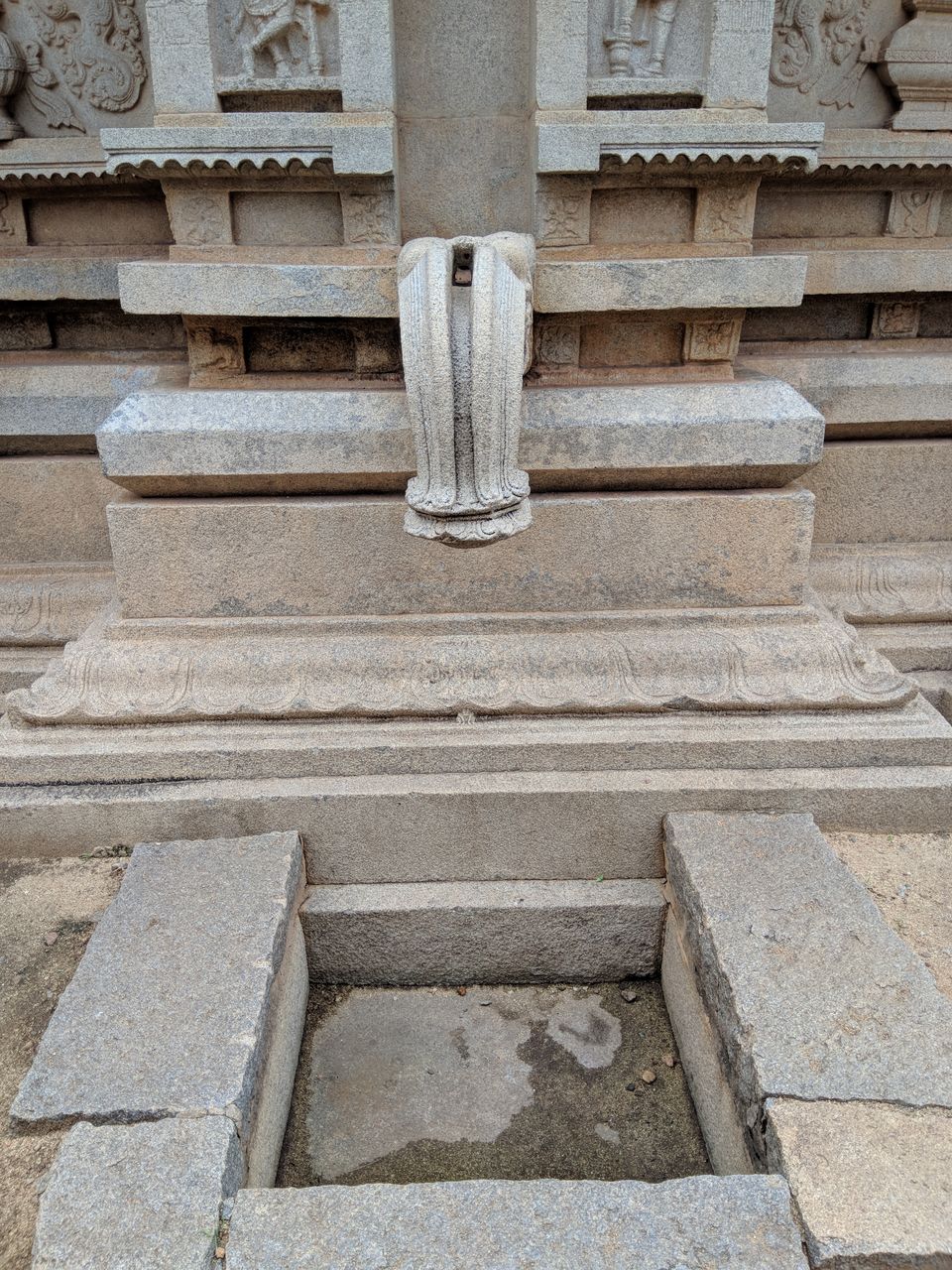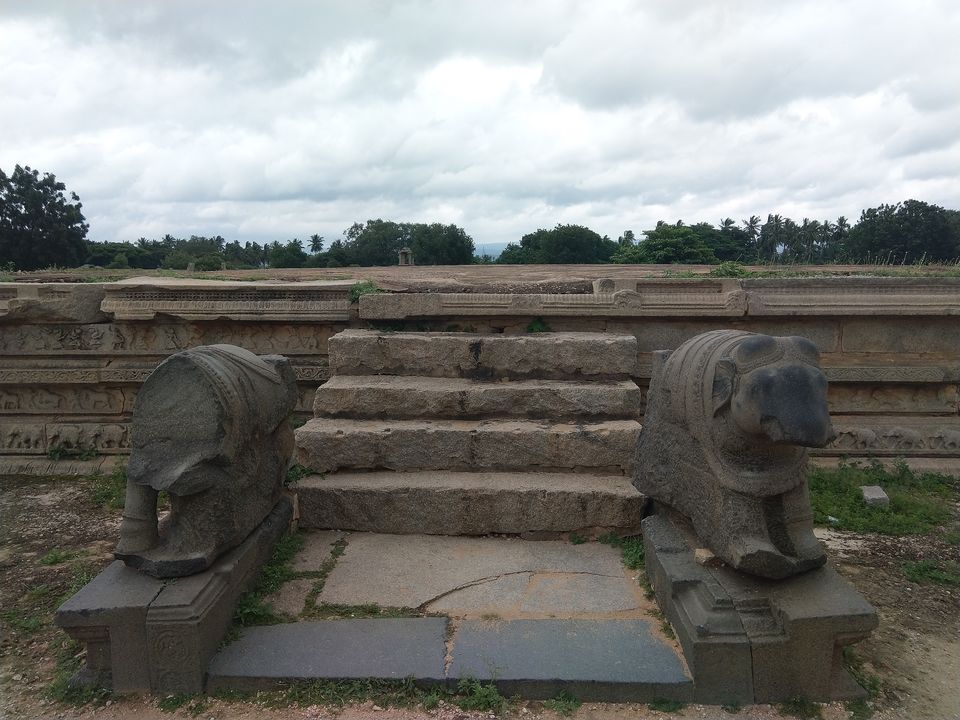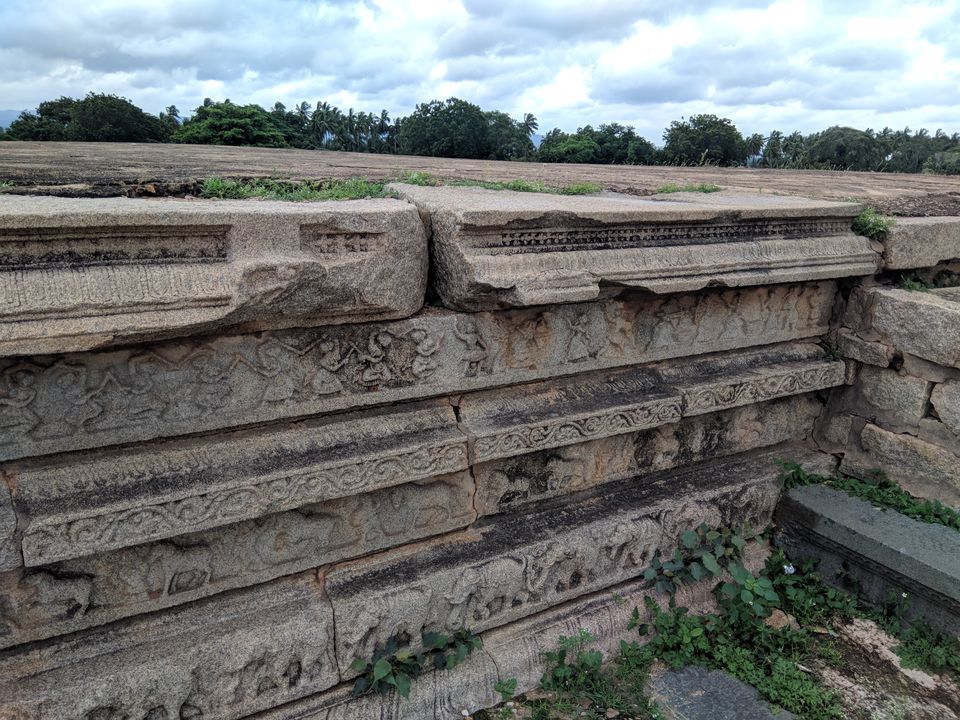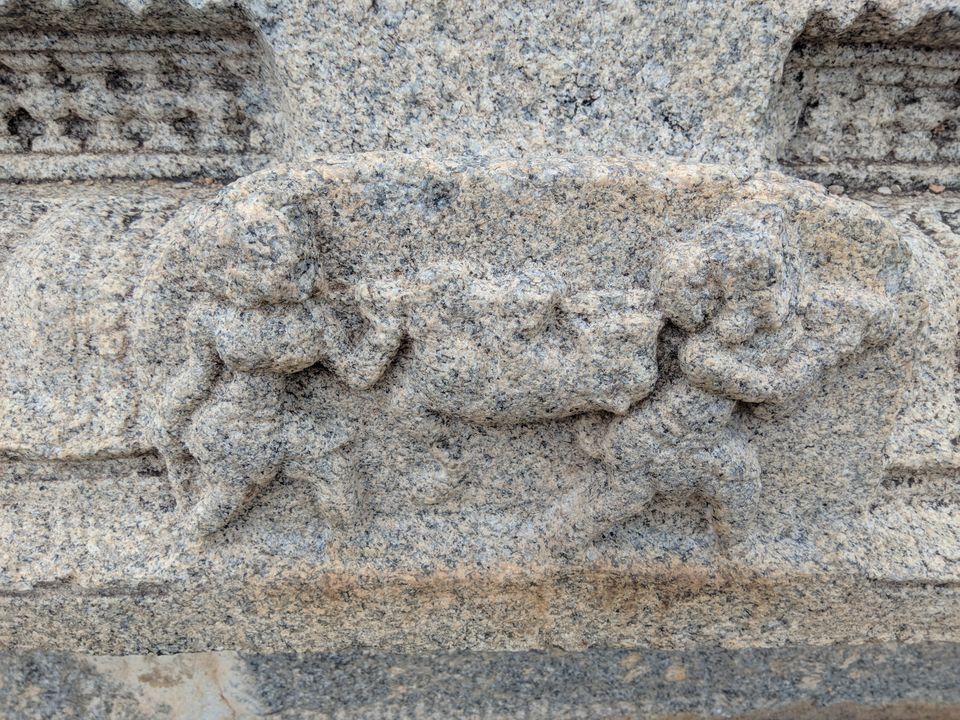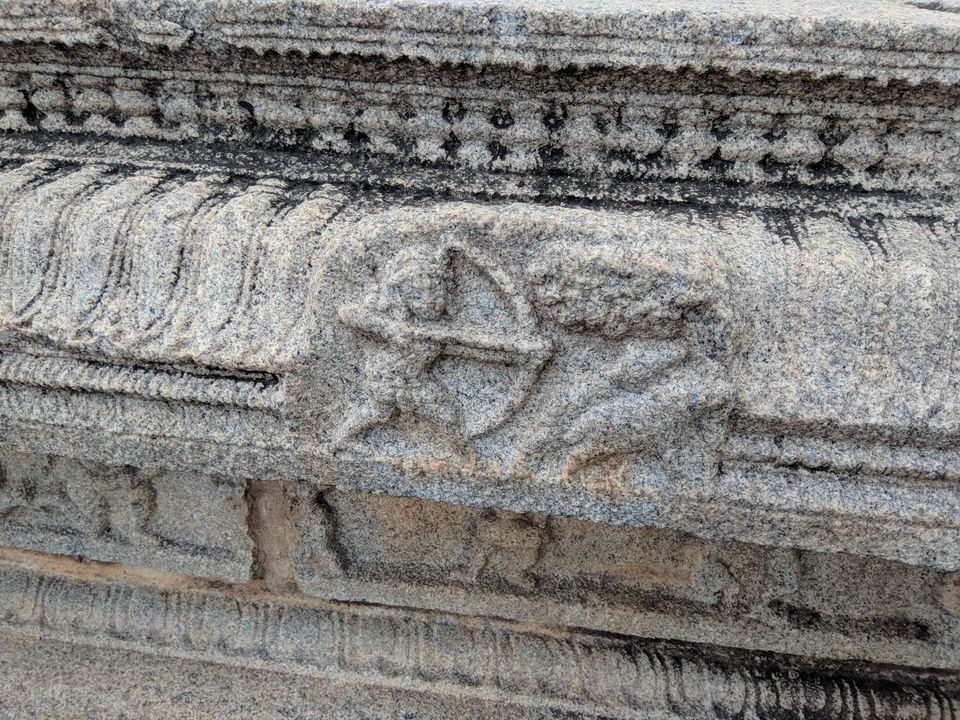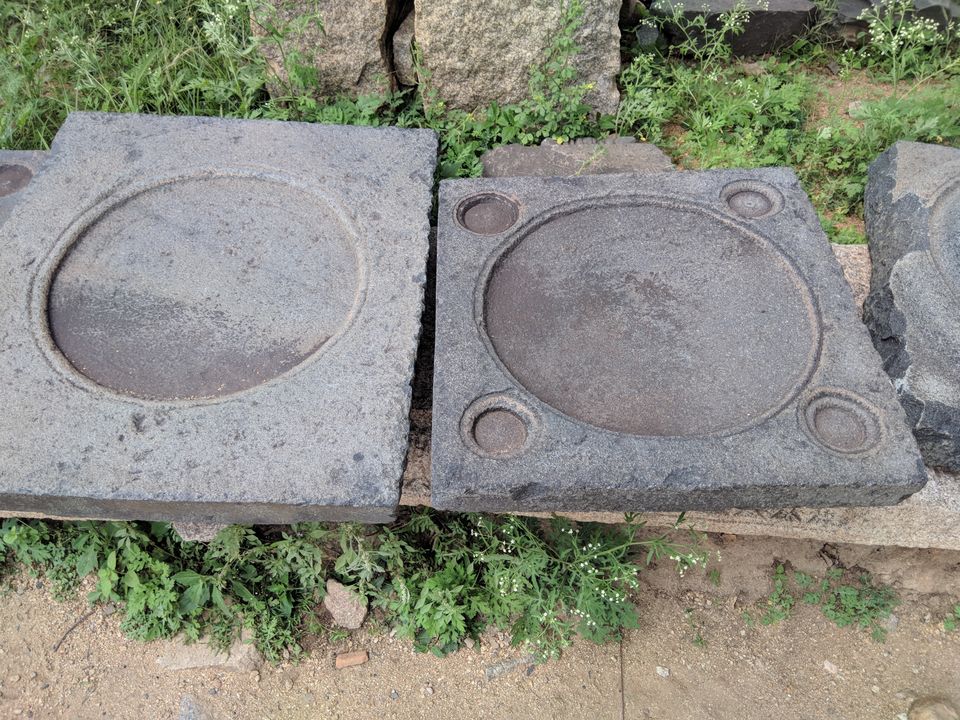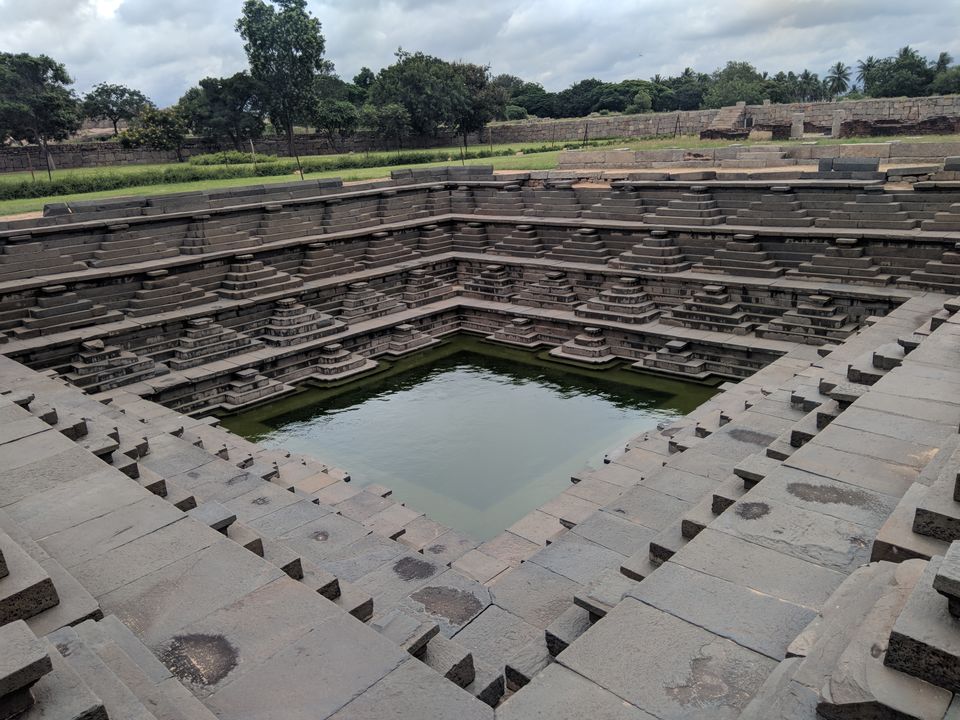 Last but not the least, I visited Vitthala Temple Complex which houses the most photographed structure in all of Hampi, the famous Stone Chariot. Beautiful and intricate carvings and attention to every detail can leave you awestruck. Stone chariot has an idol of Garuda, the vahana of Vitthala or Lord Vishnu in it. I had hired a guide here to explain everything to me and would recommend the same for others as well. Famous musical stone pillars are also part of this complex. Sadly, they are damages now and hence out of reach for the tourist to listen to the sound of music from those pillars.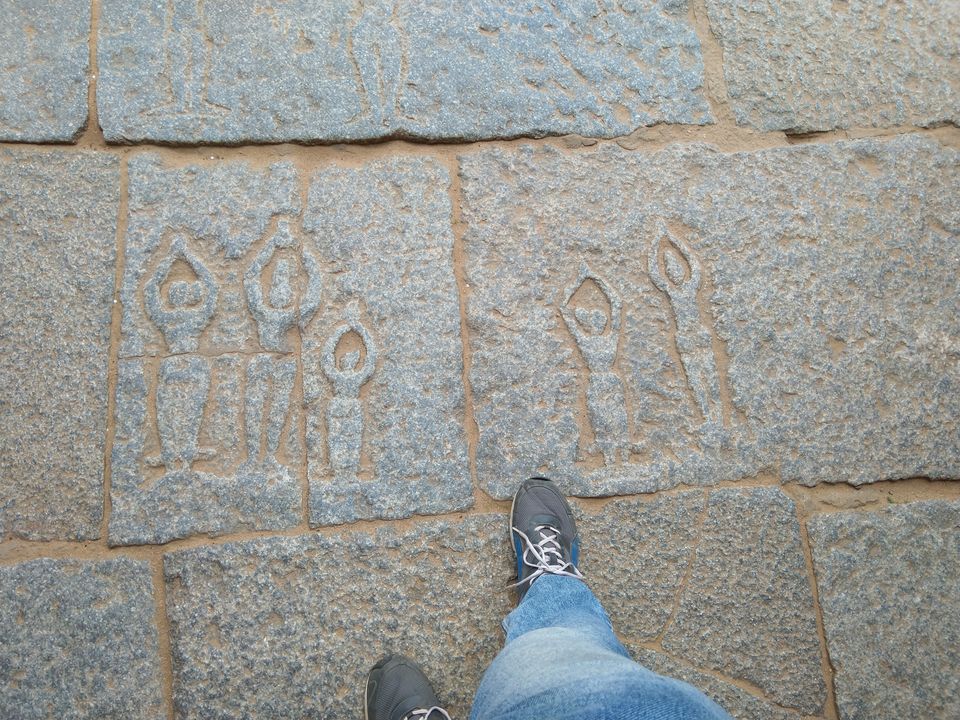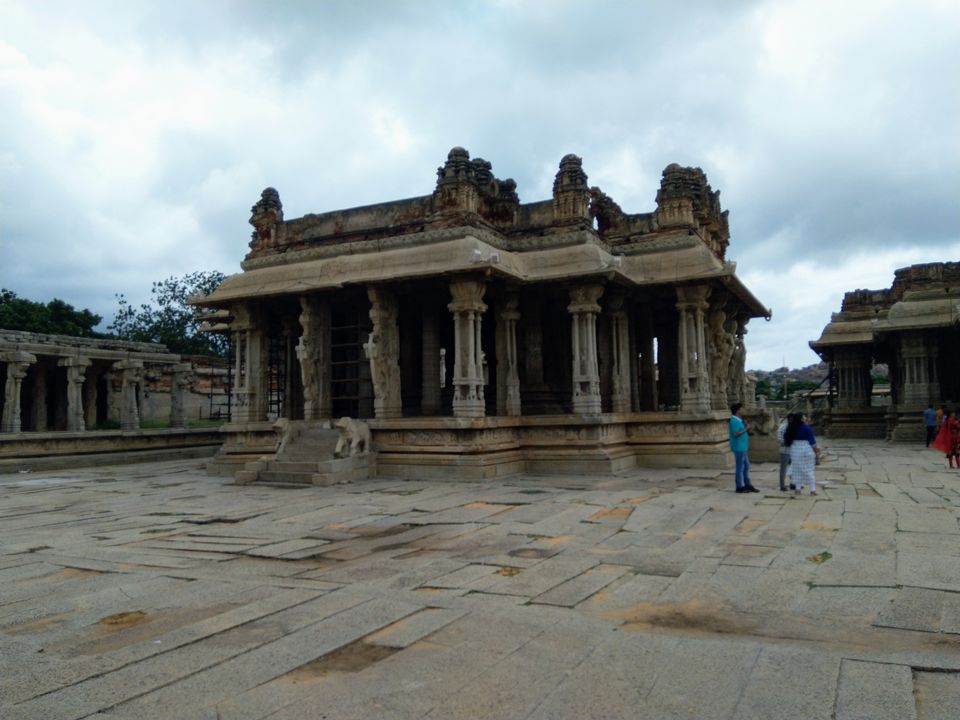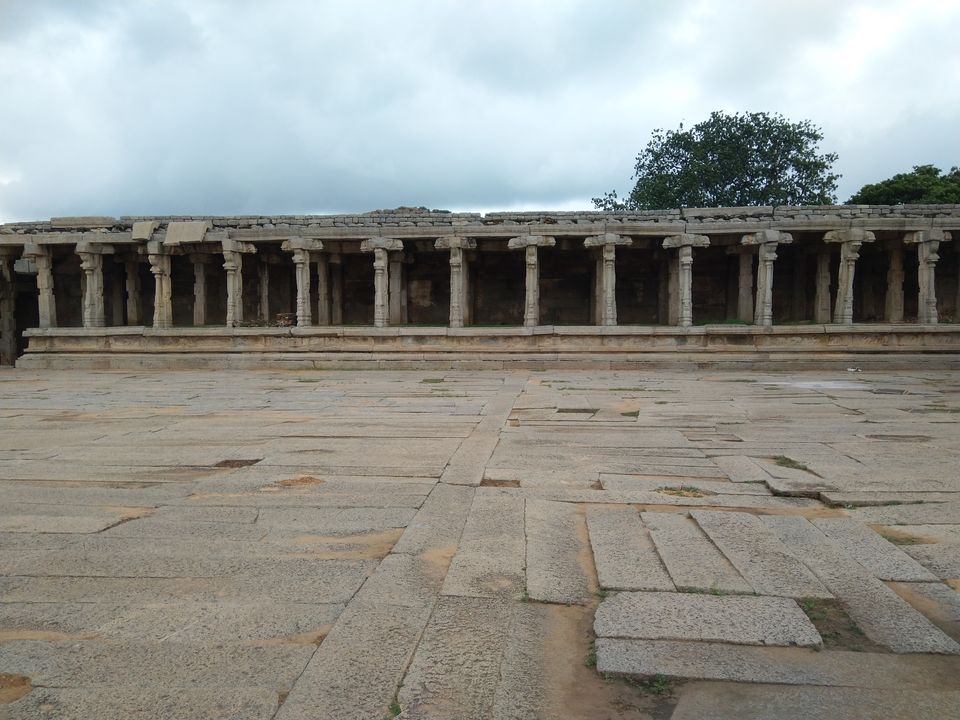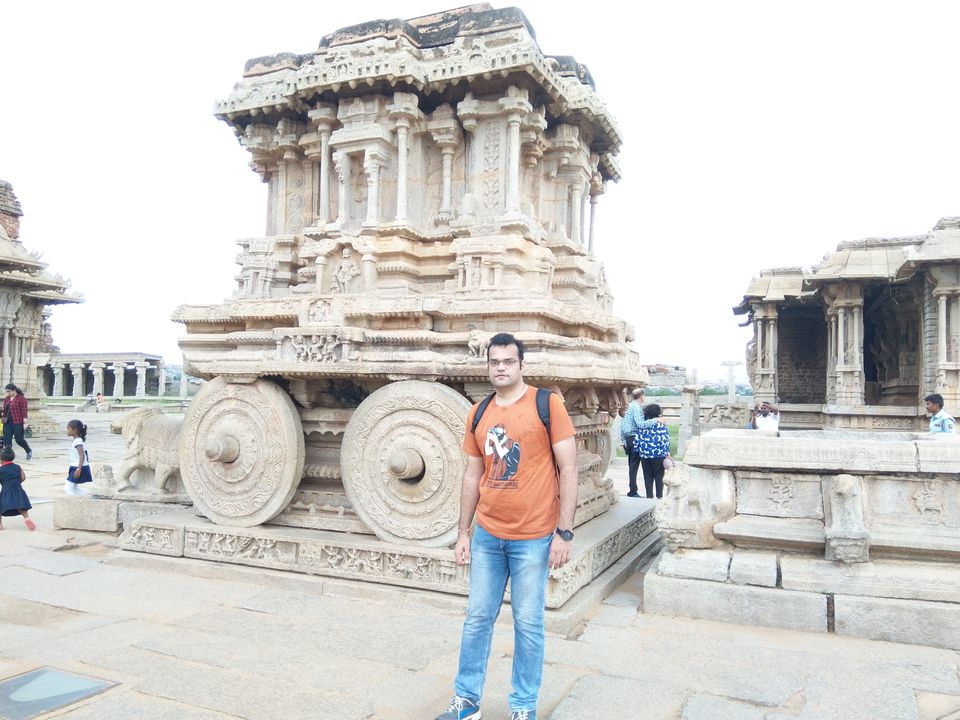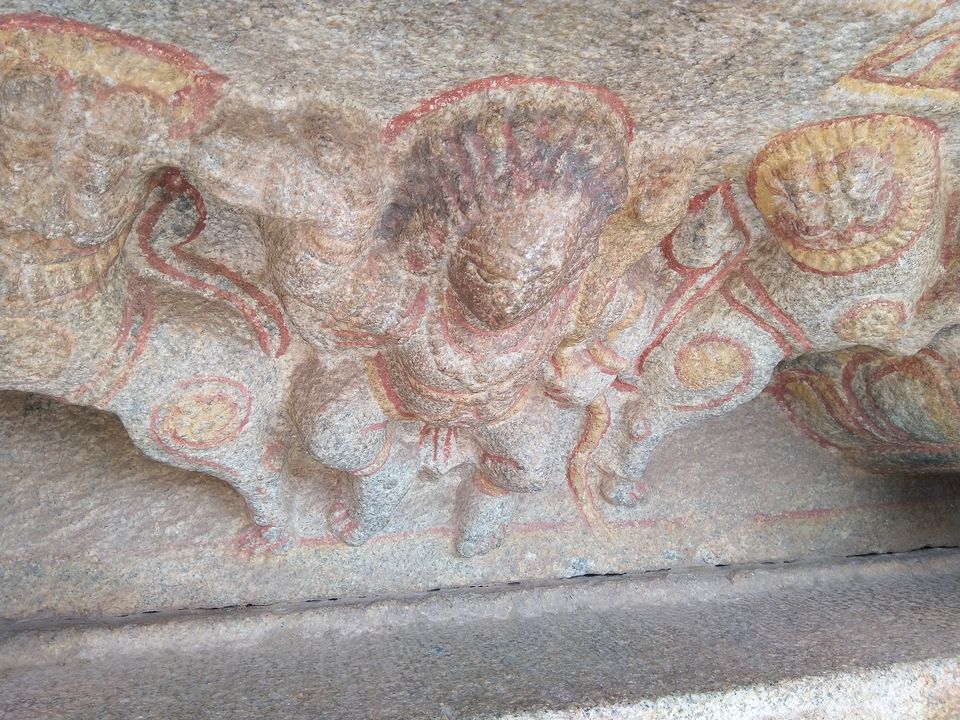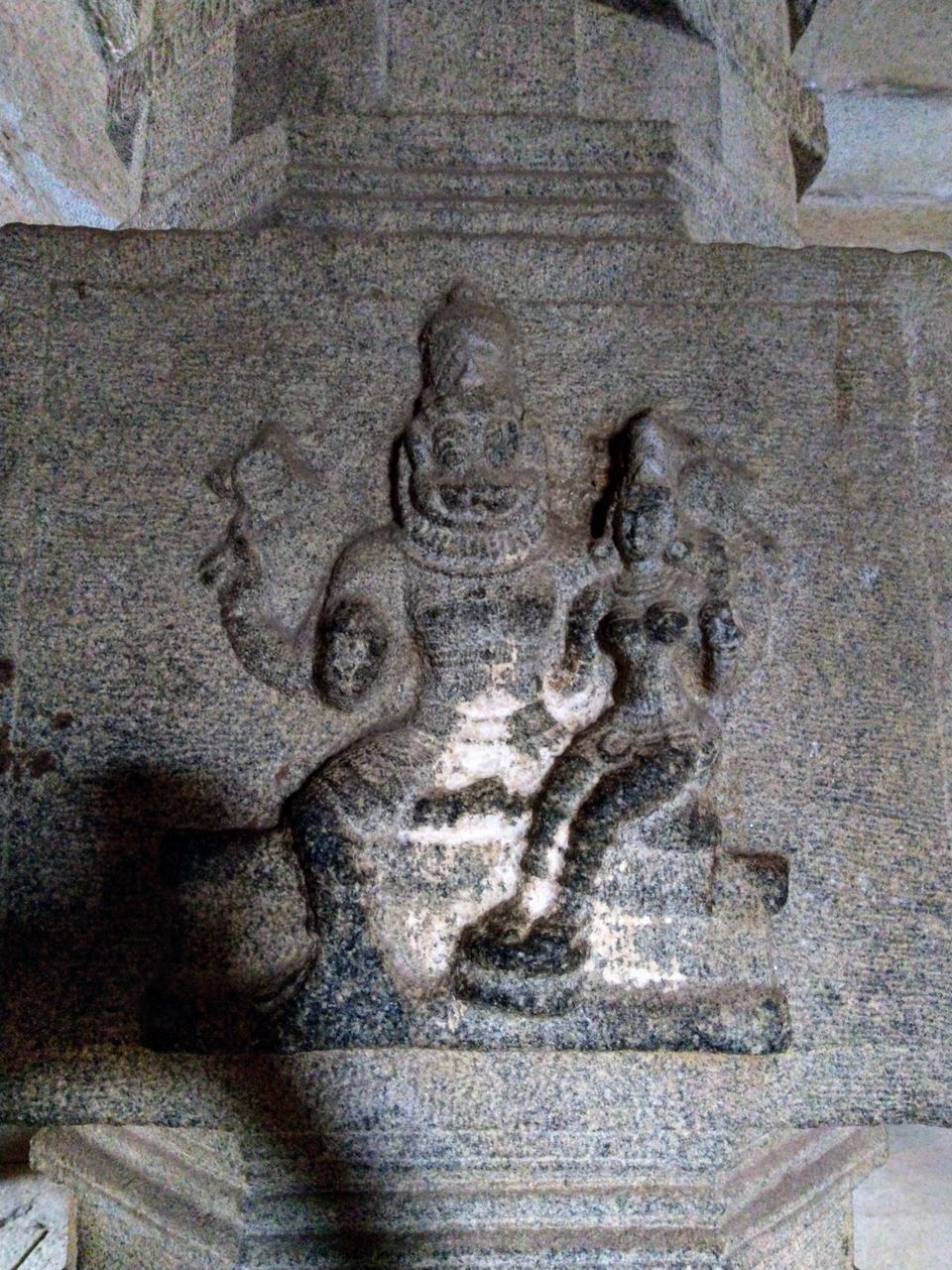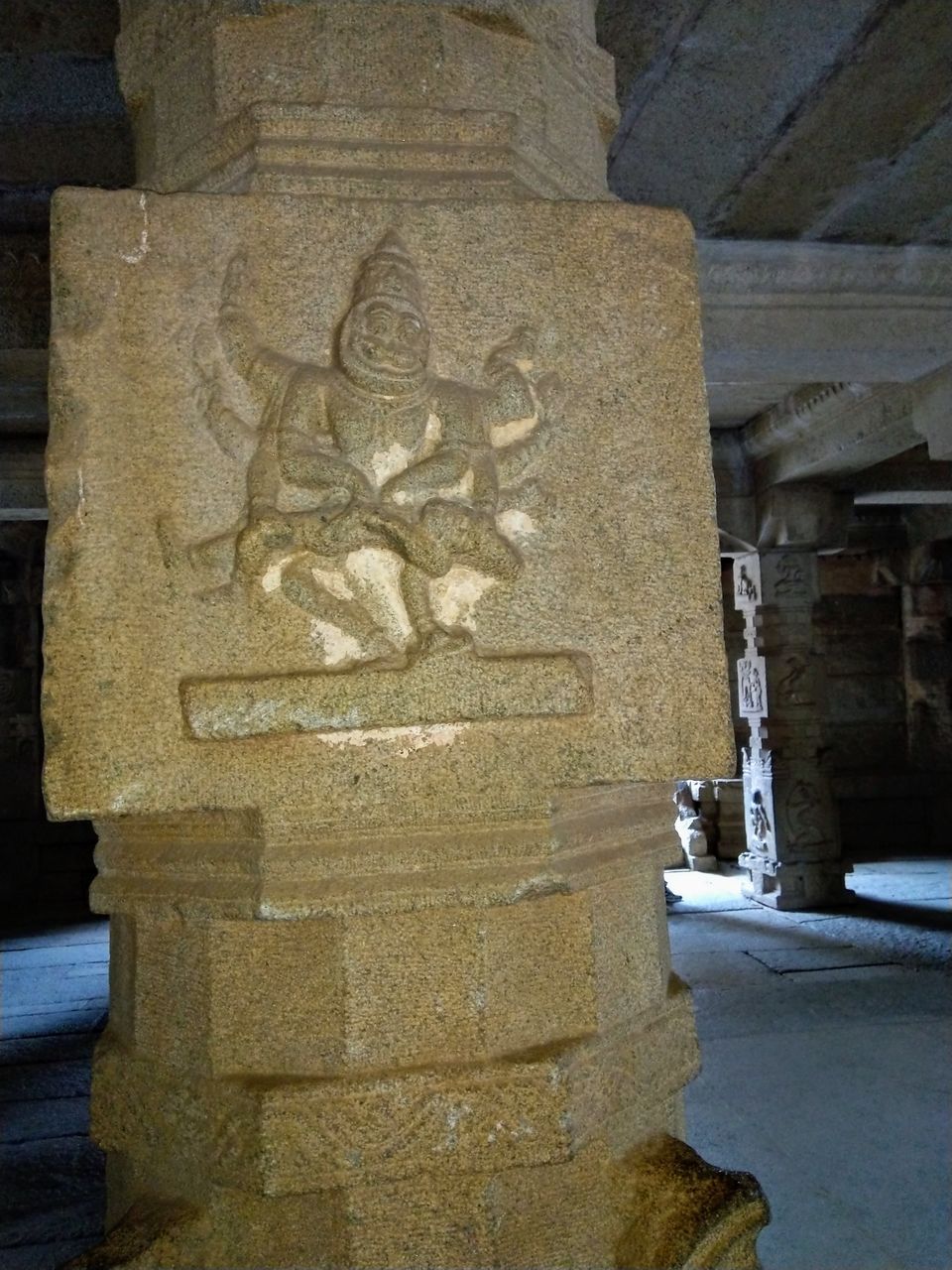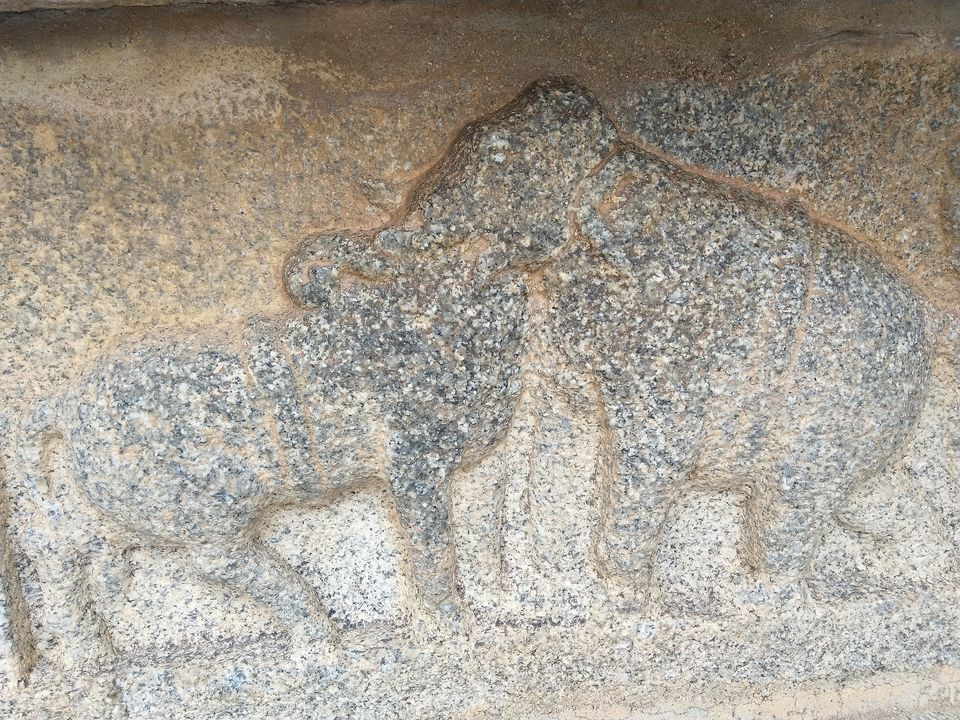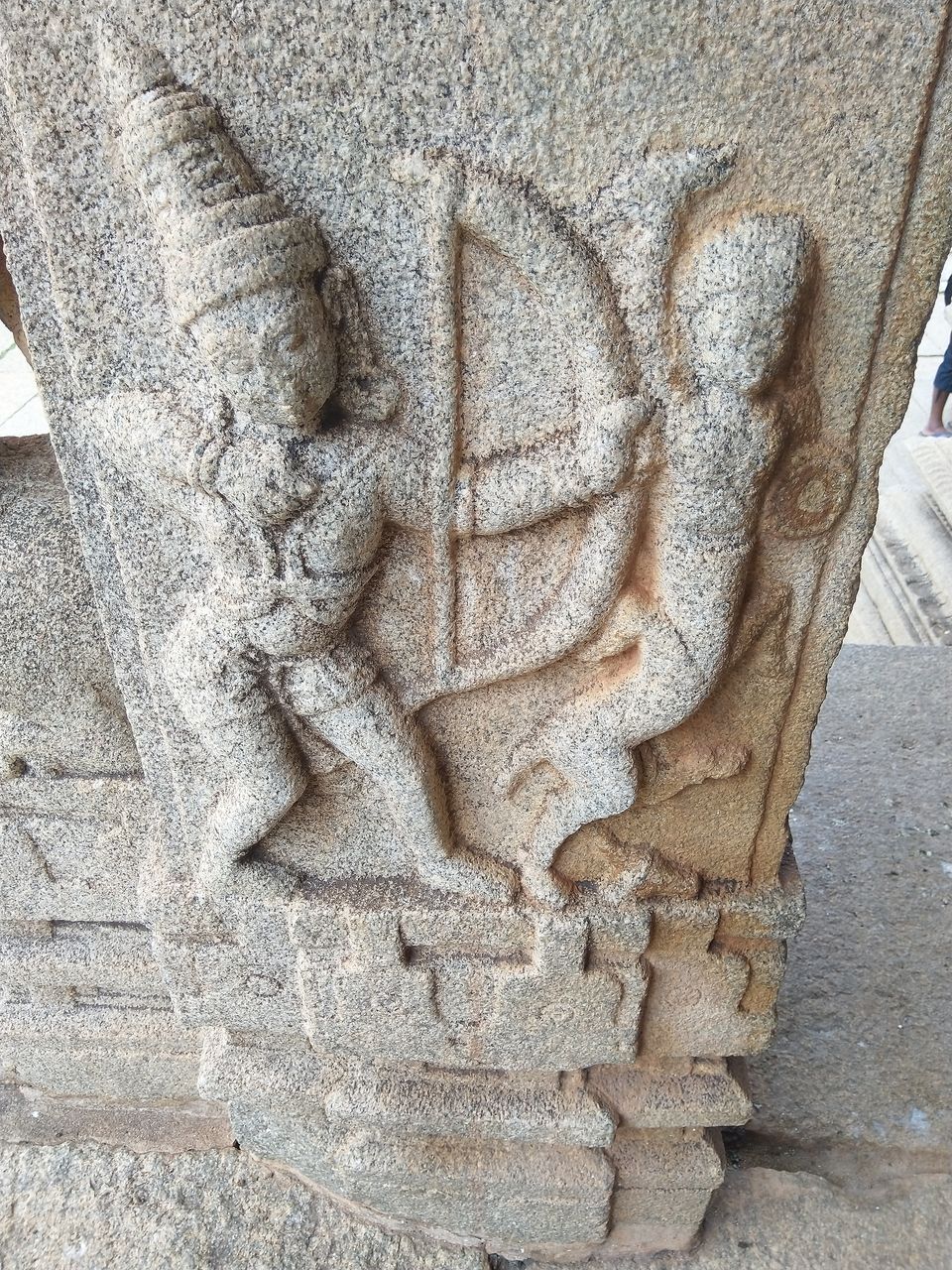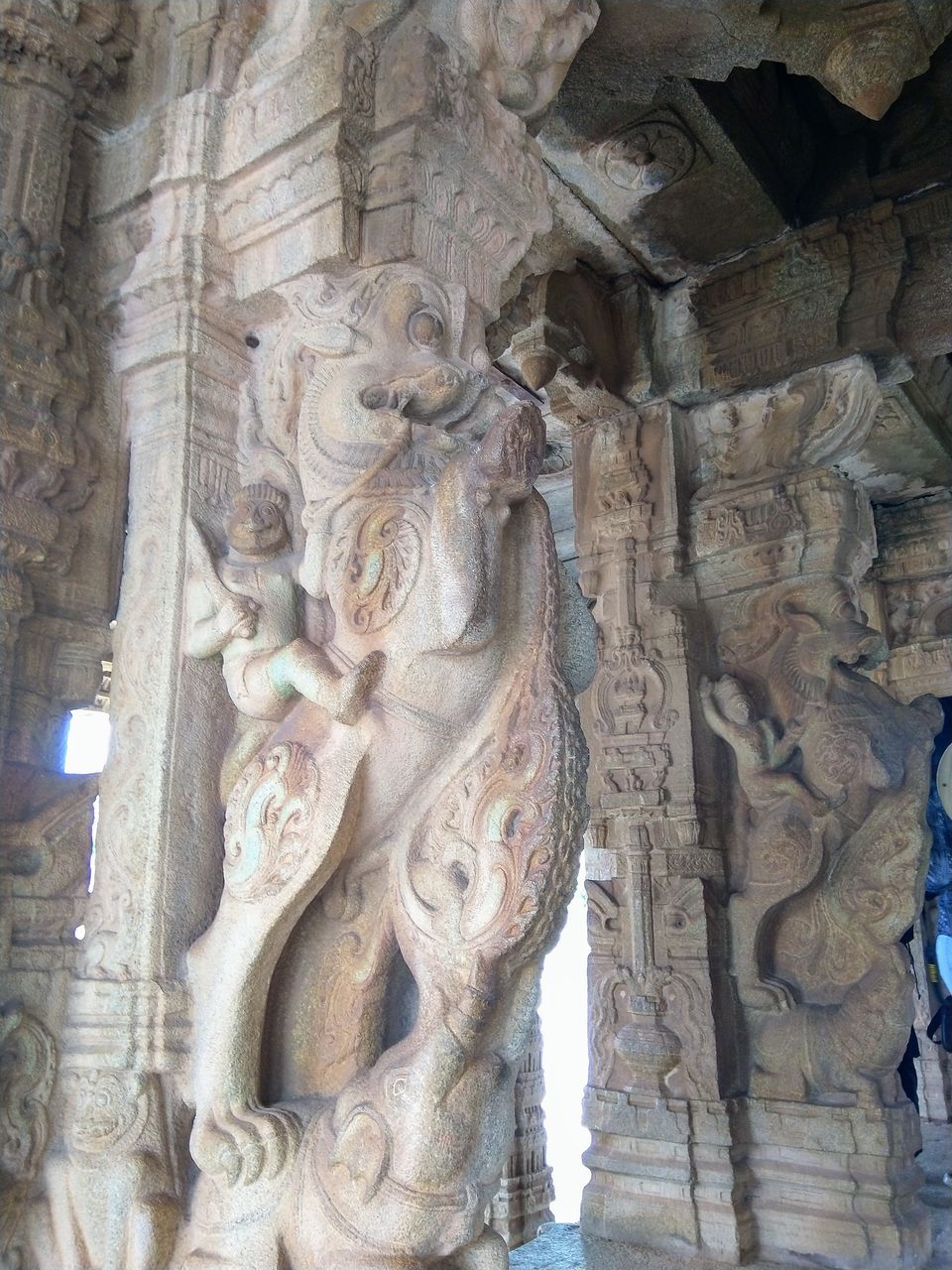 Done with all these sites, to witness the sunset, I planned to climb Matanga Hill. Getting to the top is bit of a task and might be very difficult who are not that fit. But once you reach the top, you realize that it was worth every effort. You can get a bird's eye view of the entire Hampi town with all its attractions and boulders which keep on changing colour from pink to golden to yellow to orange depending on the position of the sun. It's a must have experience.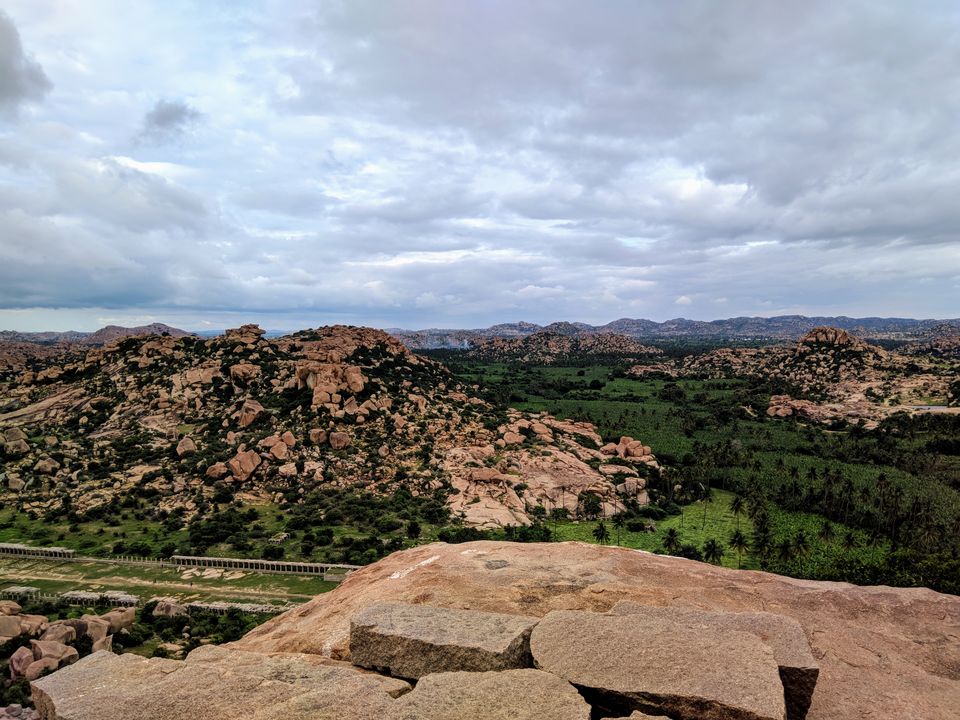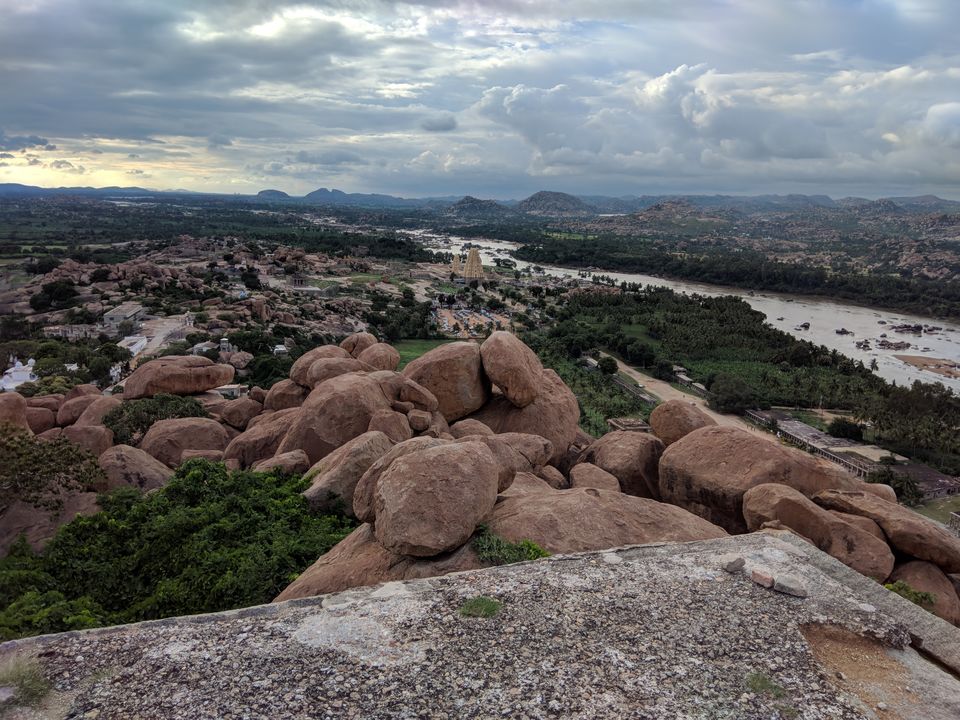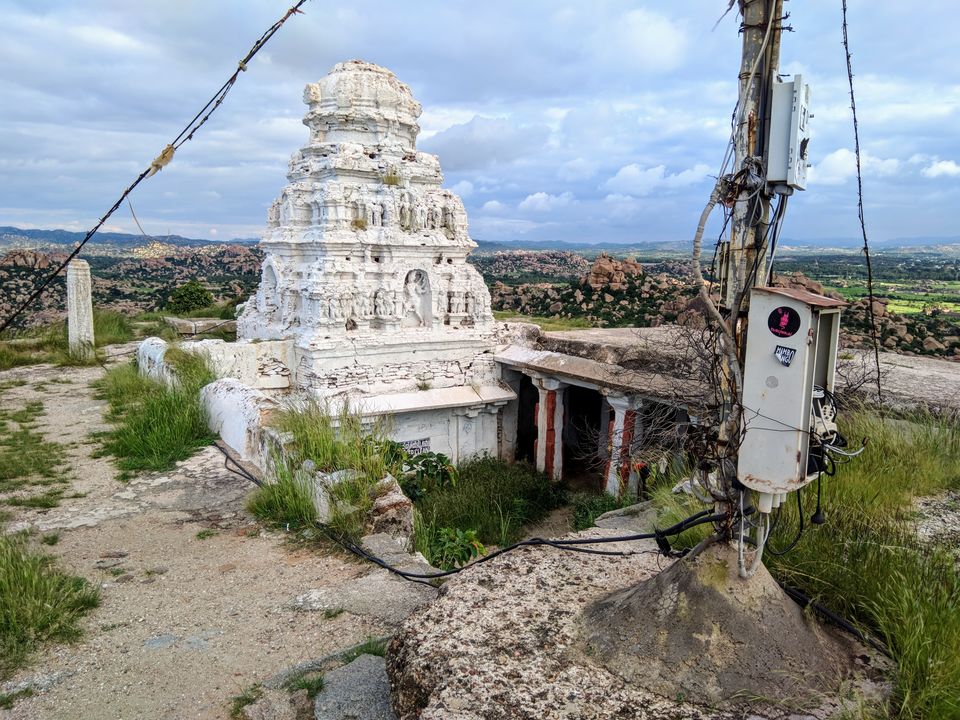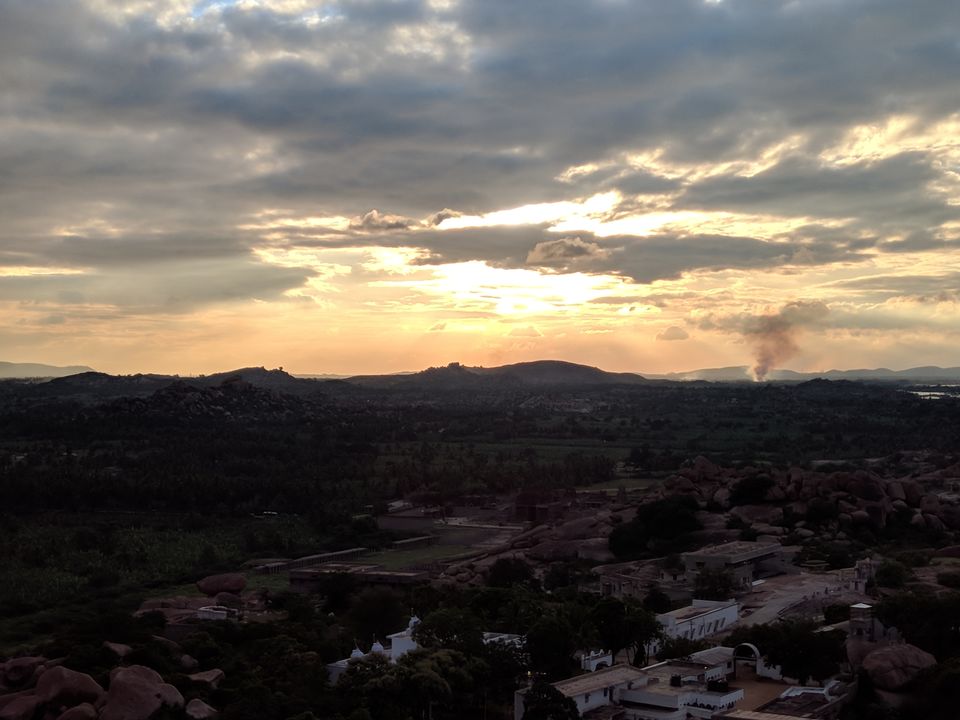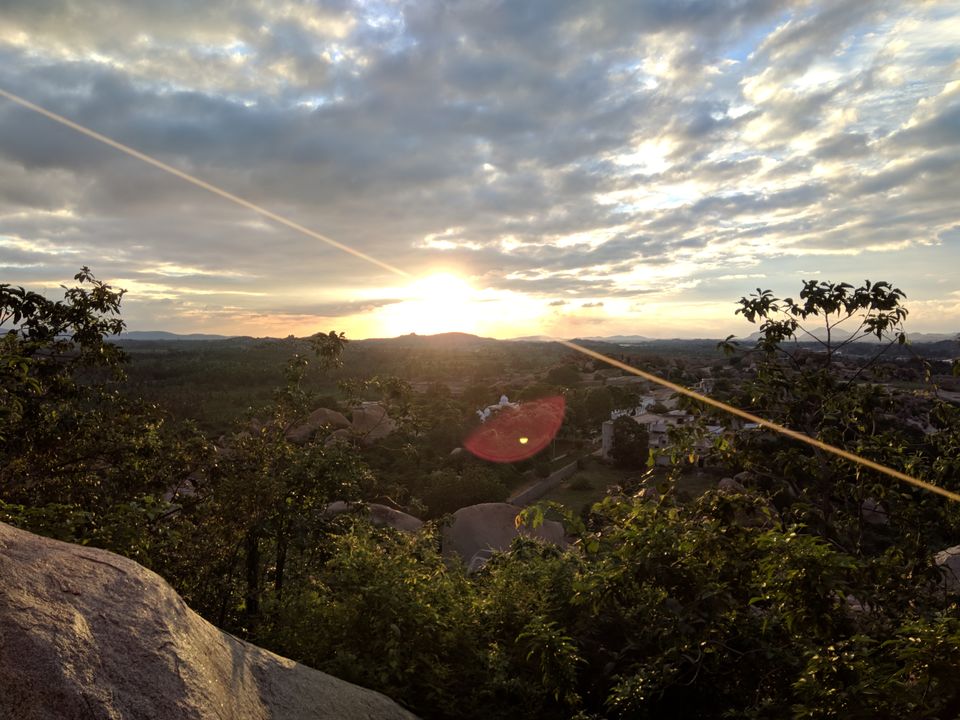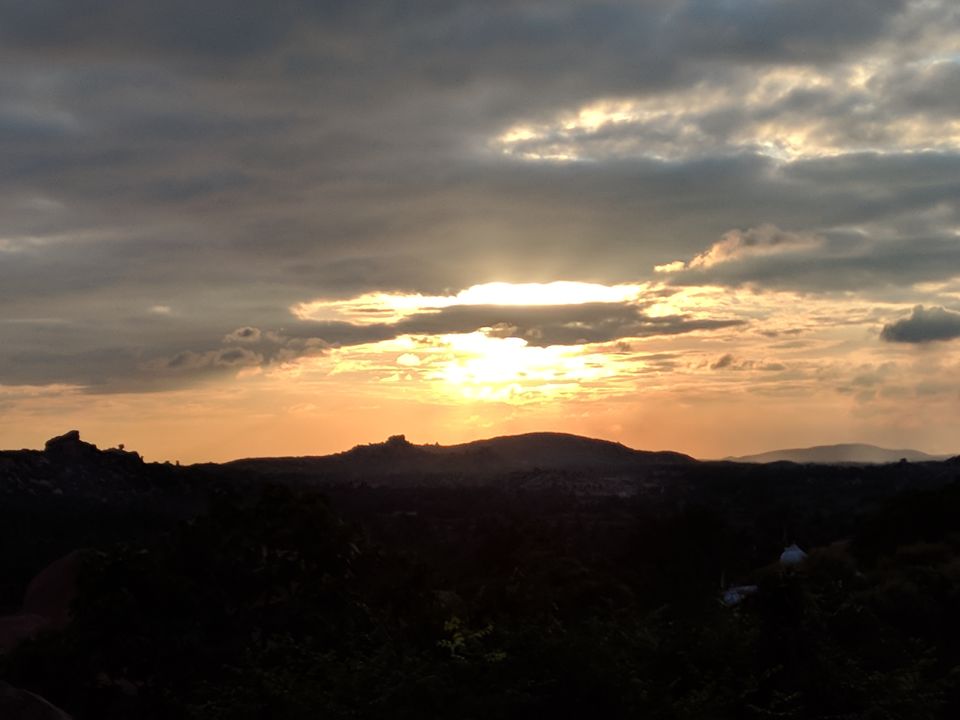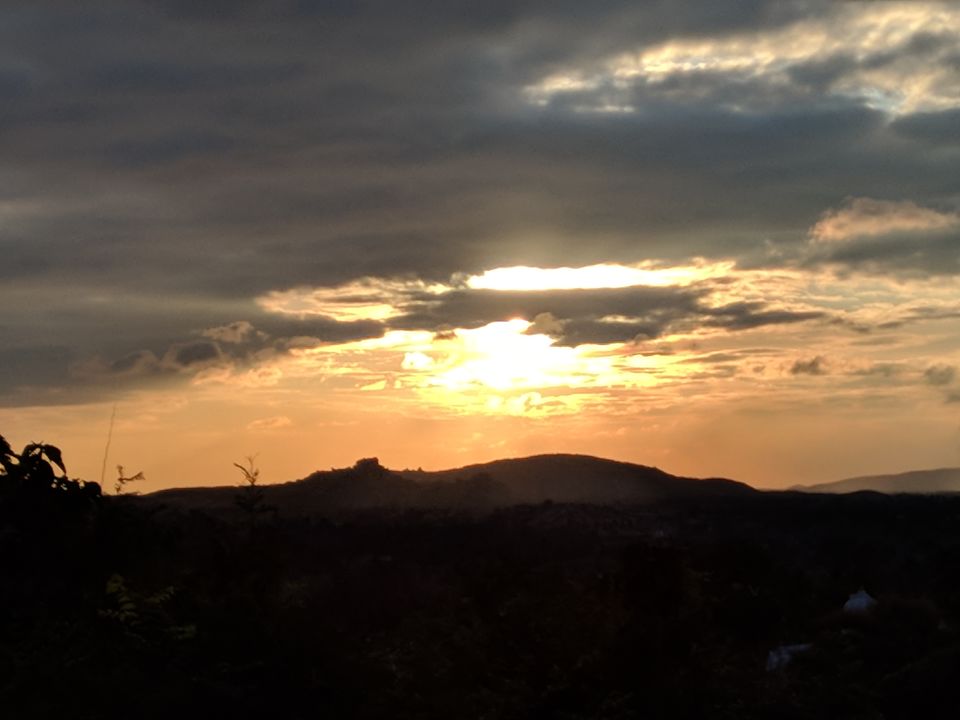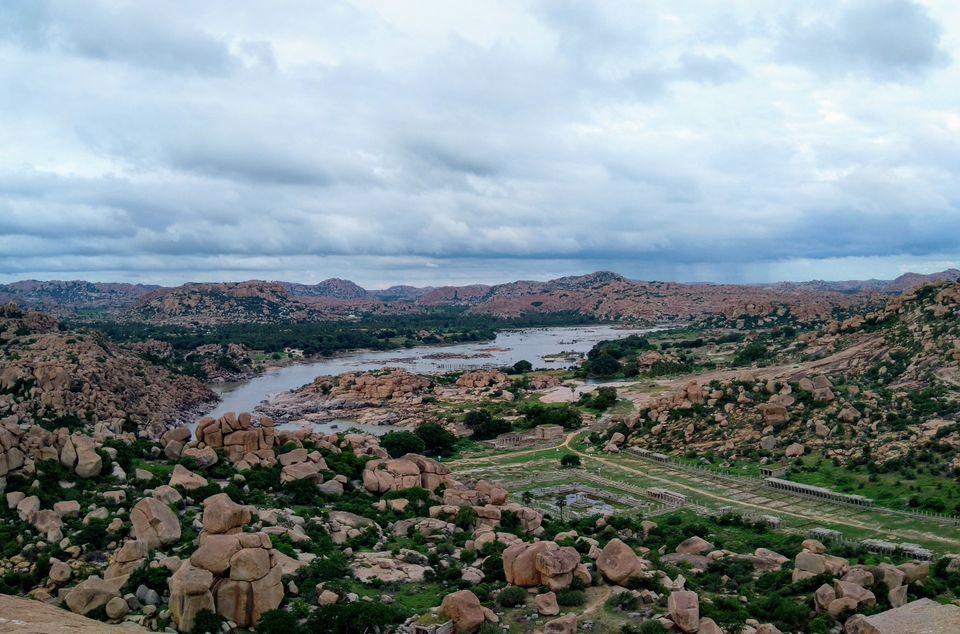 Finally, day 2 ended with a hearty dinner and chilling out with newly made friends, went back to my abode to get a good night's sleep.
Next day was the time to leave Hampi with a heavy heart but carrying all the wonderful memories with me.
Tip: While touring Hampi, make sure to have a heavy breakfast and keep ample amount of water and protein bars or energy bars to constantly replenish yourself as each site involves lot of walking. You can easily get coconut water and fresh fruits at various sites.