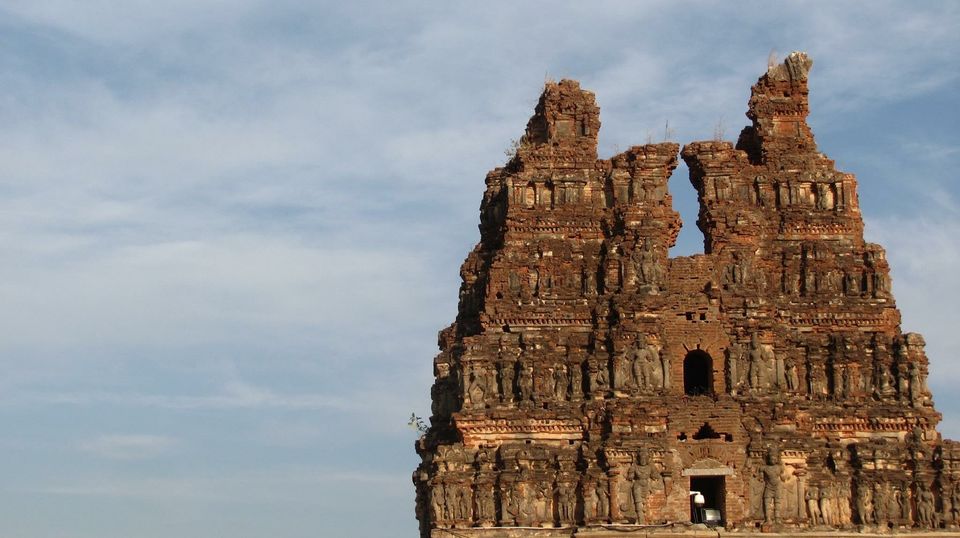 The Mummy series had left me a huge fan of ancient mythology. But how practical is it pack your bag and fly to Egypt? Not really doable without months of planning and savings I would say. So how can you set on a journey to explore ancient ruins without burning a hole in your pocket? Hampi is the answer.
Hampi, once the rich city of Vijayanagar, is now a temple town in ruins.
There are no 5 star stay options at Hampi. We had booked our stay at Gopi guest house and they have real awesome food there (cheese omelette and Pan cakes were too good).Highly recommended!
Since the place attracts lot of foreigners, the food is mostly English or Chinese and the cost is slightly higher than what you would expect at a village. The hot and dusty village (We went in Feb) can be explored in an evening but I would advice you to carry lots of water. There are cycles available for rent or autos which run on hire for a day (100Rs when we went) which would take you to visit all the popular temples and ruins at Hampi. The auto guys have a generic knowledge about the popular sites so you wouldn't need a guide unless you are very keen on specific historic details.
The popular places of visit are; Virupaksha temple, Queen's bath (truly Majestic and better than any pool of the modern era), Elephant stables ( one of its kind and a must visit), the old market ruins, Lakshmi Narasimha temple (monolithic, larger than life statue of Narasimha), Prasanna Virupaksha ( underground shiva temple), Rama temple ( where many scenes from Ramayana are carved beautifully in the stones), Matanga Hill and the Vithala temple complex.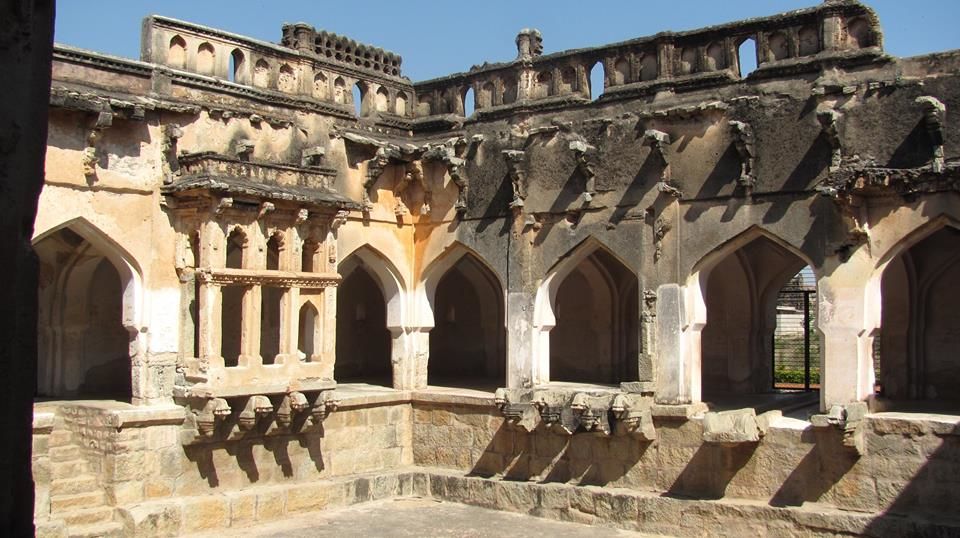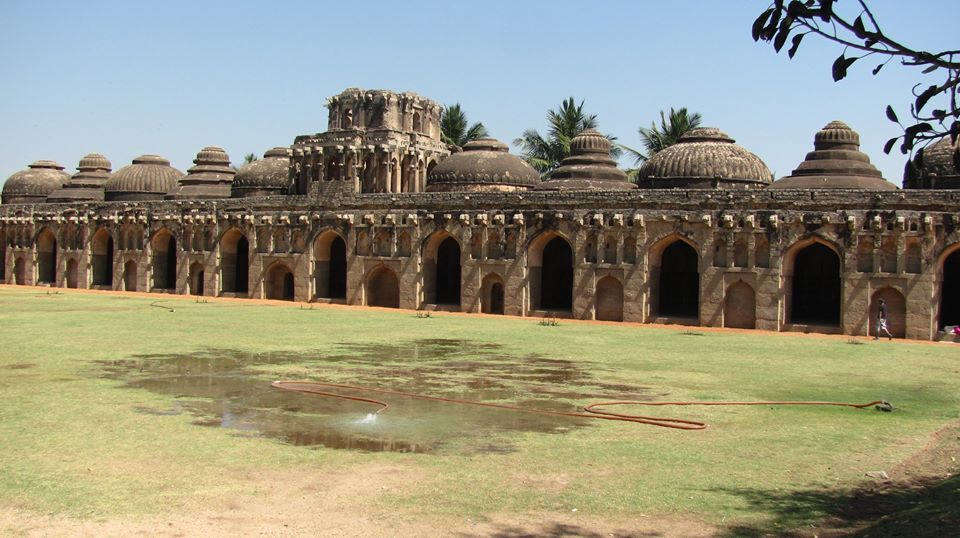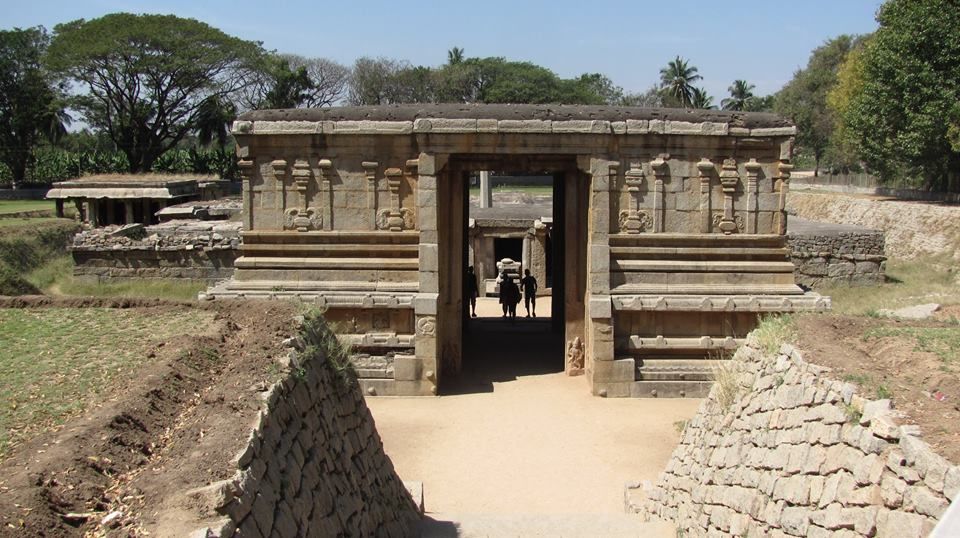 The easiest and cheapest way to visit Hampi is to book a bus from Bangalore (use redbus.in).Its only an overnight journey and you will reach Hampi quite fresh and active. On reaching Hampi, the only means of transportation up to your home stay would be an auto.
The Vithala complex is the most popular attraction in Hampi. You can take a ride up to the complex in a battery vehicle or climb up( I would advice against climbing). This complex houses the famous musical pillars which is said to play melodic tunes. Many of these pillars were taken down and cut open by Britishers investigating the source of those notes. The Vithala temples are also famous for the ornate stone chariot which is depicted in many Indian films. In Fact, we saw the filming of a song from Telgu movie kick 2 when we visited this place (Google kick 2 temple song if you wish to see this). The temples itself have elaborate stone carvings depicting famous scenes from great epics like the Ramayana and stories of Krishna.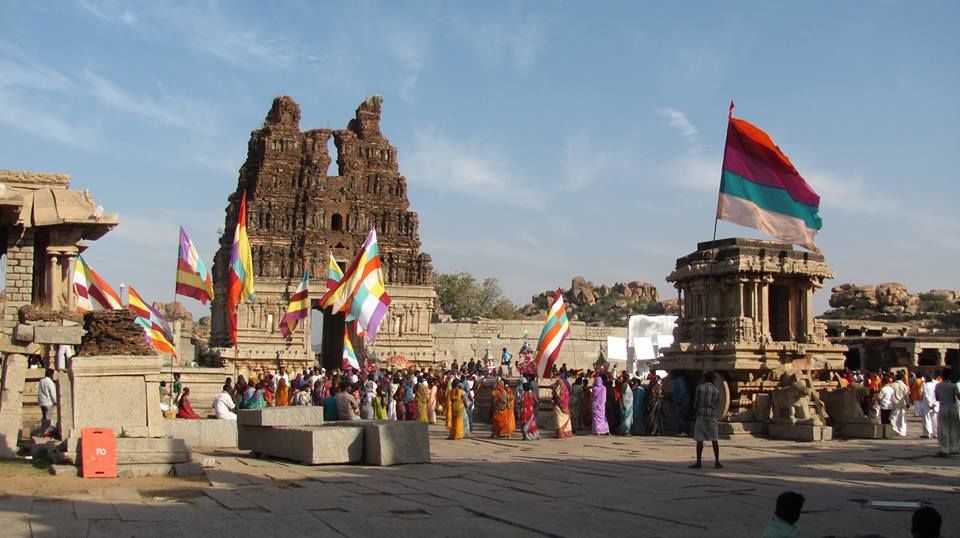 One thing common in all the temples at Hampi are that all the statues have their faces deformed or limps cut off. This, the auto guys told us, happened as a result of Mughal invasion in Hampi.
The city is watered by the great Tungabhadra river. You could cross the river (coracle rides are available) to visit the famous monkey (Anjaneya) temple. We let it pass when we heard that the site involves a 350 stepped steep climb with no shops for refreshments. But for those interested, there are motor cycles/ cycles available for rent at the river bank ( be careful, the alignment is not great and the roads are bad) . We choose to spend the day relaxing at the funky monkey restaurant across the river and enjoy the amazing food.
After two days spent travelling back in time and exploring our history and mesmerizing Dravidian architecture, we got back to busy Bangalore buzz.