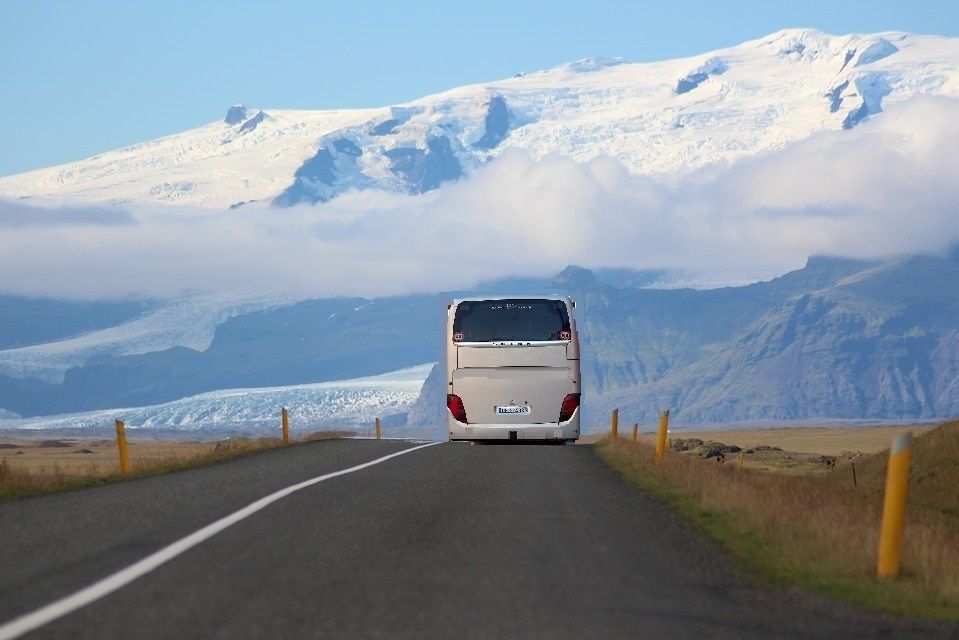 Flights have made travelling a quick affair. The time saved can easily be used to explore more, learn more and share more. However, air travel is quite boring, as it disconnects a traveller from the surroundings. A more candid experience is a bus ride that lets travellers be one with some of nature's unrivalled paragons. Here's a list of bus rides across India that would make you feel good about skipping your flight on your next vacation.
1. Mumbai to Goa
A bus trip from the wealthiest city in India to the beach capital of the country gives the option of choosing between two routes. The first one starts with Mumbai-Pune Expressway, covers Kolhapur and Belgaum, and concludes in Goa. This is a common choice for people with motion sickness and has smoother, straight roads.
It takes about 10 hours and 30 minutes without stoppages. The other route is via NH 66 and takes about 12 hours. No matter which route you opt for, the natural beauty that keeps you company will make you fall in love and hope that this journey never ends.
2. Visakhapatnam to Chennai
The road less travelled often ends in paradise. But this nearly 15 hours bus journey along NH16 is paradise in itself. With scenic beauty and surreal elegance of Mother Nature, this stunning highway remains mostly untouched by bikers and road trip lovers. Rest your head by the window, immerse in the peaceful habitats and let your favourite travel song breathe life to all your travel dreams.
3. Bengaluru to Ooty
This is one of the best bus journeys down south. Confucius aptly said, "Roads were made for journeys not destinations." Curvy roads lead into national parks and wildlings, paving a perfect pathway as you slowly enter a colony of clouds. This is only a brief and incomplete description of what to expect on this 6 hour bus ride. A trip that is known to change people spiritually can barely be described with human words, so let's not even try.
4. Srinagar to Udhampur
Greenery and a pollution-free environment make this bus trip a serene and calm experience. So much so that at the end of the 7 hour journey, you feel bad that it ended too soon. The smoky flavours of the food from the dhabas along the way add to the charm of this journey and you will be left asking for more.
5. Delhi to Leh
There is a reason that this is one of the most popular road trips among travellers. This bus ride brings you face to face with the true glory of untouched topography in India and is accompanied by majestic views of monasteries and natural wonders. Though it takes longer than most others mentioned in this list (about 29 hours), it is undoubtedly worth it.
6. Jaipur to Jaisalmer
This bus journey highlights how beautiful a desert can be. Well-maintained roads and the picturesque sand dunes that make frequent appearances on the way are delightful to watch. Keep your eyes and ears open, as it is quite likely that on this 9 hours 40 minutes trip, Peacocks could pay you a welcome visit. The entire journey is tourist friendly with plenty of food options and neatly kept roads.
7. Manali to Leh Highway
This is Bollywood's favourite road trip. Remember Kareena Kapoor in Jab We Met? The snow laden peaks that accompany you easily drive you into a heavenly world. You'd beg for time to stop still and wish to engulf as much of it as possible. The journey lasts for only 14 hours (without stoppages). If you're laughing at the idea of 'only' 14 hours, taking this bus ride will definitely change your mind!
8. Guwahati to Tawang
This 14 hour bus trip is essentially a highlight reel of the northeast. The beautiful yet treacherous terrain is wonderful and astonishing to watch. This one caters to the adventure lovers with sharp curves and scenic vast valleys, yet everyone can enjoy the natural spectacles that lie in this part of India. Every stop you take along the way lets you deeper into the soul of the place, altering your own existence at the same time.
9. Shimla to Manali
The journey between two of the most popular hill stations in India would take approx. 8 hours in bus. Let yourself unwind, as River Beas tramps along. Being one of the best rides on hilly terrain in the country also make it popular and thus, crowded at times. Expect some traffic and honking to bother you. However, looking outside the window into open skies and breezy mountainsides would help you find peace conveniently.
10. Chennai to Munnar
A 12-hour bus ride drives you from the sunny beach sides of Tamil Nadu into the clouds thronging the tea gardens of Munnar. And the transitions that take place on the way are no less refreshing or enchanting. Even the plains that the bus crosses are simple yet elegant and leave an unforgettable impression in the minds of every traveller.
If this article made you smile and pack your bags, thank me later. Grab your goodies and hop on the next bus to your favourite spot! Or add to the list by suggesting more such bus trips in the comments below.
Think we missed out on something? Tell us about it in the comments below. Or write about it here on Tripoto and earn Tripoto Credits!
Explore the best of travel inspiration on Tripoto Instagram!