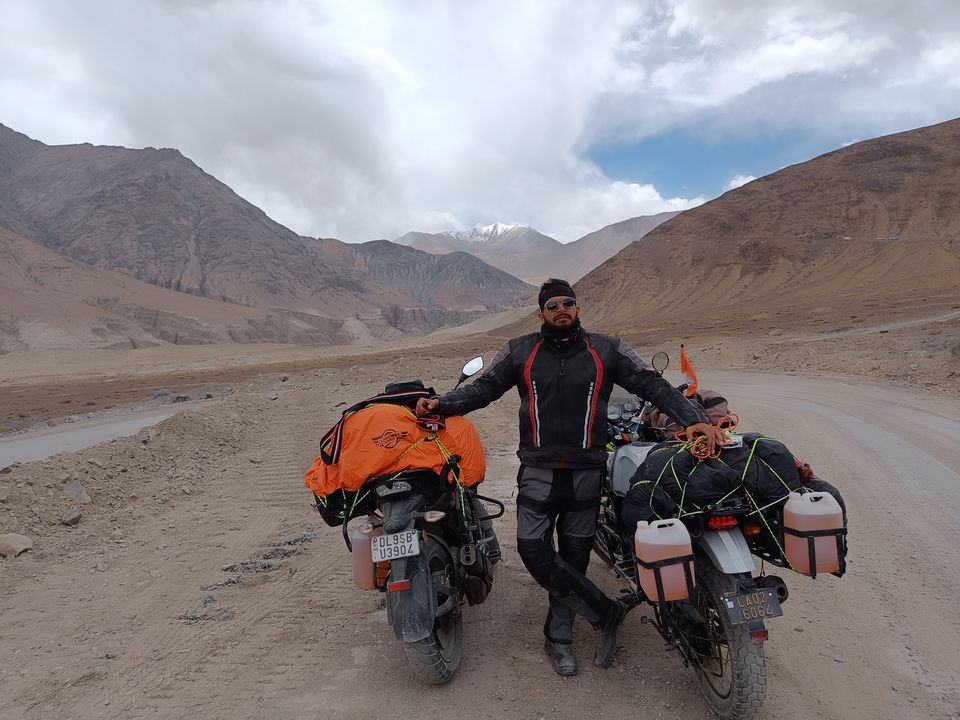 It was day 2 of our journey and after grabbing 1 glass of water with Electrol and an energy bar, we left for Capital of Jammu and kashmir, Srinagar.
Everyday, once you will have to open your Bag in the evening and tie in the morning so have 15-20 extra in your bucket in the morning when you leave.
We stopped after an hour and a half for breakfast, majorly aloo paratha with Tea. 2 more people joined us in between one from Punjab and the other one from Gujarat. And then we entered one of the finest tunnels constructed in India, The Gazikund Tunnel. Well I have to say that Mr. Nitin Gadkari has completely changed the definition of Good Roads/Tunnels in India. This specific tunnel has reduced the distance by 1.5-2 hours due to which we reached Srinagar at 4pm in the evening, leaving us with a lot of time.
So while going for a long ride, when you have time, it's better you fill up your petrol tank, check if there's any puncture or go to a bike repair shop if you feel any problem because in the coming days, you won't find many.
After opening up the bags, filling up the tank, walking a little, it was time to have delicious chicken in Srinagar, which you can't miss and then I slept early because I was the one who used to wake up the earliest and then help others wake up because I hate getting late in the morning when I'm travelling.
Usually at home, I never woke up at 5/6/7am in the morning but there I used to easily wake up at 4:30am in the morning, this is what excitement does to you.
It was 320km ride, again it was a straight road with excellent highways urging you not to ride under 100/120kph.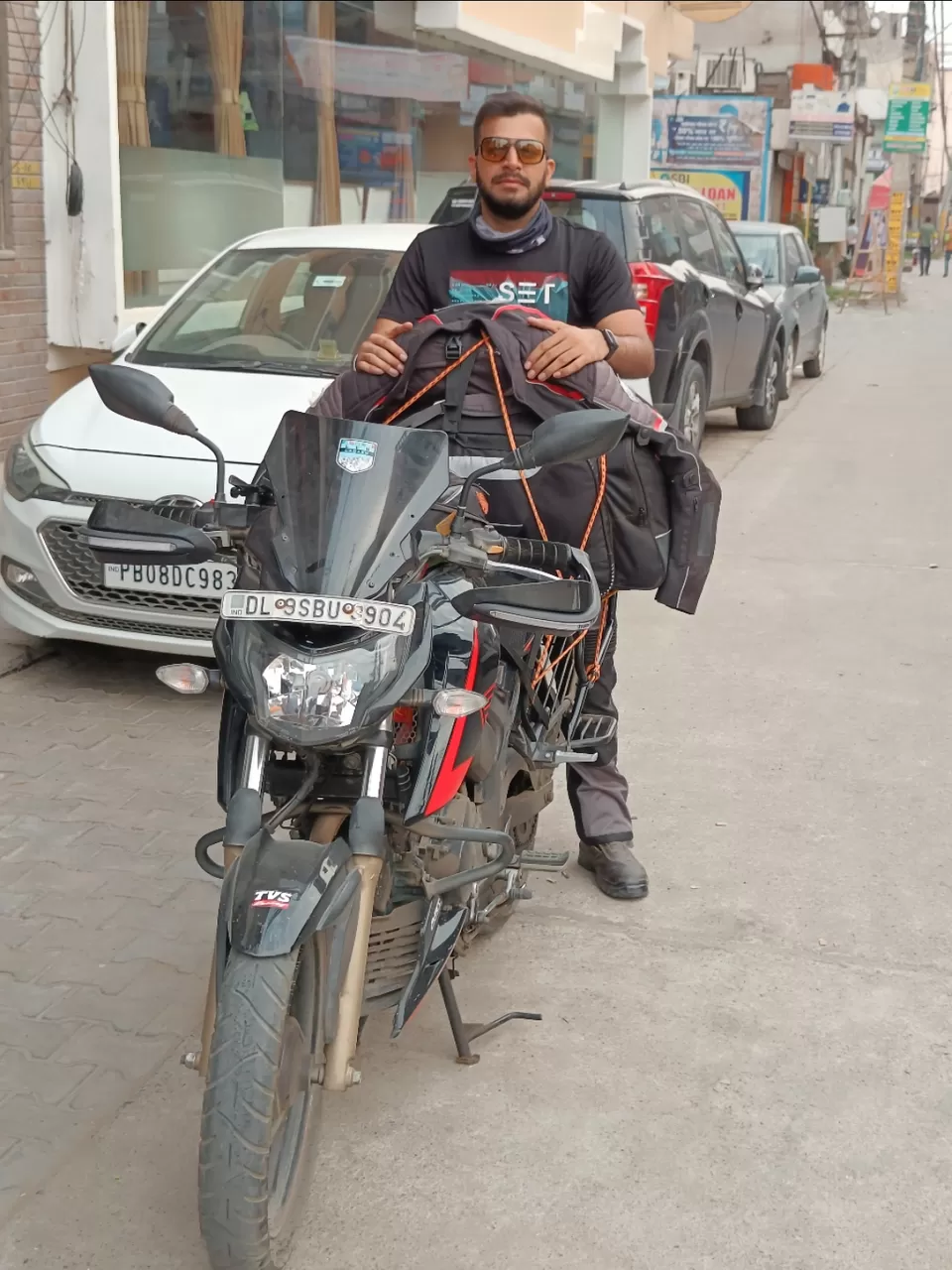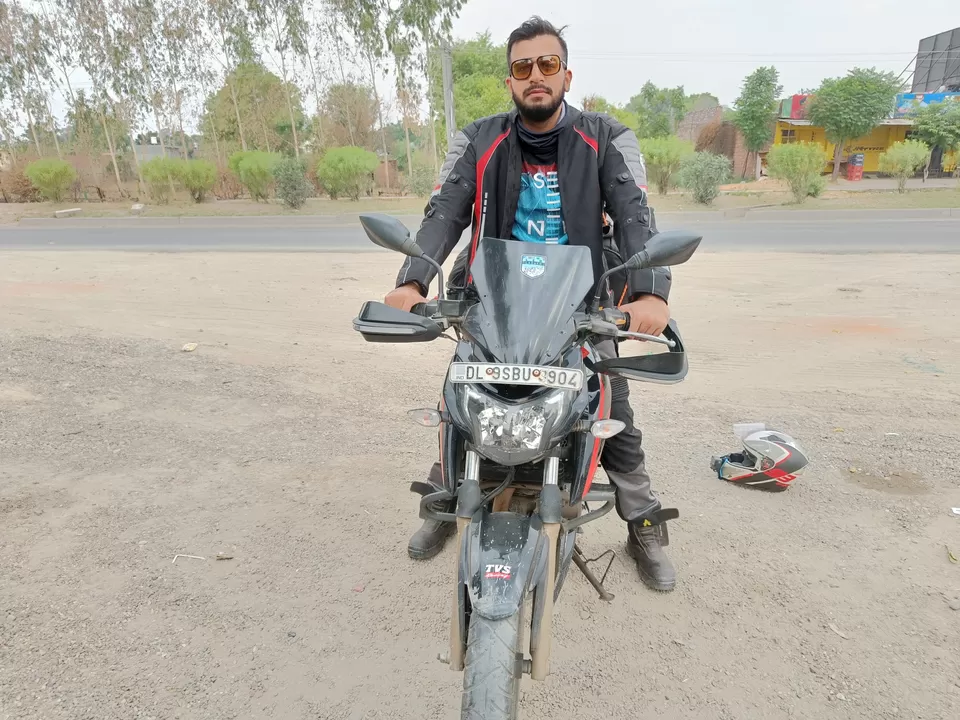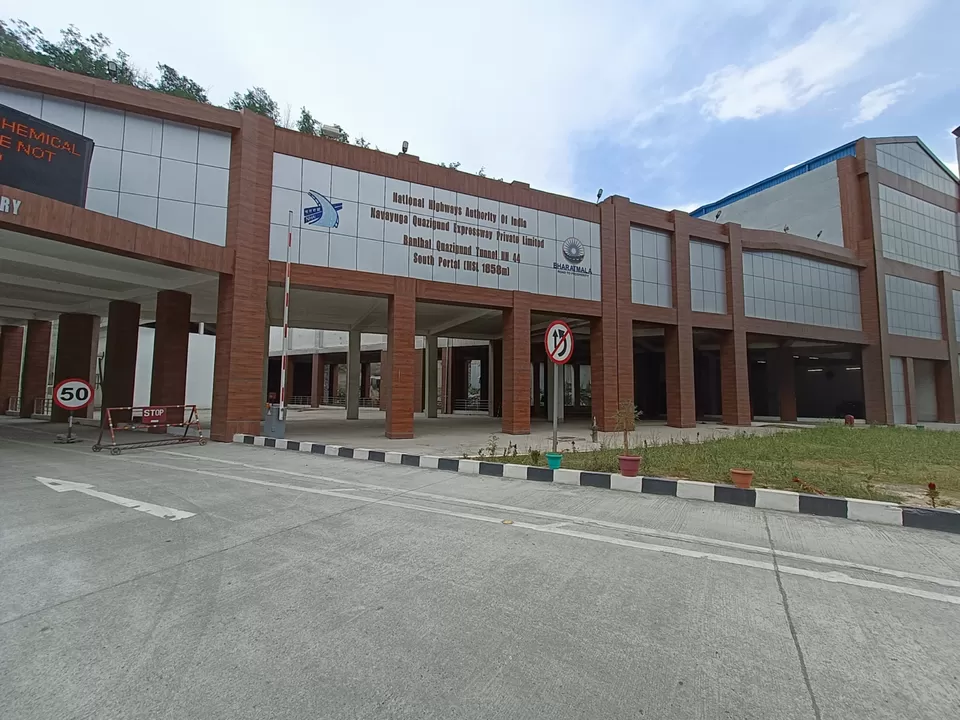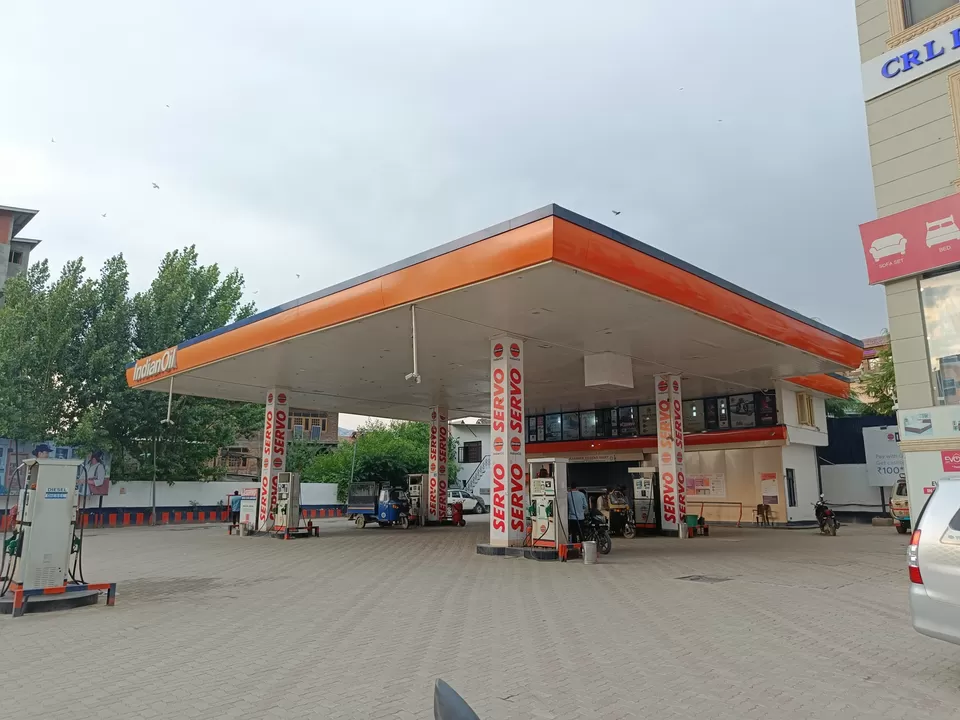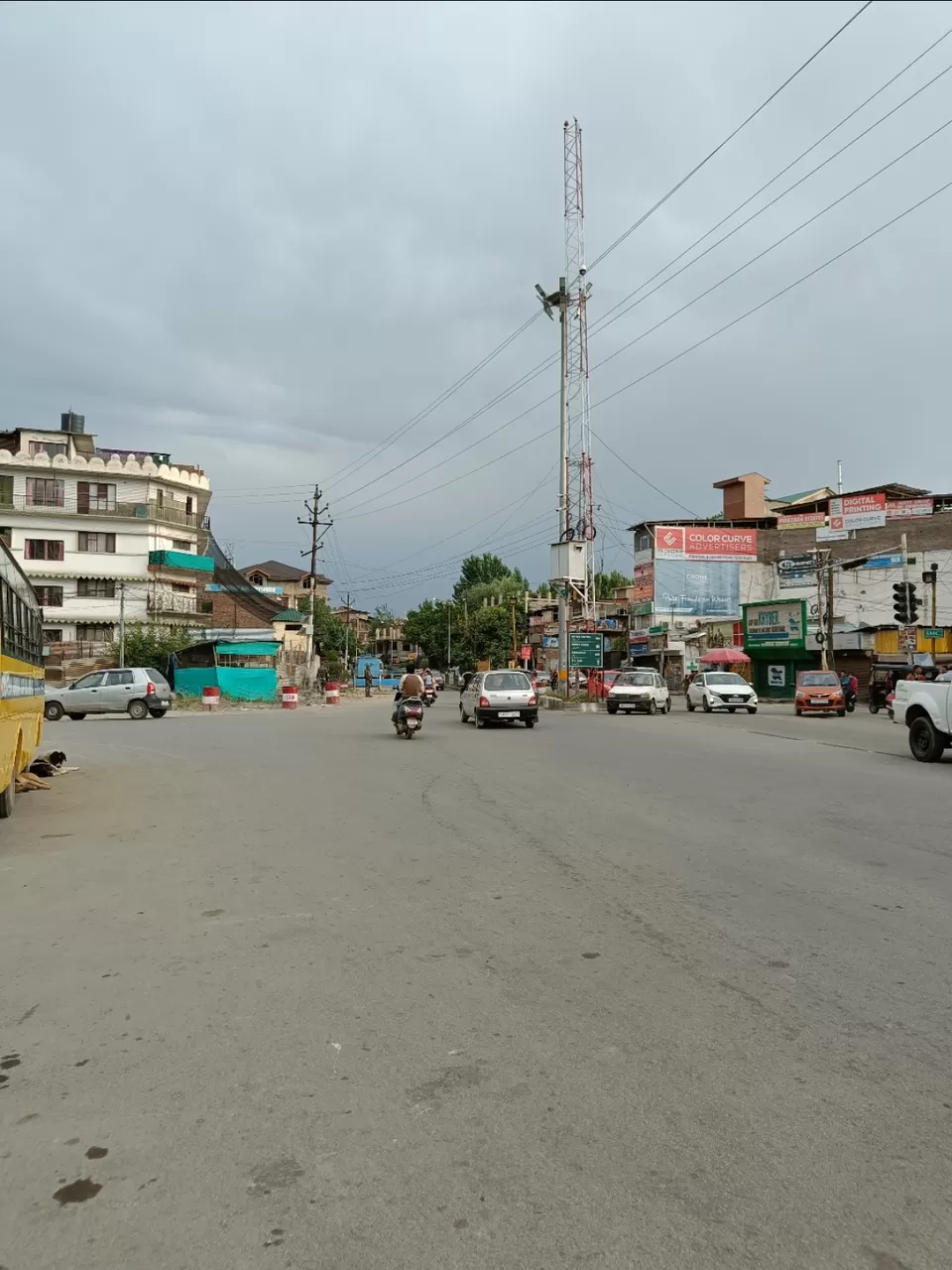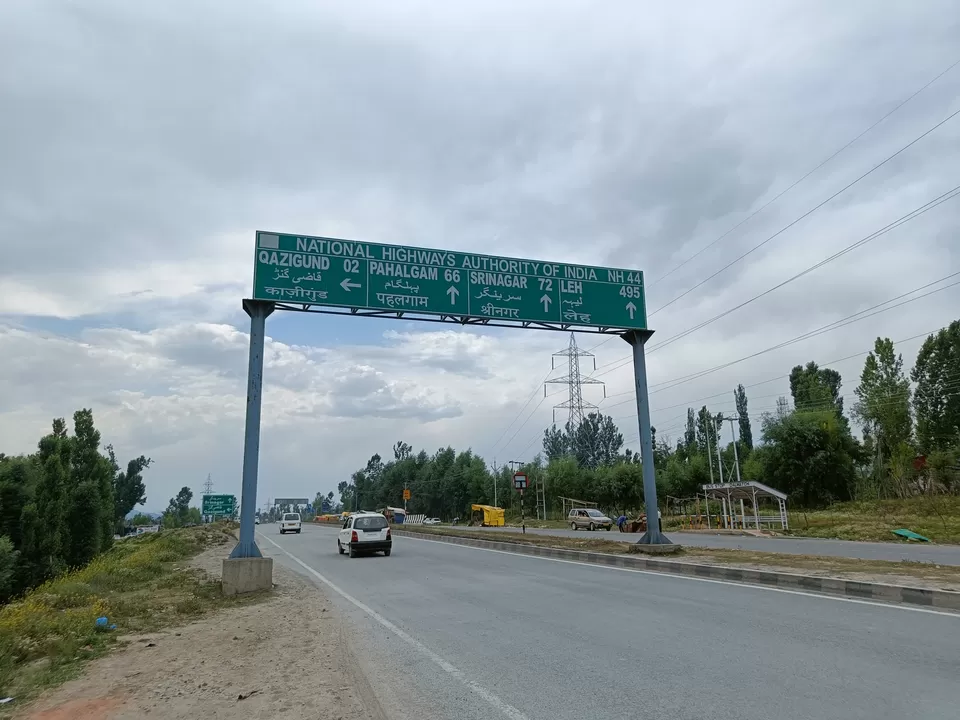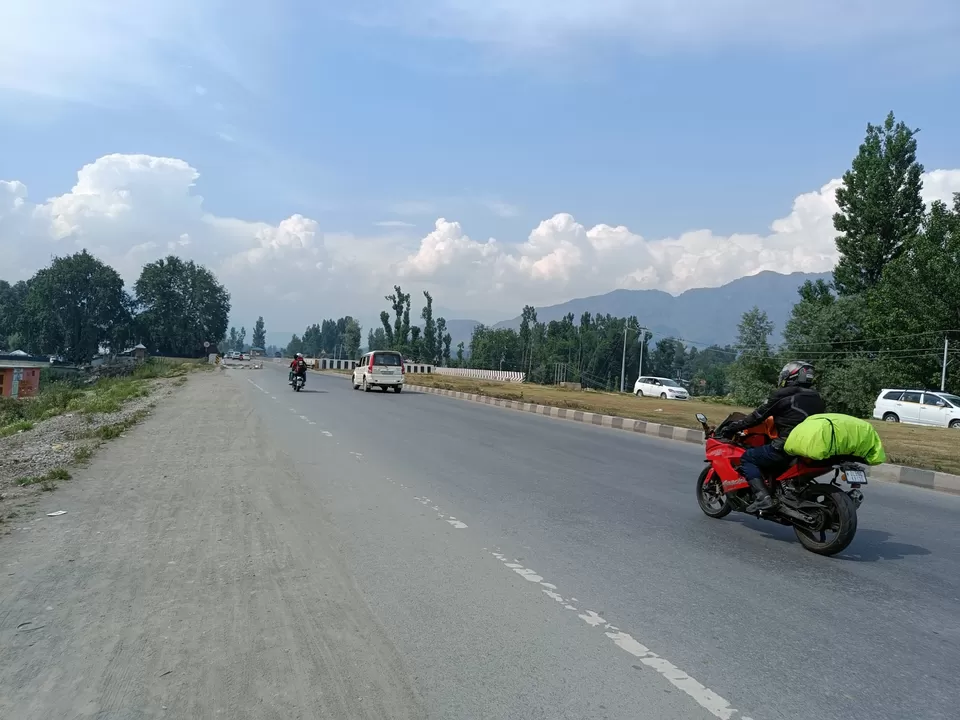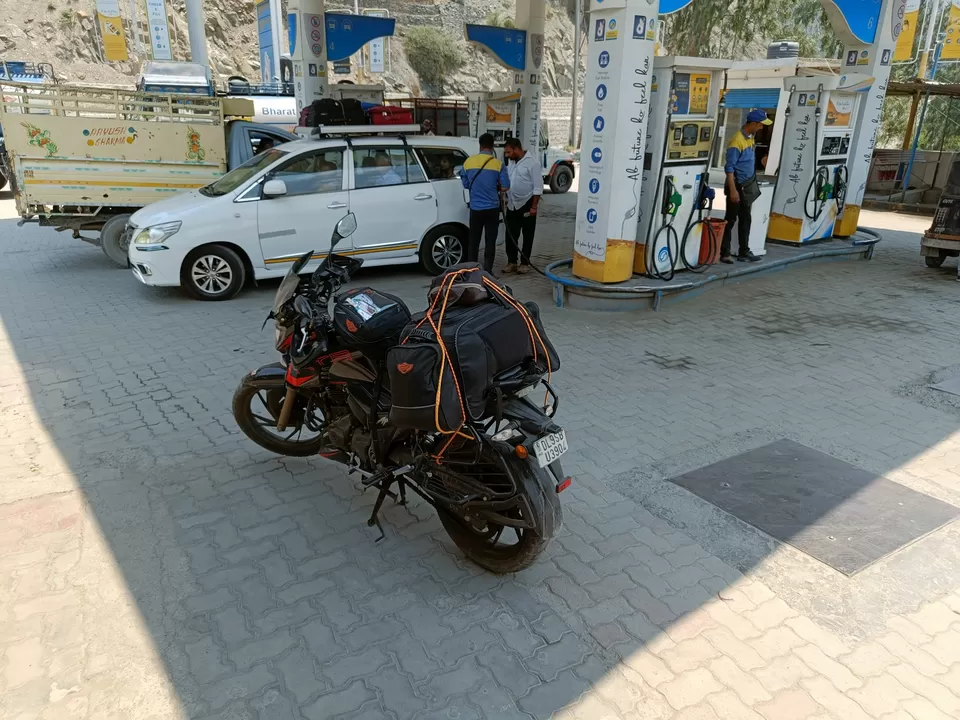 Long Bike Ride to Ladakh is mostly every guy's dream but the question is when and how do you decide that it's your dream and when will you pursue it?
It was the year 2012 when I saw Shahrukh Khan in Jab Tak hai Jaan, that poem scene which is shot in Ladakh, I was mesmerised by the beauty and I couldn't move my eyes from the bike riding in heaven. Then I decided that I will go there once in a lifetime on my own bike with my own hard-earned money, not with my father's money.
It was the year 2019, and that dream started coming to my mind but it was only 1 year since I started working and I knew, to fully enjoy Ladakh one needs at least 2 weeks which would never be possible now, so I went to Spiti Valley for 6 days from Delhi and when I came back, my dream to Ladakh became stronger.
2 years went in Pandemic and then came year 2022 and I knew "ki agar iss saal nhi toh pata ni kab". I knew I could afford it but there were 2 things: Leaves from the Office and whom to go with.
I applied Leaves in the office and it was accepted and then instantly I started talking to my school friends, college friends and colleagues from companies where I worked/was working and after talking to numerous people, 2 were ready to go but just 2 weeks before leaving they said no, now I was left with no one but my conviction was really strong, "Jaana hai toh isi saal aur abhi chahe jo ho, koi chale ya na chale ". So I started interacting with people on facebook groups and luckily got 2 people coming from Rajasthan, met in Karol Bagh, Delhi and started our day 1 on 11th June, 2022.
I was ready on my Apache RTR 200 which I bought in 2019, with all luggage fitted behind left Gurgaon at 6am in the morning, met with fellow riders in Karol Bagh, Delhi and started my dream ride to Ladakh.
It was damn hot, so I would advise you to keep Electrol, Energy bars, Dry Fruits, Glucon-D, Water etc. We are lucky that while going to JK/Himachal anyway you will have to cross Punjab and the moment you enter and exit you will find multiple stalls set up from Sikhs offering Sharbat/Thandai to the people in summers.
Our target was to reach Pathankot on our first day which we did but since it was our first day riding, it took long 14 hours with multiple breaks in between.
We stayed at Hotel Capri with triple occupancy which was a decent hotel, we were damn tired, full of dirt, sweat but our excitement kept on increasing as we edged closer to Ladakh.
It was a 540km ride, not bad, decent ride on day 1.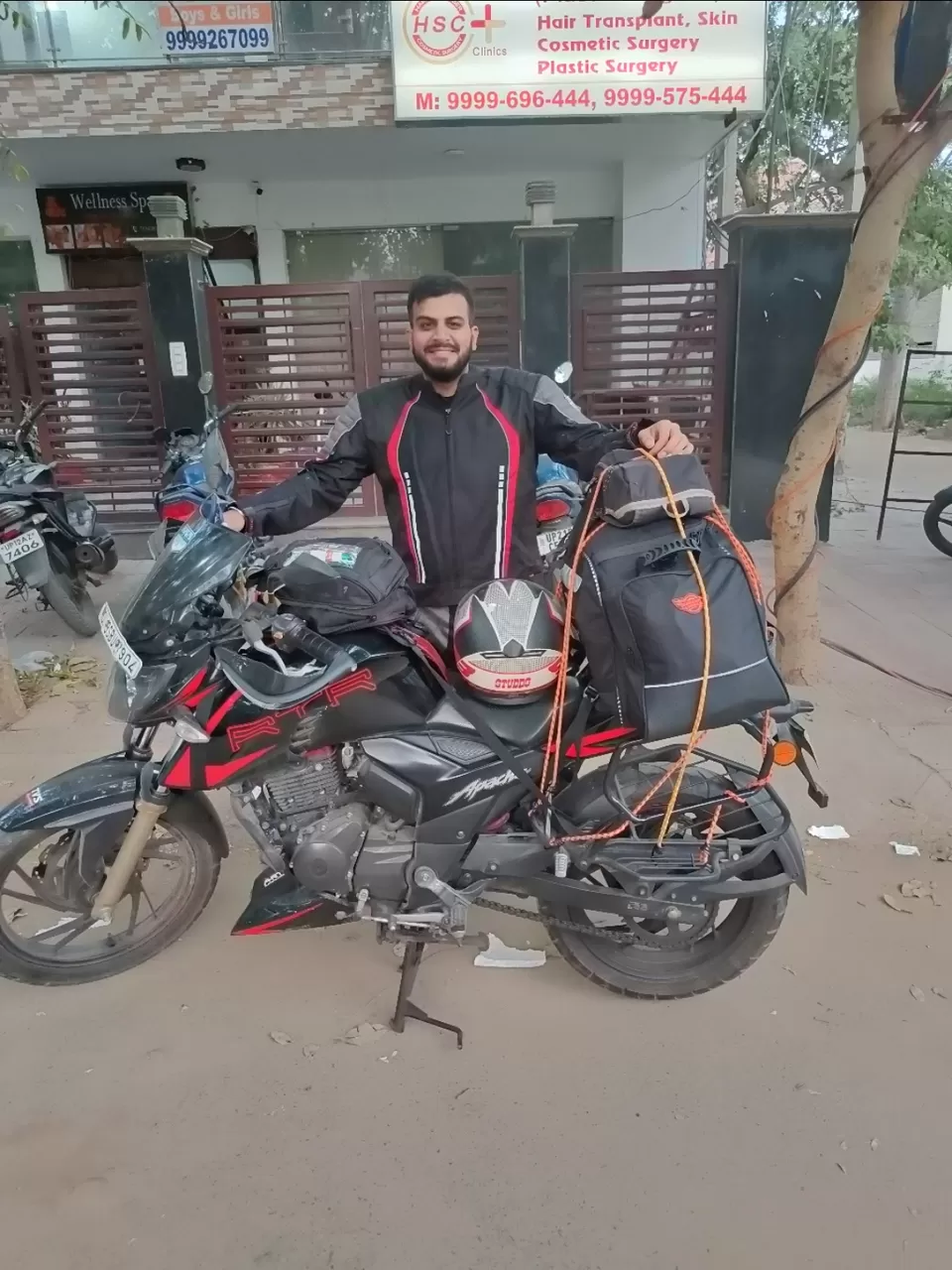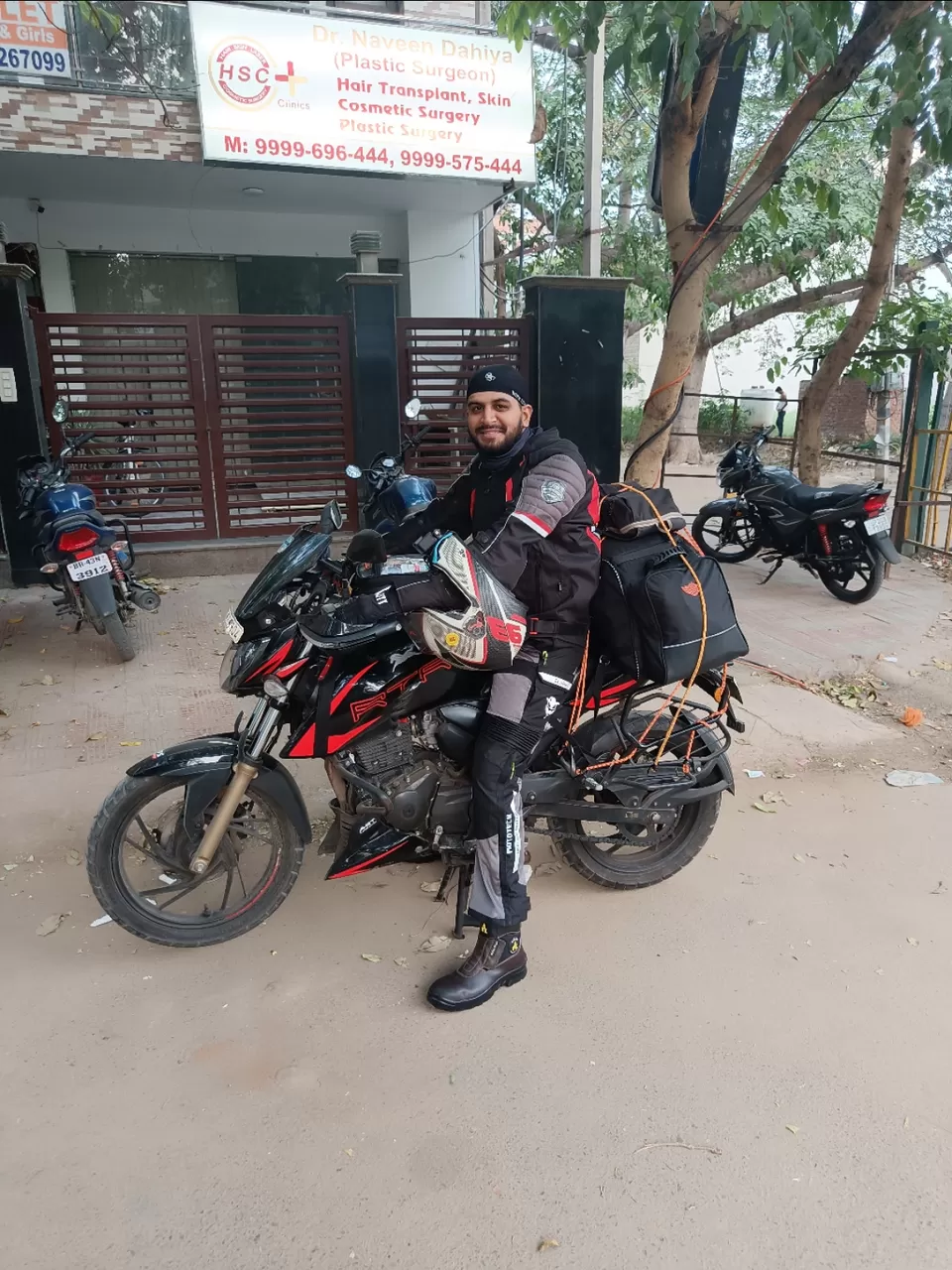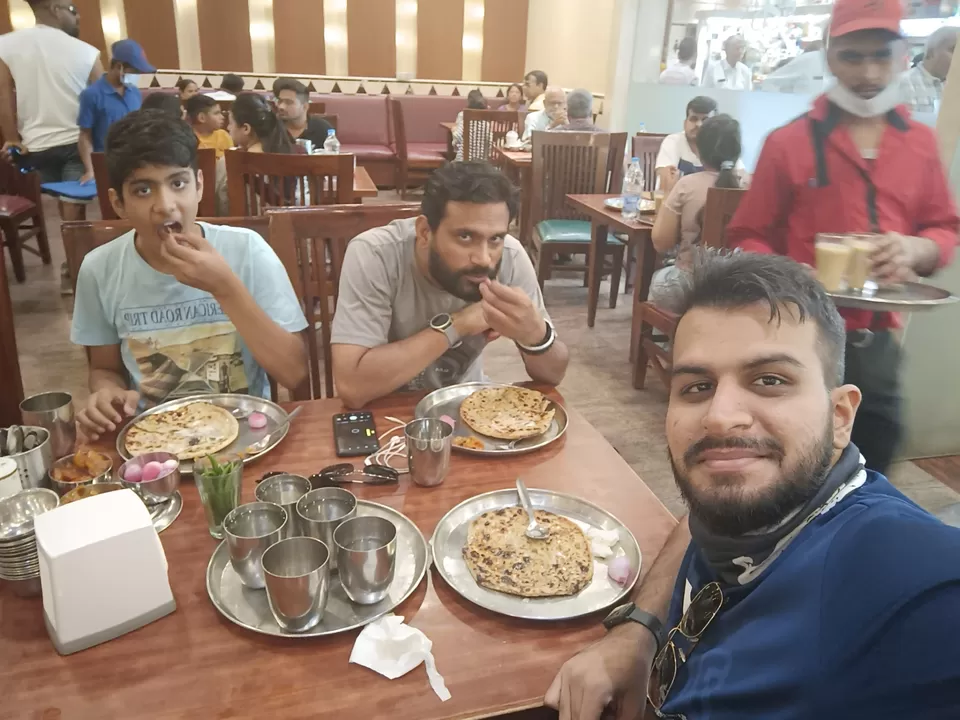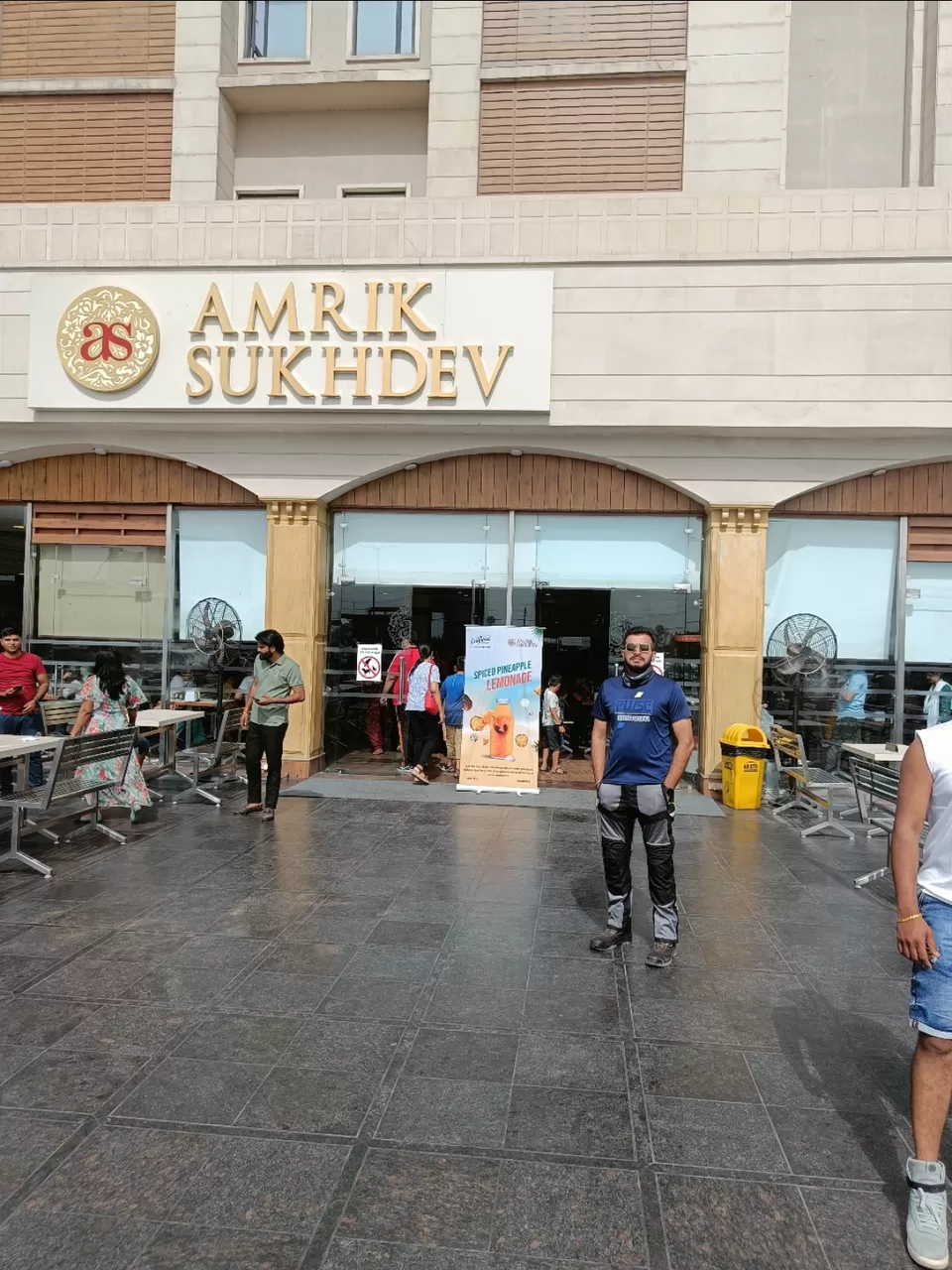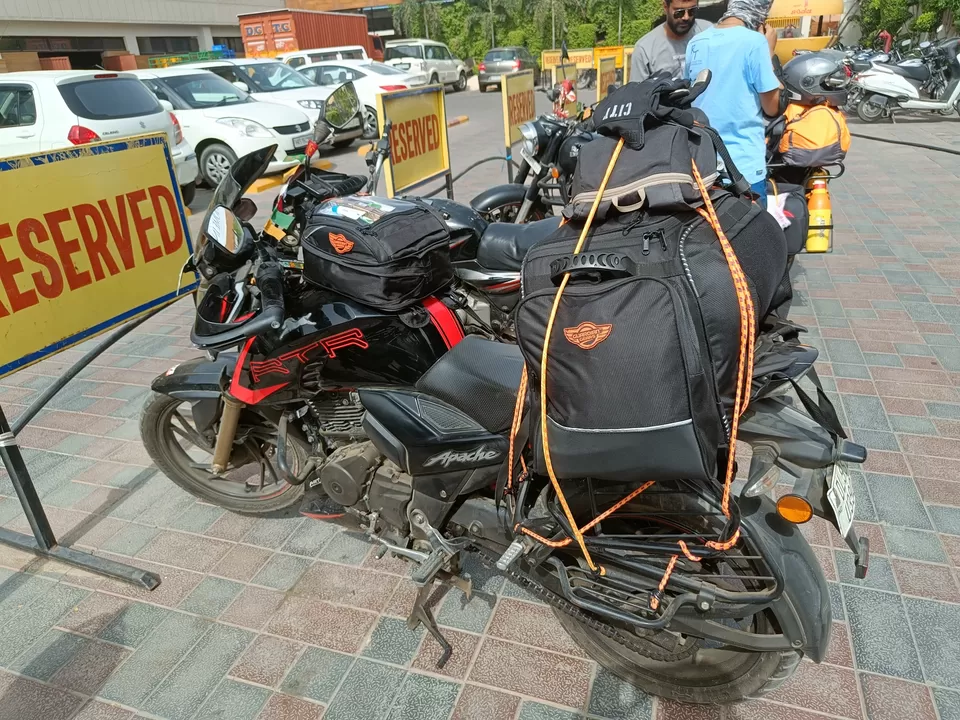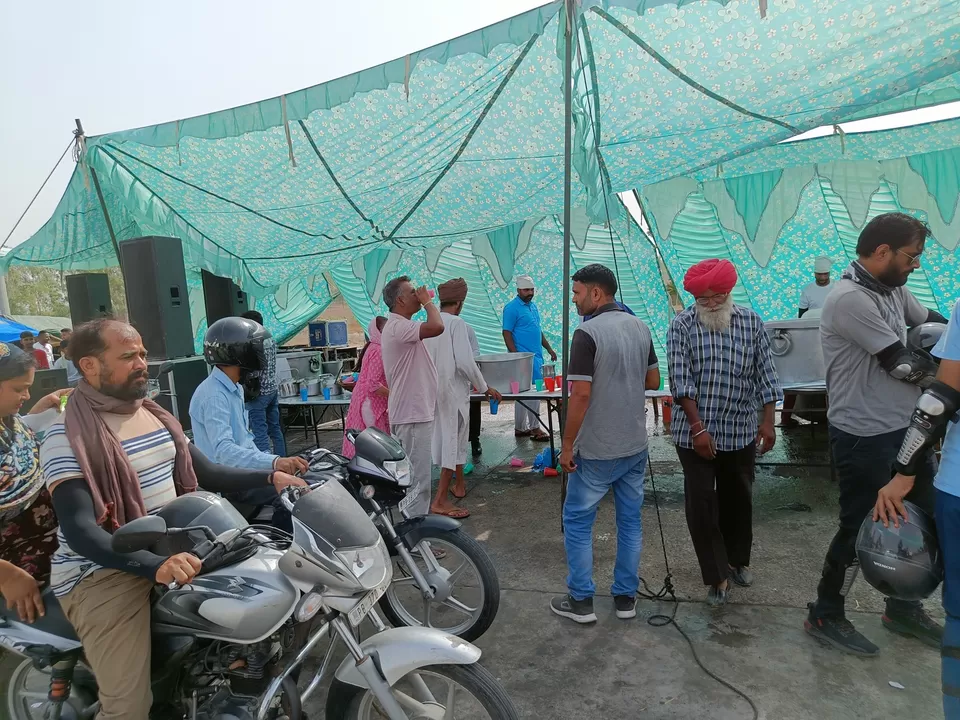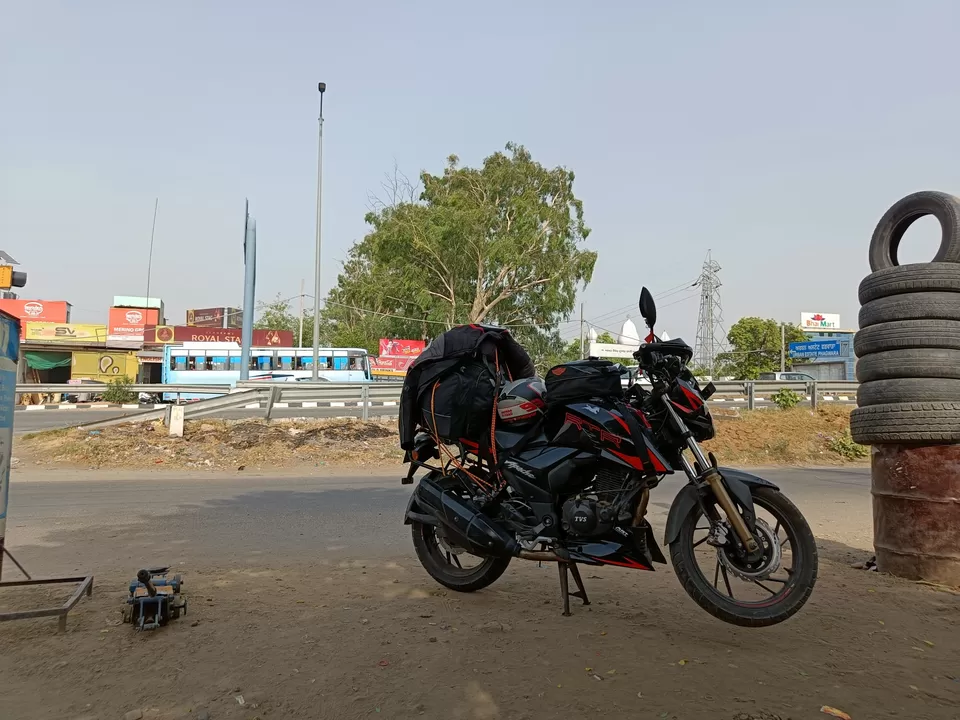 We were ready for day 3, got a little late due to more people joining the ride, we left at 7:30am in the morning knowing that Srinagar to Kargil is only 200km but it's a very scenic ride with dangerous Zojila pass in between.
We had our first stop at Kashmir's one of the most beautiful places- Sonmarg, had our breakfast and got a sigh of relief when people told that there is not much traffic at Zojila pass otherwise people get stuck for hours.
Views were so scenic that I stopped multiple times in between to take pictures and to actually realise that yes I am here, living my dream ride with no disturbances/stress from Work or Family.
I would say that Zojila pass is not dangerous but when construction is going on and it starts to drizzle then you say that "Yaar jaldi cross karo isko varna yahin atak jaenge". It is the first high altitude pass on Srinagar Ladakh highway, this is why it is said to be cautious, drive very slowly, don't overtake, drive always on your left lane, keep using horns, wear your proper riding gears.
We reached Kargil War Memorial at 2pm which was way too early to be expected, even after stopping multiple times. We stayed there for 2 hours, walk around the war memorial, seeing all the pictures, statues of our soldiers who lost their lives in 1999 Kargil War. We as travellers come for a vacation/ride for few days and leave, imagine they live here just to save us. Big Big Salute to the Indian Army protecting us day and night.
We left War memorial after eating something, ask was to stay here or go ahead. There was no plan to reach Ladakh on the same day because we had plans for 2 weeks so there was no need to hurry. But my mindset is to cover some more distance if you time and convinced others to do the same so moved ahead and would like to say that most scenic views were yet to be witnessed on Day 3.
We reached a place called Mulbekh, searched for hotels, sorry homestays, you won't find hotels now, found one after searching for 15-20 minutes. I suggest you to always have some patience on a long ride and book hotels/home stays on the spot, because that gives you more freedom to stay anywhere.
We stopped there, untied our bags, had our dinner and started feeling cold, took out inner warmer and Jackets because we knew would definitely need them in the morning.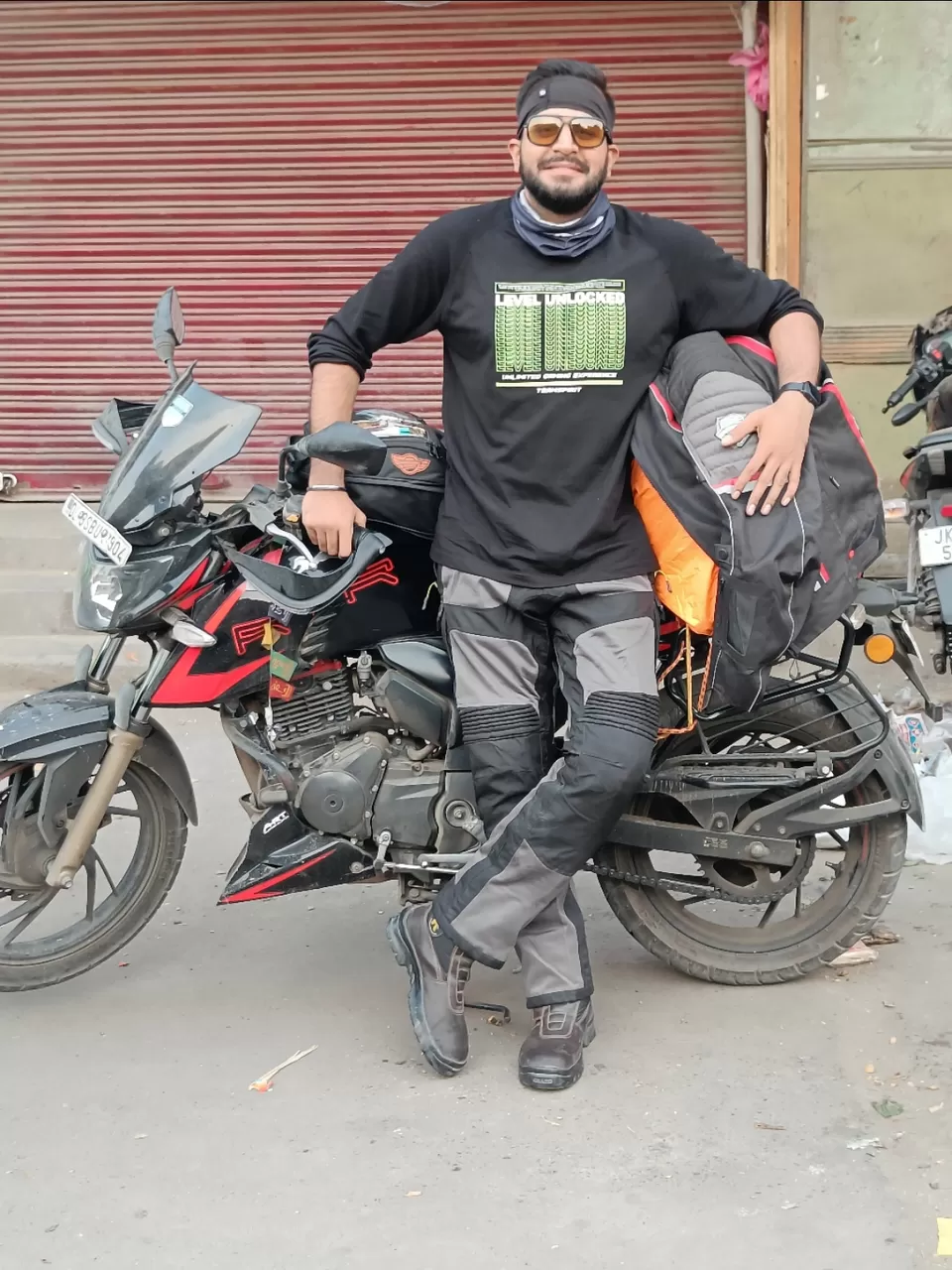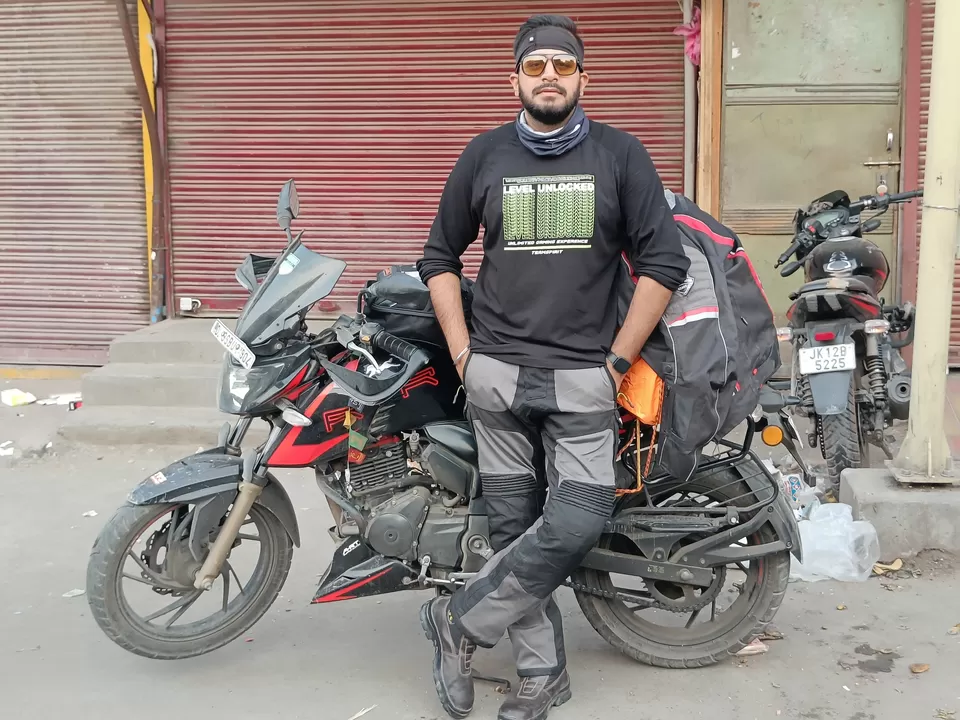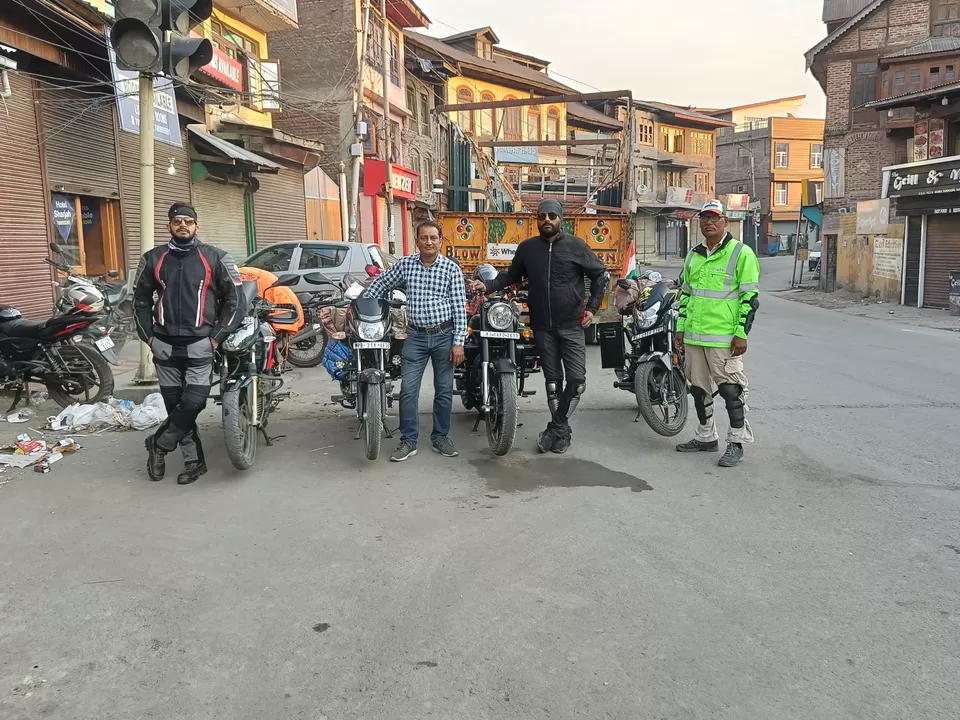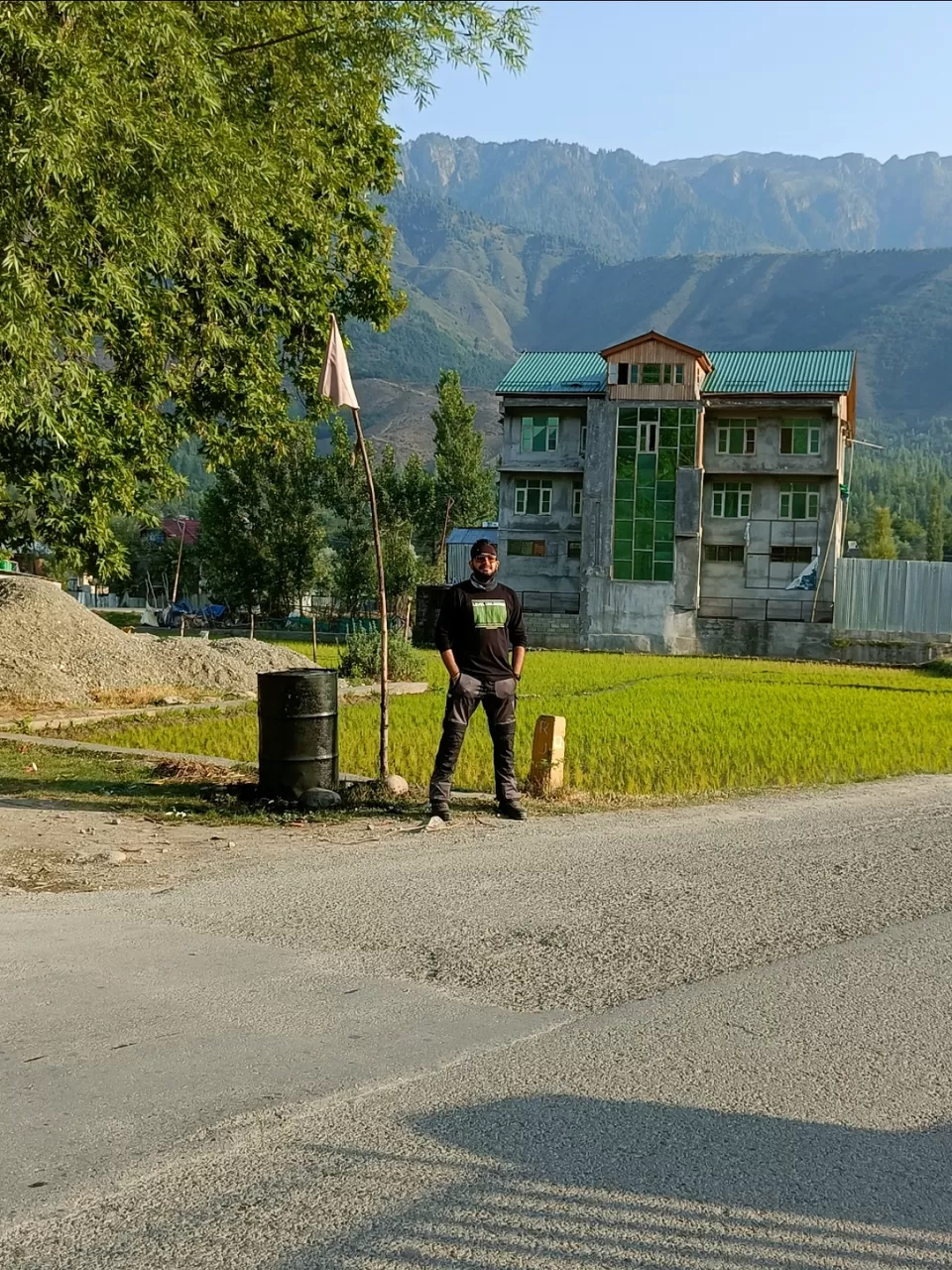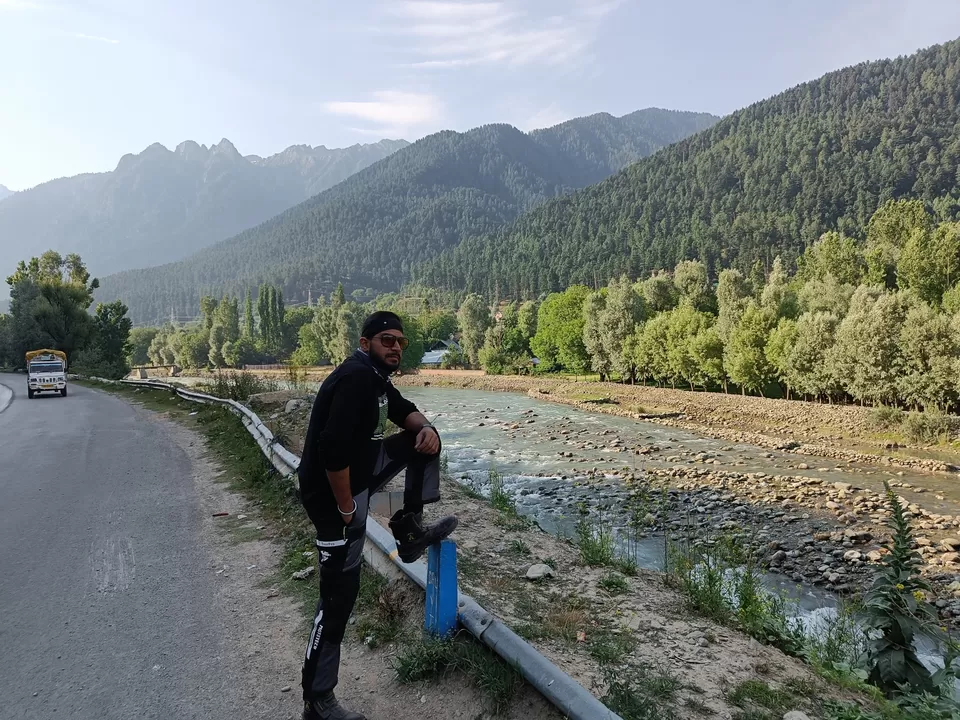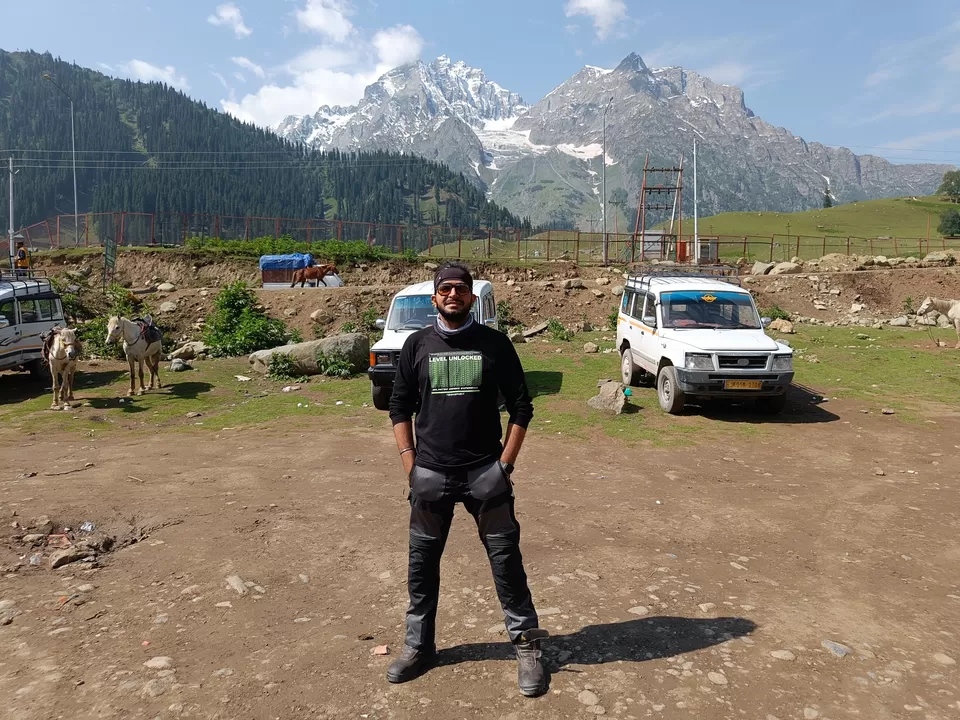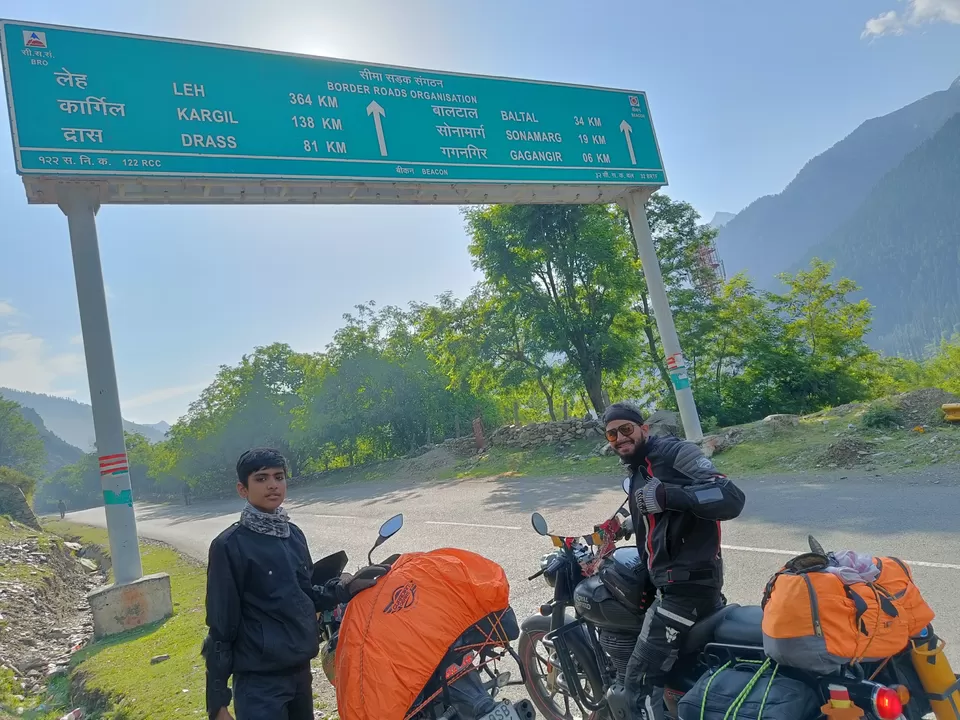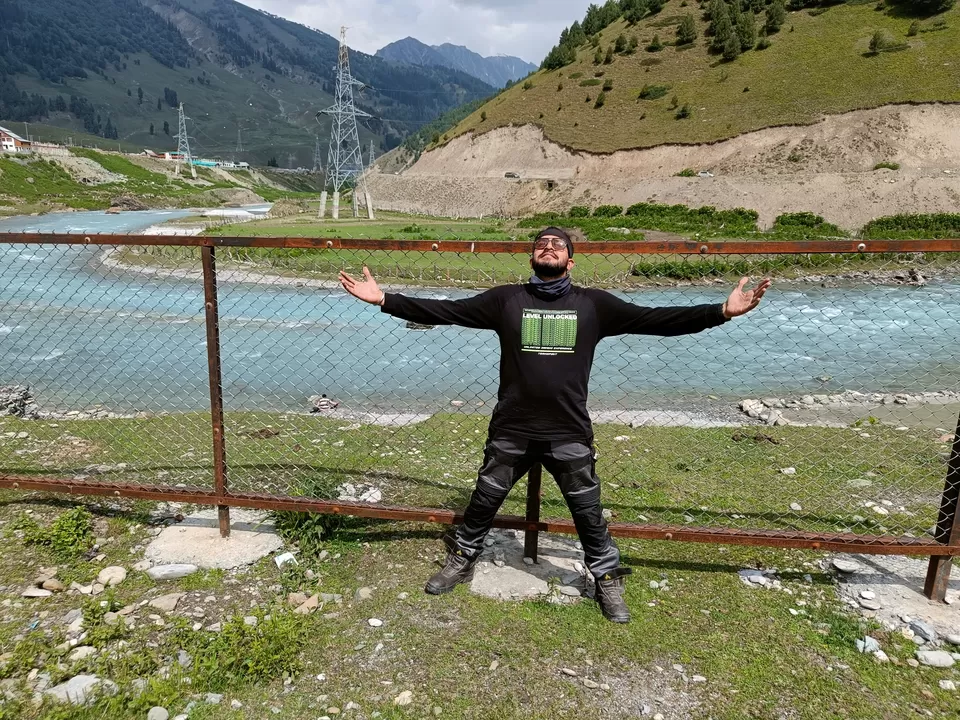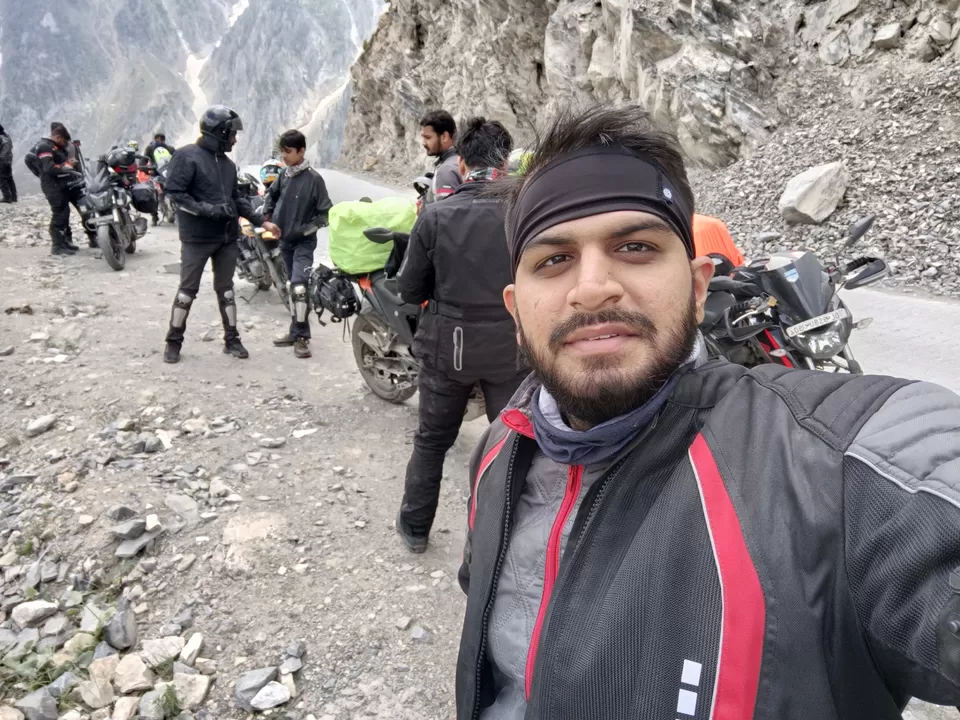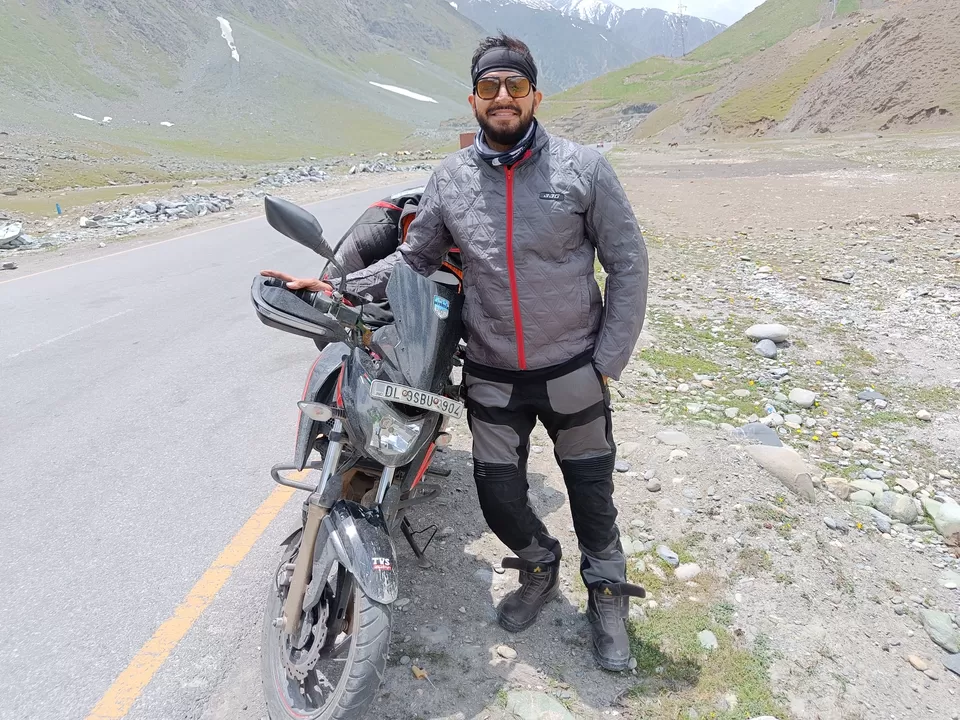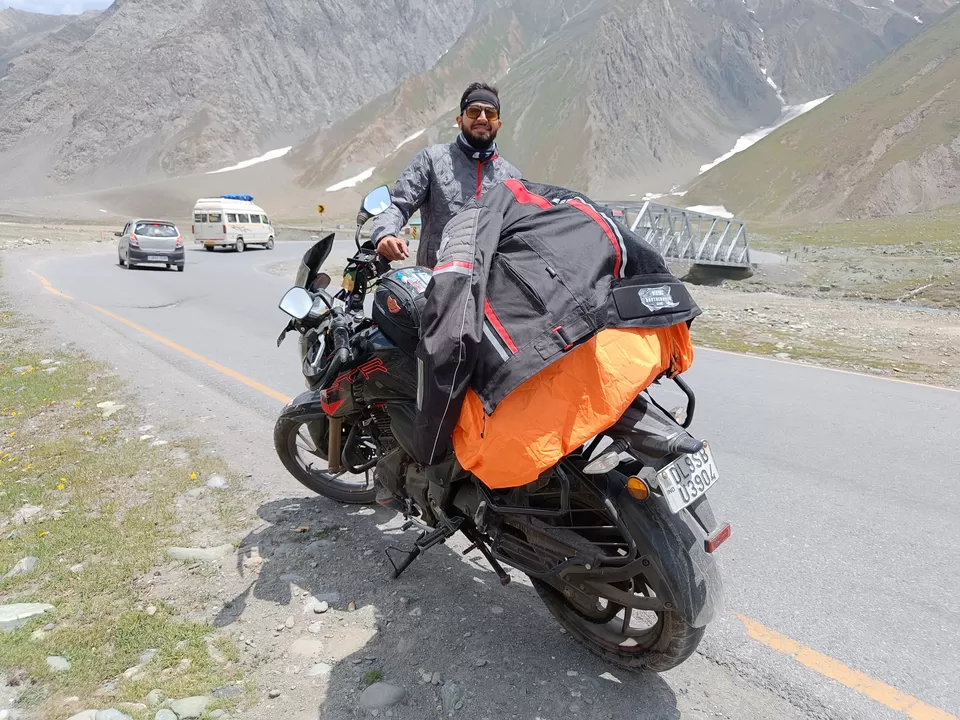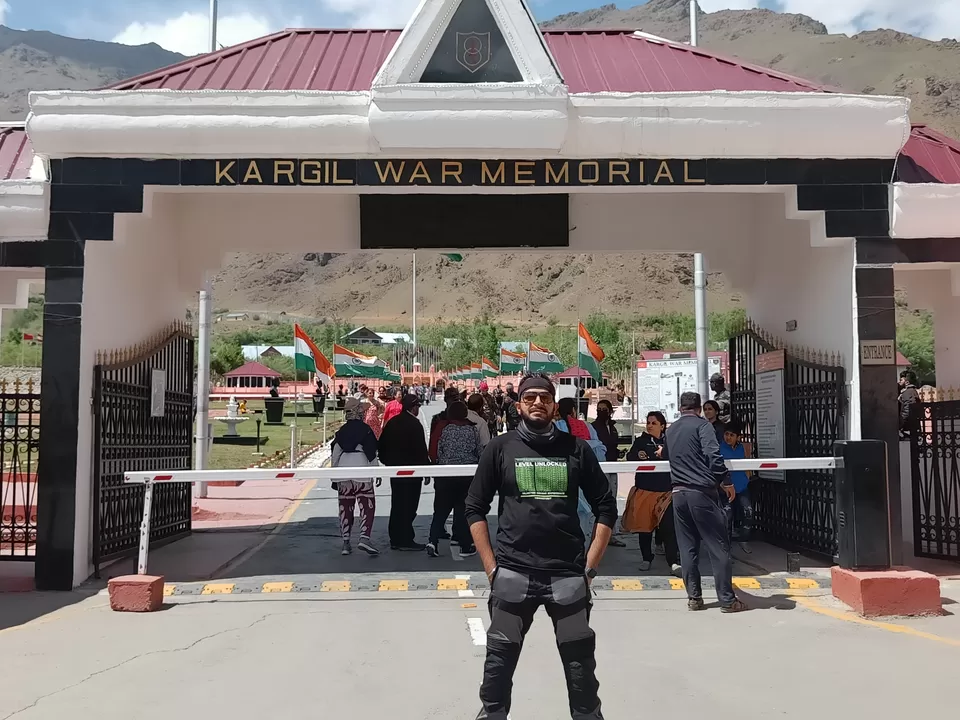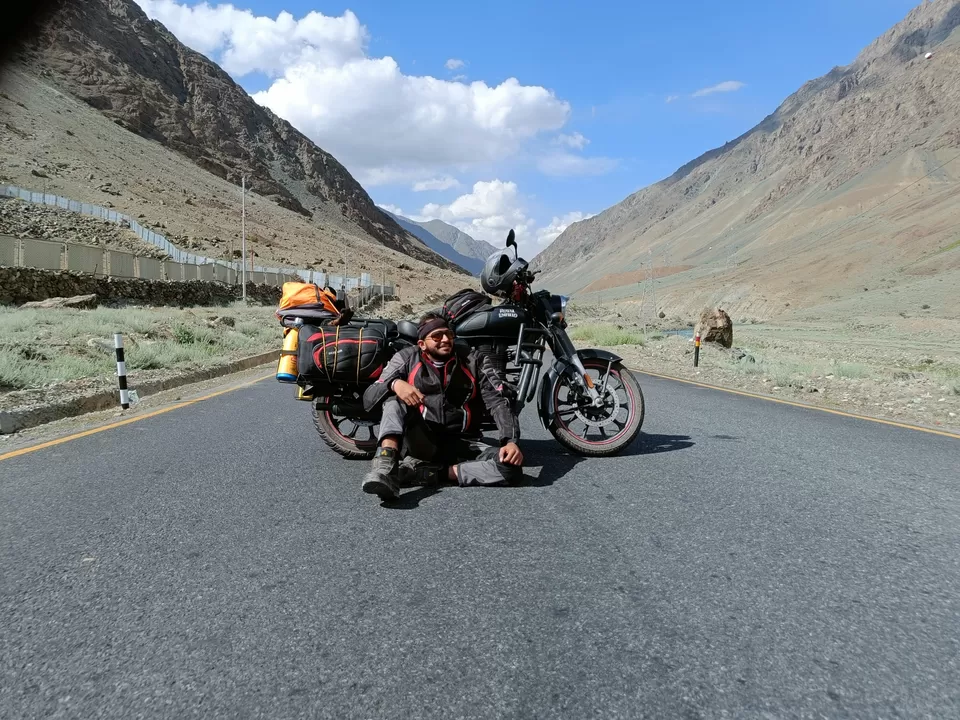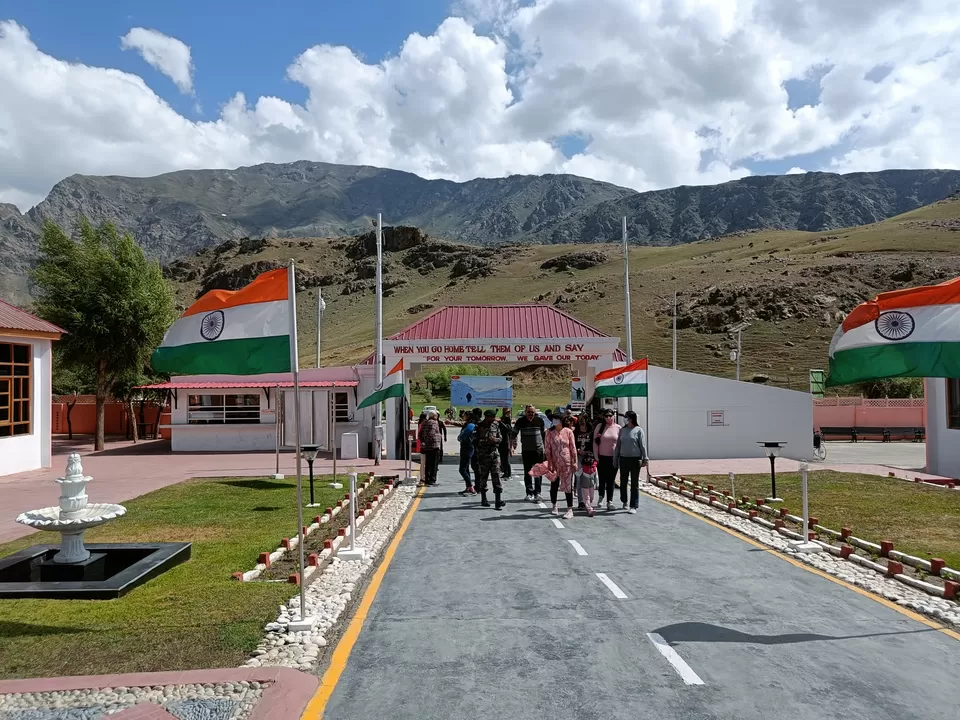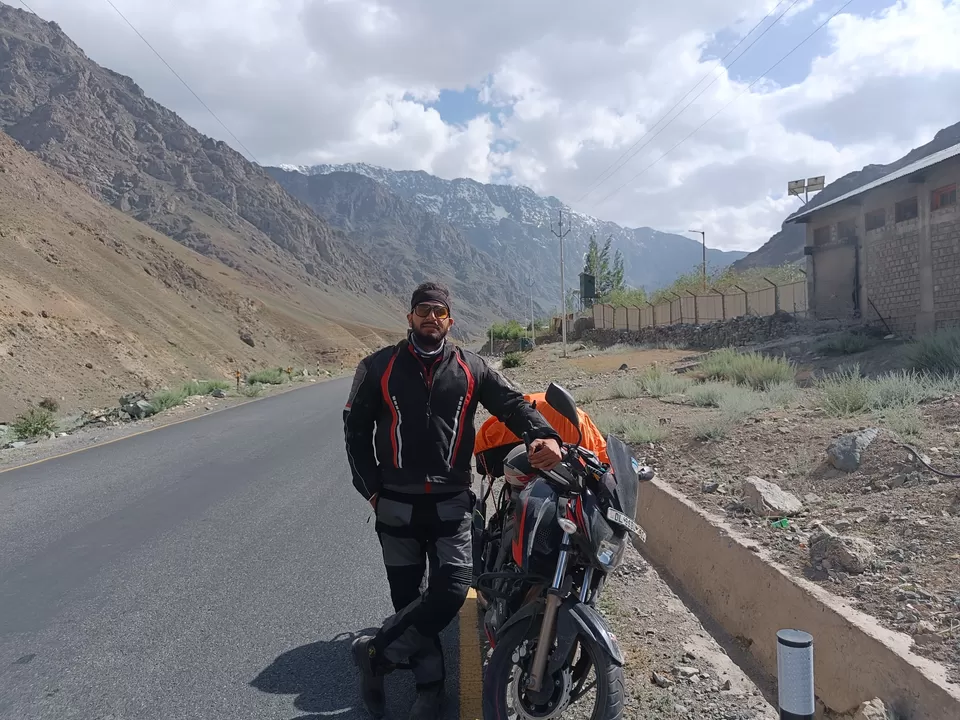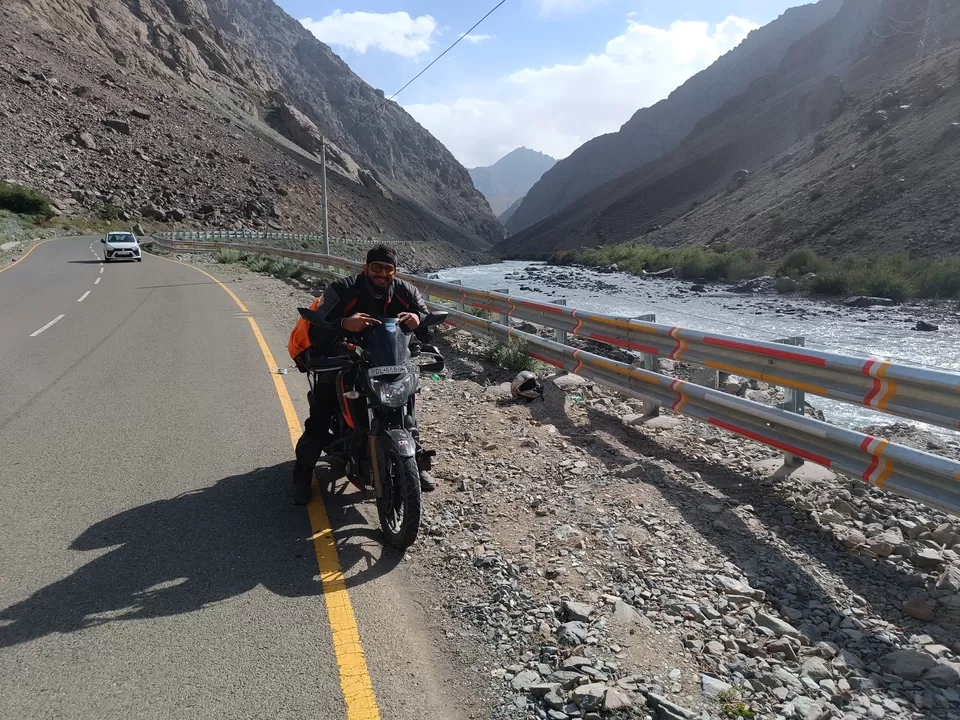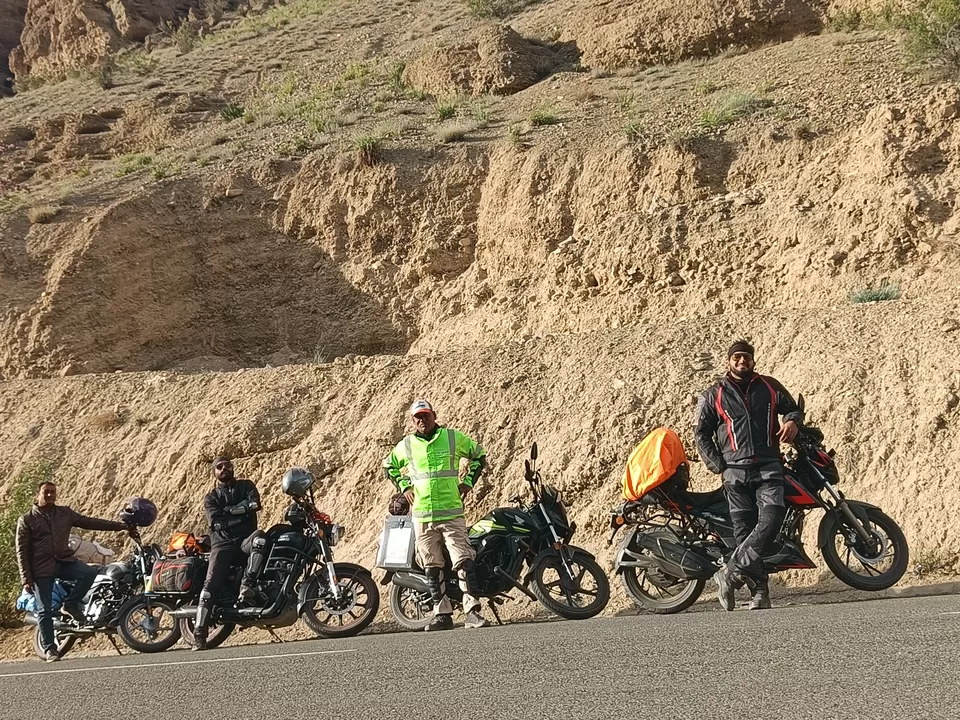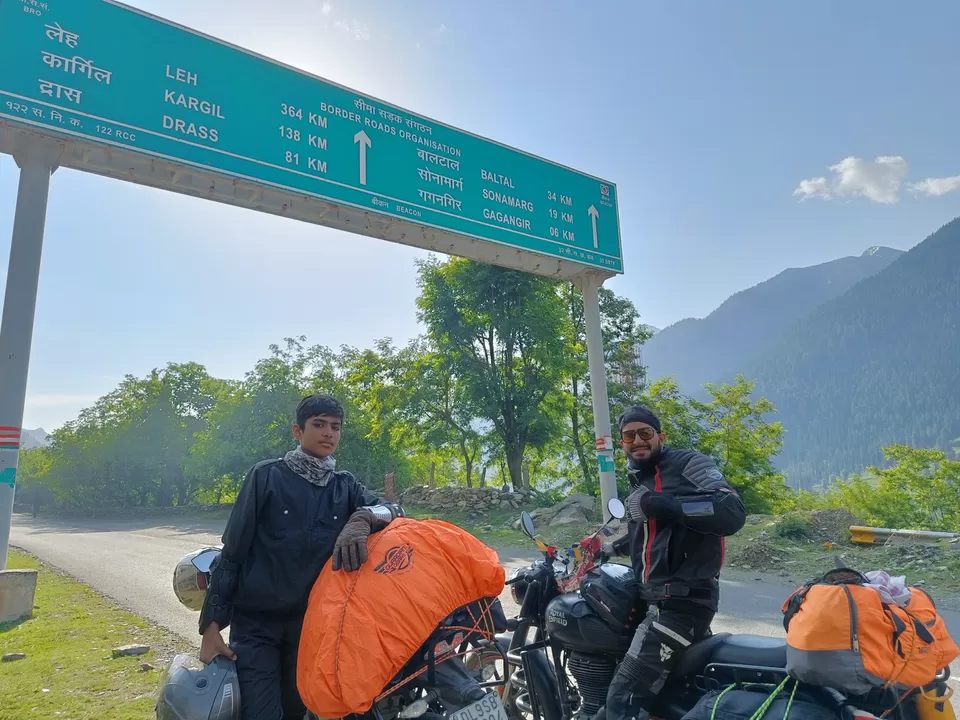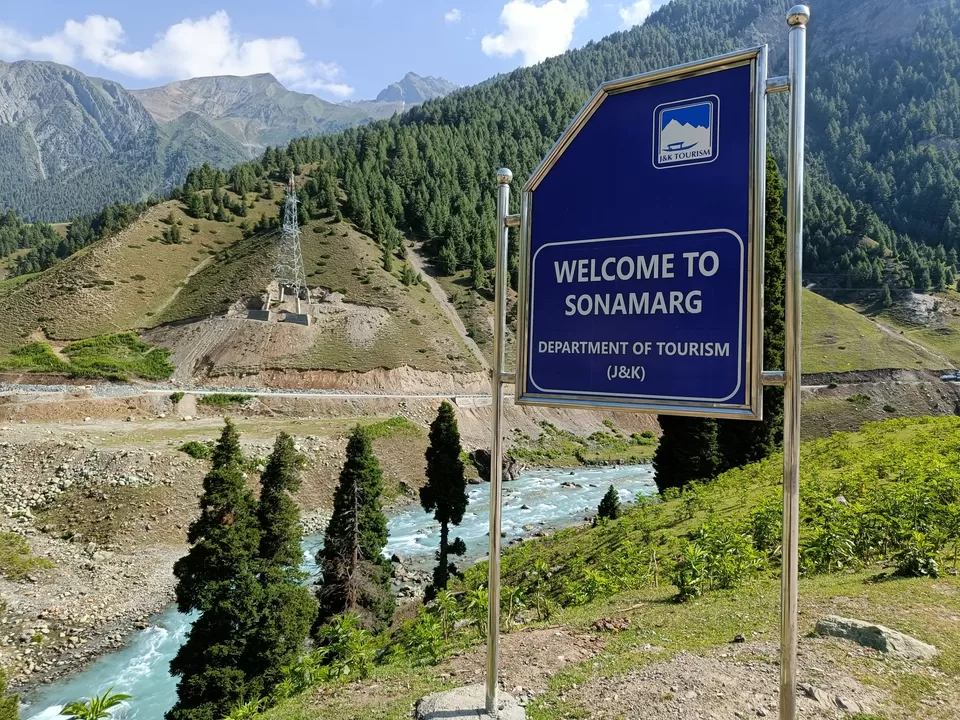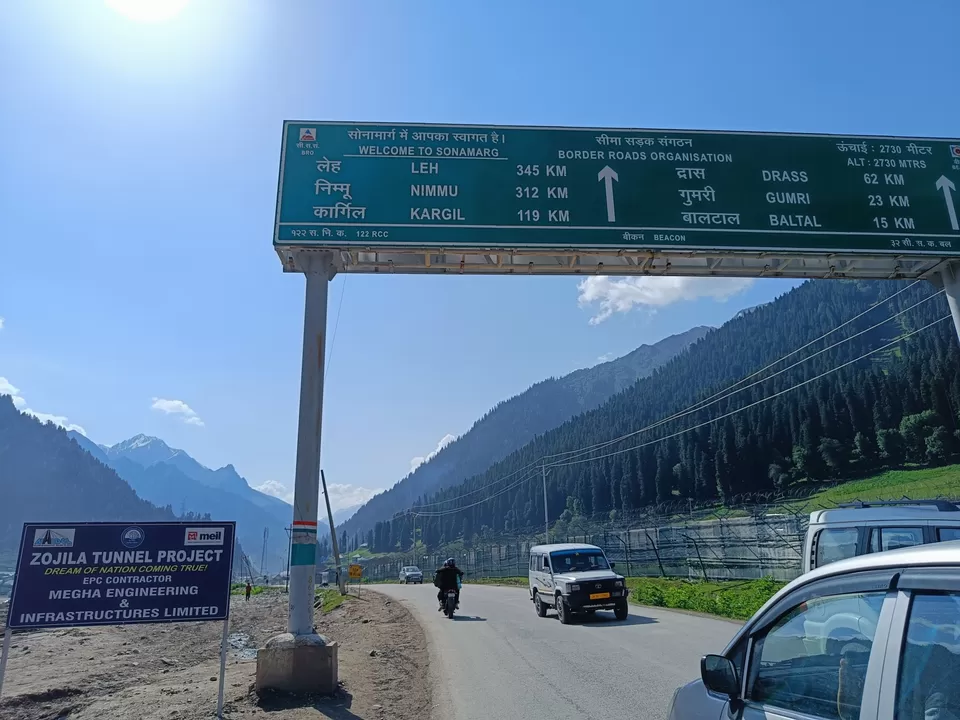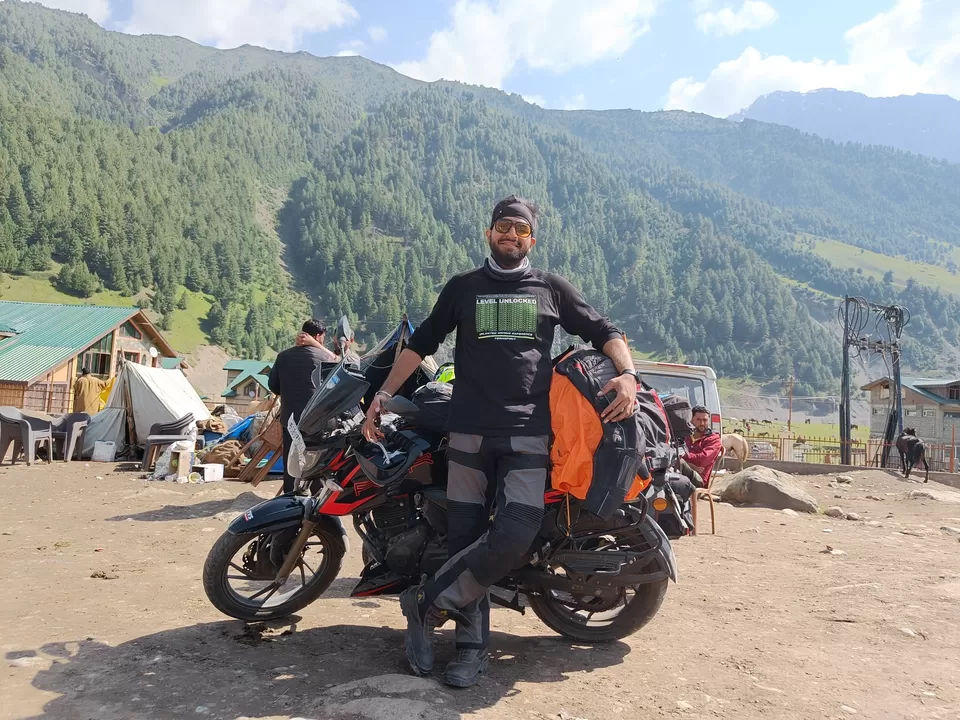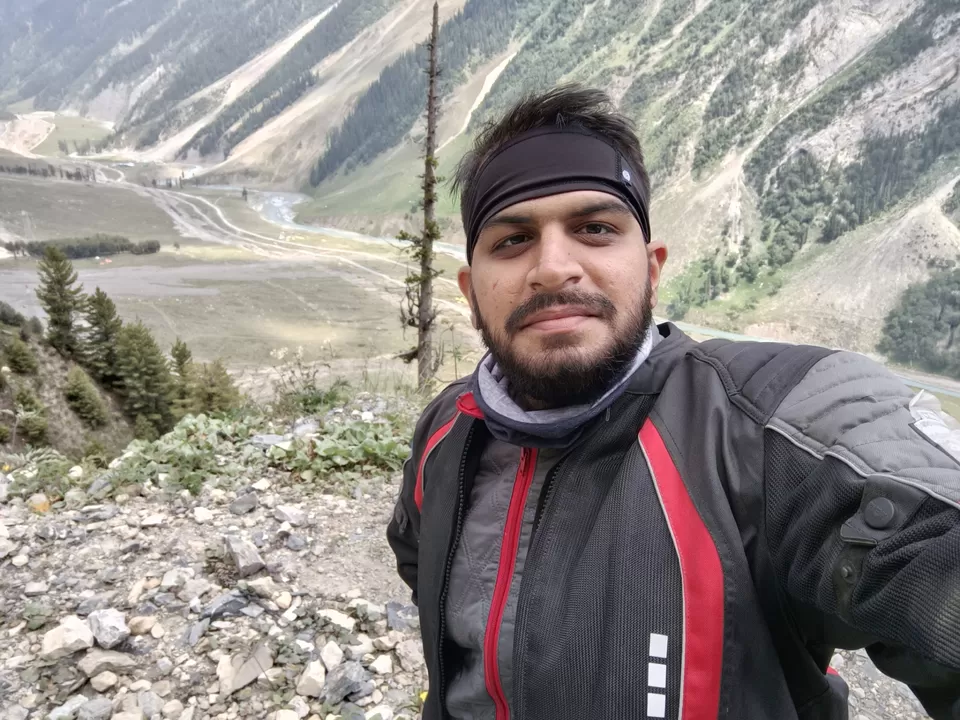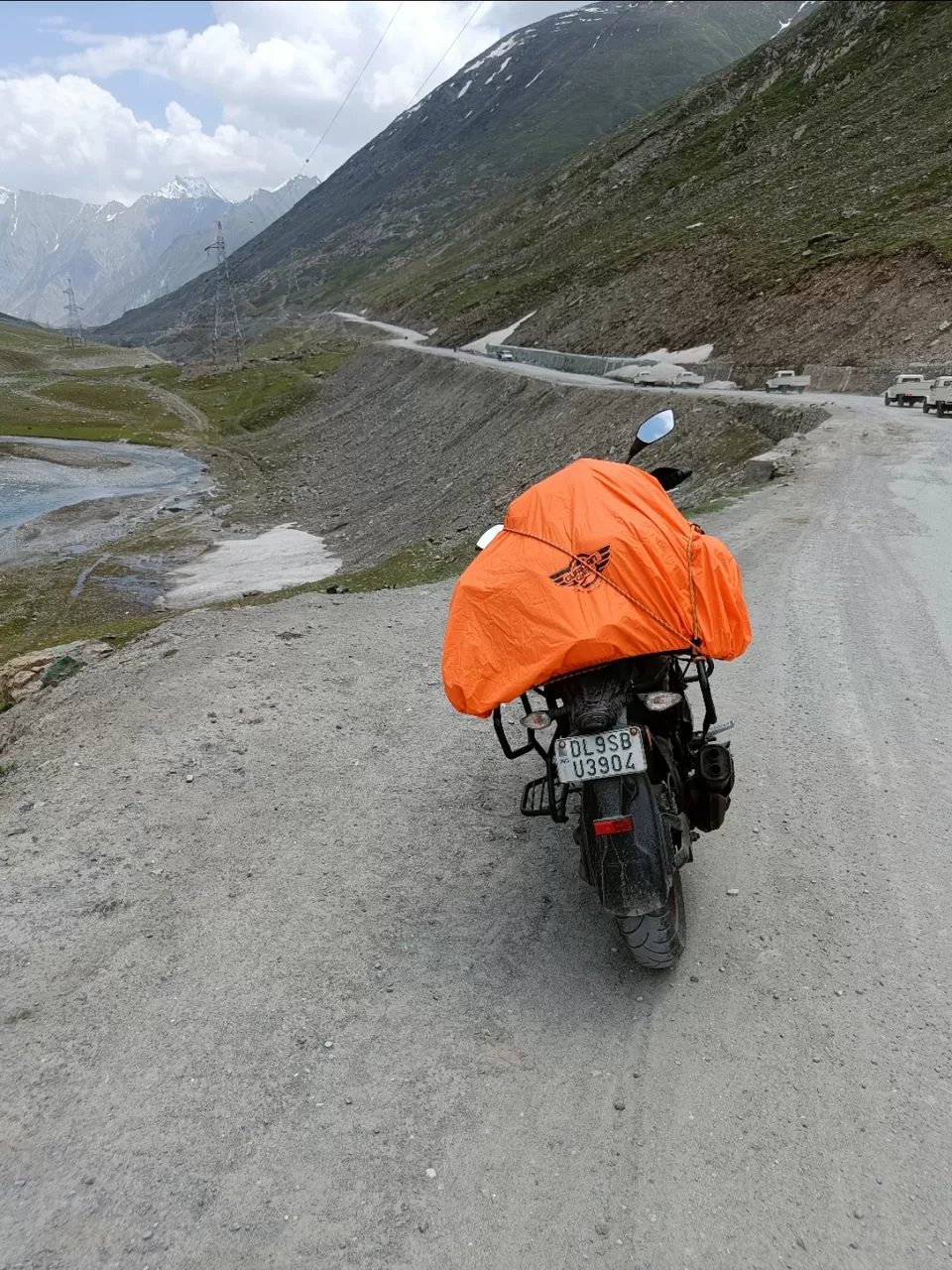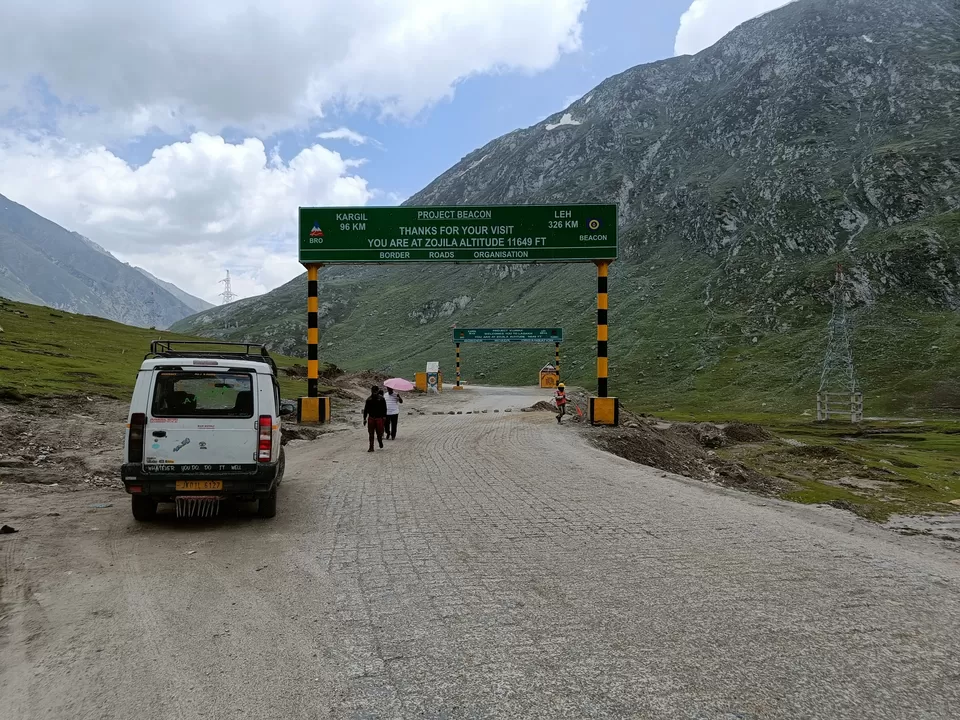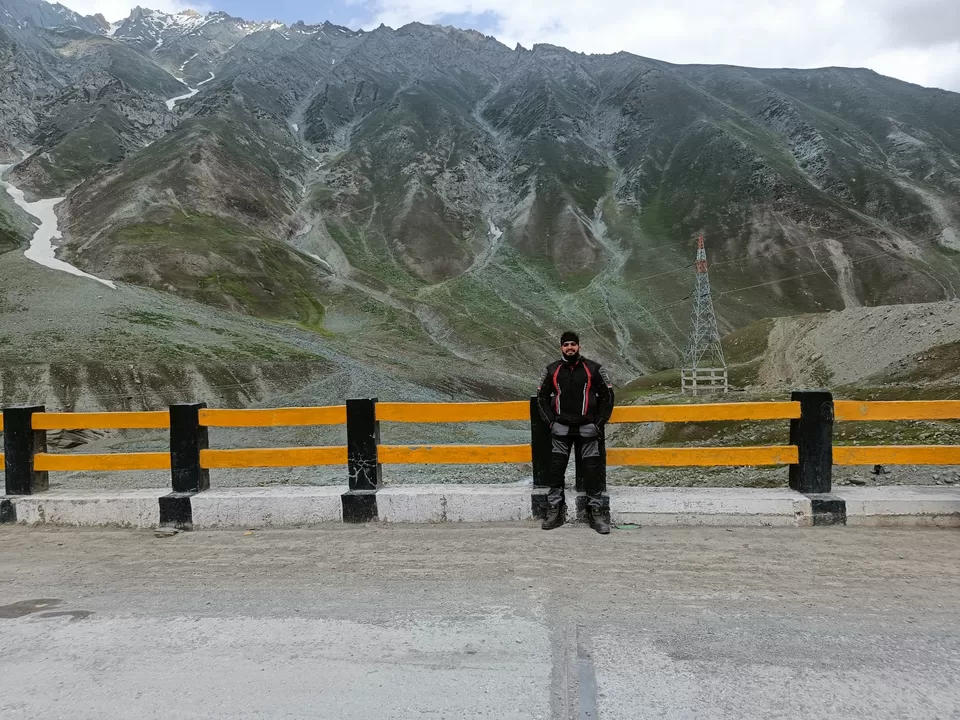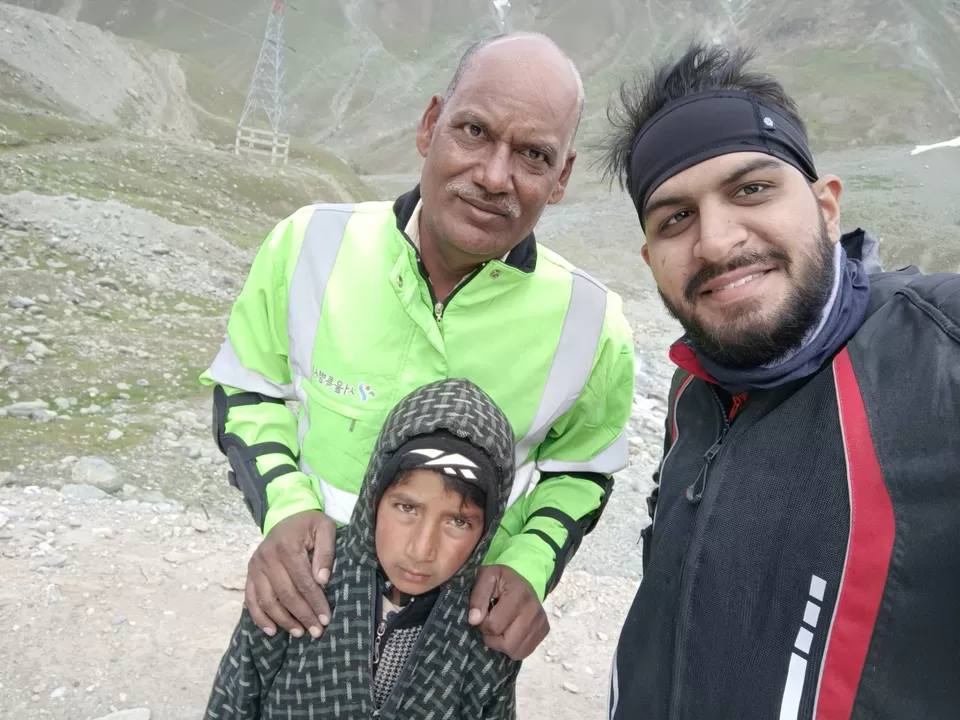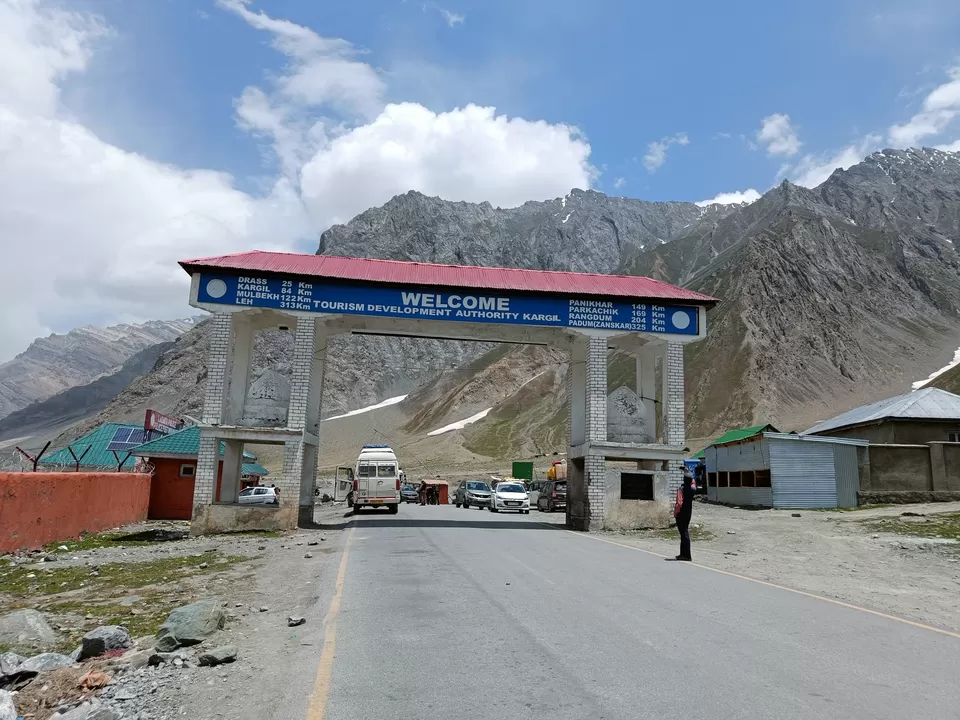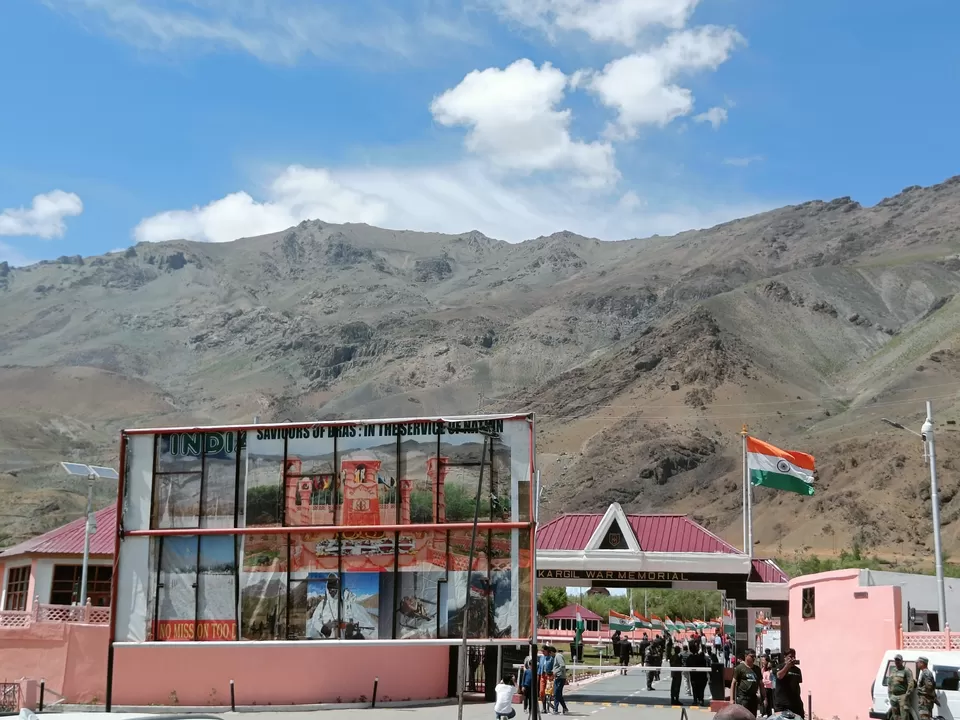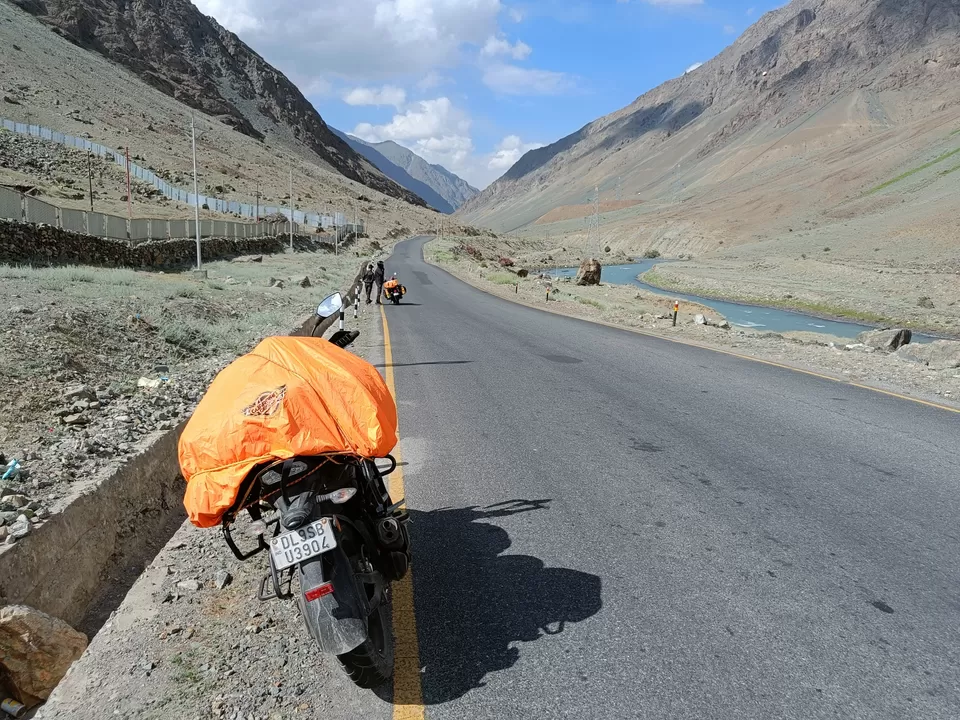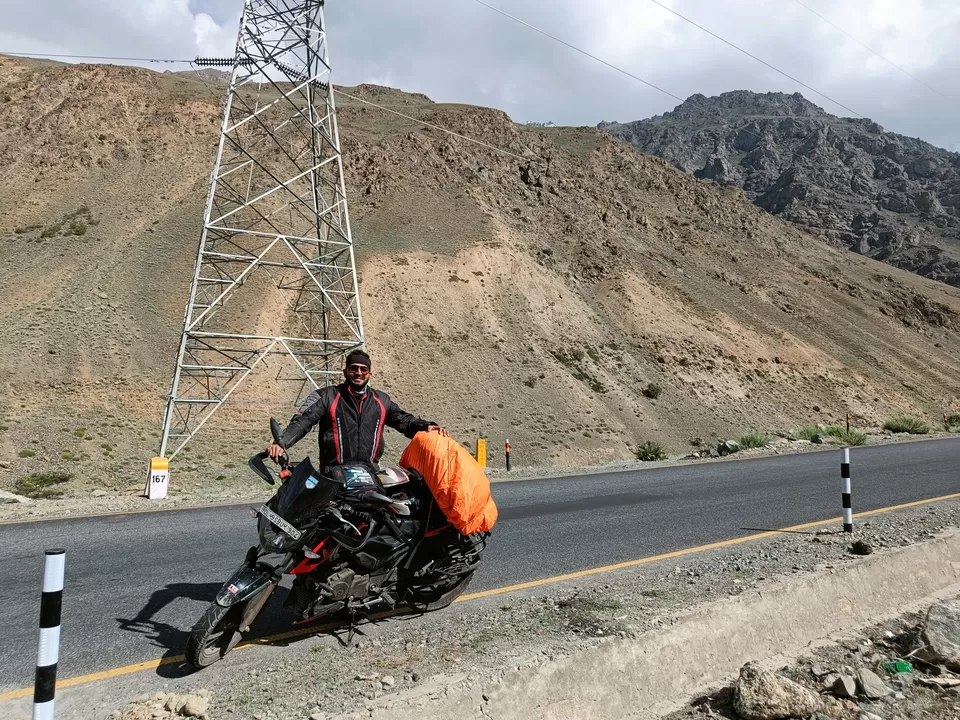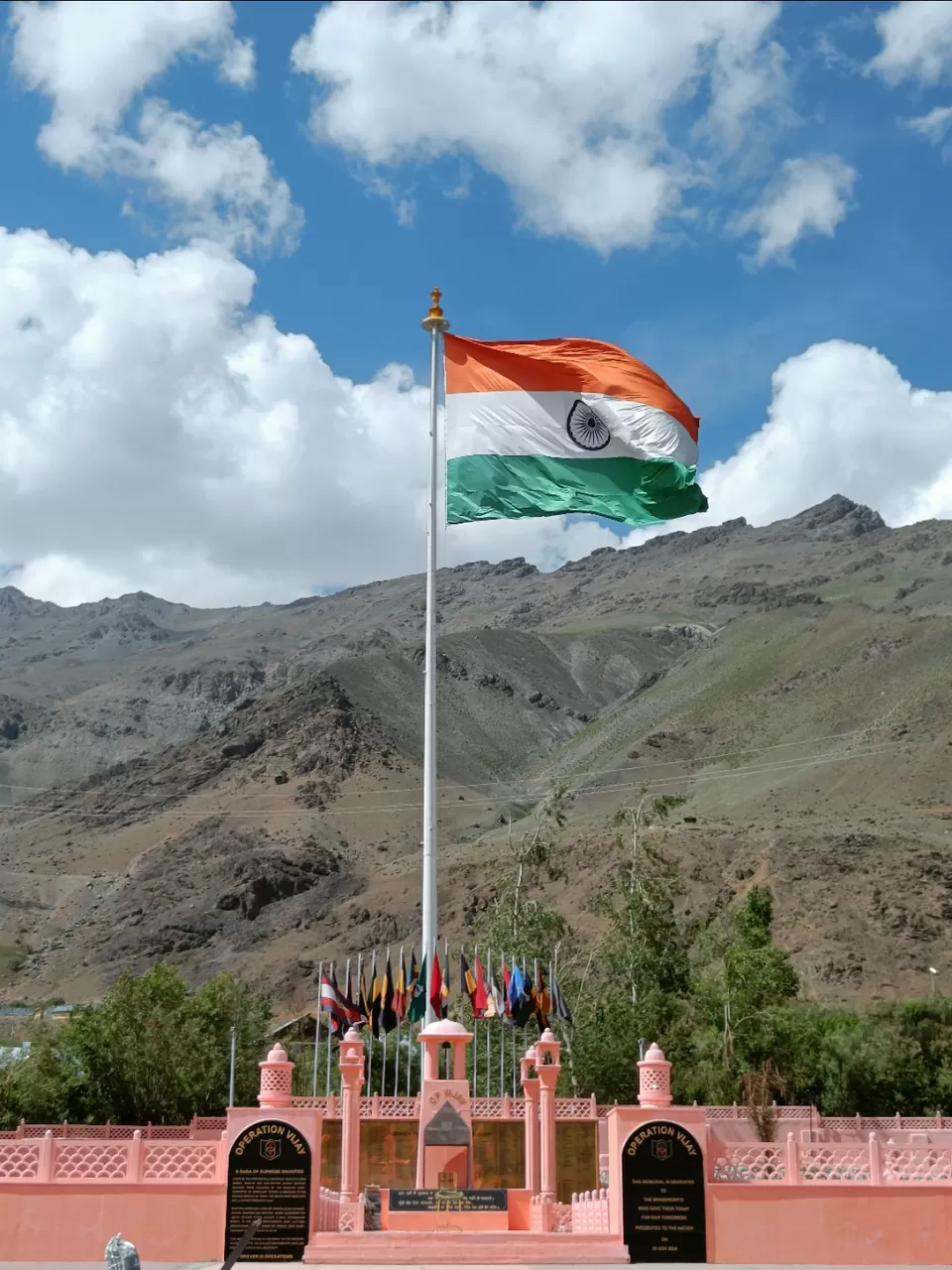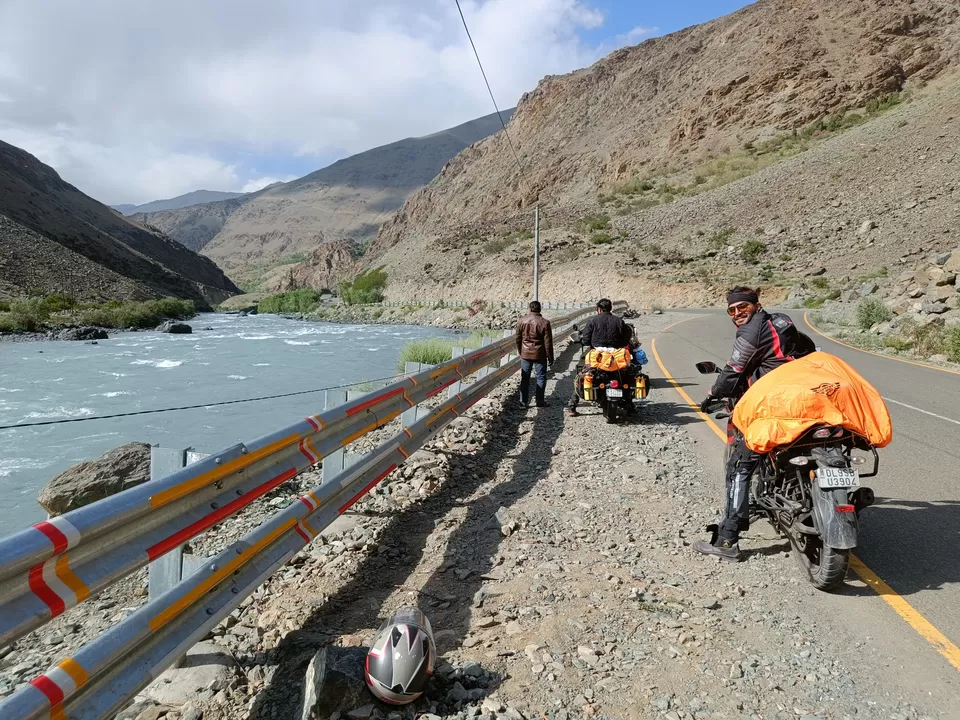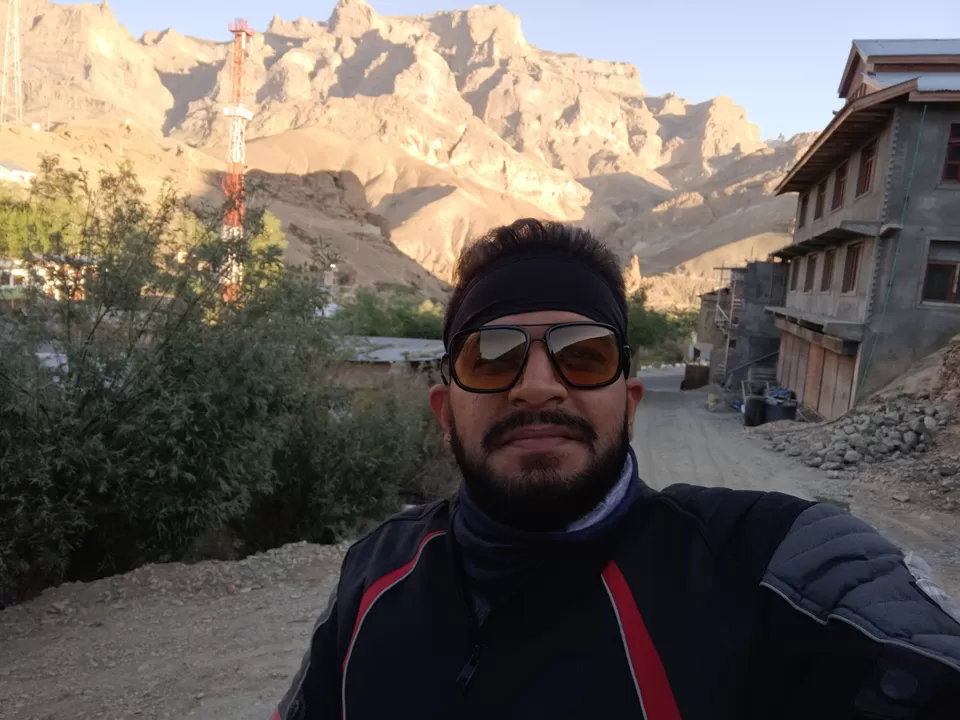 Yes, finally it was the day when I was about to witness my dream place, waiting since 10 long years. I woke up at 5:30am in the morning and left at around 7:30/8am.
I couldn't explain my happiness/excitement, I was driving very slowly witnessing all the views and trying to breath in what I wanted to do since long.
We witnessed 2 high passes, Namikla at 12198ft and Fotula Top at 13,479ft. Again I was the one who was stopping in between to take breath taking pictures and sit down for few moments which I know would be badly missed when I will go back to Delhi. Sometimes you feel like to capture these scenic views into your eyes because even world's best camera won't capture in the same way.
Magnetic Hill and Shri Pathar Sahib Gurudwara are 2 more tourist spots you will witness before reaching Leh.
Though ride in Km was short, had to cover 180km and after stopping multiple times in between reached Leh at 1pm, searched for hotels near the market and found one decent home stay and we all stayed there.
I have to say that how much you use sun screen but when you are on bike ride, tanning has to happen, no one can stop, I could see I was badly tanned, which I noticed next day.
Initially you won't feel the tiredness but as evening or night approaches you will start feeling damn tired, head starts paining, might feel little short of breath, these are the signs of you adjusting to high altitude in Ladakh.
Others were saying to leave for our next destination tomorrow itself but I said I will rest anyhow, suggest you also to do the same.
We went out for dinner and had the most delicious dinner since 4 days at Gesmo Restaurant, would suggest all to visit there once.
And before sleeping finally I said to myself, that yes you did it, but now next target was Umlingla Pass- 19,030 ft, world's highest motorable road.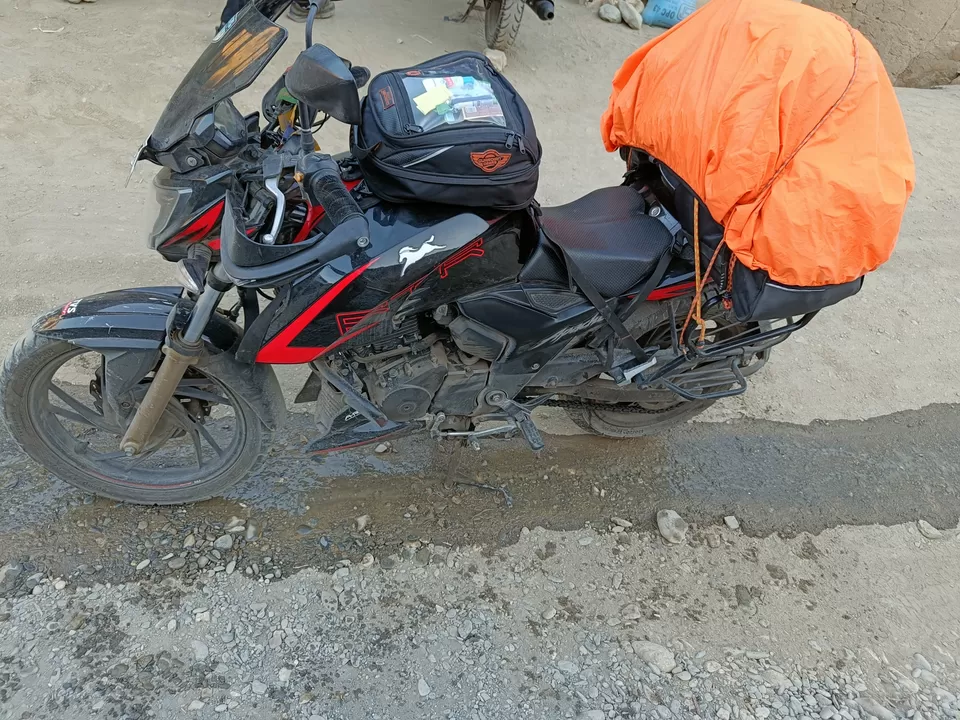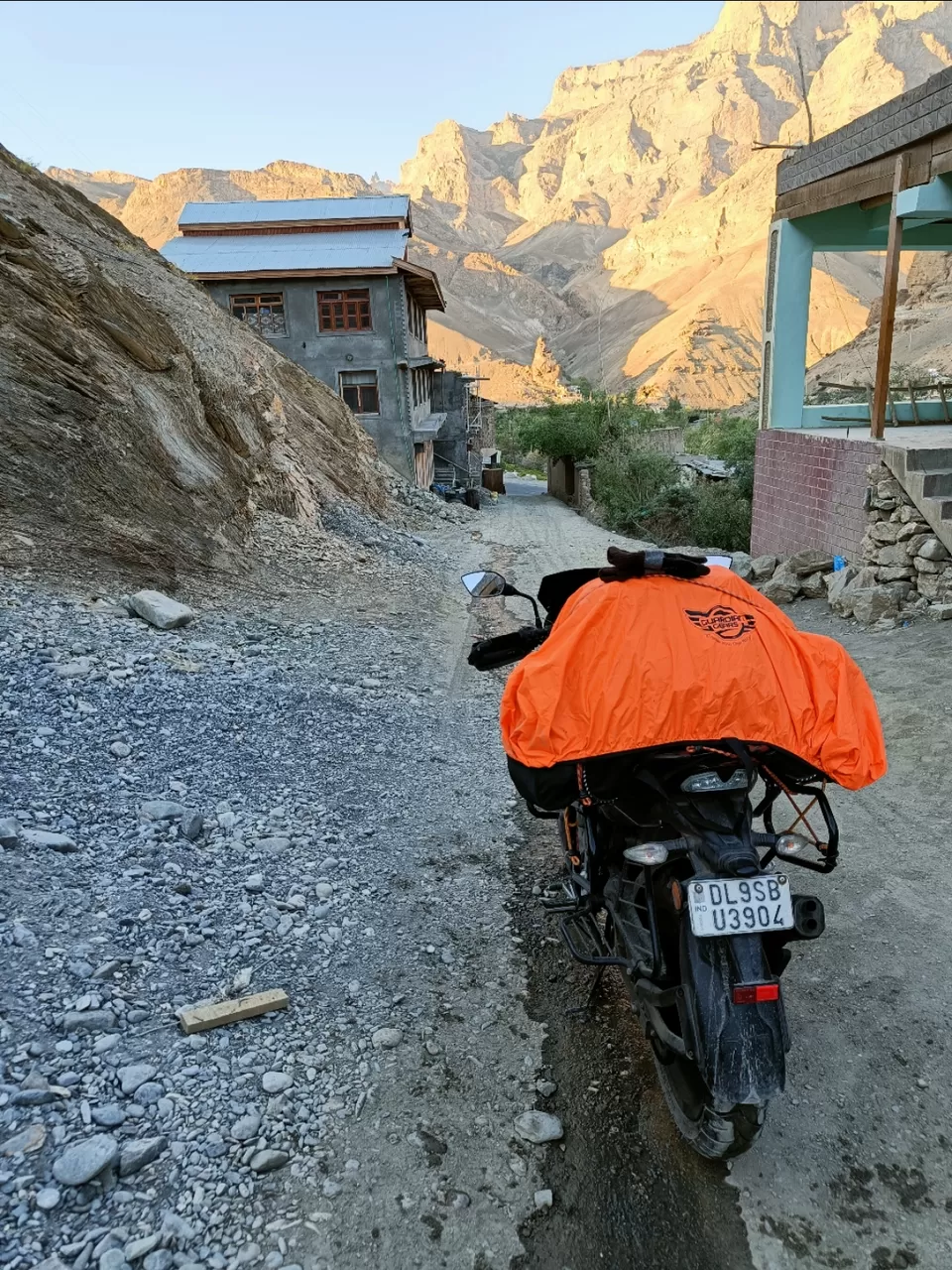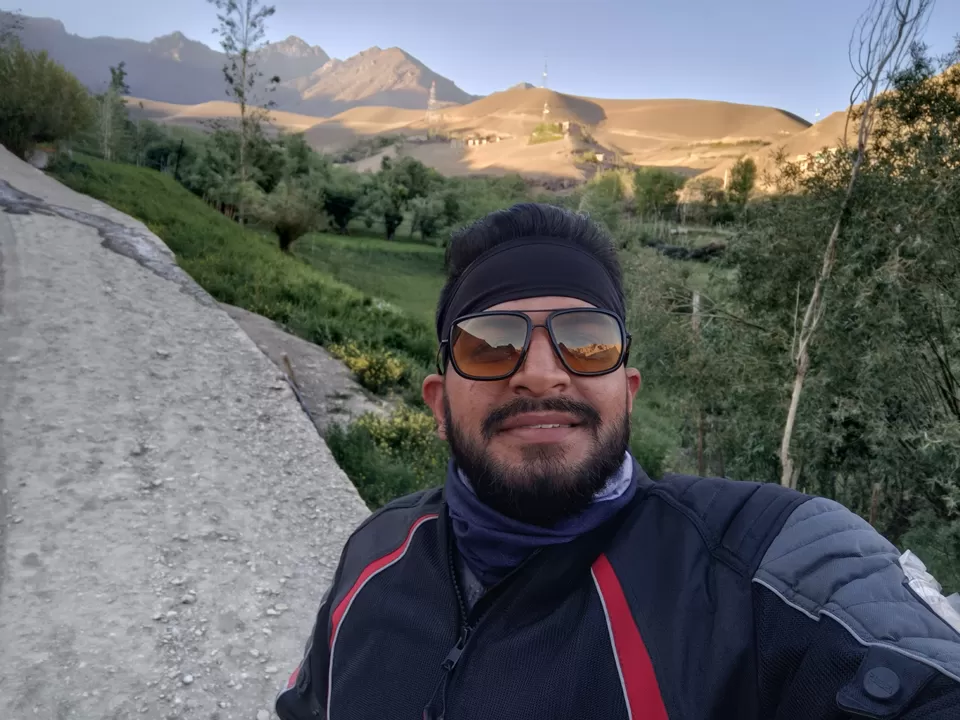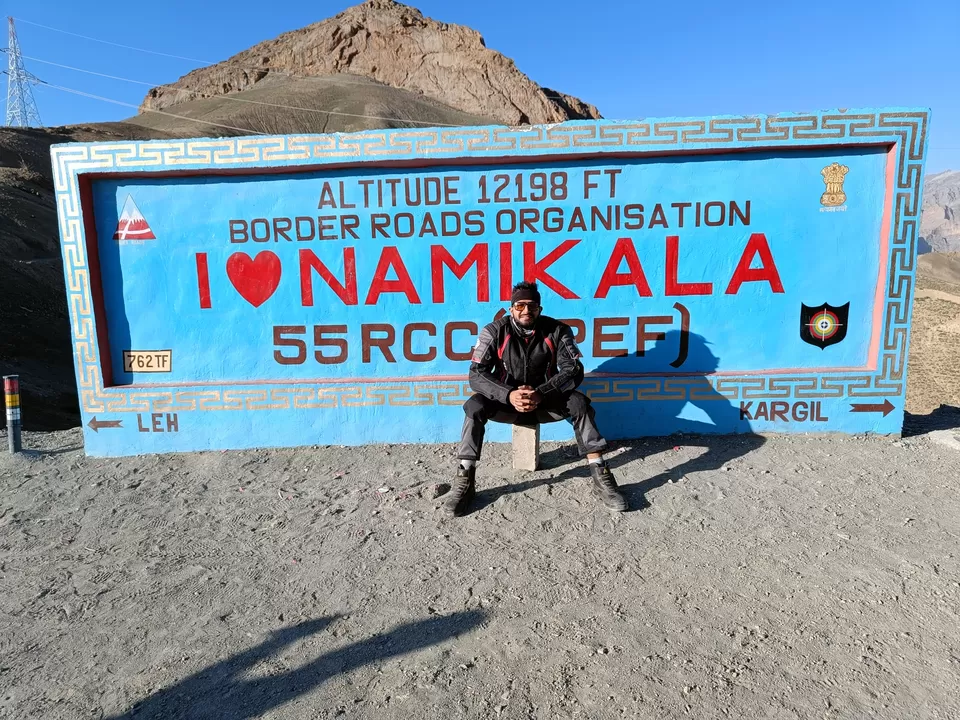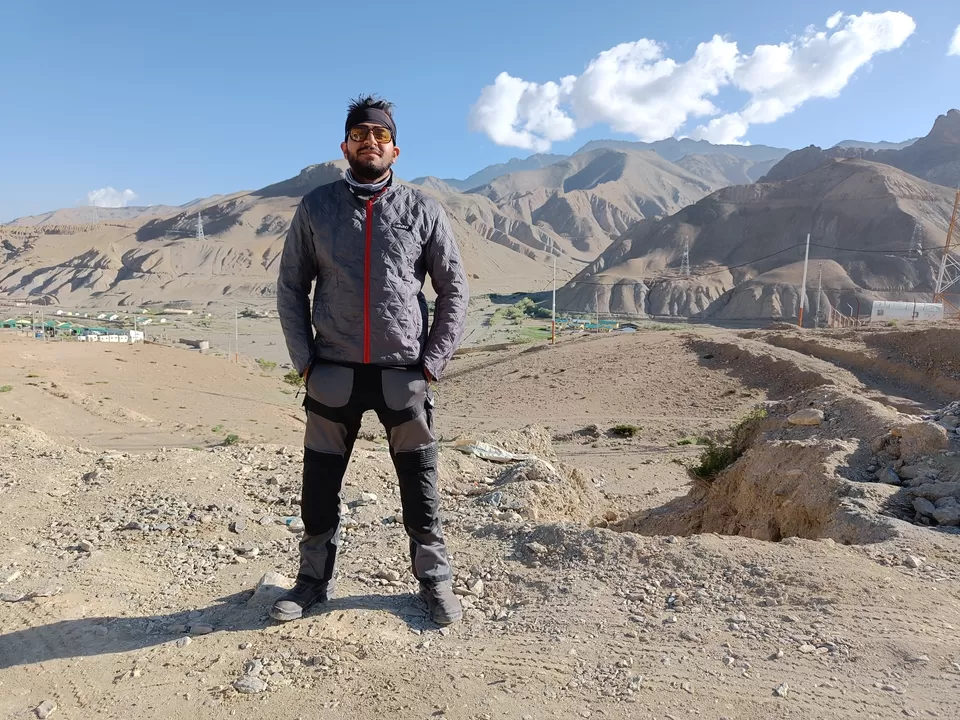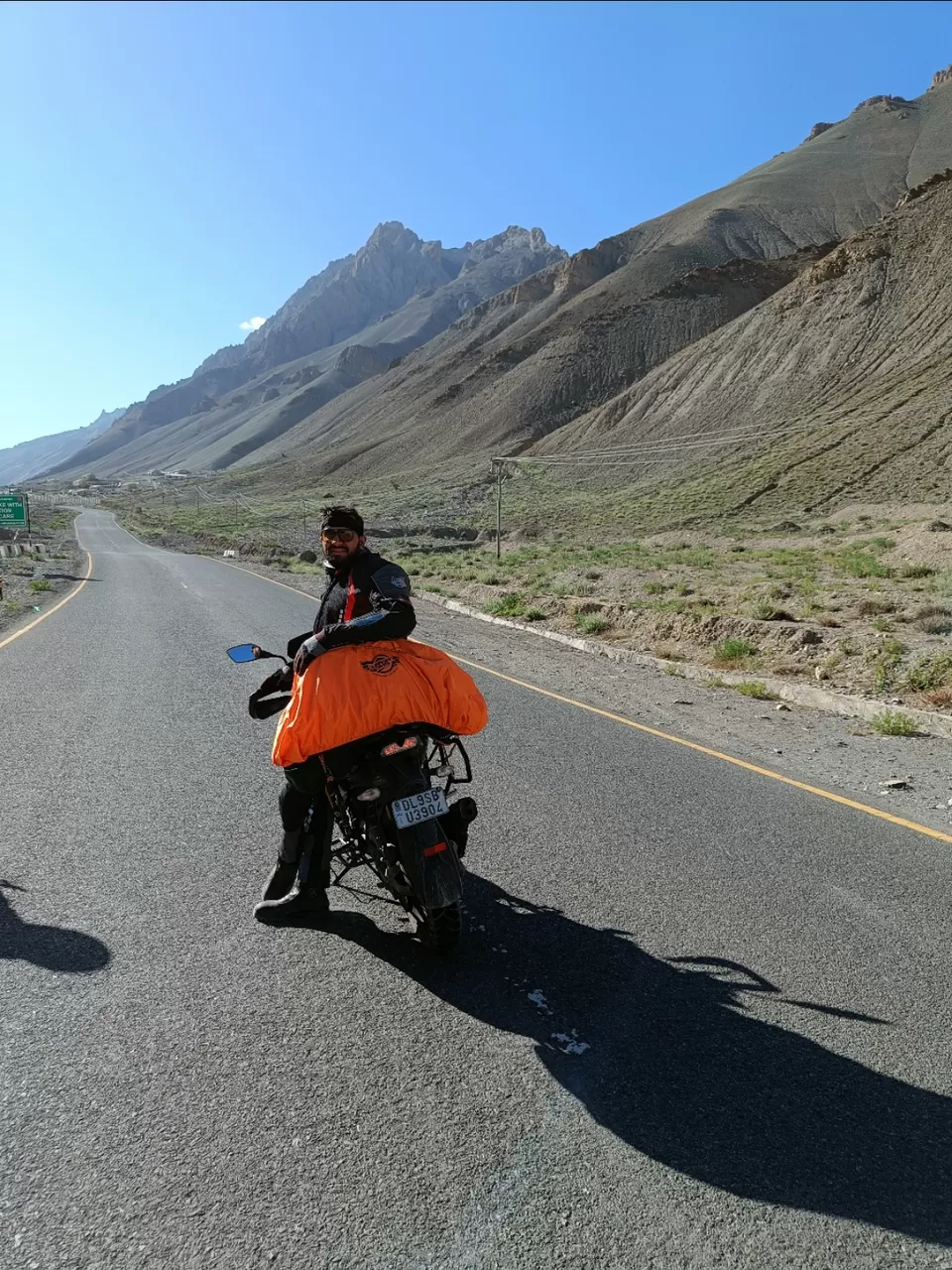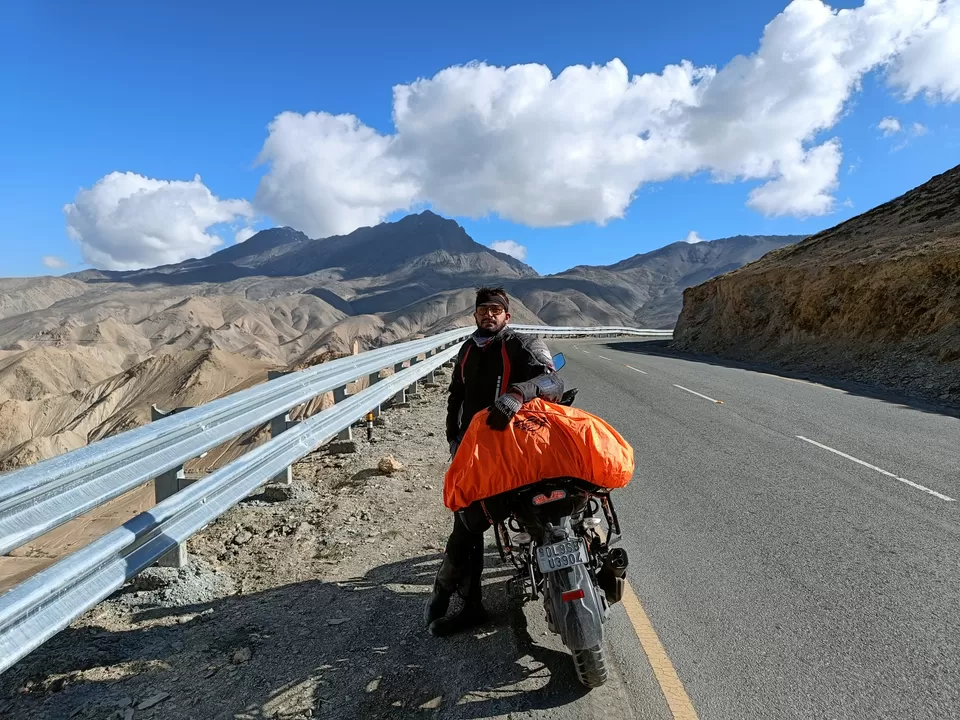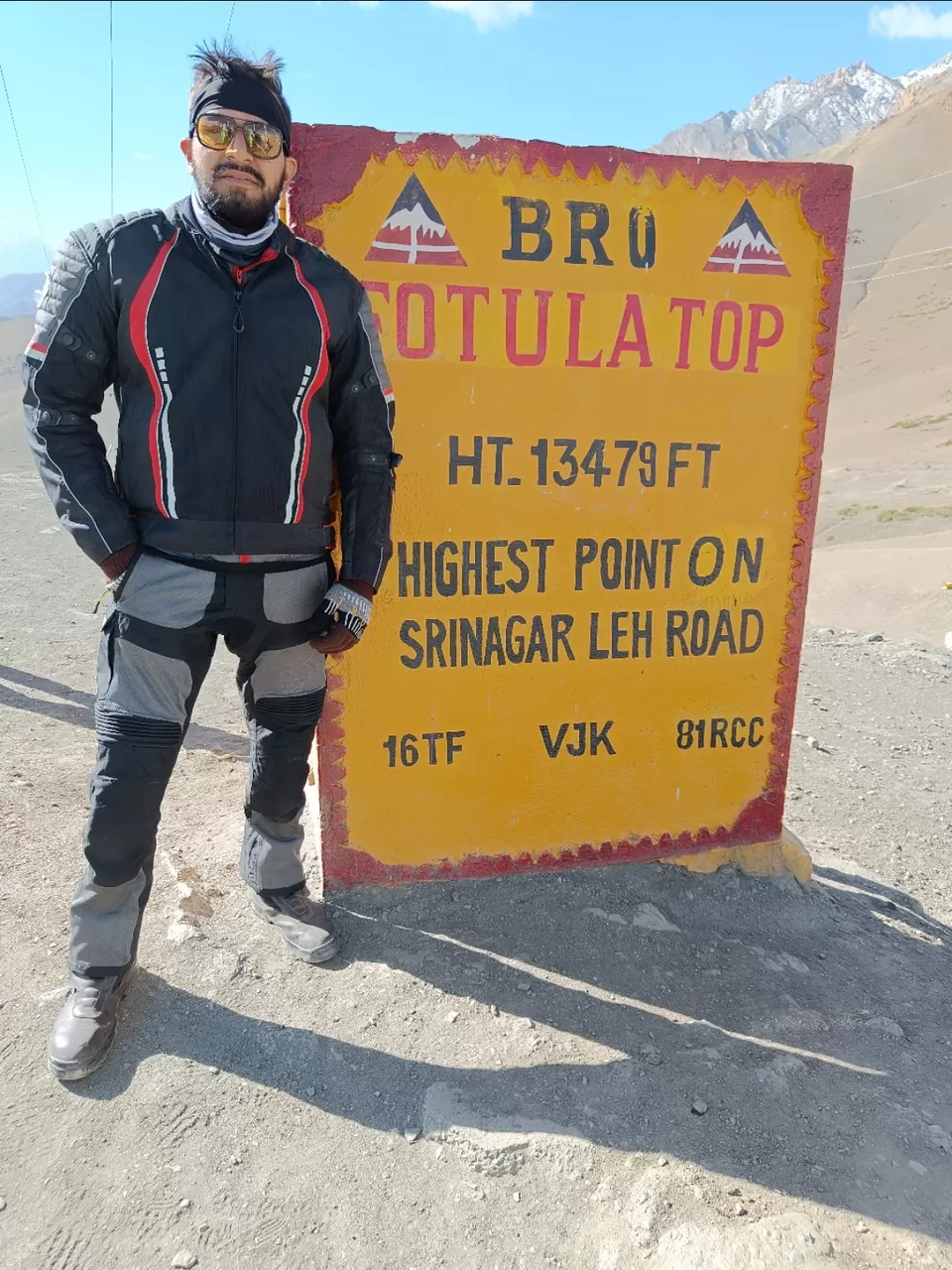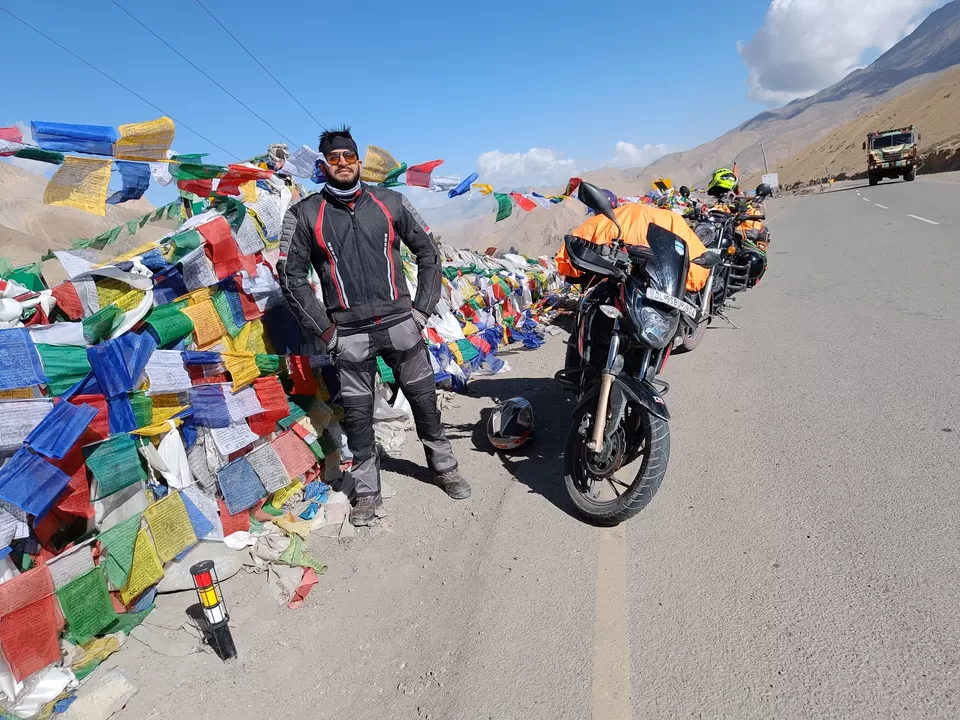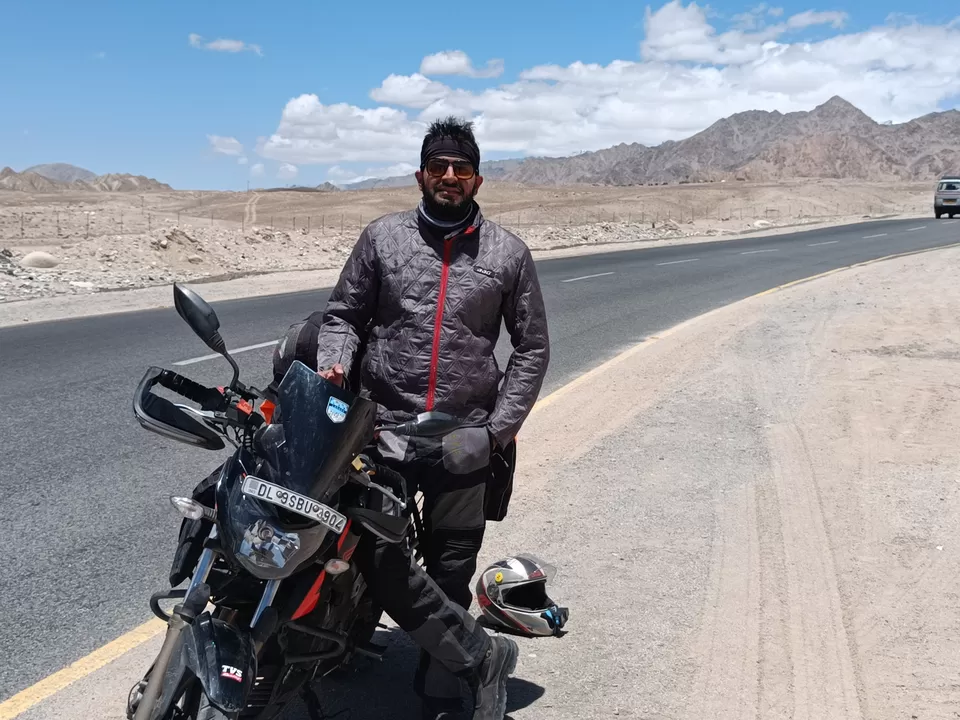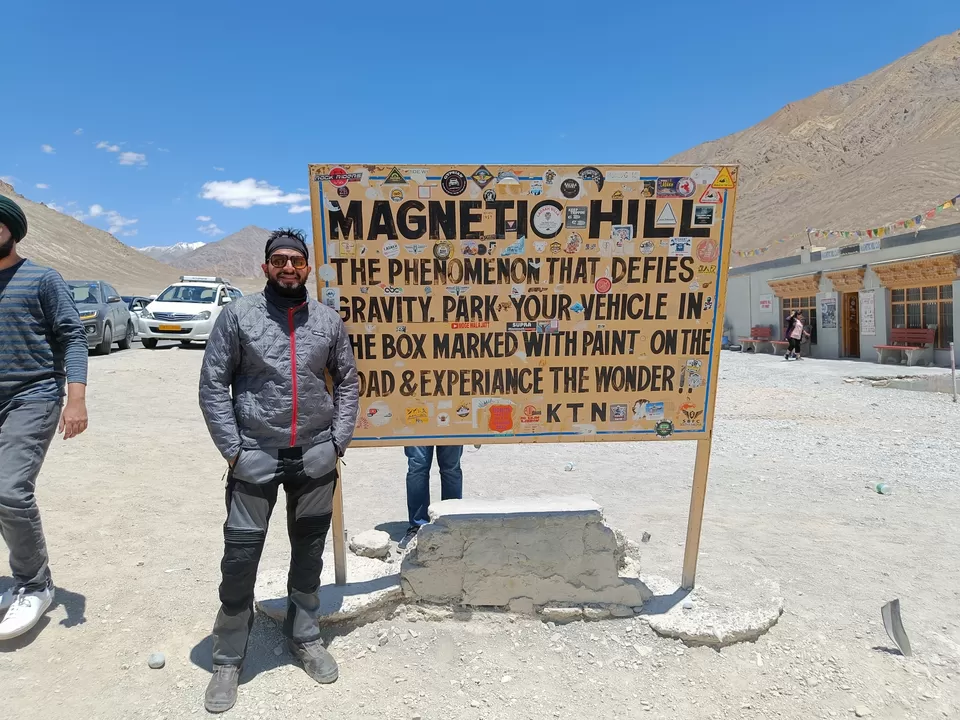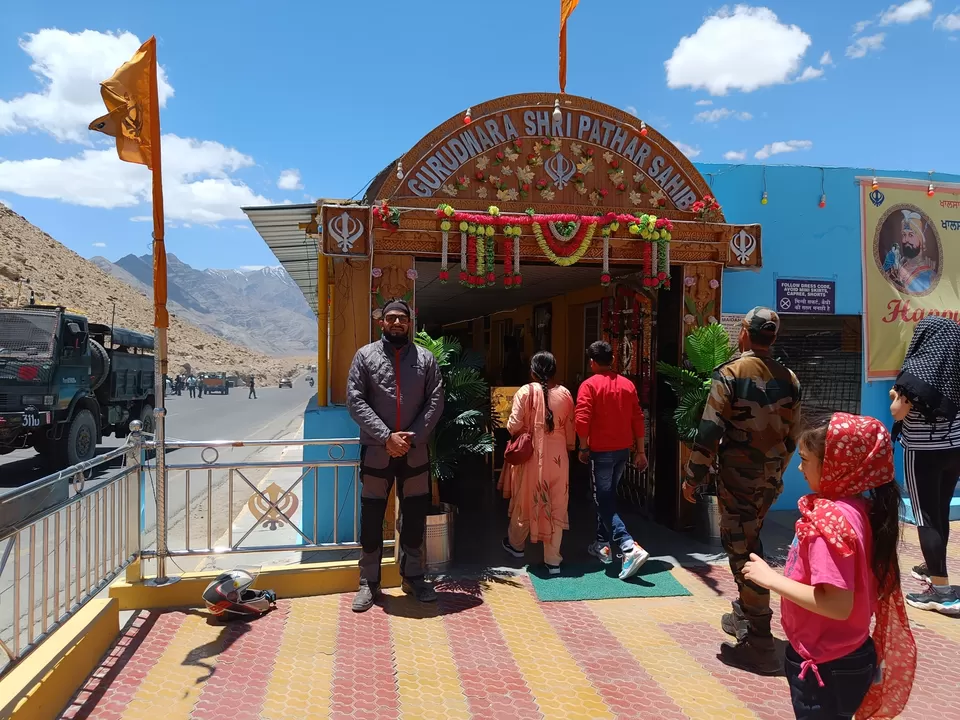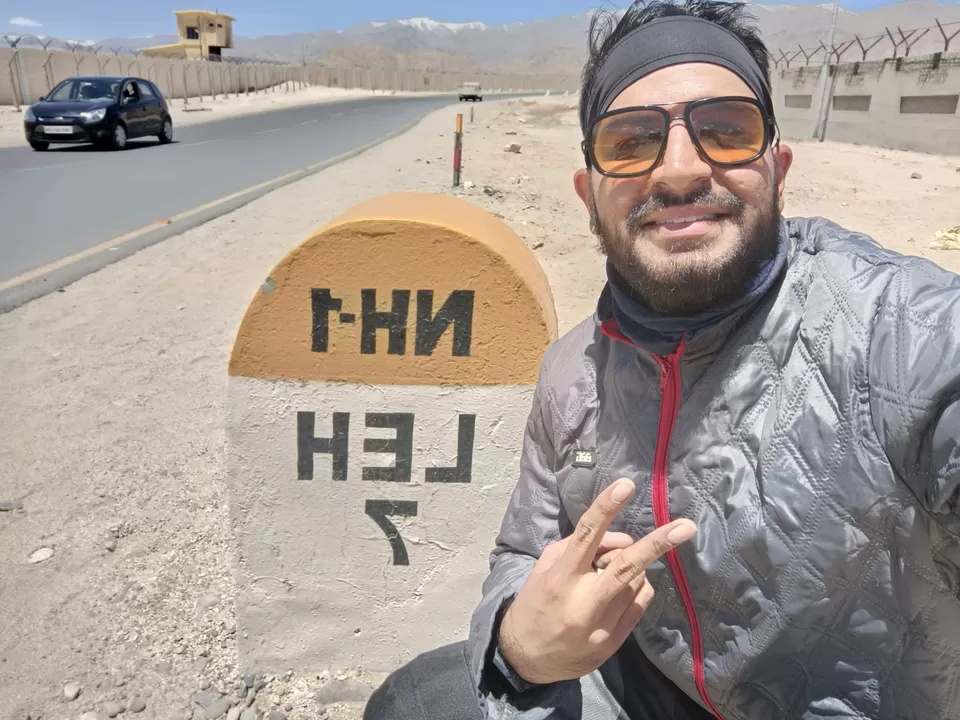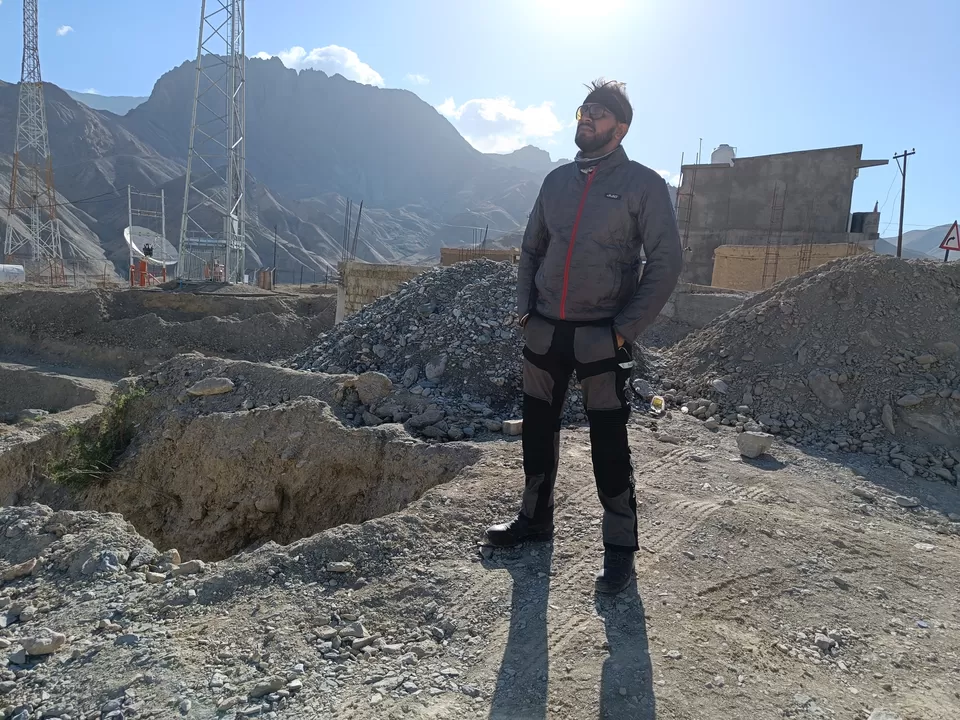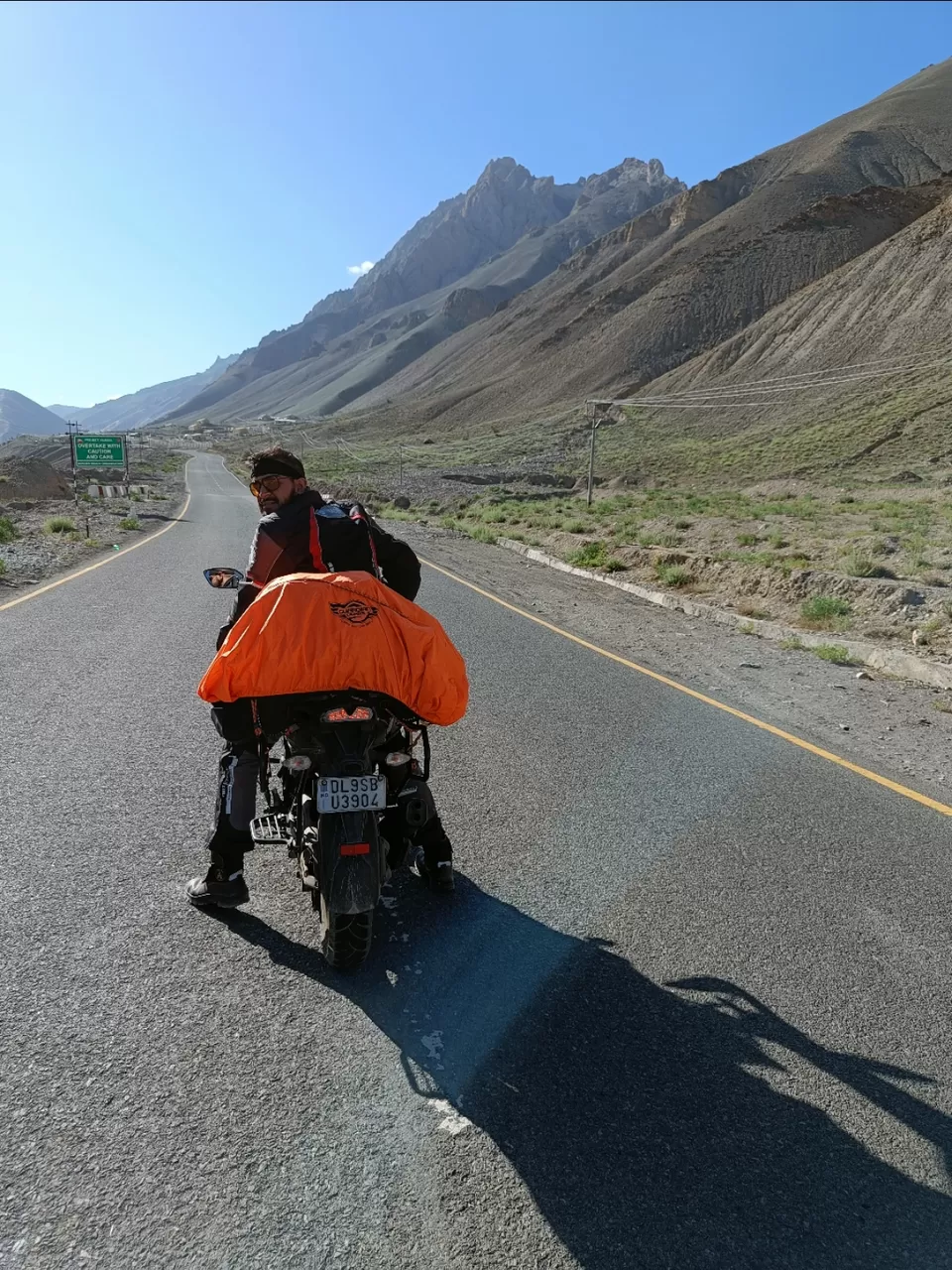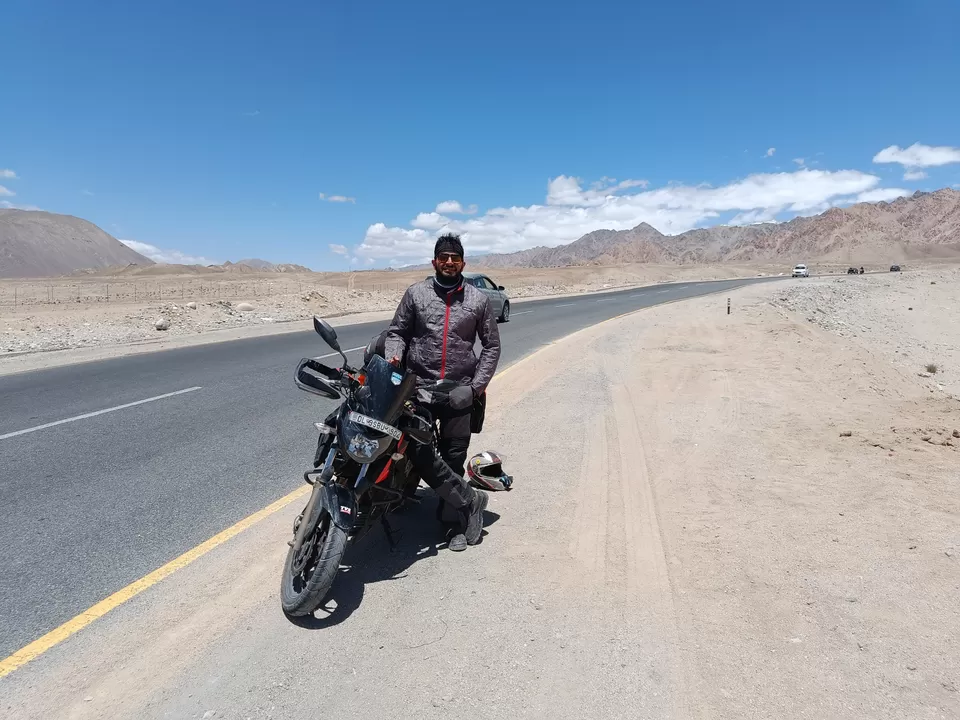 Well it was our rest day, so woke up at 8/9am in the morning, there was no hurry today. Went for breakfast again at Gesmo and had a very heavy English breakfast which was again the best.
There was some issue in my bike, chain was hitting noise regularly so I went to a mechanic and he took 2 hours to repair. You become damn scared when some problem comes in your bike on long bike ride. Luckily it was fine in 2 hours.
We covered some local places today like Rancho school, Leh Market etc.
Don't forget to buy Petrol cans if you didn't carry from your origin destination. Now all your woolen clothes whether that's inner warmers, warm socks, warm gloves, warm jacket, polarised sunglasses, face mask etc will come into the picture.
A very very small ride, body was aclimatised and was waiting for the next day to come.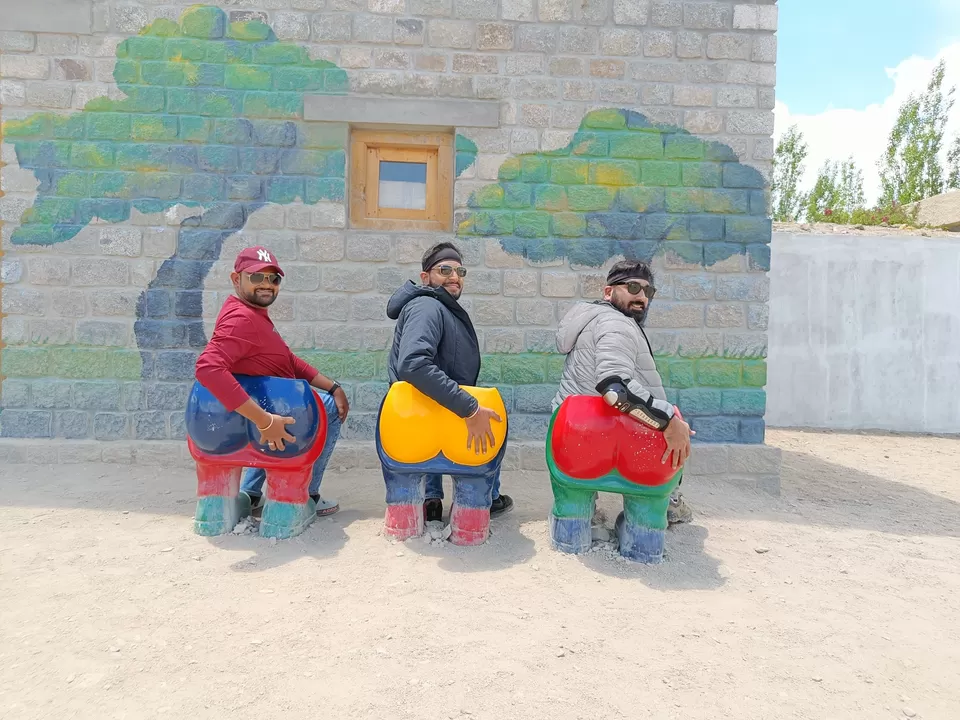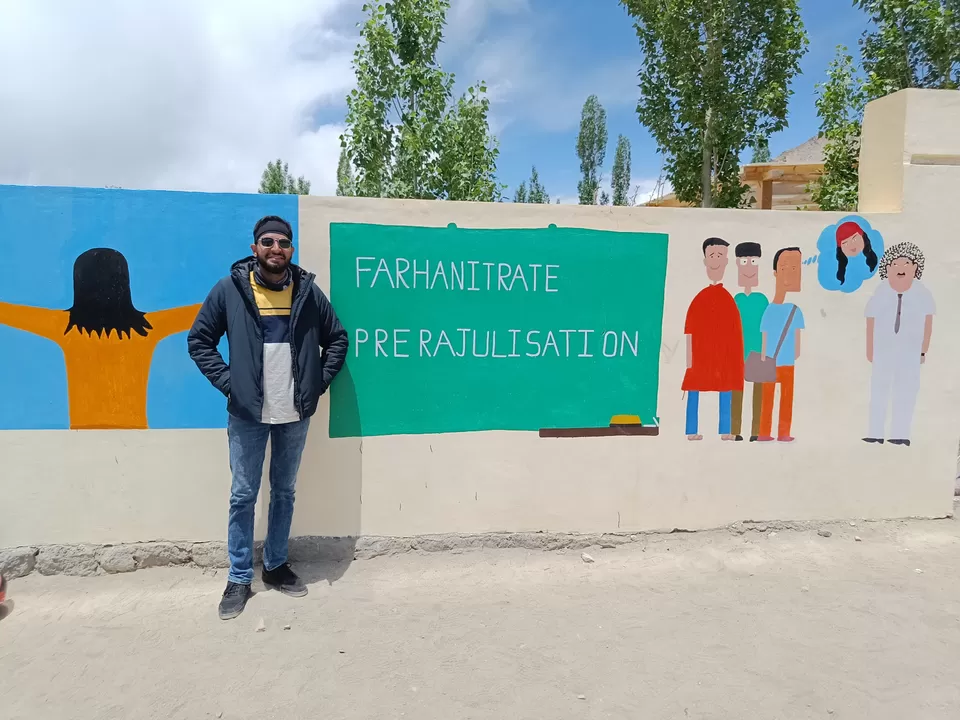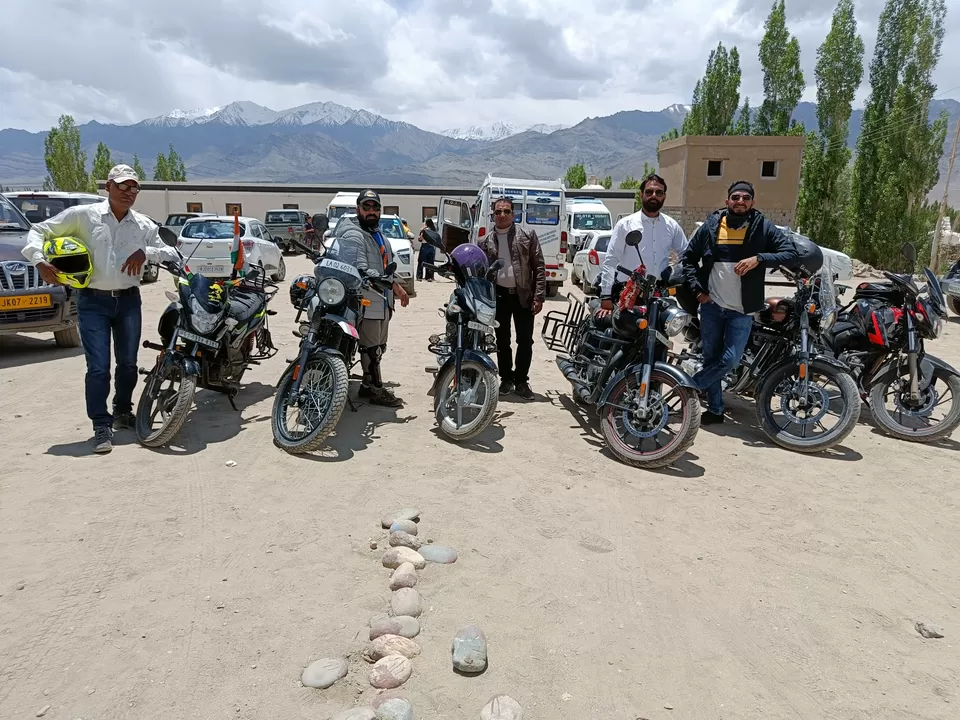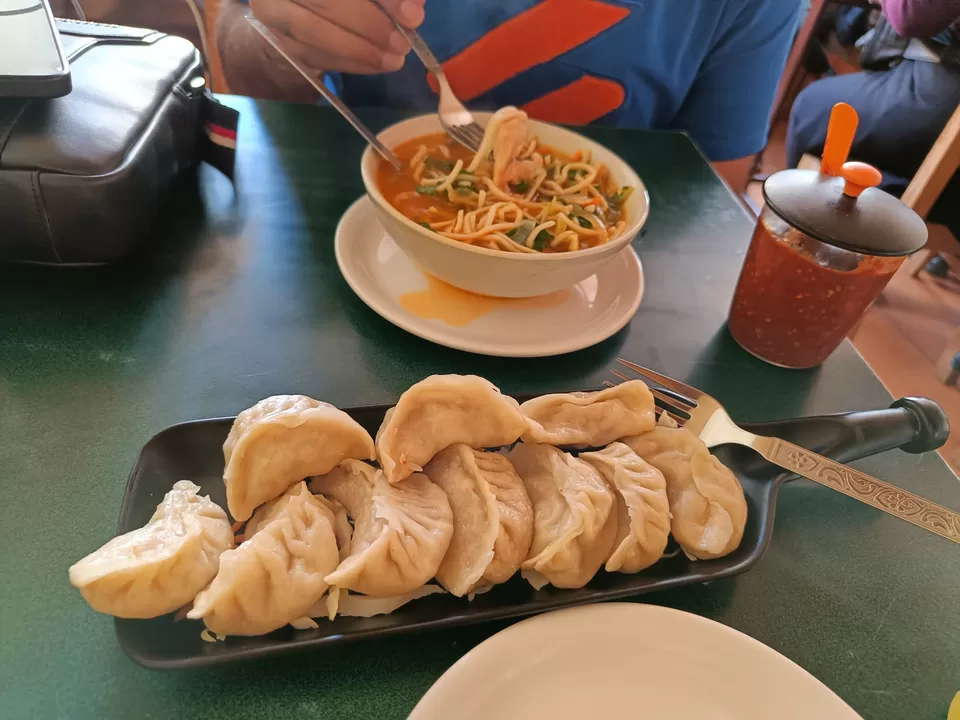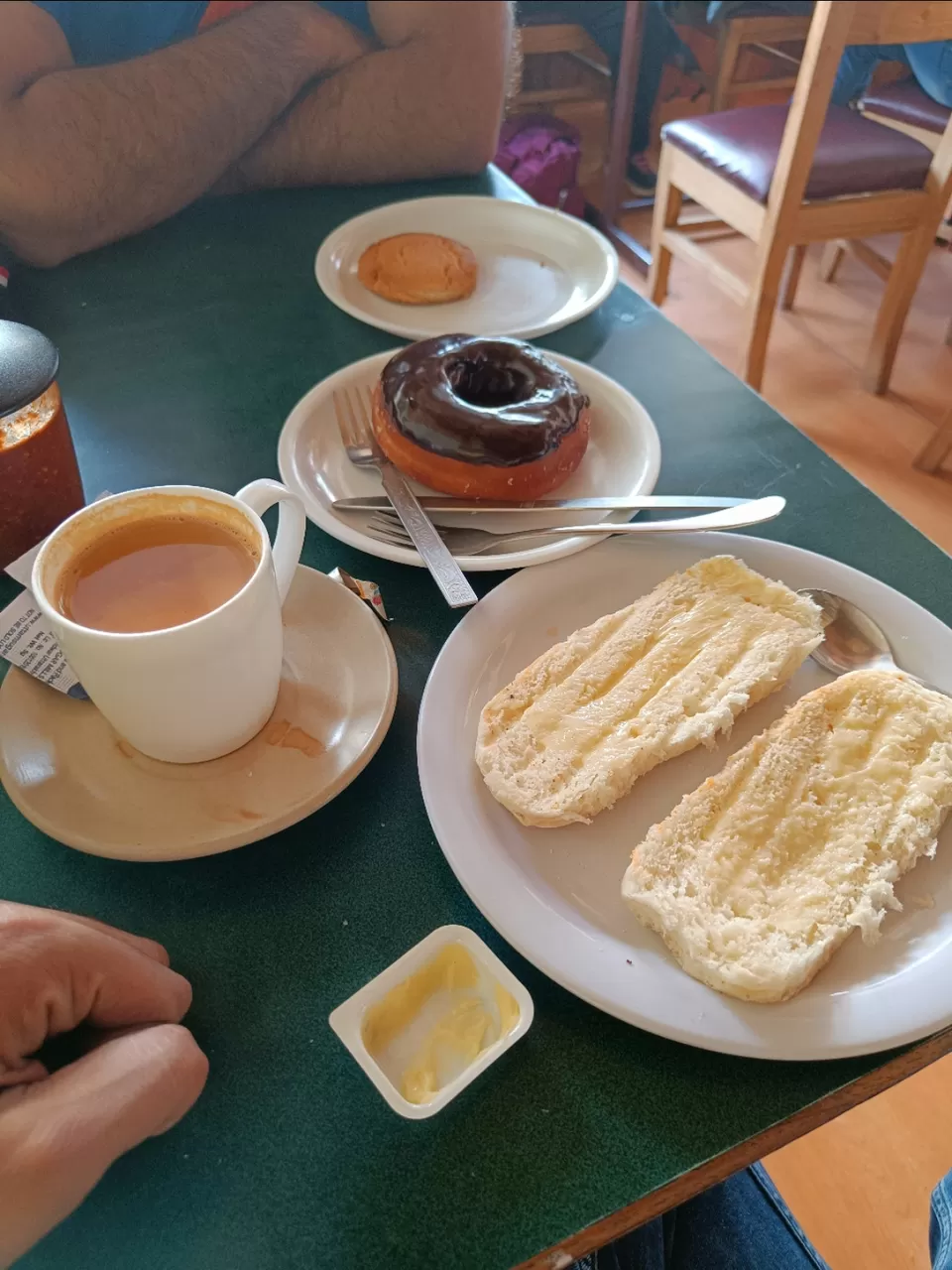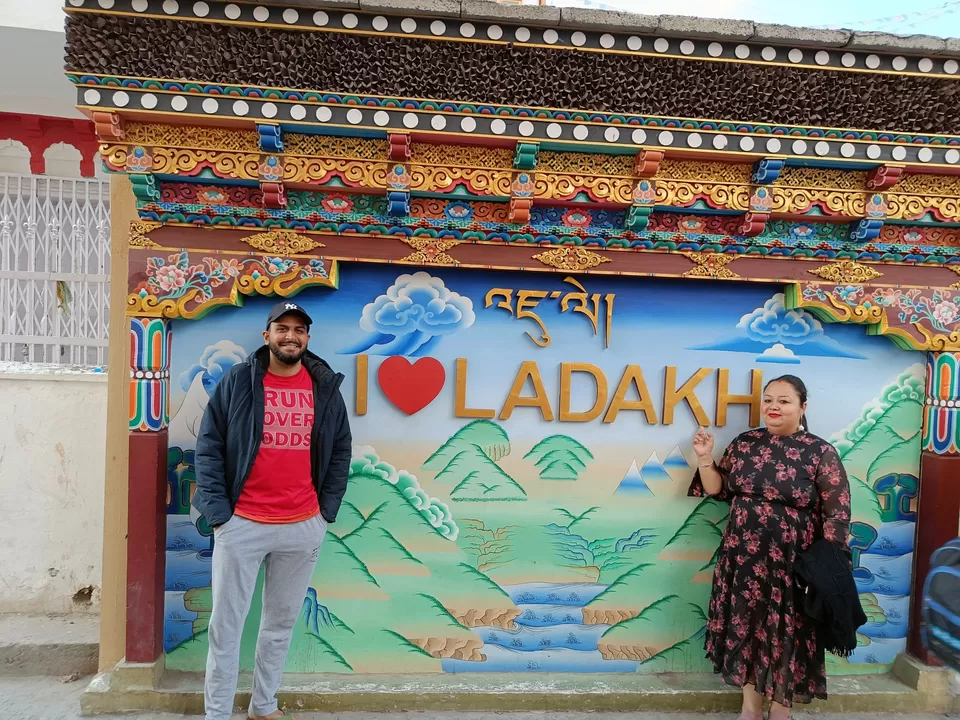 Well after the rest day, all were energetic and were ready to witness world's second most highest motorable road- khardungla Pass
Be ready to face extreme cold on bike right before 10km from Khardungla pass, I had to wear 2 gloves to stop wind hitting inside but I was shocked to see so many people there, vehicles, bikes, tempo travellers, didn't knew that it was an easy spot for tourists to come. We stayed there only for 10min, this is only advisable and left. Yes, I was feeling a little lack of breath there maybe I was on bike but it was completely okay after 5 minutes.
We left for our next spot Nubra Valley enjoying scenic views in between and stopped at Buddha Statue for half an hour.
Now ask was to visit Monastry in Nubra Valley(where everyone goes) or head towards India's last village Turtuk(very few people go), I know myself I will always choose the 2nd option any day and again convinced others to do the same and we left for India Pakistan Border Village, Turtuk.
I read somewhere that In Ladakh, even though there are mountains everywhere but everyday or maybe twice in a day you will witness completely different scenic views more spectacular than the previous ones.
We reached Turtuk before getting dark and stayed in camps as hotels were not looking good and wanted to experience river side camp experience. Dinner and Breakfast was included in Camping stay. This is the first option you will get on your right while entering Turtuk. But I will advise you to go ahead for 10km more and stay in tyakshi, because camps are better there and it's closest to your final destination tomorrow.
It was a 220km ride today in the mountains which is really not easy, but road condition is excellent , hats off to "BORDER ROAD OF ORGANISATION" for helping riders like us/Indian army to reach remotest of villages.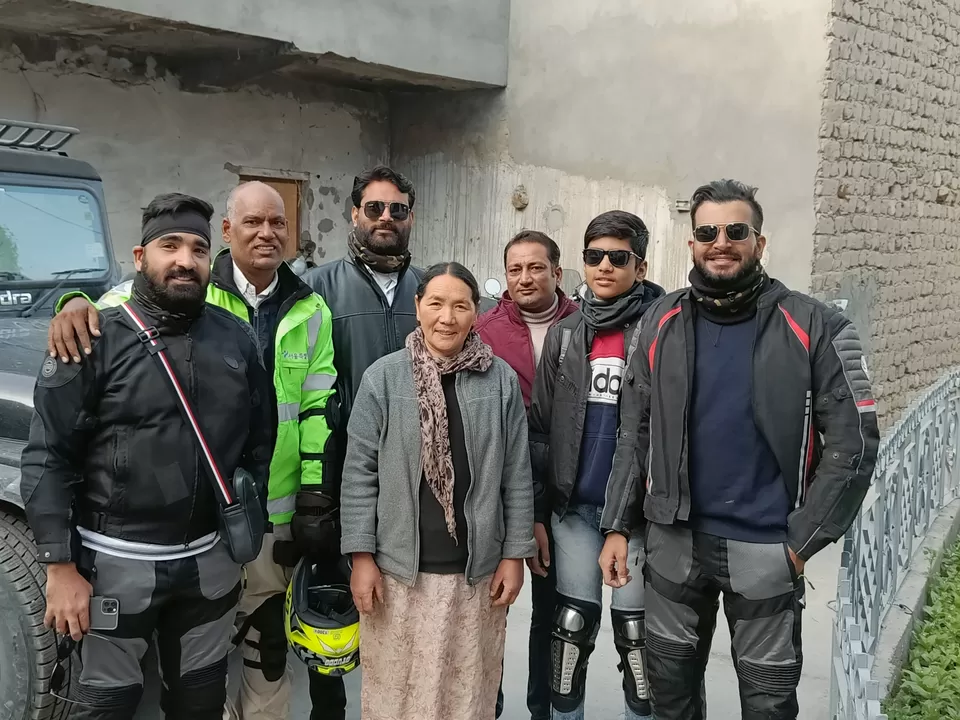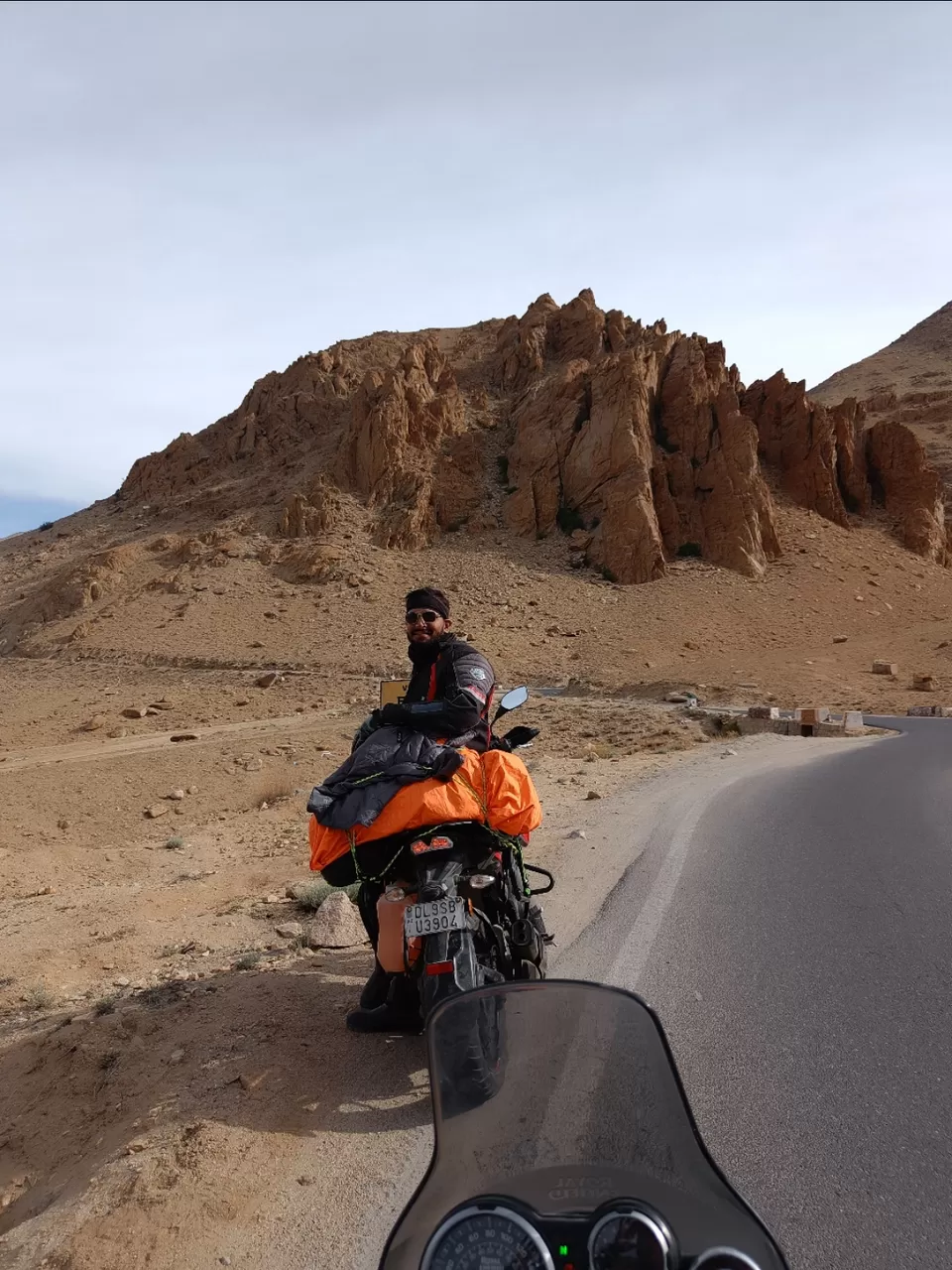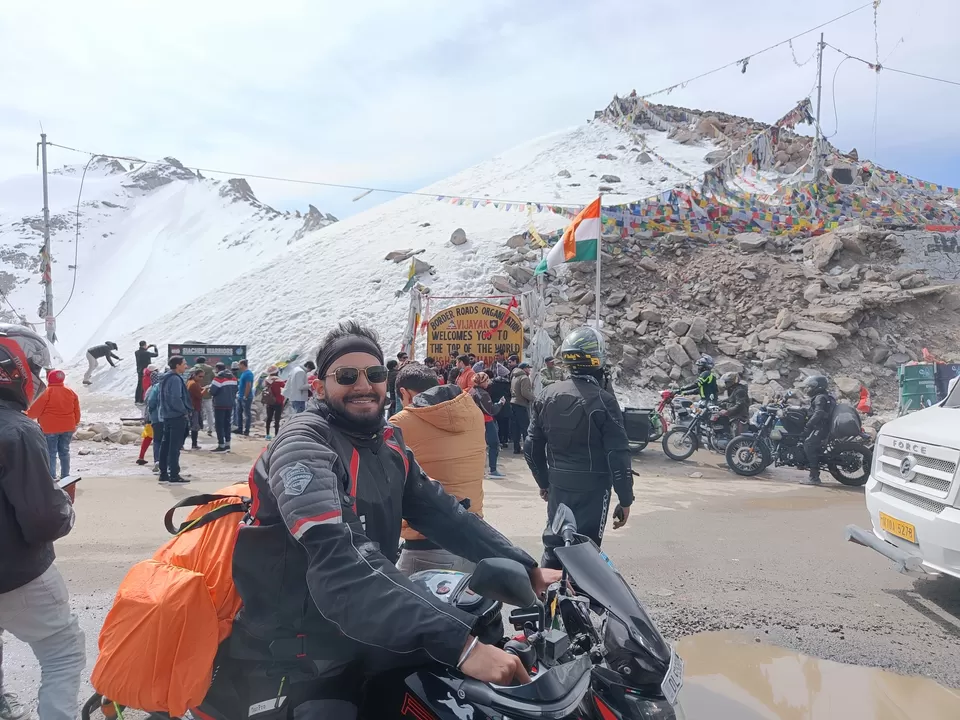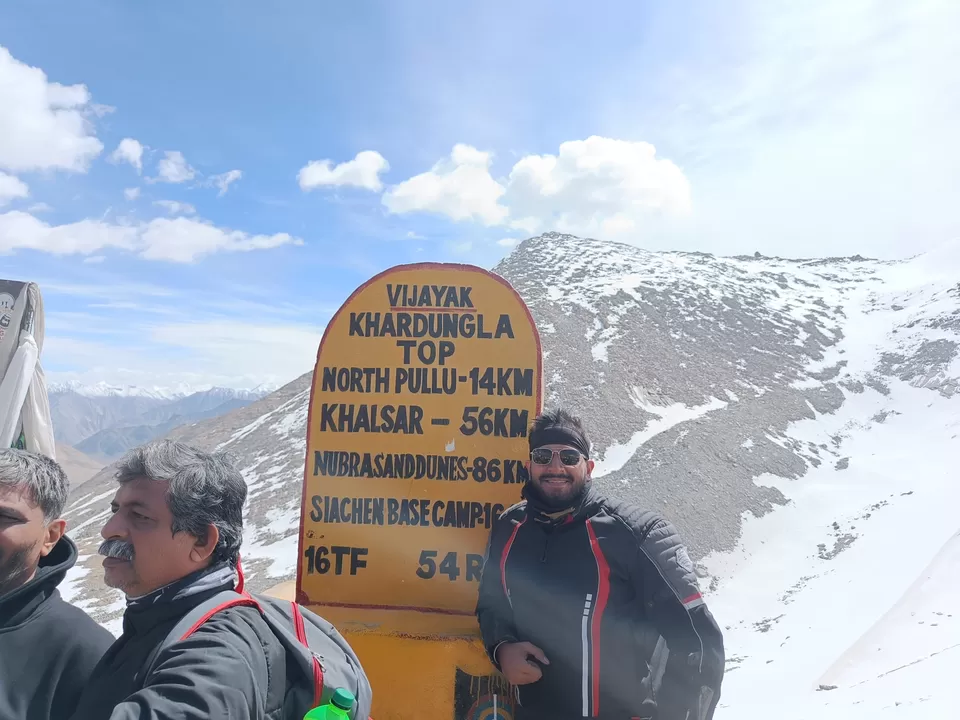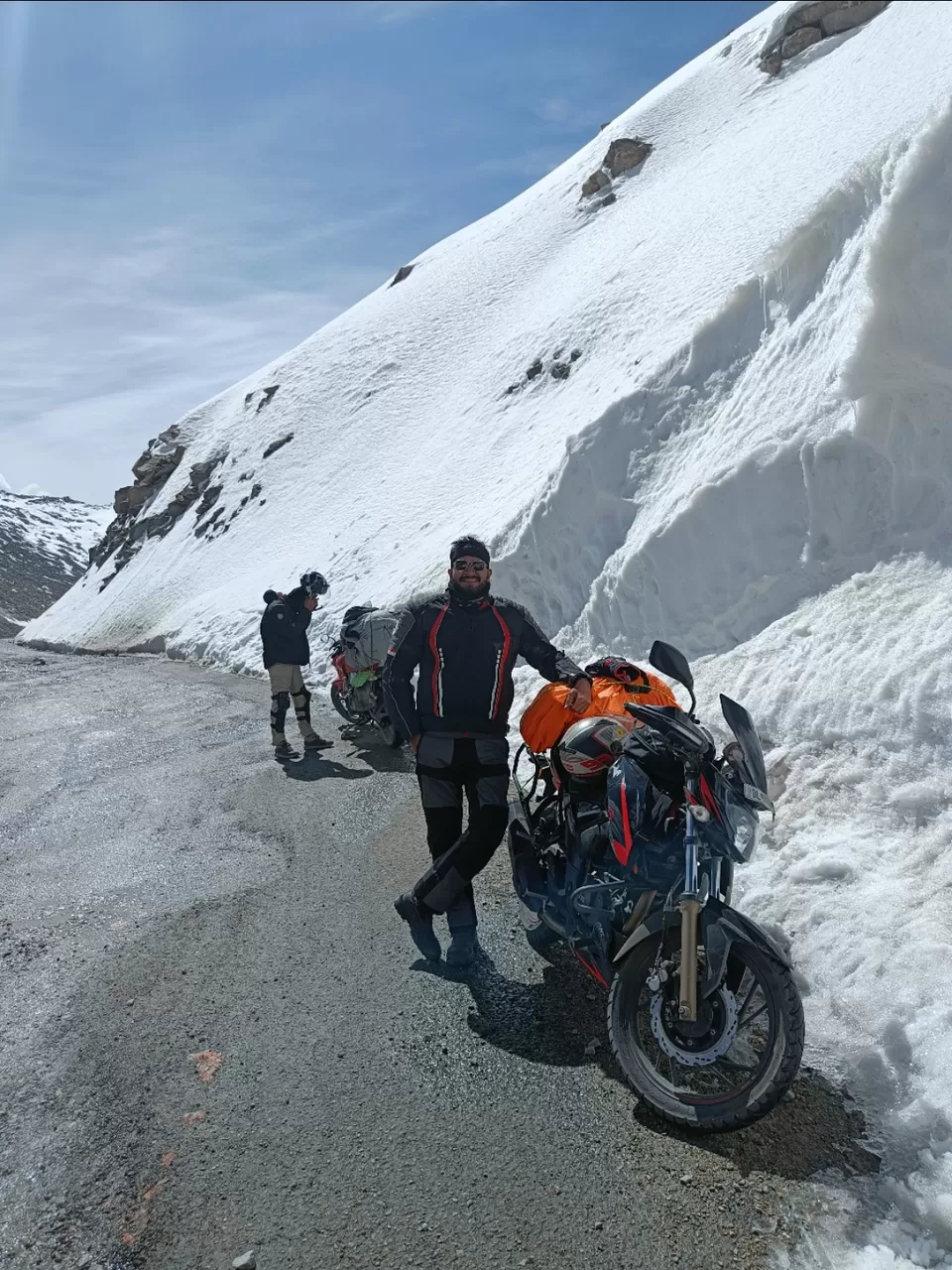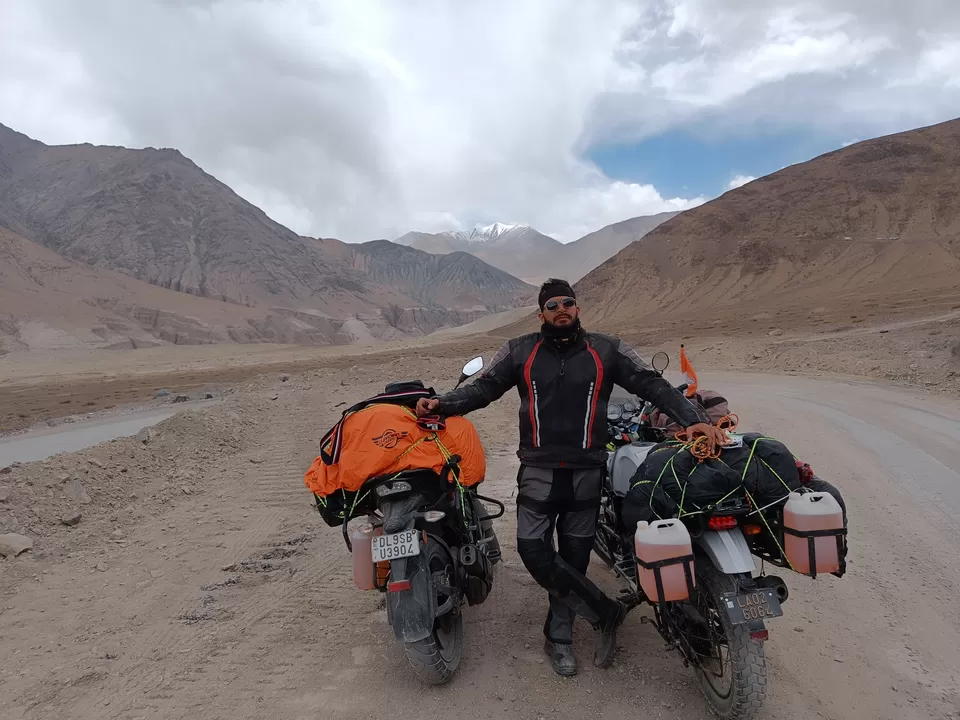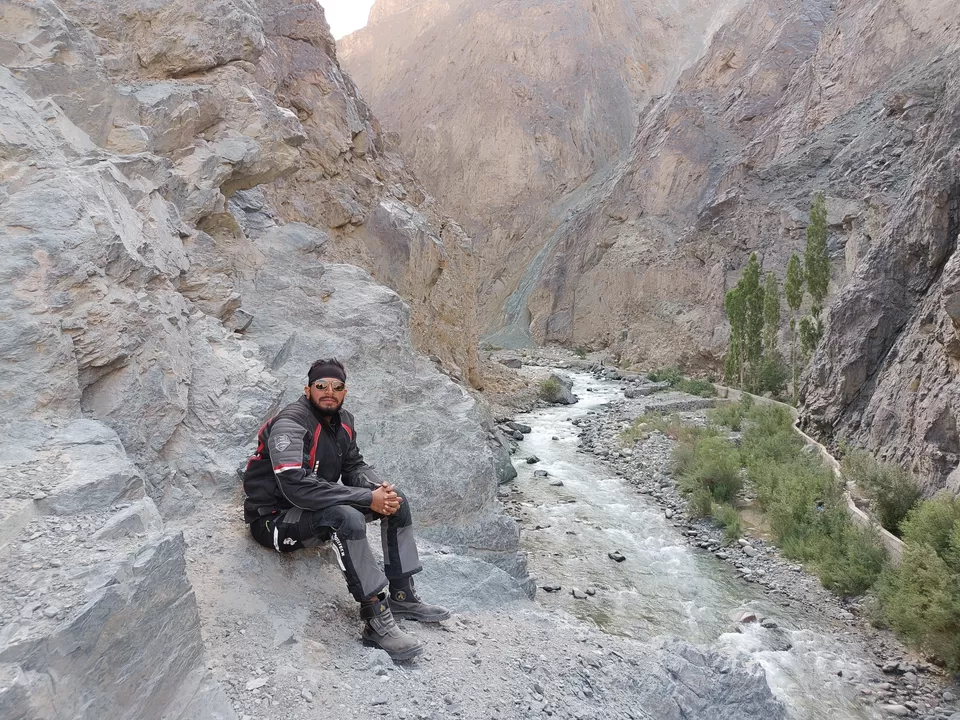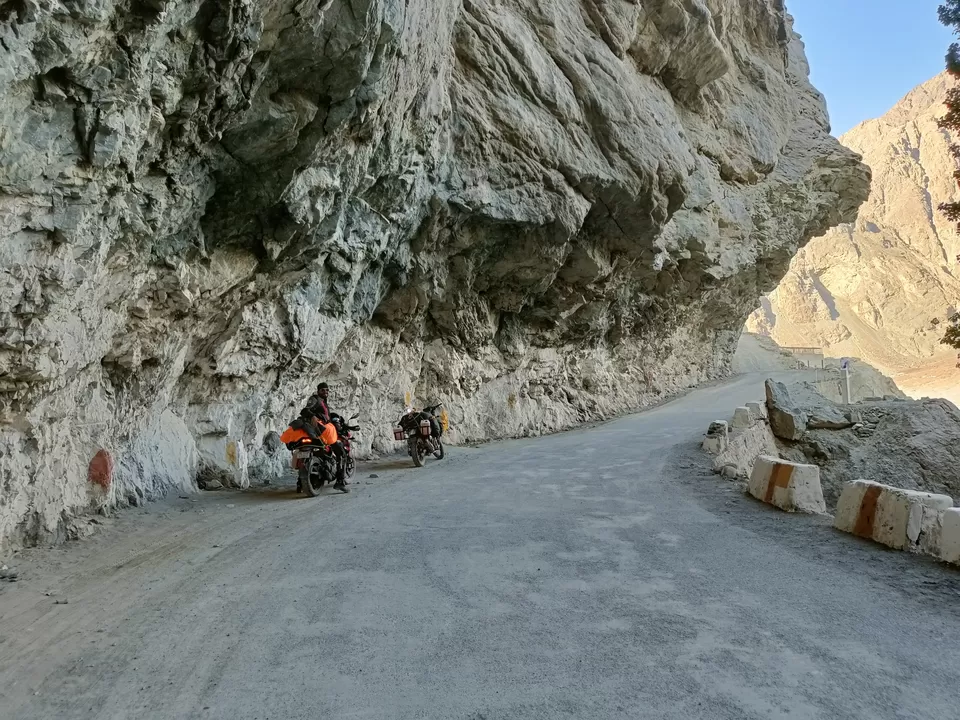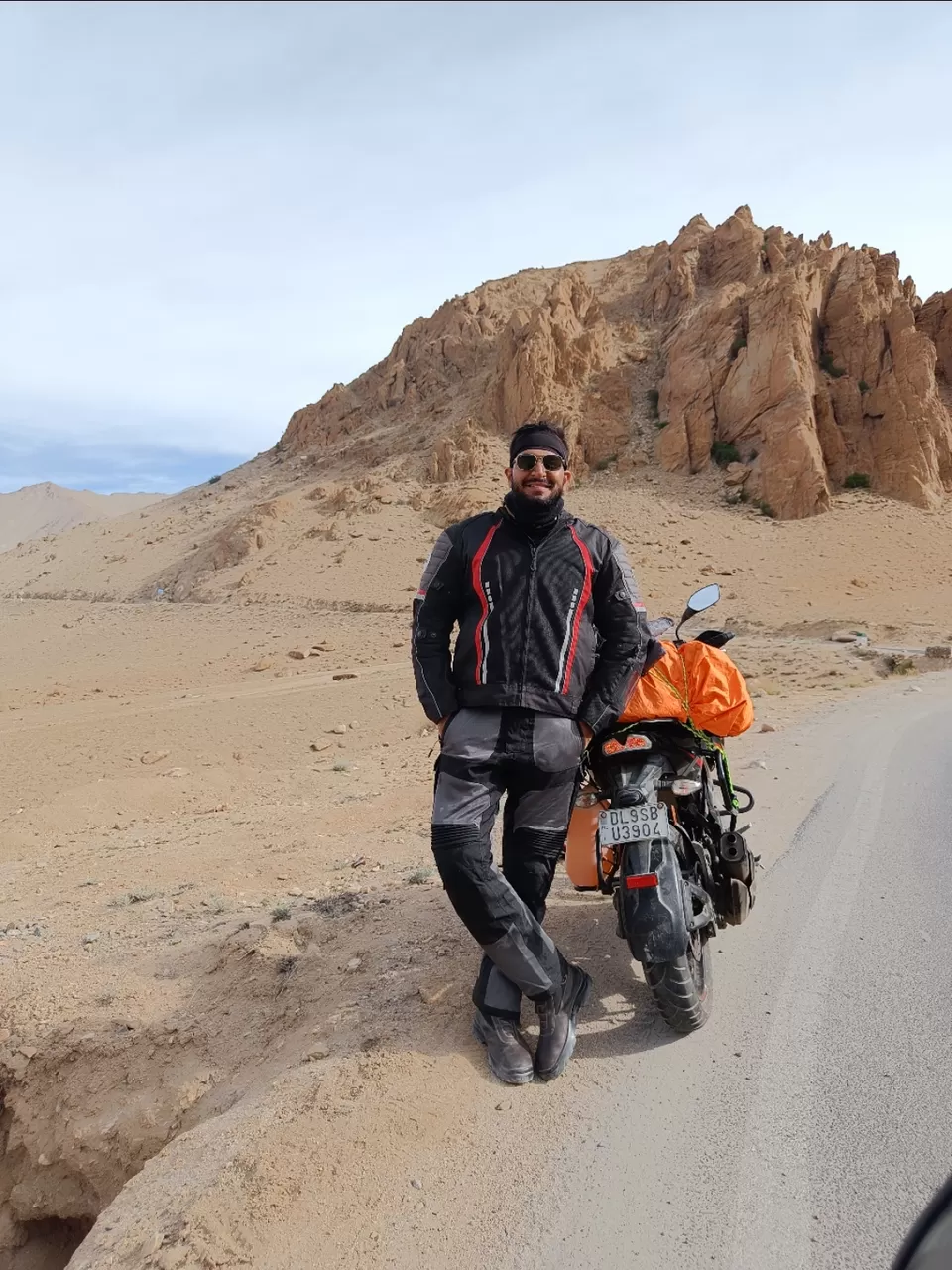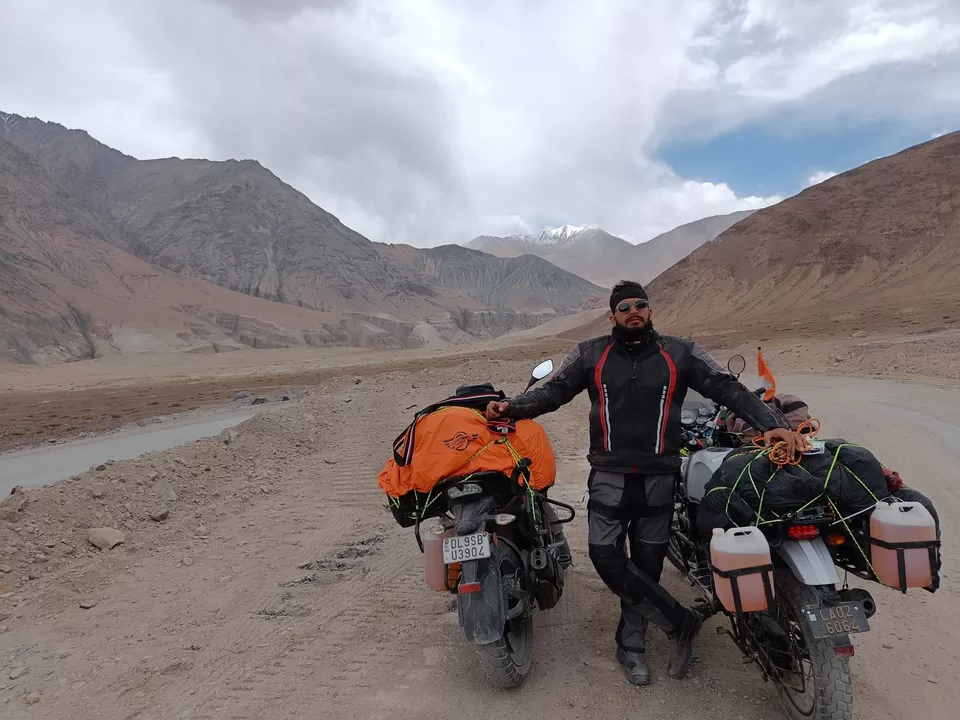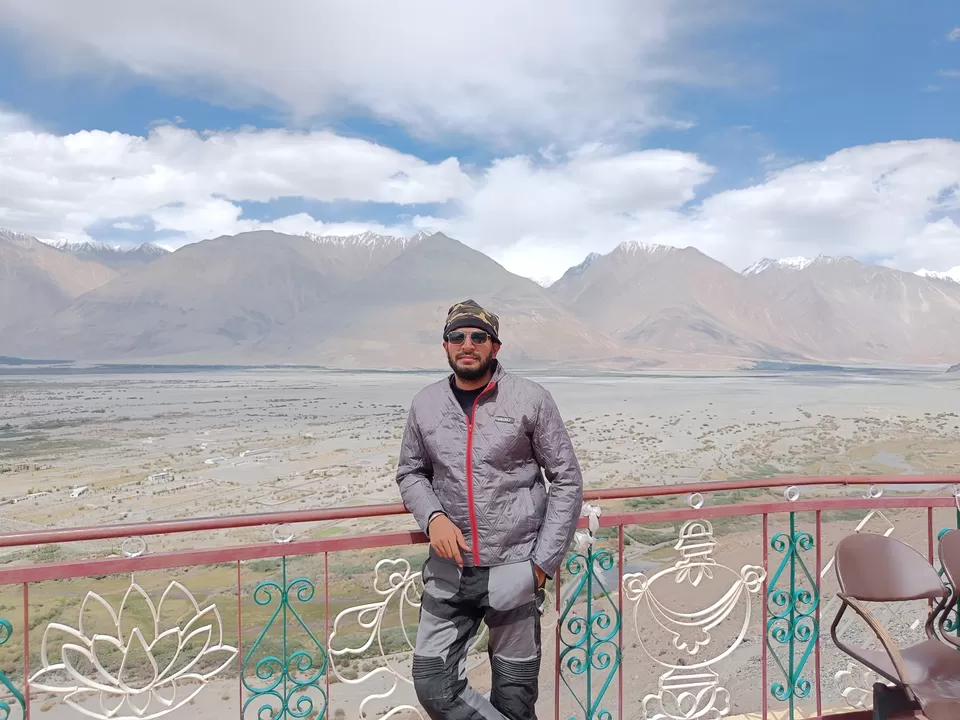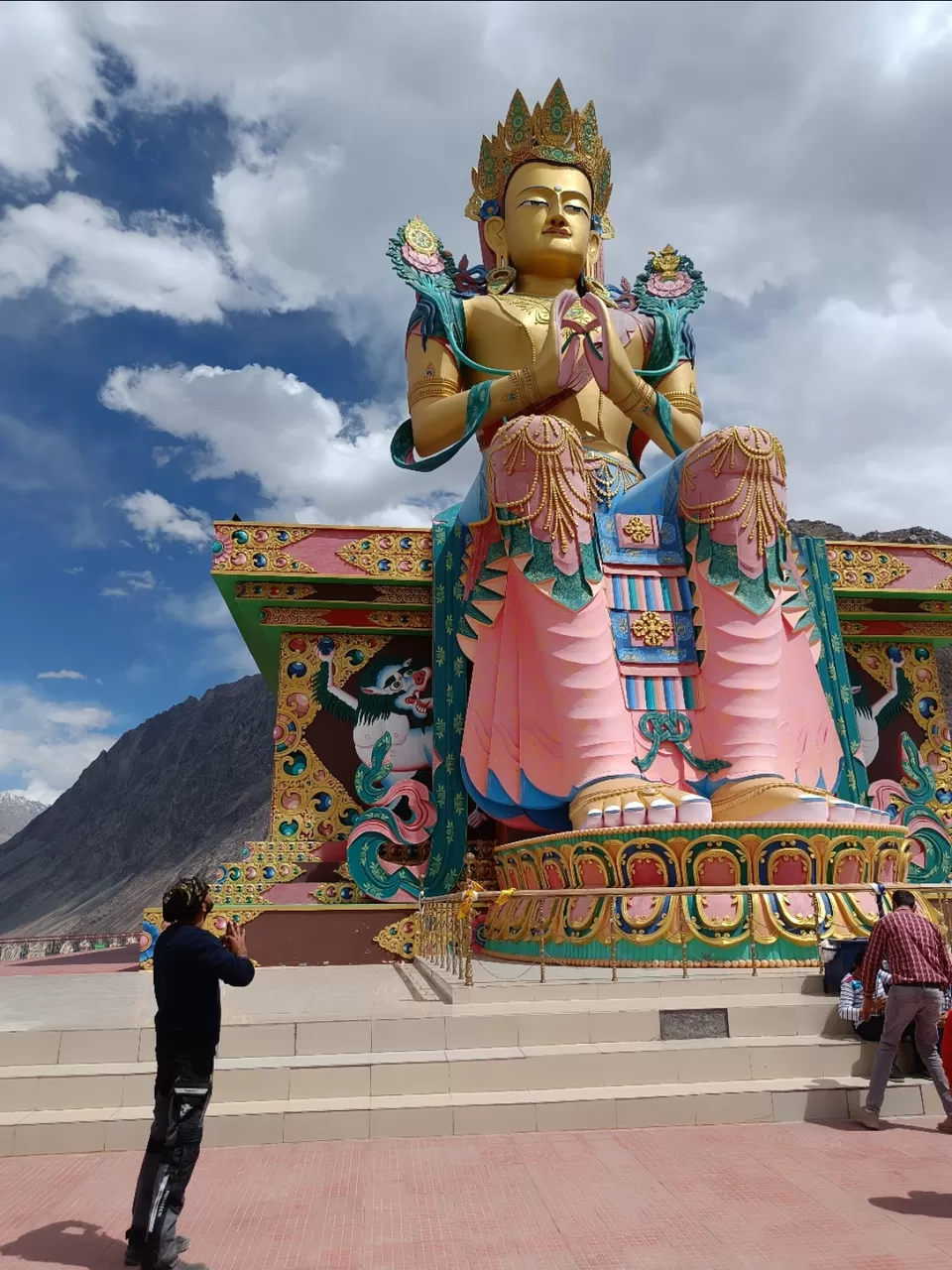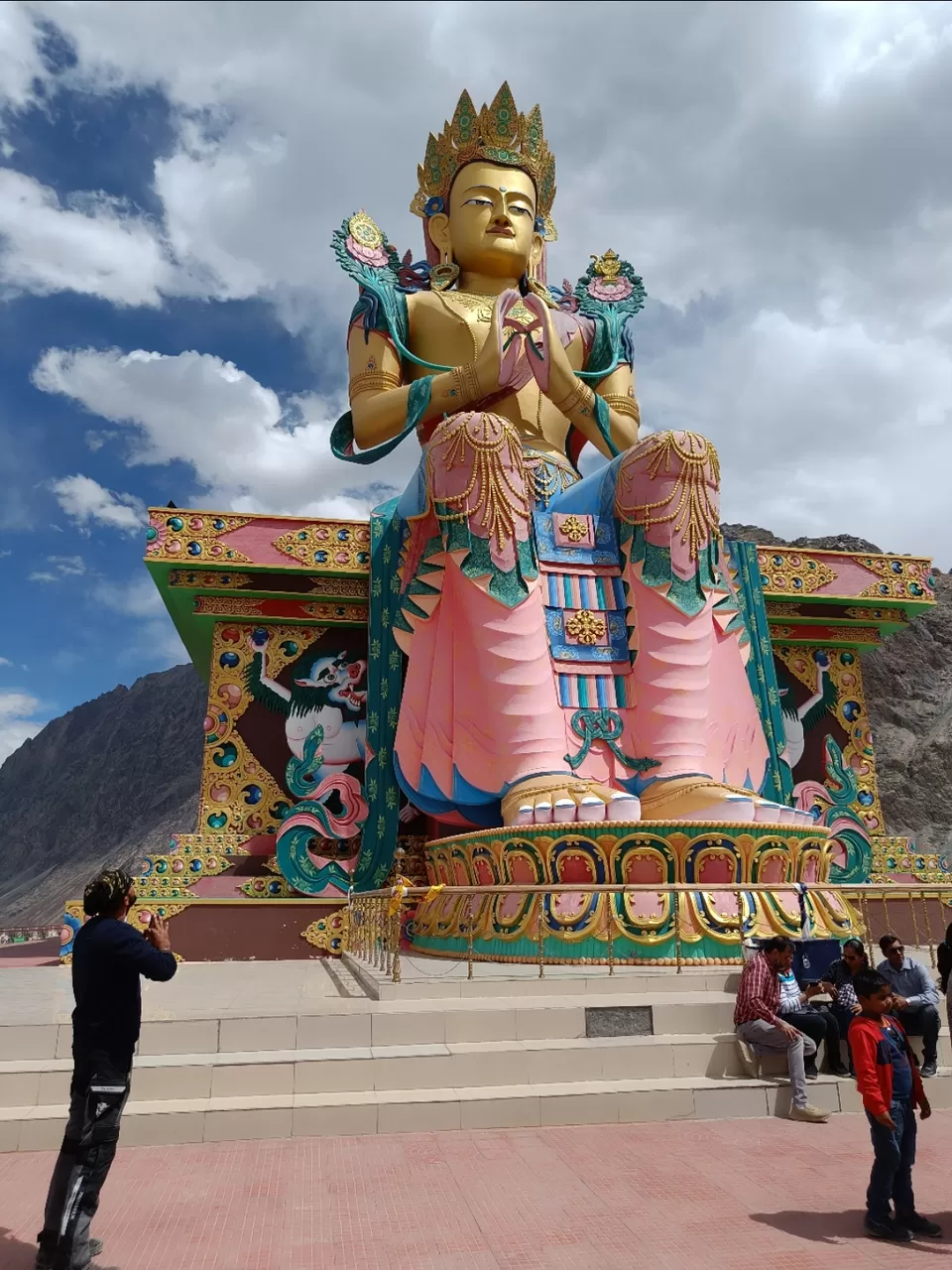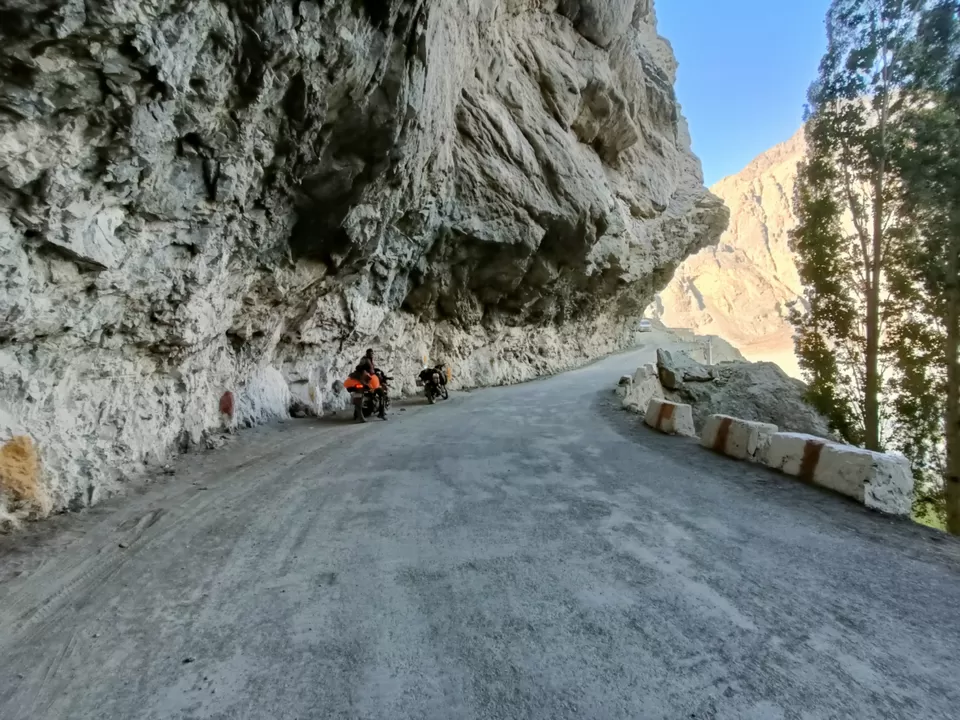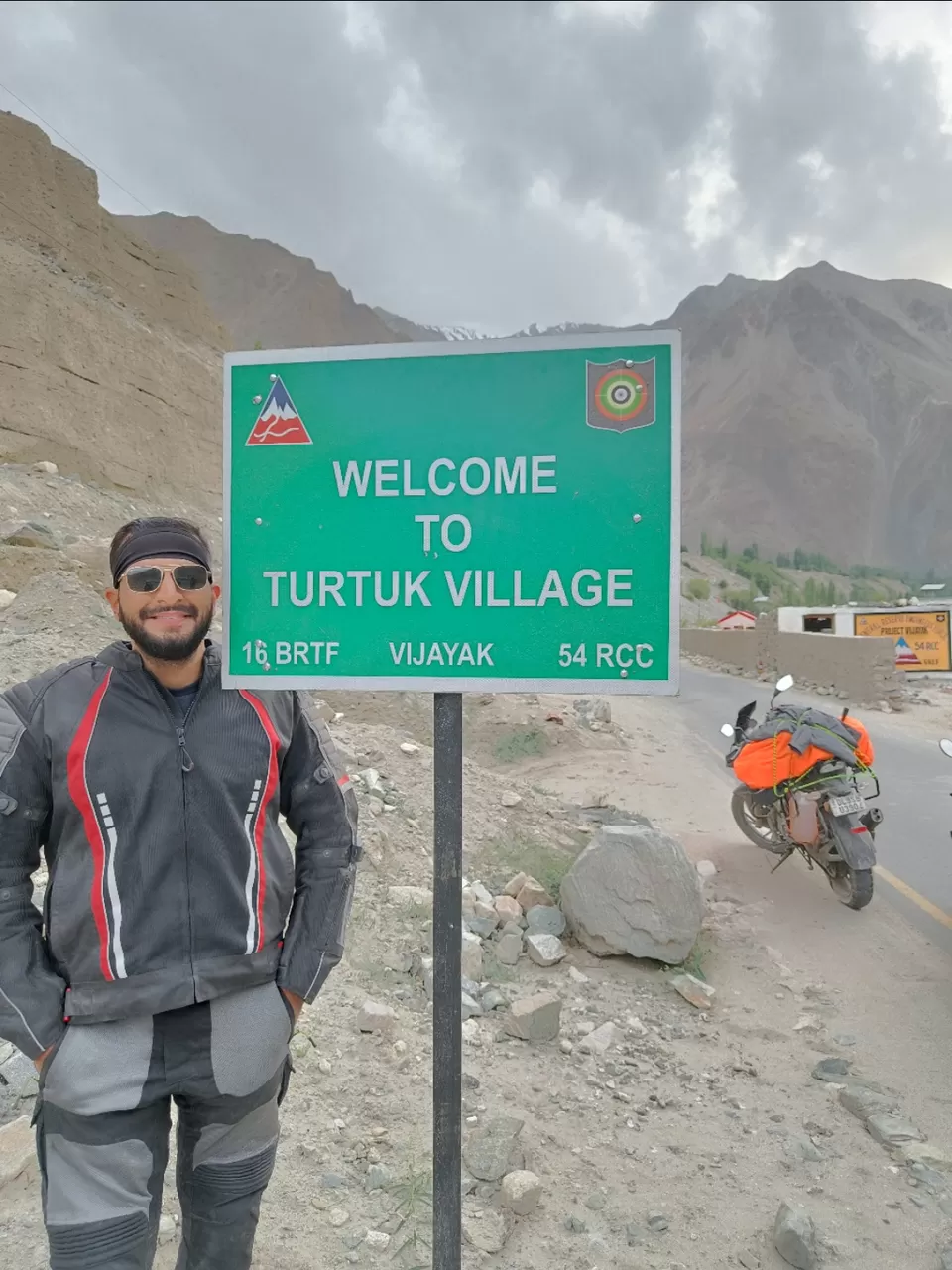 We woke up in the morning and it was so quiet that could hear the sounds of birds chirping and river flowing. We went straight near the river and sat aside and didn't realise when did an hour passed away.
Came back to the camps, got ready, had our breakfast and left for Turtuk Village Tourist area.
Initially Turtuk was in Pakistan but became part of India after 1971 war between India and Pakistan, but on the way you will see boards written with "You are in Pakistan Occupied Kashmir, Gilgit-Baltistan" and then you can't wait to send this picture to your family.
We reached the tourist place which happens to be the border of India & Pakistan which require you to make an entry with your Aadhar Card, stayed there for few minutes and could see with the binoculars area of Pakistan and people living in their villages.
I would suggest everyone to visit this place when you are in Ladakh.
Now target was to reach Pangong Lake which was 320km from Turtuk and we knew this can't happen at any cost since we were already late. We left Turtuk at 10:30/11 am in the morning.
After riding for few hours, we got to know that on the way to Pangong lake, heavy landslides happened which have blocked the roads and no one knows when will it open. It was advisable to go back to Leh and then next day decide where to go depending upon the landslide conditions.
But my mindset says, never go back unless there is extreme emergency so plans was to go ahead and stay somewhere in between, hoping to find a homestay on our way. We stopped at Agham, a remote village on the way to Pangong Lake. Now from here you have 2 ways to reach pangong lake, one was blocked with landslides and another one reaching Pangong crossing dangerous Chang la pass and that too in the late evening along with rains. Now this was extreme, no need to be this much courageous, so we decided to stay here, luckily found a beautiful home stay where they grow vegetables near their home, they plucked fresh vegetables fir dinner from their farm and served the food for us. I had this this kind of an experience for the first time which you will only experience in home stays.
We had our dinner and came out for a walk and got to know that landslide road is opened, we saw people driving at night but again I never ever drive at night in mountains so we slept peacefully.
We covered only 150km today with rains today, landslide news and yes I fell today from bike but nothing major happened. It is said that long bike ride isn't complete if you don't fall or get a small bruise once. I had tick marked both already.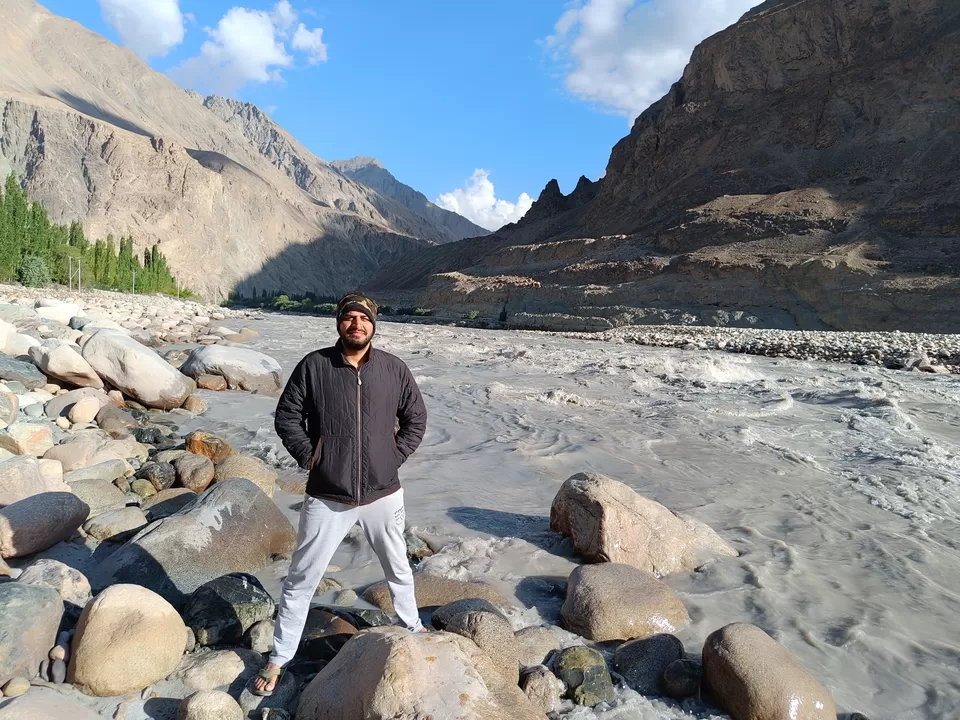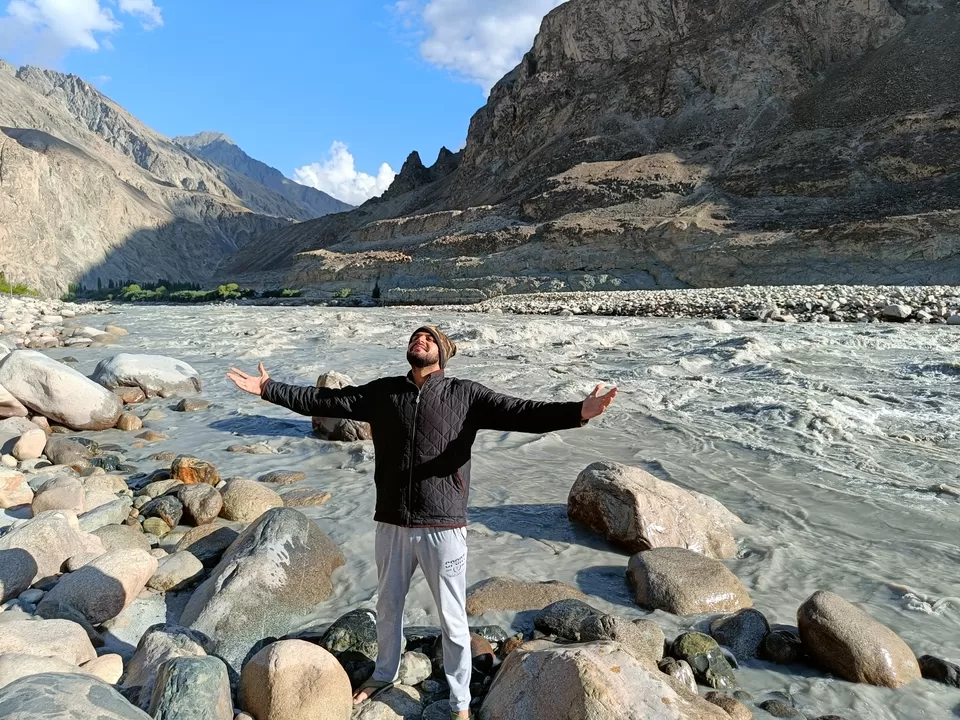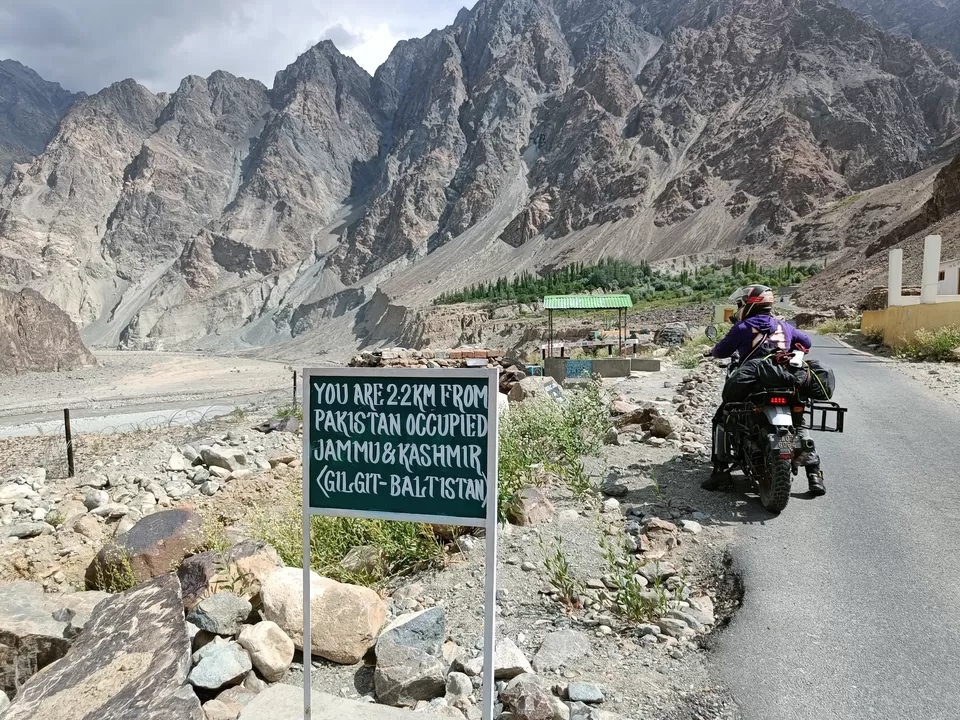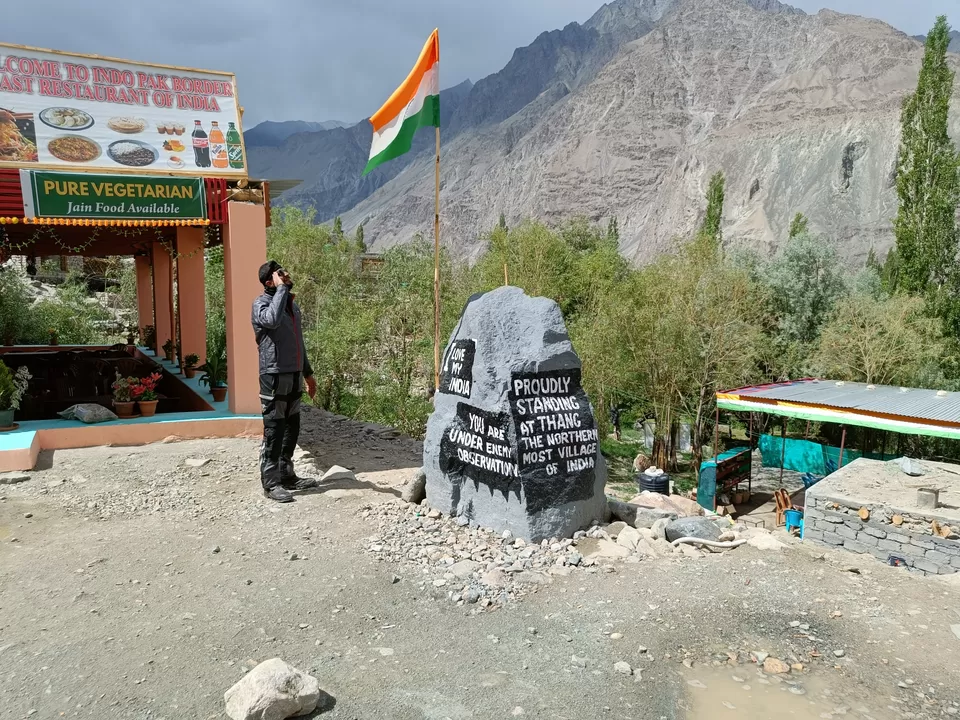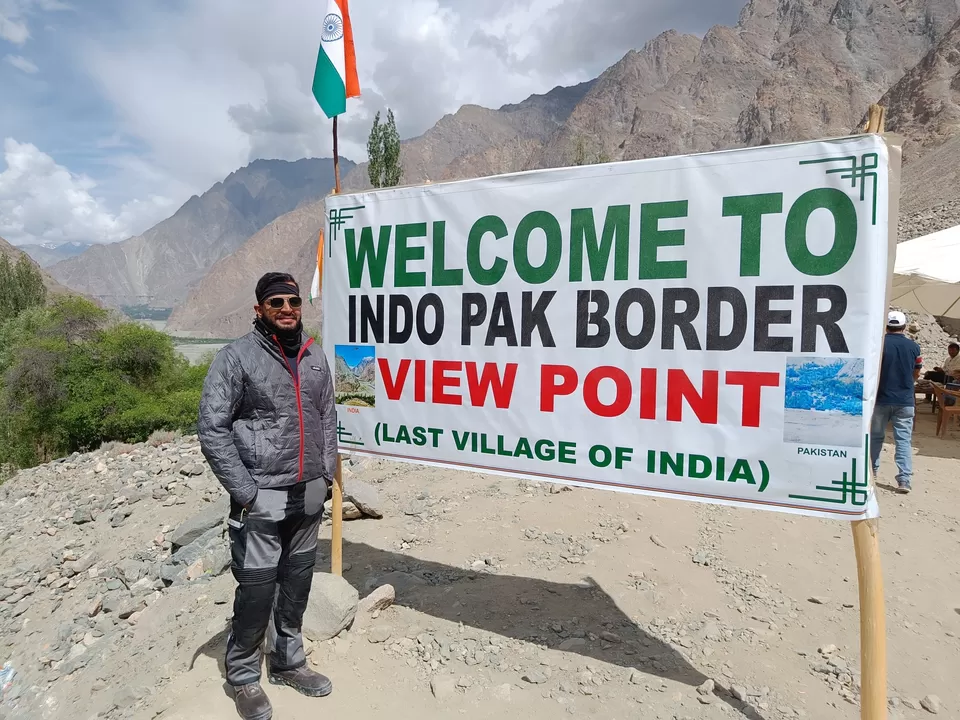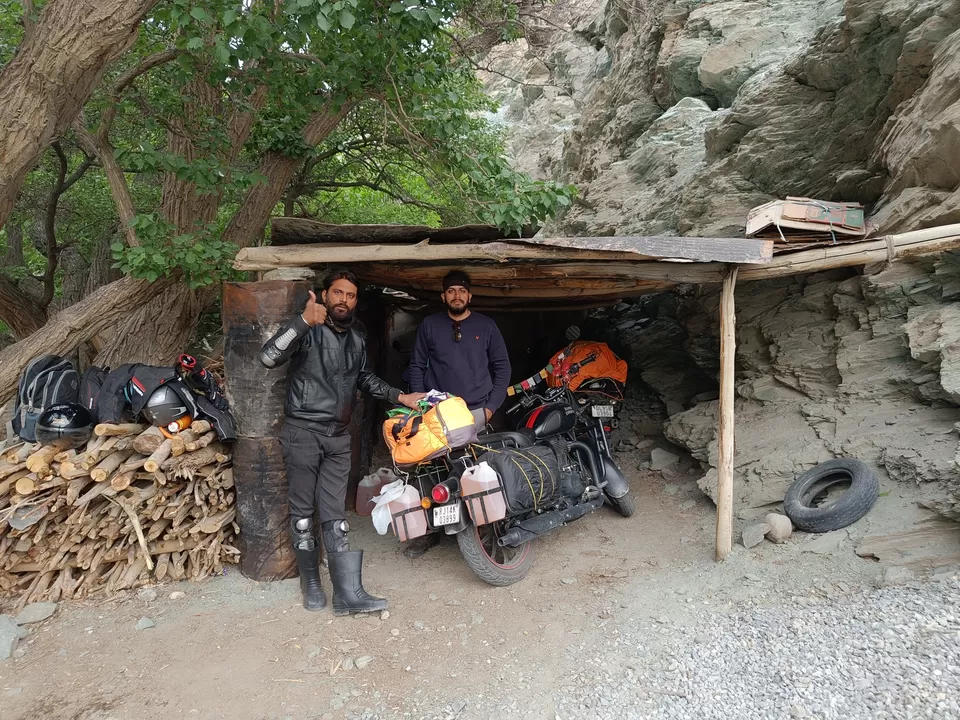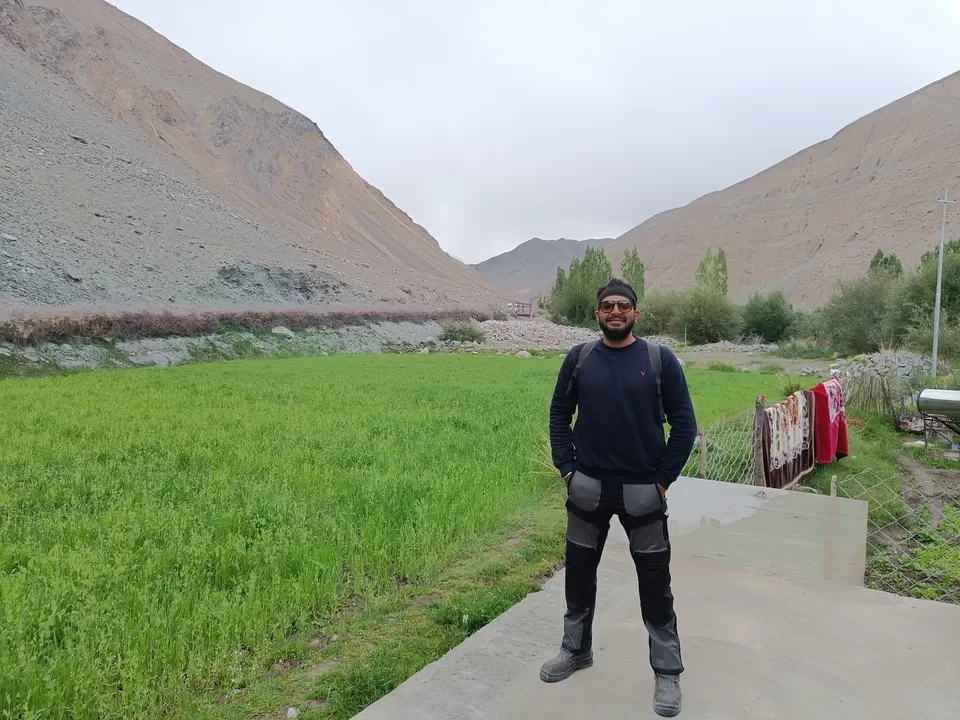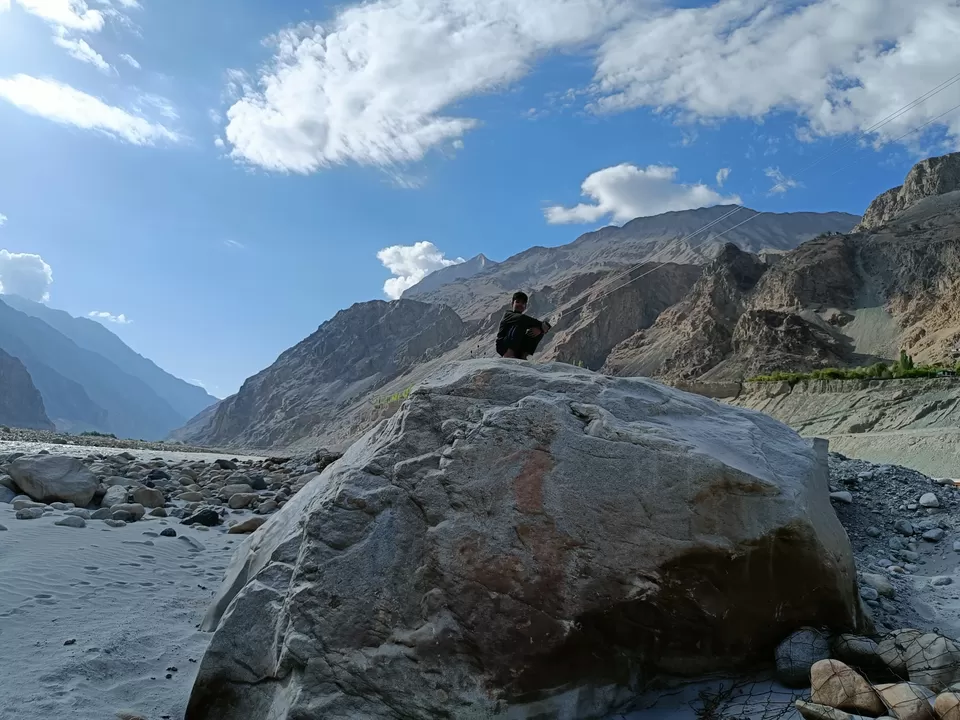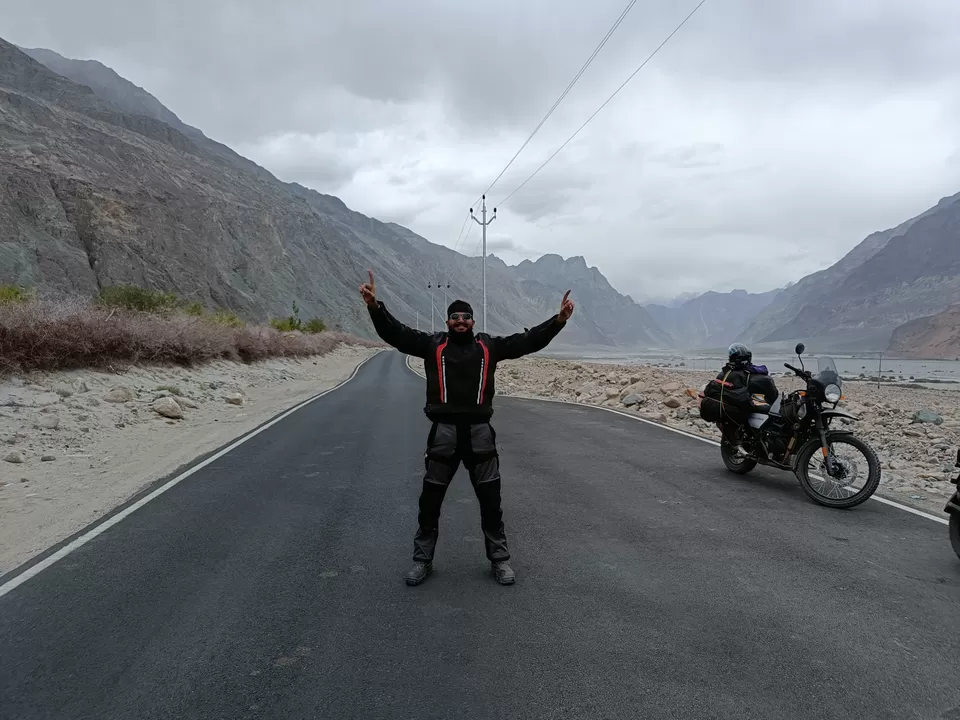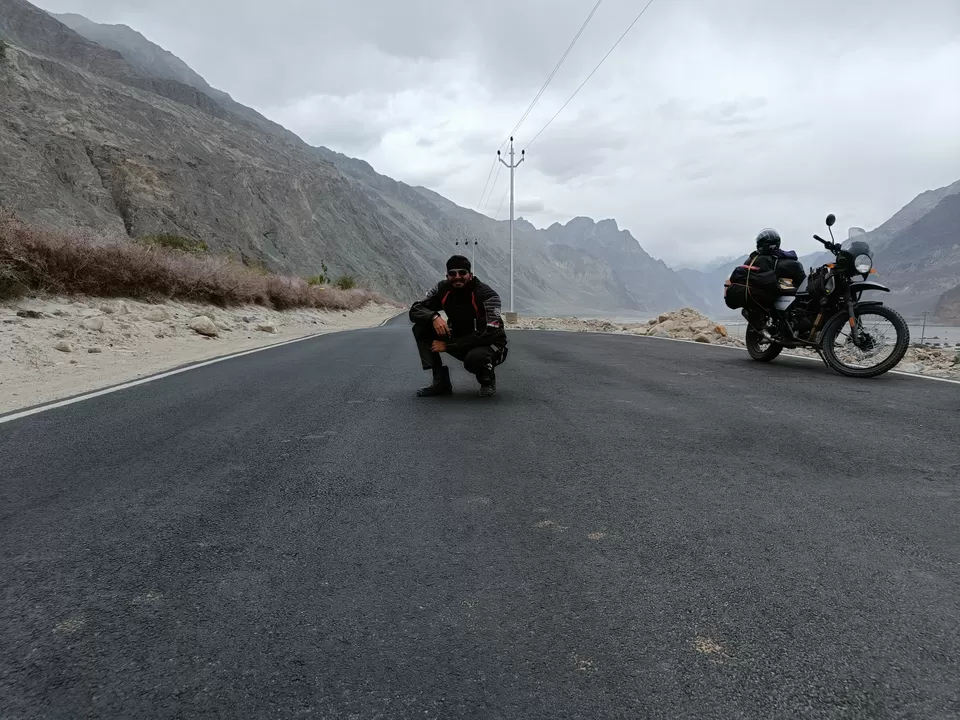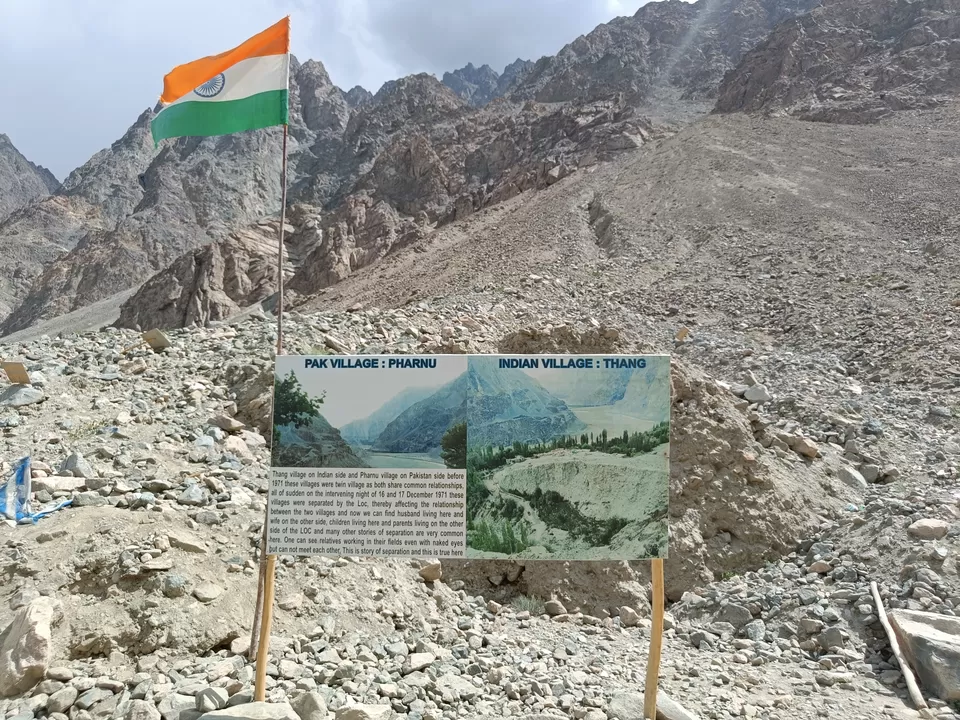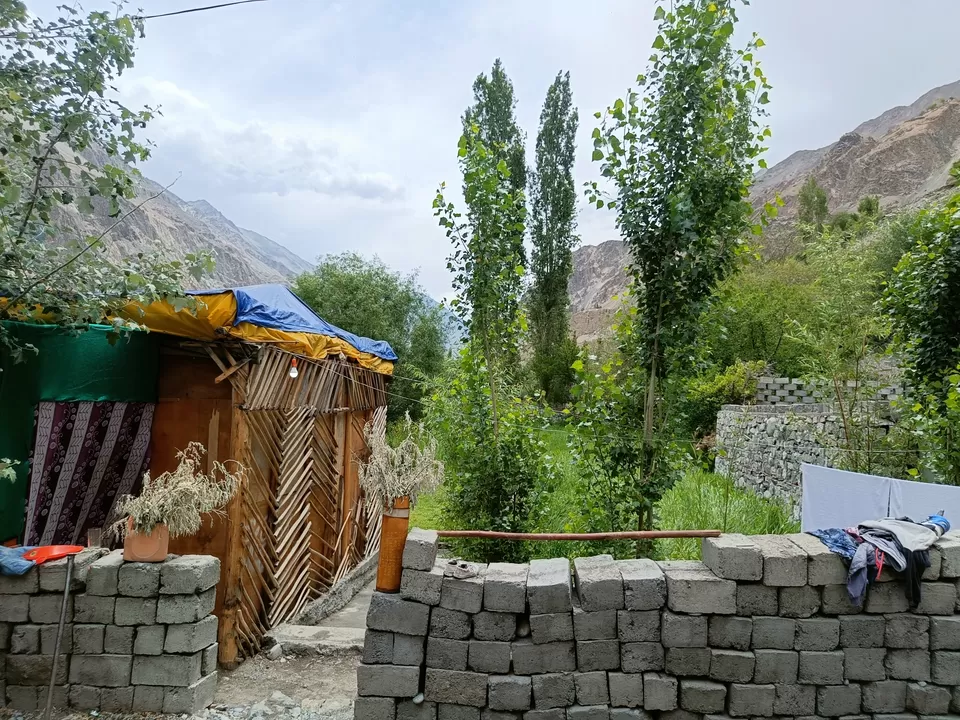 We had completed half of our journey and were ready to witness the most beautiful or spectacular scenery ever heard of.
Pangong lake is 180km from Agham village, so we left early in the morning and were ready to witness the toughest ride of the journey till now. It was drizzling a little in the morning when we left and decided to wear rain coat once it starts raining heavily and within 15 minutes rain started heavily and stopped at a tea stall, had tiny breakfast, wore our rain coats but waited for rain to slow down a little.
Around 1 hour passed away and I was like "Ab chalte hain", and convinced others as well to ride on not so smooth road that too in rain so we drove very slowly seeing in our bike mirror so that everyone is together and within few minutes rain slowed down but it didn't stopped completely till the next 2 hours.
When you have all stones lying on the roads and that too wet, you think"Kahan se nikaalu" and being from Kanpur I very well knew how to drive on bad roads, but these bad roads have death on the other side, if balance goes out, you are out of the game and I realised this is why it is advisable not to visit Ladakh in heavy Monsoosn especially in August.
You witness multiple water crossings in between and sometimes have to find depth of water crossing by throwing a stone, find another way if possible and then after all these difficulties, tough roads, difficult weather we reached Pangong Lake and we forgot all our tiredness, difficulties, cold we witnessed on our way.
And I could imagine Shahrukh Khan scene sitting beside Pangong Lake in Jab tak hai Jaan.
I was shocked to see how could water be so much blue that you don't want your eyes to move off. It was the most beautiful thing I had ever seen. I have seen chandratal lake as well in Spiti Valley but this was something else and nowhere close to it.
We spent 2 hours there, I also tried to take my bike closest to lake as well. This lake is so long that it won't finish and keep on riding with you, still only 15% of Pangong Lake is in India, rest in China and Tibet.
Now our next target was Hanle which was 300km from Pangong Lake. Why Hanle? To cover Umlingla Pass, world's highest motorable road and witness beautiful stars and Milky way Galaxy which is crystal clear in Hanle.
We left Pangong Lake and stayed in a home stay in Chushul where the owner was so sweet that he served chicken for us.
Hanle was only 120km from Chushul, a maximum 4 hour ride.
We drove around 160km today with all the toughness, bad roads in between, landslides, heavy rain etc.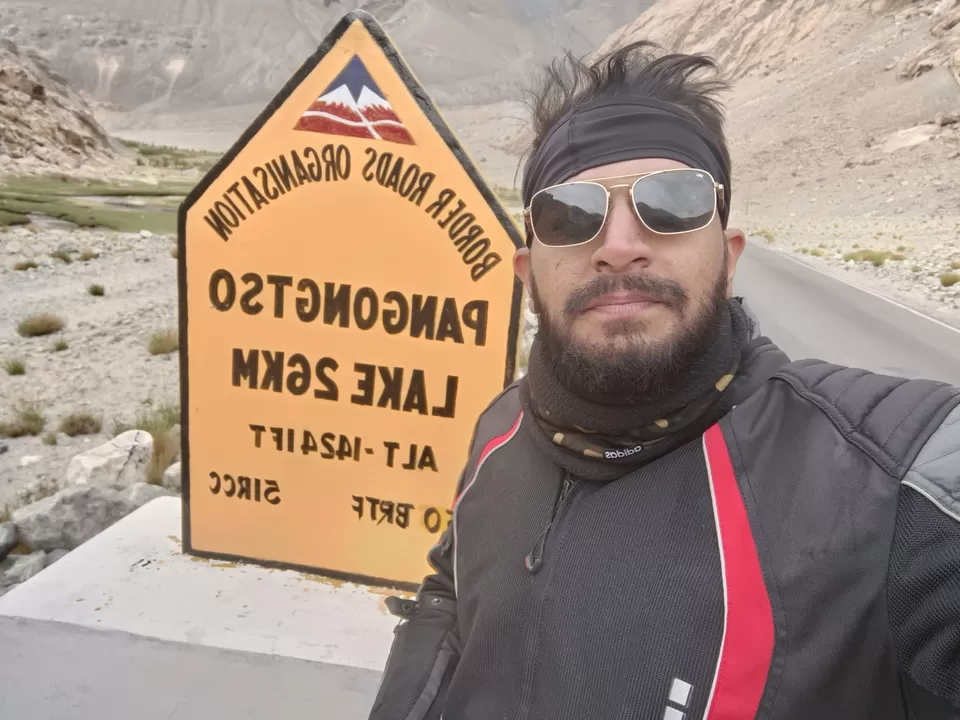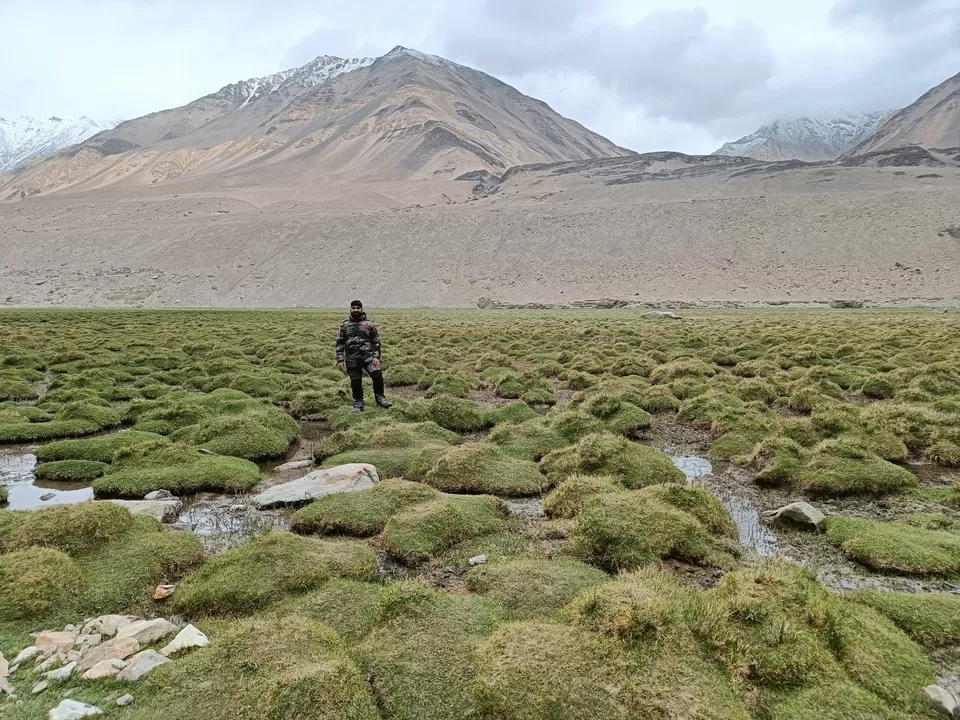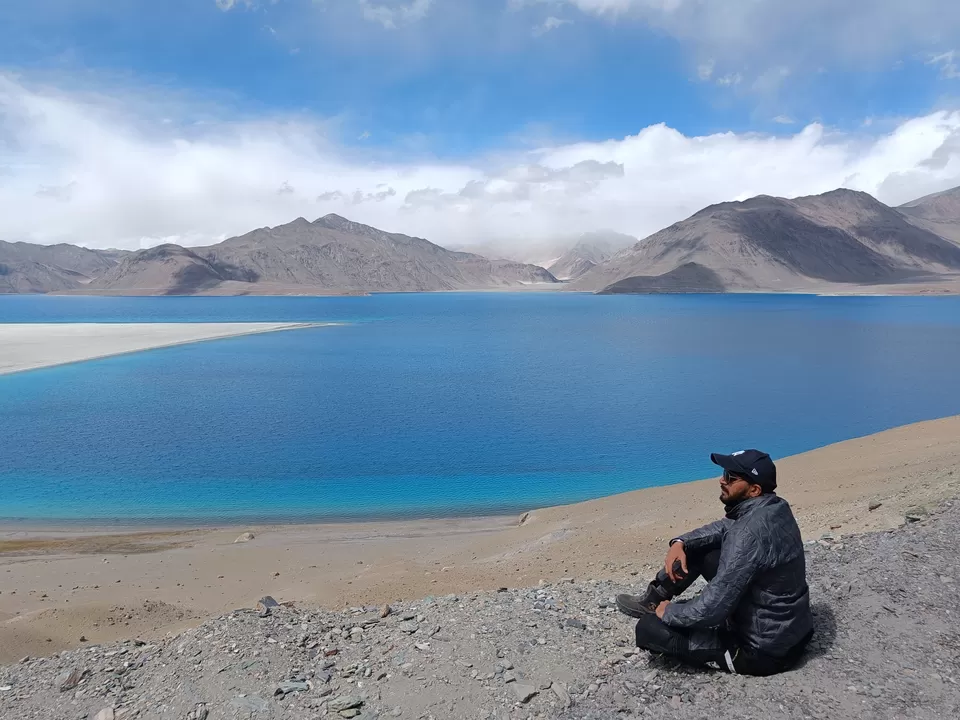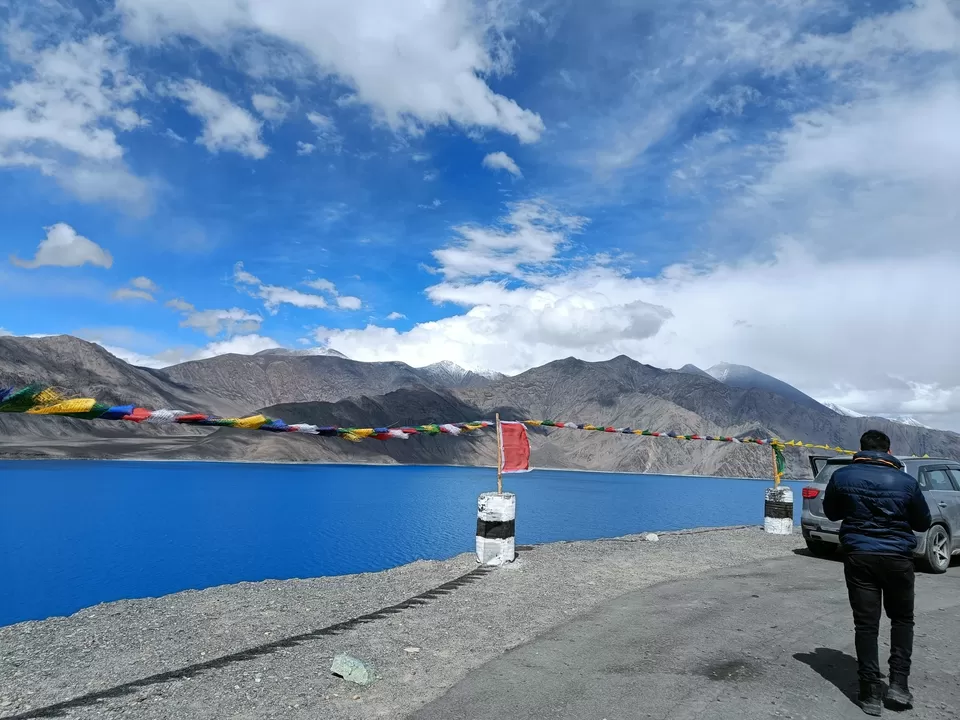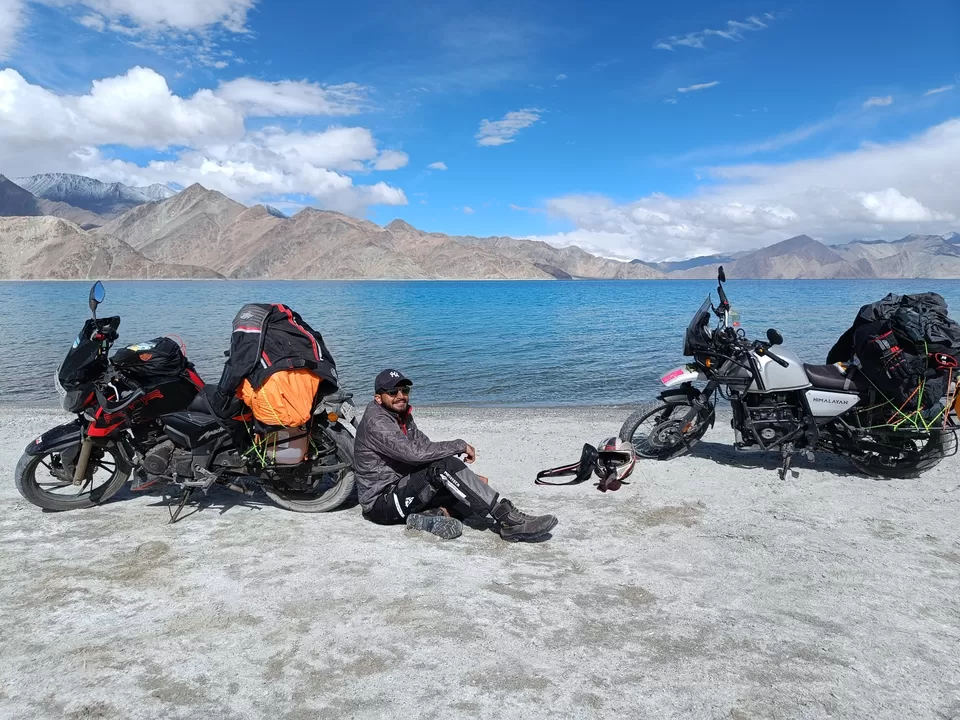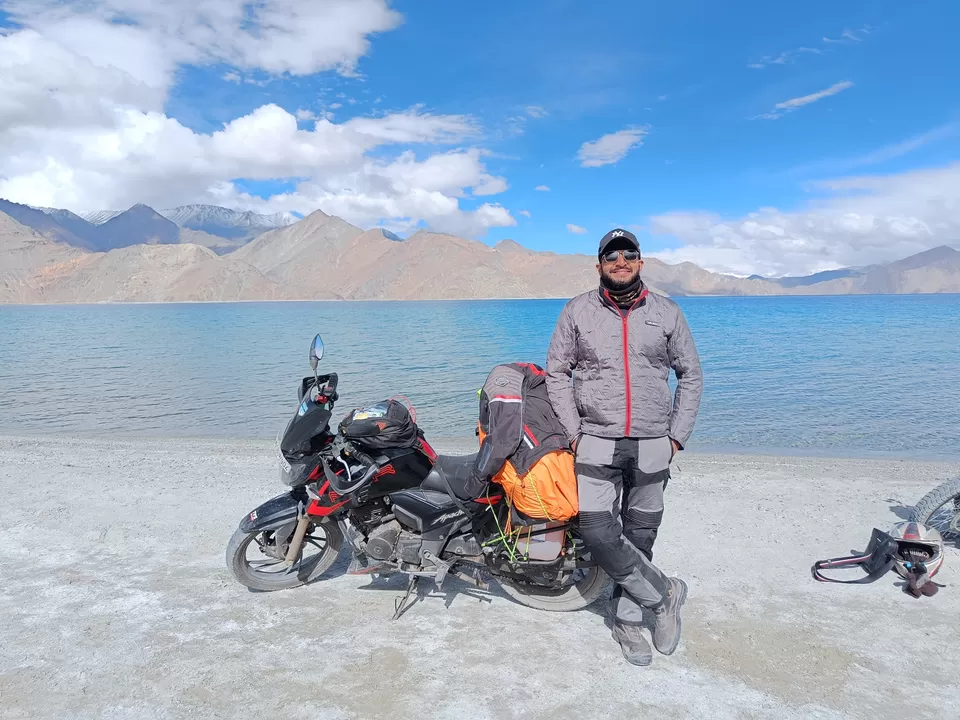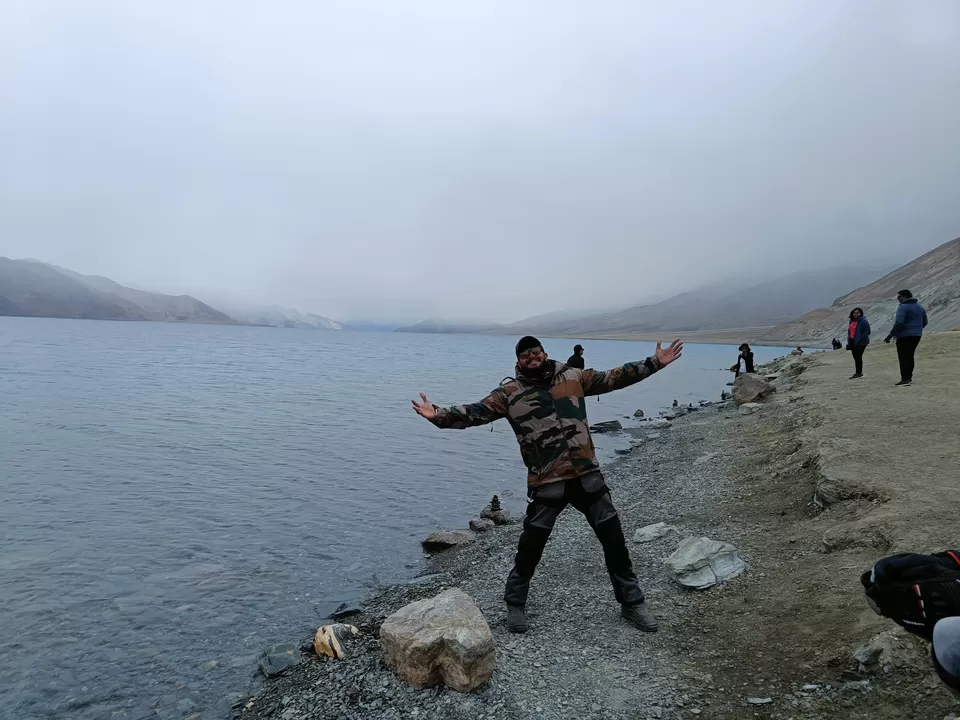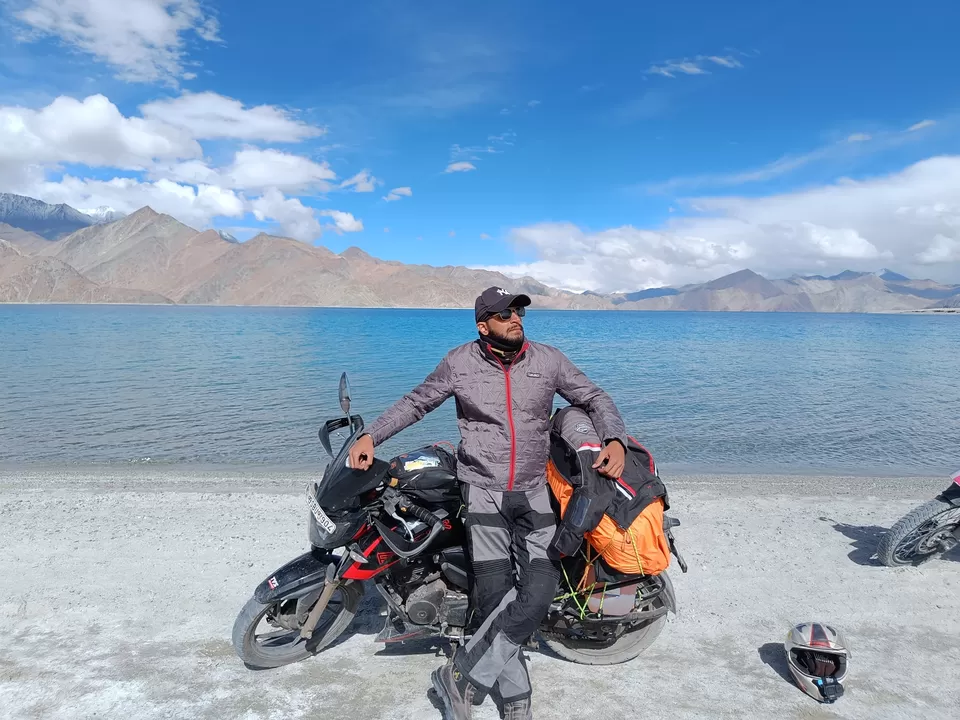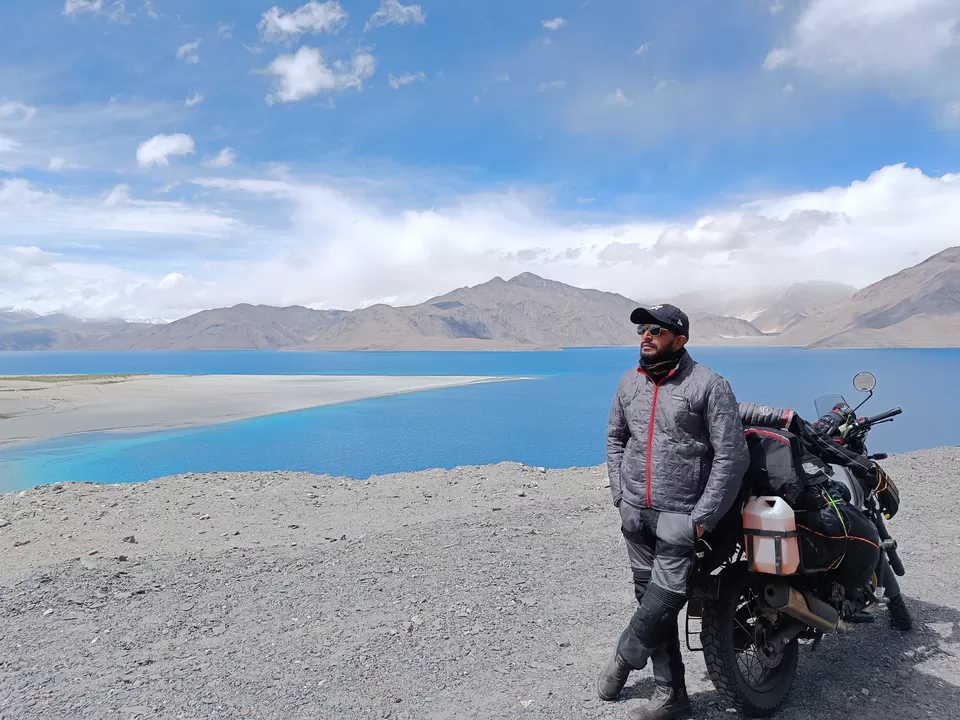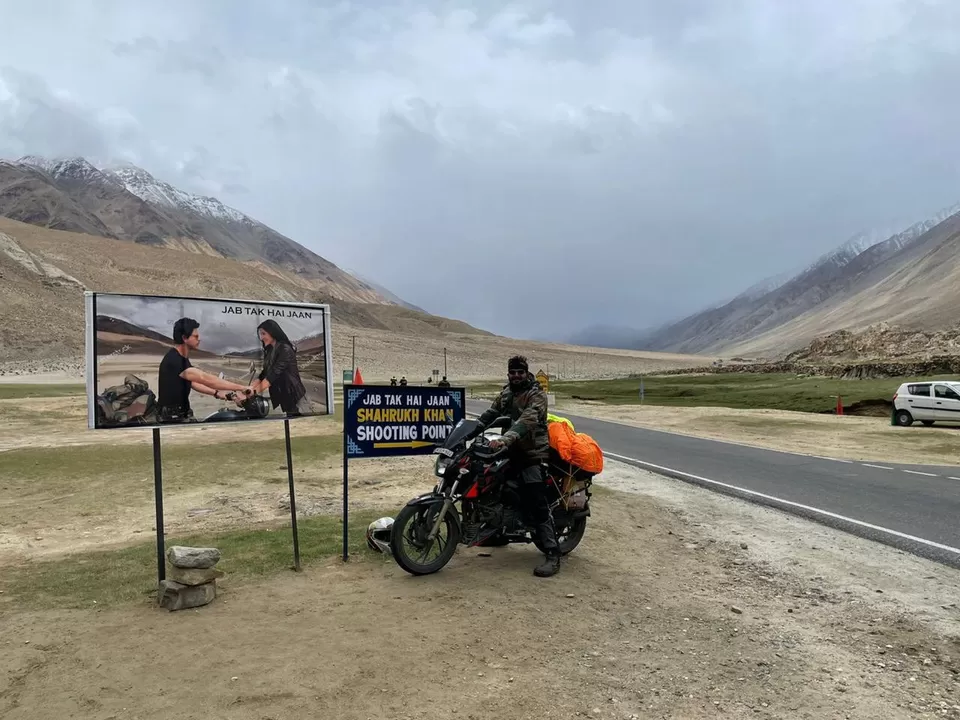 Usually after seeing Pangong lake, 90% of the tourists leave towards Leh and then back to their hometown but I came with time and wanted to see everything I could. Umlingla pass was the major spot I wanted to cover.
We left at 10am in the morning after the breakfast but again scenic views were completely different roads became flats with mountains too much far away with desert kind heavy sand on the road. Almost everyone in the group fell atleast once and then we crossed Loma, which is India Tibetan Border Police Post
And then roads became so smooth that you would like to drive faster but no road was getting in between which you won't understand if you don't come closer due to which one of our person fell down twice due to over speed which damaged it's vehicle's knee guard and one mirror so it is always advisable to drive in controllable speed in Leh Ladakh because it's full of surprises.
We reached hanle at 2/2:30pm and then another struggle started, finding a home stay, because wherever we went it was full but we found after searching for 1 hour but I would suggest you to book Padma stay if you are coming to Hanle. You will find it on Google.
Till Pangong Lake, you will see guys, families and too many married couples. I didn't know that Ladakh can be a honeymoon spot as well. But when you reach hanle you will see mostly bike riders, very very few couples(very daring one I would say).
After untying the bags, freshening up, task was to find petrol as we had planned to exit Ladakh from manali highway covering Tso morori lake and we would find our next petrol station at keylong, 120km from manali, i.e. we had to cover more than 500km without petrol pump. Luckily we found one at a tea stall selling a litre at Rs.160 which is 60% higher than normal cost but it's completely fine. I had tied 15 litres on my bike with 12 litre fuel tank so 27 litres with least average of 25 would take me to around 700km which was decent enough and if required more I will find on the way.
Petrol is seriously a stress in Ladakh which you will have to figure out in ladakh and in areas like Hanle, you will find only at tea stalls/with locals.
After dinner, I came out to watch beautiful stars and I was mesmerised that Ladakh has this also to offer and you keep looking up till the time your neck says "Ab bas karo".
It was only 120km ride today.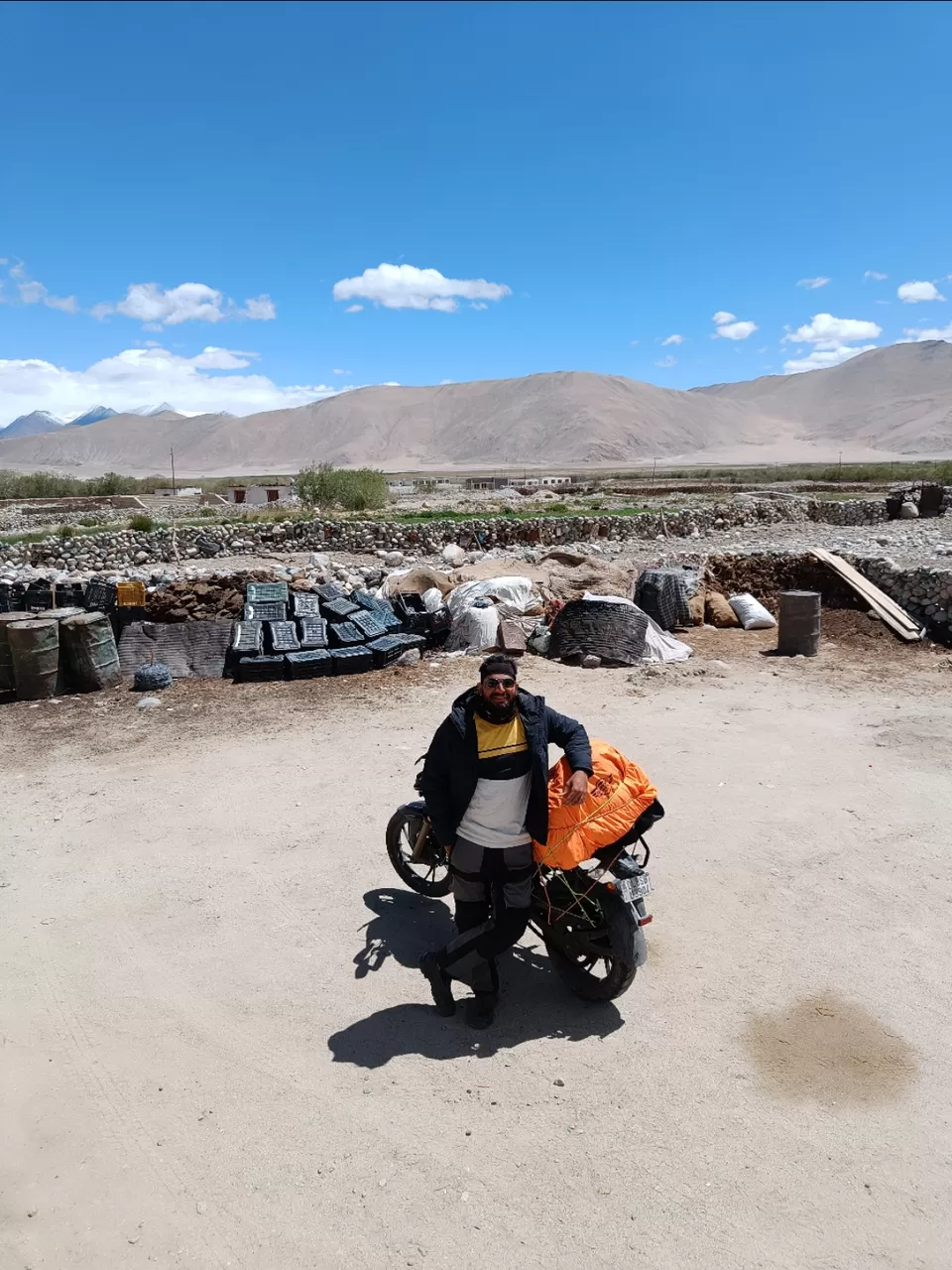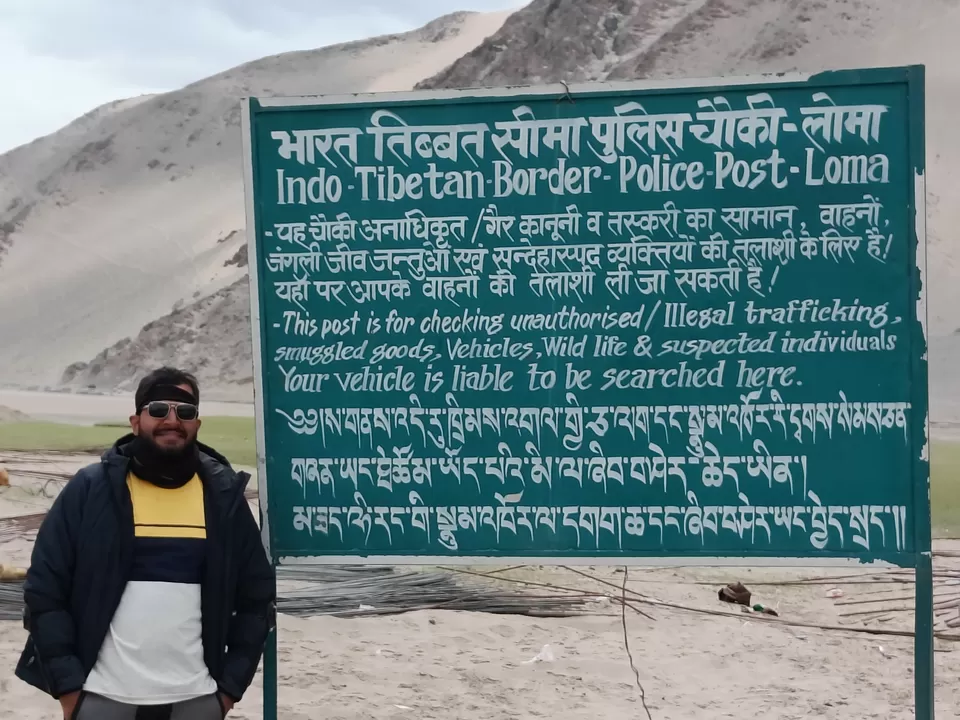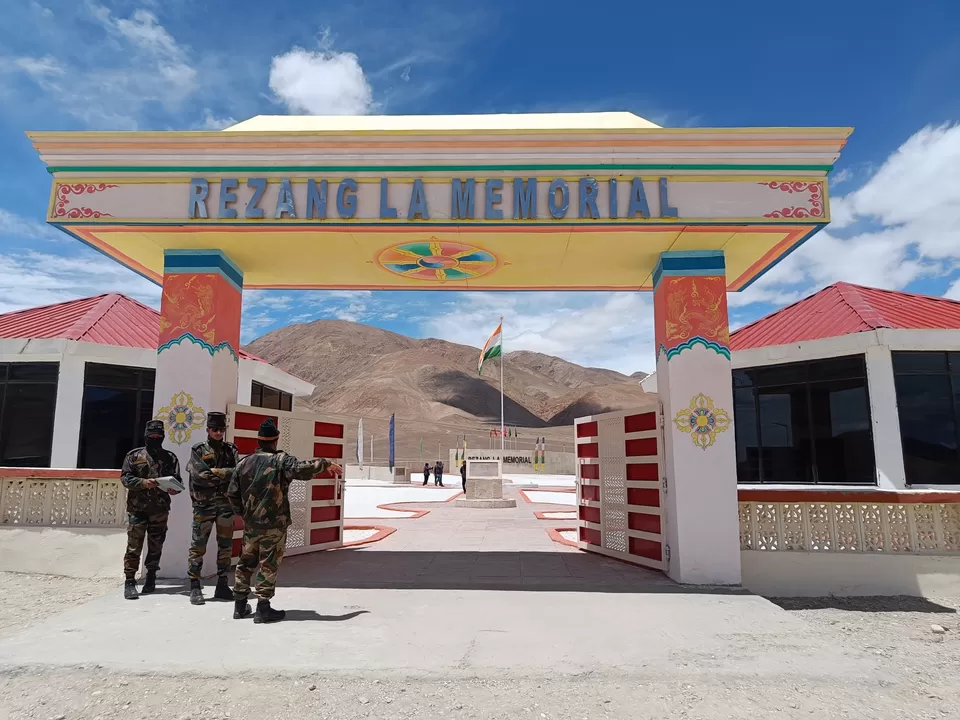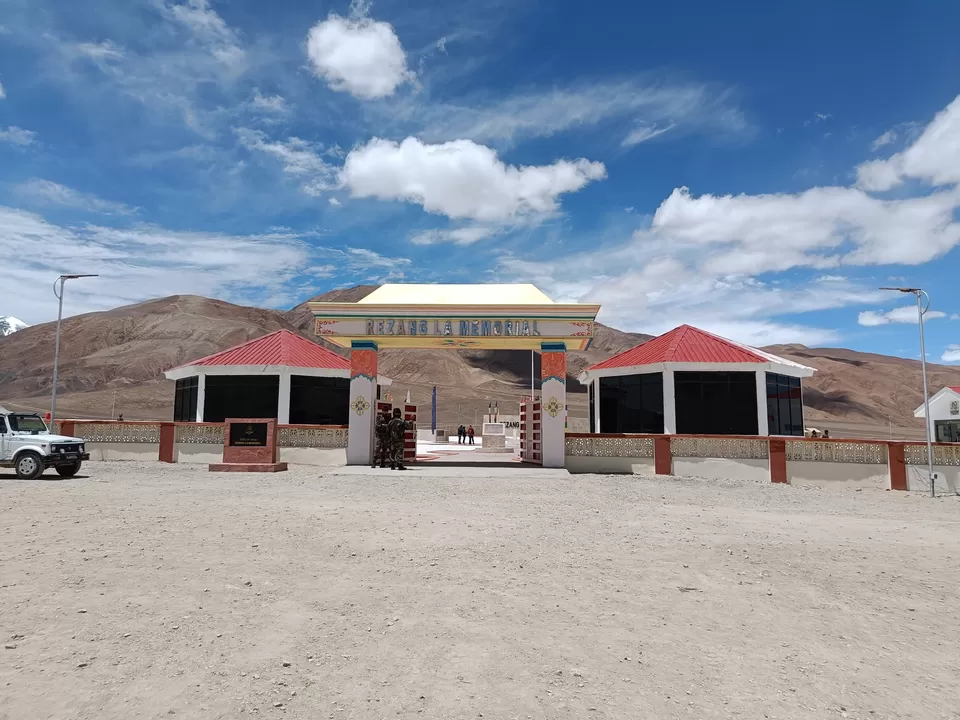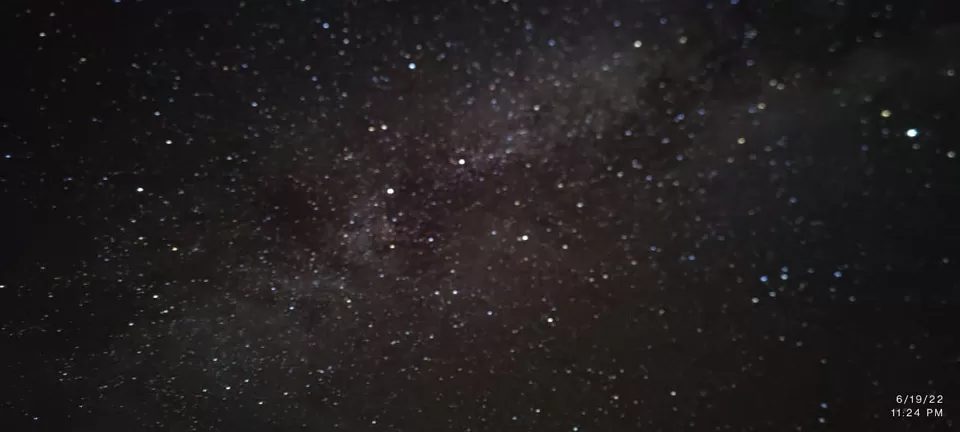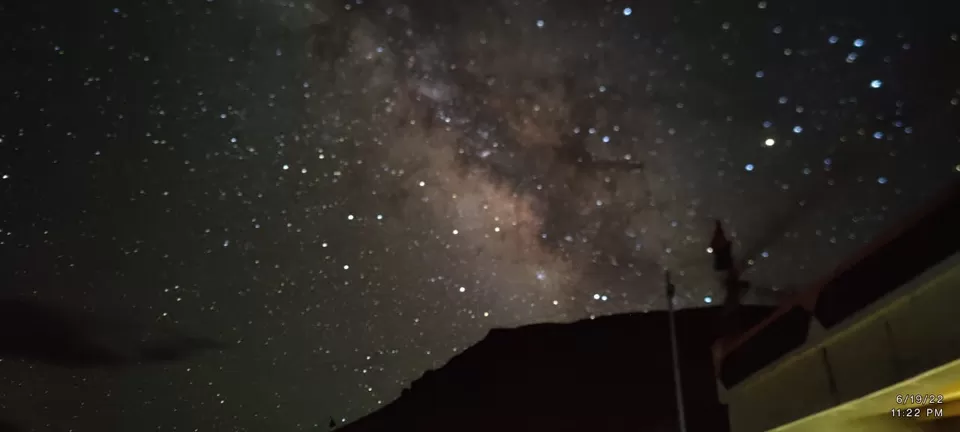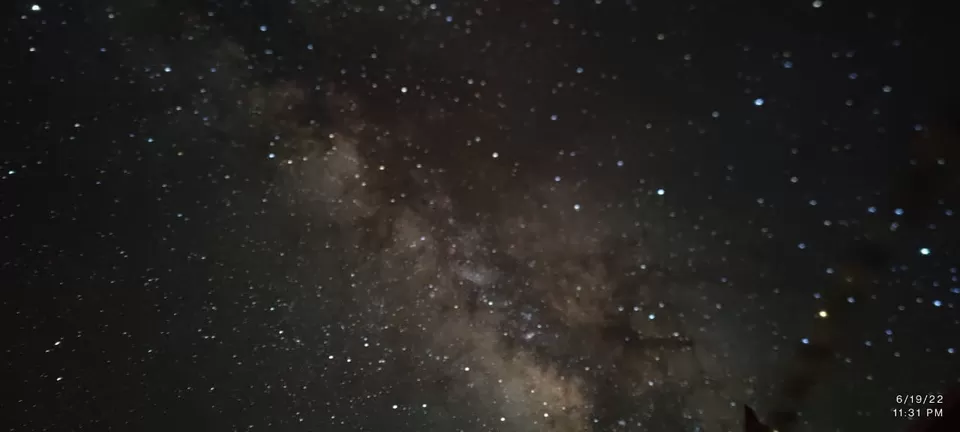 We all knew that today is the only we cannot afford to leave early for Umlingla pass , you will get freezed, because it is at a whopping height of 19,030 ft with lowest oxygen levels and extreme cold.
Distance was mere 70km but there were no roads upto 40km, seriously there were no roads, it was completely off road and the next 30km was completely smooth and I was shocked how could BRO develop such excellent condition roads here, hats off to them.
We left at around 10/10:30am in the morning after having breakfast and reached Umlingla pass in 2.5 hours and the moment you start approaching closer, your bike knows where you are heading, you can't go above the first gear due to the height so you can imagine the height with extreme cold.
And finally after we reached there, I couldn't realise that yes I achieved what I wanted to because it was extreme cold and I was like "Ek picture click krke niklo yahan se" and seriously I left that place in just 5 minutes, I wasn't able to tolerate the extreme cold that place had to offer and that too with low oxygen levels.
We left and we reached back to hanle at 4pm.
Now ask was to stay here for another night or leave for our final destination spot in our long Ladakh Ride Journey, again I never stop until there is any extreme emergency so I convinced the others as well so finally we left for Tso Morori lake, a less known lake, very few people visit due to it's remote location and you will visit here only if you are going towards Leh Manali highway.
It was 5pm as we took some rest and ate something, distance was 160km and we knew we won't be able to reach tso morori but let's see just before getting dark we will stop and look for a home stay.
We reached at Sumdo at 6:30pm after crossing the famous Mahe bridge and decided to stay there as there was no stay option between Sumdo and Tso Morori so along with courage it's important to keep asking from locals where all you can get a home stay.
In all the home stays in Ladakh, you will get dinner and breakfast included in 90% of the cases.
So we finished a very adventurous day after 250km ride today, had our dinner and went for sleep.
It is advisable to not come to Umlingla pass with a pillion rider because I saw pillion dropping from bike and coming on foot for some distance.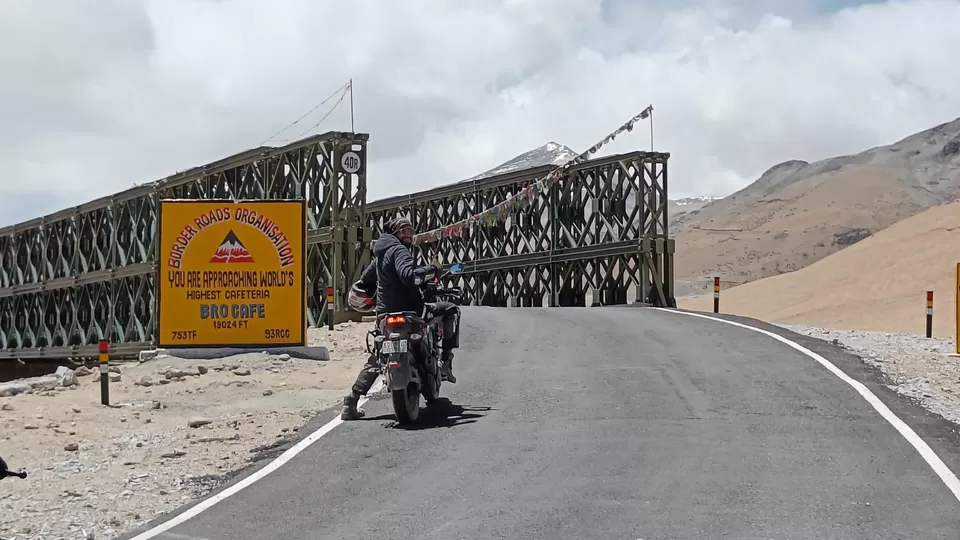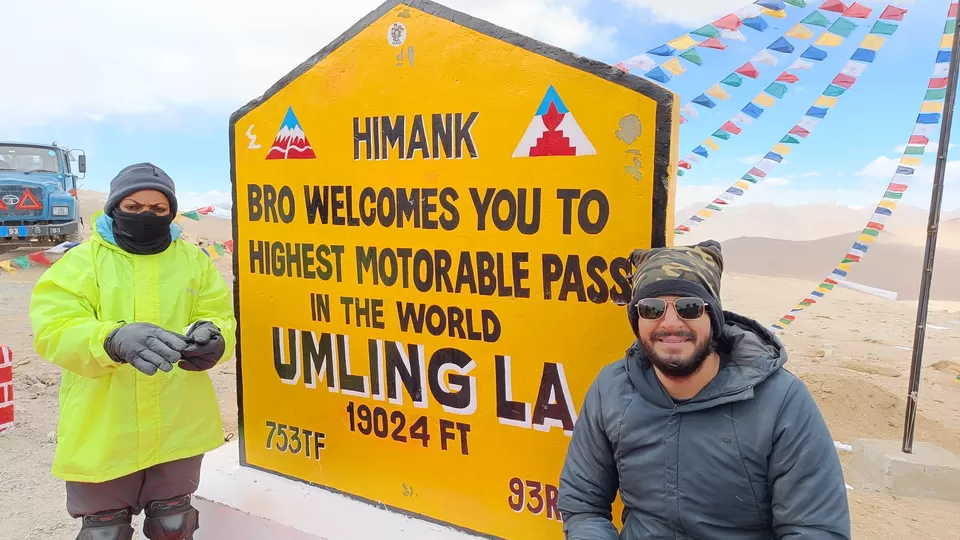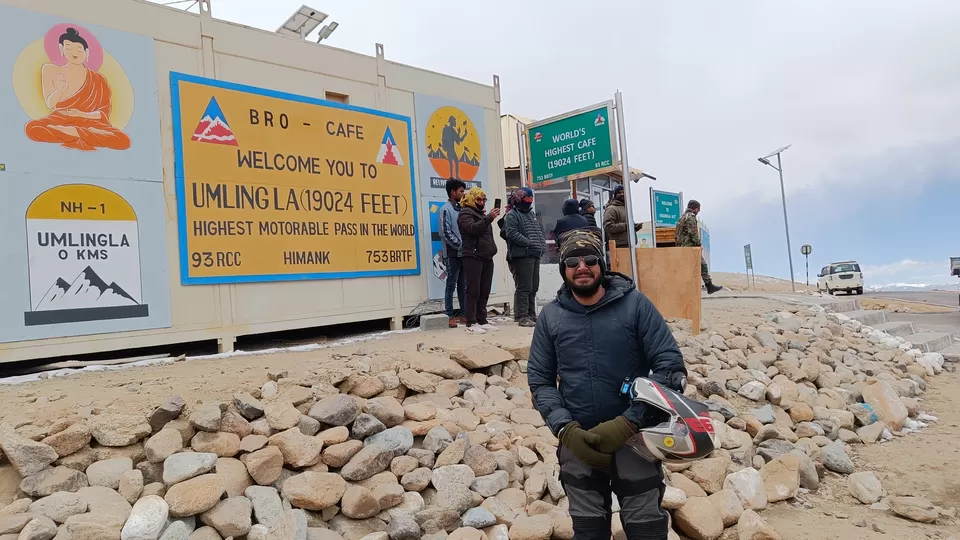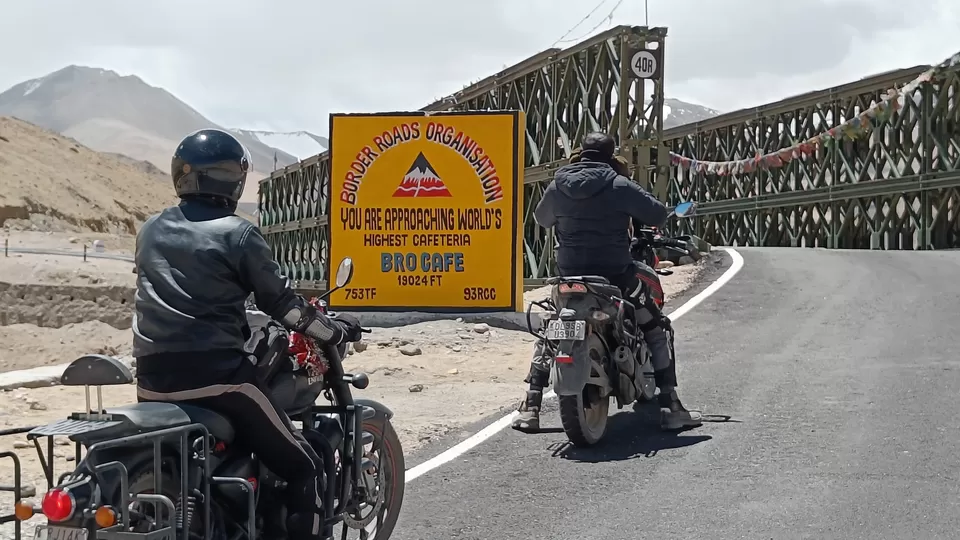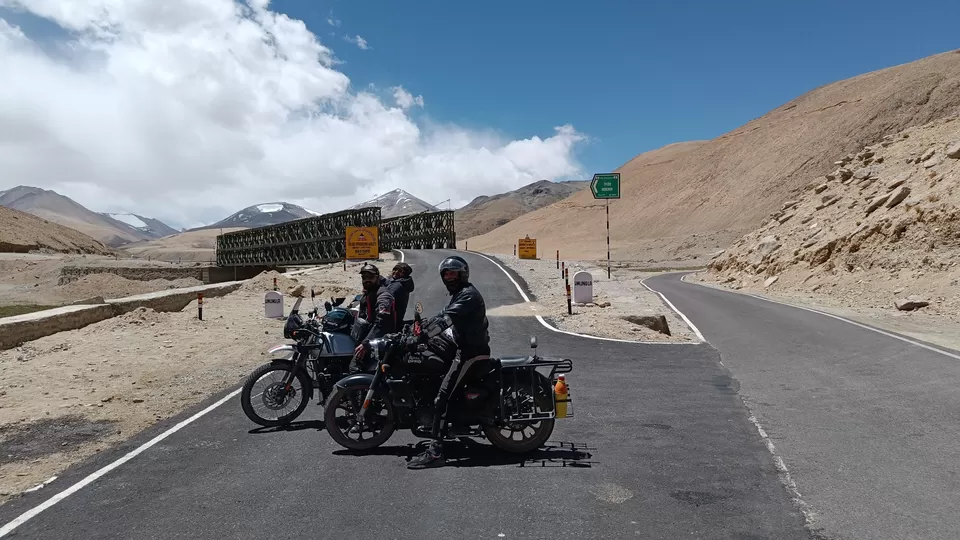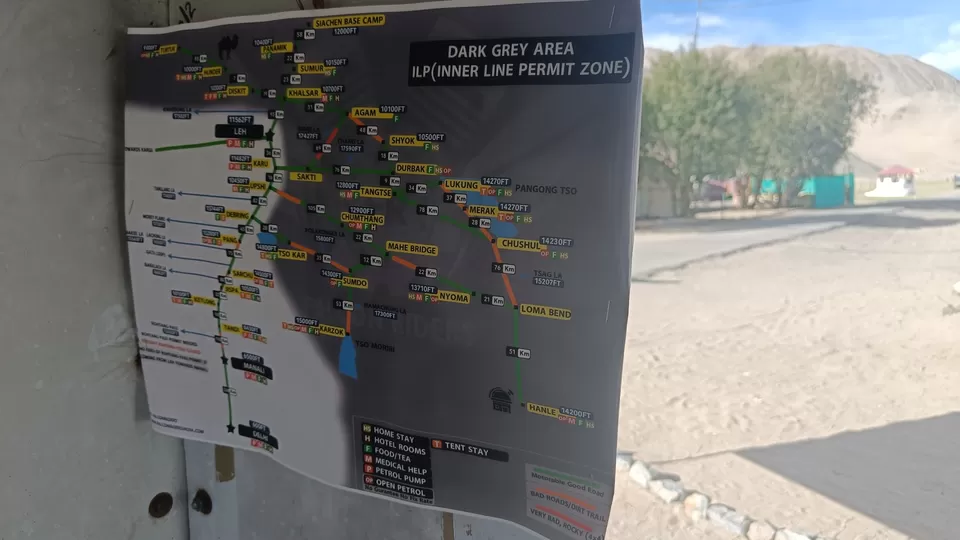 Well it was our last day In Ladakh and Tso morori was our last spot to cover and after that plan was to head towards Manali.
One of the locals also joined us to visit Tso Morori he works in a Monestry at Mcleodganj where Dalai Lama lives.
Tso morori was only 51km from Sumdo but it was completely off road so it would take minimum 2 hours to reach and 1.5 hours to come back and a 1 hour stay there so we came back in 4-5 hours to Sumdo.
Tso Morori was again a beautiful lake but yes not as spectacular as Pangong, but yes this was one of the spots where you will find least number of tourists, very few people come here and visit but since I wanted to cover all so plan was to not leave it and tick mark it as well.
We left Sumdo at around 2/3pm and we were ready to leave Leh and bid a final goodbye and target was to reach Pang/Sarchu and next day direct to Manali.
And yes journey from Sumdo started with really bad off roads which makes it difficult for you to balance and you were just waiting to get it finished quickly. But as evening was approaching, water crossing levels started rising and we witnessed few which we had to cross intellectually after checking the depth, see if there's no water towards the corner but in between one person fell in the water crossing and instantly we had to rescue him and the bike and since the water cold was so damn cold that his legs were freezed and had to sit for few minutes.
We reached Pang at 6:30pm after crossing famous Moray Plains where most accidents happen on this highway due to completely plain smooth roads, so it's advisable to drive carefully while crossing Moore plains, I already saw 2-3 trucks aside due to accident.
We found a home stay in pang that happened to be a food stall. Lot of people stay in Pang so it was a small village full of locals and tourists. We were happy to get warm "Dal Chawal" with Omelette in Dinner.
Everyday before going on for sleep, you still do a lot of things, changing your clothes and clean your riding gears daily with a dry/wet cloth because you have to wear them, wash your face properly/take a bath if weather allows, charge your phone/powerbanks, look at your bike once if there's anything wrong you feel, message to your home once where you have reached and have dinner properly.
We were optimistic that Jio Postpaid works everywhere in leh ladakh, that's not true it's better you take a local BSNL sim from leh but still BSNL also might not work somewhere but would work at 75% of the places and Jio at 50% of the places.
And I had already informed my family not to worry if I am out of network for a day, the moment I get network I'll call you.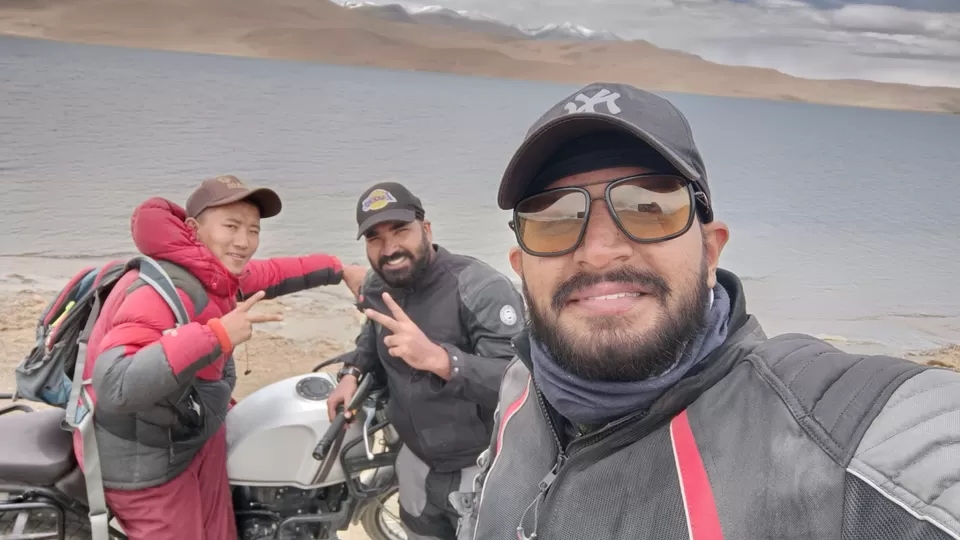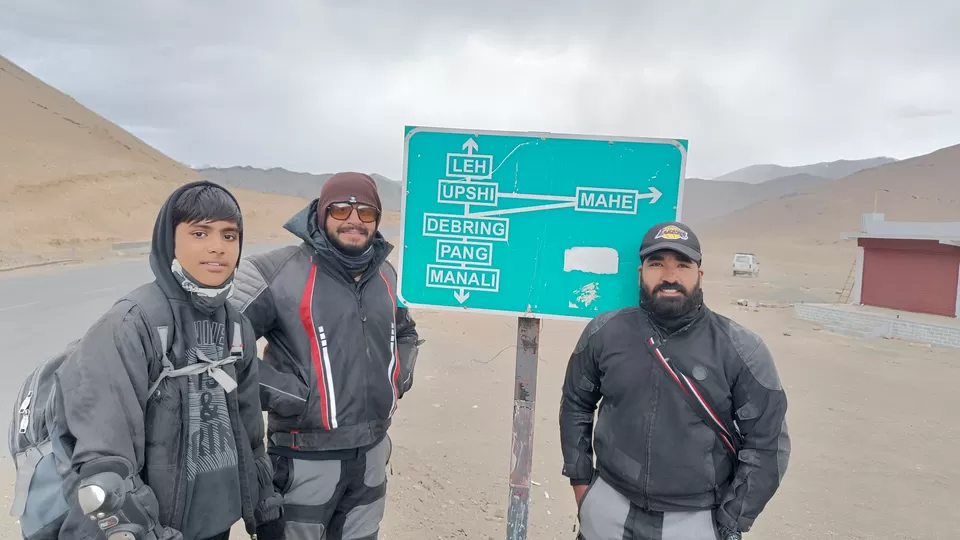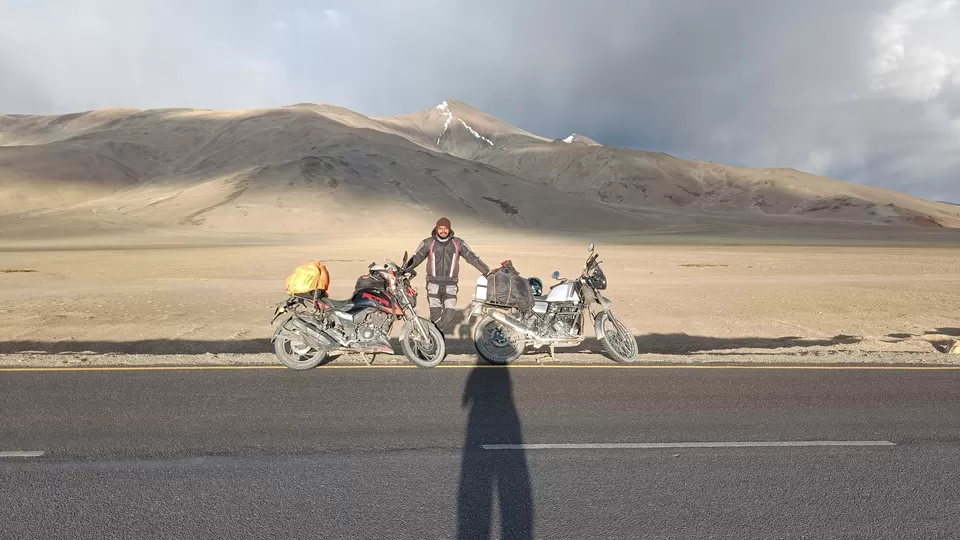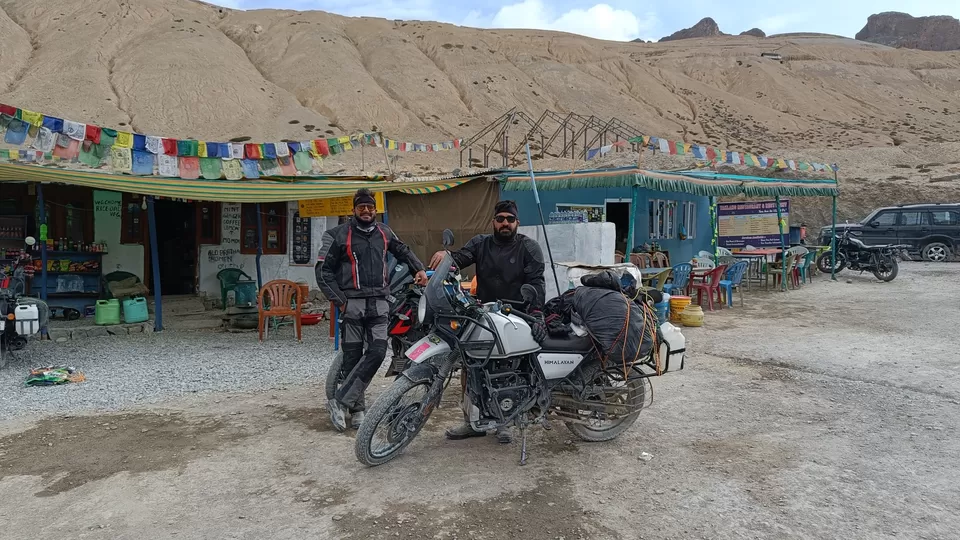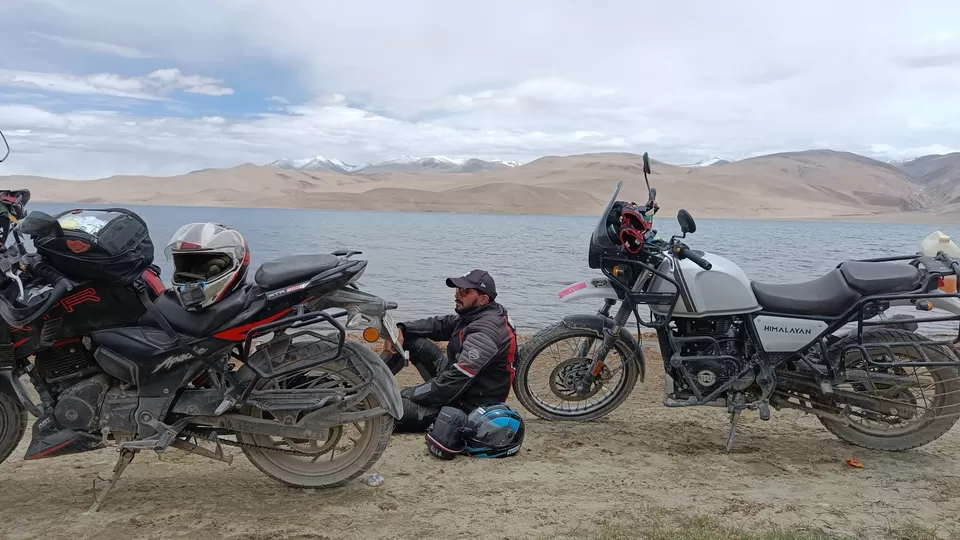 One people in our group had some problem in his bike so we got a little late and left for Manali at 10:30am after the breakfast and now we were about to witness the beauty/passes of Leh Manali highway as we already witnessed beauty of Leh Srinagar highway.
After crossing Umlingla pass, we were confident to cross any pass but there is one pass on this highway which is known for it's danger, which is Baralacha pass and I was pretty excited to cross it.
But there is yet another famous spot on this highway, known as Gata Loops, road is built in a way such that 21 hairpin bends can form, so you just can't manage to speed up, as soon as you speed up a little a loop will come and you will have to turn and again very very advisable to drive very slowly and carefully, as it's a very high accident prone area
First we crossed lachungla pass, 16,616 ft and then head towards the dangerous baralacha pass and while we were getting closer we understood why it's called dangerous pass on this highway because are so small that a bike and a car 6becomes difficult to cross together and imagine too many trucks and tempo loaders running on the same road and yes once with god's grace I was about to fall in well of death but luckily I balanced properly and took my bike towards my right but these things happen so always go on a bike which you can manage. It's a beautiful pass with snow capped mountains everywhere making it a great scenery.
And yes be ready to witness heavy Traffic Jams on Leh Manali highway and we started doubting whether we would be able to reach Manali on time.
One of our bikes got punctured in Jispa so we had to stop there for 30 minutes but yet again witnessed a beautiful place where you can stay in camps located on the river side. The moment we left, it started raining very heavily so we stopped, wore our rain coats and started driving but it kept on raining heavily, heavy means heavy the way it rains heavily in Delhi or anywhere. We were completely drenched but target was to reach Manali as someone said that it was not raining at Atal Tunnel. And yes we reached Atal tunnel at 7pm and rain had stopped.
Everyone heard of Atal tunnel when it was inaugurated in 2020 and I had in my mind that will visit Atal tunnel while coming back from Leh, so did it happen. I could say that it's a perfect example of Great Engineering which helped reduce distance by 50km and helped locals of Lahual area to be connected with Manali.
The roads from Atal tunnel to Manali are so smooth and broad that you will speed up your vehicle, we reached Manali at 9pm after 30 min stay near Atal tunnel. Found a hotel near the market and entered there.
We had plans in the morning to roam and chill in Mall road, manali but we reached so late and were so tired that after freshening up, most of the things were closed. But I went outside with one of them for a walk at 11pm and I couldn't believe that it's Mall road, Manali, I was like "Itni Bheed kahan se aa gayi, saare delhi, chandigarh log yahi aa jaate lagta hai"
So, only 1 day was left and we talked for 1 hour about our Journey from the last 12 days which would be the most memorable ride of our lives.
2 people in our group were 46 years old and said "Ghar ki Zimmedaari mei itna ulajh gaye ki mauka hi ni laga apne liye sochne ka and jitna bhi karle shikayetein humesha hogi to accha hai ki apne liye bhi jeele"
We slept after a long talk at 1:30am at night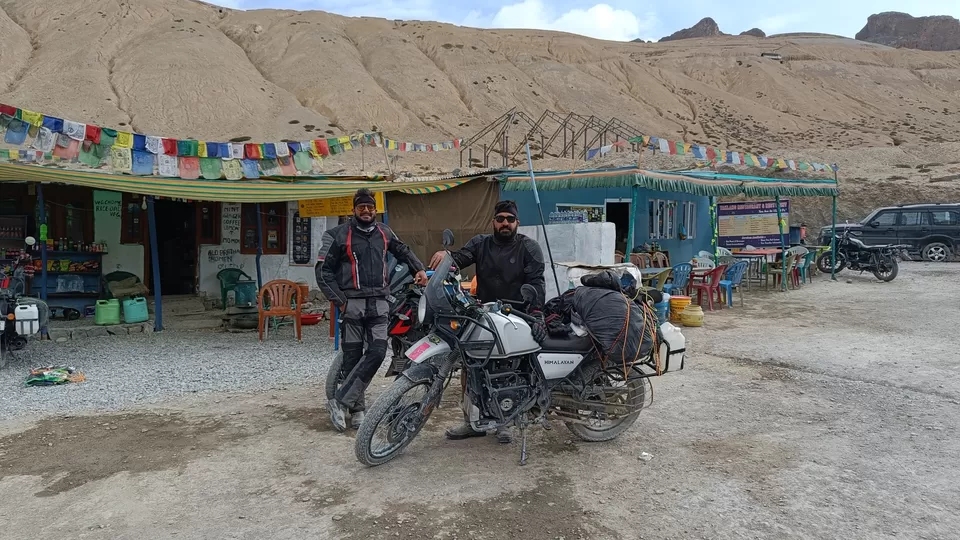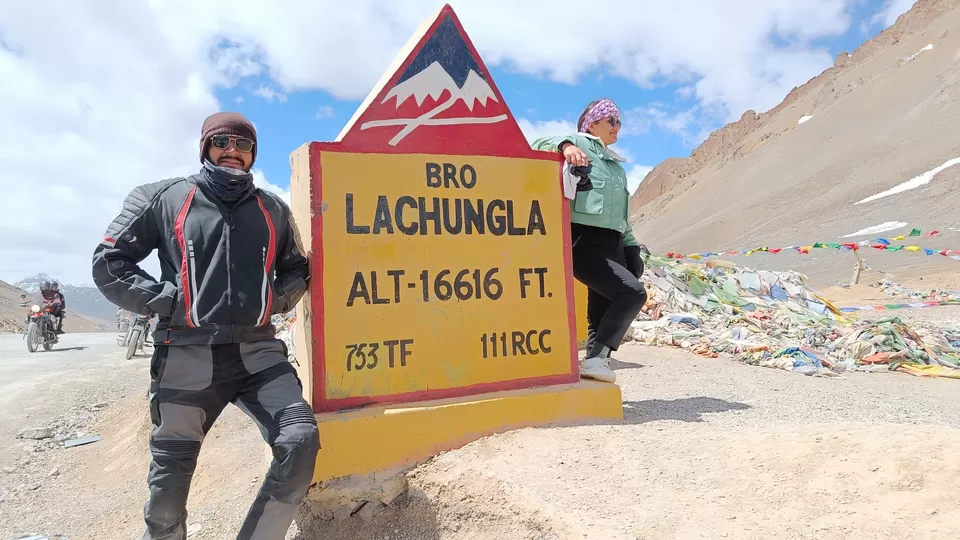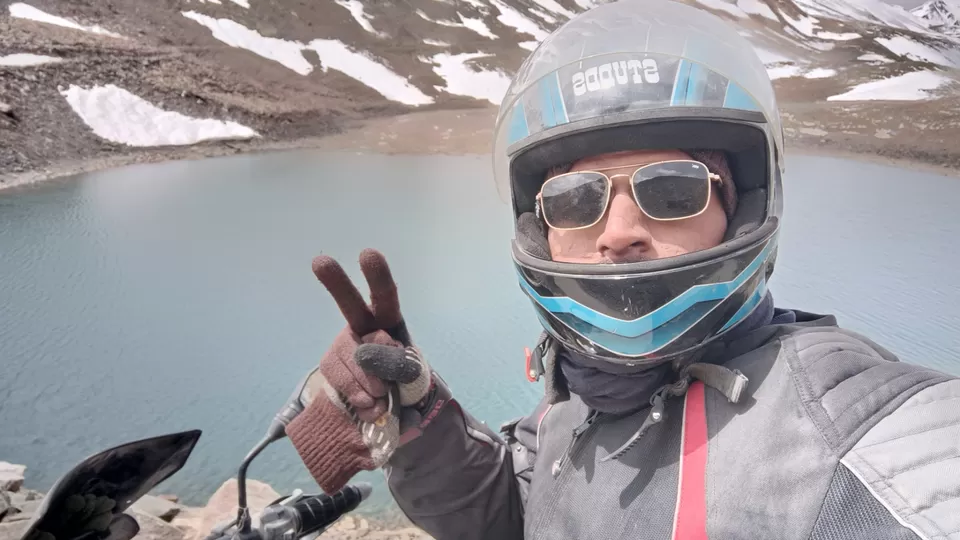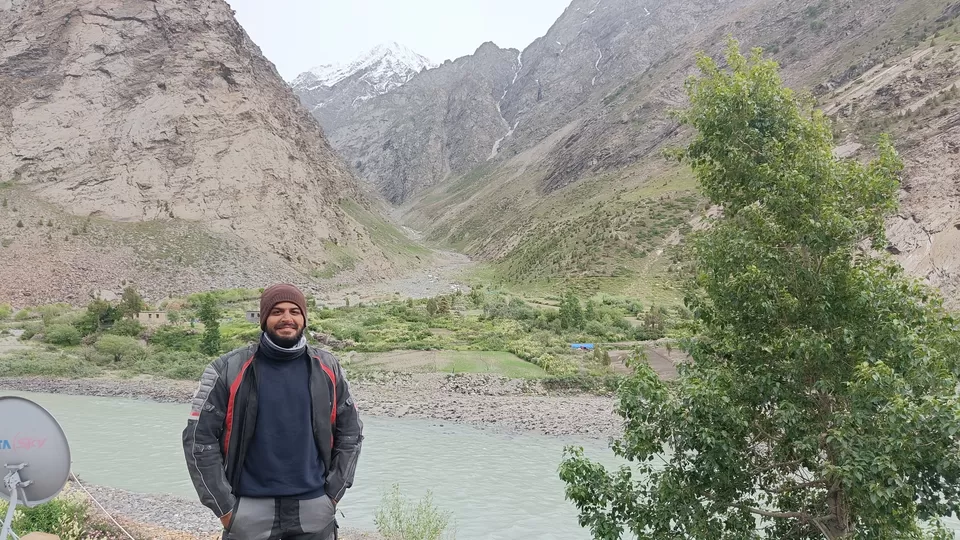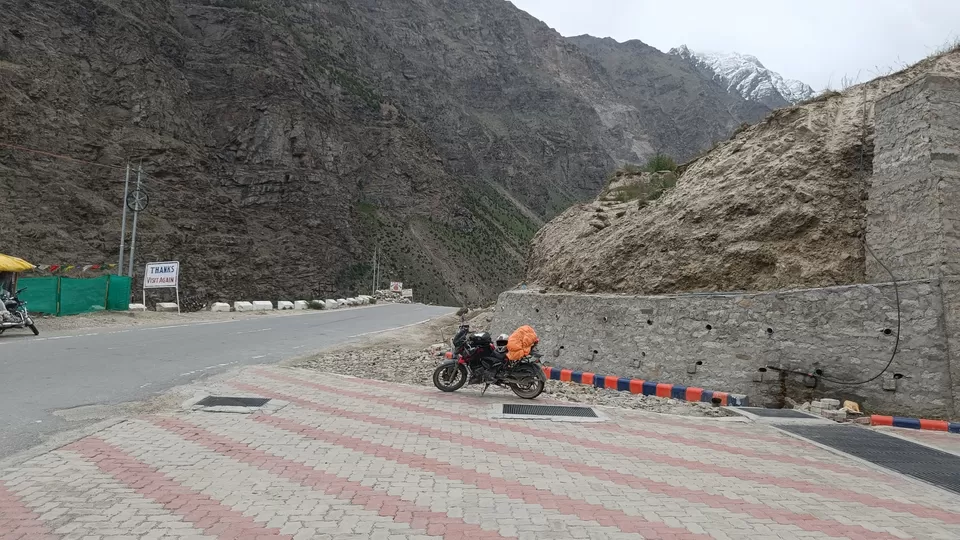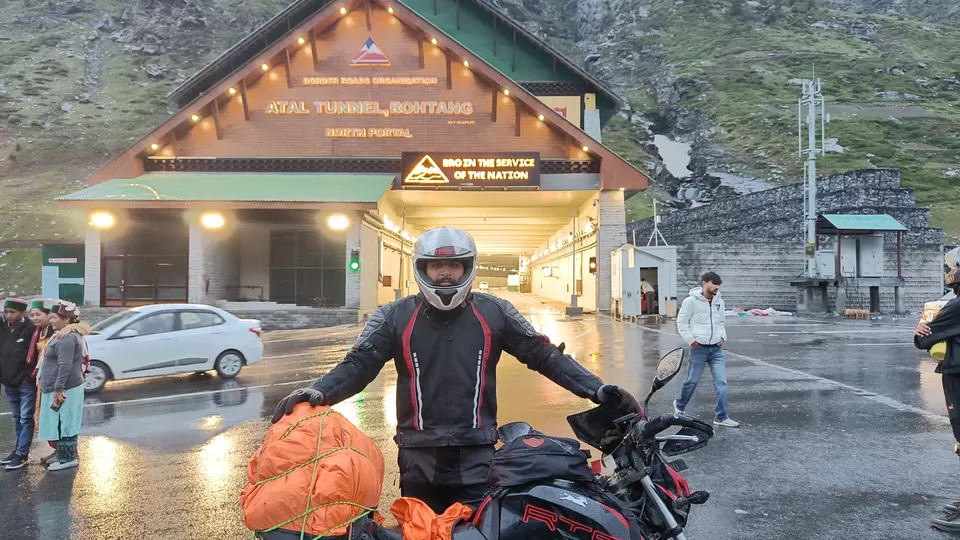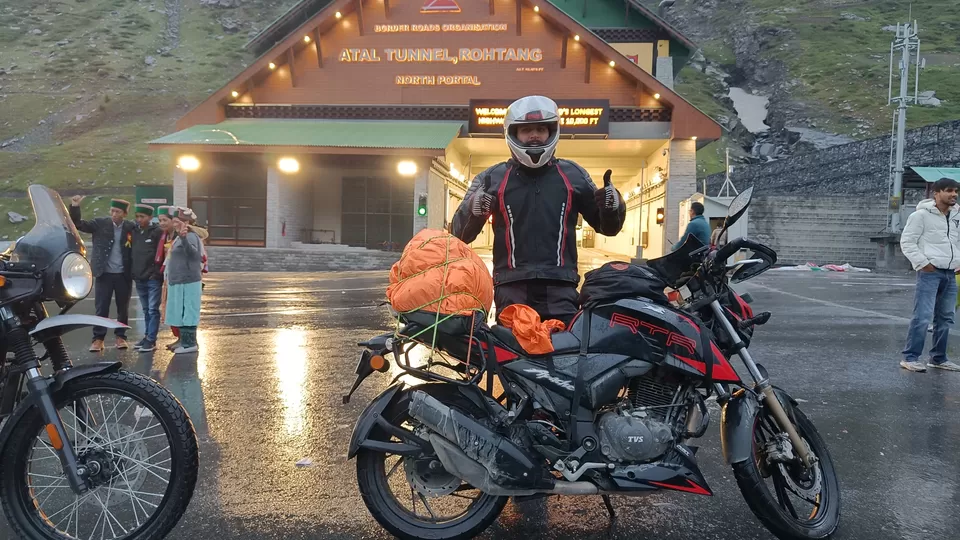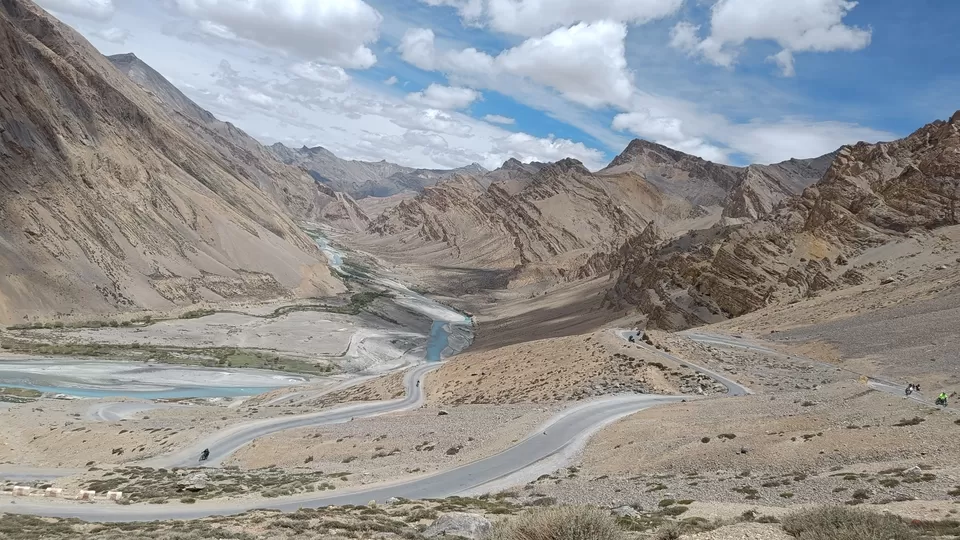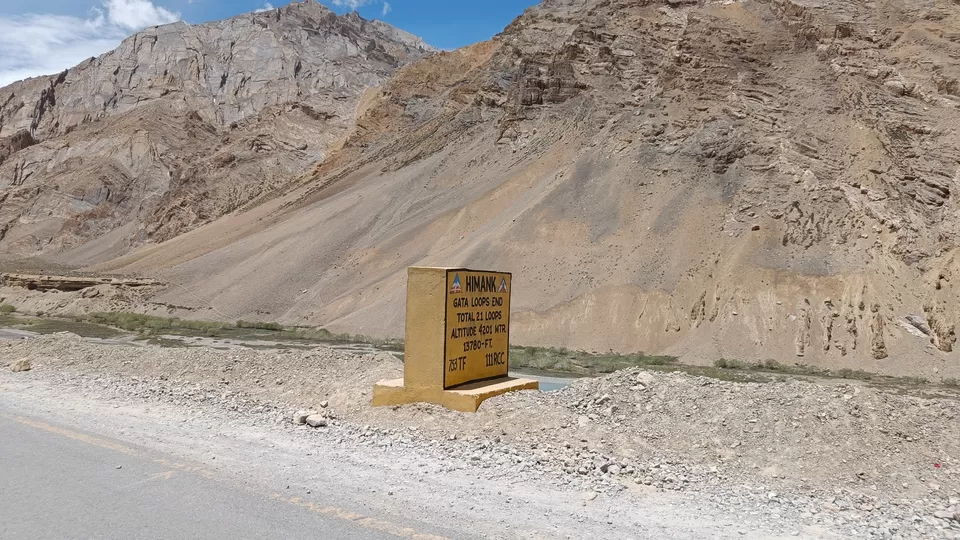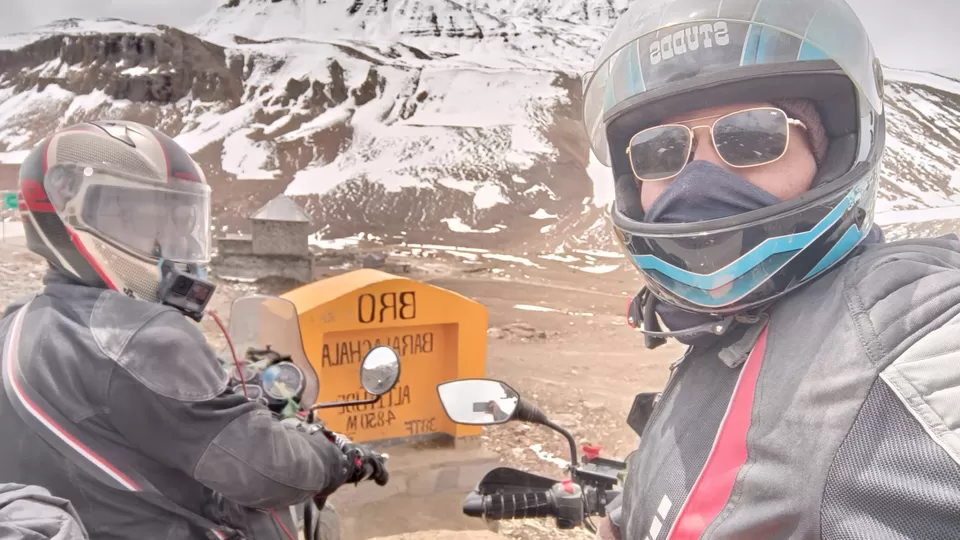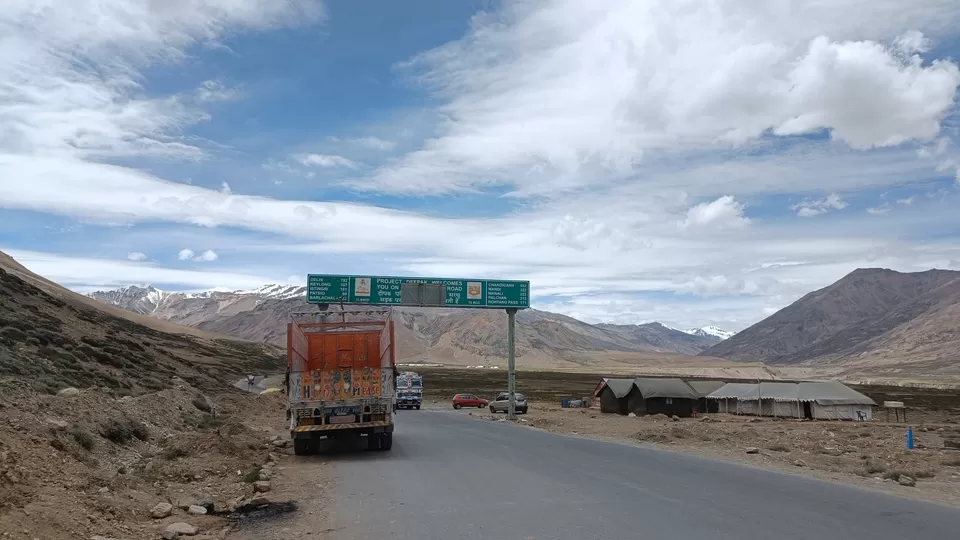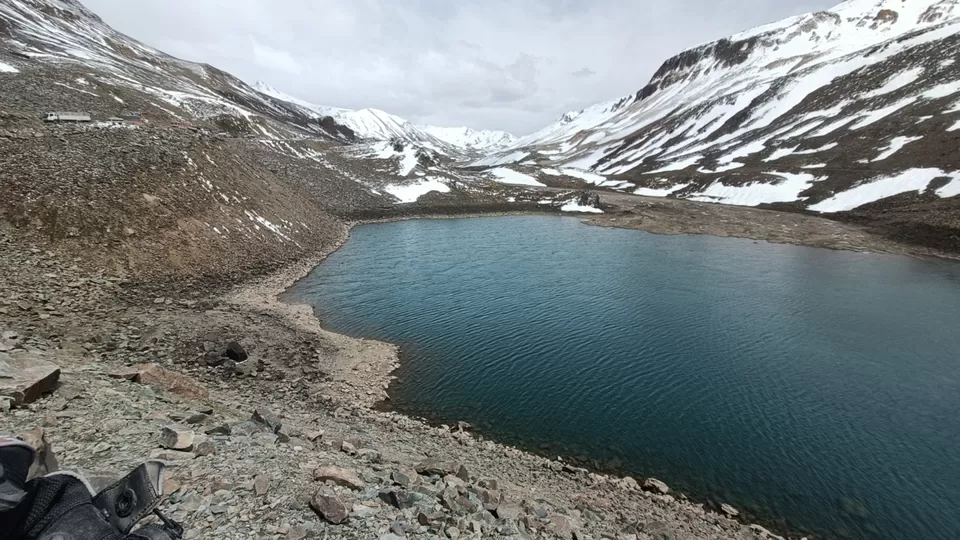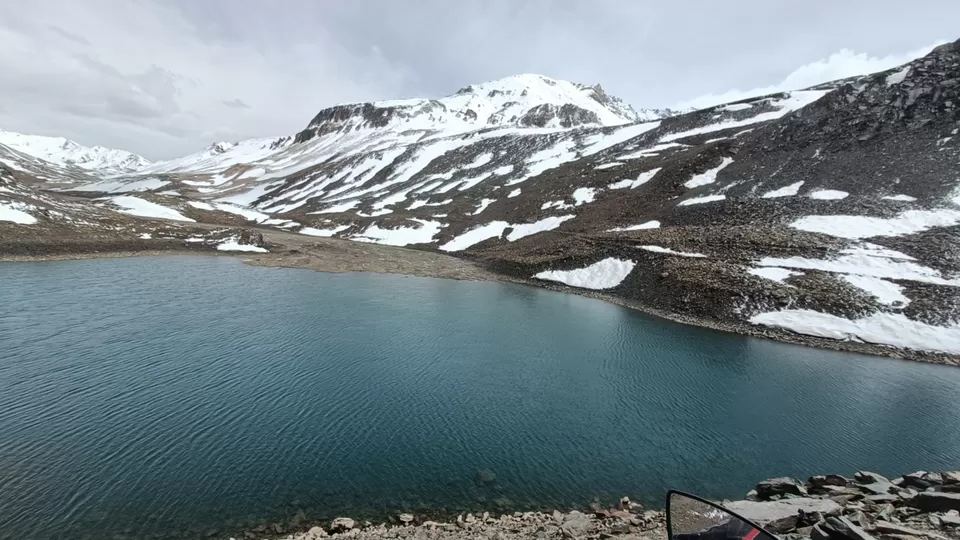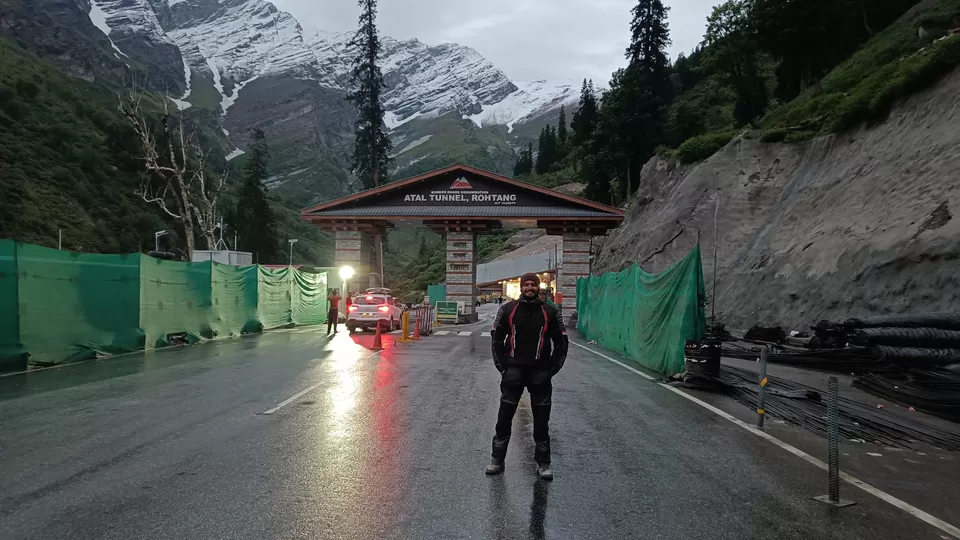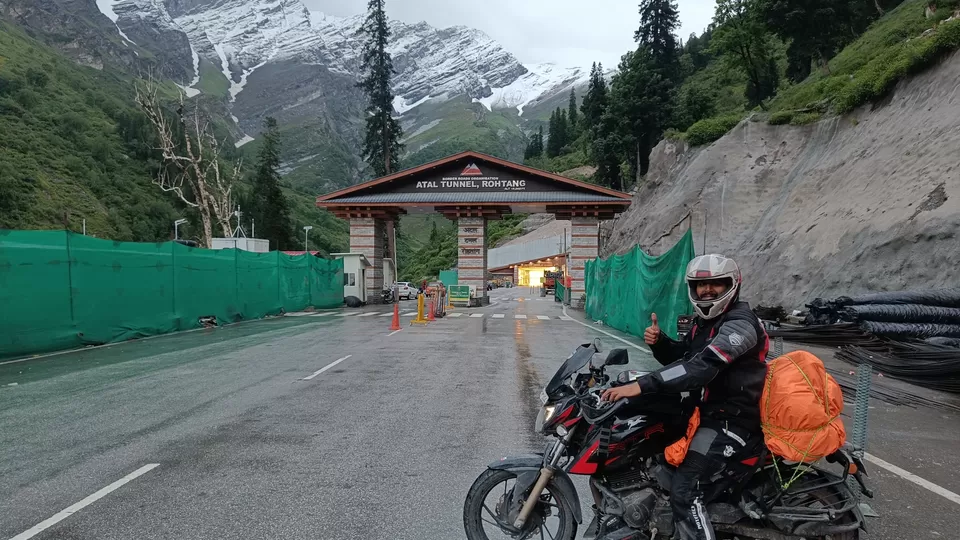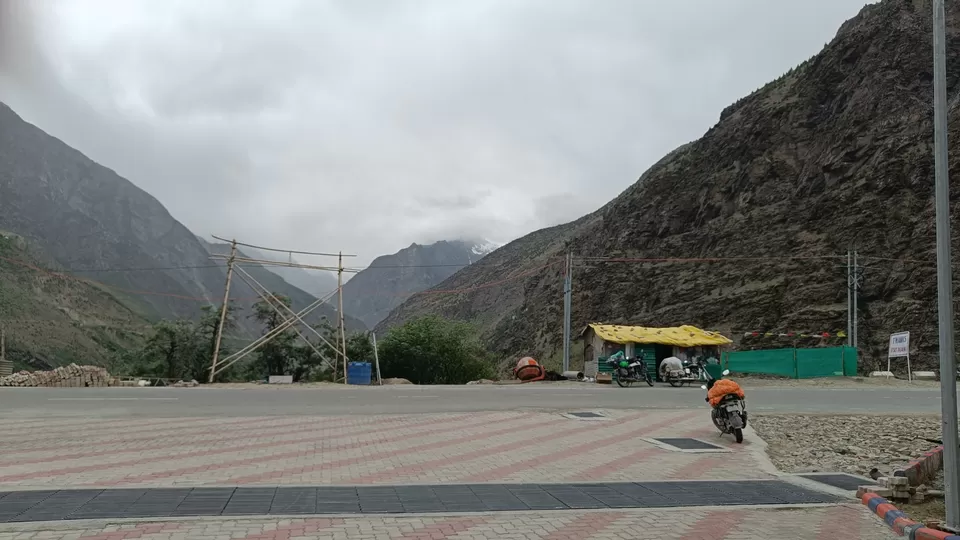 So it was 23rd June, Thursday and I woke up at 9am in the morning and talks were happening to spend a day in Manali since we had buffer days but I was not interested because I had seen Manali twice before and I wanted to reach home badly and told them that you can wish to stay, I will head towards delhi in the next 1 hour. Also, I told them don't see Manali right now because everything will look same and then you might say "Manali mei kuch nahi hai" because the kind of scenic views you have witnessed you won't say anything more than that.
But they stayed, one took a bus because he had rented bike till Manali so I had to ride alone from Manali to Delhi which had already done on 2019 while coming back from Spiti Valley. I was really excited to cover it alone, threw all the petrol cans as you will find sufficient now, weight became little light and I drove comfortably.
Well I have to appreciate Mr. Nitin Gadkari again for developing excellent, fabulous roads in Manali, in 2019, I witnessed heavy traffic but it all vanished because they've build 4 lane fly overs which would help you to complete Manali without any traffic.
It was a great ride alone and it took me 11 hours to complete, where it took 14 hours in 2019 so kudos to NHAI.
So, my long ride was over and my parents got a very big sigh of relief that I came back safely and finally fulfilled my dream which I saw 10 years back with lot of problems and difficulties.
And remember Ride from Delhi/base location far from Delhi to Ladakh is not easy and you can complete only if you have a strong purpose and really like travelling. Because Ladakh is not a leisure place/luxury vacation as it is full of adventure where you take decisions daily and some day succeed and some day fail but these rides teach you the lesson of life.
If it's your dream, then there are no excuses, you have to fulfil it and if you can't then don't dream in your life.
"Where there is a will there is a way"
So, this was my 13 day Itinerary from Delhi to Ladakh covering mostly all the places Ladakh has to offer.