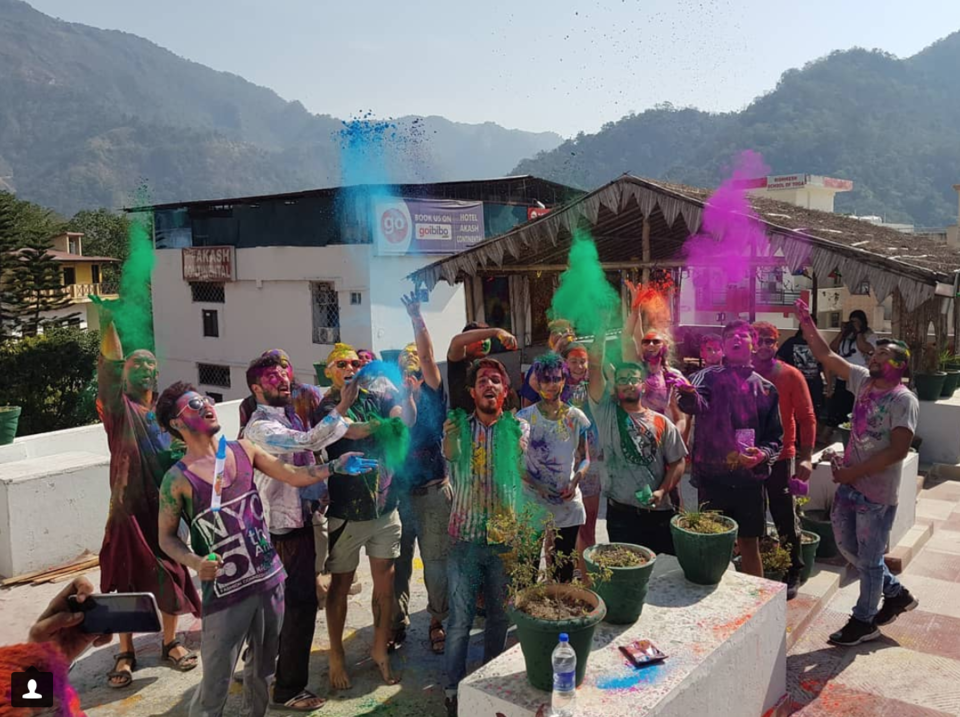 On most days, I speak in favour of the hostel life. There's a case to be made for meeting new people, making friends, expanding your horizons and garnering new experiences, which would otherwise not be possible in hotels. But my most recent trip to Kerala has got me weighing the benefits against the cons.
I was bunked in a female-only dorm next to two very friendly, outgoing girls. The only problem? One of them occupied the bunk above mine and they couldn't keep their hands off each other at night. They even asked me to join in on the "fun". I spent the next two nights there in an awkward silence, unable to sleep and unable to say anything. This experience, however, got me thinking if other people have experienced weird stuff in hostels.
So I asked my colleagues at Tripoto and some of my other friends about the most bizarre things they had ever experienced while staying at a hostel. Here's what they said:
1. The French connection
Akanksha Magan, 28
At this hostel in Benaras I was staying in a six-bed dorm with a French couple, who had requested a private room but couldn't get one. After we checked in, they asked me if I could step out for a few hours and give them some alone time. I thought, "Good, they'll be done with their business by the time I return." Boy was I wrong! When I came back a few hours later, I entered to a full view of the French guy's butt. He was stark naked, as was the woman lying on the bottom bunk. And they were completely unperturbed by my presence. The guy even said "hi" as he walked out of the room while wrapping a towel around him. I had to put up with regular flashes of naked people for the next four days!
2. The doodie disaster
Mohit Yadav, 23
This one time, on my way from Delhi to Manali, I ended up befriending a guy on the bus, who was also staying at the same hostel as me. On our first night there, we ended up having a wild party with the other guests. When I got up to go to bed at around 2am, I realised that my new friend was missing. After searching for him for about an hour we found that he was locked in the ground floor bathroom. We tried everything but he wouldn't come out. Eventually, one of the staff members went around the back and climbed in through the window and opened the door from inside. The sight we were met with was kind of a 'disaster' to say the least. The guy was lying on the floor with his pants half-way down, poop on the floor and a joint in his hand. He was completely passed out. I had to clean his ass, put on his clothes and drag him to bed. Needless to say, the high was completely gone.
3. Pretty woman
Vineet Saini, 29
Six of us were travelling to Goa. We had booked a hostel and ended up having the entire dorm to ourselves. At night, we went out partying and one of my friends hit it off with a girl. When he asked her to come back with him to the hostel, she revealed she was a hooker and would charge him. After some discussion, we agreed to the arrangement.
All of us took a cab back and decided to leave our stuff at the hostel and head out again to give the "couple" some privacy. But once we were in the room, the girl did a 360 degree flip! Turns out, it wasn't a girl at all! It was a transgender, who had been running this business and robbing tourists for quite some time. He demanded that we give him all the money we had or he would put a video of our friend kissing him on Facebook and also send it to his parents. Freaked out of our minds, we had him settle for a little less than Rs 30,000 to leave us alone! That's one night, none of us will ever forget!
4. The accidental introduction
Trisha Singh, 30
I had arrived at the doorstep of this hostel in Manali in the middle of the night without a booking. The half-asleep receptionist somehow managed to get me a bed, but since everyone was asleep, we made the journey from the ground floor to my bed on the third floor in near complete darkness. I crashed immediately but woke up a few hours later to pee. Again from there to the bathroom, I had to go in complete darkness. While I somehow found the loo, I wasn't so lucky making my way back and ended up entering the wrong dorm. I obviously also got into the wrong bed and only realised this when the person who was already there woke up screaming. This bewildered man had no idea what was happening. And his screams woke up the rest of the hostel too. The journey from that dorm to my own was the most embarrassing one I've ever made.
5. Game of love
Sonakshi, 22
I was staying at this hostel with about 10 other people. During the entire stay, there was one creepy guy (who wasn't staying there btw) who used to keep barging into my dorm to find excuses to talk to me. This was after I had made clear that I wasn't interested. On my last night there, the owner invited all of us to a party he had thrown for his friends. We later found out that the creep was one of the owner's friends. Everyone ended up drinking heavily. Since I was travelling solo, I didn't want to go all out and just took a couple of drinks because of the social obligation. Towards the end of the night, this guy started hitting on me and even went to the extent of saying that he was in love with me. When I didn't reciprocate, he started crying. It got quite messy! I was grateful to be leaving the next day. But I still get calls from him from time to time and from different numbers.
6. A long night and free beers
Pallavi Paul, 26
My friend and I had booked a hostel in Pondicherry, which we'd paid for one month in advance. When we got there, the guy at the front desk impertinently informed us the room wasn't available and that they had "upgraded" us to a room in another building that was supposed to be a 5-minute walk away. Since they were providing a chauffeur, we took up the offer. Turns out, the building was a 20-minute drive away. When we made our way up the winding staircase, we found out that the rooms were locked. We called the hostel and yelled at them and demanded they send their car back to pick us up. Once we got back, we drank a couple of beers, which we refused to pay for, battled it out with the front desk and made sure we got a 6-bed dorm all to ourselves. Funnily, no one else showed up!
7. Poop-a-thon
Zarin Shihab, 23
While staying at this hostel in Chennai, I woke up to a weird smell on the first morning of my stay. I found the source to be a huge load of poop lying on the foot of the bed opposite mine. Since no one else was up, I decided to go out and take up the issue with the manager. When I talked to him, he revealed that they'd been having the same issue for the past three nights and someone had been going around pooping in a different dorm each night. They had failed at identifying the culprit and weren't even sure if it was a guest or a staff member. They cleaned up the mess after I complained, but this happened for two more nights before it stopped. It actually stopped happening on the day this group of a dozen English tourists left the hostel. Maybe it was one of them. We'll never know.
8. A morning I'll never forget
Priyanjali Dutta, 26
I woke up really early one morning due to some slight disturbance coming from the bunk besides mine. There wasn't too much light but just enough that I could make out what was happening. The guy on the next bunk had suddenly gotten up and started walking. To my horror he was completely naked. He just walked and stood at the edge of his bed, less than two metres away from me. He just stayed in that position for a good five minutes and then just climbed back into his bed and went back to sleep. I didn't know what to make of it. Needless to say, I couldn't go back to sleep. Worst morning ever.
9. Sausage fest
Amit Chauhan, 30
I had travelled to Delhi last June a friend for some work. It was peak summer and there was no AC in our hostel room, only a cooler, which wasn't doing much. One of these days, we were just watching some football online to while away time, when my friend, let's call him Ramesh, couldn't take the heat anymore! So he did what any man with a low IQ would do. He stripped completely naked. During all this madness we completely forgot we had ordered pizza for lunch and had left the door open a little bit for some ventilation. Our phones were of course on silent, so the receptionist at the hostel led the pizza delivery guy all the way up to the room and on seeing the door ajar, ushered him inside. To their horror, they found that the sausage wasn't only on the pizza. I froze. Ramesh, of course, froze and made a failed attempt to cover his junk with the phone that he had been phubbing on. The receptionist ran out almost immediately while the pizza guy just set the pizza on the nearest table and walked back as fast and as silently as possible. I pretended like nothing was wrong, but the moment they left, I was rolling on the floor laughing while Ramesh was cussing incessantly.
10. House of horrors
Ankit Berry, 27
Last summer, I was travelling to Dehradun with some friends. We were staying at a hostel on the outskirts of the city so the area was pretty much secluded. On our first night, we ended up sharing ghost stories over dinner. It was a little after midnight when everyone got to bed. We must have had about an hour's worth of sleep when everyone suddenly woke up to a weird whistling sound. Our first thought ran to ghosts! Now I don't even believe in them, but when you're just four people in a large, isolated building, the mind starts to play tricks. We looked for about an hour before realising that the source of the sound was a broken wing on an air conditioner in the farthest corner of the room. We got back to telling more ghost stories.
11. A glass full of bad luck
John Laker, 30
It was my first time in India and I have to say I wasn't having the greatest time. As I made my way to Pushkar after a week in Varanasi, I was already suffering from diarrhoea and a weakened immune system. My first night at the hostel in Pushkar seemed somewhat interesting. The manager offered me a glass full of this greenish liquid which tasted refreshing but sort of suspicious. After I had downed the whole thing, he told me it was bhaang or marijuana and that it would "cure" all my problems. I don't remember much of the rest of the day besides the fact that I ended up puking all over the terrace and falling down the steps. I woke up the next morning with a terrible headache and my laptop screen broken. Can't trust hostel staff in India!
12. Unexpected cuddles
Sarthak Singh, 24
I had booked a bed in a hostel in Udaipur but when I arrived there I found that they were running on full capacity. Angry and exhausted, I didn't even have the strength to fight with the manager. But after a little bit of a tussle, he gave me a bed up on the store room in the terrace. It wasn't the cleanest but I thought I would crash for the night and fight in the morning. I don't know what happened at night, but when I woke up, there was a guy next to me who had his arms and legs wrapped around me like I was his girlfriend! It was the most terrifying thing. I sort of screamed, waked up the sleeping stranger and just rushed out with my stuff without giving the place a second glance. Of course I didn't pay!
13. Language barrier
Varun Suchday, 27
This one time, I was putting up at a hostel in Jaipur, with some Australian tourists occupying the rest of the dorm. I had been on the road for about a week and was in no mood to start up a conversation so I pretended to not know English and they left me alone. Unfortunately for me, one of the girls from the group caught me speaking in fluent English on the phone that very evening. Her expressions were priceless and obviously I didn't end up becoming friends with that lot.
14. Camping out
Sreshti Verma, 26
I had made a booking in a 8-bed dorm at a hostel in Goa, thinking it was a female-only dorm. But while I was checking in, I found out that it was a mixed-dorm and all my roommates were guys. After some second thoughts, I decided to stay. While we ended up chilling and becoming the best of friends in no time, the real problem came just the night before we were supposed to leave. This one other guy and I decided to step out after dinner for a couple of drinks. When we got back, we realised that both of us had forgotten to take our phones and keys. Each of us had thought the other had it. We banged on the door for a good half-an-hour before giving up. There were no bunks available in any of the other rooms either and we both ended up sleeping on the couch next to the reception. In the morning, we found that the rest of the guys had also gotten sloshed and didn't even hear us knock.
15. Sleepless in Bangalore
Siddharth Sujan, 24
I was staying at a mixed-dorm hostel in Bangalore. Things were going pretty well. The staff was friendly, the food was really nice, and even my dorm-mates were decent. Then on my last night there before an early morning flight, I went to bed early. I was on the bottom bunk. I woke up around midnight to the bed shaking violently. What was happening? Turns out, a couple was doing it on the top bunk! And they kept at it for pretty long too. I obviously couldn't sleep and couldn't even get up and go because that would've made things doubly awkward!
16. Good-hearted strangers
Himani Khatreja, 31
My first stay in a hostel was also my first time on a solo trip. I was nervous to the point of being scared. After checking in, I headed downstairs to find something to do. It was around 3 in the afternoon and the hostel was completely empty. All the guests had gone out to explore the city. Feeling alone and disheartened, tears welled up in my eyes and I tried, but couldn't hide them. The manager, a young guy of 25 or 26, noticed and rushed to my side. In the next 15 minutes, he had offered me everything from a cold beverage, advice on where I could meet people at this time and a fat joint full of magical stuff. We smoked outside together as he made calls to his friends running restaurants close by. My evening turned around almost immediately. I went to his friend's eatery, met people from across the world, made friends and spent the rest of the night hanging out with them. For a girl afraid that a solo trip would be a lonely affair, my hostel stay introduced me to the most number of new people I had hung out with in a while. Definitely repeating this experience soon.
Have you had bizarre experiences while staying in hostels? Share your experiences in the comments below or write about them on Tripoto! You can also check out our YouTube channel for awesome travel videos and stories.
Frequent searches leading to this page:-
zarin shihab nude, naked experience in india, indian nude, indian nudist stories, nude experience in india, indian nudity stories, indian naked story