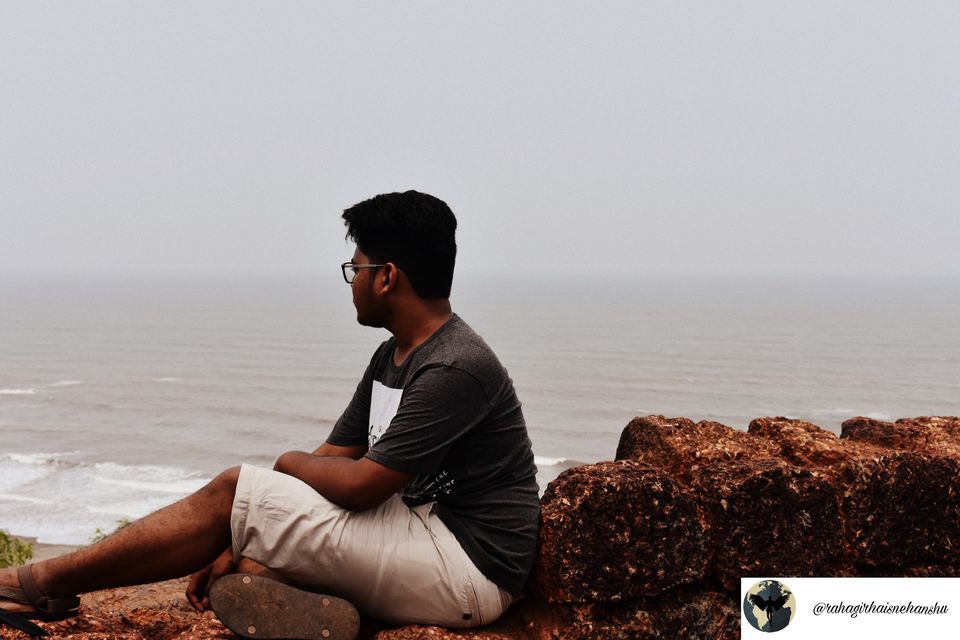 So today, when I was randomly going through all the old pictures on my Instagram, I had a sudden rush of emotions. Oh man! How unbelievable this year was for me. I couldn't believe so much has happened! Chilling at my space in a village in Odisha where I start the one-year long fellowship, I had this urge to give a space for my memories too. The decision to come here, to start off a new life from nothing was something that a trip pushed me to do. This is the trip I will talk about in a few moments. Backpacking alone in Goa, the "after college Goa Plan", you know, where there is a 99% chance your friends would betray you, and in my case, they did that. So this is the trip, which motivated me for the next part of my life because out of all the fun that I had in Goa, there were several lessons which would stay with me for sure including how to survive alone and have fun also how help comes to you in the most unexpected way.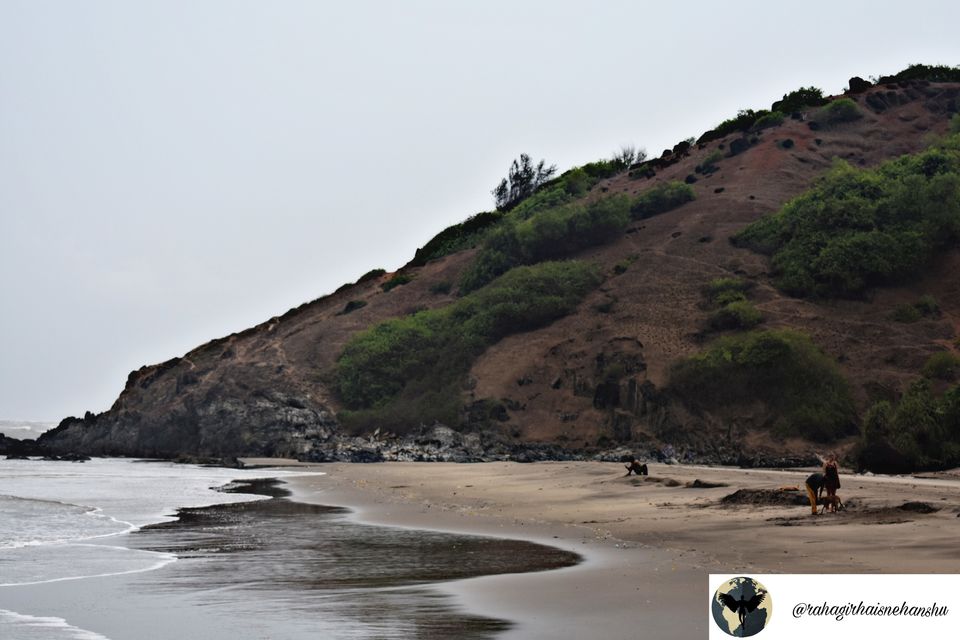 It starts with a little sad story where I was secretly hoping that my friends would surprise me when they show up in the pre-booked train coaches, but of course, they didn't. I was catching the train from the Kalyan Station. With a hefty delay and taking a nap at the bench on the platform, I woke up to the sounds of the train at 6 in the morning, boarded the train in a disheveled state and got a little scared because I finally realized it that I was actually doing this. I was on a train to Goa, all alone, the one place where you always go with your friends(that is what I had always heard) with a backpack. Just out of college and all full of the traveler energy, I swallowed my fear and looked forward to the journey.
Goa is completely different. It's not like any other state I had ever been to. I got off at the deserted railway station of Thivim, took three different modes of accommodation to reach my hostel at Vagator.
The way to Vagator was so pleasant, all the way there was no traffic jams, no malls, no crowd nothing, it was just so peaceful. I just knew now why I was in Goa, this was the perfect getaway from Mumbai.
Even my hostel – the Forest Monk Hostel at Vagator was just like this, surrounded by trees and welcoming into the nature of wooden cottages.
I settled on my bunk, enjoying the offseason and thus no bunkmates. I had the whole cabin to myself Yayy! Outside the cabin at the center of the hostel surrounded by trees and the cabins were the sofas to relax and the bar. I shifted next there, talking to strangers and making new friends, some of them well one of them is now one of my best friends and someone who will pop up in the story a lot.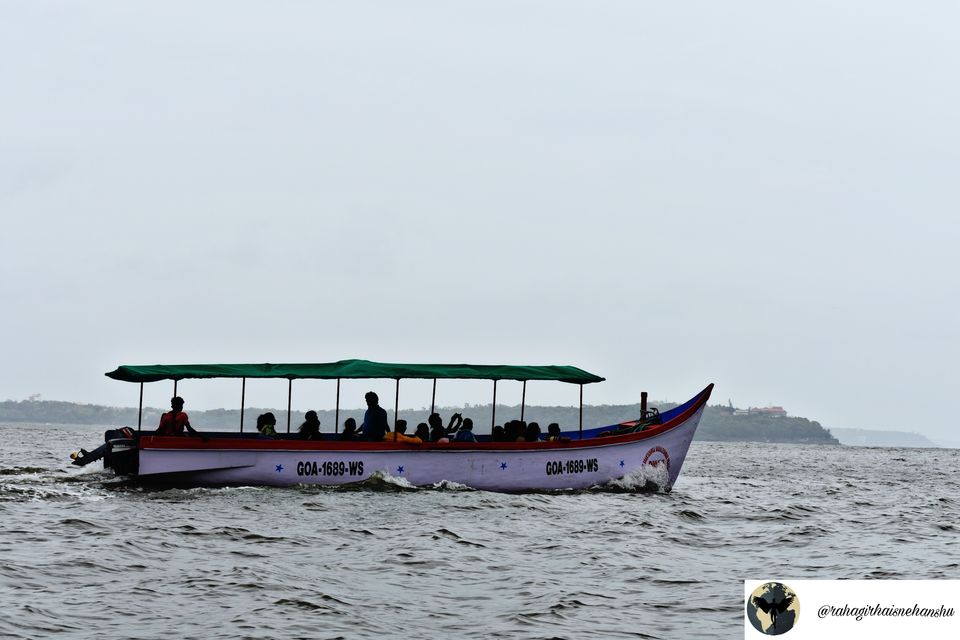 That night this friend, the lovely Lenka Daisy and I went out for a walk at 2 AM, we both were struggling to sleep. This was how the trip actually started. It was a rainy night and we walked to the mesmerizing Vagator beach, all windy and moonshine. I was falling in love with Goa already. Later we came down, spent some time at the bar(which runs all night!) and then went to sleep.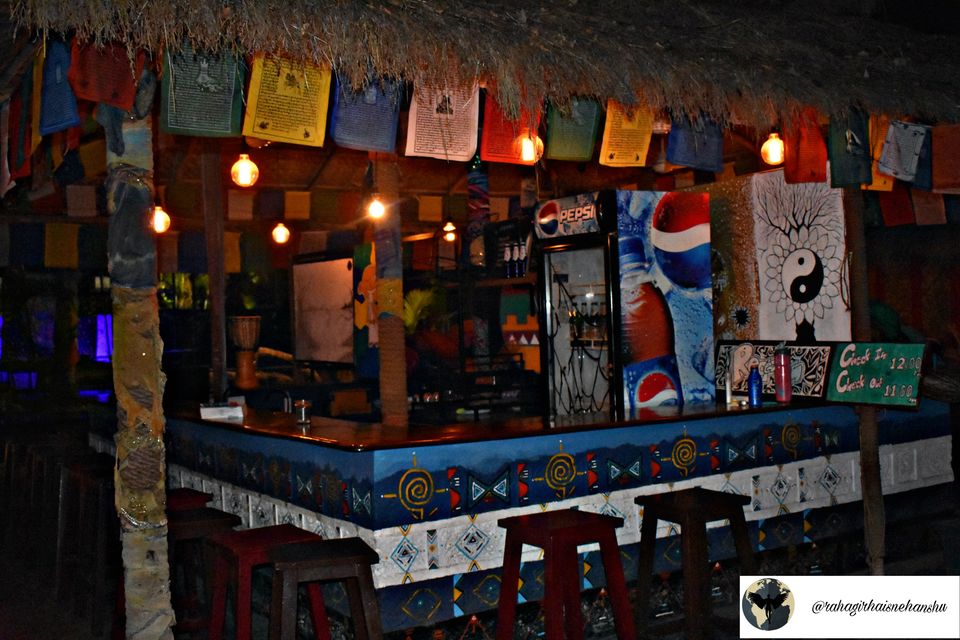 The next morning I woke up, got all ready early but I didn't felt like going anywhere alone because there was no transport available. As I sat on my bed and scrolled through my Instagram stories, I found this one guy posting stuff on Goa, whom I met along back in Delhi. Within some minutes we were chatting about "let's catch up" and then to "how would you travel around!" finally ending up to "wait for an hour we will pick you up!". So an hour later I was on a bike with two other guys roaming around the streets of Vagator. The benefits of traveling alone – you are so flexible with your plans. We spent the day at Chapora Fort taking pictures and taking in the sweet breeze of Goa, and of course, we did the Dil Chahta Hai pose because we were three guys. It feels so unbelievable now how I had been in a training with 80 other people and I met this guy then. And today almost a year later I was hanging out with him and his best friend making plans for the next three days in Goa.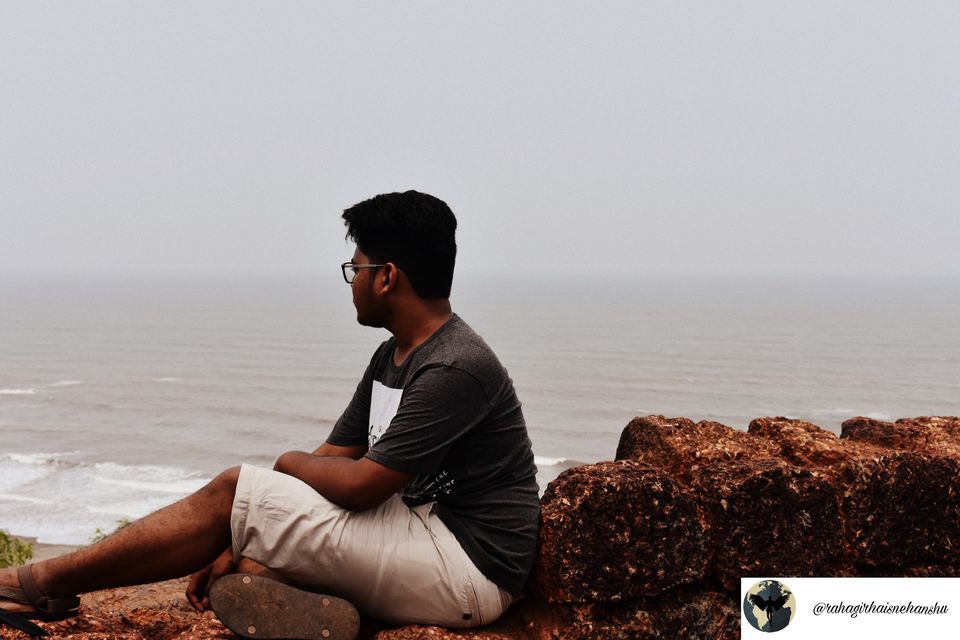 Later that day Lenka also became a part of our plan as we shared our beers back at the hostel. While Lenka was busy that day with her shifts, we explored the Calangute and Candolim Beach, taking a boat ride at Aguada and exploring Biryani at Panaji City. These two fine new friends Karan and Yuvraj dropped be back at the hostel which was like 20-30 km away from their place.
The next day we woke up early, today was meant to be the most special trip on this entire journey. It was the day when we finally take off something from my bucket list – The Dudhsagar Falls. Till late at night we had been discussing and debating over the ways to reach there and finally, we had a solution. Also, we reached a conclusion because all four of us really really wanted to be there. The solution was a 90 km car drive to the national park and then a jeep provided by the park authorities.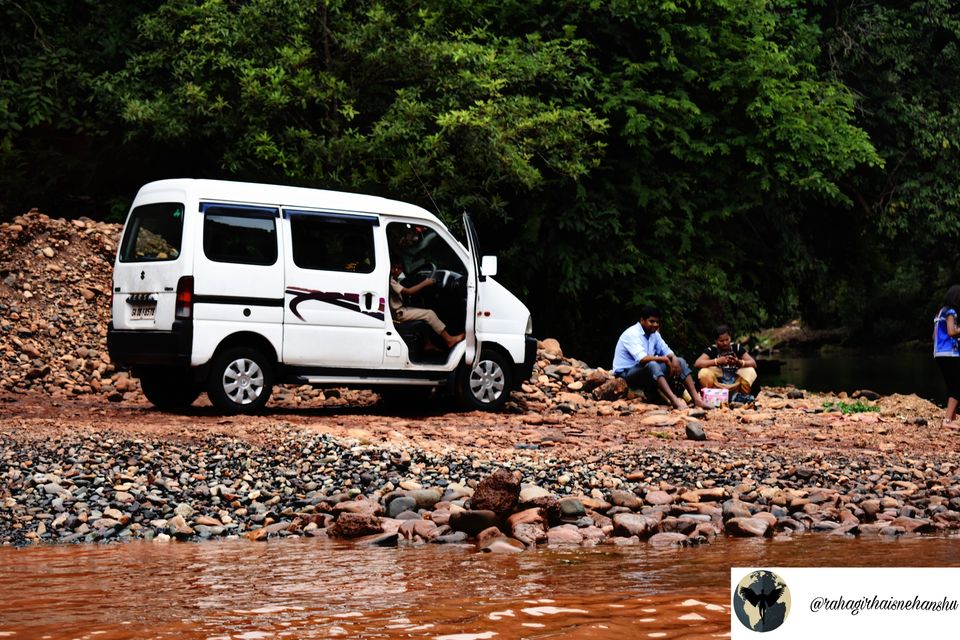 All pumped up and ready with cameras, GoPros, and extra clothes for swimming we took off. Our savior Lenka drove us through the whole of 90 km with just one break for eating mangoes from a village. It was a crazy drive, we passed through so many places in between and so beautiful landscapes only to be amazed by the huge crowd at the destination. Believe me when I say this! Dudhsagar is not that difficult as people think, a ton of people takes the trip every day. This was the reason we had to stand in a queue for a really long time to wait for the jeep.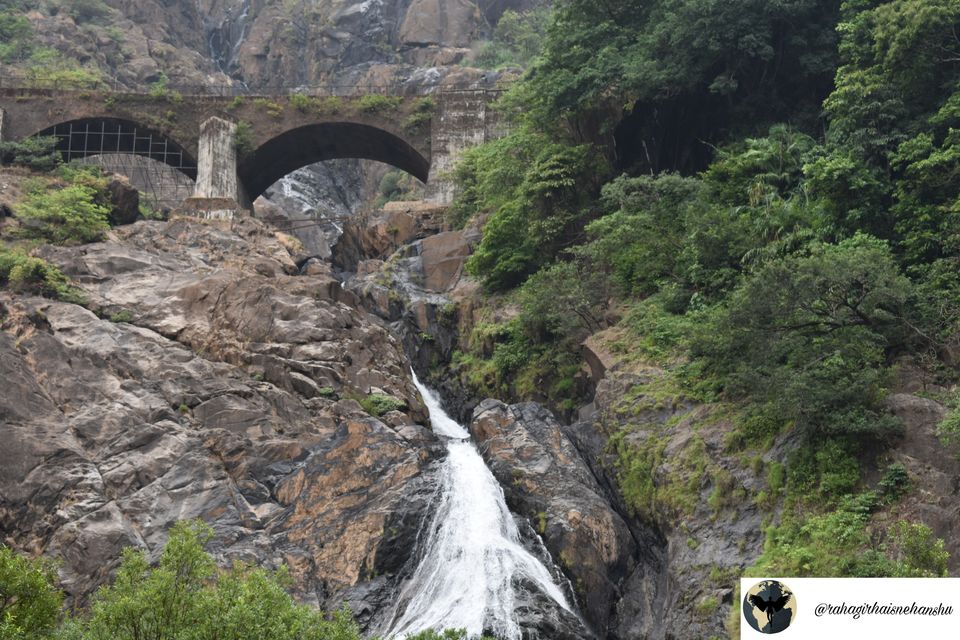 The final trip was unbelievable as well, we crossed some small streams through the jeep, in some places the jeep was inches under water. The drive was jumpy and uncomfortable but not that long. Our driver stopped in the long queues behind other jeeps and told us to strictly come back within two hours which we obviously didn't follow. We followed the trail of other travelers through small bridges and rocks and some mild trekking to finally reach a point where Dudhsagar was in its gigantic state. As we trekked through some more rock paths and people heads we finally reached the pool.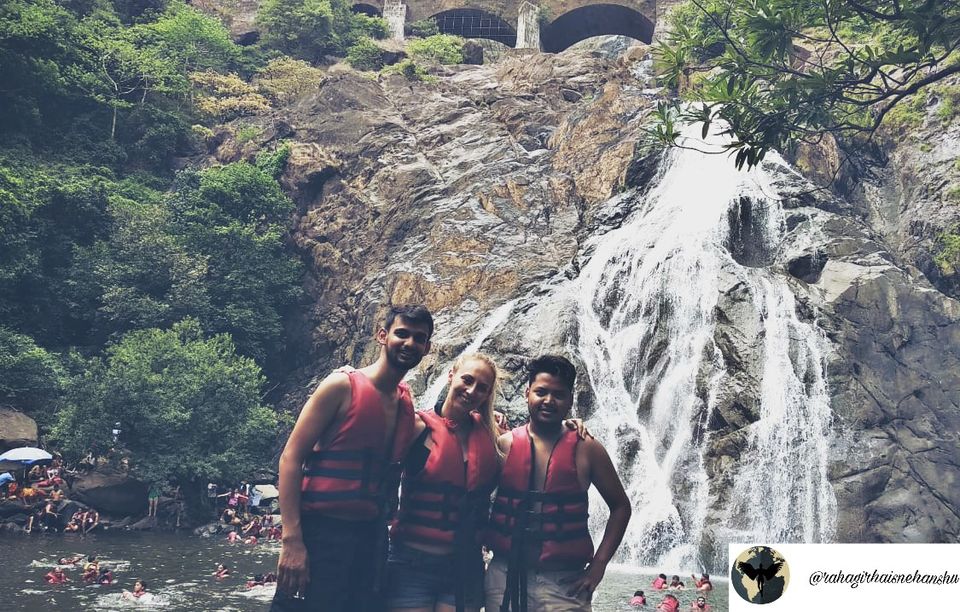 Even before we started the ride, we were equipped with life jackets. The pool in front was deep and beautiful. Lying on the foot of the waterfall in a clearing among the forest, it looked something from myths. The waterfall was huge, the famous railway bridge quite visible. I couldn't control myself from taking a dip in the pool and I ran towards it. The next two hours, nobody noticed how it just went away. We were too busy enjoying the sheer peacefulness of nature as we floated across in the pool. Each train that passed through the bridge received full cheers from all of the floaters of the lake. We played, we took a shower under the waterfall, did everything we possibly could do over there except for the one thing our driver told us to do – to come back in time!
However, we did come back, unfortunately. I wanted to camp there for eternity, but we were just mere travelers. Nobody could forget the experience as we drove back to Panaji City and explored some of the famous places. Dona Paula was also pleased with night, as was the Mapusa city from where we had our dinner. All exhausted we decided to call it a night and went back to our places.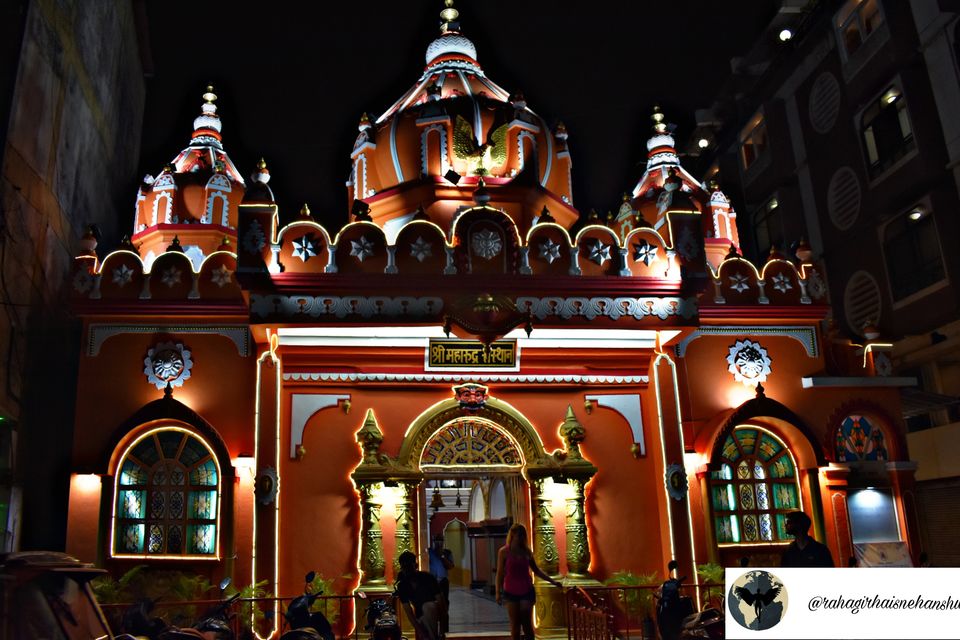 That night, I just thanked everyone that helped me come up to this day. The waterfall experience was something out of my dreams and I just couldn't forget it,
The next day was a late morning. We woke up late still tired had a late breakfast of Fruity Pancakes dipped in chocolate. The other two guys were already there at the hostel as we had an early beer and planned for the day. The plan was simple to just chill today.
There was an addition to our group as Lenka's friend joined us. We explored the Portuguese colony, spent a lot of time there, drinking our coffees, talking about the previous day, knowing each other better, planning for future travels and all of that. Then we headed out to the Miramar Beach, spent some time there too, chilled out for a while. Later in the evening we went to a cafe and ordered a whole lot of cakes. It was our last day in Goa already and Lenka's birthday was near. So we celebrated our farewell from the beautiful state with varieties of all kinds of chocolate available in the store.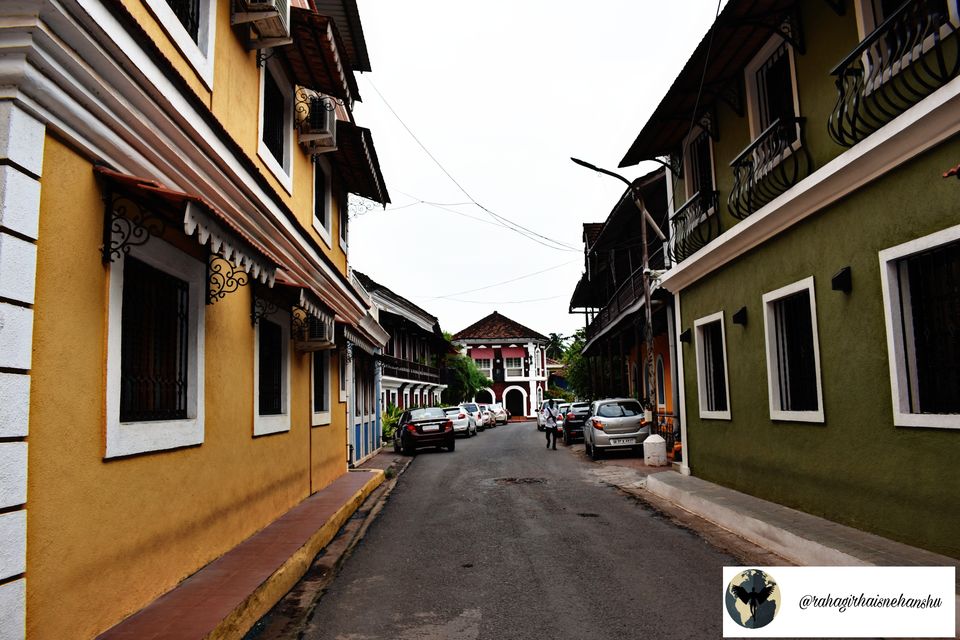 What followed the next day was saying adieus and promising some amazing travel plans in the future.
To me, it was quite unbelievable how the whole trip ended up to be. I still am in contact with all my friends from Goa and I just love the fact that we shared such beautiful memories in just three days. To me, a first-time solo traveler, the feeling was overwhelming, in the way people came for my help and in the way how I came here with no plans at all and had the time of my life.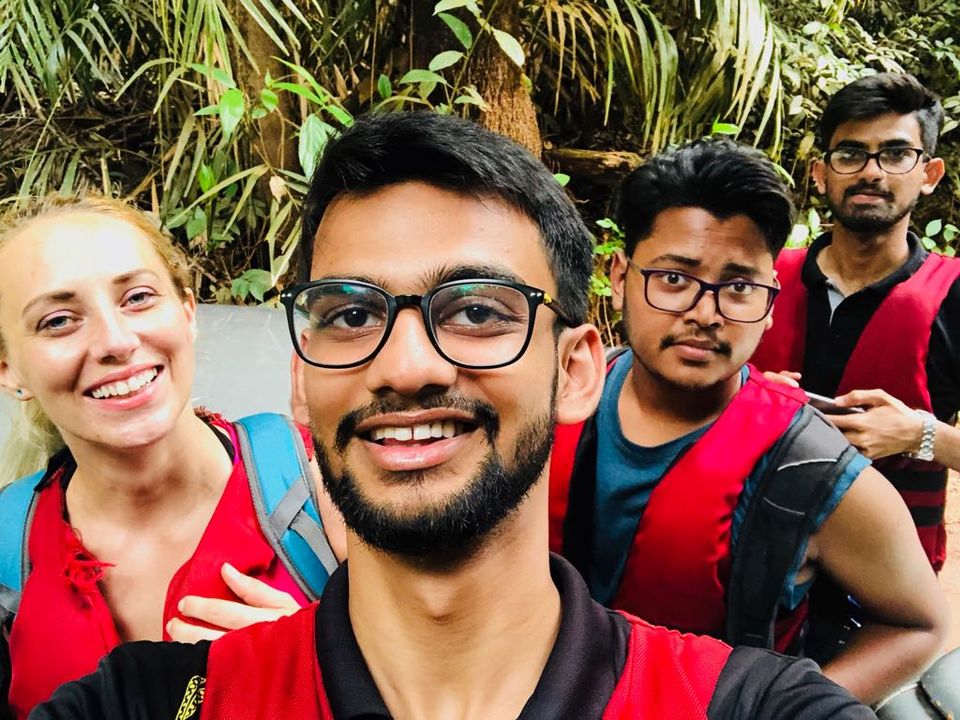 Originally posted on https://fashionokplease.com/2018/08/22/what-does-solo-backpacking-in-goa-feel-like/ by Snehanshu Shome
Have you ever been on a solo trip? Made friends when you had no hopes? Been on an adventure you just can't put in words? Tell us in the comments below!
Frequent Searches Leading To This Page:-
Best Tour Packages for Goa, Goa Tour Package for Couple, Best Travel Packages for Goa, Best Goa Trip Packages, Goa Holiday Tour Packages, Top Goa Packages for Family, Goa Honeymoon Packages from Delhi