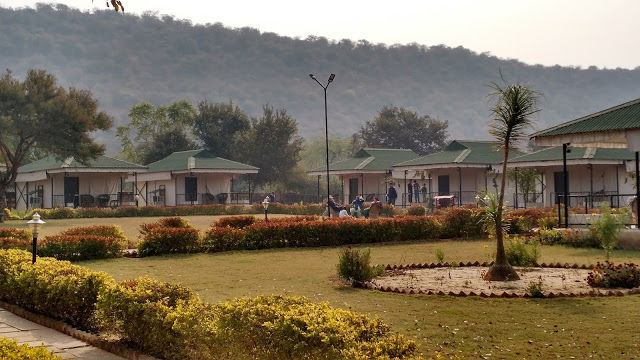 The vibrant Rajasthan is a storehouse of culture heritage, history and abundance of nature's delight. Hence the princely state of Rajasthan has been our (husband and mine) favorite tourist destination. To mark our second wedding anniversary, we planned a trip to Sariska, the city known for its tiger reserve.
Where to stay in Sariska
There are very few accommodation options in Sariska. Ensure making advanced booking. Tiger Den is a Government approved tourist hotel, which is close to the sanctuary entrance. You can consider staying there.
Though it was a quick weekend getaway, we booked the most popular resort for one day stay. Usually we spend less on hotels during trips, but this time we chose luxury. After-all anniversary stay should be a special one. We booked Sariska Tiger Heaven by Sterling Holidays ,the brain child of wildlife photographer Mr. Dinesh Durani , which was managed by Thar Camps initially. Tiger Heaven is 5 km away from the sanctuary. Read more on the new website http://bit.ly/2kh24mK .
Sariska Tiger Heaven By Sterling Holidays
Built with the objective of staying close to mother nature, Tiger Heaven resort offers a relaxing stay to all guests amid the rich experience of wilderness. The entire facility is spread over a huge area which comprises accommodation, swimming pool, dining hall, activity area, bonfire area and huge gardens with sandy treks running in between. The reception is open 24 hours where a smiling Lalita would patiently help you with all queries.
The types of rooms available are classic, cottage and luxury tent, the latter being the smallest and most expensive. We chose cottage and that was a maharaja suite in itself!
Equipped with modern furnishings, TV, refrigerator, AC and electric kettle with beverage items, the most beautiful corner of the room was the seating arrangement near the window.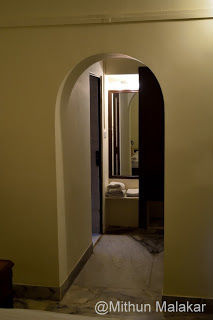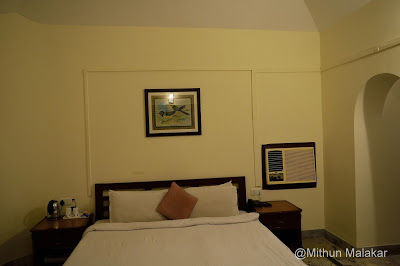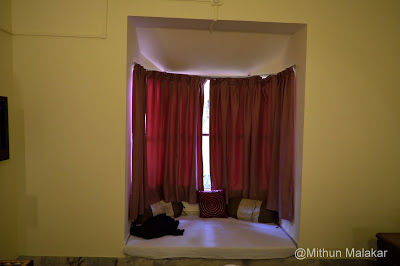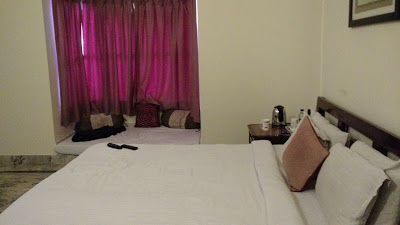 This corner added to the charm of the room. I could imagine relaxing with a cup of tea and a book by the window side. I could not ask for more. Each cottage has a balcony seating and lawn seating outside. Looks perfect to soak up some sun on holiday. Lalita helped taking few pictures for us.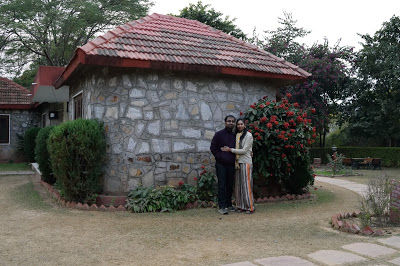 Soon after unpacking, we headed to the dining hall Machan for lunch.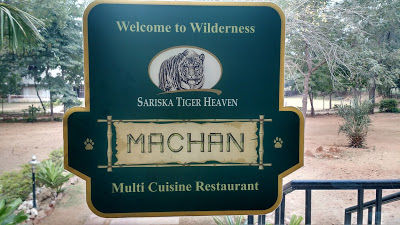 Since only one time meal is inclusive of the package, we paid Rs 1000 per person extra to upgrade with dinner and breakfast. Restaurants or eating joints are not found around the sanctuary. Its good to secure food option within the resort.
The multi cuisine dining hall has a pleasant ambiance. When sun shines through the window and soft breeze caresses you, it feels at the top of the world. The framed pictures on walls of tigers taken in the sanctuary immediately get your attention. Among them is this picture that signifies the true meaning of the king of the jungle.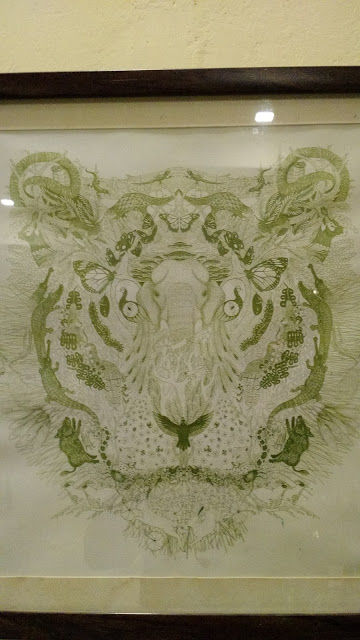 The large aromatic spread of fresh hot dishes doubled our hunger pangs. Each dish was well made and extremely hygienic. The staff is friendly and always on toes to help with refills or seating for kids. An excellent buffet lunch we had!
We explored the premises post lunch. The swimming pools is unique, made in the shape of a tiger paw. We resisted the temptation to take a dip in the cold month of January.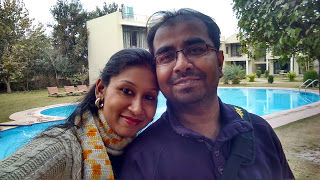 Close to the tents, there is an activity area for indoor games. That's where we met Gopal, the admin staff who showed us around.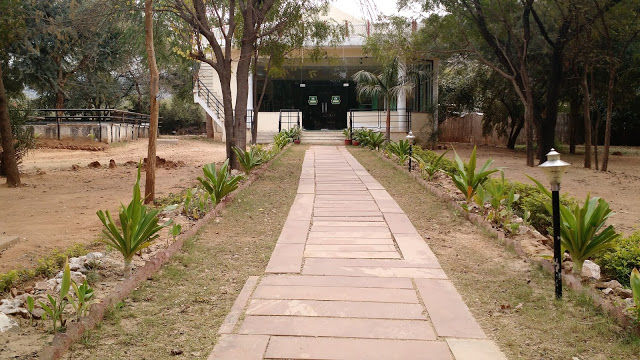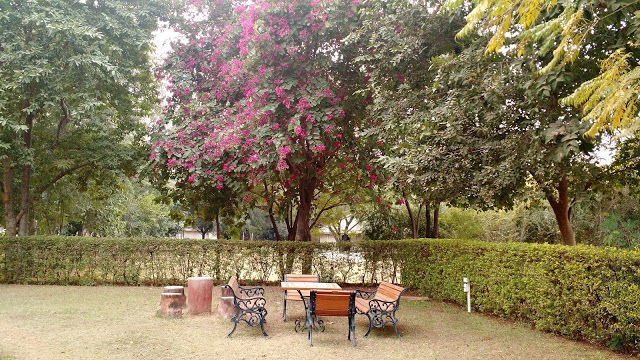 The resort is dotted with trees, plants and blooming flowers. It is a treat to see peacocks dance to the rooftops and gentle stray dogs playing within the premises.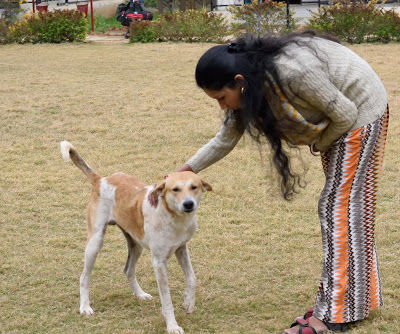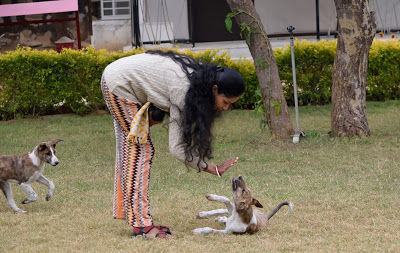 Gopal took us behind the resort for a walk around a pond and a pathway between a village & hills. Leopards often come to drink water from this pond- The statement from Gopal scared us but we still took the risk.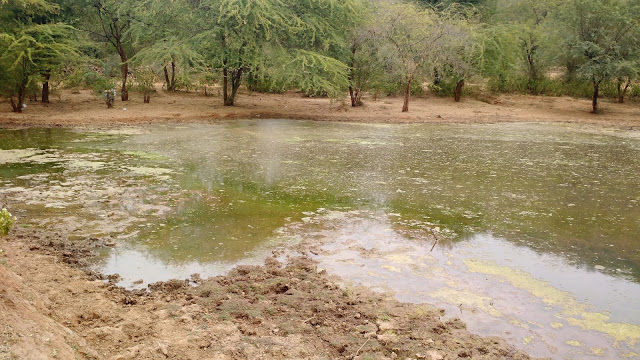 For all nature lovers, this is the place for bird watching. While we did that, I heard bubbles from the pond. My heart skipped a beat! Was it a leopard?? I turned around to see a cow drinking water from the pond. Thanking our stars, we quickly followed Gopal for the sight seeing near the village where peacocks welcomed us.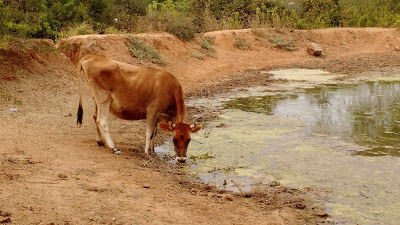 Lush green farms and calmness of the place are rare commodities in cities. Enjoy every minute here. Wear sports shoes for the walk, as it's a rocky place.
As the sky started to get dusky, we raced back to the resort for hi tea, served right next to the dining hall. Ginger tea coupled with hot pakodas...felt too good to be true. And there were cookies too! The resort twinkled with dim lights and the whole place came alive as a fairy land.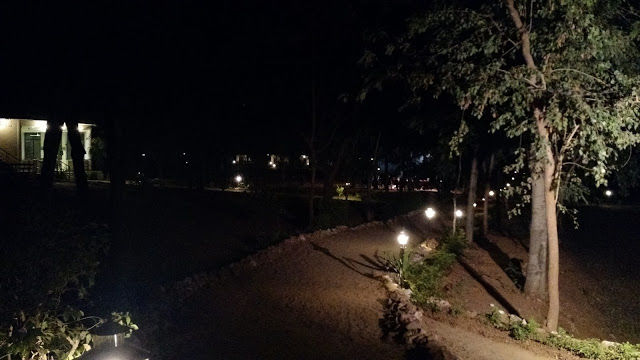 Respecting the law of the jungle, lights in Sariska Tiger heaven have been kept dim, so as not to disturb the nature around. I wish everybody was as thoughtful as them.
Bonfire started at 7:00 pm with Gopal hosting tambola and antaakshri. The night turned colder as we warmed ourselves at the bonfire place. The whole crowd came together as a family, participating and dancing. It was so much fun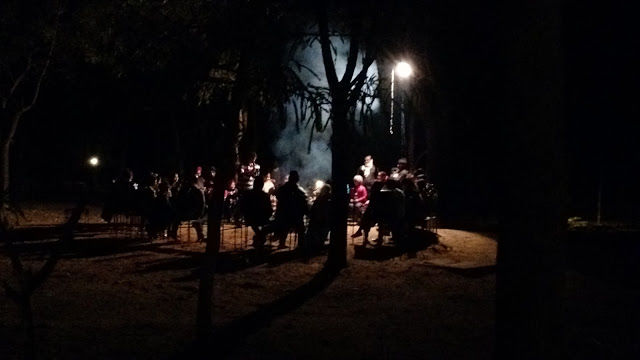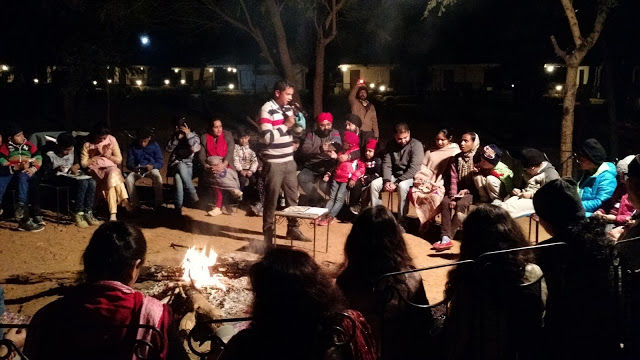 Dinner was served at 8 and here again a large variety brought smile to our faces.
We bumped into the resort manager Mr. Pandey during post dinner walk. He chatted with us for a long time giving minute details of Sariska Tiger Heaven and the flora fauna around. The topic of conversation changed from city pollution and global warming to basic etiquette and rules of the jungle. Since Tiger Heaven strictly adheres to the rule of the forest, all lights are kept dim, be it indoor or outdoor, no loud music is allowed and no DJ's beyond 9 pm. Plastic is discouraged and hygiene is well maintained. We did not realize it was late and we chatted for thirty minutes. It is less frequent to find people who share the same wavelength. It was lovely meeting him.
Early morning we left for safari and returned to the resort for a scrumptious breakfast, comprising eggs, bread butter, cornflakes, stuffed paraatha, vermicelli, fruit, tea and juice. The three hours safari had left us hungry and we gobbled everything quick. Could not thank the staff enough for their hospitality.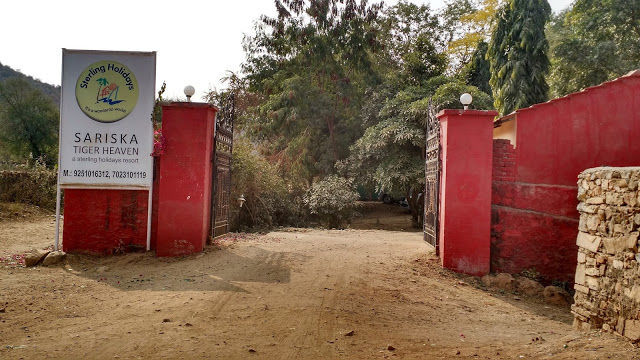 The morning sun shined beautifully and the resort looked even more gorgeous. Soon it was time to pack up and leave. Reluctantly we bid goodbye to Sariska Tiger Heaven with a bagful of beautiful memories and a hope of returning soon.
How to reach Sariska-
Sariska does not have any public transport, rail or flight connectivity. Located approximately 171 kilometers from Gurgaon and around 120 kilometers from Jaipur, you can either hire a private taxi or drive yourself to Sariska via NH24.
Route we followed-
Gurgaon - Manesar- Neemrana- Bheror- Kotputli- Viratnagar- Sariska.

We left from Gurgaon at 7:00 am. Surprisingly trucks plying during that time caused slow moving traffic on highway after crossing Manesar.

An easy to miss spot on the way points right for Continue driving till you see a signboard reading Alwar 81km and 69 km straight towards Jaipur. As soon as you bend left, your nightmare begins. Drive carefully and if possible slowly here Be ready for packs of monkeys, potholed roads and under-constructed sights for at least 15 kilometers till you pass the Aravali mountains and curvy roads that mark the beginning of Sariska. Sariska Tiger Heaven and left for Tiger's Den. The 800 meters approach-road towards Tiger Heaven resort is another big hurdle. Brace yourself while you do that.