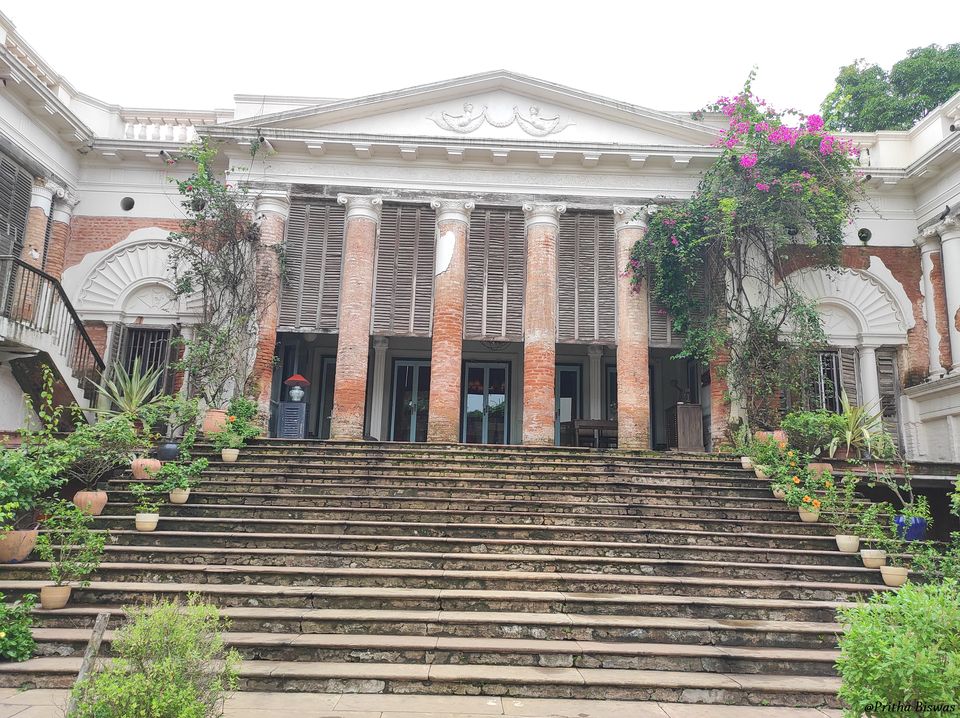 "Stay Home Stay Safe" is the motto now, but how many days can you stay home without going out. For people like me who have work from home, they can understand the pain of staying with the laptop for 5 days for 10 hours and in case you have bad luck then weekend working. Mind needs a change and I was dying to go somewhere. Firstly planned Himachal but unfortunately the rainy season turned out to be drastic for Himachal . Brainstorming for 1 month various places, with COVID regulations ultimately ended up with this location in WEST BENGAL itself. THE RAJBARI BAWALI.
This place is basically a 300 year old zamindar bari, now turned into a resort. The location is Bawali, Nodakhali, West Bengal. In easier words, it is located in outskirts of kolkata 40 minutes drive from Joka, Diamond harbour Road. Lets start the tour.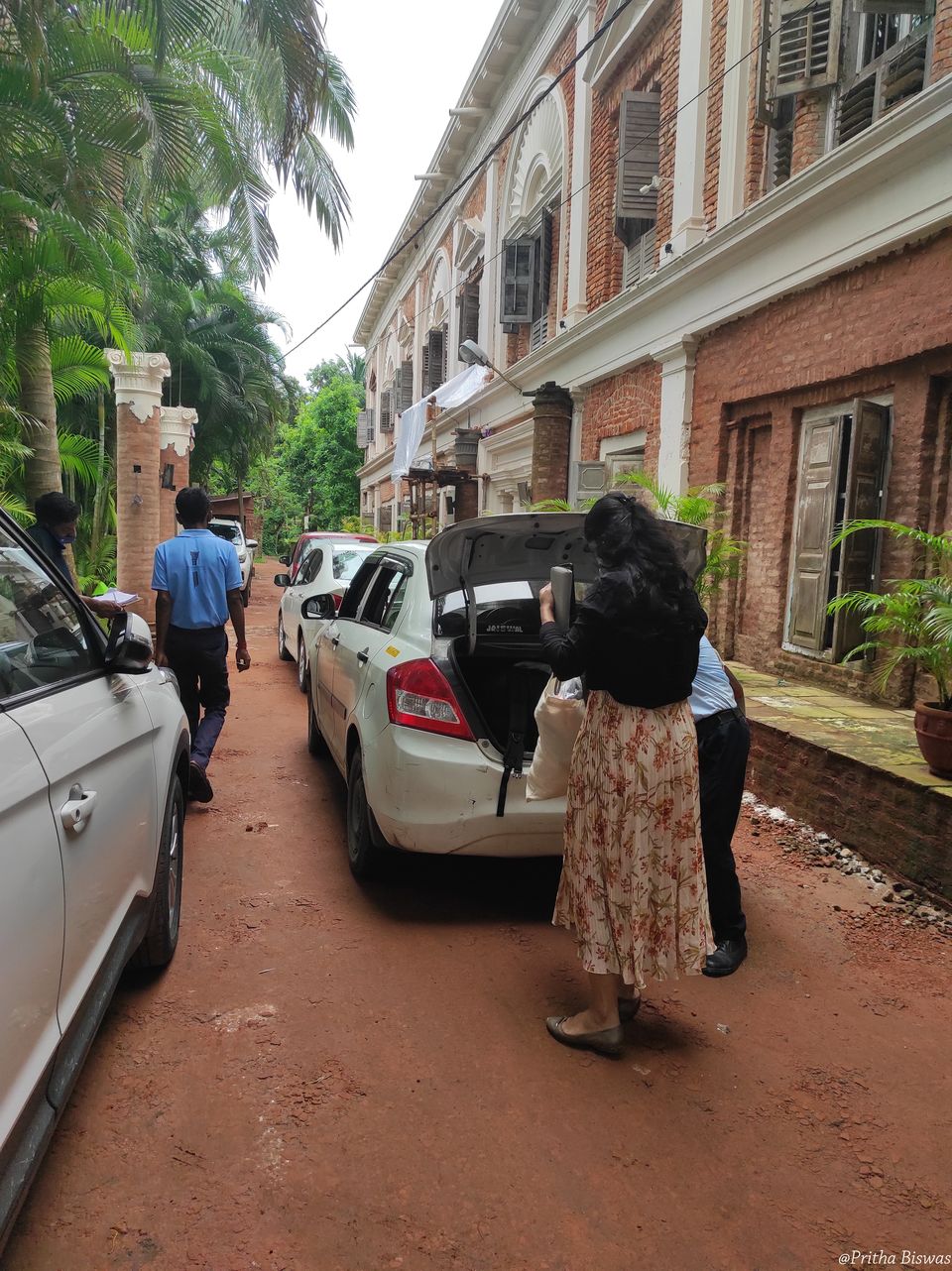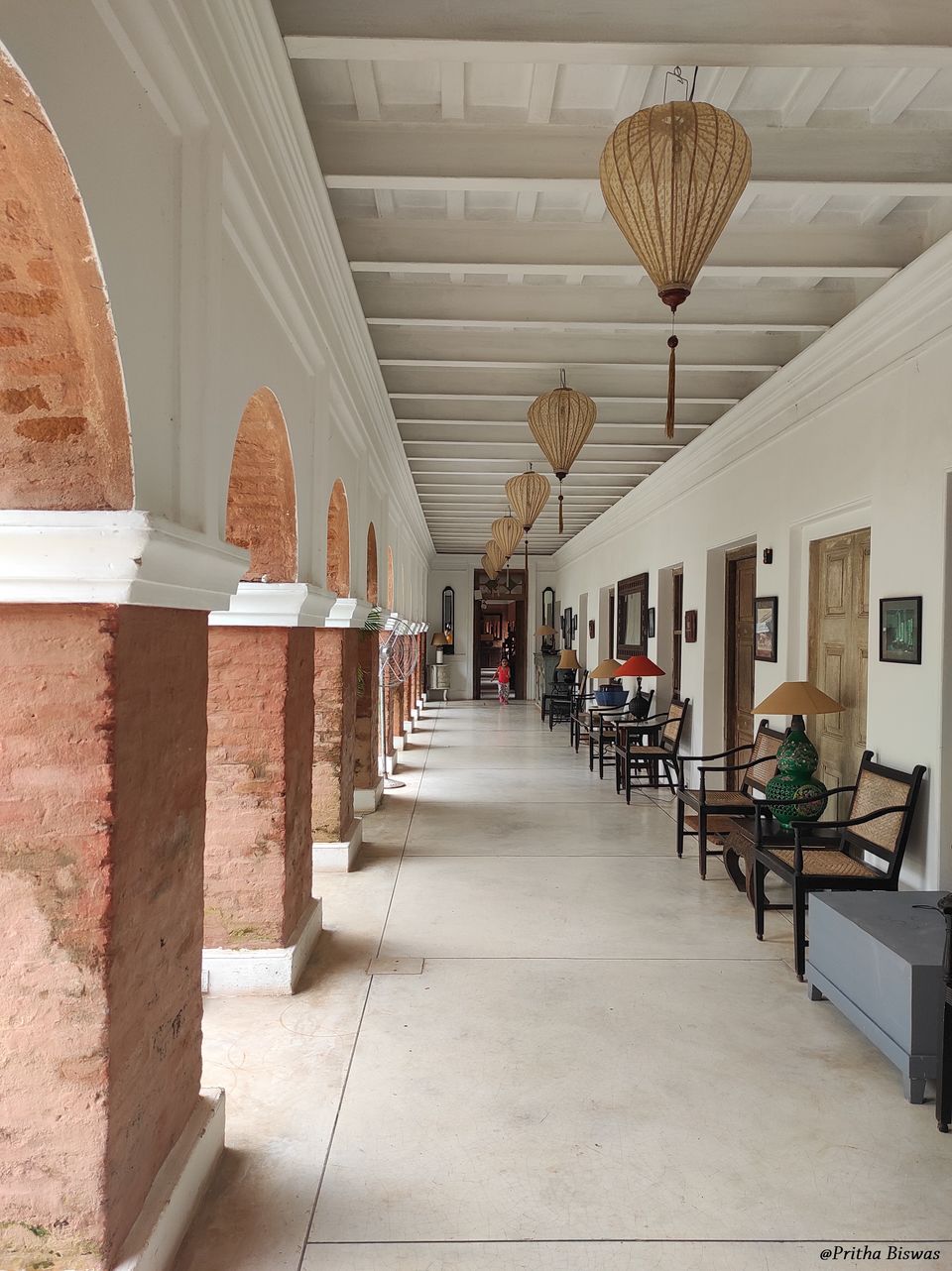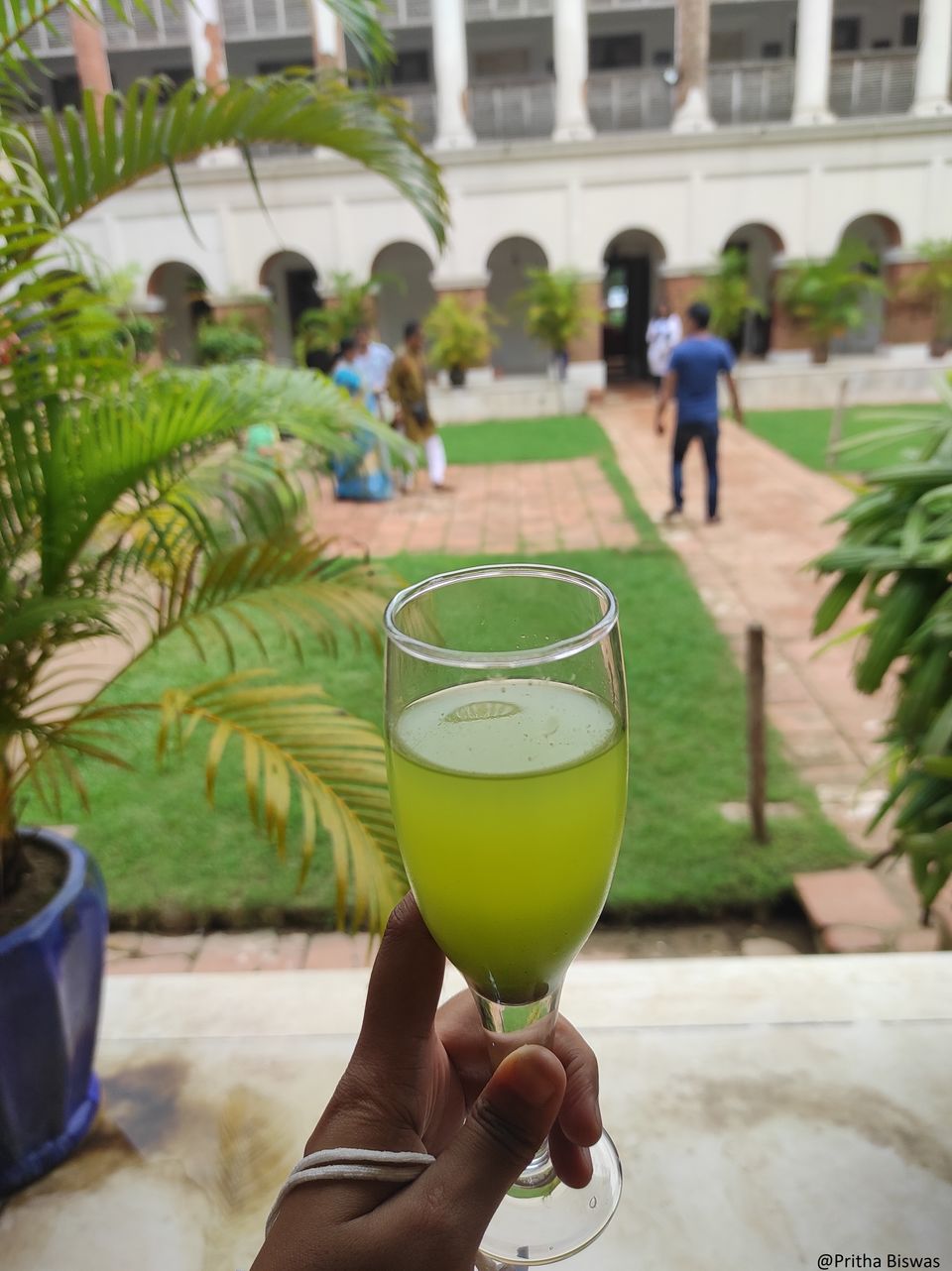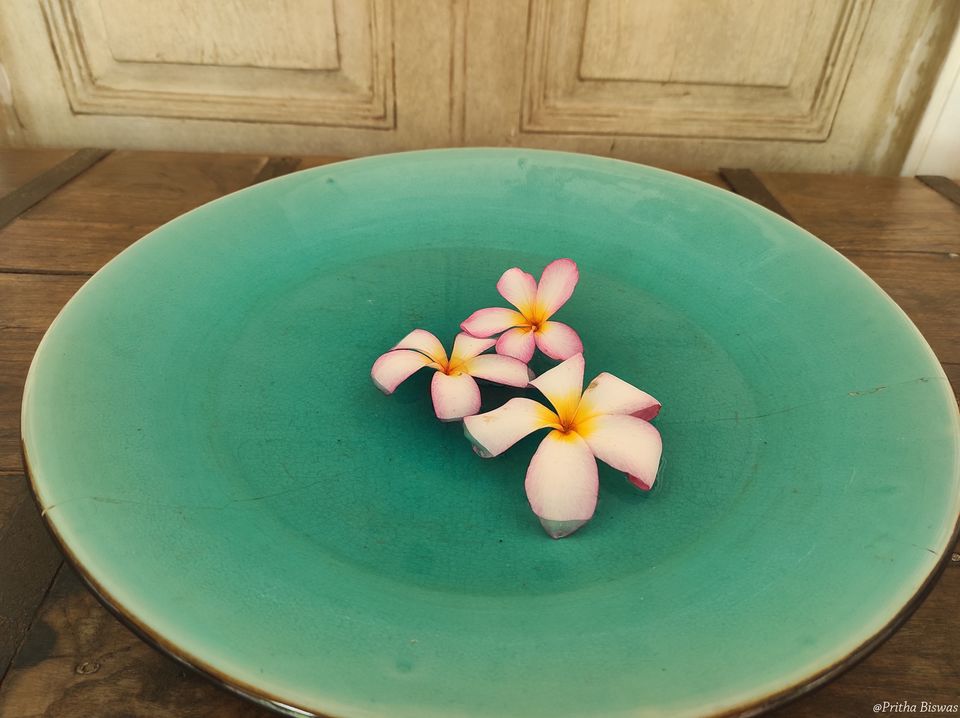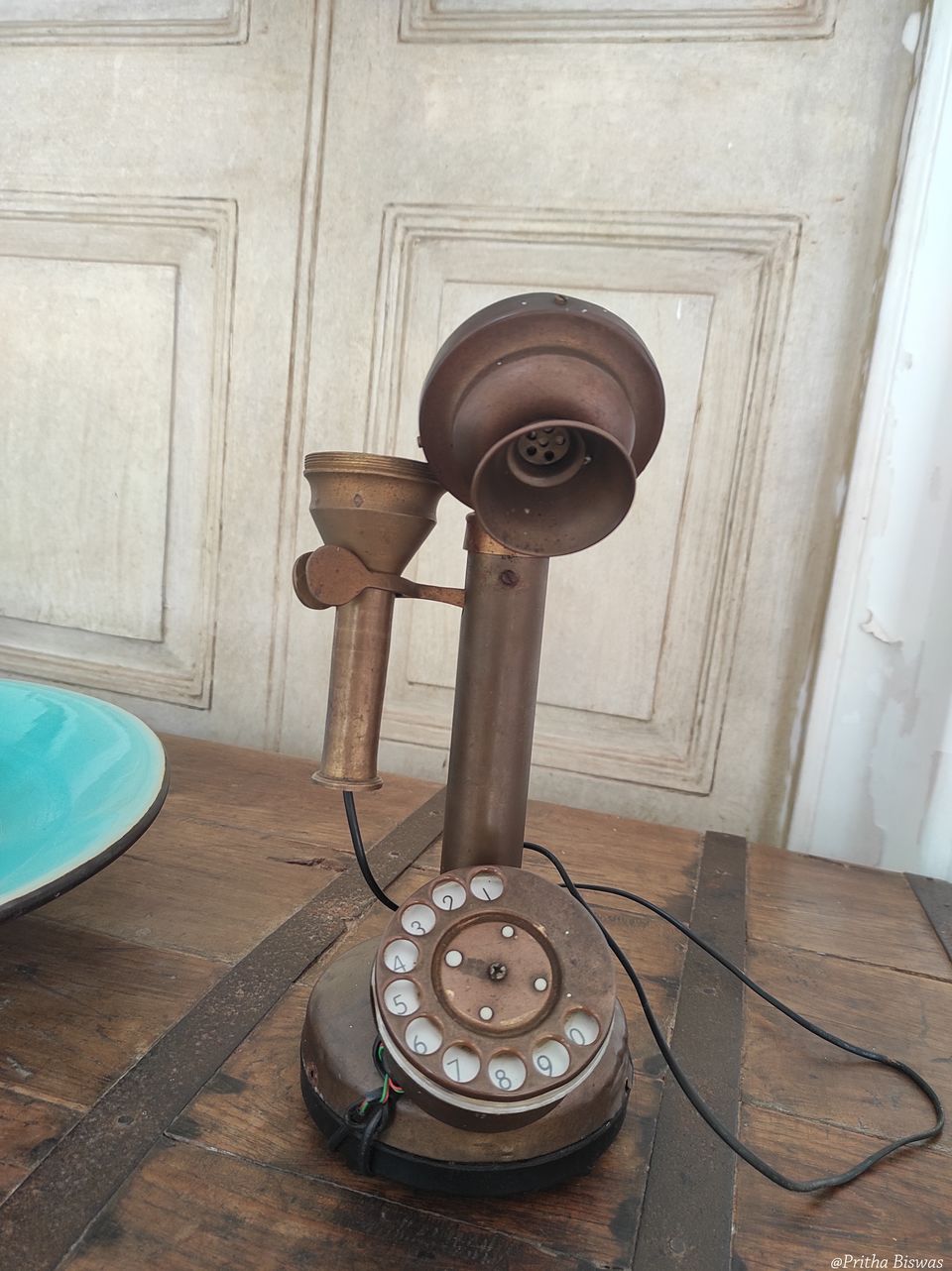 Day 1- The hotel has the check in at 2pm. So we left our house from Joka at 1pm. We took UBER INTERCITY. That is the only option you get, Ola doesn't serve that location. The best thing which I feel is go with your own car (I'll tell the reason at the end). We reached on time. Had a great welcome. Ladies welcomed us with traditional way of sonkho dhwani , arti thali and latest way of thermal screening and sanitizer. Welcome drink was served. Then we headed towards our room after the formalities were done, you will go crazy with the property. The resort has 2 ponds , a big dinning area, swimming pool, beautiful plants all around. And many sitting places all around. It has maintained the heritage with the lanterns and dim lights . The bedroom was just phenomenon. The old zamindar style bed, with wooden almirah and modern washroom was soothing to eyes. The lighting was cherry on the top. Cleanliness was to the top.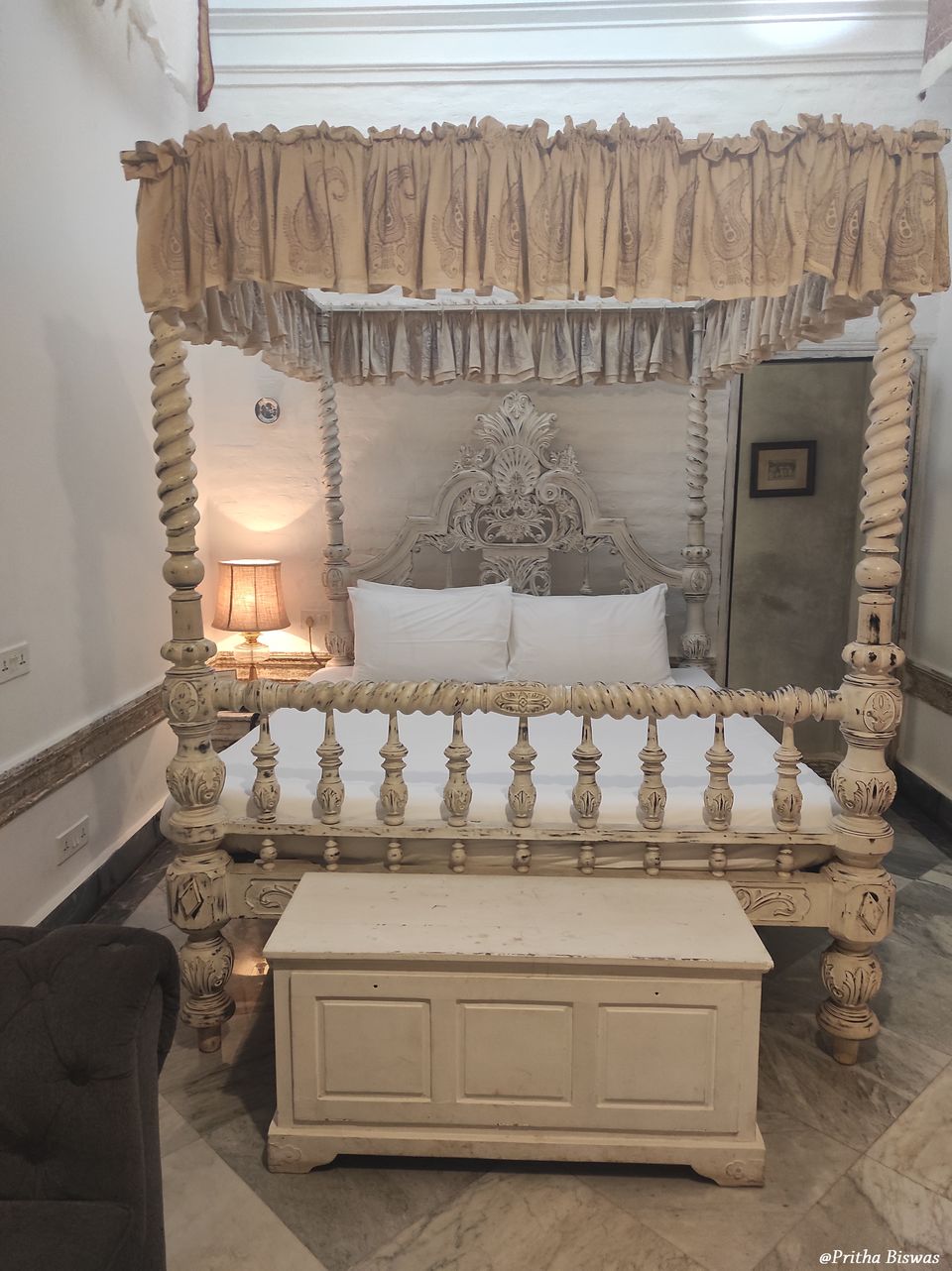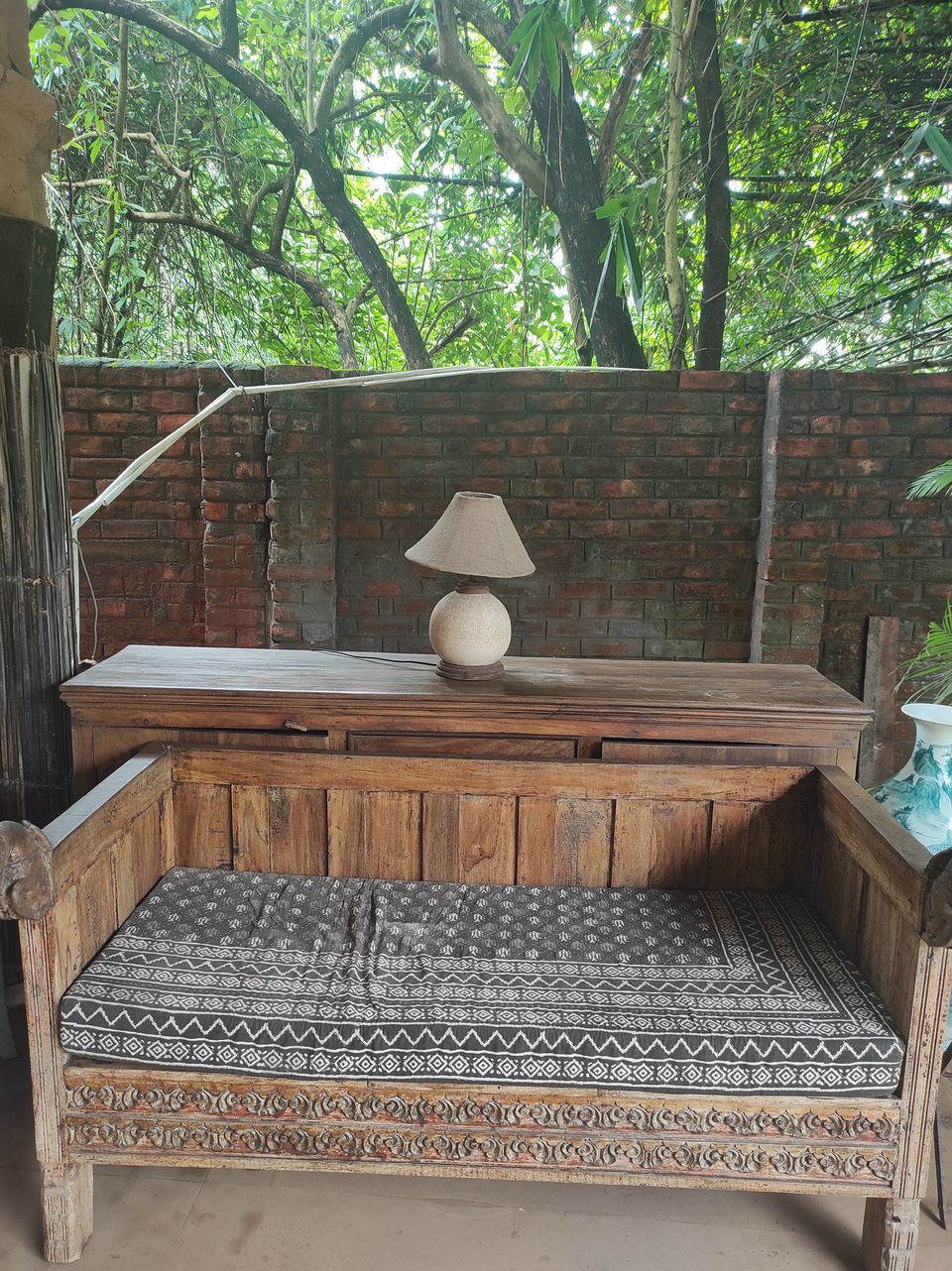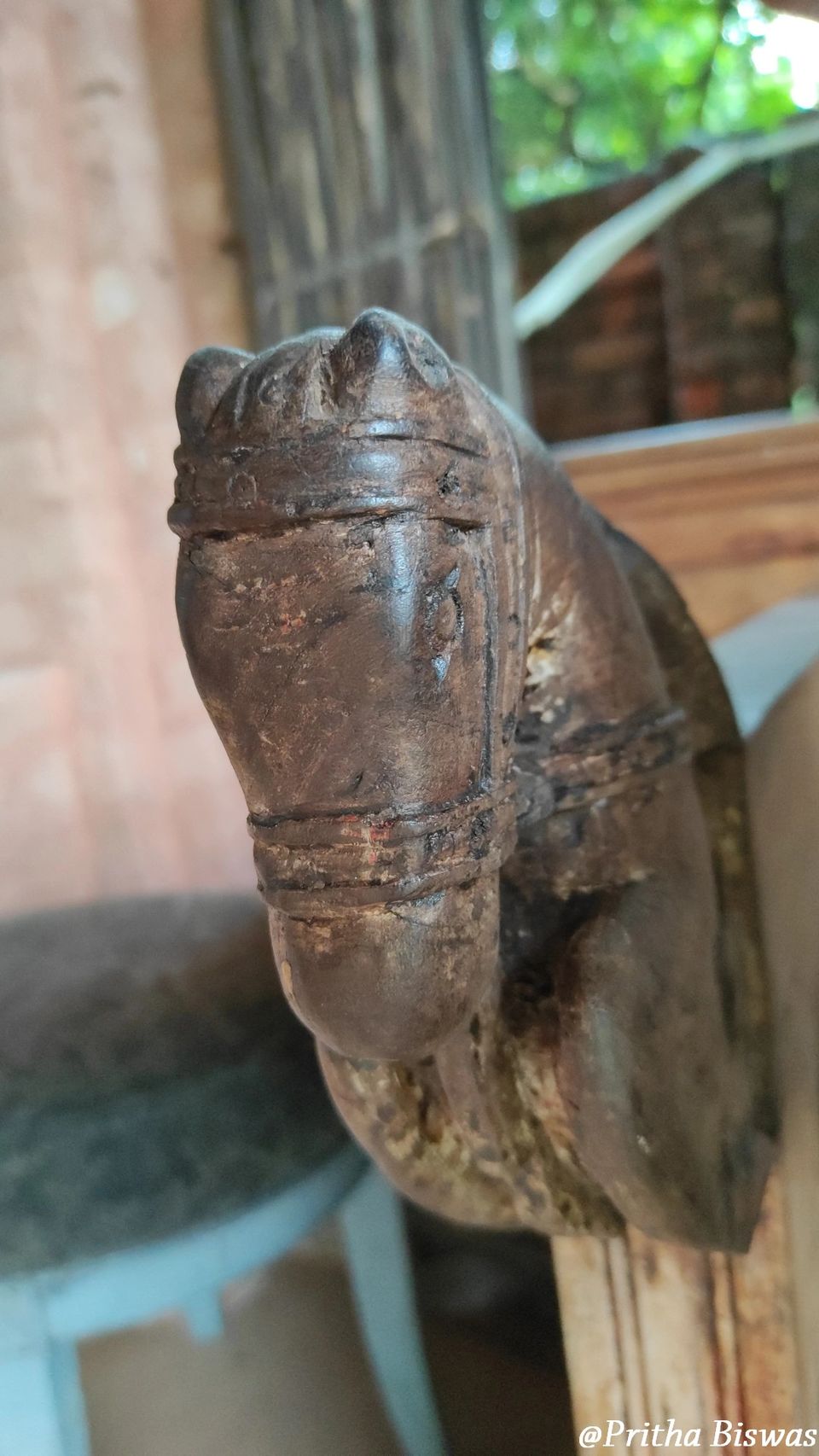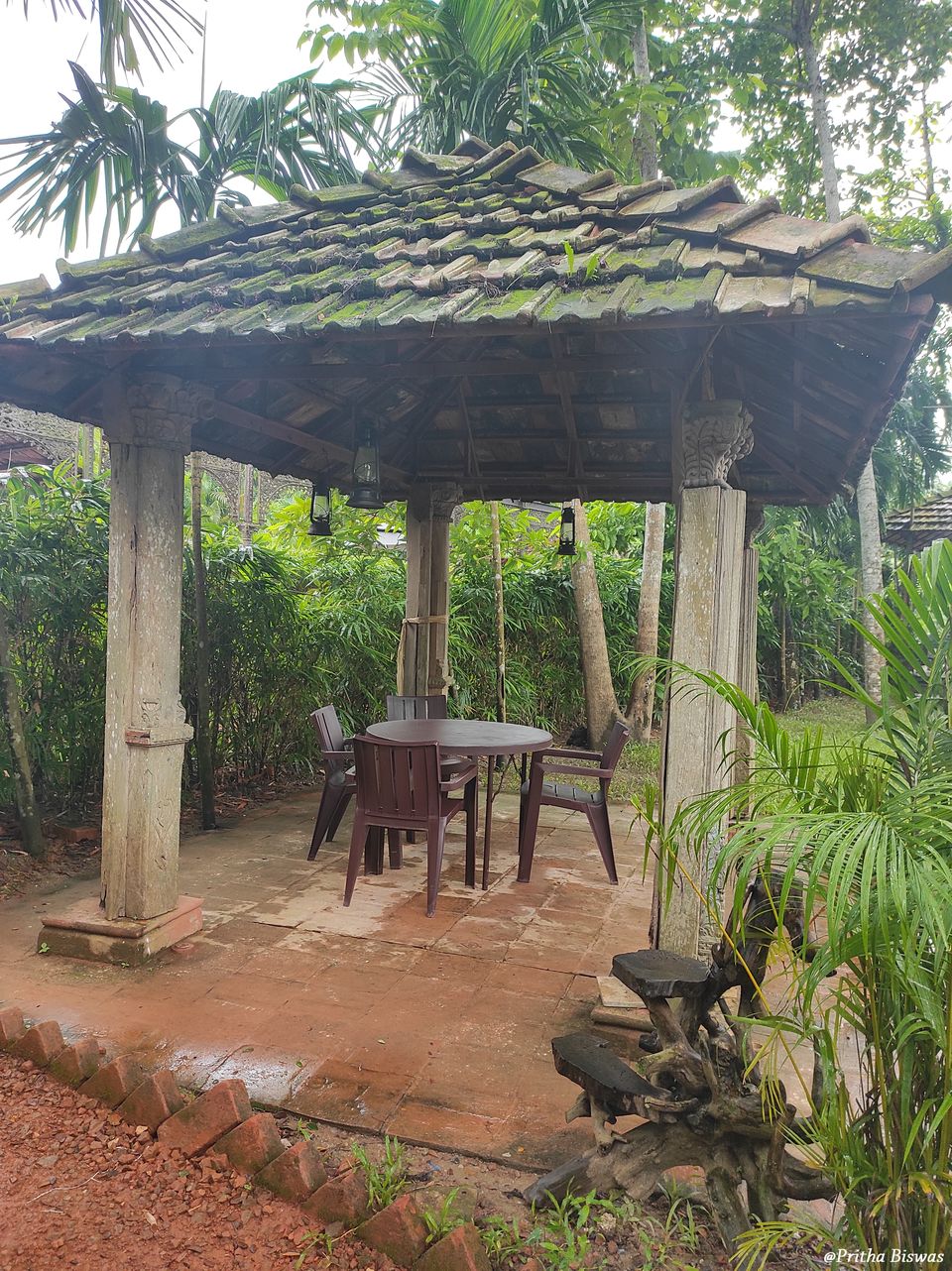 They have the lunch time around 1-3pm, but we didnt have lunch that day. We roamed around the property, clicked hundreds of pictures. the evening arti starts at around 6:30-7 pm . The view is amazing. The stairs are lit up with diyas. The ladies perform the traditional bengali style arti with kashor, shonkho, ghonta and dhup dhuno. You can visit this from the ground florr as they arrange chairs for that. As well as that you can visit it from the verandah on the 1st floor. The view from veranda was better. The veranda is mostly reserved as it has a cafe cum bar. On weekend they have dance performance live song performance also, but on weekdays they light up a cracker which is called "tubri" in bengali, it is similar to "anar" for north indians.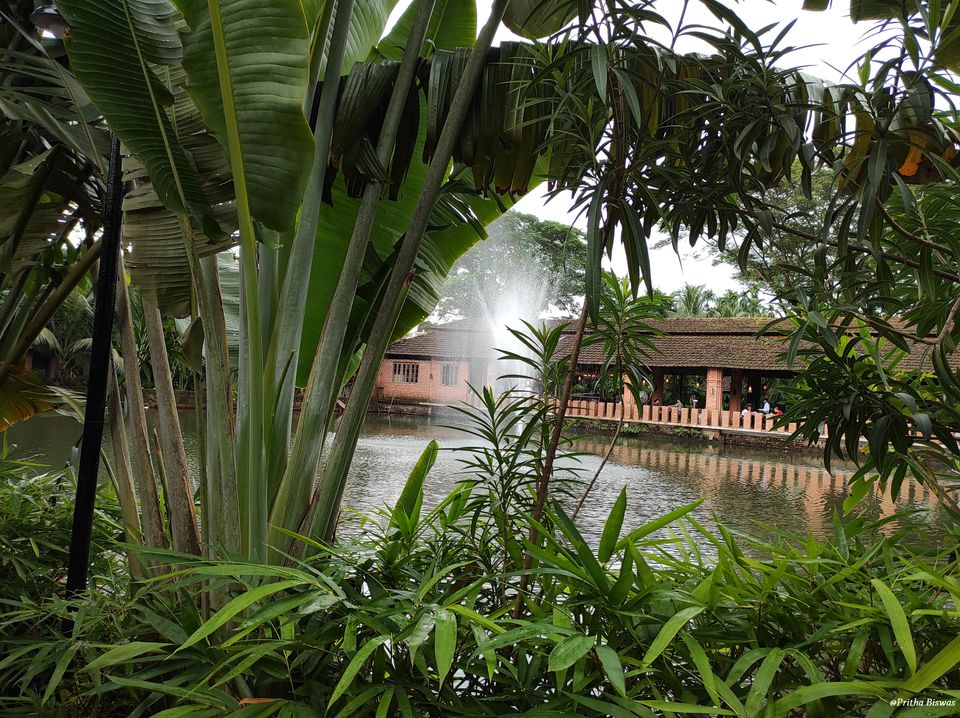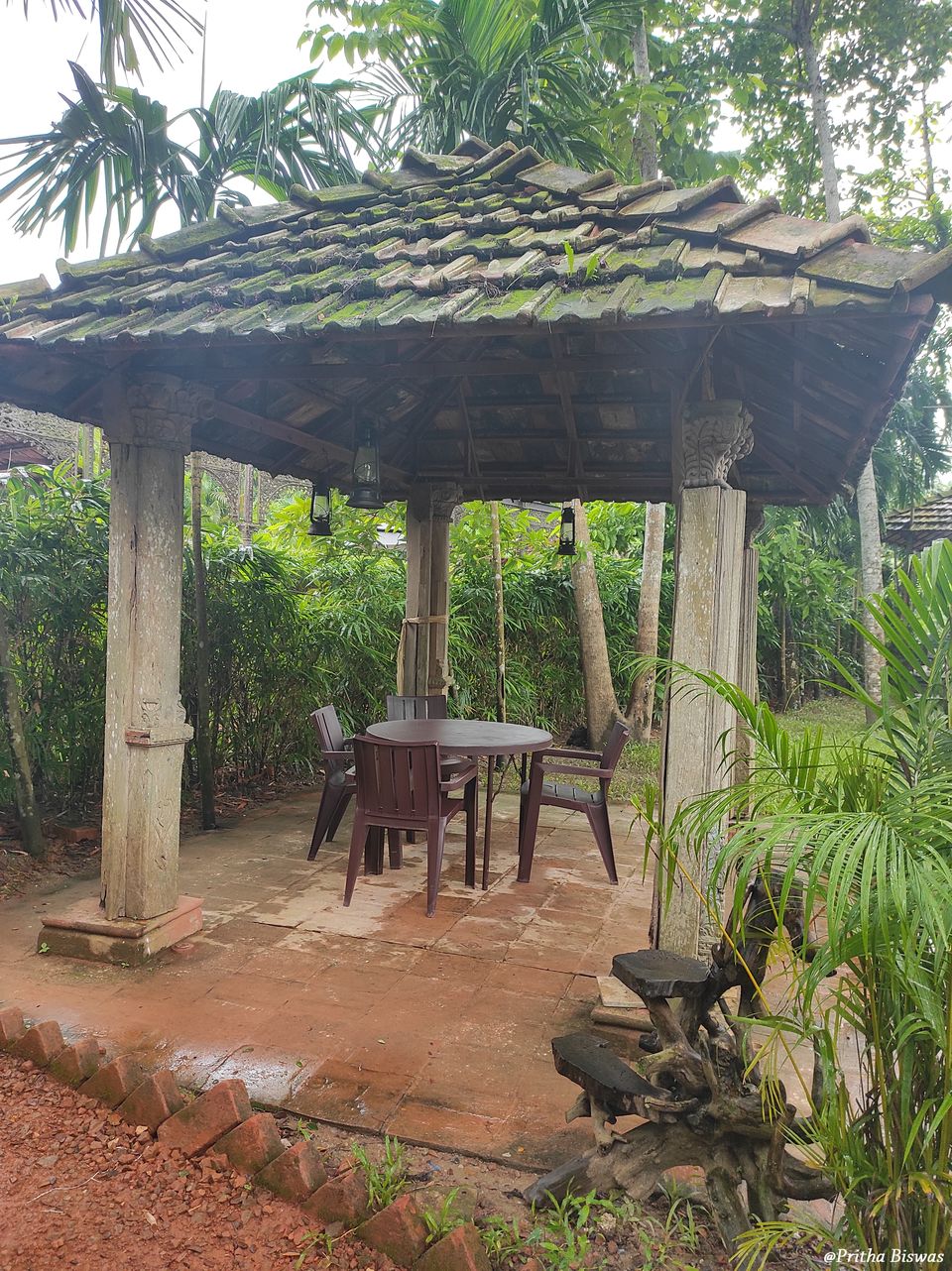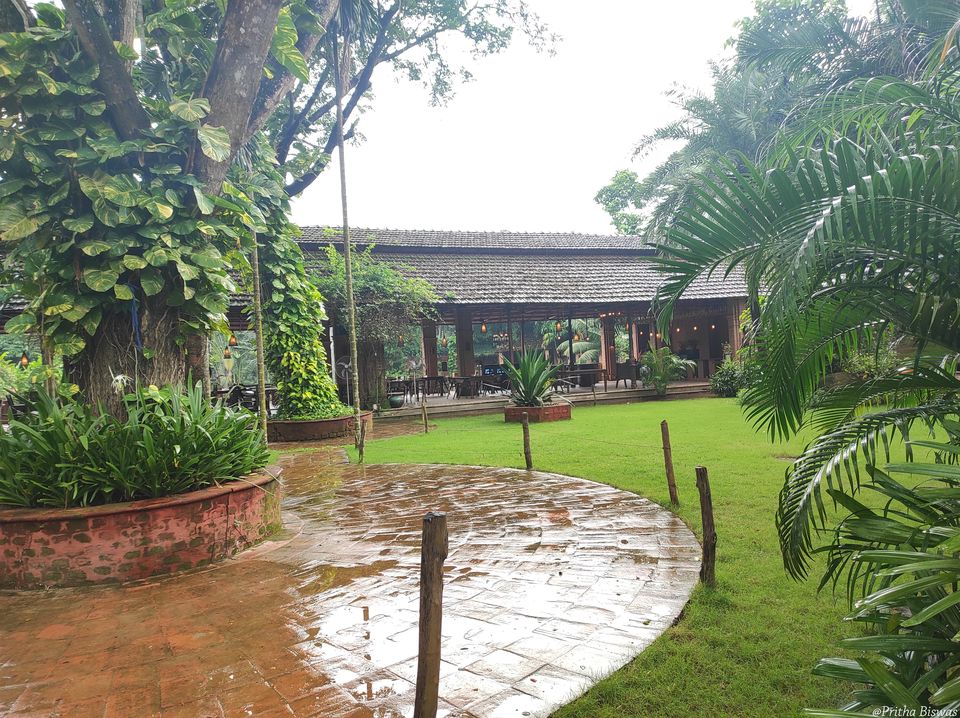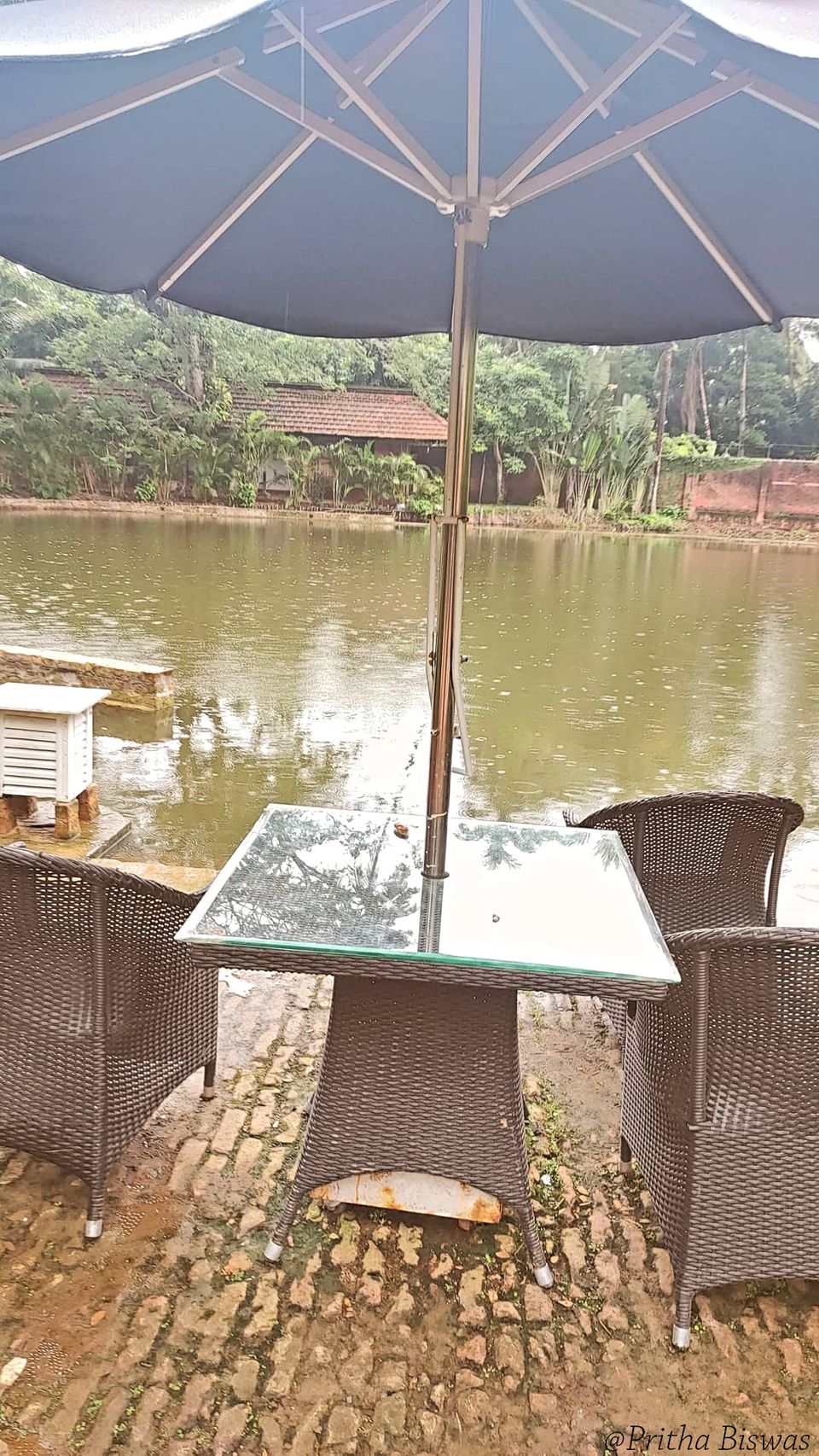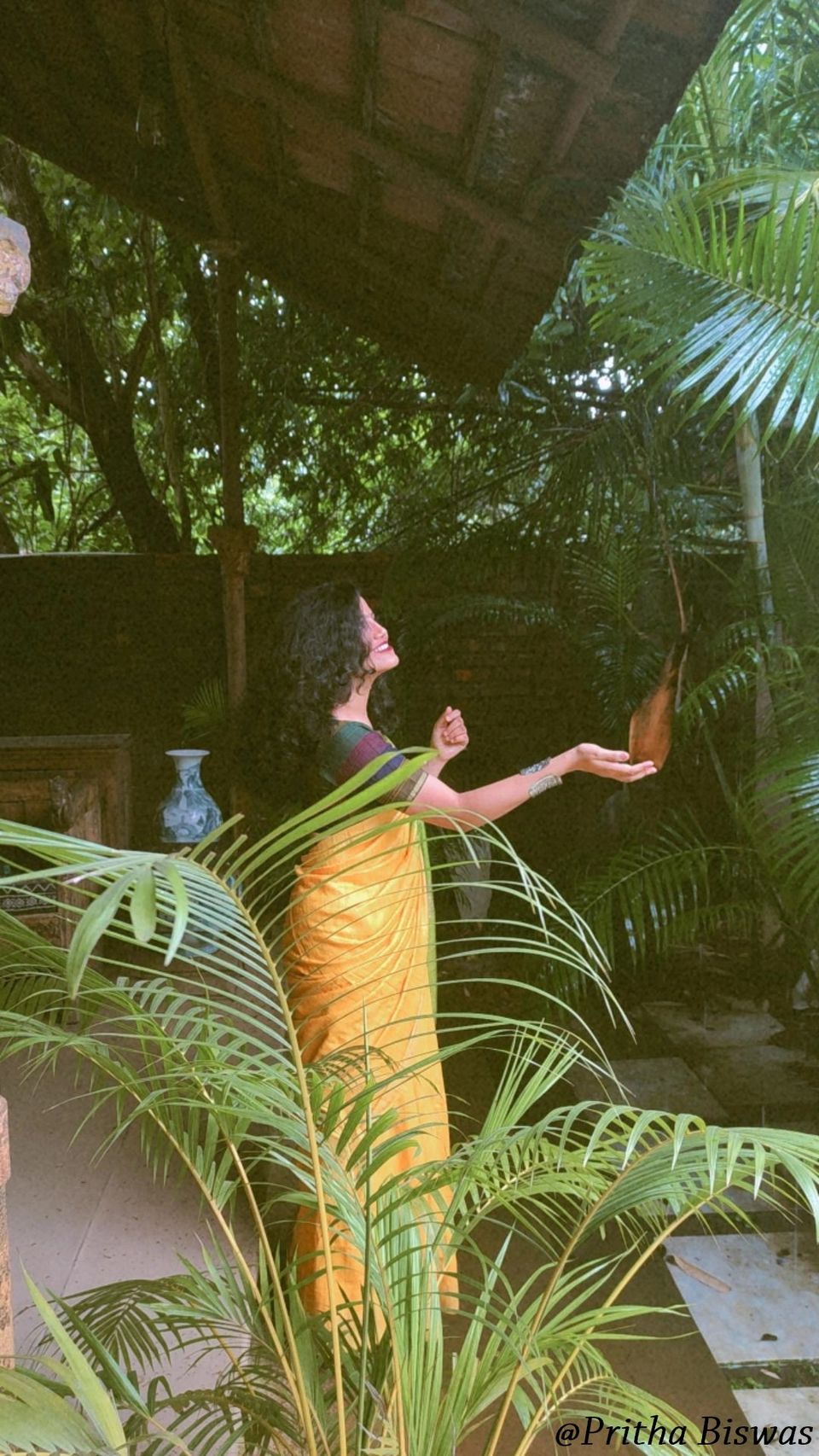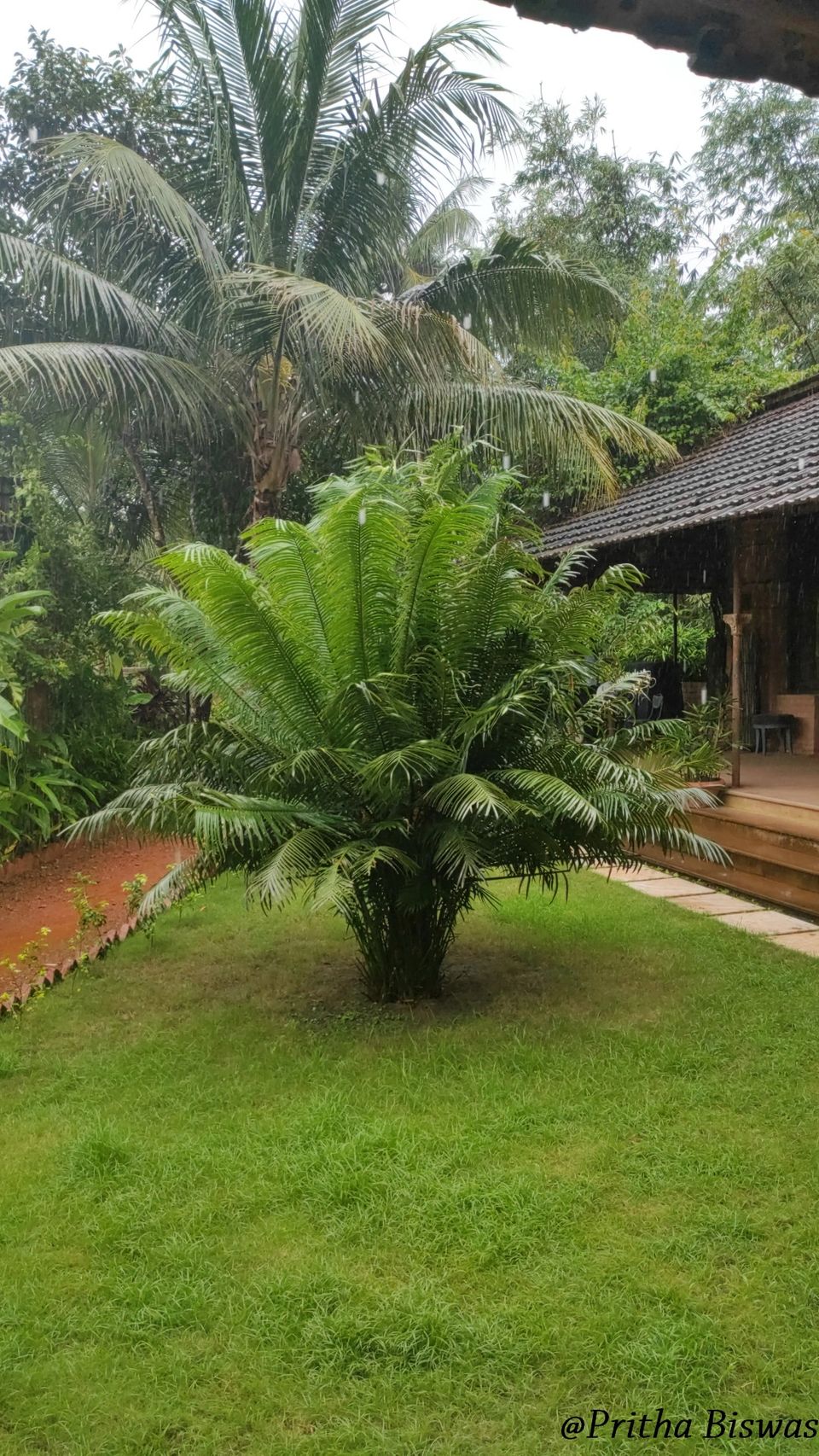 Then we headed towards the most exciting place for me- SWIMMING POOL. It is open till 10 pm for all the people who have room booking. We were ready with our outfits, played for a long time. Now, our stomach was calling for help. We have already ordered our dinner. You have to pre-order the dinner according to options available. You can have it in the dining area or your room also. We ordered one plate noodles and one plate babycorns to our room . It was delivered on time. It costs us 1080 INR but the amount was not sufficient for 2 stomachs (we have normal diet). Thank god we took chips, biscuits etc so our tummy was full with all that side stuff. so overall, the food was not up to mark for cost as well as taste.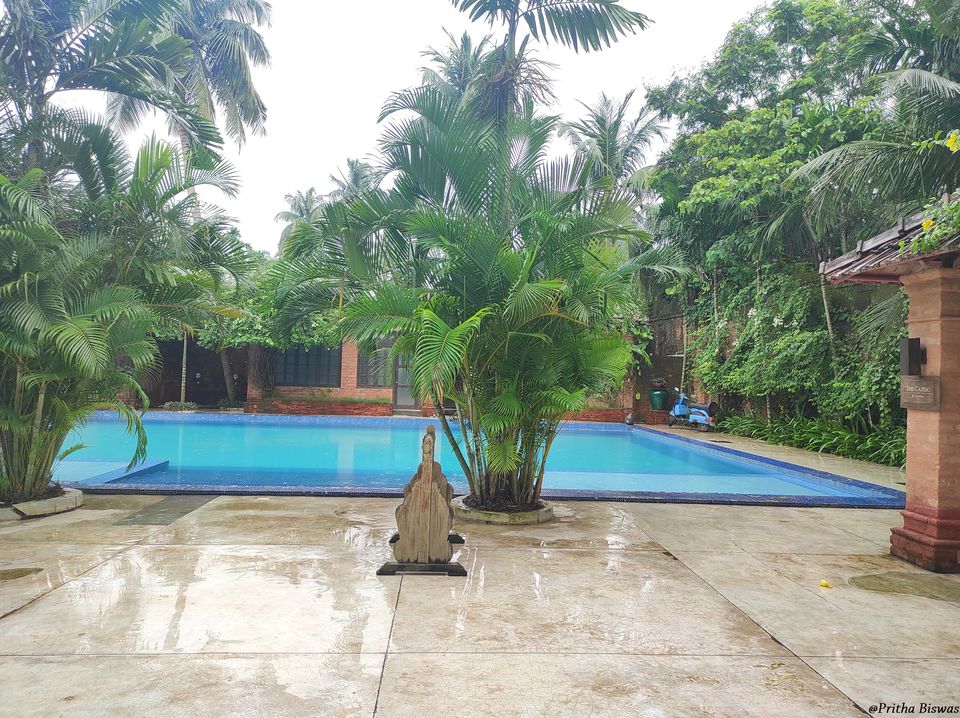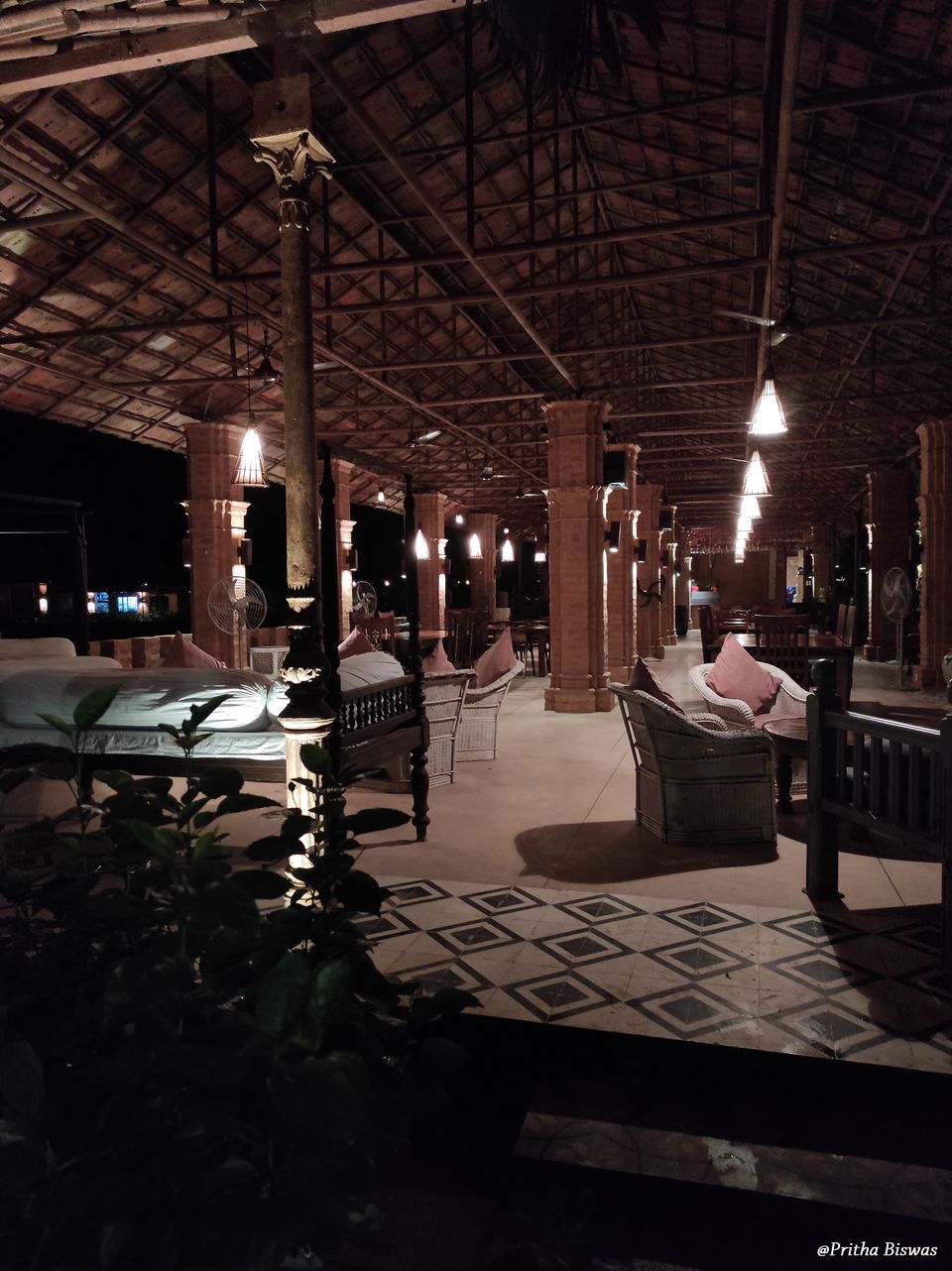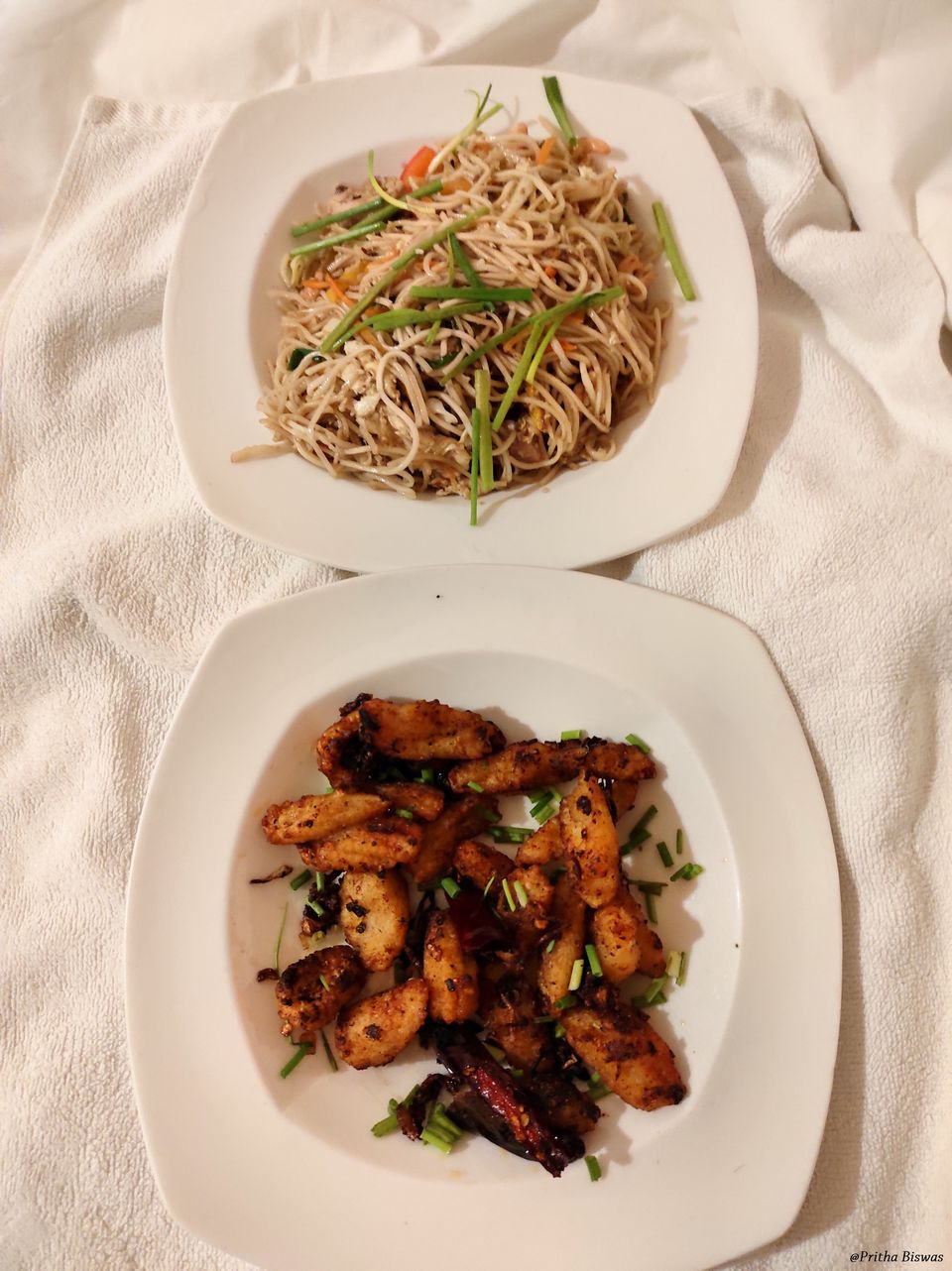 Day 2- Having a great sleep on a comfy bed , we woke up at 8am. The breakfast timing was from 8:30-10:30 am. It will be served only in the dining hall as it is a buffet. The breakfast was complimentary. You get various options starting from juice- strawberry, mango, apple, banana, watermelon etc, you have cereals, poha, dosa, baked beans, omlette, sausage, etc etc. This was quite good. I loved the sausage and masala omlette. The dining hall had a great location. On the right you have big trees and a lawn , on right you have a pond with ducks quacking around. And the add on to our trip was RAIN. We had our check out at 12pm. We were ready for it. But we stayed there for the lunch. So basically we left the room, our luggage was kept in a safe place. We had time to roam around the property. The property is really huge, we couldnt cover all the areas . We went to the rooftop cafe. And it was out of the world. We regretted that we didnt go there in the last evening. If you guys go there dont miss that. The ambience was very soothing.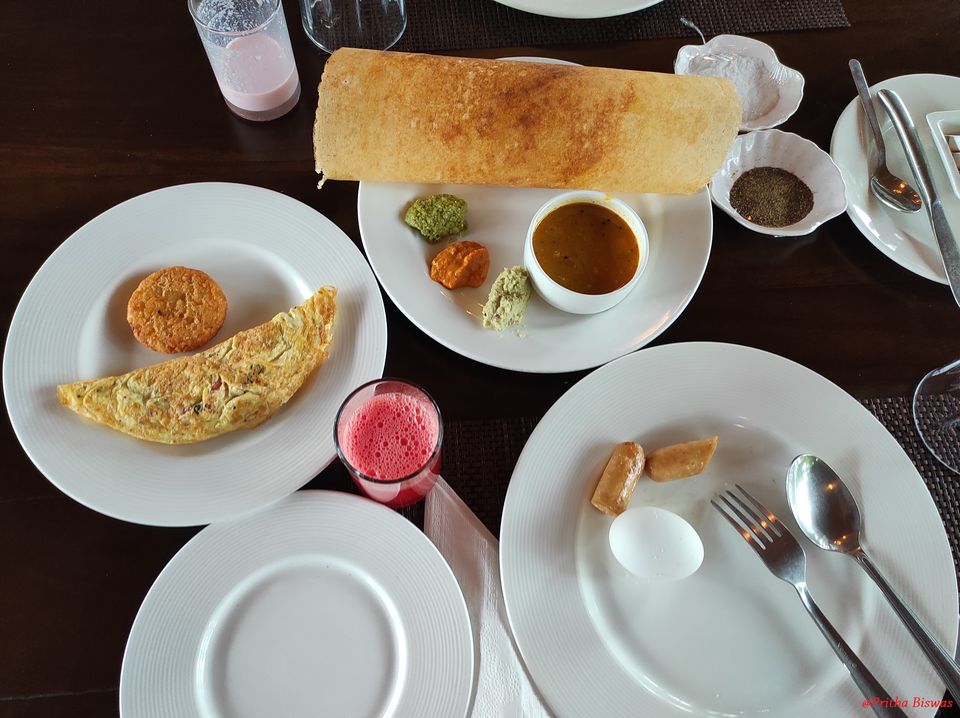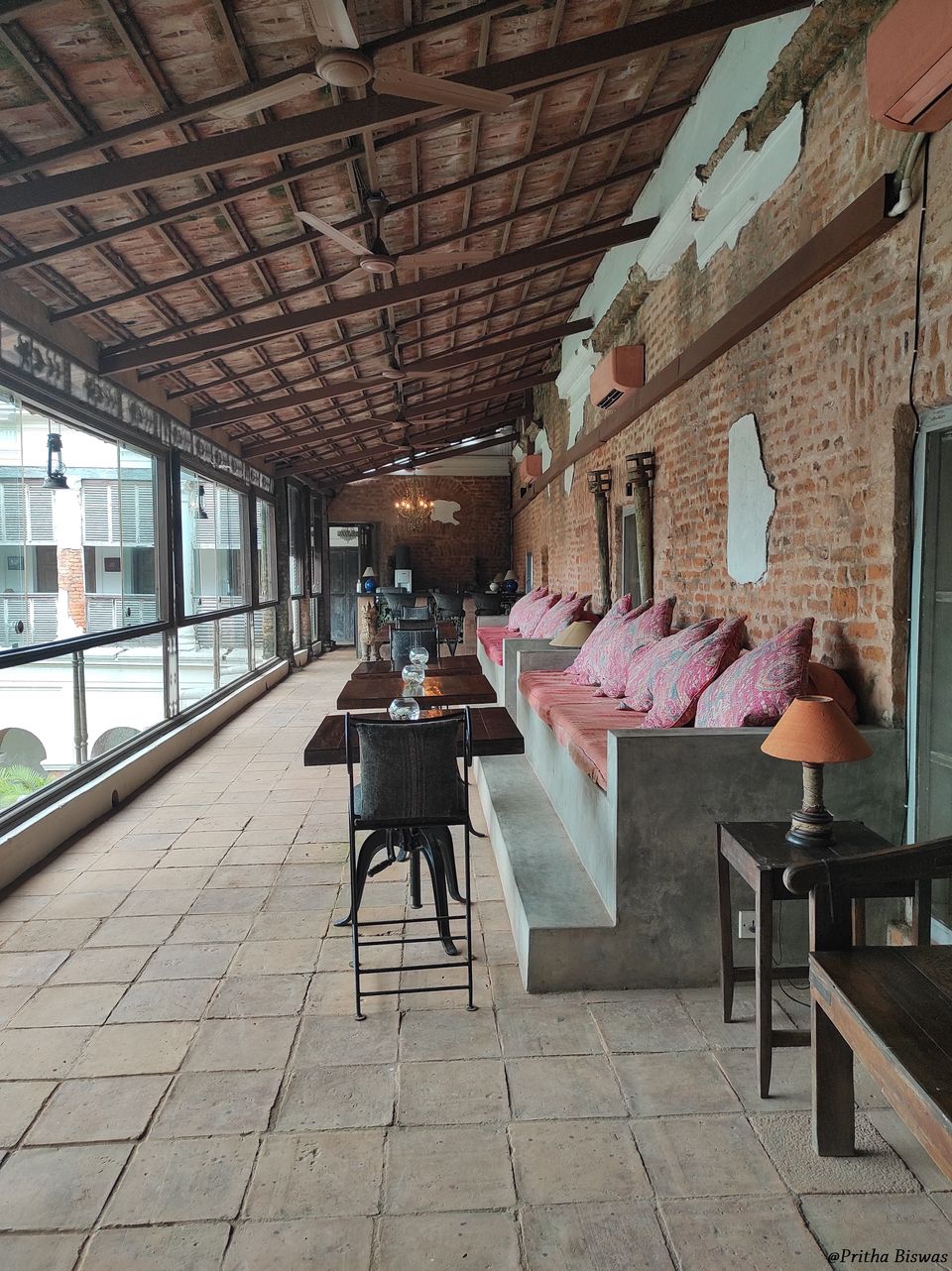 Heading towards our lunch, we have have been seeing in the instagram for a long time and main reason for going to the place. They serve you bengali thali . Items included were bhat, moong dal with matar, aloo bhaja, salad, kakrol bhaja, shukta, sag, aloo posto, chingri die kochu pata, mutton, luchi, bhetki macher paturi, sandesh, rosogolla, chutney, papad, misti doi. The total cost for 2 plates was 3068. Again it was not up to the mark in terms of taste and rate according to us.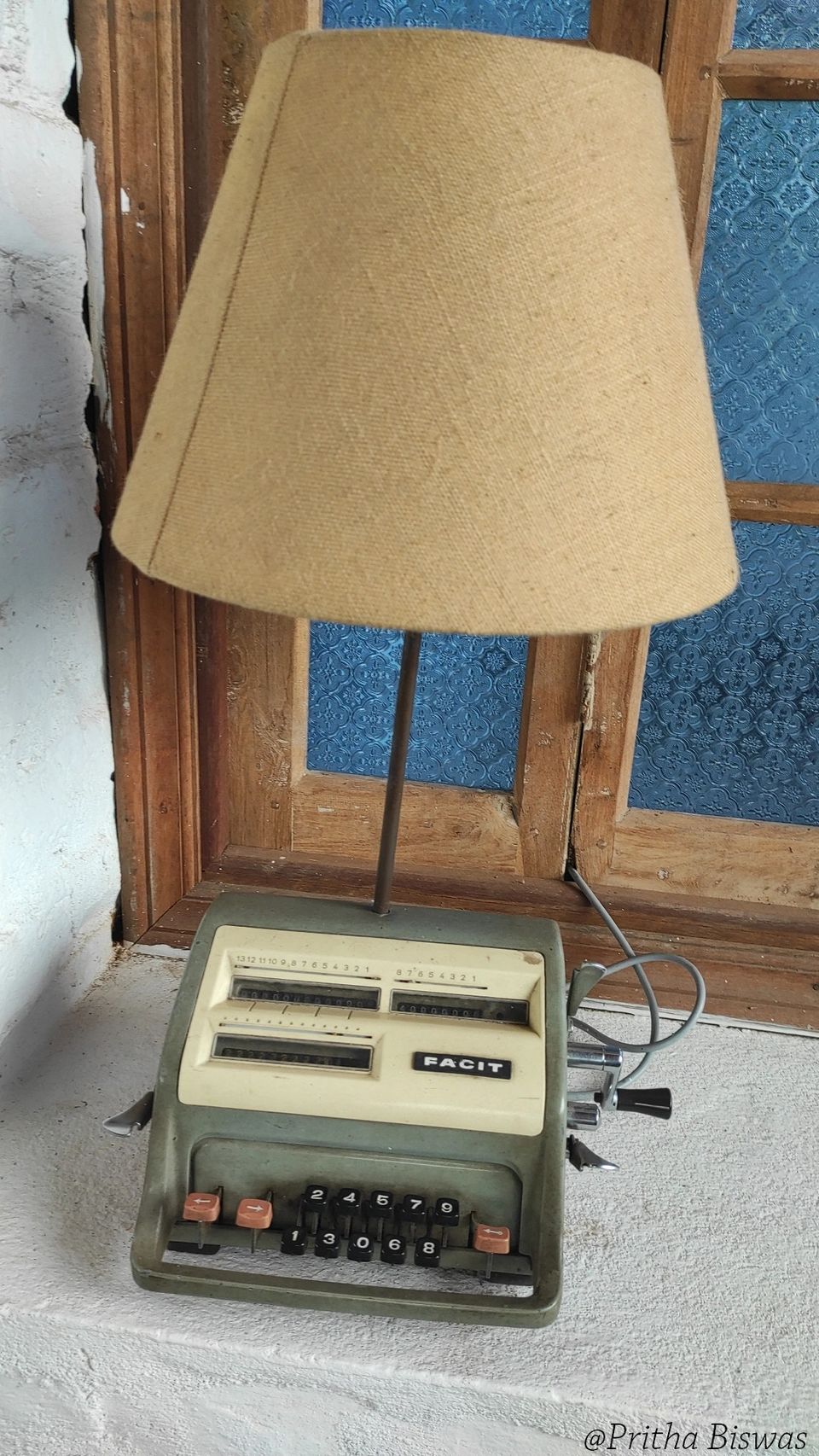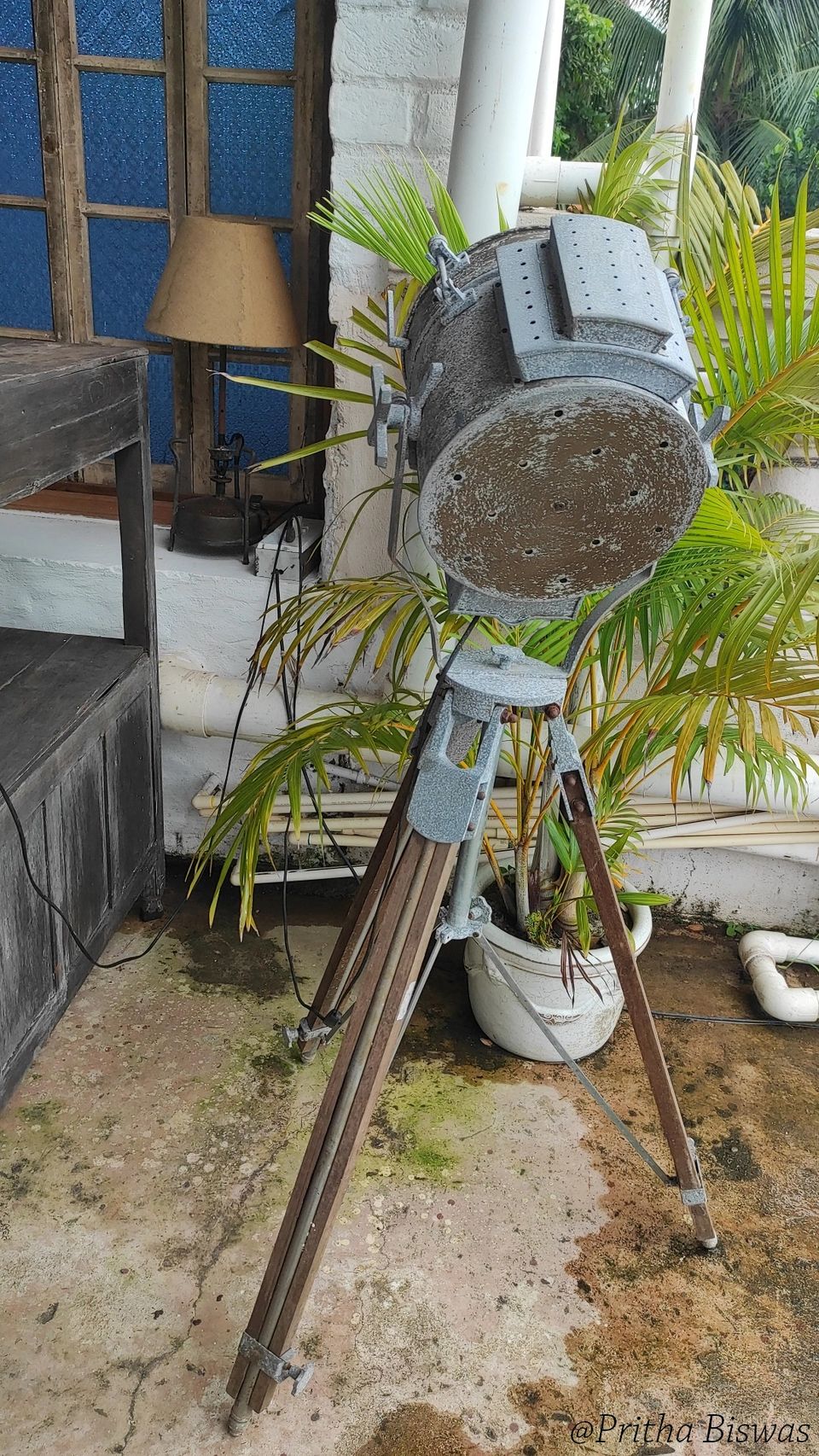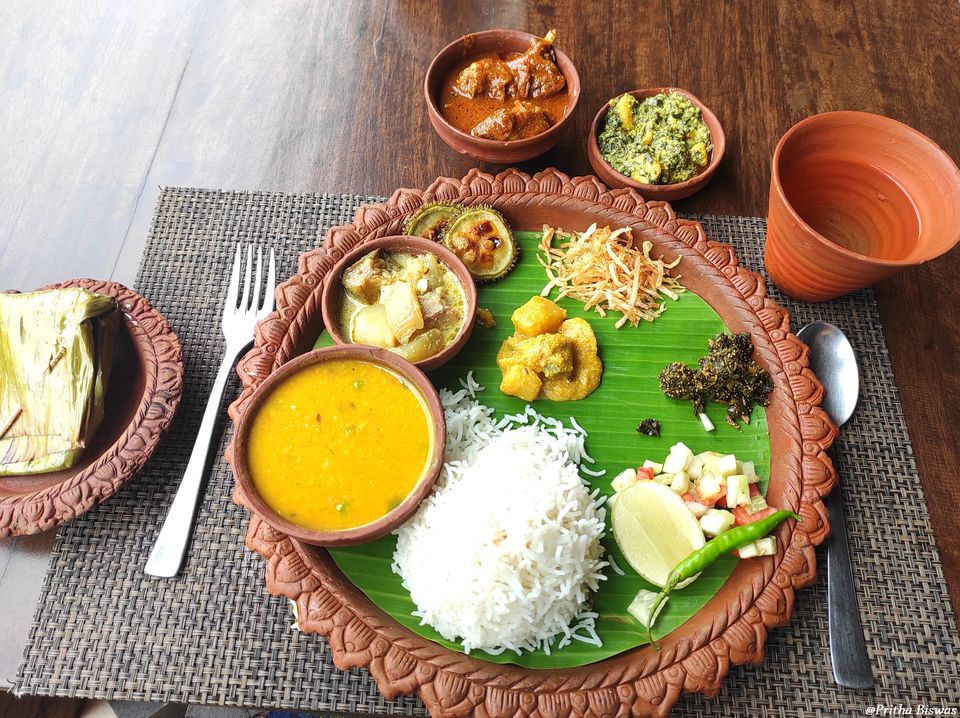 After lunch we were ready for final check out. We started seraching for Uber around 1:30 pm but unfortunately didnt get any cab. Even when we got the cab the driver cancelled the ride, so getting a cab is a big issue. Hence I said better to go with your own vehicle. Ultimately we had our sources and booked a vehicle and reached home.
Ending with the total cost of the trip - Stay - 6260 for 1 night (including tax, which was earlier said to be 5500 in call but on spot it was said that 5500 is without tax). Lunch - 3068 for 2 non veg thali. Dinner - 1080 .
Overall experience was great. The place is very well maintained, clean , proper COVID precautions are measured. Good place for family and friends . But get ready for a big pocket pinch.