"There's no time to be bored in world as beautiful as this!"
These words kept echoing in my mind as the flight was about to touch down in Leh. For a moment, the view from the window made me forget all the woes of life - filling my heart with immense joy. Ladakh has been there on my bucket list since forever, and there have several times when I planned this trip, solo, as well as with friends. But things never seemed to work out!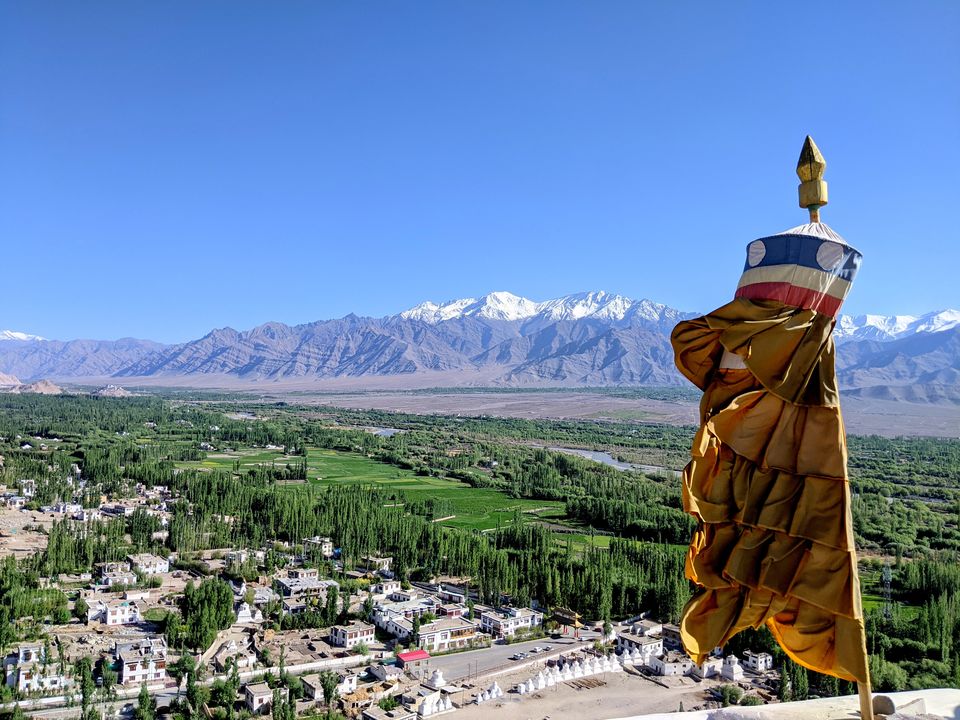 Who would have known that I would make it to this 'Heaven on Earth', just when the anxieties of the pandemic sky-rocketed? As the second wave of Covid-19 was taking a downturn, I thought to escape to the mountains for a while and I couldn't think of a better plan than living in the gorgeous 'Land of High Passes'.
Located at an altitude of 3,524 metres (11,562 ft), Ladakh is indeed blessed with incredible topography that comprises of hilly terrains, high altitude peaks, vast stretches of cold desert, pristine lakes and the lush green grasslands.
RT-PCR tests & other Covid-related guidelines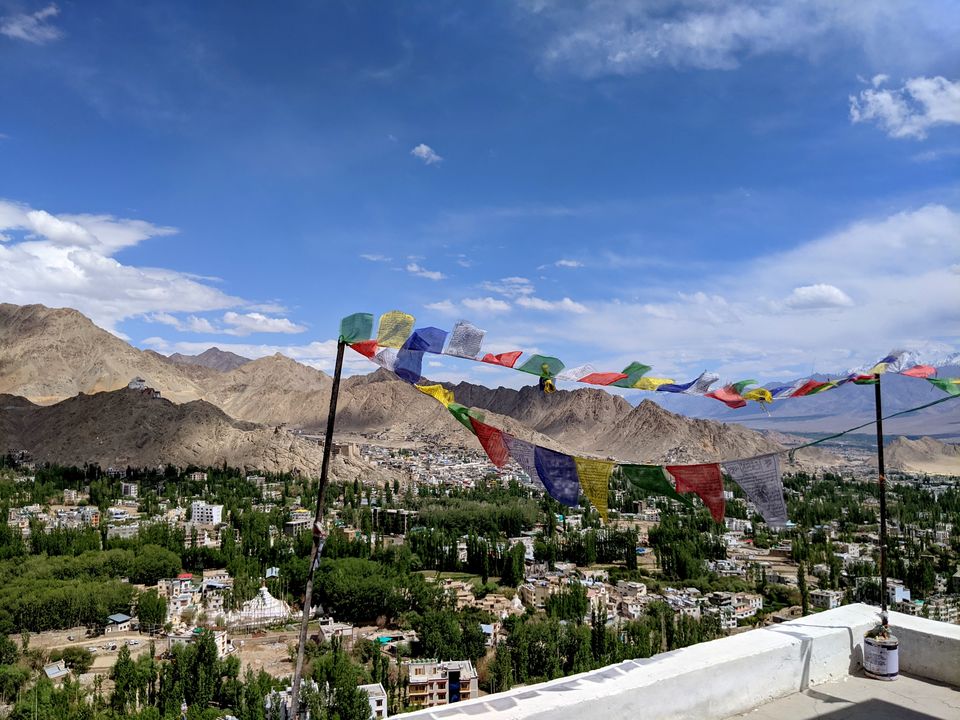 1. If you're taking a flight to Leh (IXL), it's necessary that you carry your Negative RT-PCR report as well as hotel booking details.
Both will be checked at the airport, once you de-board the flight. In case you don't have the Covid-19 test reports, you'll have to go through the mandatory Rapid Antigen Test at the airport before you step out.
2. It is advised to wear masks while hopping around the public areas. There's are police checkpoints at various points in the town, where you might be fined if you aren't wearing a mask!
3. Inner line permits (ILP) can be obtained online.
4. An RT-PCR Report is a must to get the permit, along with a copy of your Aadhar card.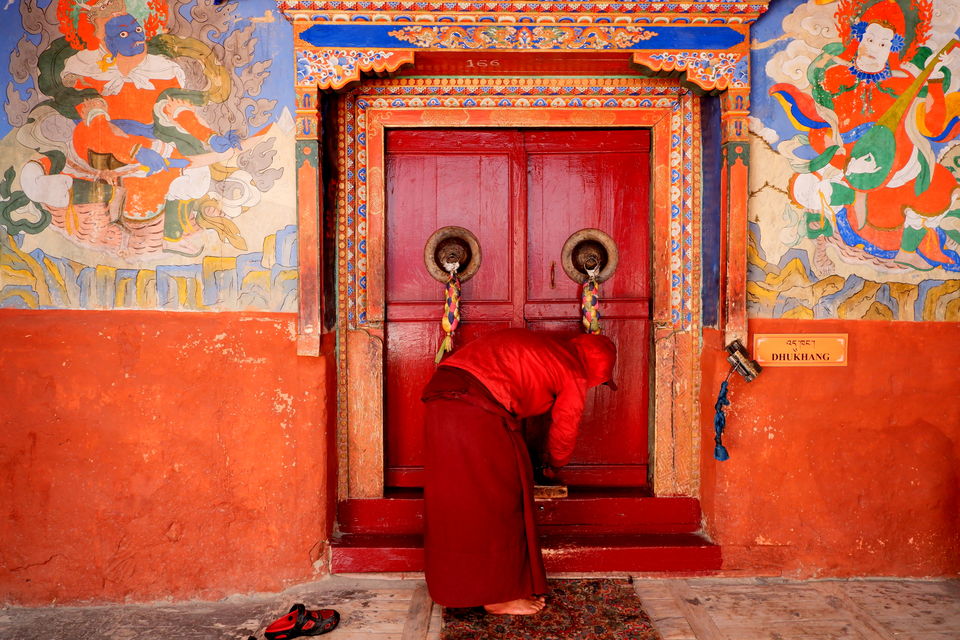 Where to go in Ladakh
As mentioned earlier, all the places have opened up in Ladakh and one can easily travel anywhere in the UT, keeping Leh as the base for convenience.
If you fly to Leh, it's advisable to take a day's time and get acclimatised to the altitude. Mild headaches, shortness of breath and tiredness are common symptoms that might arise, but keeping yourself well hydrated and taking ample rest will definitely make you feel better.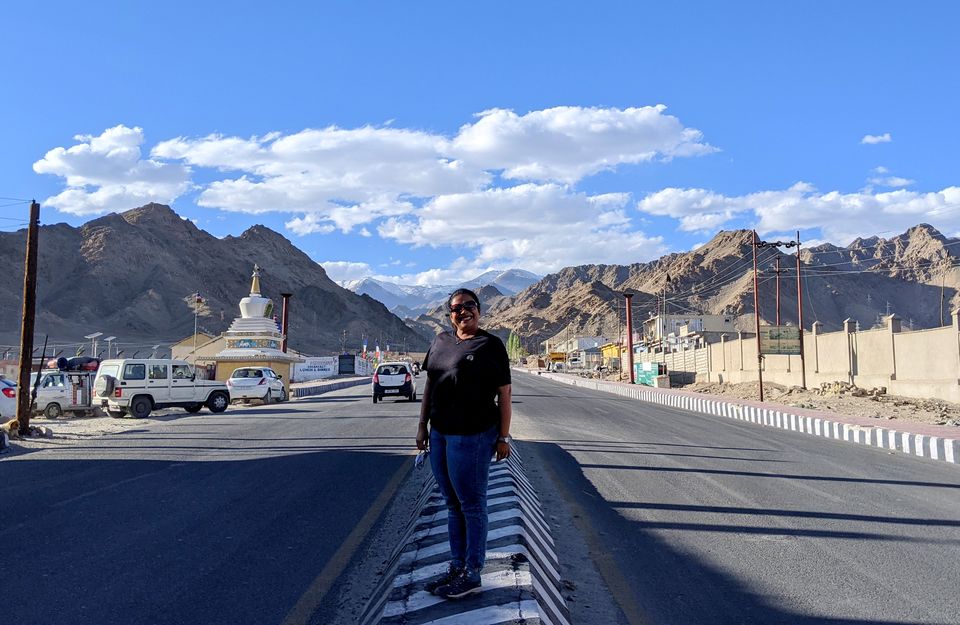 Things to explore in and around Leh:
Needless to say, you'd need at least 3 to 4 days to explore all that's there in and around Leh.

1. Shanti Stupa: Situated on a hill-top in Chanspa is this beautiful dome shaped Chorten called Shanti Stupa. What makes this white structure an attraction tourist place is the view it offers of the whole of Leh. The walls inside the Chorten have panels depicting the life of Lord Buddha. To add to that, the vibe of the place would make you want to stay for long.
2. Spituk Gompa: Located at a distance of about 8 km from Leh, this is one of the most dazzling monasteries in India, which houses 100 monks and a giant statue of Kali. That's why, you might find the local cab drivers referring to Spituk Gompa as 'Kali Mandir'. It is famous for its collection of Buddhist objects like ancient masks and numerous Thangka paintings.
3. Shey Palace: Shey Palace is an ancient monastery, which once served as the summer capital of Ladakh but is mostly in ruins now. Located on top of a hillock, 9 km from Leh, it offers stunning panoramic views of the surrounding village bordered by snow-clad peaks. If you happen to be at the Shey Palace during dusk, you'd be mesmerized to see the gorgeous shades of crimson and scarlet that paints the sky!
4. Leh Market: It's the the Mall Road that you'd find in almost every hillstation in India. The bustling part of the town, with souvenir stores and Tibetan shops selling antique items, new-age cafes alongside the traditional Ladakhi restaurants - the Leh market comes to life at night. It's the most crowded part of Leh & no matter whether you like it or hate it, you'd surely not be able to ignore it!
5. Leh Palace: While roaming around the the market, you'd get to spot this 9-storied palace turned into ruins! This 17th-century former royal palace is now converted into a museum. The highlight is the sweeping view of Leh and the surrounding Zanskar mountain from the rooftop.
6. Hall of Fame: Located at approximately 4 km from the main city, this glorified museum was built in memory of the brave soldiers who lost their lives fighting for India in the Indo-Pak War.
7. Thiksey Monastery: Resembling the Potala Palace of Lhasa, Tibet, this is one of the most popular monasteries of Ladakh. Located at a distance of about 20 km from Leh, Thiksey Monastery comprises a 12-story building complex and houses more than 500 monks. Thiksey has a large and precious collection of Buddhist books, journals, statues, scripts, stupas, swords, and Thangka paintings. The main highlight is the Maitreya Temple which houses a 15-metre high Maitreya Buddha statue.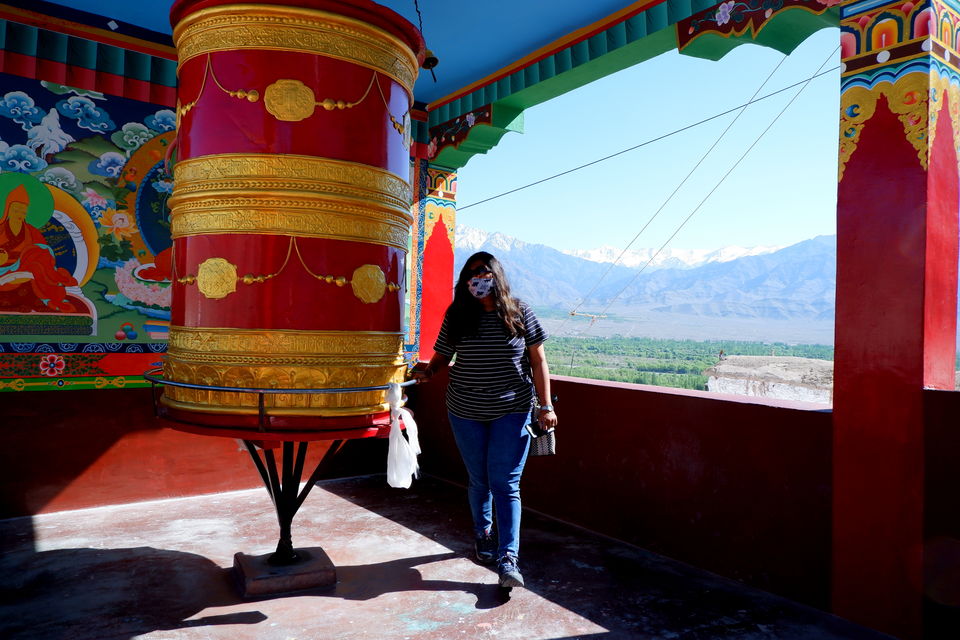 8. Hemis Monastery - Located at a distance of about 45 km from Leh, Hemis Monastery covers an awe-inspiring site, on a large rocky hill and houses a spectacular copper statue of Lord Buddha along with stupas made of gold and silver, thangkas (a painting on cotton or silk, depicting Buddhist deity) and murals.
9. Stakna Monastery - Located on the left bank of Indus River and perched on a hill, Stakna monastery offers amazing views of the surrounding valley and houses numerous paintings, idols, and Buddhist scriptures. It is one of the oldest monasteries of the region, assumed to be founded during the reign of King Jamyang Namgyal in 1580.
10. Stok Palace: Situated at a distance of only 15 km, Stok Palace is famously known as the summer home to the royal family of Ladakh. Established in the year 1820 by King Tsepal Namgyal, it is a glaring example of the rich history and lifestyle of the royal family. It is also home to Stok Monastery and is equipped with beautiful gardens and a huge library. It has now been converted into a heritage hotel for visitors to come experience the royalty here.
11. Magnetic Hills: Located at a distance of about 30 km from Leh on the way to Kargil lies this unique landscape where vehicles defy the force of gravity and move upwards on the hill when parked at the marked location.
12. Chemrey Monastery: If you wish to explore a hidden gem, then head off to this 400-year-old yet unexplored Buddhist monastery located approximately 40 km from Leh. It is known for housing a staggering statue of Padmasambhava (almost a storey-high) and a collection of ancient scriptures with the text emboldened in gold letters with the titles in silver.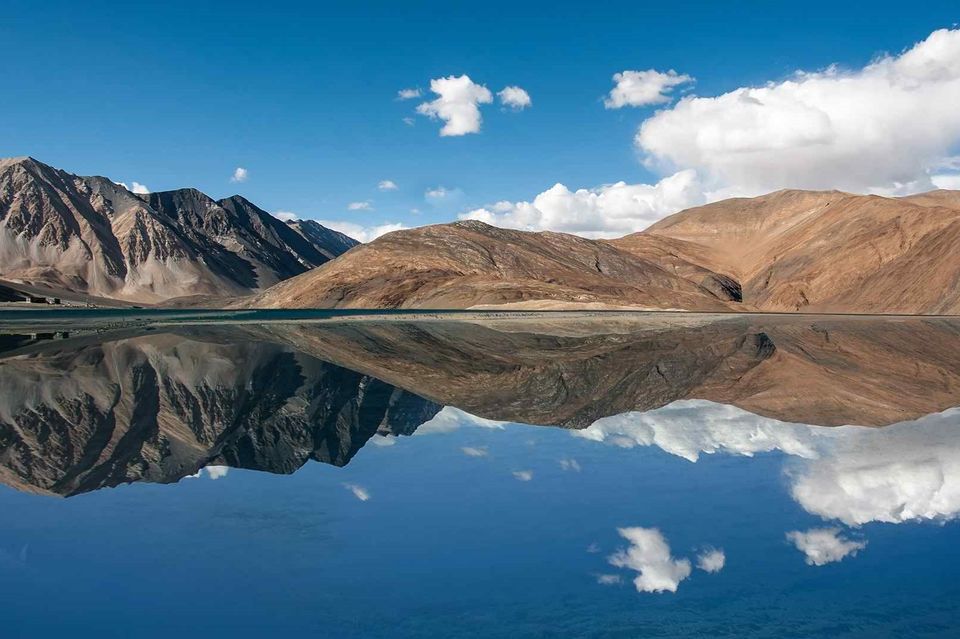 Overnight trips from Leh
While the above mentioned ones are in closer proximity to the town, one can easily manage to do day trips to all those places. However, there are other unmissable areas in Ladakh, which require overnight trips.
1. Nubra Valley - Diskit - Turtuk - Pangong Lake (3 nights 4 days)
Crossing the Khardung La (one of the highest motorable roads in India at an elevation of 5602 metres), and driving along the winding mountain roads would lead you to Nubra Valley on the banks of the Shyok River- which is known to be a cold desert and home to the Bactrian Camels. Drive further to Diskit, where you can explore the enchanting monastery built during 14th century. Near the Diskit monastery, stands a 32 meter tall statue of Maitreya Buddha facing towards the Shyok river and it's one of the most popular sites that one just can't miss! Travel to Turtuk, known to be the last village on the Indo-Pak border and gaze at the stunning views of the mountains and valleys. Continue with your epic adventure and visit the Pangong Lake (popularized by the movie '3 Idiots'). Words would fall short in describing this gorgeous lake that starts in India and ends in China. A unique feature of the lake is that it does not remain blue throughout the year or even the day, rather it changes colors from azure to light blue to green and grey too!
Cost - It'll cost you around 20,000 INR + Permit Charges to cover this entire circuit from Leh.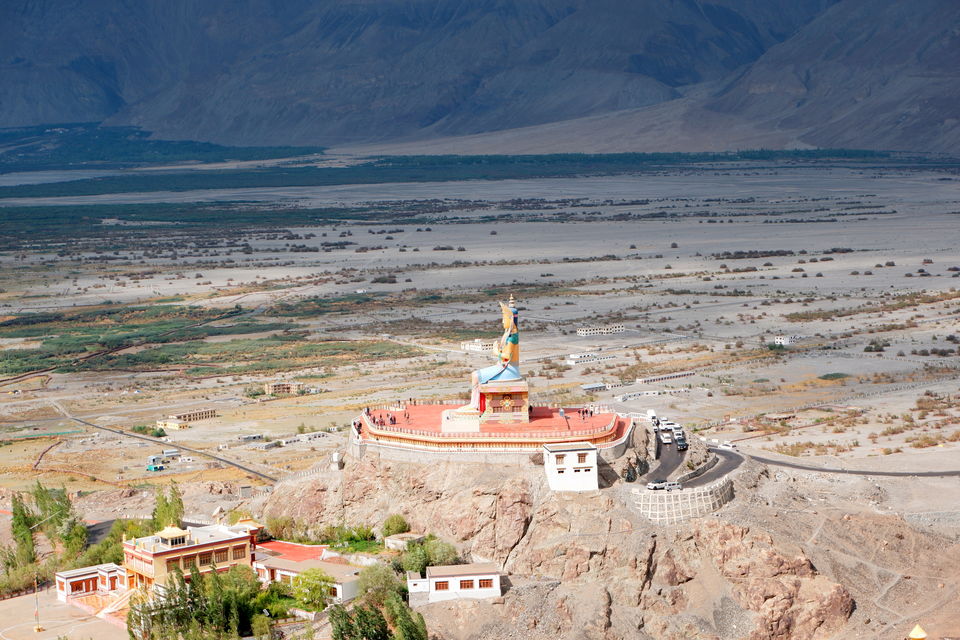 2. Tso Moriri - Tso Kiagar - Tso Kar (2 nights 3 days)
This is a lesser known circuit, yet no less beautiful! And since not many tourists flock to these hidden gems of Ladakh, you'd probably enjoy the serenity of these places even more. Tso Moriri is the largest high altitude lakes in India, at an altitude of 4,595m and takes about 7 hours to reach from Leh. On the way to Tso Moriri, you can stop by Tso Kiagar - situated in Rupshu valley and surrounded by the Changpa settlements. Tso Moriri (meaning 'Mountain lake') is less popular than Pangong Lake, and it's a perfect place of peace and tranquility flanked by mighty mountains. Spend your nights gazing at the star-studded sky, and you'd definitely get to spot the Orion and the Milky Way. A number of birds can be spotted at Tso Moriri like the bare-headed goose, the great-crested grebe, the Brahmin duck and the brown-headed gull - and thus, it's a paradise for bird watchers! On the way from Tso Moriri to Leh, you can stop by another high altitude saltwater lake, known as Tso Kar.
Cost - It'll cost you around 16,000 INR + Permit Charges to cover this entire circuit from Leh.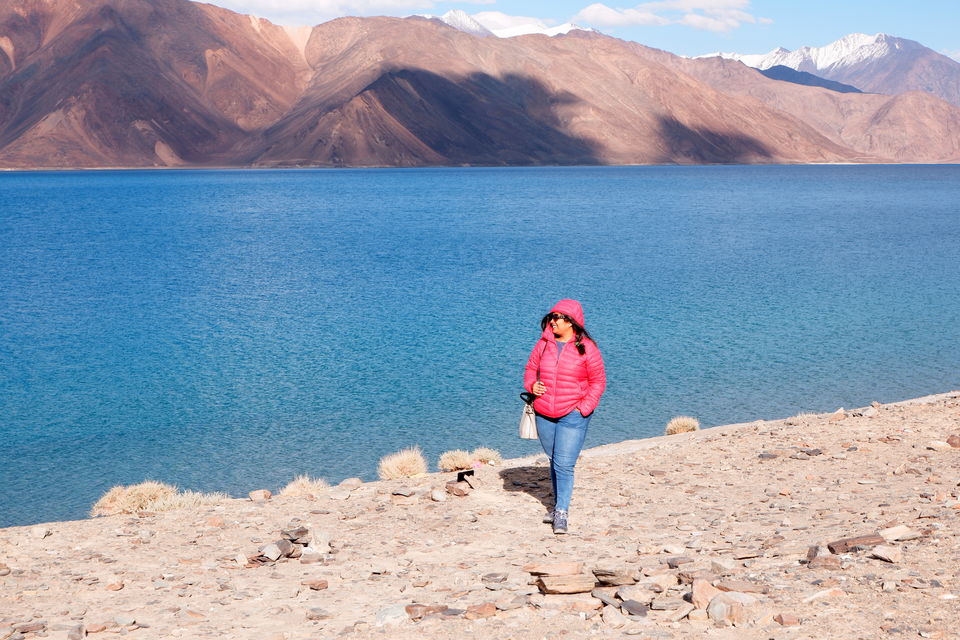 3. Lamayuru & Alchi (1 night 2 days)
Known as 'Moonland', Lamayuru falls on the Leh-Kargil Highway and is known for it's unique landscape which resembles that of the moon! It is immensely popular for housing the Lamayuru Monastery, the oldest and largest monasteries in Ladakh. Once you've explored this alluring village, drive further to Alchi - that's home to an ancient Buddhist monastery which dates back to 900 years. The monastery proudly bears the 11th – 12th Century Indo-Tibetan paintings done in bright green, gold, ochre and azure shades. Spend a night at Alchi to discover the real Ladakhi village life and soak in the serenity of this place.

Cost - It'll cost you around 8,500 INR + Permit Charges to cover this entire circuit from Leh.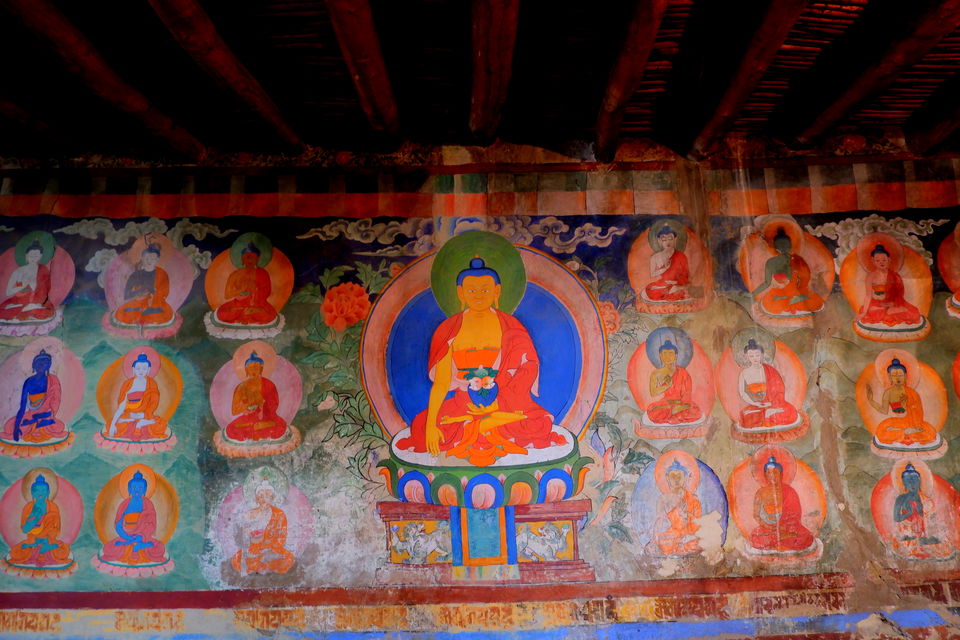 Where To Stay In Leh
You'd find all sorts of accommodation options in Leh, from affordable dorms in hostels to cozy guesthouses, and pocket-friendly hotels to luxurious properties.
Hostels in Leh: Zostel Leh is definitely one of the best options, where you can find a bed in a dorm at just 499 INR/night. Other options are Himalayan Bunker and goStops Hostel.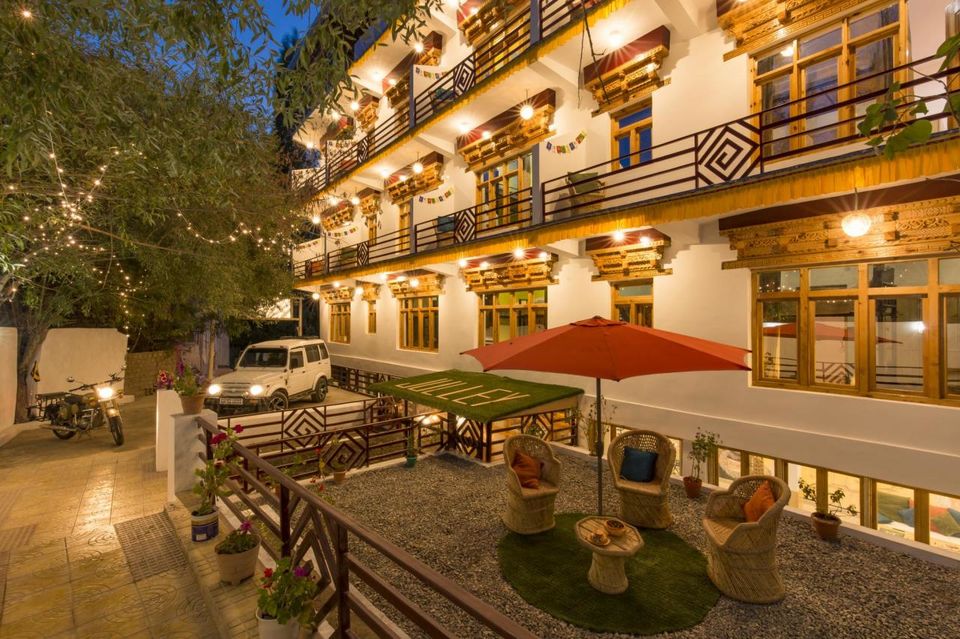 Guesthouses/Homestays - If you are looking for privacy and wish to stay away from the hustle & bustle, then you can choose to stay at a guesthouse/homestay accommodation with a local family. This would cost you around 1000 INR/night and you'd get to know more about the Ladakhi lifestyle.
Hotels & Resorts - If you have a higher budget, you can definitely find a room in one of the high-end properties in Leh and unwind amidst luxury. The pocket-pinch would be around 3000 - 4500 INR/night.
Where to eat in Leh
In case you're a foodie like me, you'll be spoilt for choices in Leh! From freshly baked pizzas to mutton momos, and authentic Kashmiri Wazwan to Thenthuk & Shyapta - you'd find it all here.
Here are some of the best eateries in Leh where you should stop by:
Chimath Tibetan Restaurant - You'd find the best Mothuk (Momo-Thukpa) and Mutton soup at this hole-in-the-wall restaurant, located in the main Leh market.
Naas Cafe - An Insta-worthy cafe with a diverse menu, this newly opened place serves mouthwatering burgers, noodles, chili chicken along with freshly brewed coffee and a variety of smoothies and shakes.
Kashmiri Wazwan - If you're craving for some Yakhni Mutton, Gushtaba or Rogan Josh along with Kashmiri Pulau or Keema Naan, then this is the place for you!
Lamayuru Restaurant - Serving the best Yak cheese pizza, this has become one of the most popular restaurants amongst tourists and locals. You'd also find Israeli cuisine here, along with Chinese, North Indian and Tibetan delicacies.
Lehvenda Café - Lehvenda Café has everything that you look for in a café: a great ambience, good music, mouth-watering food and coffee. Offering a perfect view of the Leh market, this is a place where you can sit for hours!
The Tibetan Kitchen - Situated in the heart of Leh town, The Tibetan Kitchen is one of the best restaurants to try local cuisines. The ambience and the outdoor seating arrangements make the whole experience of eating more enjoyable. The restaurant offers Tibetan, Chinese, Thai, Continental and Indian cuisine. While all the food on the menu is scrumptious, go for Tibetan food and you'll surely be drooling for more!
Workation in Leh
All hostels/hotels/guesthouses have moderate to high-speed internet, so you can carry on with your work pretty smoothly. Needless to say, you'd get to work with amazing views surrounding you on all sides.

There are several cafes in the market, like Brazil Cafe, Coffee Cave, Naas Cafe and Lehvenda, where you'd find high-speed internet. Get yourself a cup of freshly brewed coffee (or maybe an aromatic cup of Kahwa) and get going with your work!
Postpaid connections work perfectly in the town, but you'd surely struggle to find connectivity while traveling around places.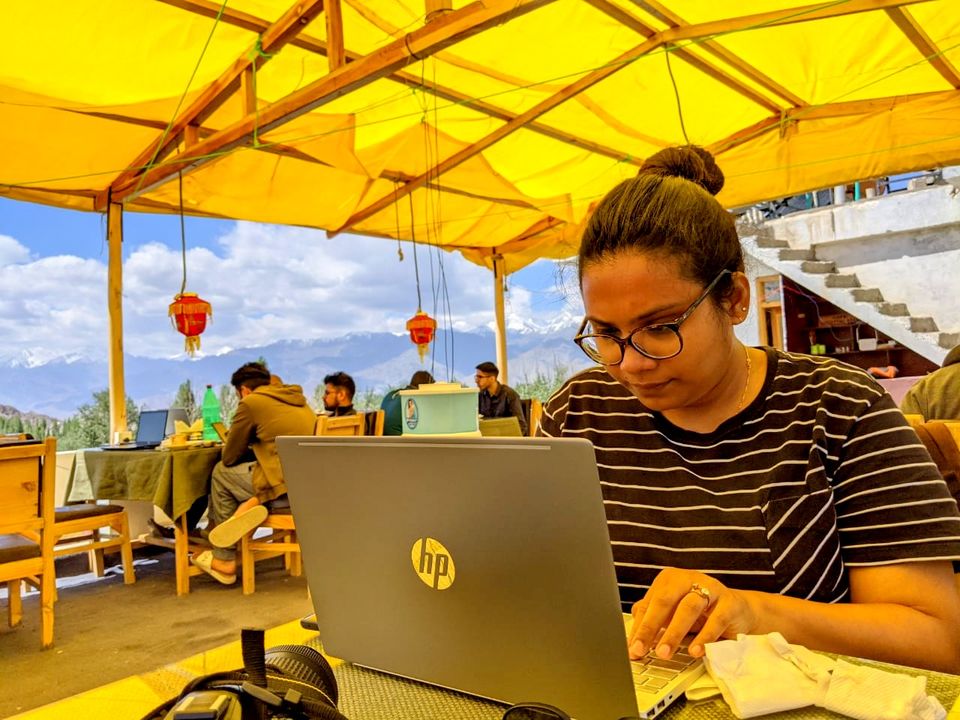 If you are fine to embrace slow travel and wish to stay longer in Leh, you can easily work on the weekdays (step out to explore nearby places in the evenings) and plan your trips over the weekend. Leh is a good option to consider for a workation.
How to reach Ladakh
By air: Kushok Bakula Rimpochee Airport in Leh is well connected to all cities in India, and you can take a flight to reach here. Currently, not many direct flights are available, but you can easily get a connecting flight, with a halt in Delhi or Sri Nagar.
By road: You can fly to Sri Nagar and drive to Leh via Zozi La, Drass & Kargil. Alternatively, you can also opt for a 'roadtrip of a lifetime' and drive to Leh from Manali, via Rohtang Pass - Keylong - Sarchu. It's known to be one of the most scenic routes in the country.
Currently, RT-PCR test report (not older than 96 hours) is mandatory to visit Ladakh by both air or road, along with hotel/accommodation booking details.
If you've been planning to travel to Leh-Ladakh or have any questions/doubts about traveling in the post-Covid times, drop a comment below.

Share your stories on Tripoto's Clubhouse channel!

Follow Tripoto on Telegram to get early access to top travel stories every day.