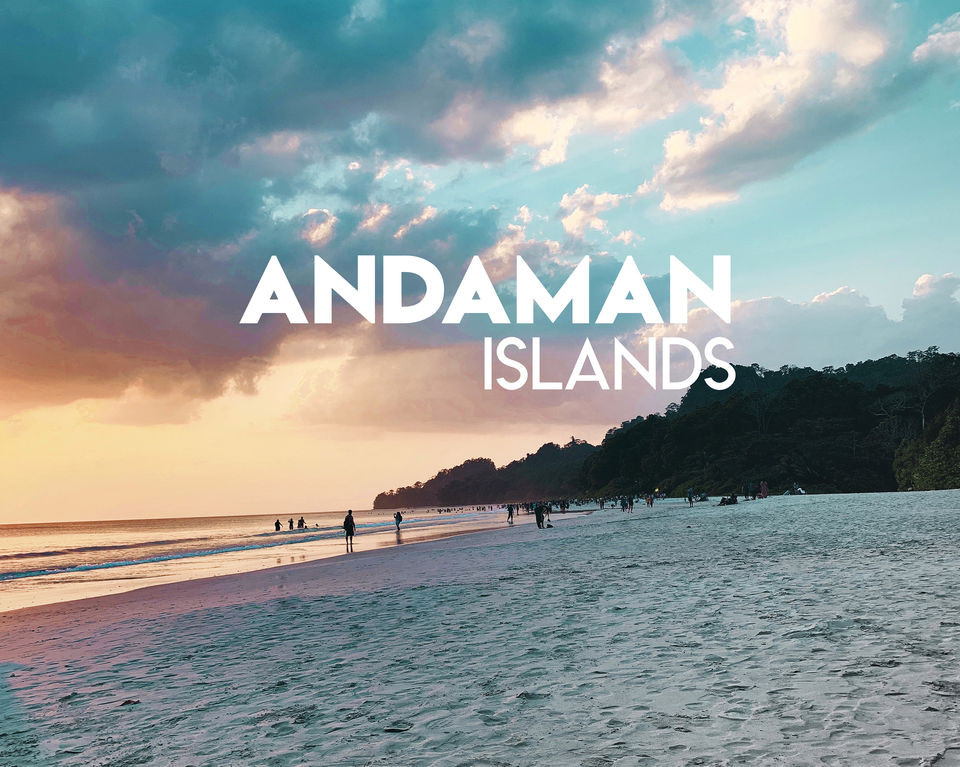 I'm an absolute Landscape lover and being born and bred in Mumbai, I've spent my entire life near the beach. I think, that is one of the reasons I totally switch to a beach person when not in mountains.
Andaman Islands is one such place that will revive your senses by just looking at those beautiful blue oceans. I couldn't contain my excitement when I first spotted the islands right from my flight window. I knew this trip is going to be amazing.
I've spent past few years traveling around the mountains. From the Western Ghats of Maharashtra to snow capped mountains of Uttarakhand, Himachal and Kashmir. So visiting Andamans was actually breaking my streak of constantly being surrounded by mountains and reminding me of my origin. The beach. The ocean.
As I landed in Port Blair with my best friends, I could hardly keep myself at the hotel. I had to go see the nearest beach. So we went to this really cool beach called Corbyn's Cove Beach. We took an Auto to the beach and man the ride along side the coastal ridge itself was so beautiful.
The next day, it was time to sail to Havelock Island. So far I had only heard of Havelock Island and gosh! The landscape photographer in me was in a big treat. As we started our journey, and as we kept sailing away from Port Blair sailing into the Andaman Sea, the ocean had started to change its colour from blue to a lighter shade of blue. More like turquoise.
Havelock Island has some amazing accomodation for every kind of budget. And guess what, every Cafe & RestroBar has a beach view.
And Speaking of beaches, Havelock has this infamous white sand beach called Radhanagar Beach. I saw the most surreal sunset ever at this gorgeous beach. Whenever you are going here make sure you grab an extra pair of clothes because I can bet you won't be able to stop yourself from taking a plunge into those vibrant waters. Also visit the beach after like 3pm or so. Because just look at this sunset. I think no one should miss this. One more thing to remember is that the beach is vacated past 5:30pm for safety reasons. Also Havelock has a great coral and aquatic life, so do not miss your chance to scuba or snorkeling around into those blue waters.
Another great spot is the Elephant Beach. This is also a beautiful white sand beach but the fallen trees by the shoreline gives the beach it's uniqueness. While everyone was having fun in the waters I got caught up observing these tiny little shell crabs. They are colourful and shy. The moment you step closer they tuck away into the shell. Honestly, I was almost acting like a kid who is curious to see what that thing is. And I won't lie, it was fun waiting patiently and then quickly photographing these tiny crabs as they stepped out of their shells.
There is another beach called Kalapathar but unfortunately it was yet another victim of over commercialization and was rather covered in garbage left by irresponsible tourists. So I then headed to find something that usually everyone misses out. On my last day at Havelock I woke up at 5am and decided to head out to random places to find great sunrise spots. And look where I ended up. I call this the secret beach and the sunrise here was just majestic. It was just me, a few fishermen and the oceans.
I was already so refreshed by the blue beaches of Havelock but the next day when we reached Neil Island, I was literally awestruck by these new shades of turquoise waters. Neil also means Blue in Hindi. Well I don't know if the island earned its name for being so blue but I think this definitely should be the reason. I mean just look at these turquoise blue shades.
For me as a landscape photographer, discovering and photographing a unique terrain is the most exciting part. The Natural Coral Bridge is by far one of the most beautiful terrain in Andamans. It's an easy little rocky trail to this majestic sight and the timing couldn't have been more better as we reached the spot it was almost sunset. The shifting colours of the sky, the ambient sound of waves crashing at the rocky beach, the cool breeze and the company of my dearest friends. I don't think there can be a more perfect sunset then this.
And it was finally my last day in Andamans, my last sunset and it was at back at Port Blair. This spot is called ChidiyaTaapu. This beautiful beach looks directly to the west and I think it's the best way to end your trip in Andamans. ChidiyaTaapu is like 30/40mins drive from main city. It's far, it's secluded and it's serine. Take your time, enjoy the sunset here and be in the moment. Sights like these are the one that refreshes your mind and soul.
I just re-lived those amazing 5 days in Andaman Islands while writing my first Tripoto Trip post. When I came back form Andaman Islands, I just couldn't stop thinking about Lakshadweep and what hidden beauty it holds. I only know 2 people who have been to Lakshadweep and they just couldn't stop telling me how untouched and breathtakingly beautiful it is. So guess what. I did. Yes. I just came back from Lakshadweep and I can't wait to share my experience with you all.
See you on my next Tripoto post very soon.'