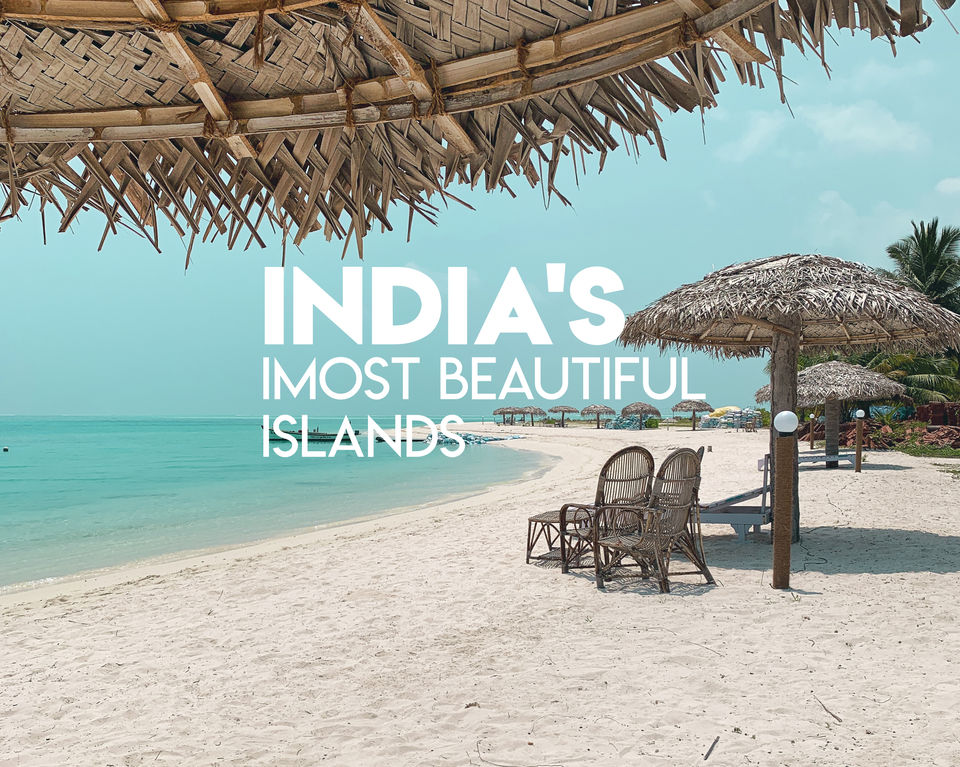 India is one of most culturally and geographically diverse country on our planet. And when we speak of travelling in India, it's usually the festivals and other culturally famous places. But did you know India also has worlds most gorgeous Beaches and islands?
Neil Island
Neil Island, the gorgeous turquoise island situated in south west part of Andaman and Nicobar islands. About 3hrs sail from Port Blair island, Neil island will capture you heart with its deep turquoise waters. It's a love at first sight experience the moment you arrive to Neil island.
But Neil island is a lot more then blue seas. The natural bridge also know as the coral bridge is a sight like nothing else in India. You can easily get taxi ride to the location and then it's 15min walk/hike to the coral bridge. The best time is around sunset. The colours and the breeze will make you fall in love all over again.
Oyster Island
Not known to many people, this tiny little island is hidden amidst cluster of other tiny islands near Karwar of Karnataka. With literally zero tourists and also restrictions on tourism in the area the Oyster Island is Karnataka's secret little getaway. With just about an hour and a half long sail from the Karwar beach, you can do a day trip here. The highlight of the island is it's beautiful light house, which has the incident European lamps. Take a few easy hike around the island and you will end up in gorgeous infinite Arabian Sea view. I could just sit here all day long until the sun goes down and then watch the stars light up the sky. Look at the lighthouse shining it's light into sea.
But there are lots technical arrangements to be done before you set out to reach here. The boat schedule is uncertain and it also depends on Passengers. And then there is weather. I wanted to travel here solo but managing all of these constraints wasn't my cup of tea, hence I traveled here with a travel company called Travel Trikon. And apparently they too have very limited schedules for Oysters Island. I literally waited for 2 years for their trip to go live.
Kavaratti Island
Capital of Lakshadweep, Kavaratti Island has everything a true beach lover wants. It's peaceful and so quite, the locals here are so chilled out, its pure and untouched by this commercial world, it's warm and pleasant, the water is magically blue. And if love scuba diving, Lakshadweep is the only place that should be on top of your list India. Also Kavaratti is the only island in india where you can surf of turquoise waves of Arabia Sea.
There is also lighthouse on Kavaratti island and yes you can walk all the way to top. But be prepared, as the view from the top will blow your mind. Kavaratti Island is about an hour long sail from Agatti Island of Lakshadweep. And Agatti is the only island that has an airport. Make sure you have your permits done before you buy your tickets to Agatti airport.
Havelock Island
White sand beaches, magical sunsets, best scuba diving courses, delicious food, beach facing shacks, gorgeous resorts. That's Havelock Island in a nutshell. Havelock Island is located in south west part of Andaman and Nicobar islands. About just two hours sail from Port Blair, Havelock is home to Andaman's most beautiful white sand beaches.
Radhanagar Beach is the most popular white sand beach in Andaman's which attracts most tourists yet it is huge enough to never appear as crowded as it sounds. Bring some beach wear along as you won't be able to stop yourself from taking a plunge into that clean blue waters. Best time would be either early morning or around sunset.
A small hike through dense forest leads us to the beautiful white sand Elephant beach. If you want to do all sorts of water sports Elephant Beach is the one for you.
Thinnakkara & Bangaram Islands
Among the few islands of Lakshadweep that are open to tourism, Thinnakkara is tiny little island neighbourhood to Bangaram. The island is actually just 20 minutes sail away from Bangaram and also share the exact similarities of terrain. The white sand, the blue lagoon and is surrounded by crystal clear Corel reefs and sea life. And like Bangaram, Thinnakkara also has just one resort. But there are usually few tourists here, so if you plan to stay here, it's like you having an entire island by yourself. And the view is just majestic.
You can rent a kayak and explore nearby lagoons or take a boat and dive into the blue waters or just relax by the beach on a hammock. An isolated getaway like this is nothing like anywhere else.
To visit Thinnakkara you will have to take a speed boat from Agatti and would take about an hour to reach. But if you plan to spend a night here, you will need proper permits like any other islands on Lakshadweep. However, Thinnakkara can also be a day trip from Agatti. Actually I would recommend going to Bangaram and Thinnakkara together on a single day trip since you will have to spend a good amount on renting a boat to Bangaram and because Thinnakkara is just 20 mins from Bangaram it makes sense of visiting these two islands together.