The Andaman and Nicobar Islands are the first destination that comes to mind when you think of a perfect beach vacation in India.
The beautiful beaches in Andaman will leave you wondering if you're seeing the clearest and the bluest waters ever.
The best time to visit the Andaman Islands is from October to May.
In addition to being beautiful, the beaches are clean. Or they were when I visited Andaman and Nicobar Islands back in February 2021.
There are 836 Islands/Islets/Rocky Outcrops in the Andamans, of which only some 38 are permanently inhabited. The smaller Nicobars have around 22 main islands (10 inhabited).
There has been a sudden surge in the number of tourists. I want to sincerely request you to be mindful of your waste and choices while visiting the islands.
Help keep them clean. Reduce your plastic usage by carrying a water bottle with you instead of buying one while hopping from one tourist spot to another.
Have you come across collapsible bottles? They don't take up much space in your bag and are super convenient.
If you're carrying eatables to the beach, pick up the leftovers.
There are not only beaches in Andaman, but also many water sports for the adventurer in you.
Let's look at some of the most beautiful beaches in Andaman and Nicobar Islands that you can't afford to miss.
List of 7 Incredible Beaches in Andaman
Radhanagar Beach
Radhanagar Beach is popular for being one of the most beautiful beaches in entire Asia. The beach is on Havelock Island and is a pristine white sand beach with luxuriant forest and clear blue water.
It's also known as Beach no.7 because Times Magazine ranked it as the 7th best beach in the world.
Don't forget to visit Radhanagar beach during the sunset hours to catch a beautiful reflection of the sunset colors in the ocean.
Try visiting early morning if you want to avoid the crowd. If you're a Photographer like me, you might want to visit the beach twice.
One to take photos and videos to your heart's content and another time to just enjoy the sound of the waves without your camera.
Also Read: 10 Travel Reel Ideas You Should SAVE right away
Kala Pathar Beach
Kalapathar Beach is located near Kalapathar Village, on the corner of Havelock Island.
It is named Kalapathar because 'Kala' means black and 'pathar' means stone. And the Kalapathar village has black stones in abundance on the shore.
The best time to visit is between October to May.
On my visit to the Andamans, Kalapathar Beach was definitely one of the least crowded beaches.
There were hardly 30 people on the entire beach. Which is quite contradictory since it is serene and has beautiful turquoise waters.
Also Read: How To Pack For A Trip Like A Pro: 10 Must-Have Things
Chidiya Tapu
Chidiya Tapu is one of the most visited and famous beaches in Andaman.
As the name suggests, 'chidiya' means birds, the beach is popular for the variety of birds that can be seen in the skies at the beach. These birds are both migratory and indigenous.
Corbyn's Cove Beach
Corbyn's Cove beach has coconut-palm trees lined on its shore. It offers sports activities like Jet skiing and speed boating. It might not be the best beach for swimming or sunbathing.
Compared to Radhanagar and Kalapathar beaches, Corbyn's Cove beach is smaller in size. But is still a busy beach.
The beach is at a distance of about 6-7km from Port Blair.
Elephant Beach
Elephant beach is popular among tourists due to the activities like sea bottom walking, snorkeling, and scuba diving.
It has incredible coral reefs and a calming vibe that is a perfect combination for a relaxing time by the beach.
You can either trek for about 2km through the jungle or take a boat ride to reach Elephant beach.
Wandoor Beach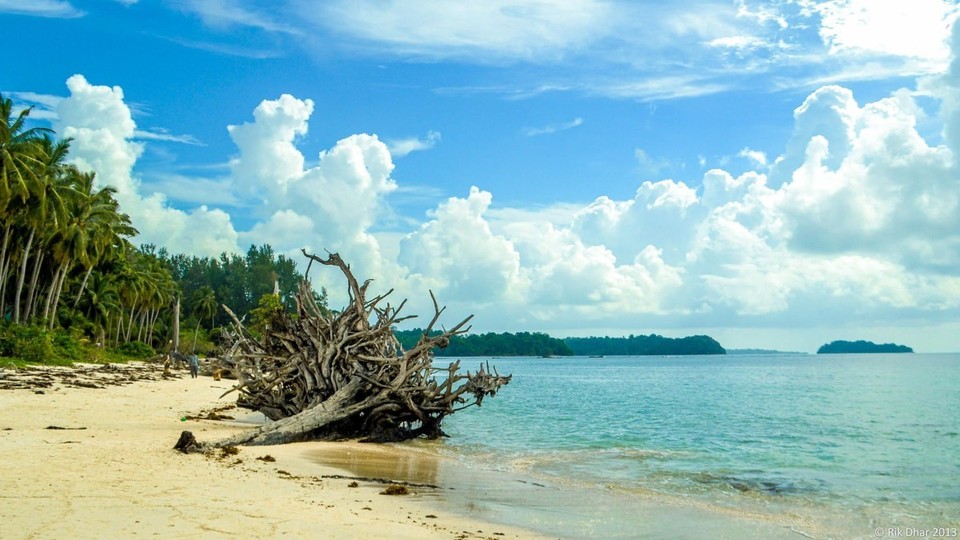 Wandoor beach falls under the Mahatma Gandhi Marine National Park region.
The Wandoor beach is a remote place as it is a protected region and has a rich variety of fauna on its three sides. It has a shoreline of 15kms, the largest in Port Blair.
The drive to the beach is beautiful with forests around and the view of the wide blue sea.
Sandbar Beach Between Ross & Smith Islands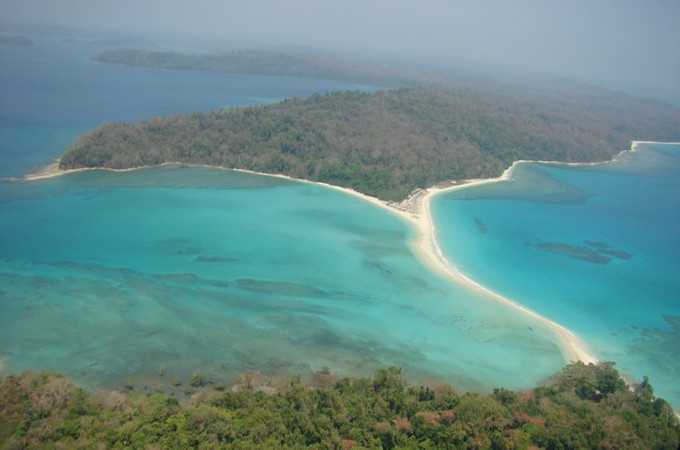 Sandbar Beach is basically a long stretch of sand that connects Ross and Smith Island in Andaman.
This bridge gets submerged in the water during high tides.
It is one of the most unique views you can find in the Andaman and Nicobar islands. A white sand bar, dense forest, and bluest waters.
The beach is also famous for swimming and snorkeling.