We reached the camp at 2300 hours IST. The camp was situated on a slight hillock atop a mountain overlooking a steep valley. The driver refused to get off the vehicle and dissuaded me as well until someone from the camp came over to
receive me. Tigers and leopards were numerous in these mountains and they could have been on the prowl. As a rule, tigers with kills arrive at the kill by 2000 hours and leopards even earlier. But you never know about a wandering juvenile and
it was summer as well. Maybe they could be right outside the car, maybe not.
The samosas, jalebi, lassi and cold coffee had held strong for a while but my stomach was now growling ferociously. And the attendants at the camp took some time to come down, making matters worse. And finally two figures emerged from the shadows, visible only as shadows thanks to the torchlights. Dinner was a solitary affair for me in the dining room. A mournful Hawk Owl decided to give me company, hooting a serenade whilst i munched on roti and vegetables. Tomorrow was going to begin early.
02nd June 05:30 AM Ghatgarh:
Waking up early had always been an issue with me and an unpredictable digestive system would mean your timetable can go for a toss. i can derive mathematically the repercussions that arise from a mere delay of five minutes in waking up. And
this wasn't just about getting late to work, i could miss an entire session of birding if i missed the time slot.
Fortunately none of that happened but that's for later. For now, a groggy eyed me walked out to meet my host and guide for the next five days, Mr. Rajesh Panwar, Managing Director of the Milieu Hospitality camp at Ghatgarh.
A Lesser Yellownape posing as if at a studio

The first session was a slight drive halfway to Nainital to a valley called Bajoon. A Striated Prinia called stridently from a wiry perch, a cable. As a rule, photographers ignore such sightings choosing to shoot with a more natural location but then i was excited, probably as excited as the Prinia itself. And a few clicks later, we moved on for more. Uttarakhand didn't disappoint. Not one bit. Hunting as a practice was nearly extinct in the place and people had become aware of the importance of wildlife. i'd like to believe that the presence of Jim Corbett Tiger Reserve had a major impact on the local populace. Perhaps his aura had protected everything in the place. Nonetheless, visiting the places that he
once had hunted and travelled in was a magical experience from the flora and fauna point of view. He could not have chosen a better place to live and hunt. The natural beauty of the place was… too much to simply pass up for any reason.
If this was and still is considered legitimate and even classified as a sport, Ted Bundy and his likes ought to be reclassified as sportsmen and not serial killers.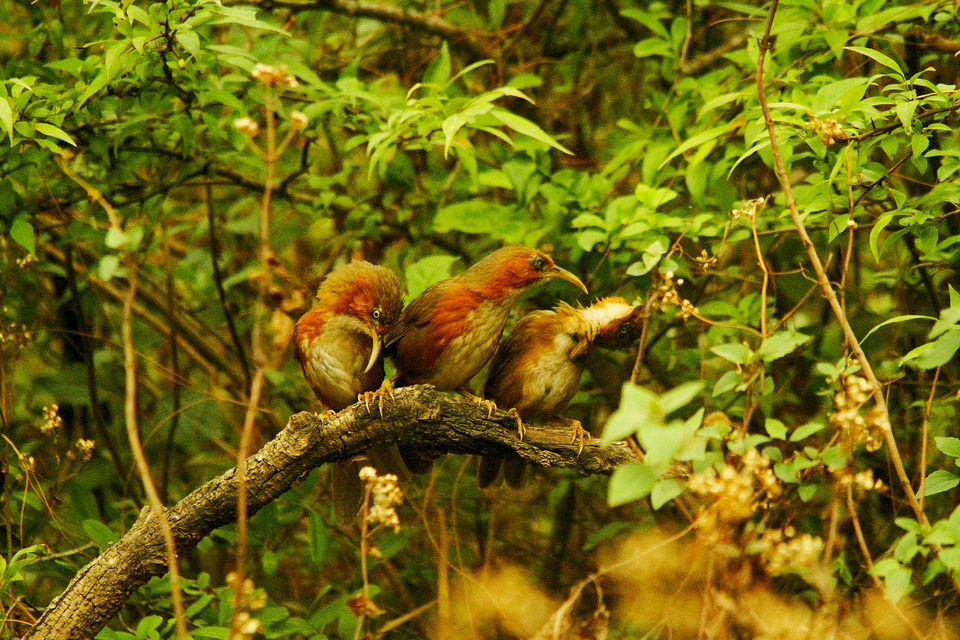 The three Rusty Cheeked Scimitar Babblers could give the witches from Hamlet a run for their money

The forest was steeped in legend just as much as it was in wildlife. i'm certain that spirits lived in this forest and if i had spent some more time, i would have surely felt their presence. Jim Corbett had many encounters with the supernatural in these forests. This might sound like old wives' tales but there is a certain feeling that envelopes you in a forest. You either feel a sense of foreboding or dread or that you're under constant vigil. Of course you feel these when you're alone and/or you do not talk. Perhaps some other time it must be. Speaking of legends, i did manage to get some information about the local fauna, the birds and their local names.
Religion plays an important part in people's lives here but the followers are of mainstream Hindu gods and not wild deities as compared to Himachal Pradesh where the wilderness ruled minds and hearts too. A particular Himalayan bird, a partridge, Black Partridge to be specific is called Ramji ki kudrat, Ram's nature for no specific reason. The other bird has a name that has more to do with its call. The Indian Cuckoo has a call that goes "Whoo too-too-too". Its called"Kaphal paako!" Kaphal is the local name for custard apple or wood apple and paako is to ripen. Perhaps on account of the bird's vocal chords opening up in summer when its time for fruits to ripen.
After 4 hours of birding, we decided to call it a day. The specie tally was now touching 64. And we were still on day 1. It was time for lunch and a siesta. Fast forward me reading about the sex lives of Australians, a brief nap, a cuppa tea and a drive to another valley closeby.
This valley had a family living on its slopes. As Rajesh told me, theirs was a life of constant struggle against Nature's might. Their home was in the thicket of the forest and although the highway could be spied upon from not too far, the big
cats were never too far away. Rajesh had a guide from this place sometime ago. He had to fight off tigers trying to have his pet dog for dinner on more than one occasion. Leopards were far more numerous in these mountains. Winter was the best time to spot and even photograph a leopard here. Apparently they'd even amble on the roads early in the morning or late evenings in winters as the traffic died down. A young girl was stringing up wet clothes to dry. i could almost imagine a big cat, tiger or leopard keeping an eye on movements within the household. There was an old woman who sat on a chair reading something. i can only imagine if they'd be thinking constantly of their "unfriendly" neighbours. But then such is life. Maybe this added a greater sense of respect to an existence we otherwise find tiresome and boring at times. Living in the shadow of Death might make one more spiritual. But that's upto the individual to discover.

It was about 05:00 PM when a Barking Deer took up a hoarse cry from somewhere behind us. We were at the cusp of the trail where it meets a village. The deer was calling from somewhere near the home, somewhere near the highway. It was difficult to triangulate the call to a specific position. It sounded distant but the emotion contained in the voice was understandable. Fear. The deer was mortally terrified of something, somebody. The Barking Deer or Muntjac or Kakad as it is called in the Terai and Bhabar hills is a smallish deer, the size of a dog, almost hopping instead of galloping. Its call sounds like a bark which is why the name. We have Barking Deer in Mumbai's Sanjay Gandhi National Park but not as
numerous as they were here. i had heard them calling to alert the forest to a leopard's movements. The bark was more or less flat. But this time, the bark had a very tangible feeling of terror to it. Maybe the deer was looking at a tiger who in turn was eyeing the deer. The place at large where the call was coming from had a spring. i desperately wanted the tiger to move in order that i could get a glimpse. In the meanwhile, the deer kept calling with a result that its throat began to dry and soon the effect of a parched throat was audible. Despite the drying throat, the deer did not stop calling. But then it did not do anything about it. It did not run away. Maybe that's why they also fell prey to leopards and tigers. They stop after a distance to look back and bark until the animal moves away.
i do not have a photograph of a tiger that qualifies as a good photograph and hence i'll live with these mooched sketches for now.Our tiger was in no mood to move until it was dark. 0700 PM onwards, it would have stepped out of the spring to amble about in the woods. i'm certain that the deer would have continued to call even then. The tiger here was being sadistic unintentionally or maybe by design. The deer's constant calling was now getting a bit irritating and i could imagine the tiger feeling just the same. A leap of imagination could see the tiger charge at that deer, sending him scampering blindly, screaming. The tiger then laughing cruelly in silence. Fear is a powerful emotion. Being an object of fear does feel thrilling. A sense of power over the lives of those who fear with the impunity to act without repercussions.
Returning to us spectactors, we weren't going to see the cat anyway. And so with the sun setting in the horizon, we decided to drive back to the camp. A cuppa hot tea was waiting for us.