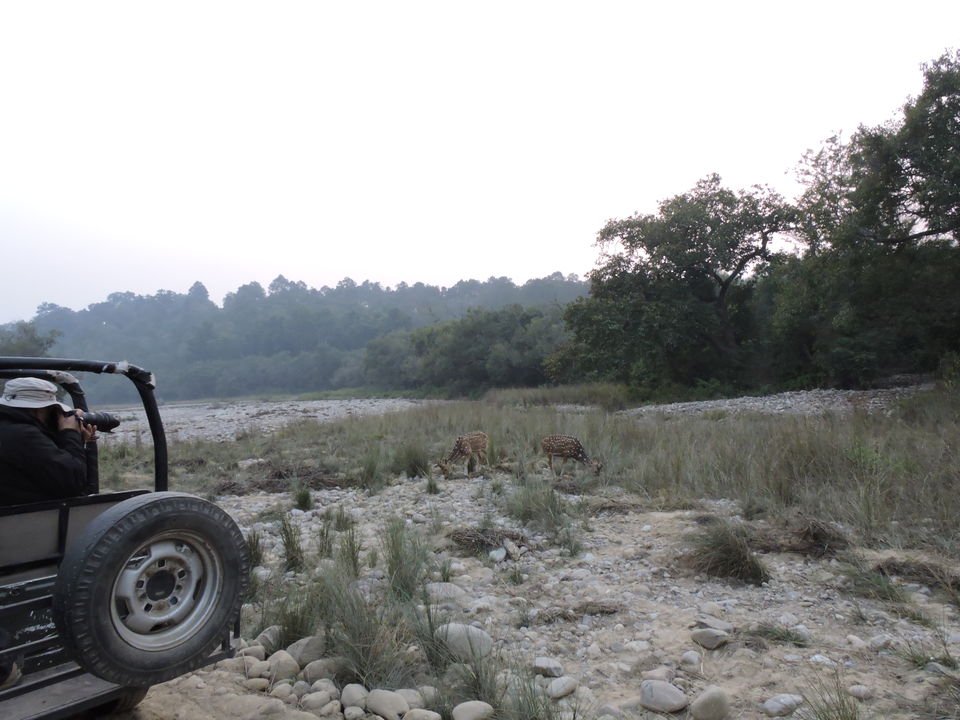 Of my many stays at the 'Jim Corbett National Park', this one comes right up in my 'Cerebellum' or 'Medulla Oblongata' or 'Cerebrum' (benefits of staying with 8th standard biology loving kids!) as being one of the best not because I was assured of a sure tiger-sight or an elephant ride deep into the jungle, but because all of the family had planned for a get together (which was in the making for months!) and zeroed onto this place. My father had booked a resort and made sure ample rooms were available or maybe he made an offer at the reception that they couldn't refuse (Marlon Brando would be so damn proud!)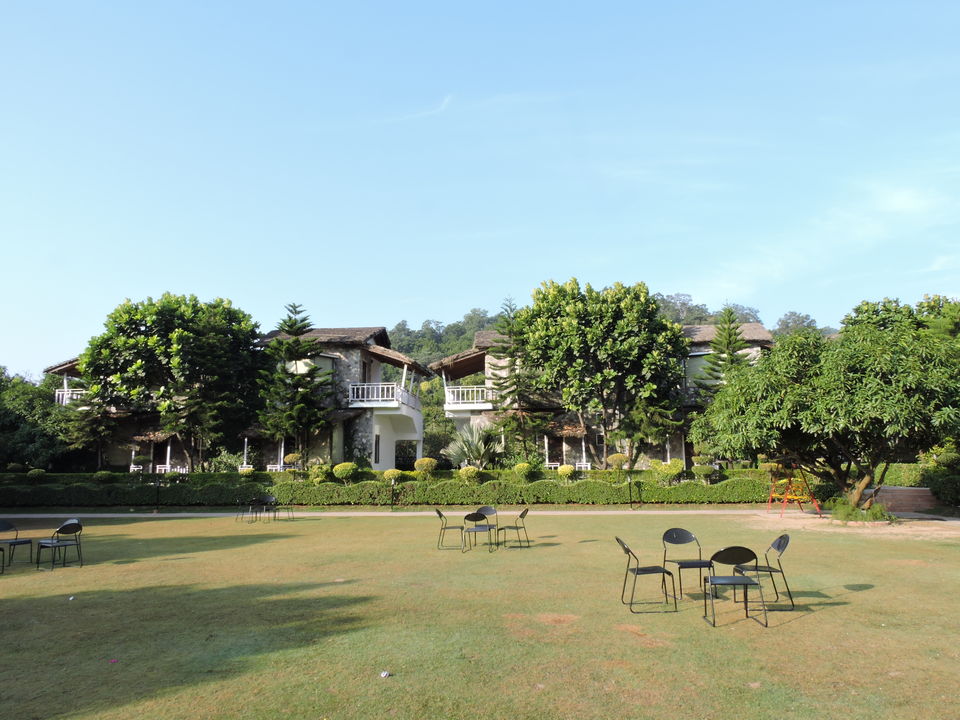 PC: Saumil Sah
Sprawling lawn at the resort and beautifully trimmed trees and grass! What else thou want?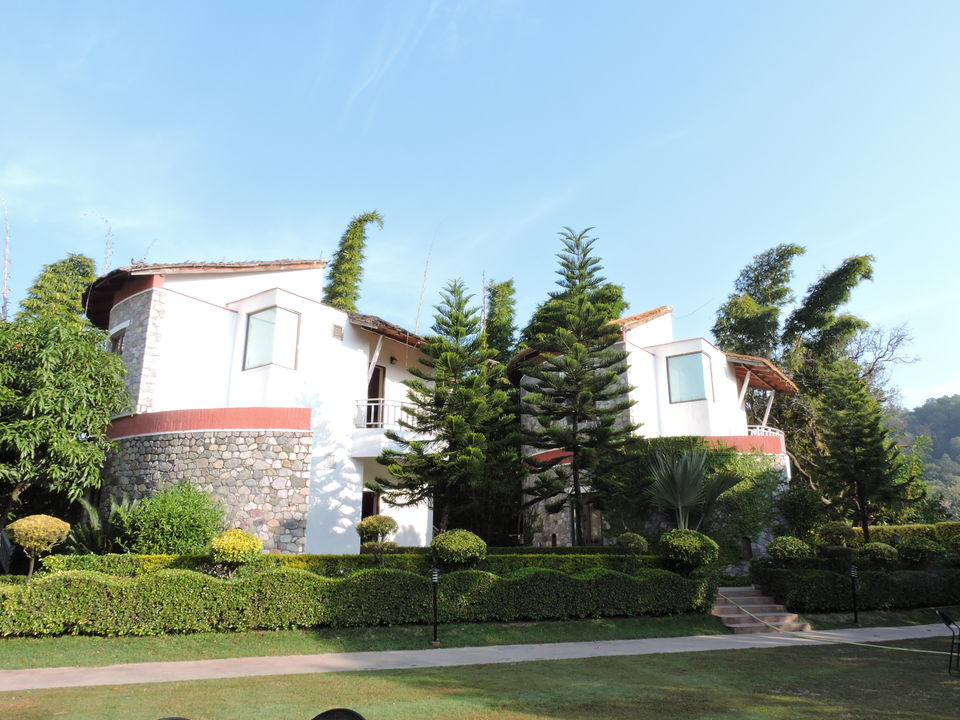 PC: Saumil Sah
I have always believed in love at first sight. Have you??.....Our cottages
Resting in there at the lawn and after gorging on some delicious delicacies our 'safari' jeeps were waiting at the entrance to whiz us away into the wild!. Four jeeps in all! We had our picks, teaming up with our favorite family members ......Yes we all do have our favorites duh!!). Meanwhile, the drivers were busy checking our identity details and we checking whether we had our camera battery filled up to the brim and some of us even clicking dummy photos so that we can adjust our ISO's !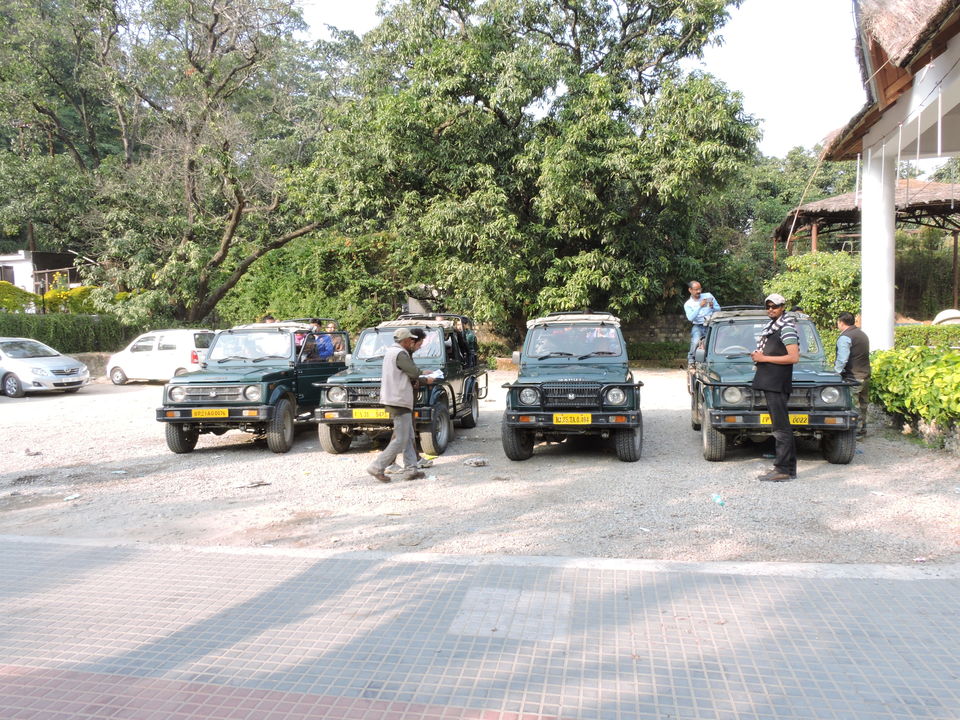 PC: Saumil Sah
The safari jeeps! Our magic carpets in the wilderness
Off we went and the driver kept his eyes on the road and hands upon the wheel and we 'The Passengers' had our 'Roadhouse Blues' moment or one of my favorite 'Jim Morrison' moments. The stretch from the resort to 'Bijrani' (One of the 5 entrances to the sanctuary ) is a treat for the driver and it's the best gift you can offer to your car tyres, beautiful trees on the sideways and the forests if one stares at them too long , one gets lost in translation and then there comes a hypothetical situation where the cerebrum or the cerebellum (not sure as I was terrible in Biology!) makes you believe as if one of the characters from the 'Narnia' would pop out of somewhere. After driving for about 45-50 minutes we reached 'Bijrani'.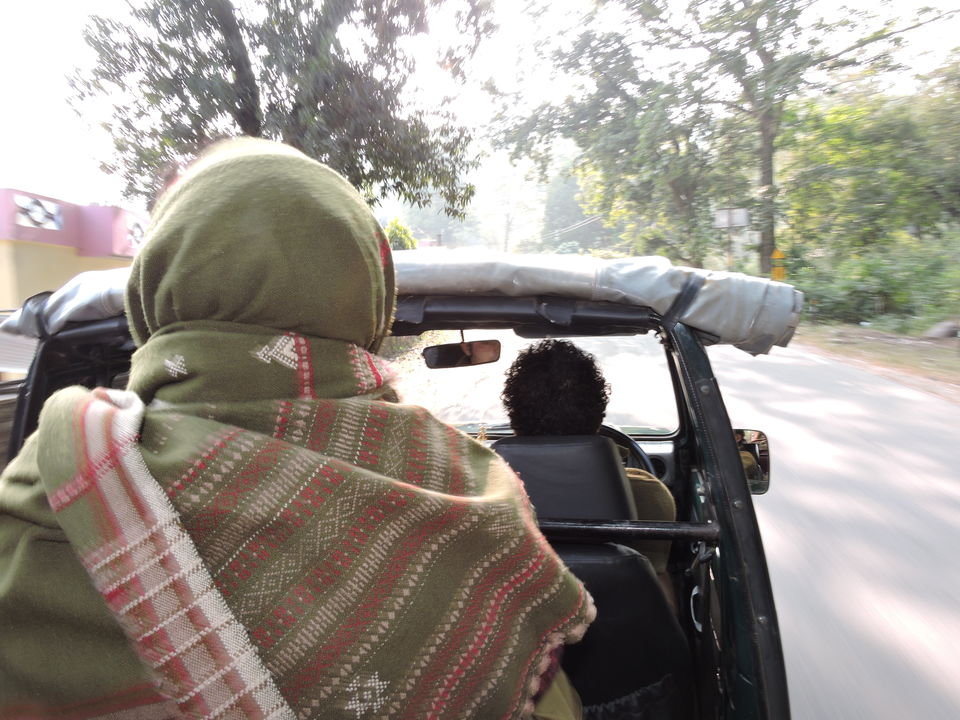 PC: Saumil Sah
The lady in green be my mother's elder sister!......On our way to Bijrani!
Bijrani! The place as mentioned is one of the entry points and where our forest guides hop in with us. The main entry gate for Bijrani is 'Aamdanda gate' where binoculars are available at rent and where ID's (one from each of the jeeps) are actually scanned by the forest authorities, the jeep papers are checked and where the drivers make entries in the log books. In the midst of all this, pray that you get a good guide because one obnoxious, pompous guide can ruin your safari without you even knowing it (pretty deep huh?). Well, this is the place you are supposed to switch off your mobile phones (which we really don't do, instead put up the vibration mode up and running or imagine-staying away from the 'Internet' :O? "Lambi Judai, Pyaar oo Rabba" moment!?!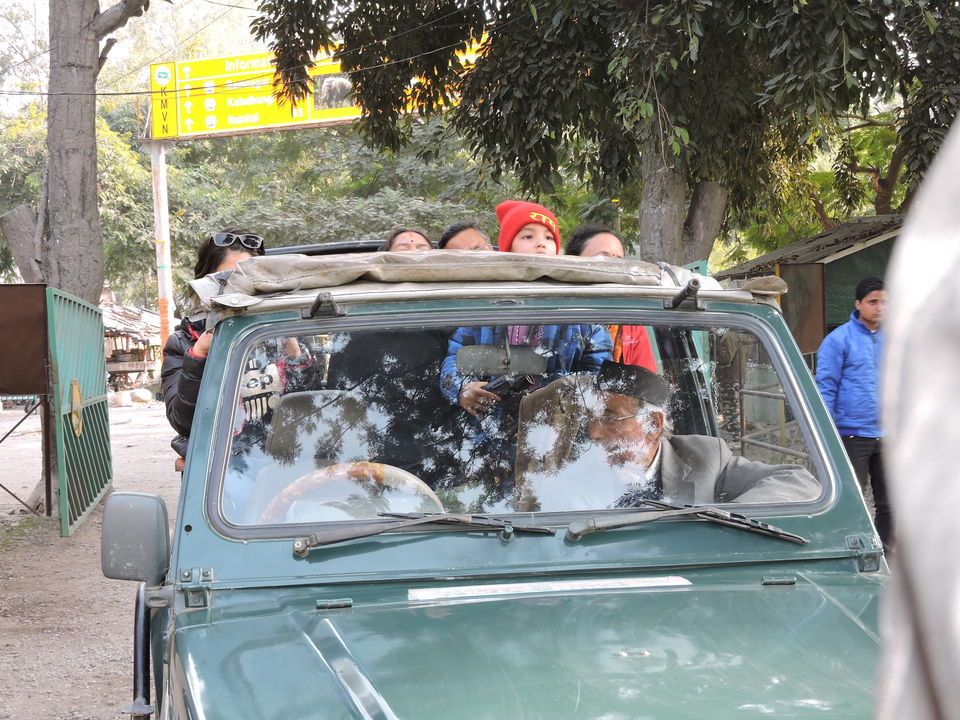 PC: Saumil Sah
Impatient and anxious family members praying for a good guide to jump in.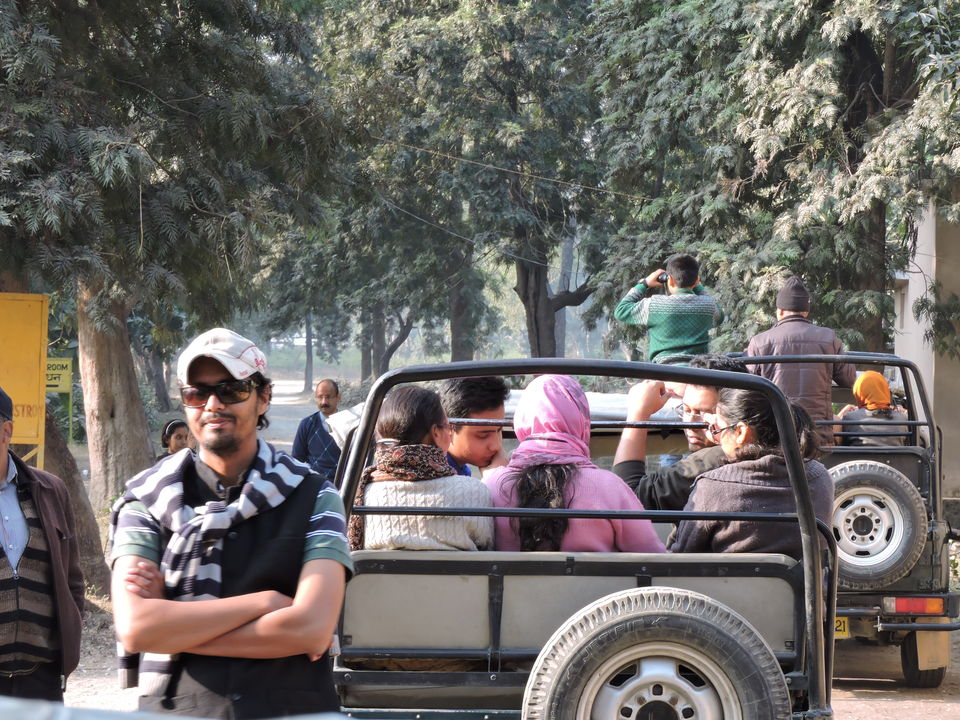 PC: Saumil Sah
Cousins and aunts catching up on the good old times.
Thus began our journey and it looked as if the messengers of the jungle were happy to let us into their world. Our jeep had one of the most knowledgeable guide (which we later came to realize) as he walked us through the Do's and the Dont's in the jungle. He told us to switch off our mobile phones or put them in a vibration mode (which we already did!), told us that the topographical area comprises of hills, riverine belts, marshy depressions, grasslands, a large lake and the park forms the natural habitat for over a 100 species of animals, 600 species of birds and a diverse variety of flora and fauna.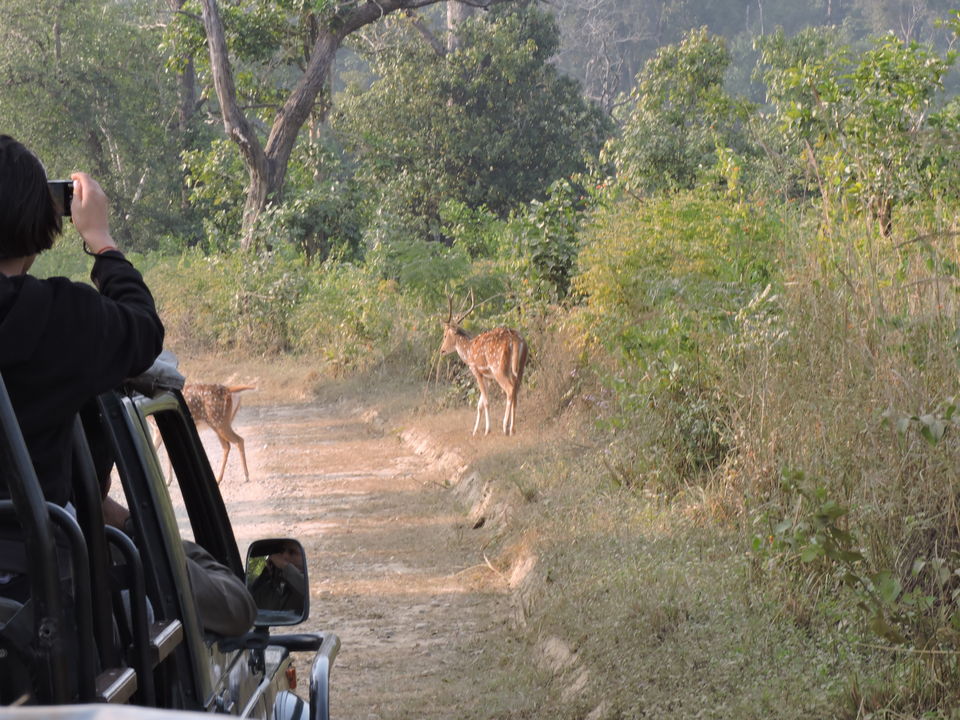 PC: Saumil Sah
The messengers of the wild
Corbett is the hottest and has been thronged by tourists and wildlife lovers for a very long time. Jim Corbett National Park is the oldest national park in India and was established in 1936 as 'Hailey National Park' to protect the endangered Bengal tiger. It contains 488 different species of plants and a diverse variety of fauna.
Tourism activity is only allowed in selected areas of Corbett Tiger Reserve. In recent years the number of people coming here has increased dramatically. Presently, it is estimated that every season more than 70,000 visitors throng to the park from not only different parts of India, but of the world. Corbett remains open to tourists only from 15th November to 15th June owing to unfavorable weather conditions which hamper transportation.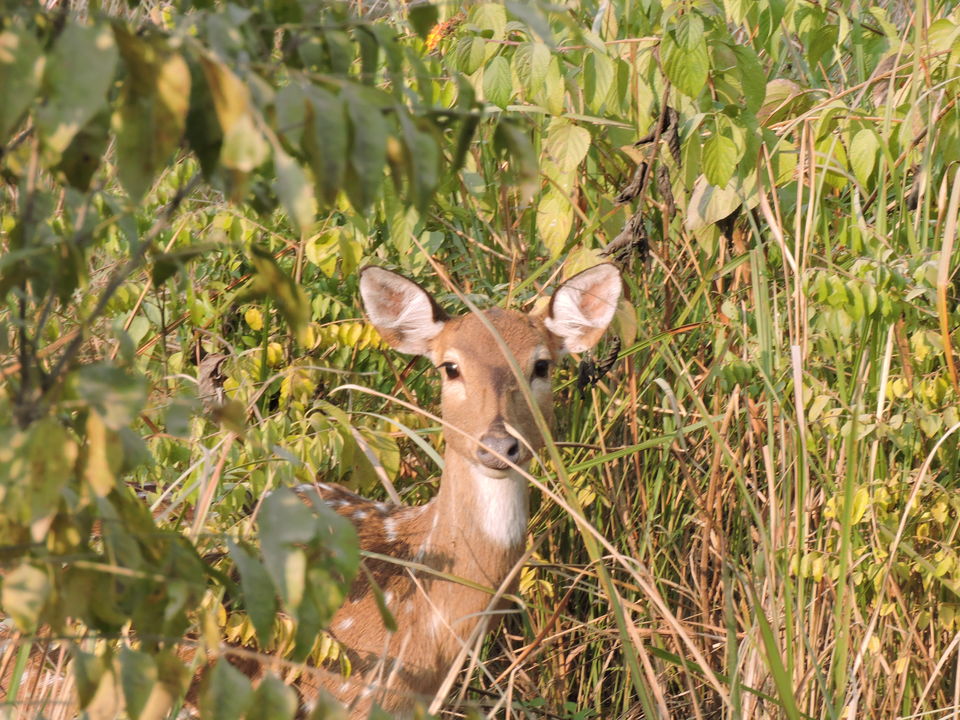 PC: Saumil Sah
That's the expression i used to give to my parents when showing them my Report Card.
Bumpy wild tracks and footprints of the elephants and tigers were galore on our way. I could feels the sheer strength of the powerful jeep engine as I was standing right in the back. I must emphasize there's something about the people who have been back-bencher's their entire school and college life. Like a proud hurricane, I can proudly say that we see things that nobody else dares to visualize. We understand things in an interesting manner. Mind you, of all the sapiens we enjoy the most and relate things in a manner that is magical and mysterious in a way.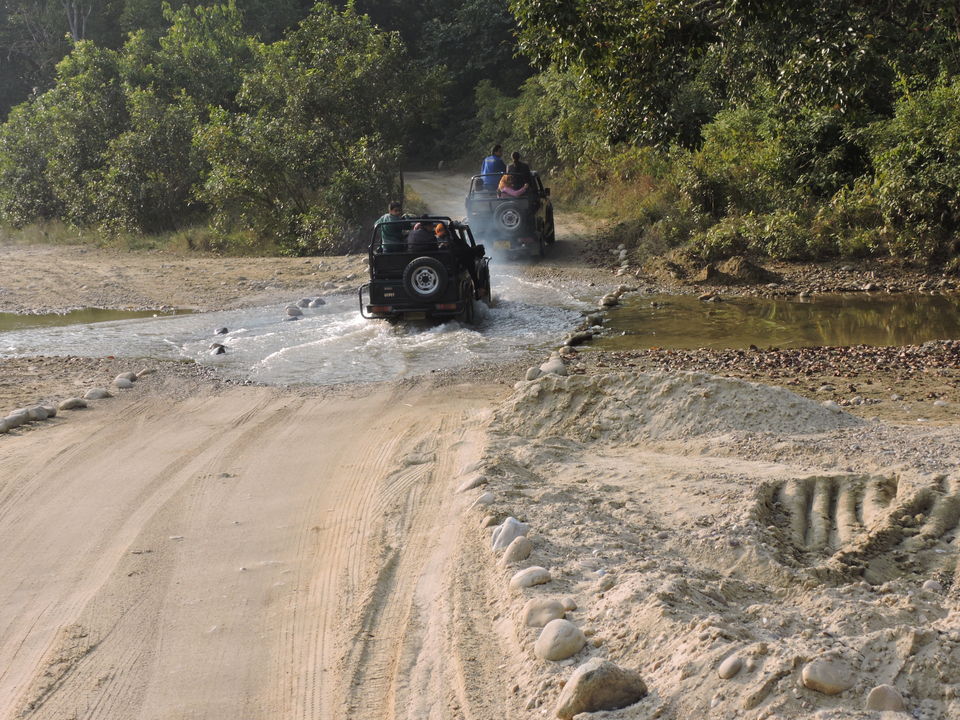 PC: Saumil Sah
I wonder what would happen if someone got their Audi or a BMW in here??
While the other jeep guides and their members were in a rush to catch the glimpse of the 'Magnificent Creature', 'The Chosen One' or whatever you want to call it! Our guide made sure that we learn about the animals and nature not just by the look of it but to understand their soul and behavioral patterns. He made us stop at this particular spot in rapt silence, did a quick study himself and made us understand the footprints of the tiger and how to distinguish between a male and a female. At this point an array of questions exploded in my brains!. For some reason something told me to wait-watch and observe.....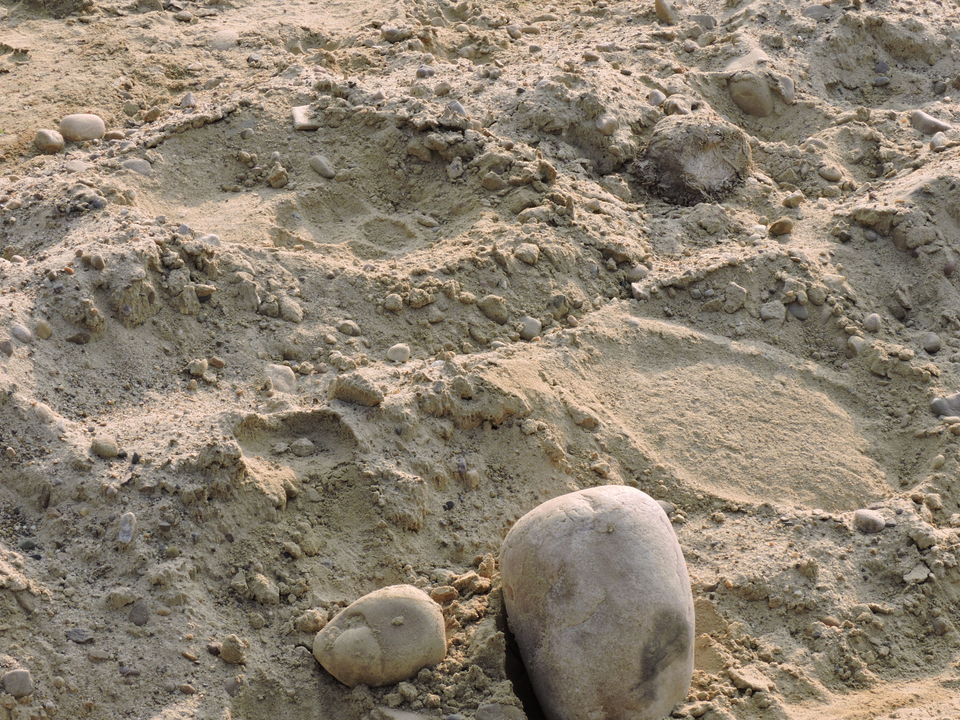 PC: Saumil Sah
Tiger markings (It may look as if it were Elephant's, but trust me they are not)
After stopping there for 5 minutes our guide imbibed us with a little more about the park inhabits- wild elephants (200 to 300 live in the reserve), sloth bears, langur monkeys, rhesus macaques, peacocks, otters and several types of deer including chital (spotted deer), sambars, hog deer and barking deer......"Sighting leopards, mugger crocodiles, gharials, monitor lizards, wild boars and jackals are also very common", he exclaimed!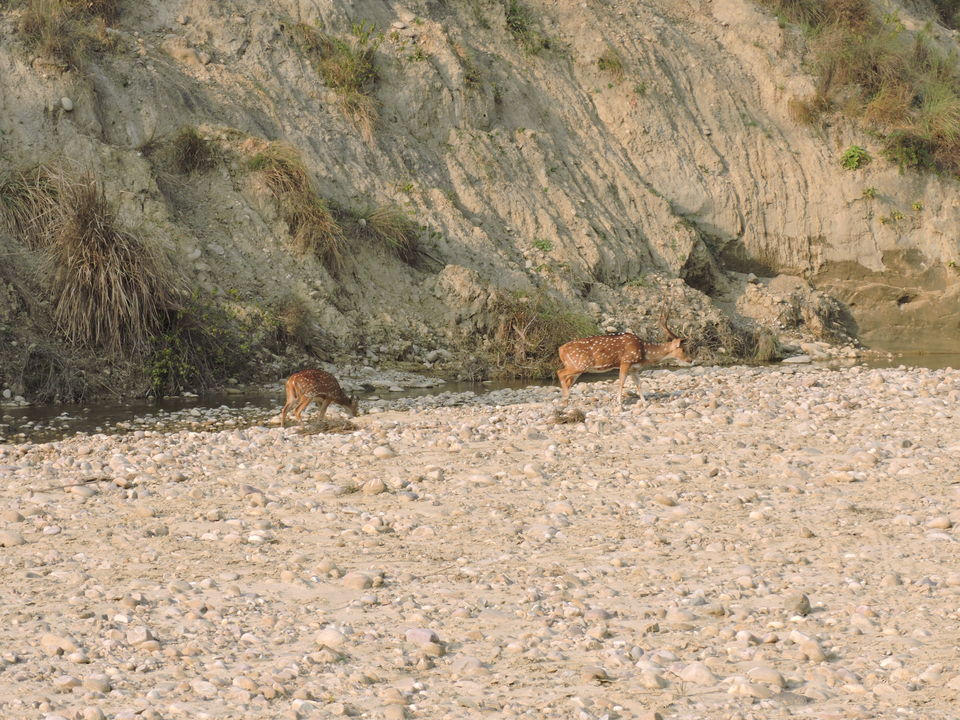 PC: Saumil Sah
The Wild Ones!
The Corbett sanctuary attracts a lot of migrating birds especially from first week of December to mid- March. One thing that striked me out was that these souls because of our selfish addiction towards land acquisitions in the name of development and smart cities, in the near future will have nowhere to go. I guess we will never understand this fact and will satisfy our whims when they are finally into extinction and we are all but left only with their photographs to look at.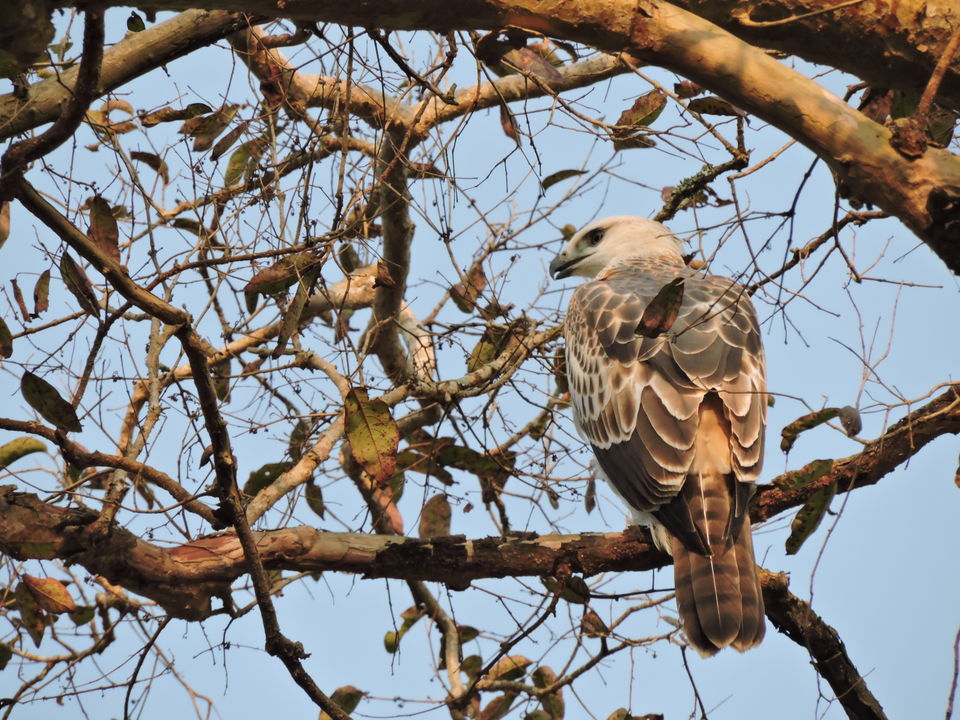 PC: Saumil Sah
Which part of the world are you from? Savvy?
It is not often that lantana bushes will give you amazing sights of tiger. But they surely will give you good company along the way, will keep you guessing and keep you on your toes in case the heavens are really happy on you- 'The Chosen One' appears in a grand way.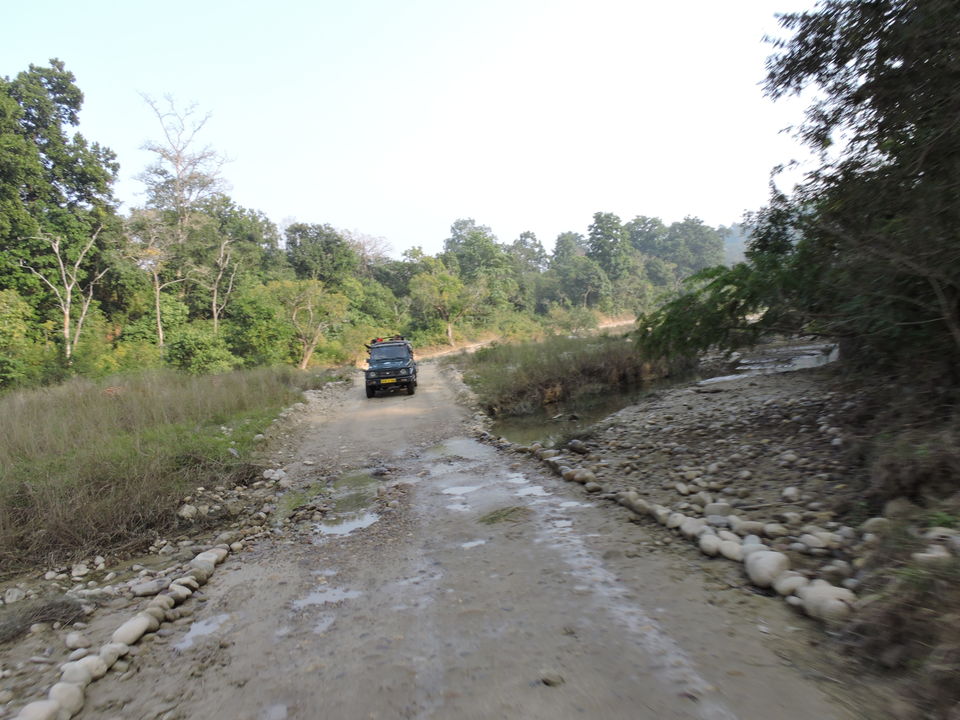 PC: Saumil Sah
After travelling for a while, deep into the reserve we had a pit stop at the 'Forest Rest House'. "The rules are pretty strict here, if you stay here you not supposed to make any sounds, nor this is the place to stay with small kids", whispered one of the drivers. I mean who would?. The sheer presence of the winds and the trees is so enchanting that it pulverizes your 'Pub/PVR/Starbucks' egos and you let yourself into it.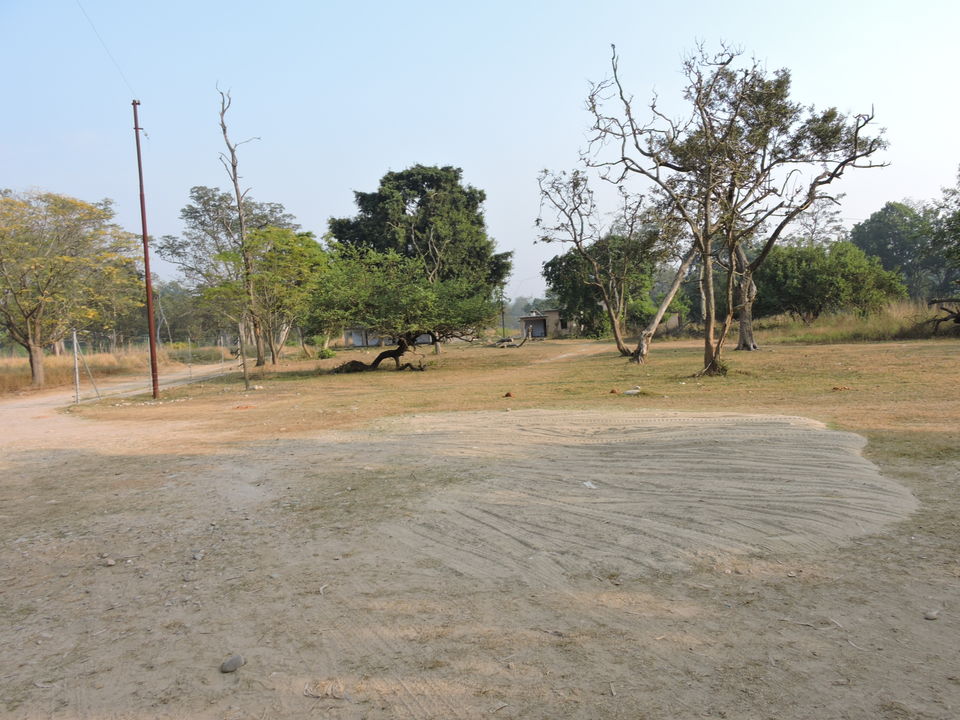 PC: Saumil Sah
Forest Rest House premises
This was also the last place to freshen up before the actual safari. In between freshening and all we shared our short stories and everyone at this point was so lost in the wild that we even exaggerated some facts about the possible topology of the area (Admit it now! we all want to sound and look cool at some point in our life, I did for sure and even got some interesting eye rolls thrown at me!)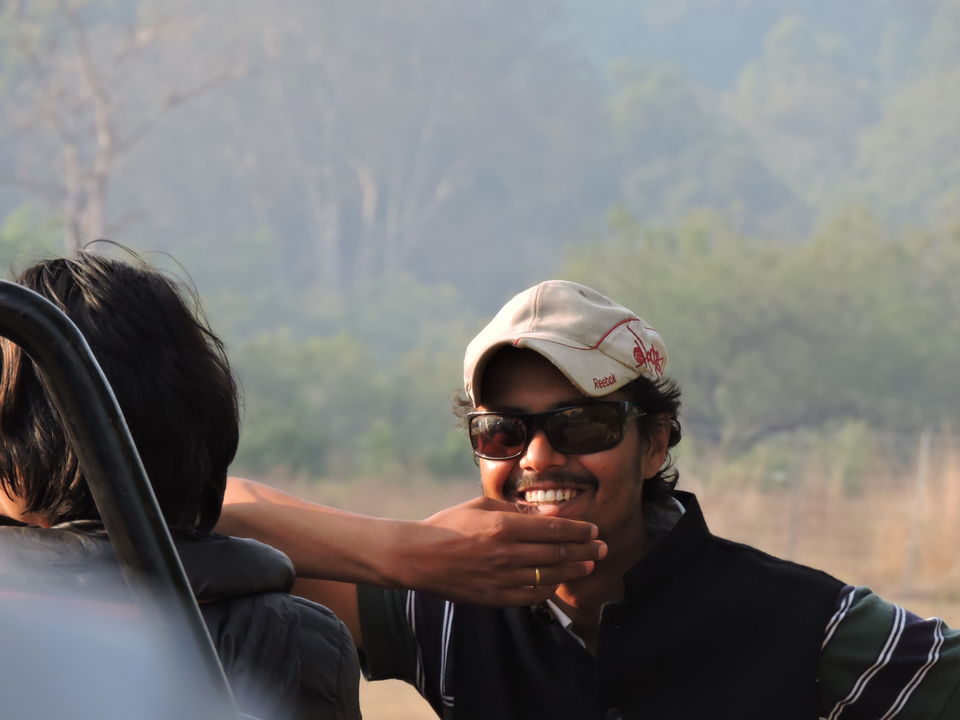 PC: Saumil Sah
My cousin sharing his thoughts with his wife.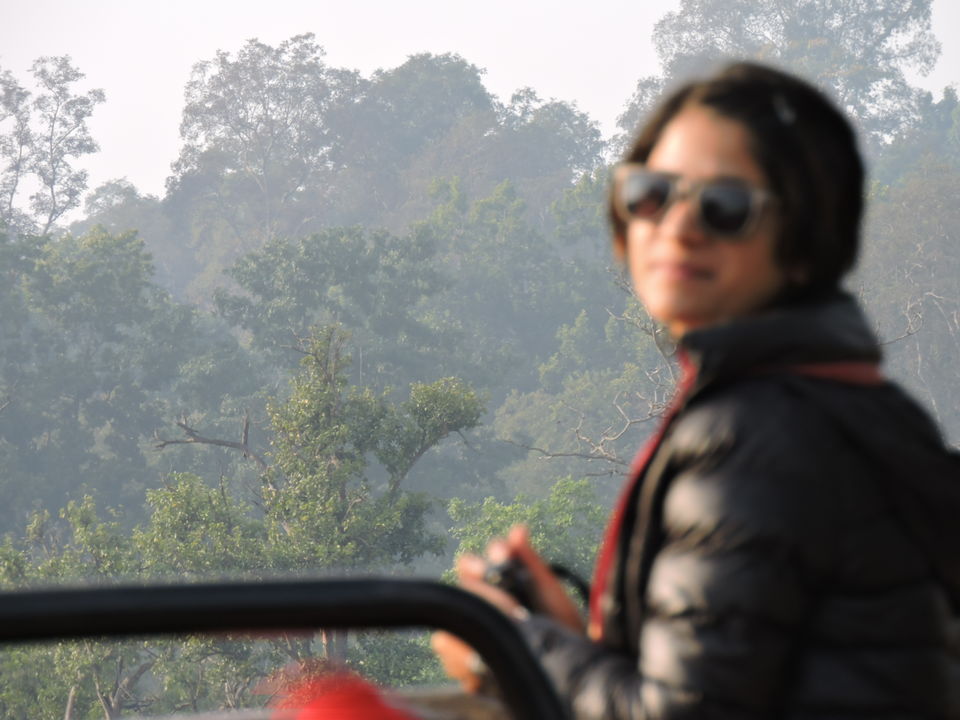 PC: Saumil Sah
It looked as if the trees were mocking us for our lifestyles!
"No one's supposed to litter around, no jumping off the jeeps and no shouting. If anyone breaks any of the rules, strict action will be taken against him or her" said one of the guides in a stern voice. For a change i was happy, as this was the only place in India where your butt actually gets kicked on breaking any of the rules. We should have more places like Corbett in the country, especially in U.P- I prayed in my mind.
I had talked about the heavens being nicer! This is the perfect example of that. I have visited Corbett multiple times and hadn't seen the Royal Bengal Tiger once. The dude sitting in the front is my Jiju and this was his first ever visit to the sanctuary. Guess what? He saw the Tiger, rather, his jeep walked right next to it. He saw it coming right from between the bushes, watched it drinking water and he saw it disappear in the green. In short he was the one who spotted it! (Our jeep was not there. Why? That's one hell of a story which i'll come across later on)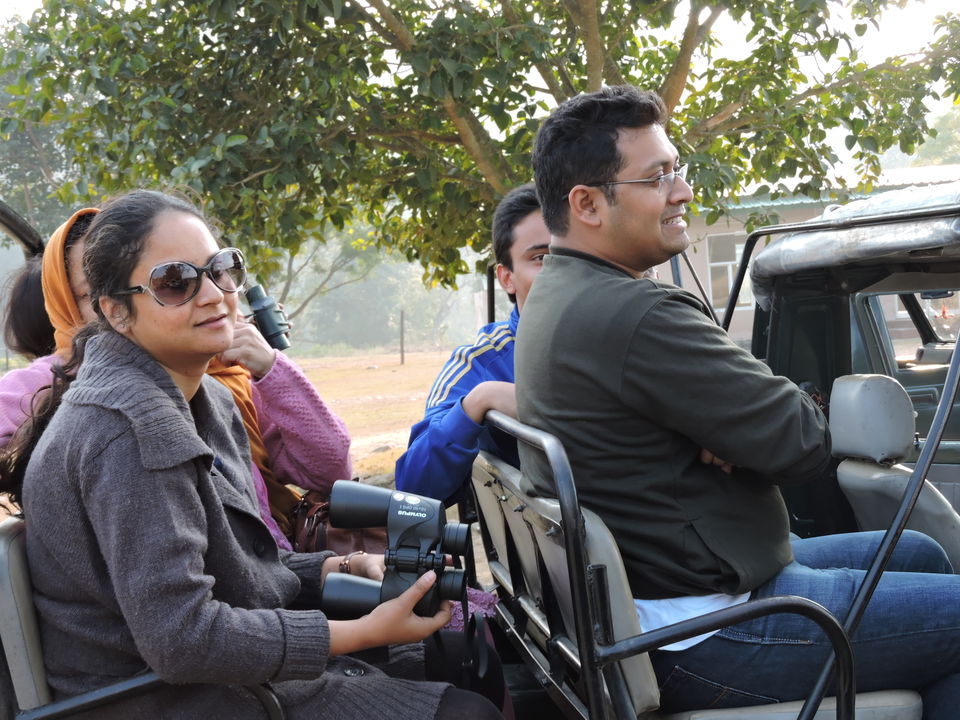 PC: Saumil Sah
Approx. 30 minutes later, these guys have the 'Royal Bengal Tiger Darshan'
So, our final stretch of the journey began with the sole intention of spotting the tiger, not that the other animals were of less importance but there's something just majestic about tigers that cannot be described in words, maybe it's the elegance that they carry or the way they take their stance when their prey is near. You cannot exactly tell.....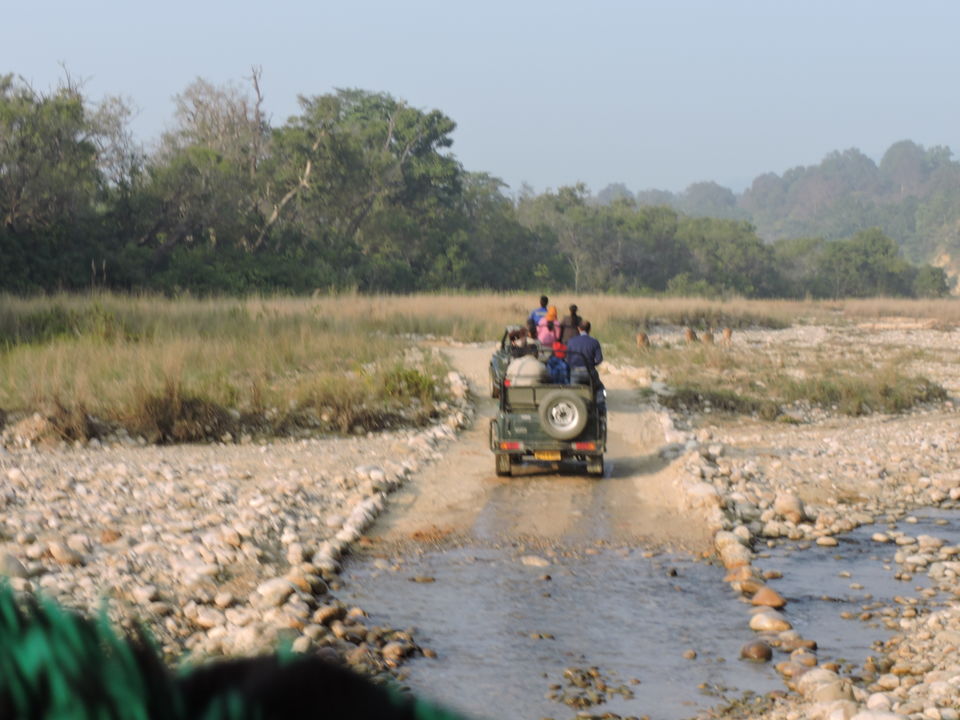 PC: Saumil Sah
The jeeps have accustomed very well to the demands of the forest
We spend thousands of rupees just to look good, feel comfortable and worry about the tan and our hair. These animals have no concern as such and still look better than us i'd rather say have more manners than us. Example?? Well look around. When you go for your morning stroll in the morning, watch a dog who's about to pee.......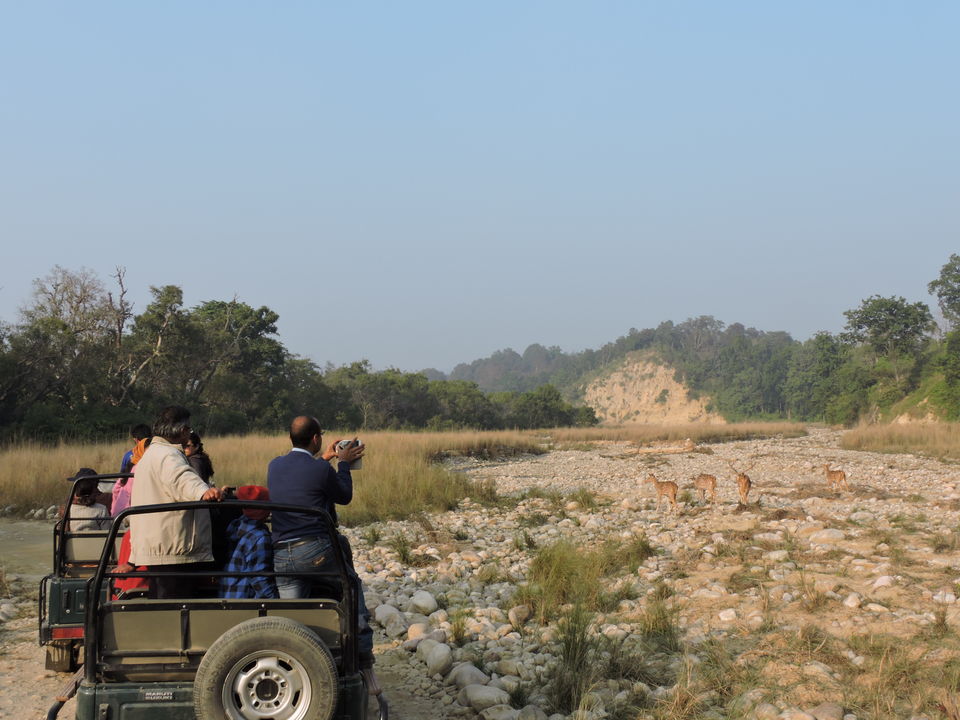 PC: Saumil Sah
Mama Deer to Papa Deer- " Who's in the cage now?"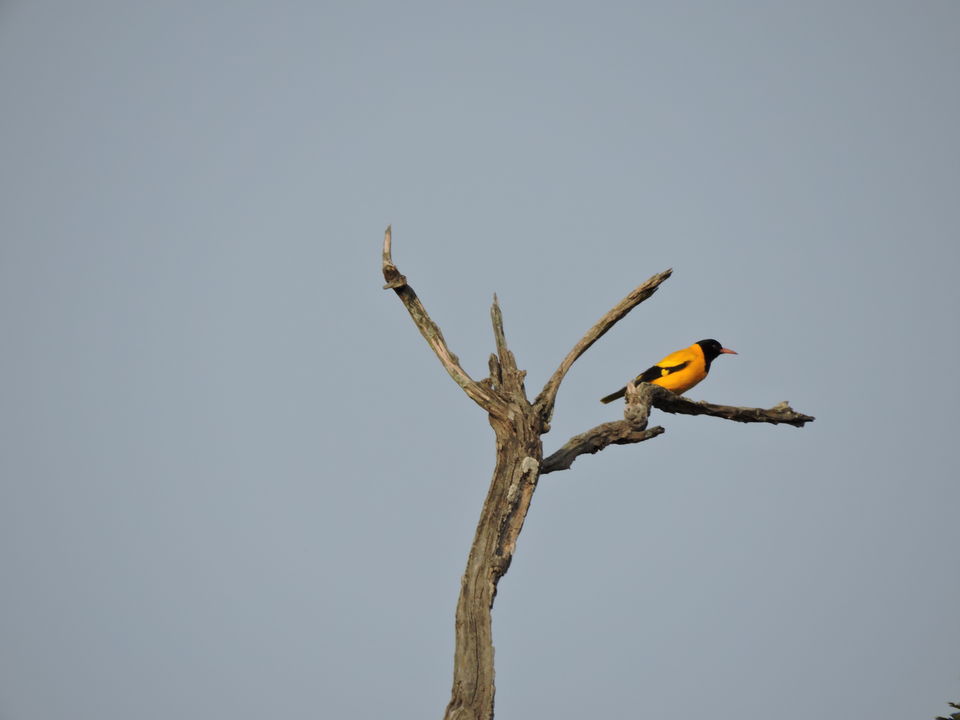 PC: Saumil Sah
I do not recall the name of this bird but this is one of those Himalayan birds who migrate for the winters
All of a sudden there was a distant noise maybe a howl, we were not sure but our guide was. He told the driver to stop. In a meditative state he observed certain things. I observed him closely and made adjustments to my standing posture. I tried best not to make a sound but I am human after all. It was so silent that you could actually hear the nearby grasses sing songs of the lore. There was a traction between the seat on which I was standing and the soul of my shoe which resulted in a noise and then the guide gave me a look which was scarier than that of 'The Undertaker's'.
"No fidgeting please", he whispered. "I am trying to listen to the call", he then said.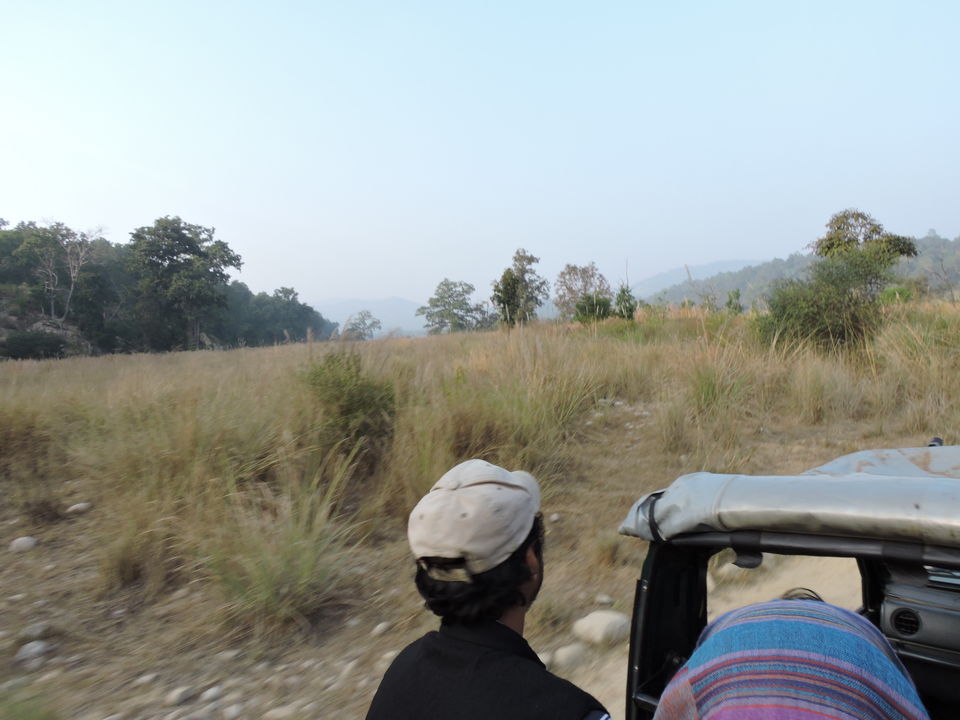 PC: Saumil Sah
The missed call?
Our jeep was alone in that huge chunk of forest, I mean, No other jeep was visible as far as the naked eye could see. We (the passengers) already knew what was in store for us, but none of us dared to talk. After 20 minutes or so our guide finally spoke. He told us what our ears wanted to hear. "We could observe things as far as 8 kms from here by the sole power of our ears. A tigress has made a fresh kill approx. 3 kms from here. We will wait here". Although i was like "What the **** dude?" but trust me (I later realized what an incredible knowledge i gained from waiting here). The driver told him excitedly that there is a sure shot chance of a tiger being out (I could make out from his voice that he too had not seen one for a very long time). "No, we will wait here!". Of all i trusted him, and thank God for my intuitions because although amongst all the family members who watched the tiger take a stroll past their jeeps, we gained knowledge as to how to listen to the call, how to distinguish the warning sounds given by the langoors with that of the howling.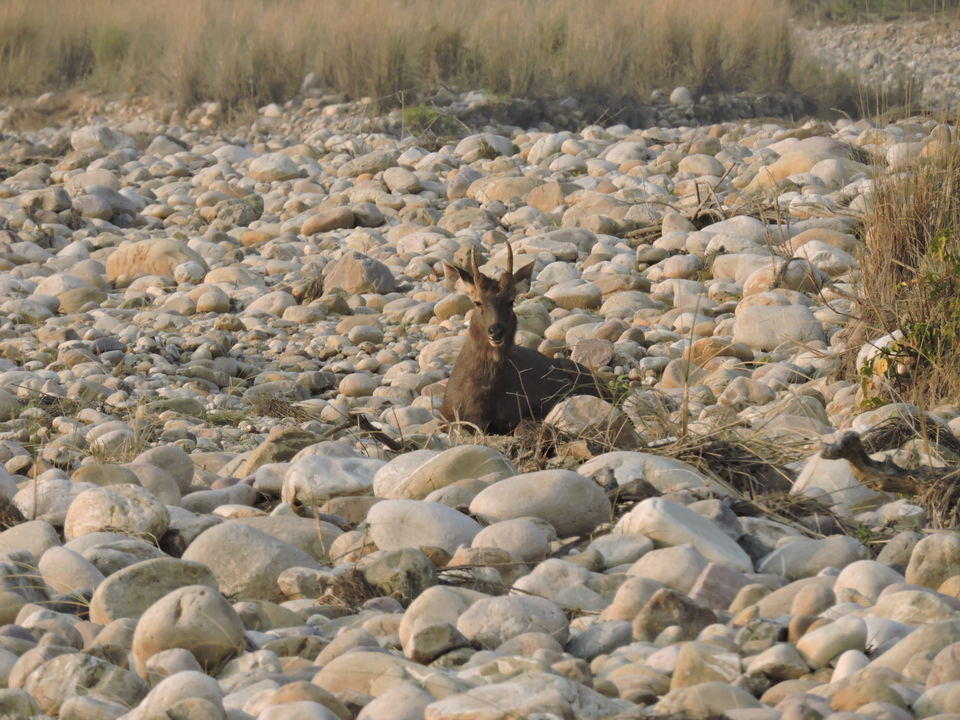 PC: Saumil Sah
Even our friend next to our jeep had his ears spread out for the moment
We reached the exact spot where our guide had predicted that the female tiger would be. Although a few minutes late as the tigress had vanished deep in the jungle, I did not actually regret seeing it. I had observed and learned so much about the Nature that i was grateful at being there at very particular moment. You know, I had always loved the Metro life, it's fast moving life, the Mall's, going to trendy and expensive restaurants, never actually looking around me. But at this moment i realized that i wanted to be a part of the wild. Maybe live in here for ever. The forests had no banners on them to attract me, there was nothing, not even the 'SALE, 60% OFF' attraction or the 'Happy Hours' hoarding. There was nothing, NO! But for some reason I did not want to go back.....maybe my mind was harnessing my pahadi genes?!?.....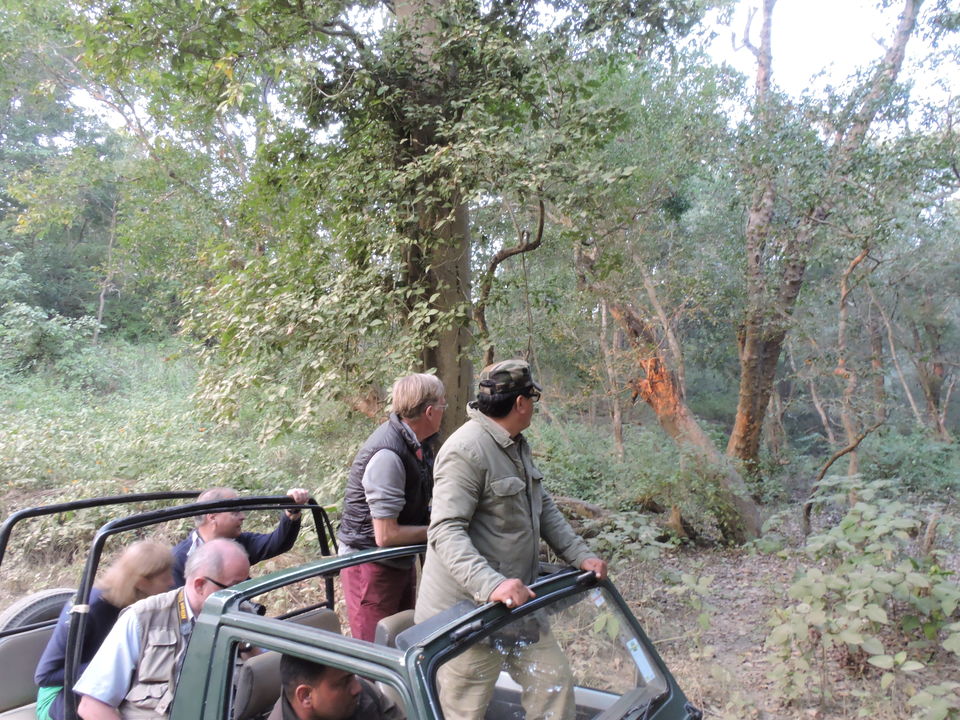 PC: Saumil Sah
She was somewhere out there. Teasing us from behind the woods!
And thus, our safari came to an end. There were happy looks among the people who had witnessed the Royal Bengal Tiger. There were people who were disappointed at not having made it at the right time. And then there were we, the most knowledgeable of all the passengers ;)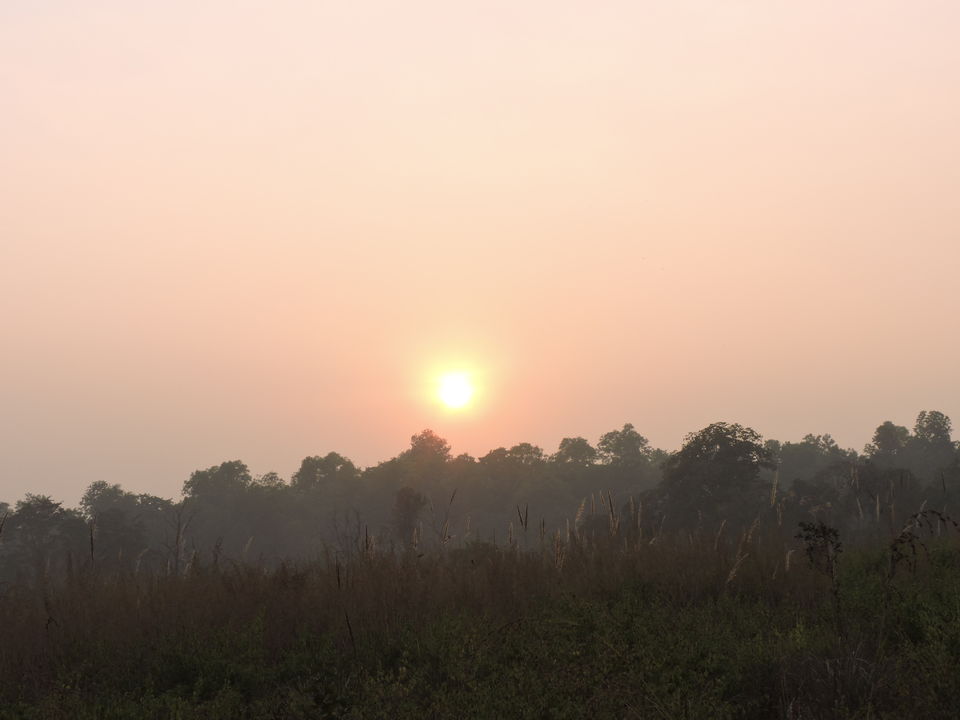 PC: Saumil Sah
"As long as I retain my feeling and my passion for Nature, I can partly soften or subdue my other passions and resist or endure those of others"- Lord Byron
Back at the resort, we shared our experiences, although everybody was still in the safari zone. At night, just before dinner was served we had a bonfire. My youngest 'Mama' graced the occasion and sang 'Pahadi songs' and some of his own compositions.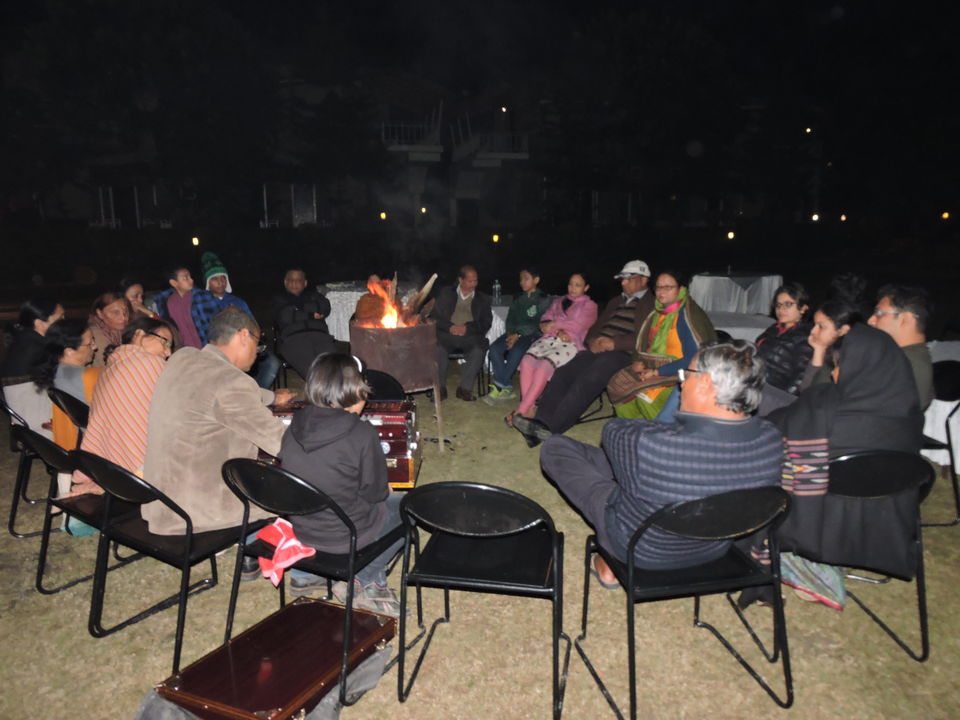 PC: Saumil Sah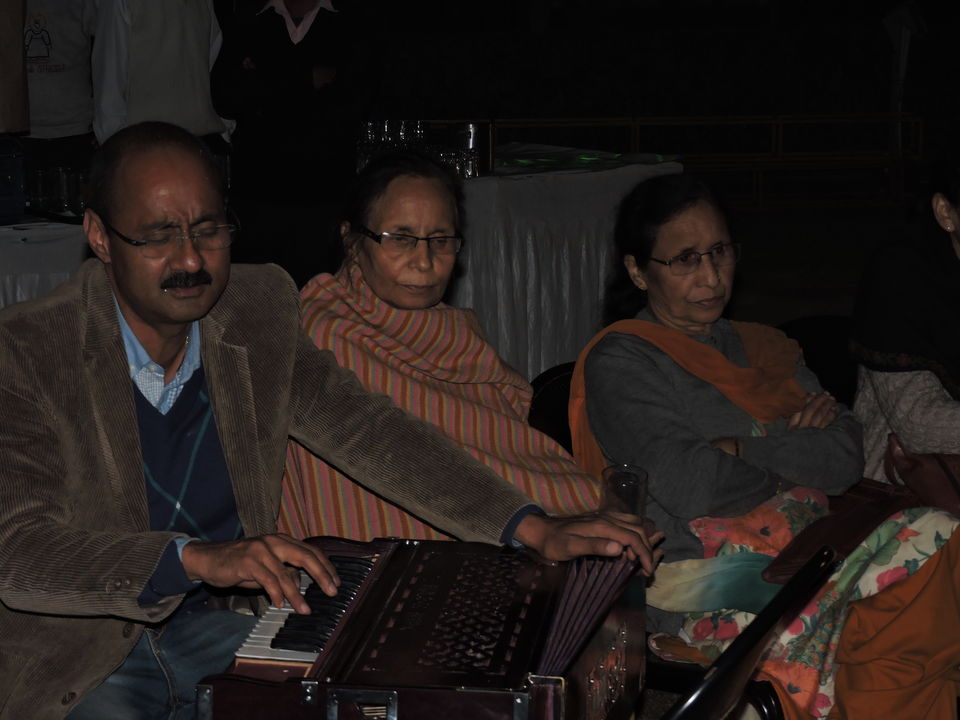 PC: Saumil Sah
The singing talent in the house!
PC: Saumil Sah
Lost in translation....
In the chilly winds, in the midst of laughter and the elders sharing their part of the 'When we were younger' stories, we danced and sang and somwhere maybe the birds or maybe the habitats of the forests were watching us from the distant land.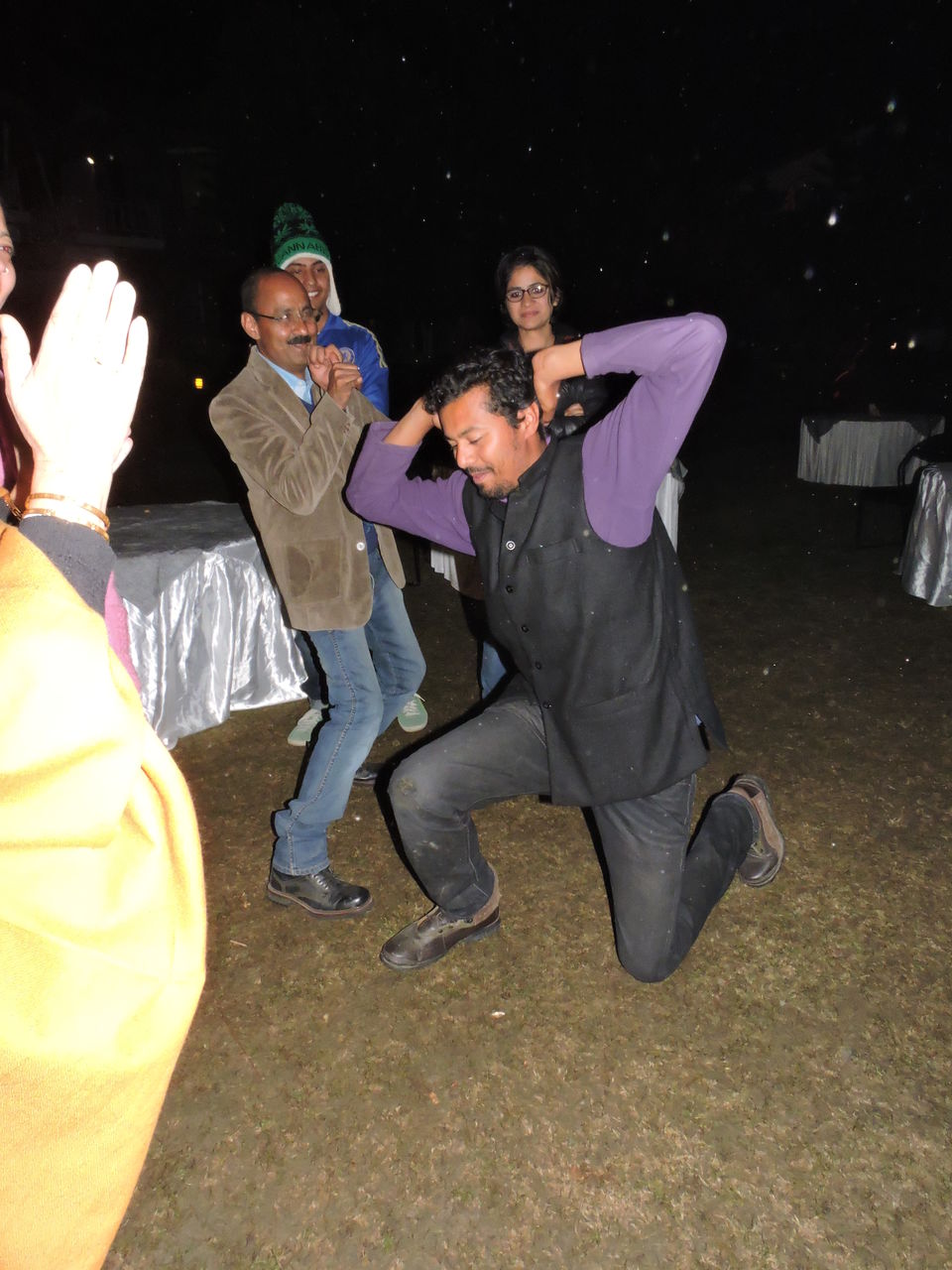 PC: Saumil Sah
How can we not dance to 'Bedu Pako'? It's our anthem after all!
Thus ended our day and our tour, in the world of nature, away from the running people, bustling cities, noisy cars. I decided to retire to my cottage as I was way too tiresd and drained out standing all day long, clicking photographs. The next day we checked out at 9:00 a.m, everyone of us to our own world! This trip will stay in my mind for time immemorial and maybe my soul is left behind in the woods!.......One quick suggestion though, if you are a traveler or love travelling and even if you are not a 'Pearl Jam' or a 'Eddie Vedder' fan, do listen to this song called 'Hard Sun'.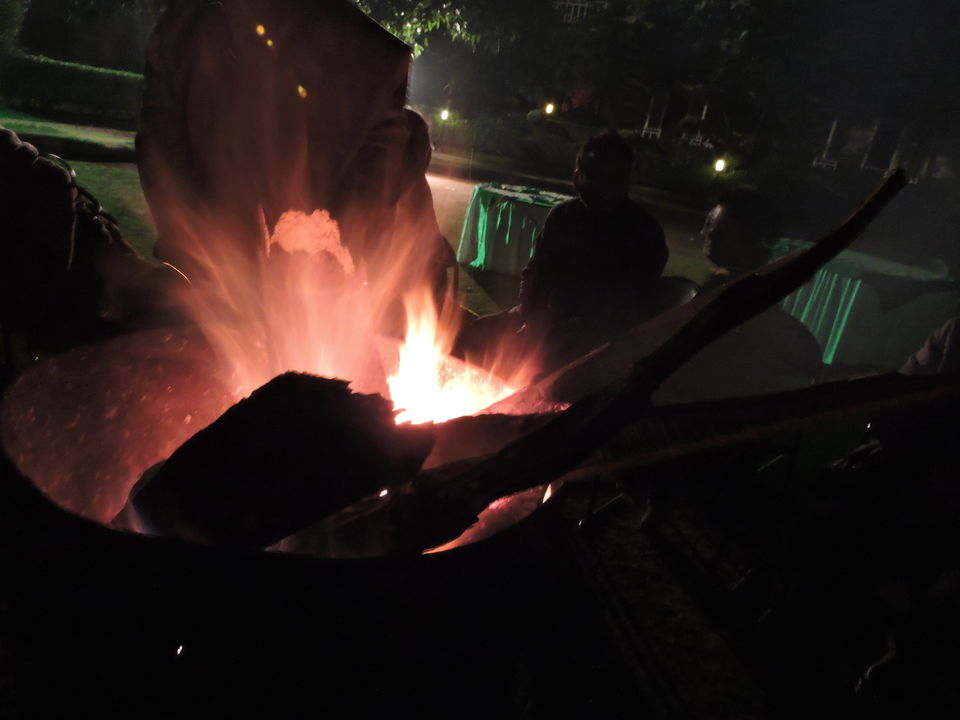 PC: Saumil Sah
Right in the epicenter of Jim Corbett. This resort has cottages designed in such a way that you fall in love with the place right away. Good spacious parking lots-Hospitality spot on. If you are looking for a quite place to spend your weekends, this is the place to be. On the plus side, it's on the river side so you can click great pictures.