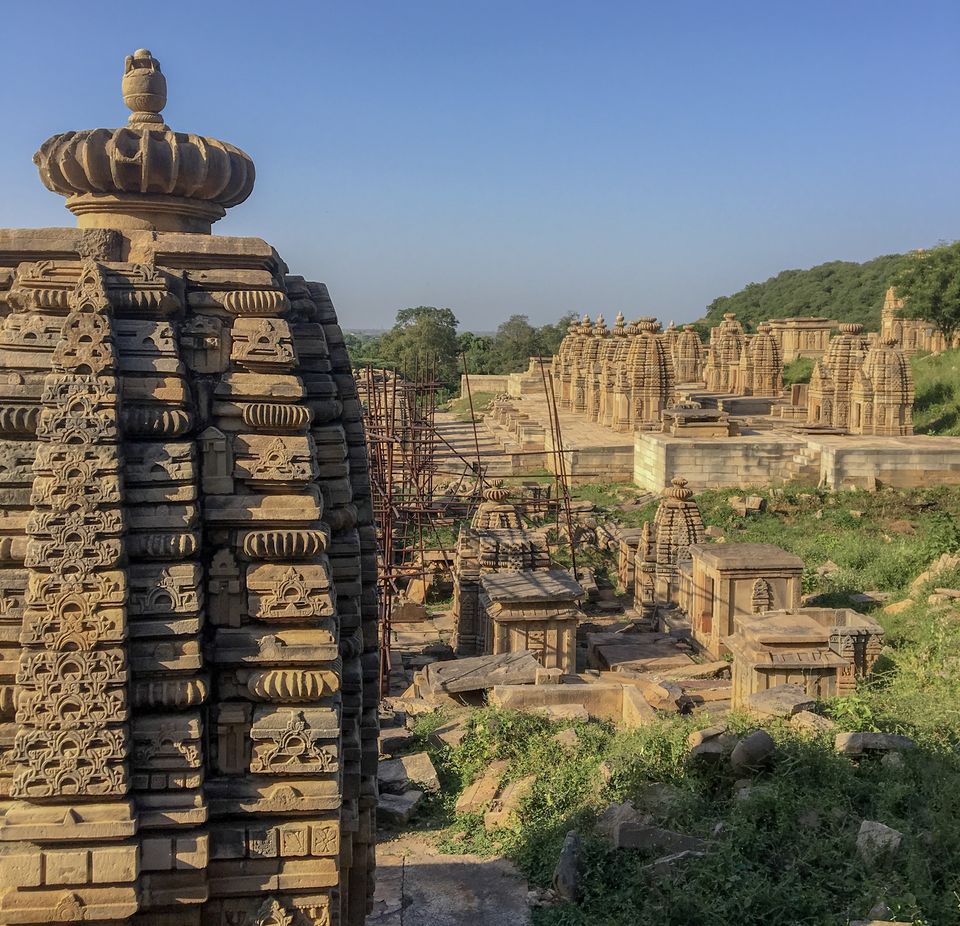 Popularly known by name Bateshwar or Batesara , this group of temples is an incredible but barely known place within the deep ravines of Chambal valley , a place which has its history filled with stories of dacoits .
The place won't give away much from a distance but once you get closer, what awaits you is a sight that is bound to fill you with awe.
This group of temples falls in Morena district , Madhya Pradesh. Don't confuse it with Bateshwar temple, Agra, UP which is on banks of Yamuna River. That one is a complex with 101 small Shiva temples, painted white and regularly visited by devotees.
On the other hand Bateshwar temples, a group of about 200 mini sandstone temples is spread over 25 acres and built on slope of an isolated hill near the village named Padavali, of Morena District. It is assumed to have been named after the Bhuteshvar Temple, the largest Shiva temple at the site.Though very little is known about the history of this place.
As per the ASI information board, the temples which are dedicated to Lord Shiva and Vishnu were built around 6th-9th century AD during the post Gupta and early Pratiharas period.
It also mentions that the earliest of temples are the ones with plain square roof while the ones which were built later have a shikhar and detailed carvings. Most of the temples also have a garba griha or sanctum sanctorum with shivlings.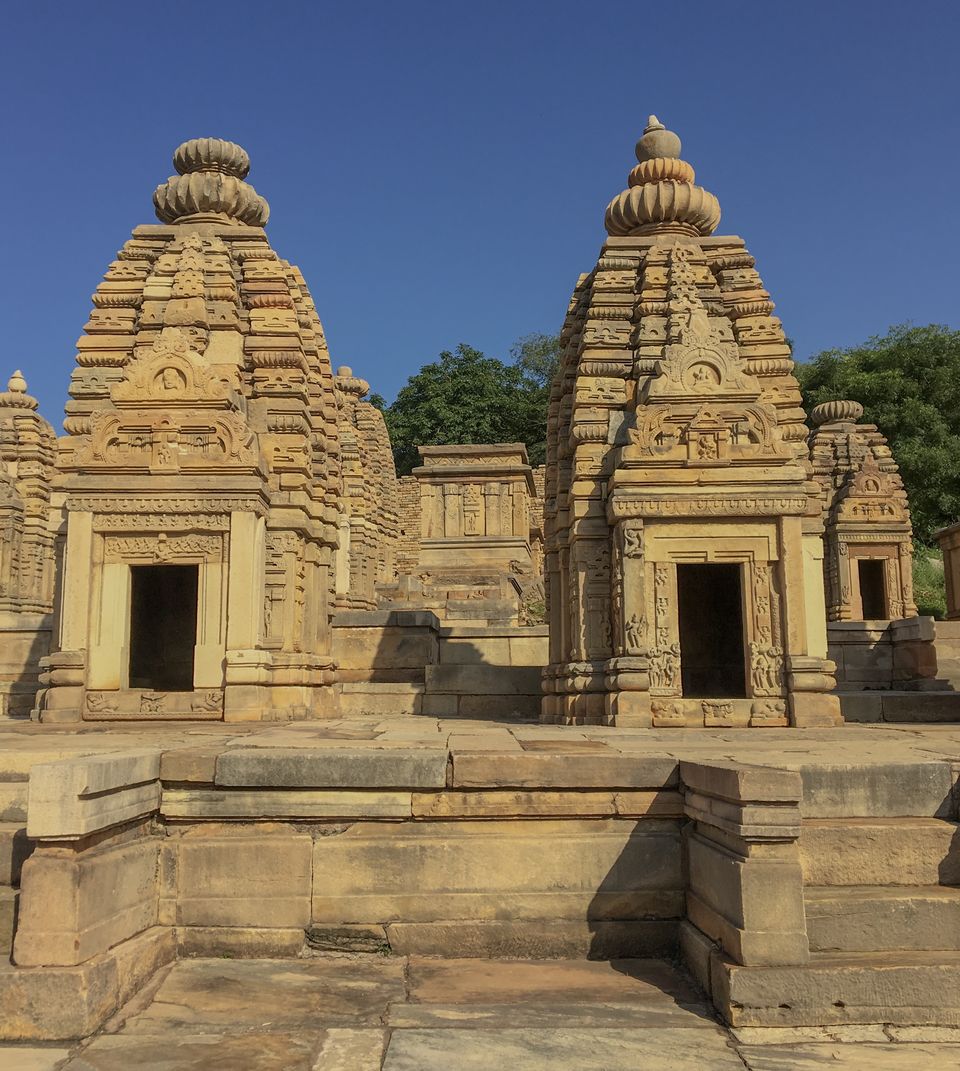 Before the main temple complex starts there is a restored Vishnu temple on the same hill. It doesn't have a shikhar but its walls are filled with beautiful carvings.
The surrounding area is covered with trees which keeps the place full of beautiful birds especially peacocks and parakeets. One can often spot the peacocks casually perching and dancing around the complex.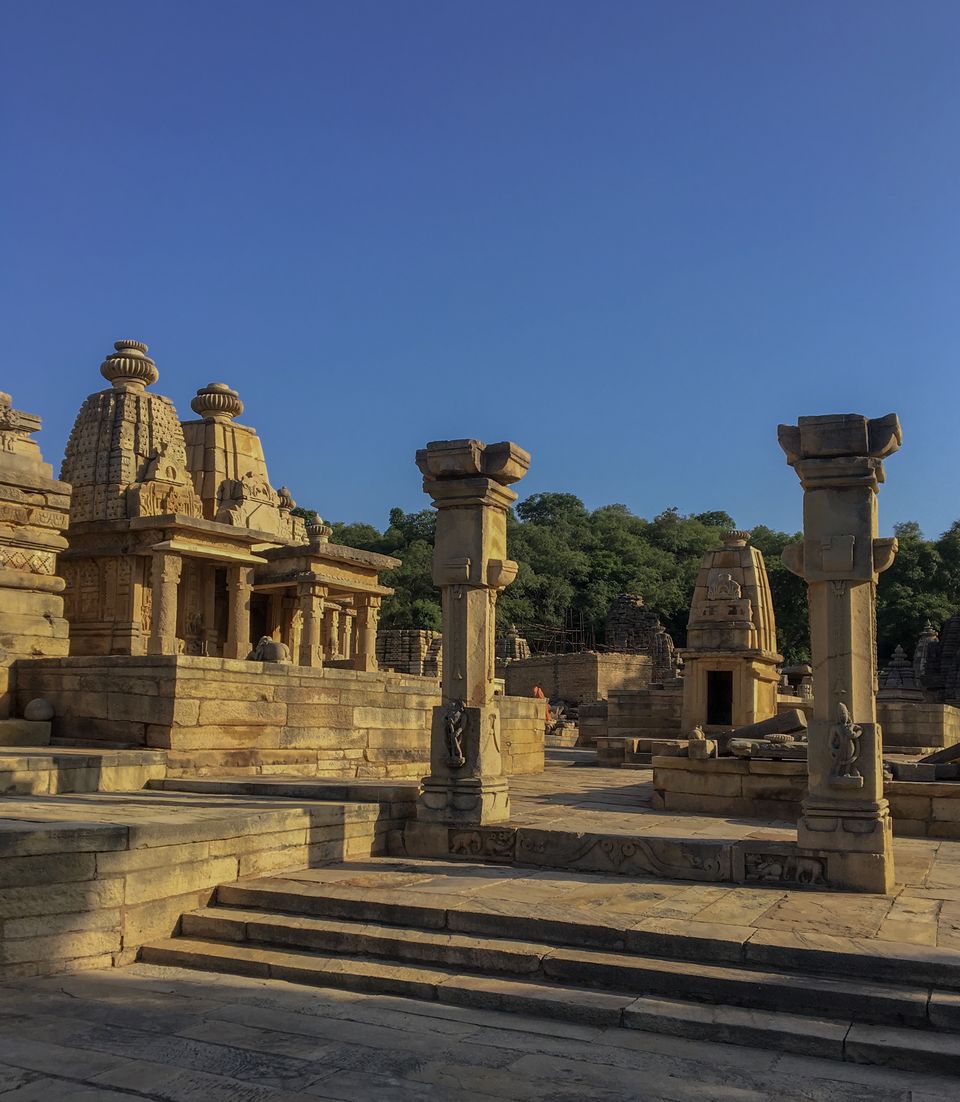 The temple area starts with a garden which is pretty well maintained by MP tourism board. Then you come across two ornate pillars which have been reconstructed by putting together the broken pieces. Their positioning is such that it serves the purpose of a temple entrance.
All the restored small temples are lined along several steps on the hill slope .The compound also has two stepped water tanks . It is said that they are filled with water all the year round and never dry up even when there is no rainfall in the region.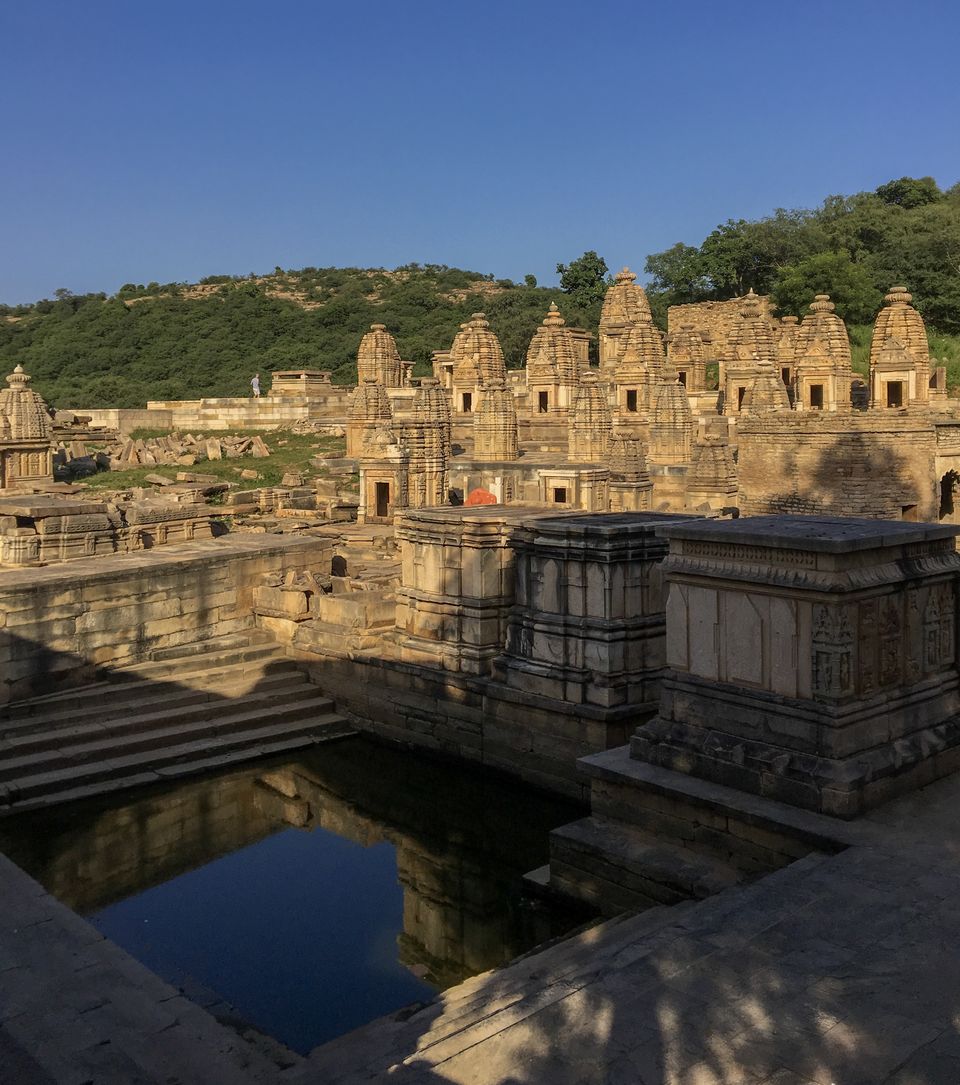 The numbers written on temple stones is how one figures out that these pieces have been put together to restore the structures . Though it's disheartening to see hundreds of intricately carved, good condition pieces scattered all around the area. Some of these unfinished mini temples still have iron fixtures around them which must have been put during the site restoration.
None the less, the site has a charm that is bound to impress anyone who comes here.
There is also a Hanuman statue which sticks out amidst these old temples because it is covered with vermilion. As told by the caretaker, locals come here to worship this idol. It is said to be one of its kind, with Hanuman stepping on two figures who are considered to be God Kamdev and his counterpart Rati .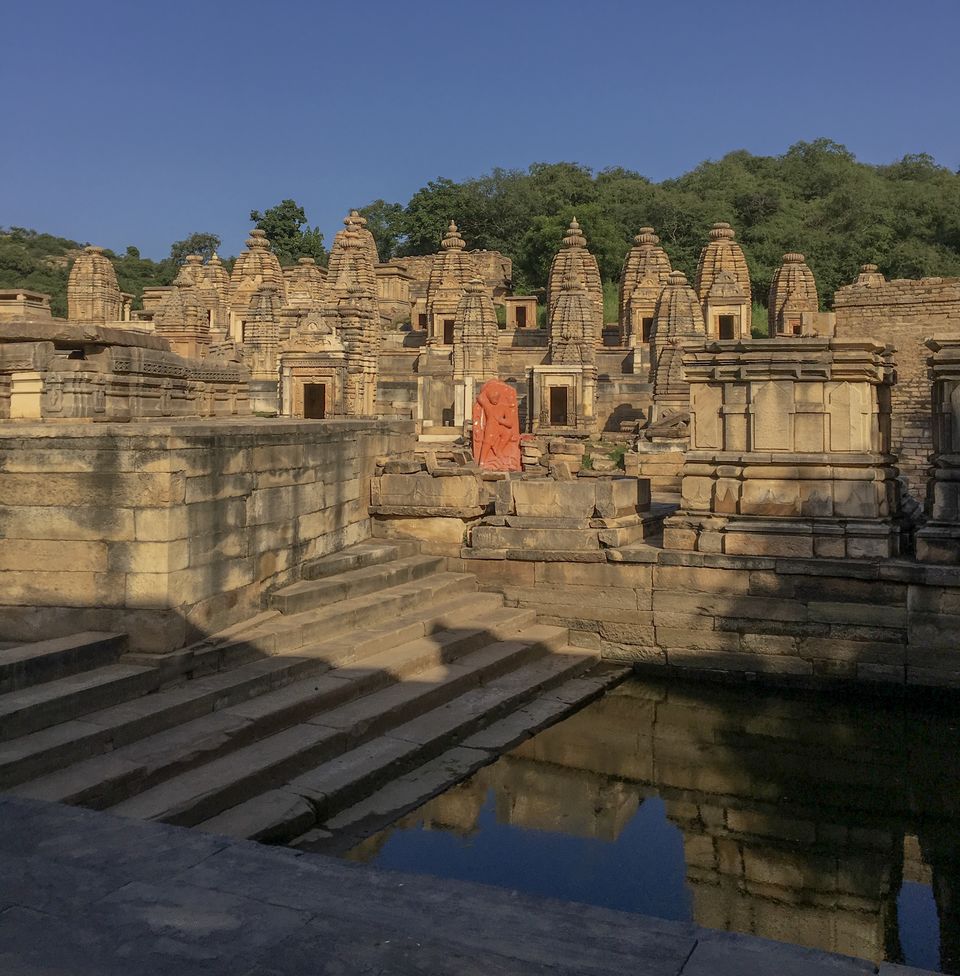 MP tourism has kept the place very decently maintained despite the neglect it has faced in recent years since its restoration stopped.
One can get to know more about the place from the caretaker. He has few booklets which contains a lot of site photos showing the place before and after its restoration.
Though these temples are assumed to have been destroyed around the 13th century but the carvings and sculptures are well-preserved with no major disfigurement.
Even with considerable breakage there is no such sign of vandalism as is the common case with invaded temples.
A possible reason for this is the fact that this valley is surrounded by hills and whole area is covered with vegetation which probably kept these temples hidden from common sight.
Hence its suspected by archaeologists and historians that the reason behind its destruction has to be an earthquake .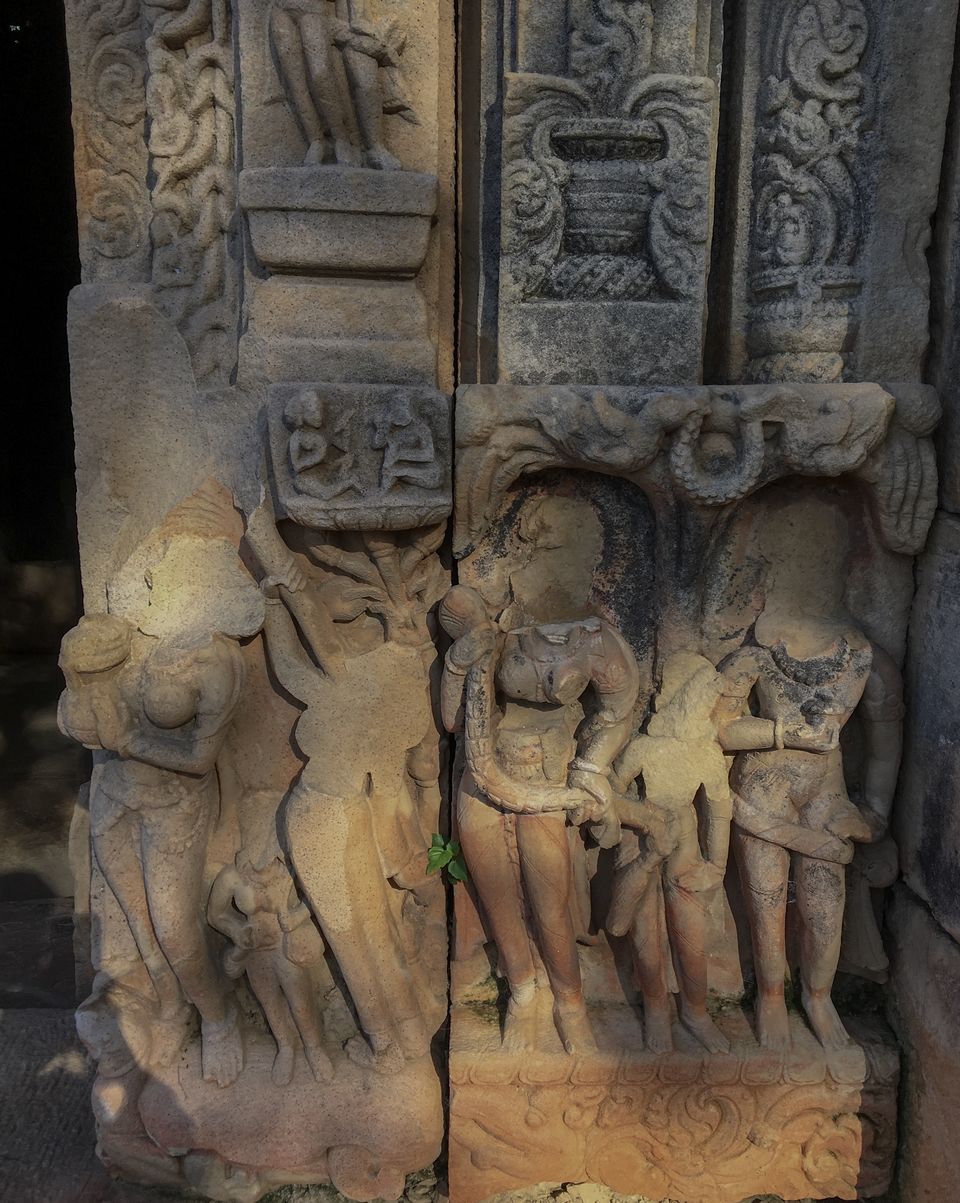 The earliest mention of this site come in the reports of Alexander Cunningham in 1882,who was the then director-general of the Archaeological Survey of India (ASI) .It was declared by ASI as a protected site in 1920 and steps for its conservation were initiated.Not much could be done for many years to come as the region was ill famous for terror of dacoits and was considered unsafe.
But the story of Bateshwar had a new chapter waiting to be written for it when K. K . Muhammad was posted as the Superintending Archaeologist , Bhopal circle, ASI .
If you look up on internet you will find videos where Muhammad is seen recalling his experience of Bateshwar .When he first visited the site around 2004 it was nothing but a huge pile of rubble absorbed by the jungle with only 10-12 temples intact and rest all broken down.This is when he decided to start the seemingly impossible project of piecing together the ruins and bring back the original grandeur of temples .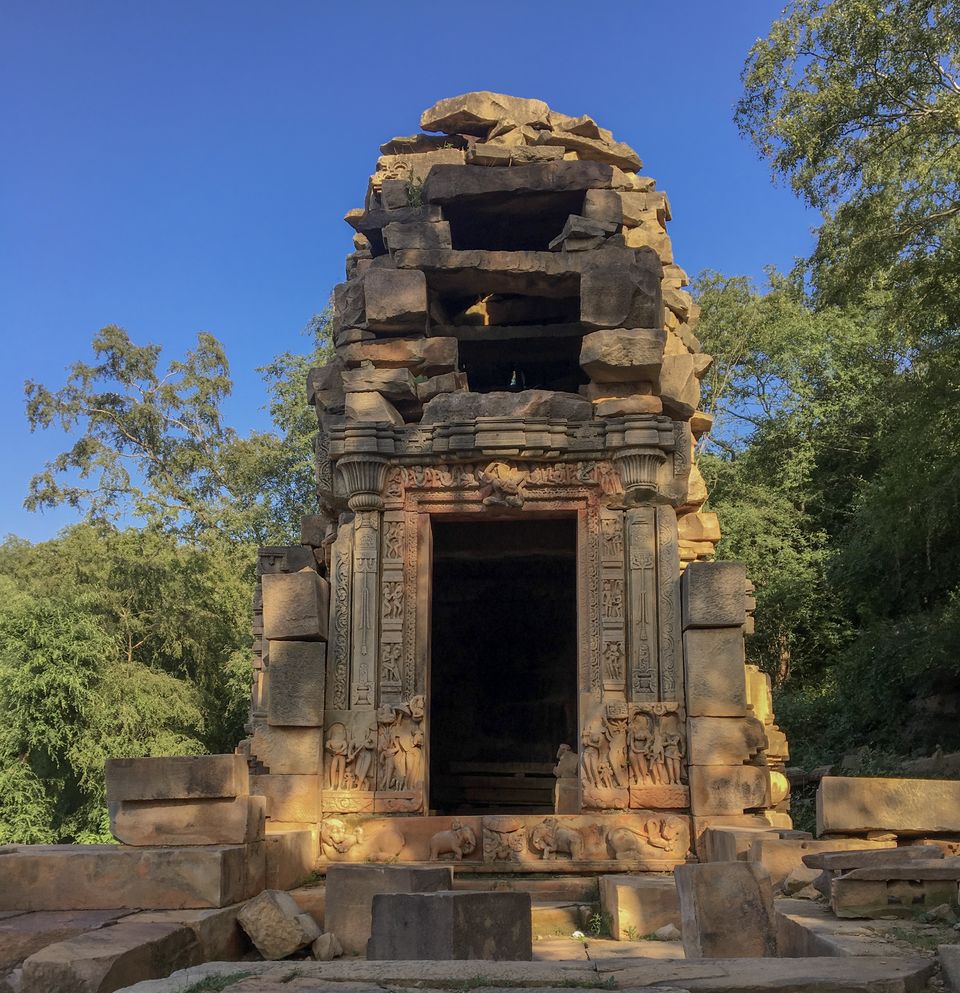 "If there are two sites in India that can rival Bateshwar in its grandeur, they are Aihole in Karnataka and Jageshwar in Uttarakand," says Muhammad. While Aihole and Jageshwar have about 120 temples each , Bateshwar has about 200 mini temples in its complex.
But the biggest hurdle in restoration was the fear of the dacoits who used the site as their hideout.Though by the time ASI decided to work on this site ; most of the gangs have been curbed by the police. But Muhammad knew that nothing was possible without the support of the dacoits , as the area was still under the control of one of the last active dacoits of the region, Nirbhay Singh Gujjar.
In one of its kind of negotiations , Muhammad convinced the famous dacoit that it was his ancestors of Gurjara-Pratihara dynasty who built the complex and these temples needed to be restored and shown to the whole world. ASI officials say that Nirbhay Gujjar was convinced and his gang gave much-needed help and support for the restoration work until the dacoit was killed in 2005 in an encounter with the police. He was also said to have provided protection to the workers.
During Muhammad tenure in the region between 2004-2008 ,60 out of 200 temples were restored .
But this temple complex which stood safe for decades under the shadow of dacoits suffered tremendously at the hand of mining mafias once the police cleared the region from the gangs . Due to ongoing blasting in nearby areas the temple ruins again began to crumble .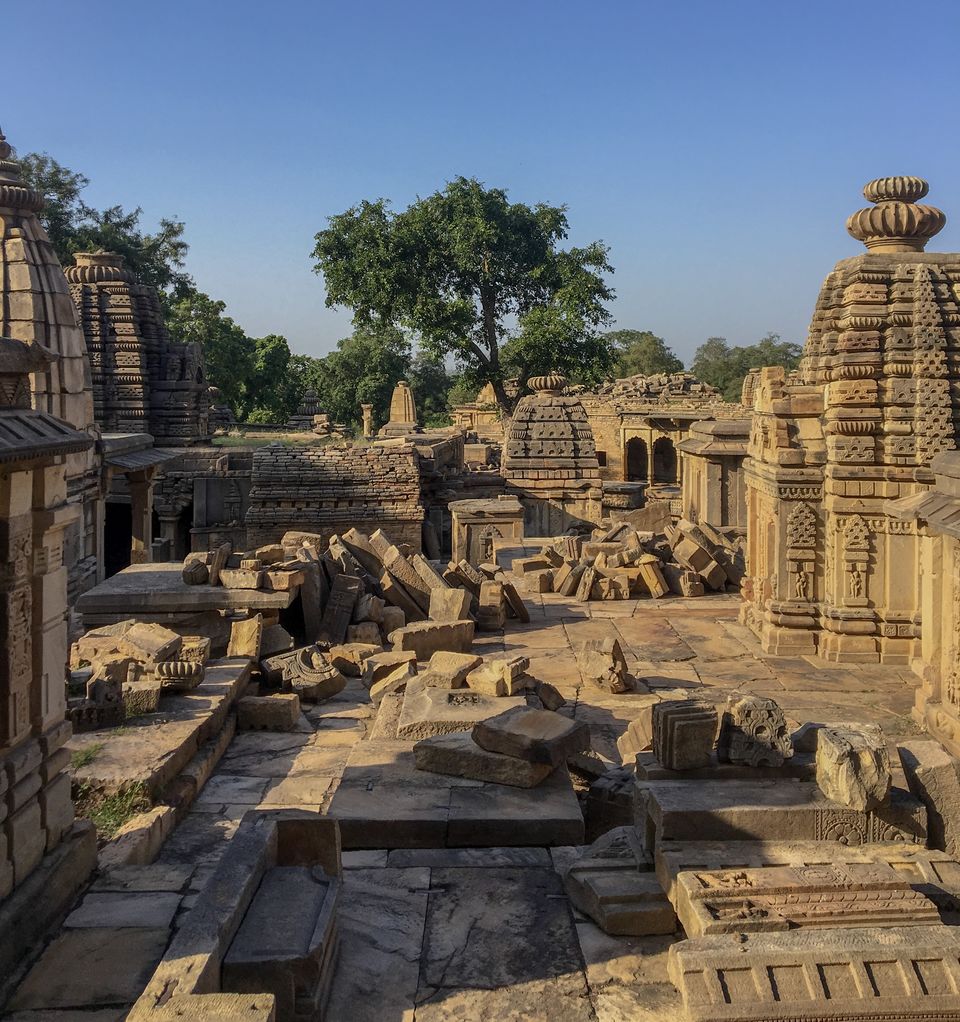 The surrounding area was encroached by the mafias and stone mining went around relentlessly .As per K.K. Muhammad, he approached several government officials to save the site from the hands of mafias, to no result. This forced him to write a strong worded letter to RSS Chief , Sudershan , urging him to persuade the ruling BJP Government and save this iconic heritage. It was then that the government took action to curb the menace of illegal mining. They also created a buffer zone of 750 metres around the site instead of the usual 200 metres prohibiting all form of construction activities.
Till 2012 around 80 temples were restored after a lot of painful research and work on another 40 temple is half done as per K.K. Muhammad who retired from ASI in 2012 but continued to keep a close eye on developments going on with Bateshwar. While moving around the temple complex you can't help to acknowledge the degree of efforts put to bring back these ruins. You feel amazed that how one man's persistent efforts can bring such a spectacular result.
Even though it is a spectacular restoration site only time will tell whether this 1300 year old temple complex with a history filled with glory, ruins and dacoits will be swallowed by the human greed and lack of funds or will end its story as a phoenix raising from its ruins.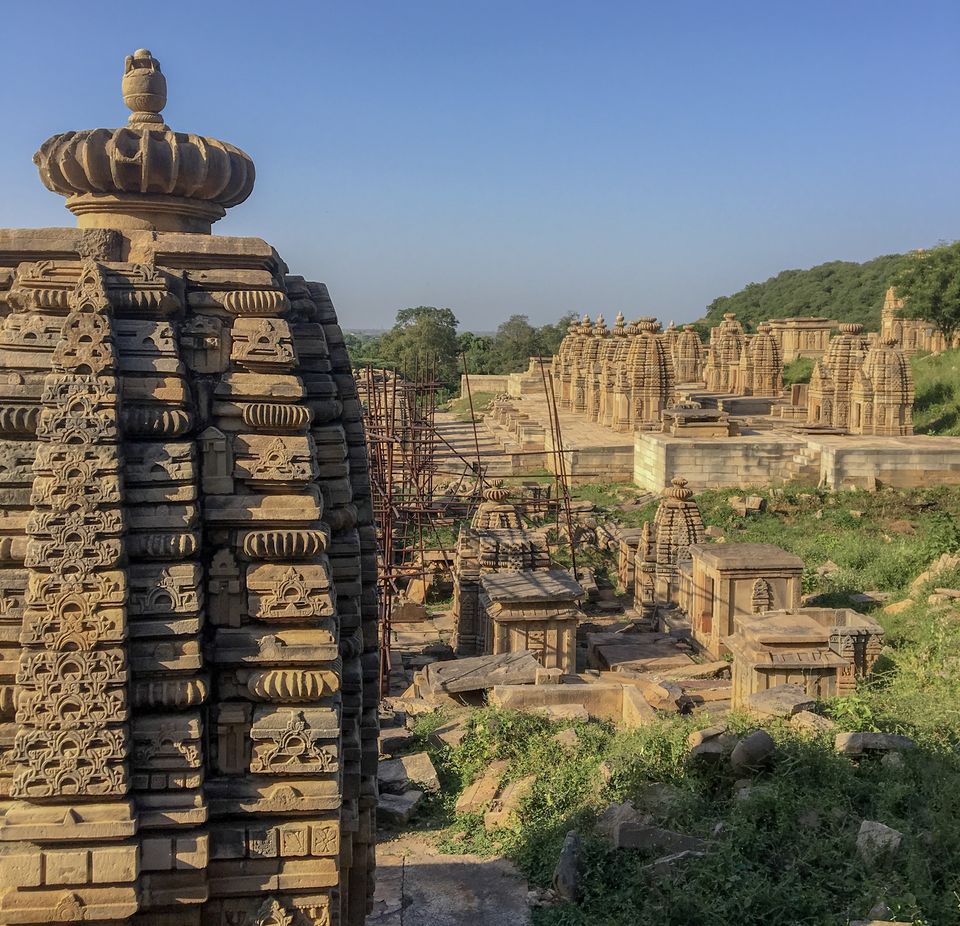 How to reach the place -
The marvels of Batesara temples along with Mitawali and Padavli are located only a few kilometres from the Gwalior city and should not be given a miss if you are going to Gwalior. Gwalior is well-connected from Mumbai and Delhi through air and its distance is only 370 km from New Delhi giving it a good connectivity from road and rail transport with most of India.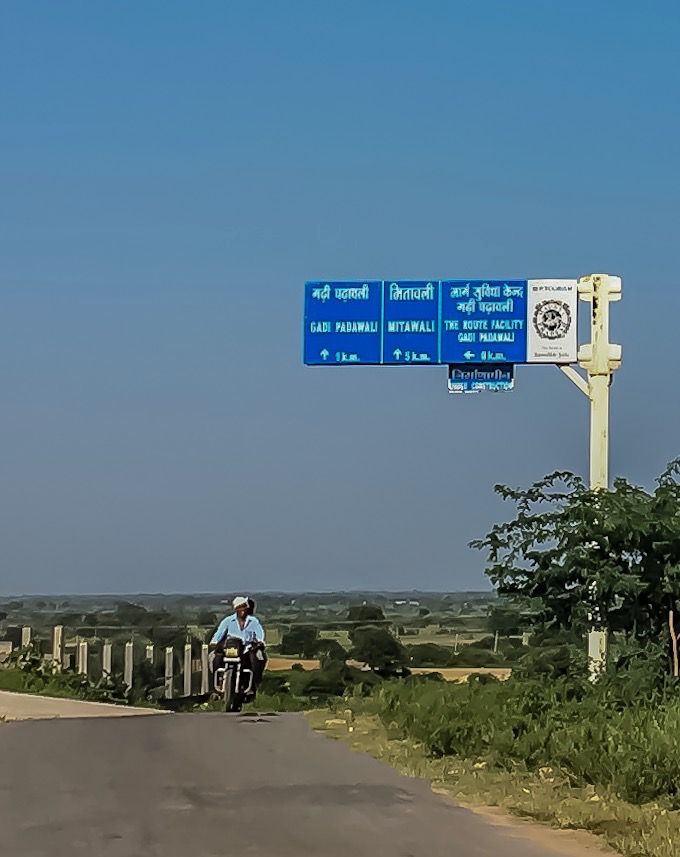 All three places can be easily covered in half a day.
Batesara temple site doesn't have public facilities .Nor there is any place where you could get drinking water or something to eat. Make sure to carry the above based on how much time you wish to spend at the place.
Directions are easily available on Google Maps for the place. While coming from New Delhi one has to move towards Morena. Around 14 km away from it there is a place called Nurabad. A diversion from the highway at this point leads you to Bateshwar. Though locals didn't seem to know of the place till the turn at Nurabad. If you will ask for directions before Nurabad then there is a very good possibility that they will direct you to Bateshwar, near Agra, UP.
I was short on time so I gave Padavali and Mitawali a miss. If possible, do visit the places as the information available online sure makes them interesting.
Reaching here might be a problem as it's quiet secluded. Although it's better if one has a personal vehicle to reach the place .Few blogs do suggest that buses are available to reach this place but these aren't frequent.
Note - If your interest is piqued then this video and this video will take you through Muhammad's journey of restoring the complex in his own words.
Also Batesara got its own post card when a special cover was brought out by the Indore Region, Madhya Pradesh Postal Circle, Department of Posts, India, on 18.03.2016. You can read more about it here - coins and more .