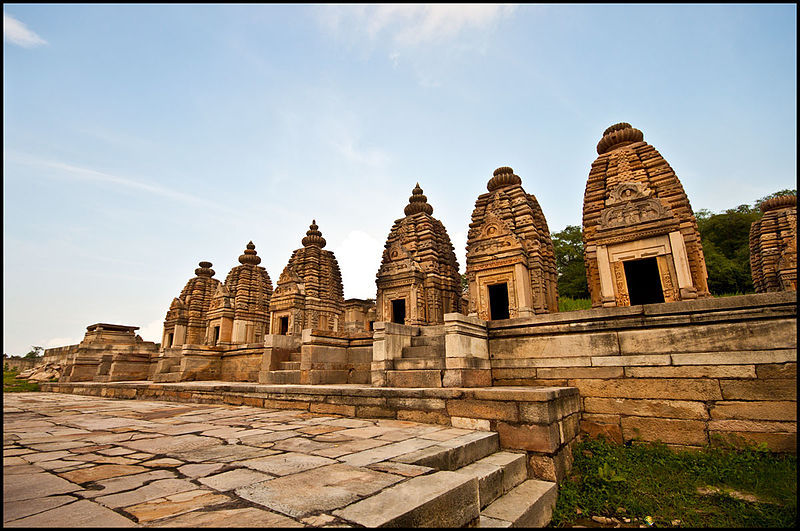 Machu Picchu was hidden from the outside world due to its remote location among the mountains and jungles. A temple in Chambal Valley was similarly hidden due to the presence of dacoits in the surrounding rugged mountains and deciduous forests. After all, these neck of woods were once the hunting grounds of the Bandit Queen, Phoolan Devi. The fear of the dacoits was such that passengers used to lock themselves in the bathrooms when their trains passed through the fringes of the valley. This same fear meant that a 1000-year-old temple complex was virtually off-limits to the outside world for years.
Locals believe that Bateshwar Temple complex retains its original charm and beauty thanks to the fear of the dacoits that kept the tourists and government away for years. There are two other legends that locals share with a broad smile. First one is related to the most prominent and magnificent of the 200-something temples, Bhuteshwara. Locals say that marauding Mughals who tried to destroy Bhuteshwara Temple, dedicated to Lord Shiva, were turned blind by its divine powers.
The other legend requires no belief. After the Indian government took charge of the temple complex, they tried to move a Lord Hanuman idol. Guess what happened? All the might of the heavy machine couldn't lift the idol even by an inch. Today, Lord Hanuman, clad in orange, still sits where he sat in the 10th century.
Temples of Bateshwar, poetic stanzas of sandstone, were constructed between 8th to 10th century. The backdrop of gray hills and green forests adds a touch of surreality to the temple complex. The temples, dedicated to Shiva and Vishnu, have intricate carvings and elaborate shikharas. The carvings depict stories from Hindu mythology.
Different temples are under different conditions, yet most of them have withstood the trials of time. It makes you wonder what this place would have looked like during its heyday.
When to go
Best time to visit Bateshwar Temple is after monsoon from September to March when the temperature ranges from 10 to 30 Celsius.
Getting there
By air: Rajmata Vijaya Raje Scindia Air Terminal in Gwalior (30km) is the nearest airport. There is one direct flight from Delhi to Gwalior every day.
By train: Nurabad (14km) is the nearest railway station from Bateshwar Temple. But, it is hard to find transportation to take you to the temple from the station. It is better to head to Gwalior Railway Station (35km) and hire a private taxi to the temple.
By road: Bateshwar Temple is 353km (6 hours) from Delhi on the Taj Express Highway. It makes for an ideal weekend road trip from Kanpur (260km), Jaipur (324km) and Lucknow (332km) as well.
Accommodation
Gwalior, 35km away, is the best place to stay. Hotel Anand Palace (₹800 double), Dera Heritage Haveli (₹2,700 double). For more options, check here.
Have you been to Bateshwar Temple or any other medieval architectural marvel? Write your own travelogue and share it with millions of other travellers. And subscribe to Tripoto Youtube Channel for stunning videos.
Frequent Searches Leading To This Page:-
chambal area in madhya pradesh, chambal river madhya pradesh, history of chambal river, dam on chambal river in madhya pradesh, chambal river madhya pradesh