1. Thajiwas Glacier, Sonamarg, Jammu and Kashmir – The snowy wonderland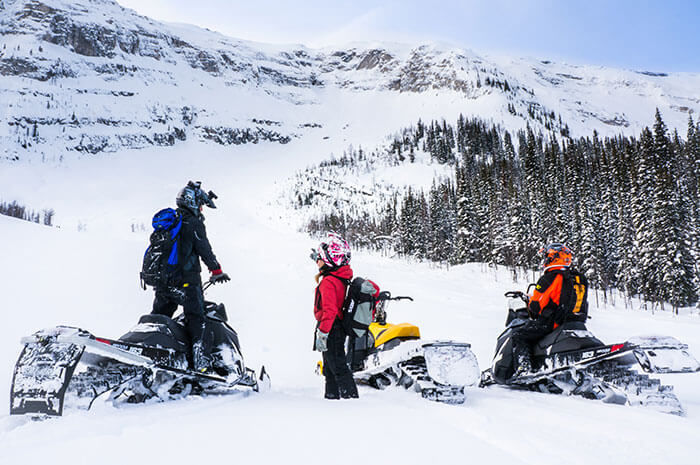 Witness the beginning of snowfall in December as you go about the glacial sighting in this winter wonderland. The weather at the meadow of gold, Sonamarg, drops down to subzero levels during this month.
Visit the undiscovered Thajiwas glacier, located just 7 kilometers. Sledge rides, snowboarding and skiing are the best things to do in December here. Sport a red Santa Claus coat and hop onto a sledge singing 'jingle bells' with breathtaking hills on the backdrop.
Cost Of Sledge With Shoes: INR 300/-
Cheapest Stay: Hotel Tourist Palace
Tariff: INR 1,400 per night during Christmas
2. Dawki, Shillong – With water so clear it sparks optical illusion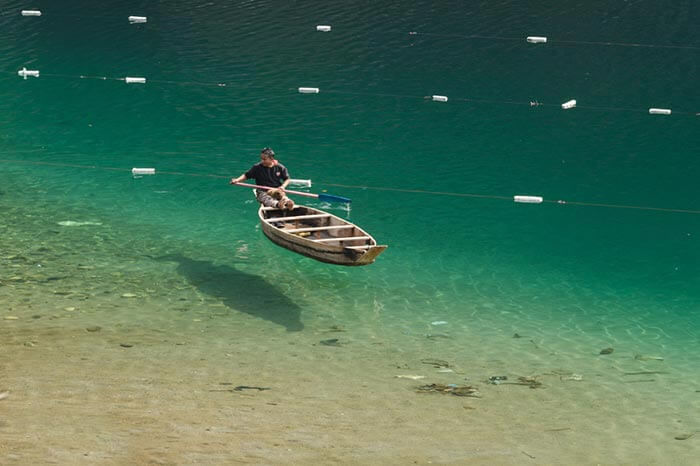 becomes heavenly in December with a pleasant temperature ranging from 12 to 20 degrees. Shillong is the only hill station in the country which is accessible from all sides. The water of Unmgot river in Dwaki is so clear that a boat floating on it, seems like it's flying in mid-air. Shillong definitely needs to be added to your list of top tourist places in India in December. You can also, relish the sweet and juicy oranges at the border townnear the river.
The river is not the only place here. Entertain yourself at some really amazing festivals organized here in December—Tysim Festival, Baghmara, Pinjera Festival, Williamnagar and Tura Winter Festival, Tura.
Tickets For The Festival: The tickets are available on arrival
When to visit: December
Cheapest Stay: Hotel Broadway
Tariff: INR 1,400 per night at the time of Christmas
3. Manali, Himachal Pradesh – A beloved winter destination of India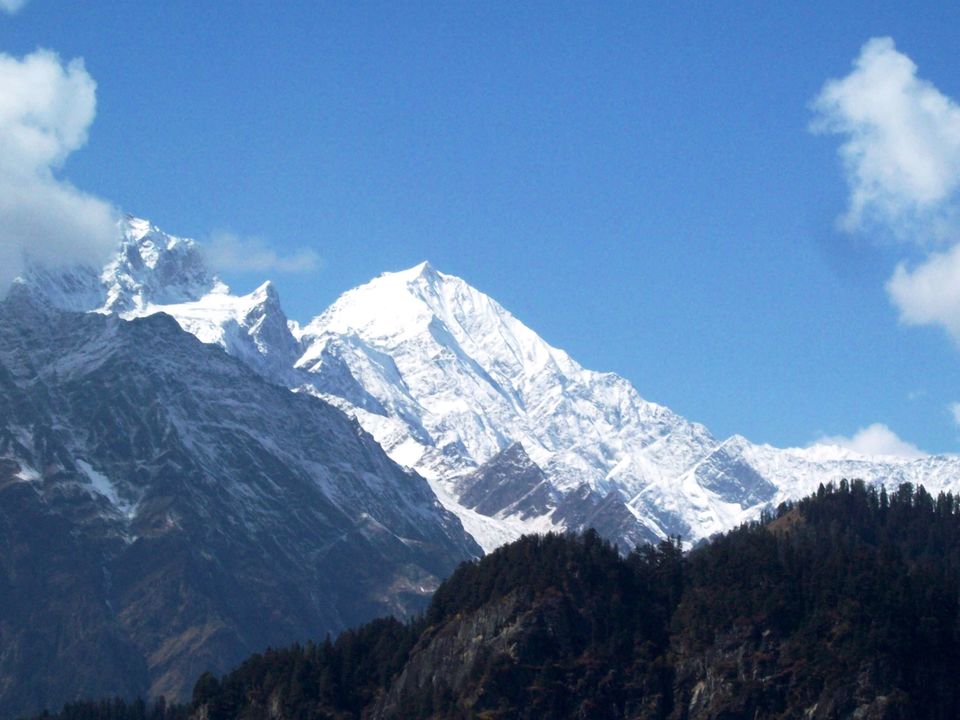 Tall deodar trees, towering mountains, curvy roads, and heavy snowfall, Manali is one of the most spectacular winter places in India. A paradise for newlyweds and snow lovers, this hill station is also a great place for adventure sports like paragliding, ice skating, rappelling, and rock climbing. One can also do Lamadugh Meadows, Solang Valley, and the Koshla-Tree line trek during the month of December.
Cheapest stay: Holiday Heights Manali
Tariff: INR 850
4. Dalhousie, Himachal Pradesh – Mesmerizing with the Colonial charm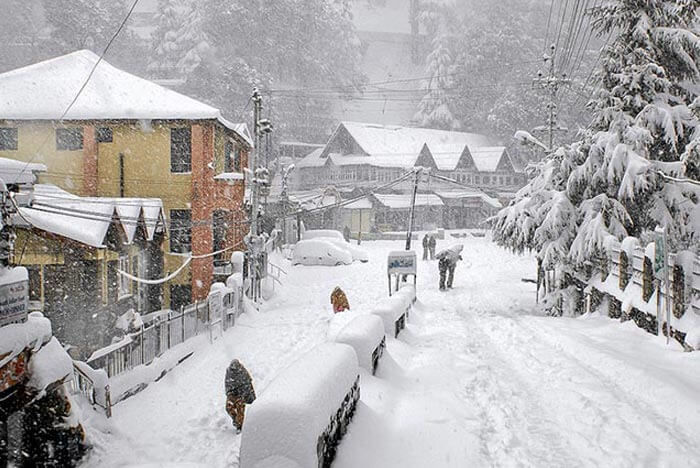 The picturesque town of Dalhousie is one of the best places to visit in India during December with its snow flake covered Deodar forests. The view is absolutely quintessential. This gorgeous winter destination becomes a ramp opened to the chilly breeze with a view of snow-capped mountains. Additionally, all the trekking enthusiasts must visit Dalhousie in December to attend the National Himalayan Winter Trekking Expedition.
When: 10th December 2016 to 6th January 2017
Cost: Rs.4620.00/- (Inclusive of Food, boarding, lodging, equipment, group insurance, forest entry, trekking)
Duration: 6D/5N
5. Shimla, Himachal Pradesh – The Queen of Hills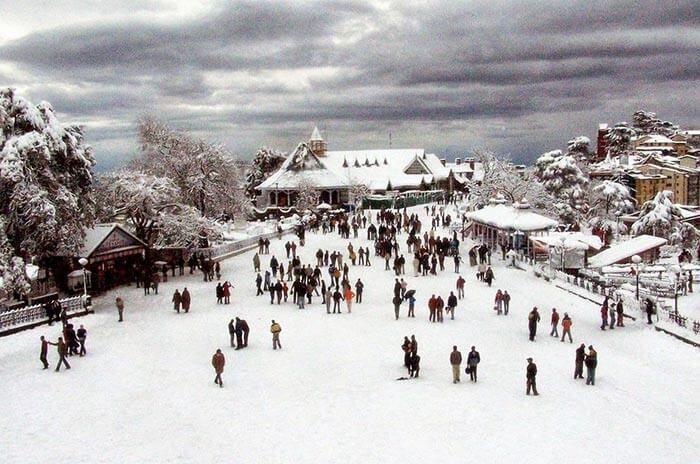 How could we miss out on the most beautiful place to visit in December, the Queen of Hill Stations—Shimla! Let's go for a colonial walk in the most romantic getaway in India. Walk through the snow floors with long boots and visit the Chail town. You will encounter immense peace beyond the crowd of Shimla. Click the perfect selfie with your loved one at the most erotic honeymoon destinations in India in December. Take a joyride at the Winter Sports Festival in Shimla—enjoy the natural ice-skiing and hanging balloons.
When to visit: December to February
Cost Of Ice-Skiing: INR 100 per person
Cheapest Stay: Alpine Heritage Residency | Hotel reviews
Tariff: INR 1,400 per night during Christmas
6. Auli, Uttarakhand – Skiing capital of India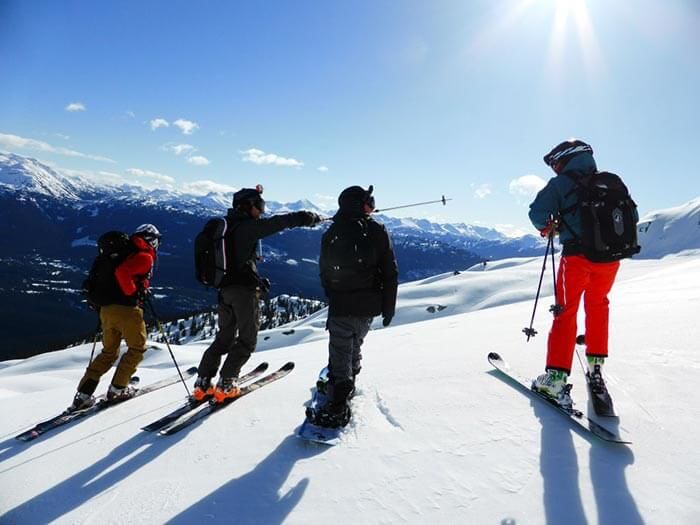 The snow clad peaks of the Neelkant, Mana Parbat, and Nanda Devi give an awe-inspiring panoramic view of the hills which will make your toes freeze, especially at the time of Christmas. Want to learn skiing or are good at it? Well, then you've to add Auli to your list of places to explore in December. It is the time when you can start learning this thrilling adventure sport. And if you think skiing is your thing, you must attend the National Championship of Skiing held in January at Auli.
When: Skiing could be done from December to March and Championship is held in January
Cost For Skiing: INR 500 for two hours; hire an instructor in INR 1,000
Cheapest Stay: Maya Deep Herbal Resort | Hotel reviews
Tariff: INR 950 per night (at the time of Christmas)
7. Chopta, Uttarakhand – Perfect for both adventure-lovers and peace-seekers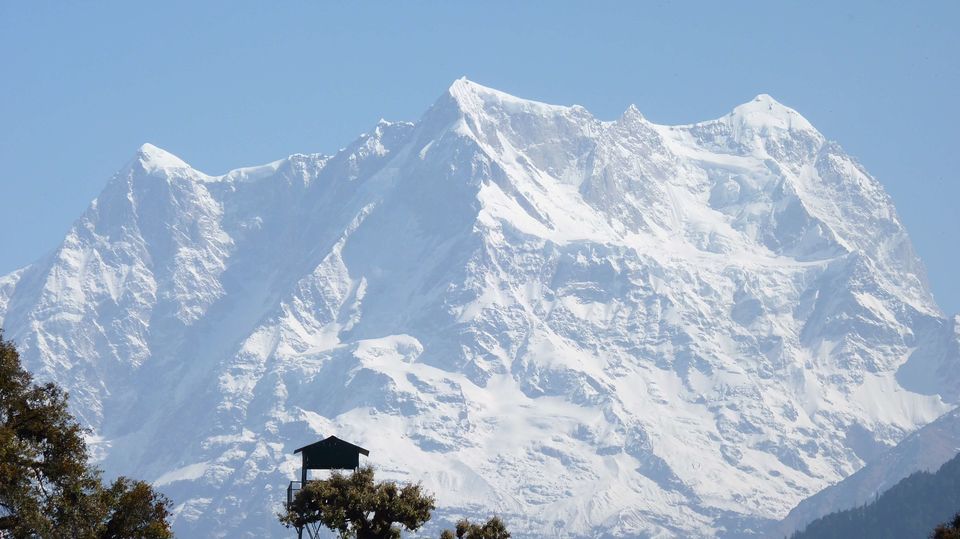 One of the most fascinating holiday destinations in India in December, Chopta is offers panoramic view of snow laden Nanda Devi, Trishul, and Chaukhamba. One can feel the freshness and romance in the air of Chopta. It isn't just a destination to watch mesmerizing snowfall, but also a great trekking destination for adventure lovers.
Cheapest stay: Shivansh Cafe & Resto
Tariff: INR 1000
8. Binsar, Uttarakhand – Adorned with sky-kissing peaks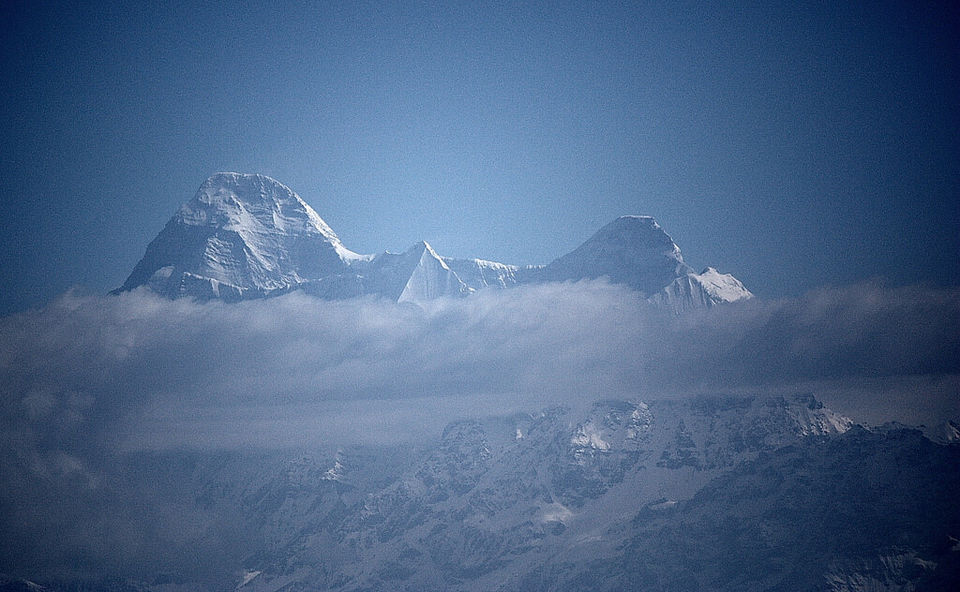 Binsar is undoubtedly one of the most spectacular places to visit in winter in India. In the lap of statuesque and breathtakingly beautiful peaks of Nanda Devi, Pachachuli, and Trishul, lies the sleepy hill town. Binsar is mainly known for the serene and dense forests of Binsar wildlife sanctuary. One can admire the panoramic view of the Himalayan peaks like Kedarnath and Nanda Devi from Zero Point in Binsar. Binsar is every photographer's, every poet's, and every writer's dream.
Cheapest stay: Idyllic Haven (homestay)
Tariff: INR 900
9. Mukteshwar, Uttarakhand – For that serene weekend getaway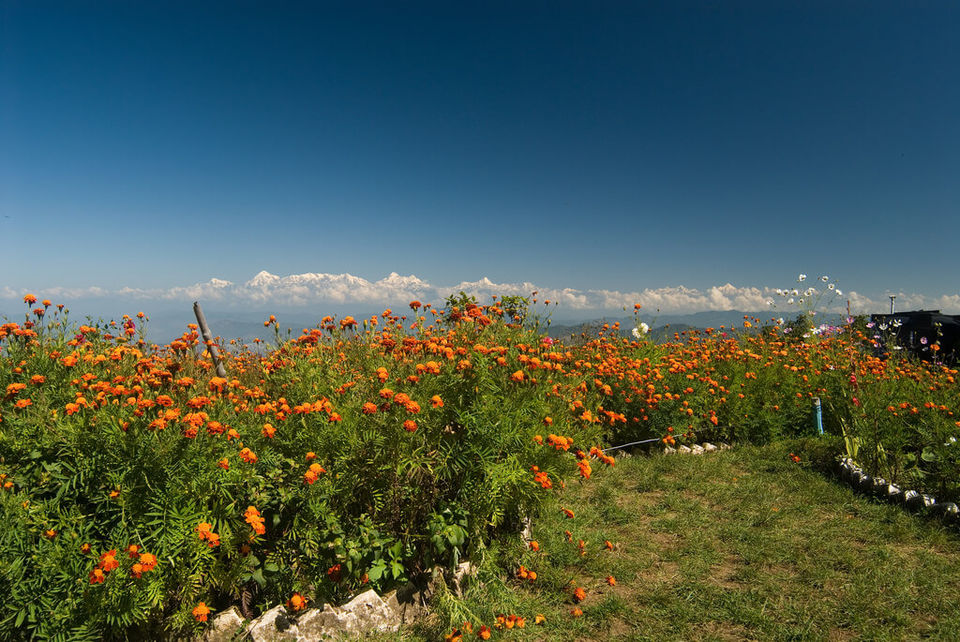 2,285 mt above sea level, Mukteshwar is among the most spectacular winter places in India. The marvelous views of imposing Himalayan peaks and the dense forests of the hill station fascinate young couples and nature lovers. The snow-clad slopes and the green meadows covered under a thick but soft snow make Mukteshwar one of the most romantic destinations to visit in India during winter.
Cheapest stay: Mukteshwar Himalayan Resort
Tariff: INR 1900
10. Leh, Ladakh – Hailing the thrill-seeking trekkers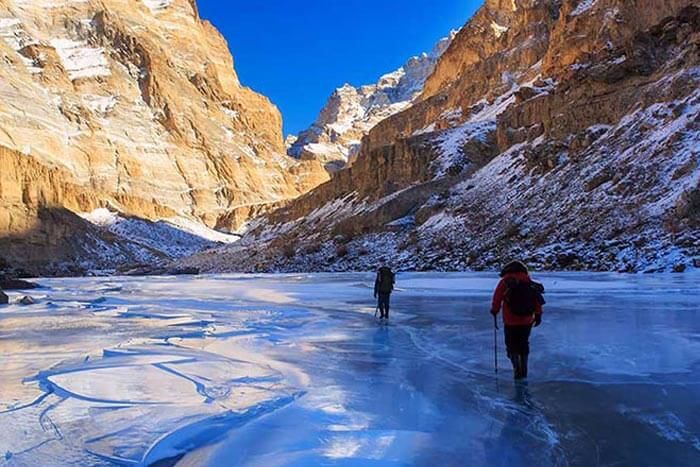 The crystal blue ice and the hills on the backdrop will flabbergast you. The only frozen ice trek in India is incredible! The extreme adventures of the Chadar trek couples with -14 degree Celsius temperature. There are other amazing treks besides Chadar namely—Sham trek, Liker to Khaltse trek and Samboo to Khalsar. Too daring an adventure? Worry not, take a cup of hot chocolate and unwind in the God's paradise!
When: December to February
Cheapest Stay: Dorje Guest House | Hotel reviews
Tariff: INR 800 per night (at the time of Christmaseautiful Snow Laden Places To Visit In India In December