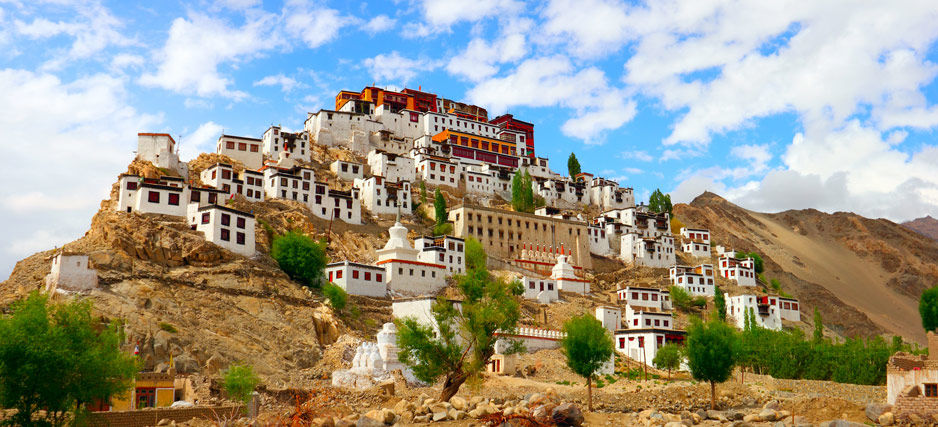 Today A pleasant day isn't it? Thinking of going somewhere, here are the Best places to visit in India this summer.
The days are getting longer, temperatures have started to warm up, and We know the hunger of travel can never stop us from any of those hurdles in our journey.
Summer is the time everyone wants to go on vacation, and a road trip with your friends, family and your closest ones.
If we venture into the travel world, we will understand that there are new places out there, There's so much to learn about the world, which generally we don't realize.
Exploring some of the most beautiful places all by our self will help us to understand the beauty of the world beyond our imaginations.
Want to know why traveling is important find here:
We all know India is a country full of dramatic landscapes, scenic, with tasty food, and adventurous activities.
Here are the places you could be dreaming to travel this summer;
Let's start from south:
Kanyakumari – The Southernmost Tip
Being the tip of the Indian mainland itself makes Kanyakumari enticing. The confluence of the Arabian Sea, the Bay of Bengal, and the Indian Ocean — behold it, to believe it! A must-see is the Vivekananda Rock Memorial and the breathtaking sunrise and sunset views here.
Connectivity & Average cost:
The Kanyakumari temple, also known as the Bhagavathy Amman Temple or the Kumari Amman temple is one of the major Hindu temples all across India. Built in dedication to Goddess Kumari Amman, the temple finds mention in almost all ancient Hindu scriptures and is frequented by pilgrims looking to pay their respects to the virgin goddess Kanya Devi.
Bus fare Trivandrum to Kanyakumari and back: INR 500
Train one-way fare: INR 180
Stay: INR 800 / night
Food: INR 200 per meal
These places are too hot in summers, though we added these places because we know the hunger of travel can never stop us from any of those hurdles in our journey.
Even though the carved temples and other structures spread out over a vast area, which gives an authentic feel to the ruins.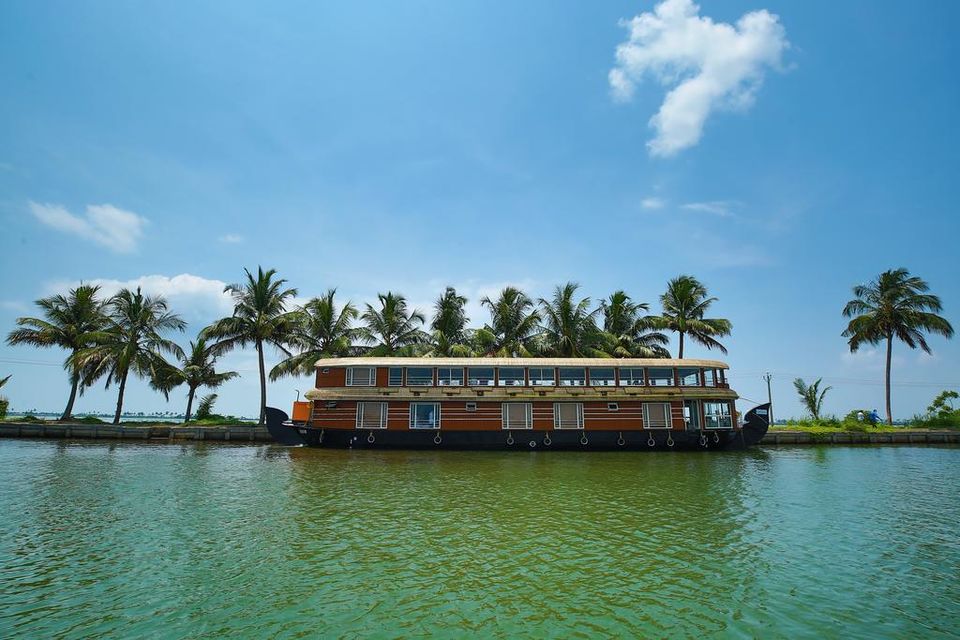 Alleppey – The Venice Of The East
Alleppey is more popular than Kumarakom. It is known as the 'Venice of the East' globally. connected good by Air and Rail. Is famous and best known for houseboat cruises,
A wide range of houseboats is available for backwater tours. They are Deluxe Houseboat, Premium Houseboat, Luxury Houseboat, and Super Luxury Houseboat. Apart from these, you can also choose to explore backwaters on Shikaras, Canoes, and Motorboats. along the rustic Kerala backwaters and sample the delicious coconut-laced seafood.
Connectivity
This place is well connected by waterways to various other parts of Kerala. Travelers from all over the world visit Kerala for a holiday and return home with an unforgettable backwater experience.
Average cost:
Stay: Comfortable cottage stay at INR 300 or budget hotels at INR 500
Food: Try out some Indianized French cuisine starting at INR 200-300 for two.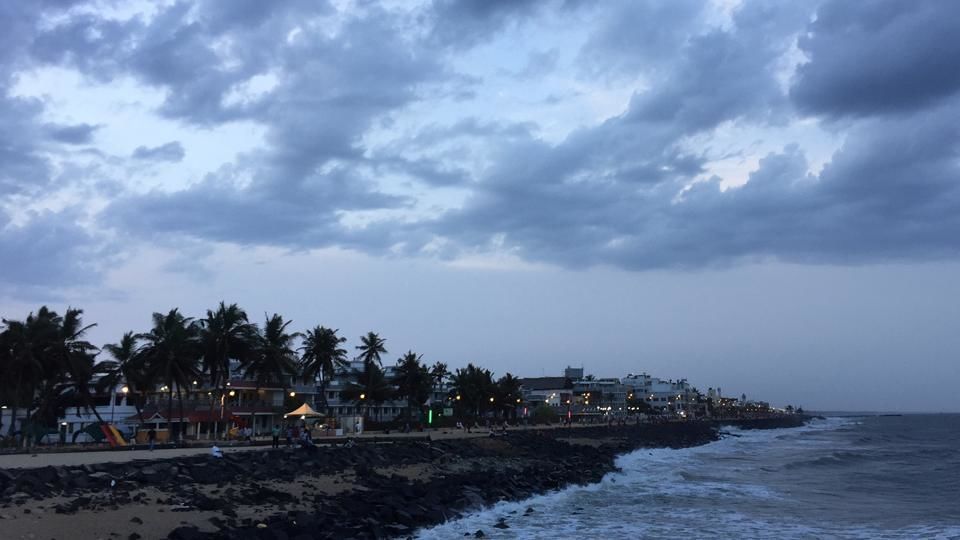 Pondicherry – The French Town
Pondicherry, also known as Puducherry and commonly referred to as just Pondy, is one of the seven Union Territories of India. Located in the state of Tamil Nadu, Pondicherry is a little town tucked away on the south-east coastline of India, and it is a destination that promises travelers sanctity and serenity, in the real sense of the terms
A trip to Pondicherry, you can get the French flair right here in India. Walk the cobblestoned streets during the day and put up your feet at the innumerable cafes on the beach in the evenings. And don't forget to try out the French food around here.
Connectivity
Bus travel from Chennai to Pondicherry and back: INR 500
Average cost:
Stay: Comfortable cottage stay at INR 300 or budget hotels at INR 500
Food: Try out some Indianized French cuisine starting at INR 200-300 for two.
Munnar – The Green Hill Town
The idyllic hill station Munnar - famous for its tea estates, exotic lush greenery, and craggy peaks, is located in the Western Ghats, in the state of Kerala. It serves as the commercial center for some of the world's largest tea estates. In addition, Munnar has many protected areas which are home to endemic and highly endangered species like the Nilgiri Thar and the Neelakurinji.
Travel via Cochin, apart from the spectacular scenic drive, you could even enjoy a visit to the Elephant Training Centre on the way. The tea gardens of Munnar are its hallmark, but one can even try the Eravikulam National Park or even some early morning treks to Rajmala hills.
Connectivity & Average cost:
Buses from Ernakulam or Cochin and back: INR 180 – INR 300
Stay: Cottages start at INR 600
Food: INR 100 per meal.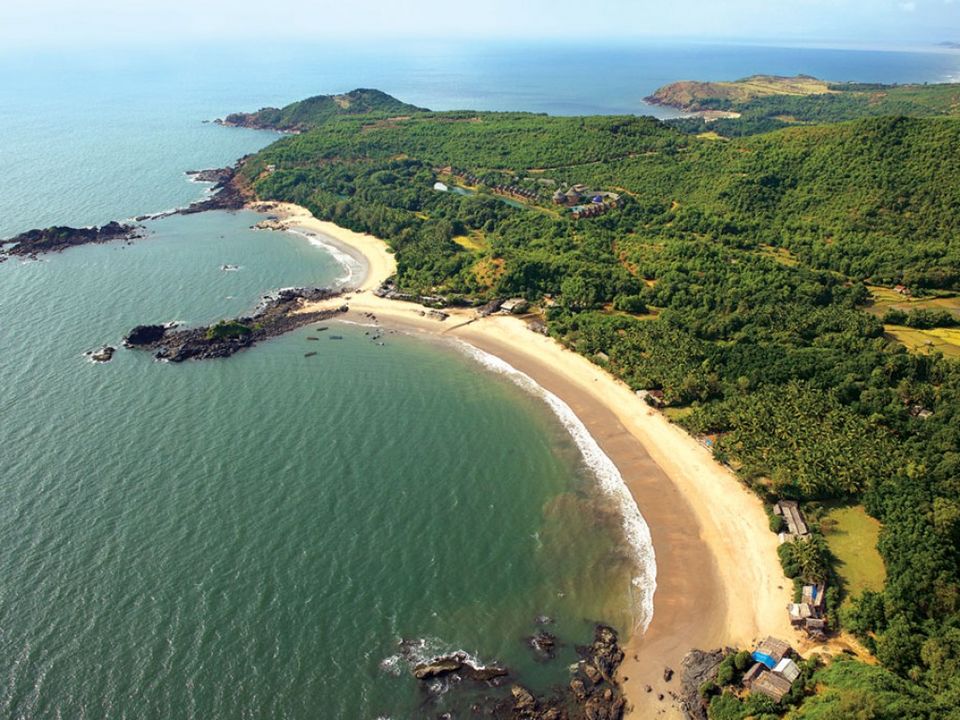 Gokarna – The Less Crowded Goa
Gokarna Situated on the coast of Karwar, Gokarna is a small town in Karnataka, primarily known for two reasons - its beaches and temples.
The Om Beach in Gokarna near Mangalore is one of the perfect 3 days trip places. You could try hiring some boats with the local fishermen to take you around the beaches in Gokarna. And if you love there are a bunch of water activities you can go for.
Water Temperature: 28 to 30 degrees from Oct to March
Connectivity & Average cost:
Goa to Gokarna and back by train: INR 90
Jet Skiing- Rs 450 onwards, Parasailing- Rs 1000, Banana Boat ride- Rs 300 onwards.
Bangalore to Gokarna and back by bus: INR 800
Hampi – The Forgotten Empire
Hampi, the city of ruins, is a UNESCO World Heritage Site. Situated in the shadowed depth of hills and valleys in the state of Karnataka, this place is a historical delight for travelers.
Hampi is a backpacker's delight. Hampi was the capital of the Vijayanagar empire around 1500 AD, and by some accounts, the second largest city in the world at that time.
This is one fantastic treat for the history lovers and one of the most value for money and cheap holiday destinations in India. Relive the Vijayanagar history just wandering about Hampi or maybe perch on the omnipresent huge boulders to survey the land around you. You could even catch the vibrant Hampi Utsav if you happen to visit in the first week of November.
Connectivity & Average cost:
Train travel from Bangalore to Hospet and back: INR 500
Hospet to Hampi: INR 100
Lonavala – The 'Chikki' Town
Popular hill station close to Pune and Mumbai, Lonavla is the place to be during monsoons. With lots of waterfalls, lakes, and hills around, Lonavala is frequented by all sorts of people, especially hikers and trekkers.
Plenty of hikes, numerous waterfalls in the monsoons and the delicious chocolate fudge and chikki promises a memorable experience.
There are exciting treks to try to a number of forts around Lonavala. Yes, it does not come for free. But it is still one of the best budget travel destinations in India, especially if you hail from Mumbai.
Connectivity & Average cost:
Train from Mumbai to Lonavala: INR 122 (roundtrip)
Buses from Mumbai to Lonavala: INR 250 one way
Stay: There are ashrams and dharamshalas @INR 400/night and budget hotels @INR 600 up
Food: Plenty of small restaurants and roadside cafes; a good meal will come for approx. INR 200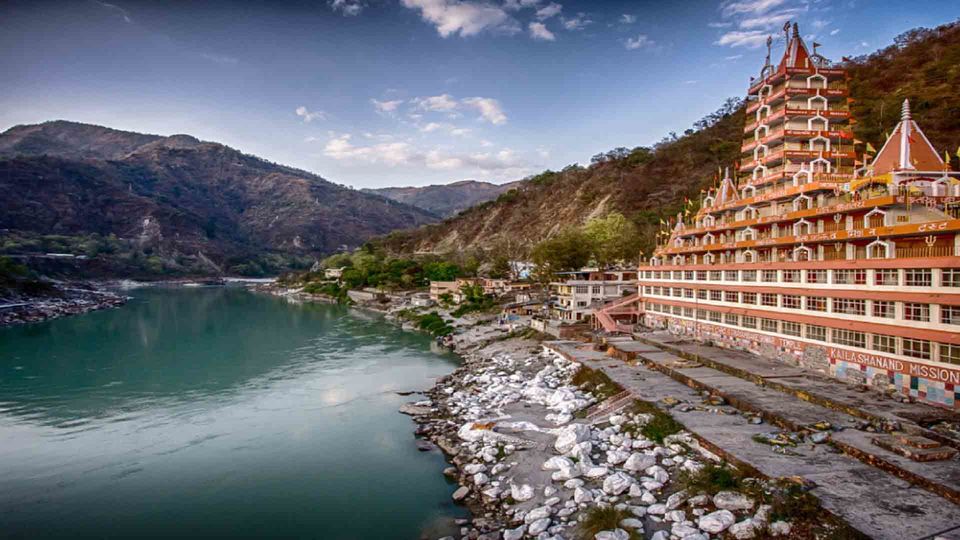 Rishikesh – The Yoga Capital
Situated along with the convergence of Ganga and Chandrabhaga, Rishikesh on the foothills of Himalayas is the hub of many ancient temples, popular cafes, yoga ashrams, and adventure sports.
The thrilling white-water-rafting, the splendid beach camps, and the exhilarating treks.
A trip to Rishikesh tops the charts among the adventurous budget holiday destinations in India. You could also visit the breathtaking Valley of Flowers from here. Mind you, it's a completely vegetarian and alcohol-free destination.
Rishikesh is a must visit for everyone visiting India to truly experience something new.
Connectivity & Average cost:
Travel to and from Delhi: INR 300
Stay: INR 150 per night
Food: INR 200/meal
River rafting: INR 400 to INR 1300 per person
Beach camping: INR 1600 per person (includes 1 Night stay, 3 meals, and river rafting)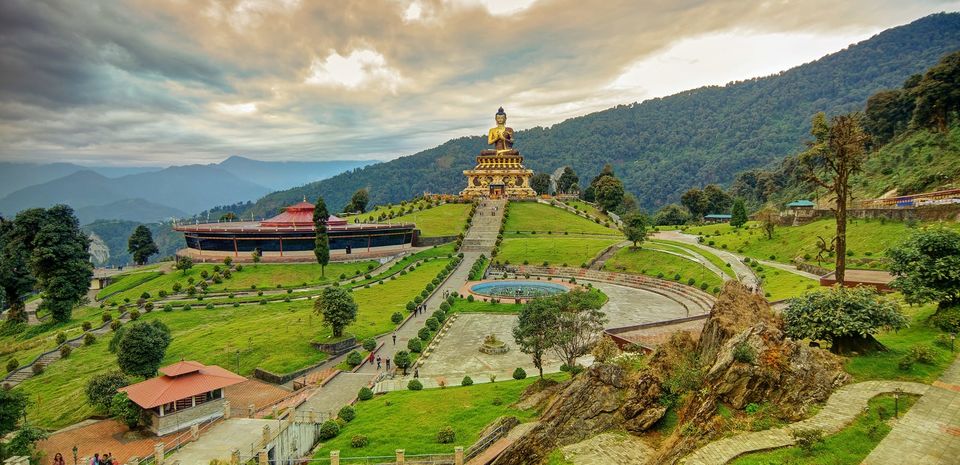 Darjeeling – 'Queen of the Himalayas'
The untouched beauty of the hills, the old-world charm of the past, and the welcoming smiles of the local people all add up to make Darjeeling one of the most beautiful hill stations in Eastern part of India.
Once up in the hills, just take in the healthy air, sip the Darjeeling tea, rise early and gaze at the sunrise at Tiger hills and get ready to be mesmerized by the magnificent Kanchenjunga.
Connectivity & Average cost:
Travel from Kolkata to Siliguri or New Jalpaiguri by bus and back: INR 490
Toy train up to Darjeeling from NJP: INR 250
Jeep ride from NJP to Darjeeling: INR 150/person
Stay: INR 800/- per night [twin-sharing basis]
Food: INR 300 for two.

McLeodganj – The Little Lhasa
Mcleodganj is a hill station near Dharamshala, popular among trekkers. Its culture is a beautiful blend of Tibetan with some British influence.
A colorful hill station, Dharamsala is a mini-Tibet. The dual cities of Dharamshala and McLeodganj are lined with numerous monasteries and temples to visit and the views of the hills and valleys are nothing short of magical.
For those who love treks, be sure to try Triund trek and camp.
Connectivity & Average cost:
Delhi to McLeodganj and back: INR 1000
Stay: INR 130/night – INR 500/night
Food: Tibetan and Chinese cuisine at little cafes @INR 100 – 200 for two.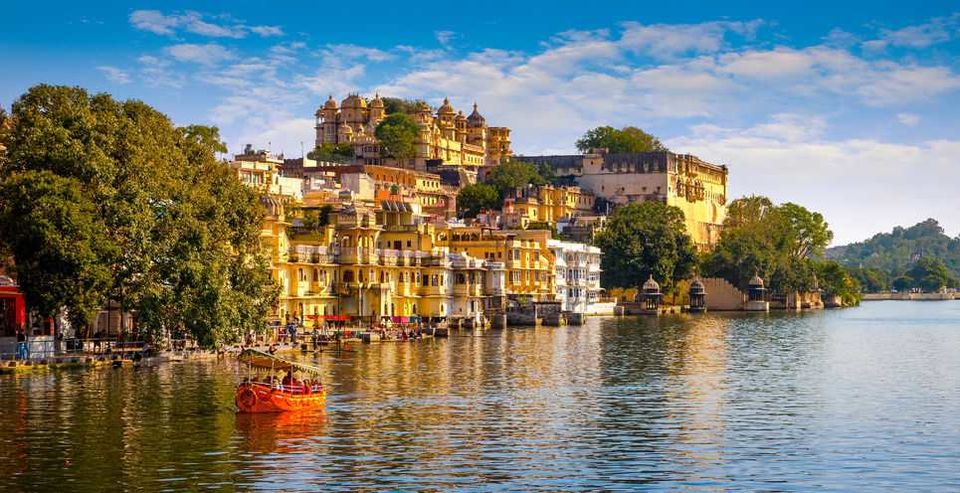 Udaipur – The White City
City of Lakes or the White City, call it what you may, Udaipur is without a doubt one of the most exotic cities in India. Once you are done gazing at the magnificent palaces and lakes, take a peek at some rare automobiles at the Vintage car museum. Do sample the delicious dal, bati, churma, and jalebi along the way.
Ideal duration: 2 Nights/3 Days
Average cost:
Delhi to Udaipur (State transport bus): INR 650
Stay: Starts at INR 400/night for shared dormitories
Food: Street food is a must try: INR 50 /person
Nainital – The City Of Lakes
Being a hill station, Nainital is a good option for budget trips in India this summer. Undoubtedly,
One of the most beautiful tourist destinations in Uttarakhand, Nainital, which is nestled amidst the Kumaon Hills, is a quaint hill station built around a uniquely shaped lake known as the 'Naini Lake' (thus contributing to its name Nainital). Also famously known as 'City of Lakes,' Nainital abounds in natural beauty, with its snow-capped hills and tranquil lakes lending it a nostalgic charm of its own.
The rope-way to Snow view to get a dekko at the mighty Himalayas is a must-do here.
Connectivity & Average cost:
State transport buses, Delhi to Nainital (roundtrip): INR 368
Private Volvo bus (roundtrip): INR 800
Stay: Spoilt for choices here, budget stay starts at as low as INR 150/night.
Food: Lot of Punjabi food around, meals can start from INR 200 for two
Boating: INR 150/hr for a paddle boat
Ropeway: INR 150 (roundtrip)/person

Meghalaya – The Abode Of Clouds
Meghalaya, the abode of clouds, is one of the most beautiful states in North-East India offering a variety of sights, activities, food, and festivals to the tourists. Well known for Cherrapunji, the place which receives one of the maximum rainfall in the world, Meghalaya can mesmerize you with its hills, valleys, lakes, caves, and waterfalls which give it a beautiful look when covered with beautiful clouds.
If you want to take a look at Asia's cleanest village, don't forget to visit Mawlynnong. Lying on the border separating India from Bangladesh, Mawlynnong is an amazingly clean village in Meghalaya where each and every street corner has a bamboo dustbin to ensure nature-friendly disposal of trash.
But be responsible keep clean while traveling around.
Connectivity & Average cost:
Bus travel from Guwahati to Shillong and back: INR 60 – INR 200
Stay: INR 600 per night
Food: Starts at INR 60 per meal.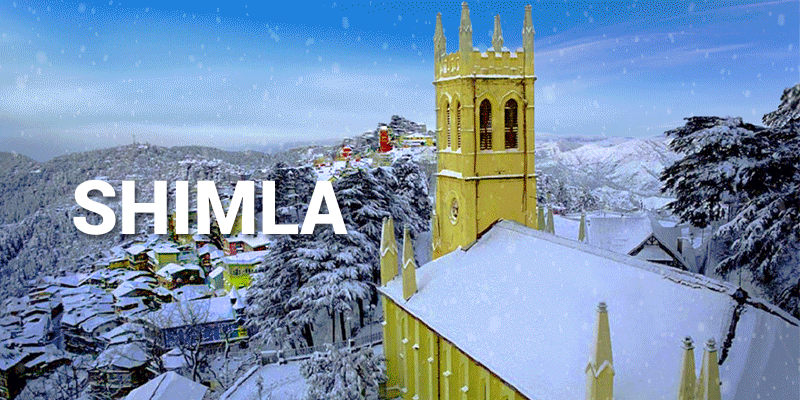 Shimla – The Iconic Hill Station
Situated at a height of 2200m, Shimla is the capital and the largest city of Himachal Pradesh in India. Set amidst beautiful hills and mystical woods, Shimla has been a very popular hill-station among Indian families and honeymooners since the last 50 years.
Shimla is one of the best hillstations for budget tours in India.
The hill station not only has many sightseeing attractions but also mesmerizes with its scenic charm. Even if you will walk into a decent restaurant the price range would be inexpensive.
Shimla is often covered with nearby towns of Kufri, a hill-station almost always covered by snow and Chail, famous for a huge palace and the highest cricket ground in the world. Tourists also visit the famous Jakhu Temple and engage in sightseeing at various viewpoints during their trip to Shimla
Connectivity & Average cost:
Stay: INR 700 – INR 1500 per night
Food: INR 150 per meal.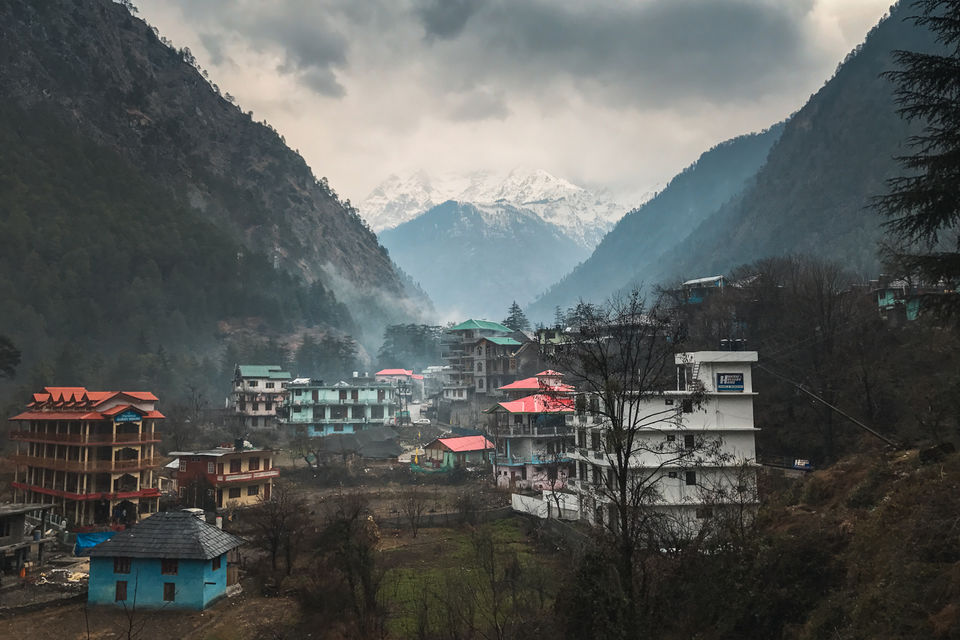 Kasol – 'Little Greece'
A small village in Himachal situated along the banks of the river Parvati, Kasol is a tourist attraction that is rapidly gaining fame as a very popular hub for trekkers, backpackers, and nature lovers.
Kasol is famous for its trekking trails, which include treks to Kheerganga, Yanker Pass, Sar Pass, and Pin Parvati Pass. To get a real feel of the culture in these regions, go on a visit to the village of Malana.
The town has local eating points and amazing cafes which serve delicious food. There is a German bakery too in the center of this little hamlet which serves some of the best bakery items you would have ever tasted.
Connectivity & Average cost:
Food: INR 300 per meal
Stay: INR 350 for a triple sharing tent.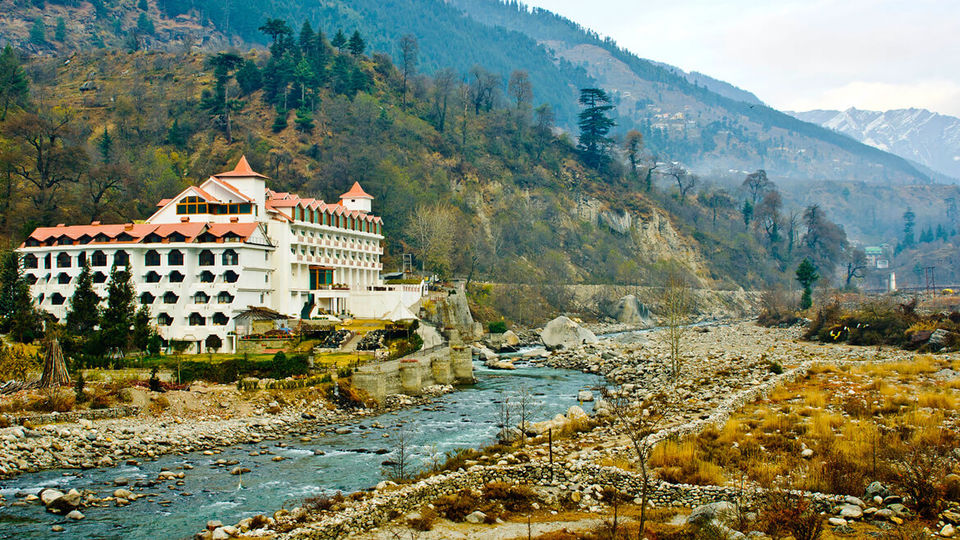 Already visited by most of us, Manali one of the best places to visit May in India. Forever charming, this place never fails to make you go awestruck.
The infamous Rohtang Pass also opens up during this time. The Beas Kund Trek, Hadimba Temple, Vashisht Baths, Hampta Pass Trek, Van Vihar, and the Museum of Himachal Culture and Folk Art are some places that you should not miss if you are planning a trip during the month of May.
A holiday in Manali conjures up images of green mountains amidst the snow-covered ranges, a breath of fresh air and a relaxing vacation.
Manali is among the most beautiful places to visit in India in summer. Nestled in between the snow-capped slopes of the Pir Panjal and the Dhauladhar ranges, Manali is one of the most popular hill stations in the country.
Connectivity & Average cost:
Nearest Airport is Bhuntar, 50 Kms away from Manali
The nearest railhead is in Chandigarh, 291 Kms away from Manali
Road trip: Manali is 546 Kms away from Delhi
Things to do:
Indulging in adventure sports at Solang Valley is one of the best things to do in India in summer. Try paragliding, zorbing, quad biking and many others here
Head to Rohtang Pass to play in the snow in summer
Spot the most beautiful migratory birds in a bird sanctuary nearby
Explore Kullu if you have more time in hand
Also read: How we explored Manali last Summer with nomadic monk here;
Ziro
A quaint town in Arunachal Pradesh, Ziro is known for its verdant valleys and terrific views. What makes this one of the best places to visit in India in summer season is its quietude and tranquility. This is why it is also called a peace seeker's paradise. The climate of this place is balmy all throughout the year.
How to reach:
The nearest airport is Tezpur, 280 km away from Ziro
The nearest railhead is Lakhimpur.
Road trip: Ziro from Guwahati is 450 km
Ideal Duration: 7-8 days
Things to do:
Visit Kile Pakho
Talley Valley Wildlife Sanctuary
Meghna Cave Temple.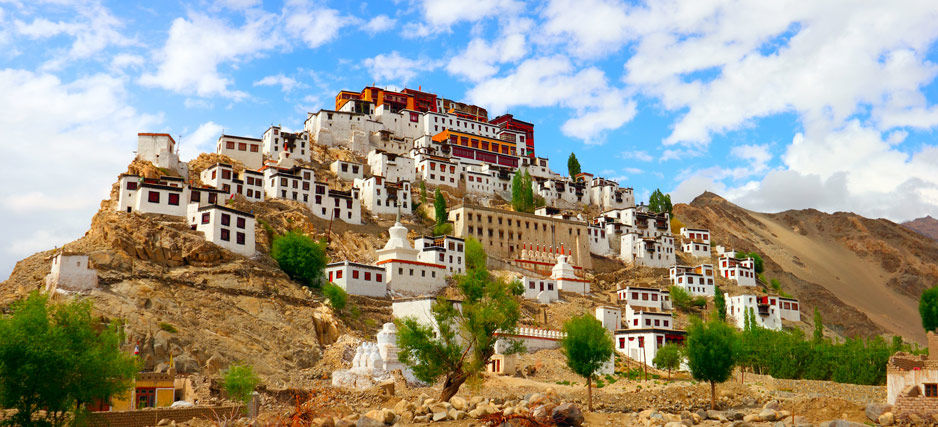 Ladakh
Every biker's dream vacation, Ladakh's beige craggy hillscape set an appealing contrast to the blue lakes and sky. Summer is considered the best time to visit Ladakh, placing it among loveliest summer holiday destinations in India.
Famous Buddhist monasteries of India such as the Thiksey Monastery add vibrant hues to the panorama.
Connectivity & Average cost:
Leh Airport in Ladakh is well-connected to cities like Delhi.
Jammu Tawi Railway Station is located about 700 km from Leh city in Ladakh. This is the closest railway station from Ladakh.
Road trip: The closest major city from Ladakh is Delhi, 1300 km away. If you're planning a road trip from Delhi to Ladakh, then assure you take enough stoppages en route and allow yourself to acclimatize.
Things to do:
Explore the rocky routes of Ladakh on an Enfield.
Experience sheer serenity beside the emerald Pangong Tso Lake.
Take the camel rides through the sand dunes of Nubra Valley, one of the top places to visit in Ladakh.
Experience scenic views around you.
...........................................................................................................................