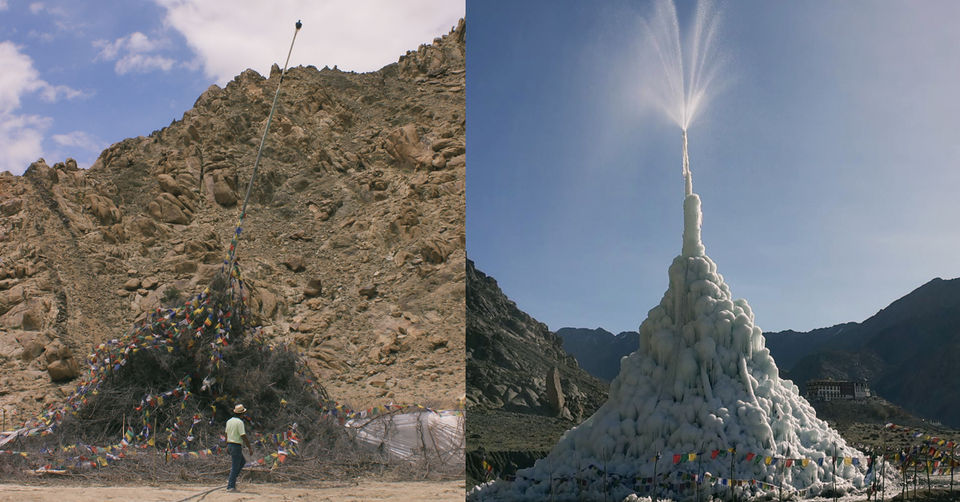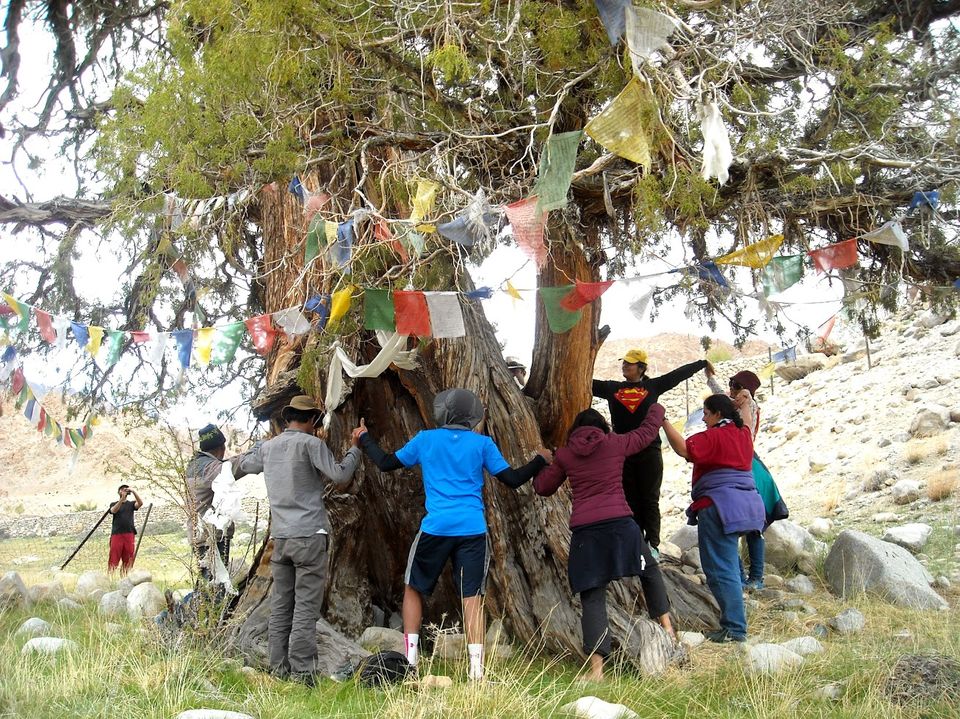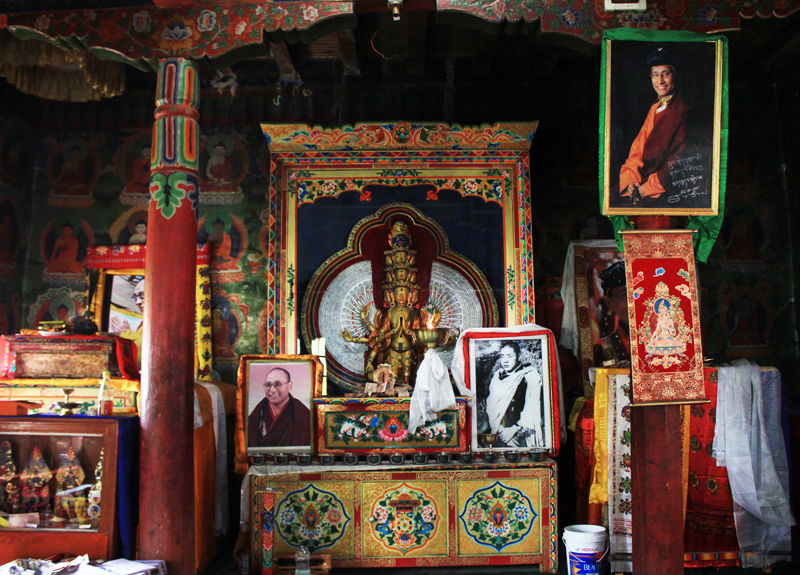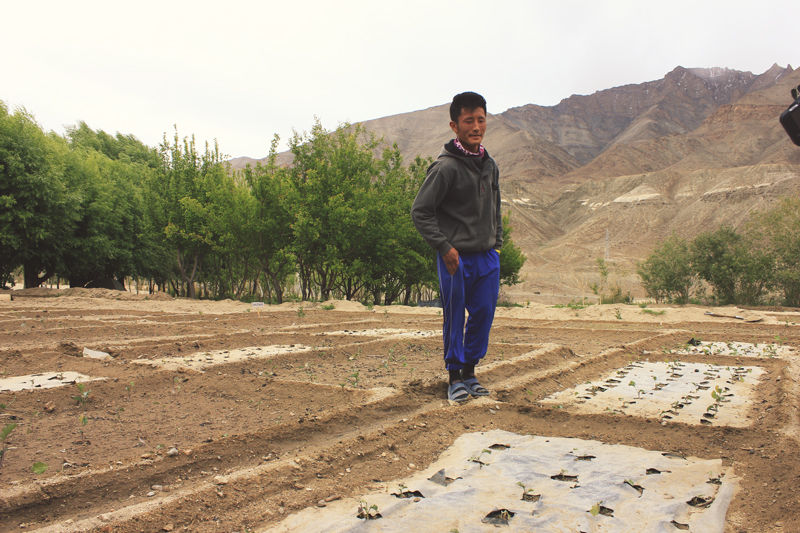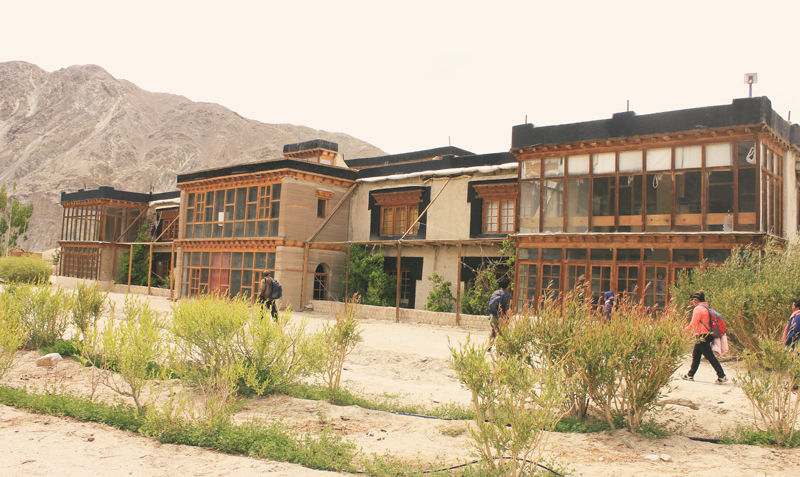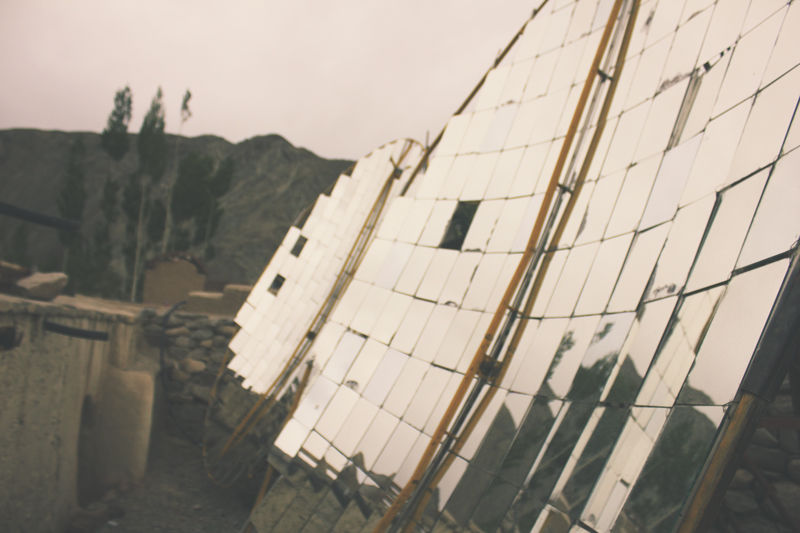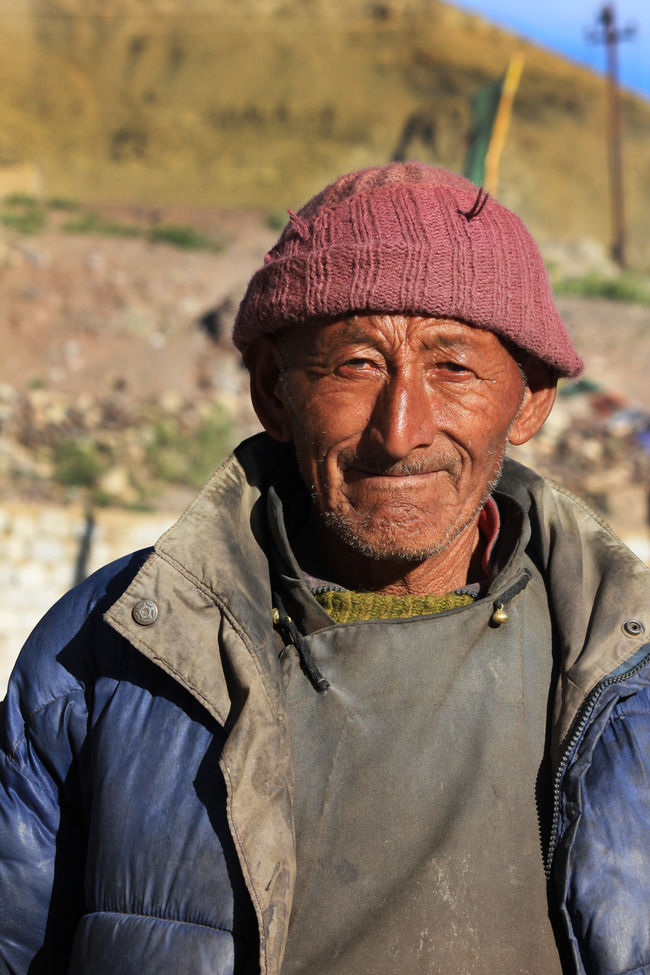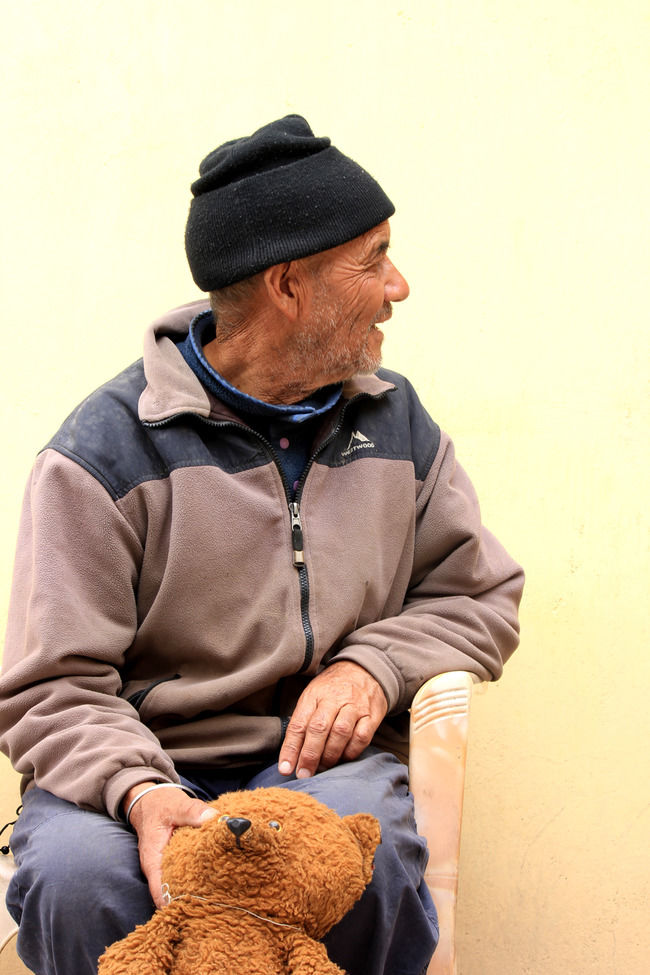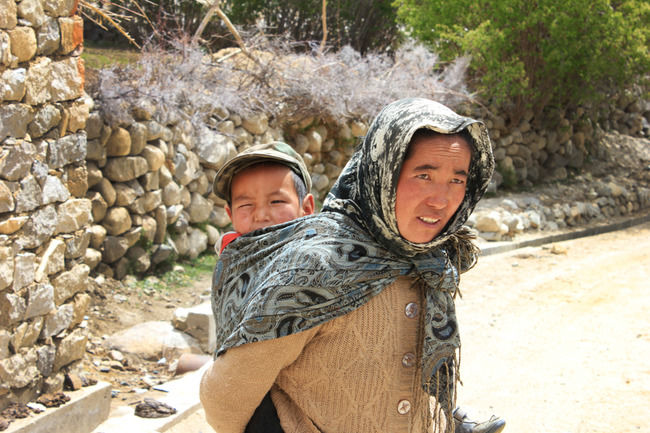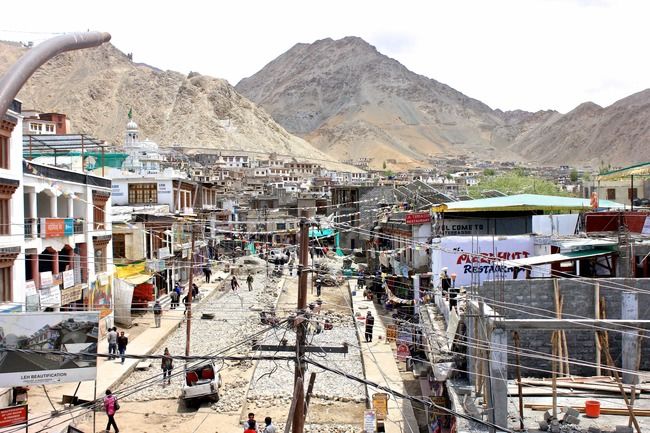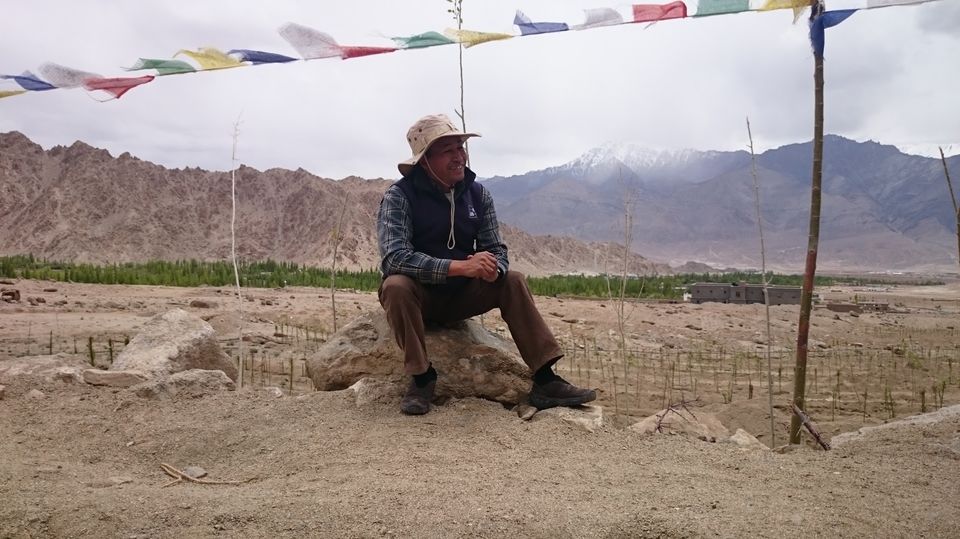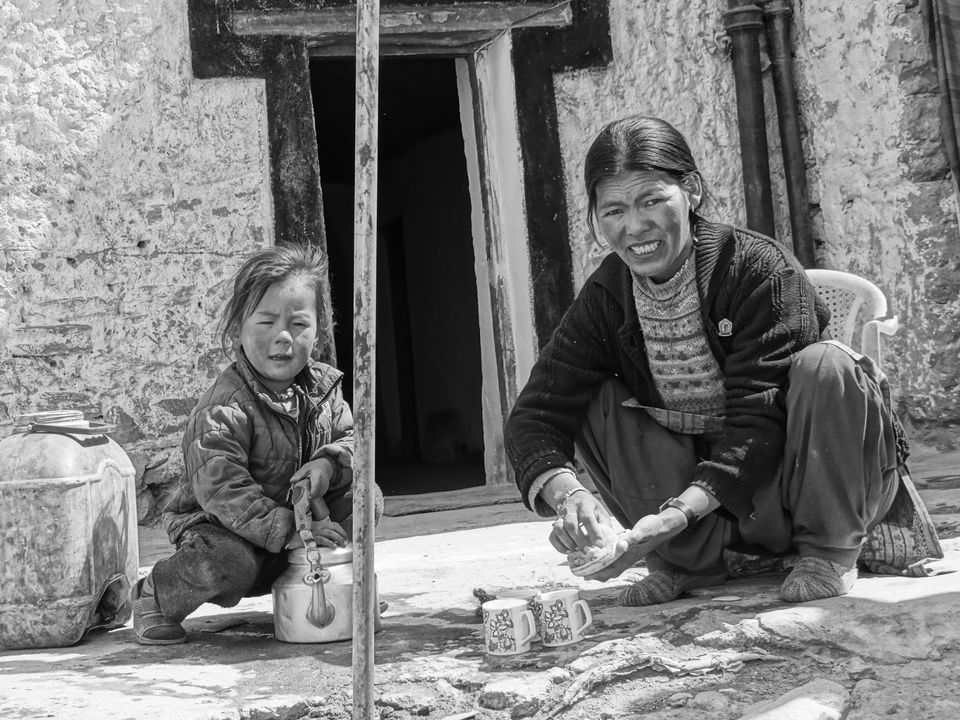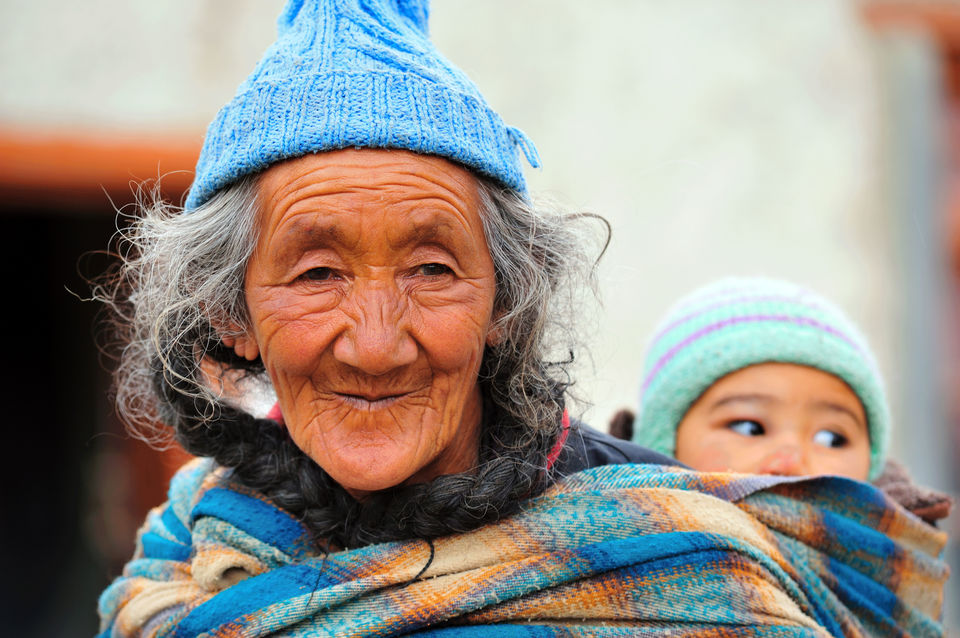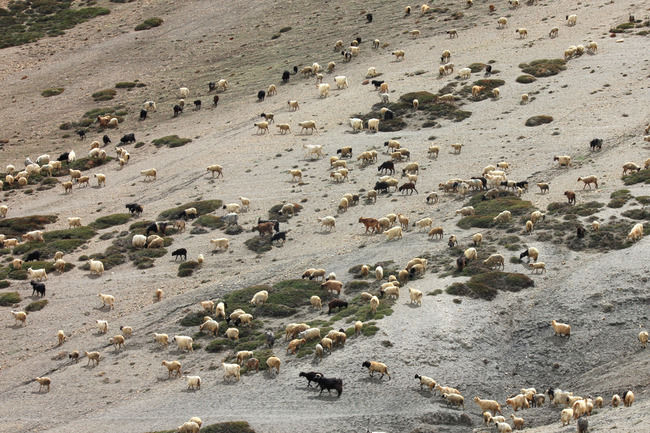 I recently went to Ladakh on a trip that changed my paradigm towards a lot of things. Like so many of you, I have a million memories that I shall cherish forever.But in some ways it was very different for me in the sense that I lived the Ladakhi life. Saw the world through their eyes.And it was in sharp contrast to how we see it.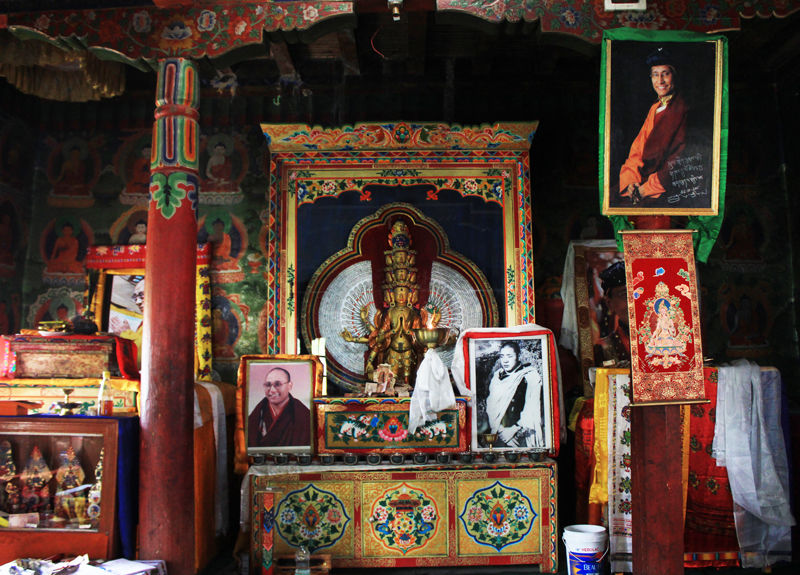 Since centuries, Ladakh – The land of high passes, lived a largely self-contained existence.
Despite the rigorous climate and harsh environment, the people were happy and content. Like a utopian land.Even though they did have their own hardships, but they faced it together, like a community.
The family ties were kept intact.Everyone had a role to play in the everyday rhythm of life.
Life expectancy was high, and old people remained mentally, physically and spiritually healthy while being of great importance to the community.I stayed with a Ladakhi family in the village of Hemis Shukpachan, where the head of the family a 70-year-old, bright-eyed young man, called Namgyal welcomed me. He climbed the mountains faster than me, he had umpteenth amount of stories, a library full of books on the world and was always laughing.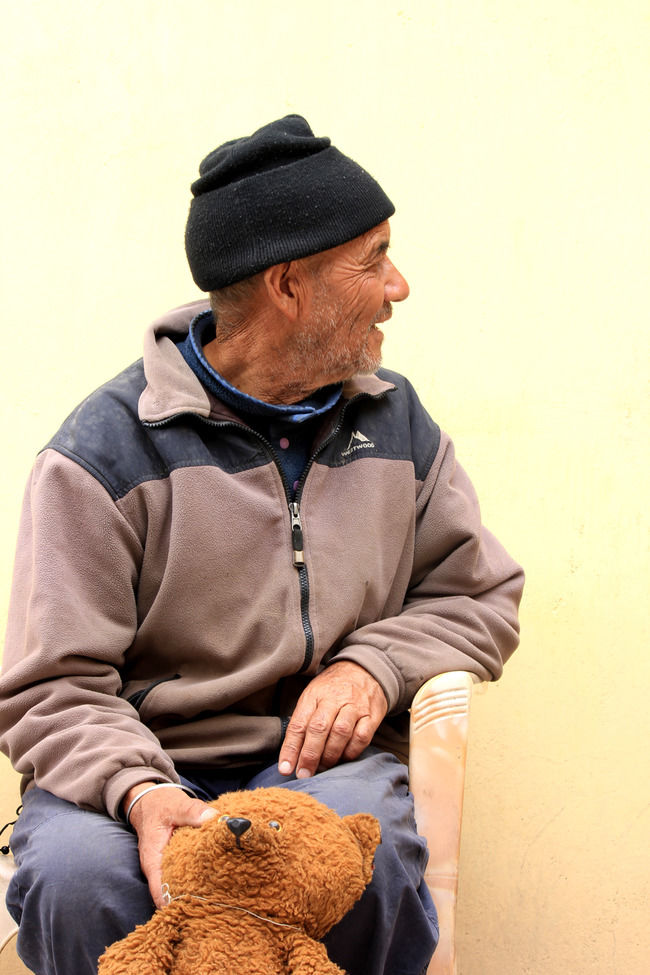 Decision making was a community ritual too, where everyone mutually agreed on the greater good.People relied on each other for help and direction.
There were no boundaries, in terms of land or relationships.Everything belonged to everyone.People would tend to each others farmlands. Grinding grains and building houses was also a community affair.
They had a deep sense of rootedness to their land and a sense of belonging to each other. Arguments were seldom heard of, happiness being the true core of every Ladakhi.
Relationships were flexible, sometimes polyandrous, polygamous and seldom monogamous.Looking at the bigger picture this type of a relationship structure worked well since it helped to keep the population under control.While some Ladakhis would adopt monk/nun-hood.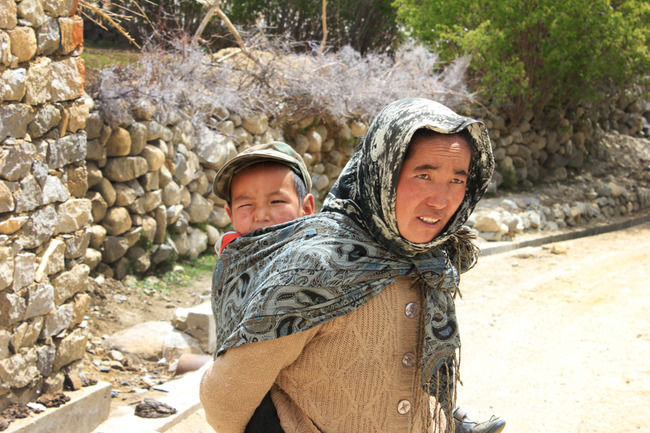 Women had a very strong position in the Ladakh. In the traditional agrarian economy, their work was valued as highly as of men.Their skills were valued more than their looks.
Like they say in Ladakh," A tiger's stripes are on the outside, human stripes are on the inside."
Even though the resources were scarce, there was always enough for everyone. Celebrations called for the local beer(chang), traditional music and dance combined with ounces of laughter.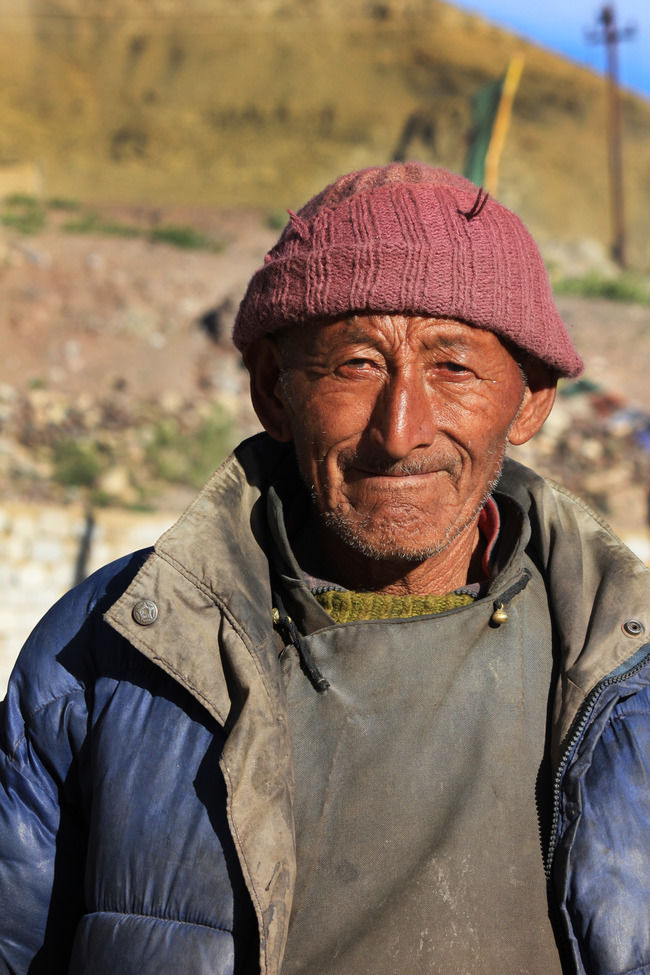 Ladakhis by nature are happy. Happiness in its truest form, even in adversities.Sometimes it would appear a little odd to us the way some villagers would chuckle at every little thing.Perhaps it's the deeply engrained Buddhist culture.People in this utopian land had lived this way.Until suddenly changes became very prominent.
It started when in 1974, the Indian government threw the area open to tourism in order to place Ladakh firmly on the map as an Indian territory. The sustainable, ecological model of life gave way to the western style development.
Concrete houses in place of stone and mud homes.Exported grains, food, cement etc from Kashmir and Punjab in place of local food crops.
Technological dependence in place of self-reliance.
The money economy was stimulated at every level and the govt. started subsidising an increasing number of imports.Like anywhere else, the subsidised goods cancelled all competition from locally manufactured products.
The Ladakhis soon found themselves caught up in the exact same web of life which we, city folks, are trying so hard to get out of.Suddenly they were presented with a different view of life. A life of cars, fashionable clothes, packaged goods.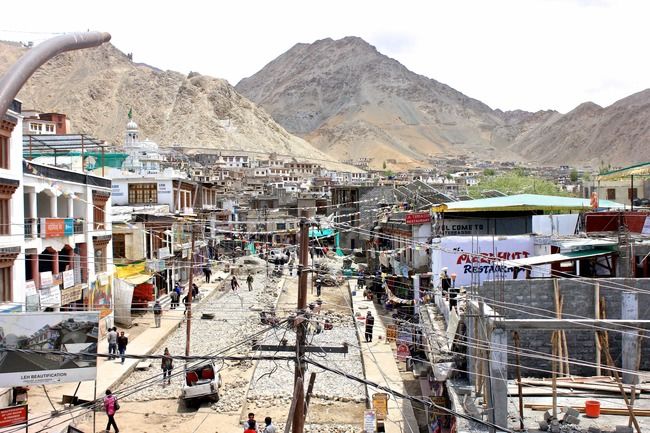 Leh-city now looks like any other big city in the mountain. Jammed with cars honking in every direction, shops showing luxurious designer clothes, cement structures and roads under construction.
Tourism, with its foreign exchange, has become an integral part of the development package.The vast majority of the tourists start visiting Ladakh in the bracket of June-September and without exception they come to Leh.Now we as tourists know this, don't we?Tourism gave a boom to related businesses and led to the construction of hundreds of hotels in Leh, where previously there were none.
These hotels strive hard to provide the same comfort to us tourists, as we are used to in our city environments.
For this, they exploit the already scarce resources.Water being the greatest challenge.
Traditional Ladakhis used a system of dry toilets, to recycle the waste and to avoid the unnecessary wastage of water.The dry toilets were mud-houses created on slight elevation from a compost.The human waste was processed for a year and then used as manure for agriculture.
A win-win situation.
The hotels now use modern flush systems.And the water is drained to the nearby river of Indus, polluting it beyond repair.
Tourism not only affected the resources of this region but also left a deep imprint on the Ladakhi mind.We treat Ladkahis as backward people while using their land for recreational purposes.
We throng the area each summer, pollute it and take back a million memories only to leave behind a dilapidating pristine culture.
Technology and development have come to Ladakh with a huge price to pay.The inherent happiness is slowly giving way to consumerism and aping the culture of the west.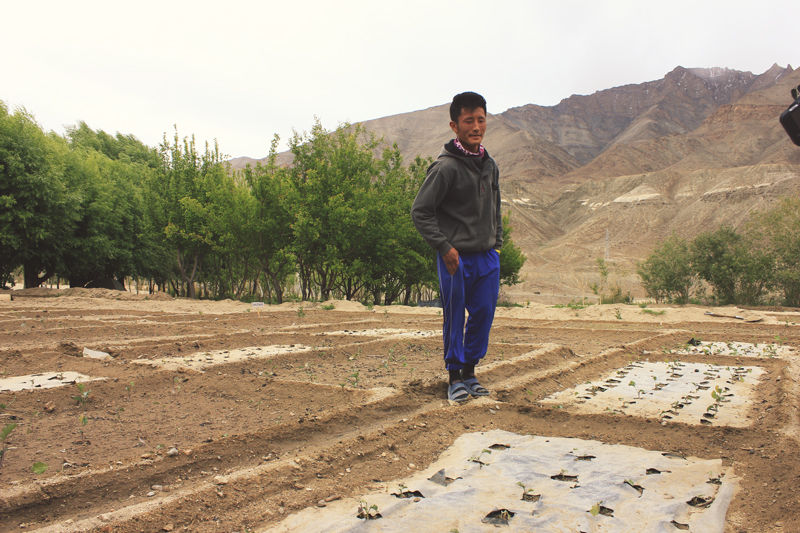 Not many know the problems that Ladakh deals with. It is a region advertised increasingly for its beauty and surreality.Hiding the picture that most needs attention.
As responsible tourists, we need to understand the bigger picture. Learn from a culture that has stood its ground since time memorial and not crush it with our greed for an unknown adventure.
There is still hope as there are a number of organisations that are working for these causes.LEDeg, NCF and SECMOL are some of them.
Ladakh Ecological Development Group-LEDeG is a non-governmental organization based at Leh. Since its formation, it has consistently worked towards serving the underprivileged people residing in structurally disadvantaged areas of Ladakh and has been striving to address the environmental and cultural issues affecting the people in the region due to the current conventional developmental initiatives.
The crux of these initiatives is utilising renewable sources of energy and effective management of waste.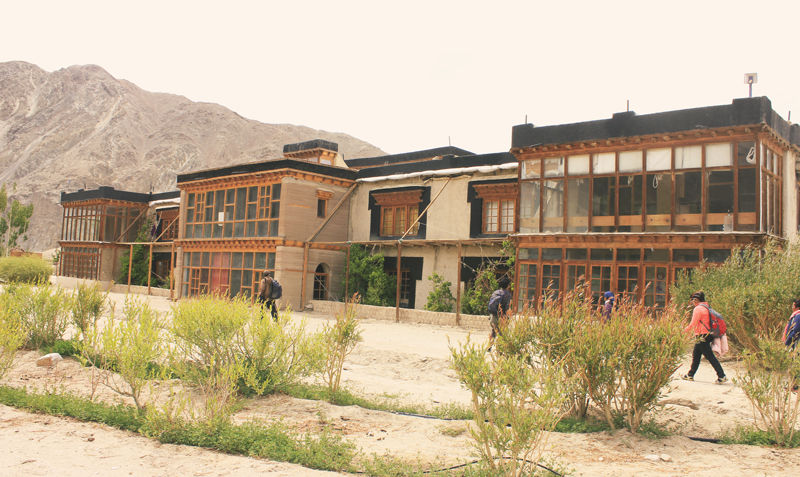 Another institution that is handling the problems by directly getting the young involved is SECMOL.
SECMOL (The students Educational and Cultural Movement of Ladakh) started by a Ladakhi engineer, Sonam Wangchuk.
I'm sure many of us, Indians, would have seen the blockbuster hit, 3 IDIOTS and were deeply inspired by Aamir Khan's character and the school that he opened in Ladakh.
That being one of the primary reasons so many Indians thronged to Ladakh after that movie.
Now, what if I was to tell you that Aamir Khan's character was inspired by this man, Sonam Wangchuk.And that the school depicted was based on the concept of SECMOL.
SECMOL provides hostel facilities for high school and college students. They learn by doing. The entire campus is sustainable and is run by the students themselves.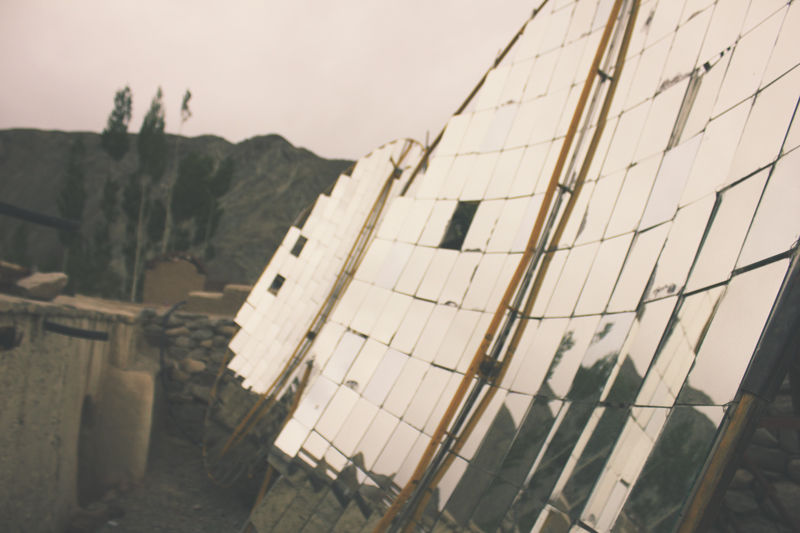 From solar cooking to solar heating, to generating solar electricity. From biogas generation, to earth-building of structures. From learning English and understanding Science, they get so much more than just academics.
People from all over the world volunteer at this institution to learn something new and in-turn teach their skills.
The students belong to villages of Ladakh and you would be surprised to know how fluently they speak English.Also, they have a much holistic approach towards the world than we do.
Sonam Wangchuk, the man behind this brilliant institution is currently coming up with a new invention, inspired from the people who are doing it abroad.THE ICE-STUPA or THE ARTIFICIAL GLACIER.
Since Ladakh is a barren land and has only 2 months of cropping season, the building of artificial glaciers would promise extra months for cropping.A conical structure of locally available Seabuck thorn is created in order to hold the ice.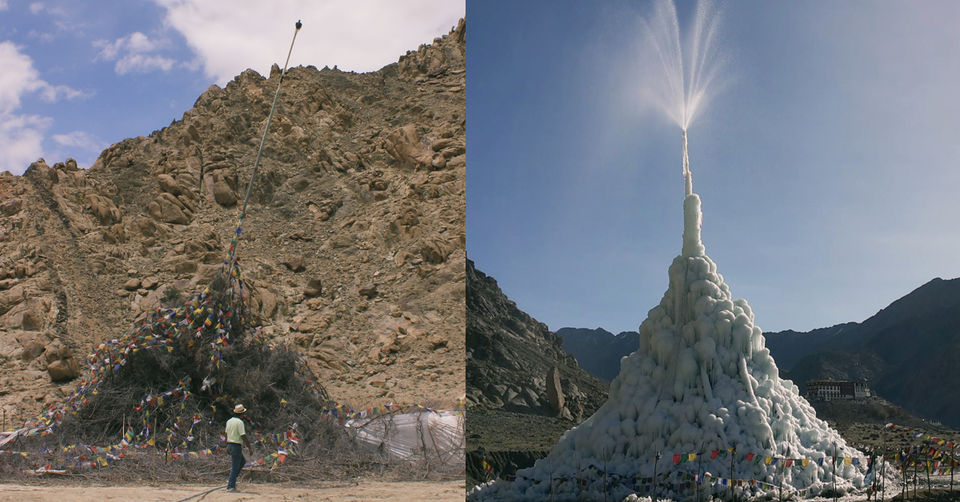 Underground pipes bring water from nearby streams coming from a higher altitude.
The structure is made on a south-facing low altitude region.The water is pushed up to the pipe that holds the thorny conical structure by its own kinetic energy.There is sprinkler attached to the top of the pipe which then releases the water in winters.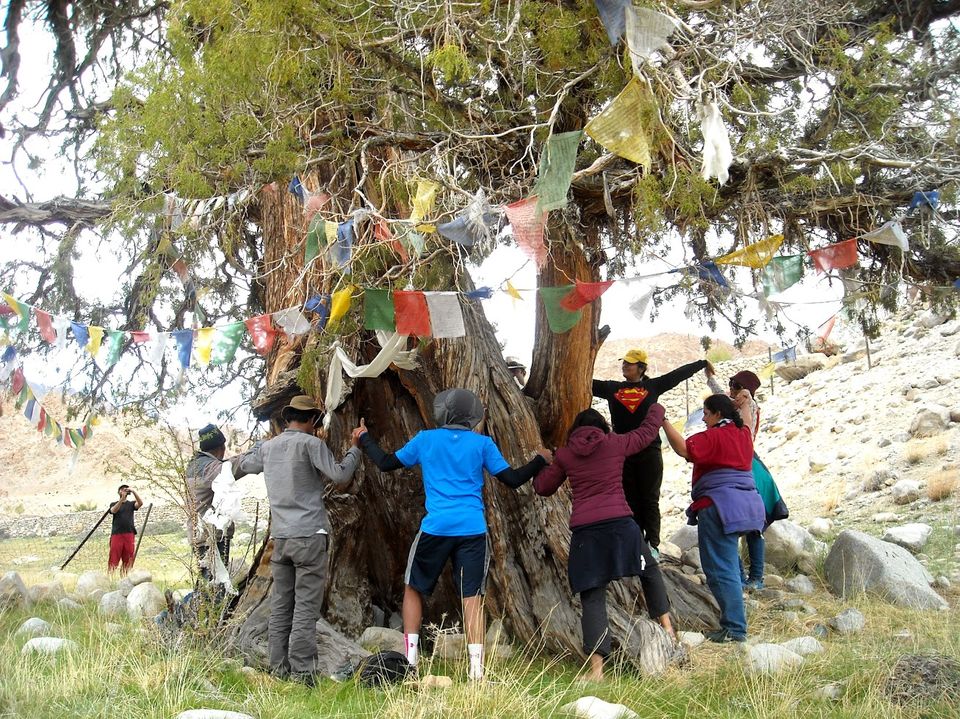 The water freezes instantly as it comes out of the pipe upon the conical structure. This creates an artificial glacier that holds itself until the summer months.As it starts melting, the irrigation channels laid out help it to reach the trees planted, which are water-fed by drip irrigation.This simple concept provides the villagers extra months of agriculture and also helps in greening the arid land.For a better understanding of the Ice-Stupa Project, watch this link- Ice Stupa Artificial Glaciers of Ladakh.
There is a lot to learn from Ladakh and its age-old sustainable practises.There needs to be more awareness and increasing amounts of paradigm shifts. So many individuals and organisations from around the world visit this land to learn from its ecological practices and to get a better insight into how we could make our actions more ecological than economical.
Help me break the stereotypical Ladakh image. Share this.Or if not, just implement this awareness in your travels to every other place in the world and especially, LADAKH.
Julley!
:)
Frequent Searches Leading To This Page:-
Best Tour Packages for Ladakh, Places to Visit in Ladakh, Top Ladakh tour packages with price, Things to do in Ladakh, Ladakh Honeymoon Packages from Delhi, Budget Trip Packages for Group to Ladakh