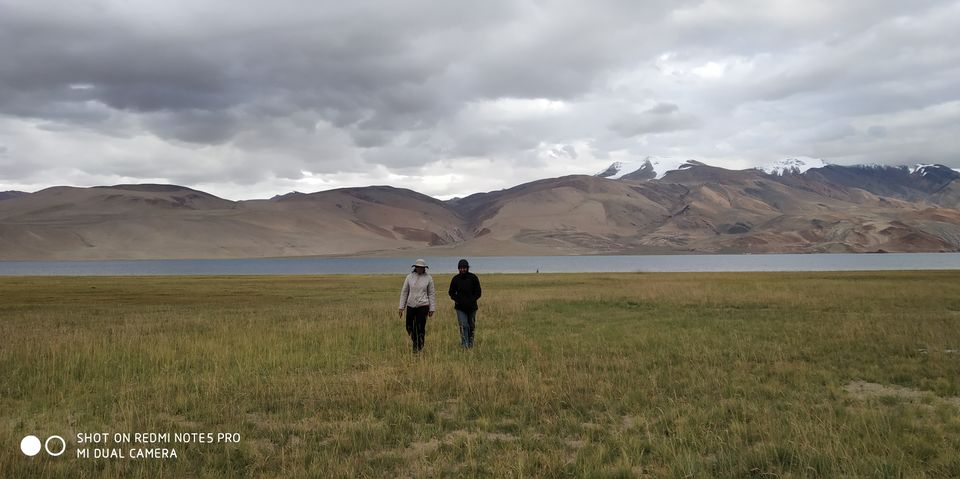 You know you're on a trip of a lifetime when you touchdown on an airstrip surrounded by snow-capped mountains on all sides!
Located in the western Himalayas (and the subject of much dispute between India, Pakistan, and China since 1947), Ladakh is home to breathtaking river valleys, high mountain slopes, unique flora and fauna, old Buddhist monasteries, and myriad nomadic tribes. It is arguably one of the most beautiful (and sparsely populated) destinations in India and has been at the crossroads of important trade routes in the past. Its name is derived from La-dwags (ལ་དྭགས) which means "land of high passes" in Tibetan and Ladakhi, and is fondly referred to as "Little Tibet."
A popular destination for high-altitude trekking, climbing, and biking expeditions, as well as monastery-hopping and a few cultural festivals, a conventional 10-day itinerary typically covers Kargil, Leh, Khardung-La, Diskit, Hemis, Nubra valley, Pangong Tso, Thiksey, and Tso Moriri.
While I had around the same time at hand, I decided to experience Ladakh a bit differently and gave most of these places a miss.
Instead, I volunteered at an alternate education school near Leh, enjoyed white-water rafting at 11,000 feet, spent time with nomadic tribes in their makeshift homes in the mountains, learned how to harvest peas, and met the shepherds of the glaciers in one of Ladakh's earliest settlements!
SECMOL: An Alternate Education School in Ladakh
SECMOL, short for the Students' Educational and Cultural Movement of Ladakh, was founded in 1988 by Magsaysay awardee Sonam Wangchuk (the inspiration behind Aamir Khan's character in the movie '3 Idiots') and a group of young Ladakhis to reform the educational system of Ladakh. Having attended a similar school, it's been a longstanding wish to visit and volunteer at SECMOL.
When I entered their eco-friendly residential campus, I felt like I was walking into my dream school. Every building on the campus was made from eco-friendly materials, ran on renewable energy, and was naturally insulated from the cold (black paint to absorb heat, thick walls made of clay, roofs made of wood and straw). Meals were in a large hall where all 200+ students, teachers, and volunteers gathered. At dinner time, select students spoke on assigned topics to improve their public speaking skills, followed by 10 minutes of news time to remain connected with the outside world.
I spent the next few days exploring the campus and neighboring areas. The afternoons were dedicated to volunteering at the school – I spent an hour every day participating in their English conversation class, which was an incredible experience. Additionally, I ended up tutoring a first-year undergrad student on political science.
What I loved about the school was that the students practically ran the campus, from administration to cleaning, cooking, and farming… every two months, a student council was elected and led all efforts with their teachers' support.
I also used dry compost toilets for the first time here. Popular in Ladakh to conserve water, it's an age-old method that many Ladakhis follow. Dry toilets are small mud huts with two holes, a pit underneath, a slab of wood to cover the hold, and a chair with a hole to sit on. When one hole/pit gets full, they switch to another, while the old one decomposes. Not a single drop of water is used.
Due to the poor mobile network on the campus, come evening, and the football field has mobile screens glowing in the dark, being the only spot where there's some semblance of 3G. Interestingly, the ground turns into an ice hockey rink in the winters, attracting ice hockey players, coaches, and volunteers from all parts of the globe to teach the students ice hockey. Apparently, 80% of the Indian ice hockey team comprises students from SECMOL!
White Water Rafting at 11,000 Feet
The next leg of my unconventional sojourn in Ladakh was a somewhat adrenaline-inducing one! After scuba diving up to 60 feet underwater and paragliding at 8,000 feet, I guess white water rafting was the obvious next choice?
I reached the rafting company campsite and changed into my wetsuit, before proceeding to the rafting spot, which was an hour away by bus. We were split into two groups of 8 people each, and my group had women and men from France, Austria, London, and Singapore!
Once we set off into the Zanskar river and started paddling, it felt surreal- the water was chilly, but the sun provided warmth; massive mountains towered over us on all sides, and occasionally, a strong wind blew against us. It was a humbling moment, acknowledging and bowing down to the power and might of mother nature. Us, humans, paddling away with all our energy, seemed like ants amidst our surroundings.
Every few minutes we were hit by a rapid; the adrenaline rush each time the rubber raft wobbled, and the chill of the water that splashed all over us- was thrilling!
28 kilometers and 4 hours later- we were done! Everyone alive, no bruises. What an experience! Phew.
Experiencing Nomadic Life in Tso Moriri
An 8-hour ride from SECMOL, the route to Tso Moriri was gorgeous.
I reached in the afternoon, and the sun rays on the clear water reflected every shade of blue – deep blue on the horizon and a more pungent turquoise towards the shore.
The next morning, I set out to explore a few nomadic villages higher up in the mountains. The entire place was so beautiful and peaceful, not a person in sight.
In the nomadic villages, the nomadic tribes lived in make-shift tents made of waterproof material and covered with Yak wool to keep them warm at night. Most of them were cattle rearers and traveled every few months to a new location. Some women were weavers and showed us their beautiful handiwork.
It was amazing to spend time with the nomads in their homes and learn more about their life. These are people who live through the harshest of winters, protect themselves and their cattle from snow leopards and other wild animals, forage for food every day, and yet have the kindest eyes and the brightest smiles. It's truly humbling.
Tryst With the Shepherdess of the Glaciers in Gya
The final destination of my trip was Gya, one of the earliest settlements of Ladakh. A picturesque village close to Tso Kar lake and just off the Leh-Manali highway, I stayed with a lovely family in their home.
I explored the village on foot, and in the evening, learned how to make momos and tingmo.
The next morning, my host, a passionate organic farmer, taught me how to harvest peas. I spent the rest of the morning hard at work, and with a new-found admiration for farmers. Lunch consisted of a dish made with the same peas. Farm-to-food in every sense 🙂
That evening, my hosts' sister stopped by the house for the night. A shepherdess by profession, she is one of the few women from the region to take up this profession after her father. Now 50+, she still sets out for months at a time, walking from glacier to glacier with her herd of 300 sheep that she describes as her loving family. She is the sole breadwinner of her human-family, making a living through the sale of cashmere wool. She often walks for days in search of greener pastures for her sheep when the temperature drops below -30 degrees celsius. When she finds one, she pitches her tent and stays there for a few months, braving the harsh weather, difficult terrain, and wild animals- all by herself! Inspired by her, her younger brother made a documentary about her life (titled "Shepherdess of the Glaciers") that has been screened across the globe and won several accolades.
Her soft-spoken nature, immense love and kindness for her sheep, and the sheer strength and grit of her personality is hard to forget and will always remain an inspiration!